Distillery in Focus:
Isle of Jura
Région: Jura ("Islay/ Islands")
Nom: Isle of Jura Distillery. A porté les noms suivants: "Caol'nan Eilean", "Craighouse", "Small Iles", "Lagg" and "Jura"
Status: Active
Website:
http://www.isleofjura.com
Téléphone: 01496 820240
E-Mail: info@isleofjura.com
Adresse: Craighouse, Isle of Jura, Argyll, PA60 7XT
Centre pour visiteur: Yes
Propriétaire: Whyte and Mackay (affiliate of United Breweries group).
Etablit en 1831 (1810 ?).
Alambiques: 2 Wash and 2 Spirit stills.
Pourcentage de single malts: non connu.
Fûts pour la maturation sont: sherry et bourbon. Des fûts de vins sont en expérimentation. Contribue(ait) aux blends suivants: Whyte & Mackay, MacKinlay's, Scot's Grey and Clunny.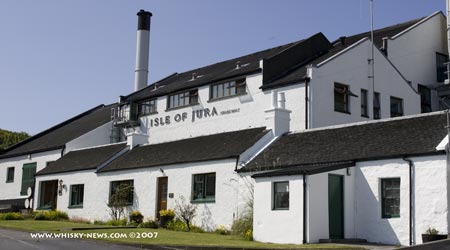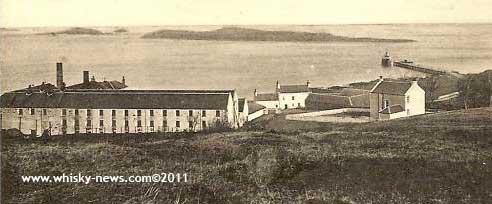 Une très vieille photographie d'isle of Jura
Embouteillages officiels:
Isle of Jura Superstition 45%
Isle of Jura 10 YO 40%I
sle of Jura 16 YO 40%
Isle of Jura 21 YO 40%
Notes de dégusation: cliquez ici.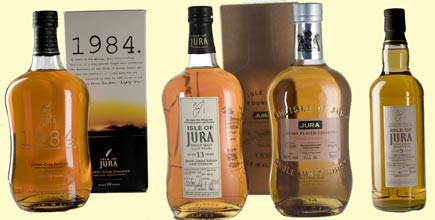 Quelques versions limitées d'Isle of Jura (de gauche à droite): Isle of Jura 1984, Isle of Jura Manager Dram 13 YO pour le Feis Ile 2005, Isle of Jura Heavily Peated et Isle of Jura 5 YO heavily peated for the Whiskyexchange.
En plus de leur gamme standard, Isle of Jura, des versions limitées ont été produites, telles que l' Isle of Jura 40 YO, Isle of Jura 1984, Isle of Jura Delmé-evans 1988, des versions de fûts uniques d' Heavily Peated Isle of Jura, Isle of Jura Manager Dram (for Feis Ile 2004 and 2005), Isle of Jura Stillam's dram et autres.
---
Histoire de la distillerie d'Isle of Jura:
La construction de la distillerie d'Isle of Jura par Laird Archibald Campbell près d'une cave, où la distillation illégale aurait été pratiquée dès 1600, daterait de 1810. En 1831, la distillerie est officiellement répertoriée et enregistrée sous le nom de William Abercrombie. L'année d'après, la distillerie change de main et devient propriété d'Archibald Fletcher, avant que Norman Buchanan l'acquière en 1853. J.K. & D. Orr possèdera la distillerie entre 1867 et 1872. Lorsqu les partenaires se retirent, elle sera rachetée par James Ferguson & Sons et reconstruite en 1876. In 1901, les Fergusons quittent Jura suite à une dispute avec Laird de Jura. Ensuite, toutes traces de la distillerie disparaissent. On apprendra qu'elle est abandonnée pendant la Grande Guerre et laissée pourrir sur place, et il semblerait que le toit fût enlevé par le propriétaire de la distillerie afin d'éviter de payer des redevances. C'est une ruine que Robin Fletcher, le propriétaire du domaine d'Ardlussa et Riley-Smith, le propriétaire de Jura House et du domaine d'Ardgin, vont acquérir en 1958 afin de redémarrer la production de whisky sur l'Ile de Jura, afin de donner du travail aux habitants. Ils arrivent à récolter des fonds, principalement de Scottish and Newcastle Breweries, et la distillerie sera reconstruite entre 1960 et 1963 sur le site de l'ancienne, avec le concours de l'architecte Delmé-Evans. La décision est également prise de changer de style de whisky et de produire un whisky légèrement tourbé. Des alambiques allongés sont construits afin de produire un whisky léger. Le 26 avril 1963, le premier distillat coule dans la nouvelle distillerie. Scottish and Newcastle Breweries sera racheté par Invergodron Distillers en 1985. En 1993, Whyte & Mackay (JBB Europe) acquiert Invergodron Distillers. Whyte & Mackay sera par la suite vendu à Kyndal en 2001. En février 2005, Vivien Immerman achète Whyte & Mackay, avant de revendre le groupe à United Spirits (une branche de United Breweries group) le 16 mai 2007 au prix de £595mio.
| | |
| --- | --- |
| | |
| Le moulin | Le mash tun |
| | |
| Les longs alambiques destinés à produire un whisky léger. | Un aperçu d'un chais de la distillerie d'Isle of Jura. |
Source: www.isleofjura.com, visite de la distillerie, The Making of Scotch whisky par JR Hume et MS Moss, et The Scotch Whisky Distilleries de Misako Udo.
©P.Brossard 17Juillet 07
| | |
| --- | --- |
| Mises en bouteilles officielles/originales (OB) par le propriétaire | |
| Age | |
| Isle of Jura 10 YO, OB, 40%, 1980s | Score: 09/20 |
| Isle of Jura Elixir, 12 YO, OB, 46%, B:2014 | Score: 13/20 |
| Jura 18 ans, OB, 44%, B:2022. | Score : 14/20 |
| Jura 20 YO One for All, OB, 51%, B:2018, 4992 b. | Score : 14/20 |
| Isle of Jura 21 YO 200th Anniversary, 44%, B: 2010. | Score : 14/20 |
| Isle of Jura 21 ans Fide, OB, 46.7%, B:2022 | Score: 15/20 |
| Isle of Jura 27 YO Stillman Dram, OB, 45%, D: 1967, c. 590 | Score: 16/20 |
| Isle of Jura 30 YO Camas an Staca, OB, 44% B: 2012 | Score: 17/20 |
| Isle of Jura 30 YO Camas an Staca, OB, 44% B: 2016 | Score: 17/20 |
| | |
| Millésime | |
| Isle of Jura 1965 for Jane Prosser, 20 YO, OB, 56%, B: 1986 | Score: 17/20 |
| Isle of Jura 1973, 30 YO, OB, 55%, cask 3155, 468 b. | Score: 17/20 |
| Isle of Jura 1974, OB, 44.5%, B: 2008, 658 b. | Score: 18/20 |
| Isle of Jura 1975 Amoroso finished in Port Pipes for La Maison du Whisky, OB, 51.7%, B:2016, cask 2, 784 bouteilles. | Score: 16/20 |
| Isle of Jura 1984, 19 YO, 42%, B:2004 | Score : 06/20 |
| Isle of Jura 1988 Dalmé-evans, 19 YO, OB, 52%, c. 1792 | Score: 16/20 |
| Isle of Jura 1988 Water Feis Ile 2008, OB, 49.6%, 624 b. | Score : 10/20 |
| Jura 1988, OB, 53.5%, B:2018 | Score: 16/20 |
| Isle of Jura 1993 Air Feis Ile 2008, OB, 46%, 768 b. | Score : 10/20 |
| Isle of Jura 1999 Earth Feis Ile 2008, OB, 46%, 840 b. | Score : 14/20 |
| | |
| Sans âge spécifié (NAS) | |
| Isle of Jura Prophecy, OB, 46%, B: 2009. | Score : 15/20 |
| Isle of Jura Matthew Forest Vatted in 2002, OB, 58.8%, c. 1124. | Score : 14/20 |
| Isle of Jura Tastival, OB, 44%, B:2014. | Score : 12/20 |
| Isle of Jura Tastival Triple Sherry Matured, OB, 51%, B:2016 | Score : 15/20 |
Indépendants (IB)
Adelphi
Isle of Jura 1996, 12 YO, Adelphi, 60.3%, B: 2009, cask 5191, 217 b.
Score : 15/20
Blackadder
Isle of Jura 1988 Statement 32, 30 YO, Blackadder, 50,2%, B: 2019, 208 b.
Score : 18/20
Cadenhead's /Duthie
Isle of Jura 1966 for Corti, 20 YO, Duthie's, 43%, B: 1986
Score 17/20
Douglas Laing
Isle Of Jura 1966 OMC, 33 YO, D. Laing, 50%, B: 1999, 343 b.
Score: 16/20
Isle of Jura 1986, 30 YO, Cadenhead's, 42.5%, B:2016, 66 b.
Score: 14/20
First Editions, The
Isle of Jura 1995, 18 YO, The First Editions, 52.8%, B: 2013, 288 b.
Score: 14/20
Mackillops
Isle of Jura 1966, 33 YO, Mackillops, 43%, B: 2000, cask 1870.
Score 17/20
Maltbarn
Isle of Jura 1992, 29 ans, The Maltbarn, 47.3%, B:2021, cask 176

.

Score: 16/20
Sansibar
Isle of Jura 1990 10eme Anniversaire de Sansibar, 30 ans, Sansibar, 46.5%, B:2020.
Score: 14/20
Scott's selection
Isle of Jura 1989, 18 YO, Scott's Selection, 59.6%, B: 2007
Score : 11/20
Signatory
Isle of Jura Peated 1989 for the Whisky Fair, 24 YO, Signatory, 58.8%, B: 2014, c. 30724, 193 b.
Score: 14/20
Isle of Jura Heavily Peated 1989, Signatory, 58.2%, B:2014, c. 30710/45.
Score: 14/20
Isle of Jura 1989 Heavily Peated for Walhaus am See, 24 YO, Signatory, 58.0%, B:2014, c.30718, 191 b.
Score 17/20
Isle of Jura 1989 Heavily Peated, 25 YO, Signatory, 60.9%, B: 2015, c.30729, 194 b.
Score: 13/20
Strathblair
Isle of Jura 1988, 15 YO, Strathblair Collection 2, 46%
Score: 12/20
The Bottlers
Isle of Jura 1989, 18 YO, The Bottlers, 52.70%, cask 1107
Score : 15/20
The Whisky Agency
Isle of Jura 1988, 22 YO, TWA, 52.9%, B: 2011, 201b.
Score : 14/20