Distillery in Focus: Glen Scotia
Région: Campbeltown
Nom: Glen Scotia ("Glen of the Scots")
Status: Active
Site web: Non
Telephone: 01586 552288
Addresse: 12 High Street, Campbeltown, Argyll and Bute, PA28 6DS
Centre pour visiteur: Non
Propriétaire: Loch Lomond Group, Exponent Private Equity.
Etablit en 1832.
Stills: 1 Wash and 1 Spirit stills.
Pourcentage de single malts: Inconnu (10-15%?)
Futs utilisés pour la maturation: bourbon (90%) et sherry (10%).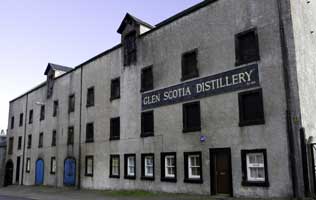 Embouteillages officiels::
Glen Scotia 14 YO 40% (jusqu'en 2005)
Glen Scotia 1973 26 YO 40%
Glen Scotia 12 YO 40% (depuis 2005, remplaçant le 14 YO)
En 2013, la gamme fut remodellée avec les versions suivantes:
Glen Scotia 10 YO, 46%
Glen Scotia 12 YO, 46%
Glen Scotia 16 YO, 46%
Glen Scotia 18 YO, 46%
Glen Scotia 21 YO, 46%

Contribution (actuelle ou passée) aux blend: "Scotia Royale", "Black Prince", "Royale Escort" et "Whyte and Mackay".
Peu de Glen Scotia sont disponibles chez les embouteilleurs indépendatns. Parmi les rares versions indépendantes, il y a un Glen Scotia 1974 de Signatory, un Glen Scotia Mission 1975 de Murray McDavid et un Glen Scotia 1990 de Gordon and Macphail. Le fût le plus vieux en 2006 entreposé dans la distillerie date de 1989 . Depuis 1999, Glen Scotia produit un petit volume de Glen Scotia moyennement tourbé (15 ppm). La première version fut produite pour le Whiskyfair 2005 en Allemagne.
Notes de dégusation: cliquez ici.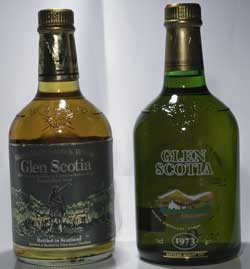 Deux bouteilles originales. De gauche à droite: le vieux 14 YO et le millésime 1973 mis en bouteille en 1999.
Glen Scotia, avec Springbank et Glengyle sont les seules distilleries encore en activité à Cambpeltown. Vers la fin du 19- début 20eme Siècle, Campbeltown compta jsuqu'à 34 distilleries.
---
Histoire Glen Scotia
Glen Scotia (Scotia distillery) fut initialement construite en 1832 par le doyen de la Guilde Stewart et par le maire John Galbraith, bien que la date de fondation est 1835 sur les étiquettes de Glen Scotia ou 1837 comme sur certaines correspondances. La distillerie reste propriété de Stewart Galbraith jusqu'en 1895, lorsque la distillerie est vendue à Stewart Galbraith & Company Limited. En 1919, West Highland Malt Distilleries ltd acquiert la distillerie, avant de faire faillite en 1924. Un de ses directeurs, Duncan MacCallum, la rachète, avant de mettre la clé sous la porte en 1928 en raison de la Prohibition, ce qui le poussera au suicide par noyade en 1930 dans le Campbeltown Loch. Depuis ce moment, il est dit que le fantôme de Duncan MacCallum hante la distillerie.
Cette histoire fut très populaire et une chanson fut écrite dessus. En 1930, les frères Bloch acquièrent la distillerie et changent la raison sociale en Bloch Brothers Distillers Ltd en 1941. Entre 1928 et 1933 la distillerie fut fermée. En 1954 Hiram Walker acquit le groupe, avant de le rendre l'année d'après, en 1955, à A. Gillies and Co., qui fusionna avec Amalgated Distilled Products Ltd en 1971. Entre 1979 et 1982, £1 moi furent investis pour modernisé la distillerie. Deux après la fin de ces travaux, en 1984, la distillerie ferma. En 1989, Gibson and Co achetèrent Amalgated Distilled Products et recommencèrent aussitôt la production. En 1994 Glen Caterine Bonded Warehouse Ltd fit l'acquisition de la distillerie et la mit en sommeil jusqu'en 1999. La production recommença de manière intermittente, par les employés de la distillerie voisine de Springbank. En mai 2000, Loch Lomond Distillers prirent la production entre leur main. La production actuelle est de 100'000 LPA (Litres d'Alcool Pur, capacité 1'000'000 LPA) et toute la production est stockée dans une seule warehouse (6900 fûts). Les autres warehouses sont actuellement vides. Par comparaison, la production fût de 386'000 LPA en 1885 ! En 2014, le groupe Exponent Private Equity racheta le groupe Loch Lomdond.
| | |
| --- | --- |
| | |
| Le vieux mashtun originalement ouver a du être recouvert afin de satisfaire les normes d'hygiène. | Une des rares distilleries avec des washbacks en acier corten. |
| | |
| Le wash et sprit stills datent des années 1960. | Seul 1 chais est utilisé. Il reste plein d'espace pour une augmentation de la production. |
Note : Glen Scotia est probablement la dernière distillerie en activité à utiliser des whasbacks en acier Corten (oxydable). Le distillery manager, Hector (ancien Springbank) fait fonctionner la distillerie avec 2 autres employés
Source: The distilleries of Campbeltown by D. Stirk, visite de la distillerie
©P.Brossard 29Jan07. Mise à jour: 18 Nov 2017
| | |
| --- | --- |
| Mises en bouteilles officielles/originales (OB) par le propriétaire | |
| Age | |
| Glen Scotia 5 YO (Gillies), OB, 40%, B: 1970s | Score: 14/20 |
| Glen Scotia 8 YO, OB, 43%, B:1960s. | Score: 15/20 |
| Glen Scotia 10 YO, OB, 46%, B: 2013 | Score: 13/20 |
| Glen Scotia 12 YO, OB, 40%, B: 2007 | Score: 14/20 |
| Glen Scotia 12 YO, OB, 46% B: 2013 | Score: 11/20 |
| Glen Scotia (Gillies), 12 YO, OB, 57% | Score: 12/20 |
| Glen Scotia 15 YO, OB, 46%, B:2015 | Score: 14/20 |
| Glen Scotia 15 YO, OB, 46%, B:2018 | Score: 13/20 |
| Glen Scotia 16 YO, OB, 46%, B: 2013 | Score: 14/20 |
| Glen Scotia 18 YO, OB, 46%, B: 2013 | Score: 13/20 |
| Glen Scotia 18 YO, OB, 46%, B:2018. | Score: 14/20 |
| Glen Scotia 21 YO, OB, 46%, B: 2013 | Score: 12/20 |
| Glen Scotia 25 YO, OB, 48.8%, B:2017 | Score: 15/20 |
| | |
| Millésime | |
| Glen Scotia 1991 for Edinburgh Airport, OB, 56.5%, B:2017 c.857, 204 b. | Score: 13/20 |
| Glen Scotia 1999 for the Whiskyfair, 6 YO, OB, 52.7%, B: 2006, c. 541/2 | Score: 15/20 |
| Glen Scotia 2001, OB, 45%, B: 2011, c. 627, 330 b. | Score: 15/20 |
| Glen Scotia 2001 for Best Taste Trading, OB, 54.1%, B:2017. | Score: 16/20 |
| Glen Scotia 2001 Campbletown Whisky Festival 2016, OB, 57.1%, B: 2016. | Score: 16/20 |
| Glen Scotia 2002 Peated, OB, 45%, B: 2011, c. 164, 410 b. | Score: 15/20 |
| Glen Scotia 2005 Heavily Peated Spring 2019, 13 YO, OB, 55,7%, B: 2018, fût 17 / 413-8. | Score: 13/20 |
| Glen Scotia 2006, OB, 45%, B: 2011, c. 087, 320 b. | Score: 11/20 |
| Glen Scotia Peated 2007, OB, 45%, B: 2011, c.225, 370 b. | Score: 14/20 |
| Glen Scotia 2008 Campbeltown Festival Ruby Port Wood Peated, 57.8%, B:2018. | Score: 15/20 |
| Glen Scotia 2009 For Ramseyer's Whisky Connection, OB, 55,1%, B: 2019, fût 852, 247 b. | Score: 16/20 |
| | |
| Sans âge spécifié (NAS) | |
| Glen Scotia Double Cask, OB, 46%, B:2015 | Score: 15/20 |
| Glen Scotia Victoriana, OB, 51.5%, B:2015 | Score: 12/20 |
| Glen Scotia Victoriana, OB, 54.8%, B:2018, batch 1 | Score: 13/20 |
| | |
| --- | --- |
| Indépendants (IB) | |
| | |
| Archives (whiskybase) | |
| Glen Scotia 1992, 20 YO, Archives, 50.4%, B: 2012, c. 08/71, 80 b. | Score : 17/20 |
| | |
| Cadenhead's | |
| Glen Scotia 1991 Sherry, 15 YO, Cadenhead, 57.8% | Score : 17/20 |
| | |
| Douglas Laing | |
| Glen Scotia 1992 Old Particular, 21 YO, Douglas Laing, 51.5%, B: 2013, DL9907. | Score : 14/20 |
| | |
| First Editions | |
| Glen Scotia 1991, The First Editions, 59.6%, B; 2013, 219 b. | Score : 13/20 |
| | |
| Hart Brothers | |
| Glen Scotia 1992 For The Whisky Schiff, 18 YO, Hart Brothers, 54.0%, B: 2011 | Score : 15/20 |
| | |
| Murray McDavid | |
| Glen Scotia 1992 Bourbon/Rum, 15 YO, M. McDavid, 46% | Score : 11/20 |
| | |
| Scotch Malt Whisky Society | |
| Glen Scotia 93.32 1992, 16 YO, SMWS, 64.6%, B 2008, 197 b. | Score : 12/20 |
| Glen Scotia 93.55 1999, 13 YO, SMWS, 61.4%, B:2013 | Score : 13/20 |
| Glen Scotia 93.36 1992, 17 YO, SMWS, 57.5%, B: 2009, 329 b. | Score : 08/20 |
| Glen Scotia 1992 Like a vintage dessert wine 93.78, 25 YO, SMWS, 53.3%, B:2017. | Score : 14/20 |
| | |
| Signatory | |
| Glen Scotia 1966, 27 YO, Signatory, 51.5%, B: 1994, c. 1271-2, 405 bouteilles | Score: 16/20 |
| Glen Scotia 1974, 31 YO, Signatory, 44.9%, B: 2005, c. 844 | Score: 16/20 |
| Glen Scotia 1992 Fino refill, 13 YO, Signatory, 43% B: 2005 | Score: 13/20 |
| Glen Scotia 1992, Signatory, 43%, B: 2005. Refill butt | Score: 14/20 |
| | |
| The Whisky Agency | |
| Glen Scotia 1972 The Private Stock, The Whisky Agency, 40.1%, B: 2010, 92 bouteilles. | Score: 14/20 |
| Glen Scotia 1992 for The Whisky Exchange, The Whisky Agency, 49.3%, B:2017. | Score: 14/20 |
| | |
| Wilson & Morgan | |
| Glen Scotia 1991, 20 YO, Wilson & Morgan, 44.2 %, B: 2012, cask 1. | Score: 14/20 |