Distillery in Focus: Springbank
Region: Campbeltown
Name: Springbank Distillery
Status: Active
Website: www.springbankdistillers.com
Telephone: 01586552085
E-Mail: info@springbankwhisky.com
Address: Longrow, Campbeltown, PA28 6ET
Visitor centre: Yes. Booking required.
Owner: J. A. Mitchell & Co. ltd (Independent distillery).
Established in 1825 .
Stills: 1 Wash and 2 Spirit stills.
Percentage of single malts: 100%.
Casks used for maturation are sherry, bourbon, wine (e.g, Tokaji), and Rum casks.
Contribute(d) to the following blends: Glen Extra. Note: Does not contribute to the Campbeltown Loch blend.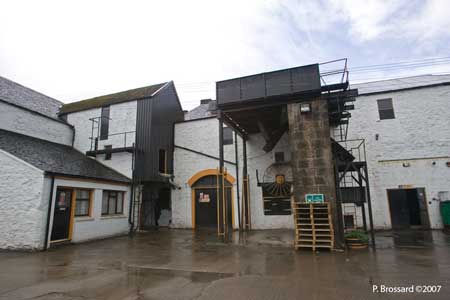 Regular Bottling:
Hazelburn 8 YO, 46%
Longrow 10 YO, 46%
Longrow 10 YO, 100 Proof
Longrow 14 YO, 46%
Springbank 10 YO, 46%
Springbak 10 YO, 100 Proof (discontinued in 2010 and replaced by a 12 YO).
Springbank 15 YO, 46%

For tasted whiskies, click here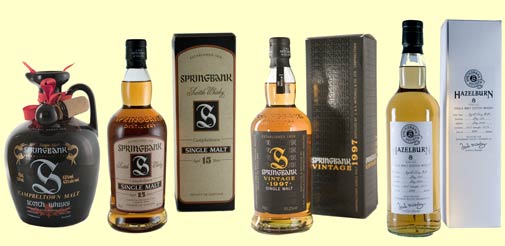 Some official Springbank bottlings (from left to right): Springbank 12 YO decanter, Springbank 15 YO (<2007), Springbank 1997 Vintage, and Hazelburn 8 YO for the Springbank Society.
Springbank is releasing on an annual basis a limited edition of Springbank or Longrow in their "wood expression" range (e.g, Rum, Tokaij, or Marsala finish). Over time, Springbank distillery has released several limited editions, such as the Springbank 1997 Vintage or the Springbank 175th anniversary (about 11,000 bottles of both), but they are also producing more limited editions, such as the Springbank 25 YO, Springbank 32 YO, or Springbank 25 YO Frank McHardy. In addition, since 2004, they are releasing single cask bottlings for the members of the Springbank Society.
Of note, Springbank is the only distillery where the entire process is conducted on site from floor malting to bottling. Several distilleries, such as Balvenie, have floor malting operations, but all the malted barley used at Springbank is 100% produced on site.
Springbank distillery is producing three different types of single malt whiskies: Springbank, a medium peated whisky produced using a partial triple-distillation, sometimes named as 2.5 distillation, Longrow, a heavily peated whisky double-distilled, and Hazelburn since 1997, a lightly peated and triple-distilled whisky. Longrow was first produced in 1973-4, then for a short period in 1987 and finally since 1989, it is produced every year. The distillery is still owned by the original family.
---
History of Springbank Distillery
The Reid family, in-laws of the Mitchells, established Springbank distillery in 1828 on the previous illicit site of Archibald Mitchell, although no reference in Excise returned. Until 1837, the distillery was registered under the name of William Reed Jun. & Co, who sold it to John & William Mitchell. The distillery operated between 1852-60 under the name J.W. Mitchell & Co, before it was changed in 1867 to J. & W. Mitchell & Co. In 1878, the name was recorded under J. A. Mitchell (John Mitchell and his son Alexander), when William left. In 1881, the distillery became a limited company as J. A. Mitchell & Co until 1891, when it got dissolved and reconstructed as Alexander Mitchell. It was then incorporated as J. & A. Mitchell & Co in 1897, who are still the owners. The distillery was closed during the WWI and WWII, in 1926-35, in 1980 and most of the time between 1981 to 1989. In 1992, Springbank decided to restore the floor malting. Springbank acquired most of the buildings of the adjacent Longrow distillery, with one Longrow warehouse used as a warehouse and a second warehouse used as a bottling plant. The Springbank cark park is the proper location of the Longrow distillery. In 2008, the distillery was closed for a short time in order to start the production of a batch of locally grown barley.
| | |
| --- | --- |
| | |
| The floor maltings. | The old mash tun in cast iron. |
| | |
| The wooden washbacks | The still house with its riveted wash still |
Source:The Making of Scotch whisky by John R. Hume & Michael S. Moss, The distilleries of Campbeltown by David Stirk and The Scotch Whisky Distilleries by Misako Udo.
©P.Brossard 17Sep08.
| | |
| --- | --- |
| Official/Original bottlings (OB) | |
| Age | |
| Hazelburn 8 YO First Edition, OB, 46%. B:2005 | Rating: 16/20 |
| Hazelburn 11 YO Springbank Whisky Society, OB, 54.4%, B: 2014 | Rating: 13/20 |
| Hazelburn 12 YO, OB, 46%, B: 2010, 3900 bottles | Rating: 12/20 |
| | |
| Vintages | |
| Hazelburn Sauternes 2002, 8 YO, OB, 55.9%, B: 2011, 9180 bottles. | Rating: 08/20 |
| | |
| Not Specified | |
| | |
| | |
| --- | --- |
| Official/Original bottlings (OB) | |
| Age | |
| Longrow Gaja Barolo cask finish, 7 YO, OB, 55.8%, B: 2008 | Rating: 10/20 |
| Longrow Red 11 YO, OB, B: 2012, 52.1% | Rating: 08/20 |
| Longrow Red Fresh Port Casks, 11 YO, OB, 51.8%, B: 2014. | Rating: 10/20 |
| Longrow 14 YO Burgundy, OB, 56.1%, B: 2011 | Rating: 13/20 |
| Longrow 1996 Manzanilla for Germany,16 YO, OB, 56.1%, B: 2013, 546 b. | Rating: 09/20 |
| Longrow 18 YO, OB, 46%, B: 2011 | Rating: 16/20 |
| Longrow 18 YO, OB, 46%, B: 2015 | Rating: 16/20 |
| | |
| Vintages | |
| Longrow 1974, 21 YO, OB, 46%, B: 1995 | Rating: 17/20 |
| Longrow 1995 Toakji wood finish, 10 YO, OB, 55.6%, B: 2005 | Rating: 12/20 |
| Longrow for the Usquebaugh Society 1999, 10 YO, OB, 57% | Rating: 11/20 |
| Longrow 2001 for the Springbank Whisky Society, 10 YO, OB, 53.9%, B: 2011, sherry butt | Rating: 08/20 |
| | |
| Not Specified | |
| | |
| | |
| --- | --- |
| Independent bottlings (IB) | |
| Samaroli | |
| Longrow 1973, Samaroli, 53%, B:1985. | Rating: 18/20 |
| Longrow 1974 Sherrywood for Samaroli, OB, 56%, B: 1987 | Rating: 18/20 |
| Longrow 1987 Dreams, Samaroli, 45%, B: 1999, 967 bottles | Rating: 15/20 |
| Longrow 1987, Samaroli, 45%, cask 123 | Rating: 14/20 |
| | |
| | |
| --- | --- |
| Official/Original bottlings (OB) | |
| Age | |
| Springbank Marsala, 9 YO, OB, 58%, B: 2006 | Rating: 11/20 |
| Springbank 8 YO, OB, 80 Proof, B: 1970s. | Rating: 14/20 |
| Springbank 10 YO, OB, 55.6 GL | Rating: 19/20 |
| Springbank 10 YO HMS Campbeltown, OB, 50.5%, B:2011. | Rating: 15/20 |
| Springbank 10 YO 100 proof, OB, B:2006, 57%, | Rating: 15/20 |
| Springbank 12 YO, OB, 43 % GL, B: 1980s | Rating: 19/20 |
| Springbank 12 YO "black and white label", OB, 46%, B: 1980s | Rating: 16/20 |
| Springbank 12 YO bottled for Auxil, OB, 46%, B: 1980s | Rating: 16/20 |
| Springbank 12 YO, OB, 54.6%, B: 2010 | Rating: 13/20 |
| Springbank 12 YO Ceramic Decanter, OB, 43%, B: c. 1985 | Rating: 15/20 |
| Springbank 12 YO 100 Proof Sykes, OB for Samaroli, 57.1% | Rating: 20/20 |
| Springbank 12 YO 100 Proof for Samaroli, OB, 57.1%, B:1980s. | Rating: 20/20 |
| Springbank 13 YO Green, OB, 46%, B:2016, 9000 b. | Rating: 14/20 |
| Springbank 15 YO Black and white label, OB, 46%, B: 1990s. | Rating: 17/20 |
| Springbank 15 YO, OB, B:2006, 46% | Rating: 14/20 |
| Springbank 18 YO, OB, 46%, B: 2009, 7800 bottles | Rating: 17/20 |
| Springbank 18 YO, OB, 46%, B: 2010 | Rating: 15/20 |
| Springbank 18 YO, OB, 46%, B: 2011 | Rating: 13/20 |
| Springbank 18 YO, OB, 46%, B: 2013 | Rating: 15/20 |
| Springbank 21 YO Dumpy (A. Mitchell), OB, 46%, B: 1980s. | Rating: 18/20 |
| Springbank 21 YO, OB, 46%, B: 2001 | Rating: 18/20 |
| Springbank 21 YO, OB, 46%, B: 2011 | Rating: 18/20 |
| Springbank 21 YO Single Cask for Lateltin, OB, 47.6%, B:2016. | Rating: 16/20 |
| Springbank 25 YO, OB, 46%, B:2006. | Rating: 14/20 |
| Springbank 35 YO Millenium, OB, 46%, B: 2000 | Rating: 19/20 |
| | |
| Vintages | |
| Springbank 1964 for the 100th Anniversary of Lateltin Lanz Ingold, 34 YO, OB, 46%. | Rating: 18/20 |
| Springbank 1965 Local Barley, OB, 50.4%, B: 2001, c. 7. | Rating: 18/20 |
| Springbank 1965 Local Barley, OB, 52.4%, B:2001, c. 9, | Rating: 17/20 |
| Springbank Local Barley Western Highland 1966, 24 YO, OB, 61.2%, B: 1990, c. 442. | Rating: 19/20 |
| Springbank 1966 Local Barley, 24 YO, OB, 58.1%, B:1990, cask 443. | Rating: 18/20 |
| Springbank 1966 Local Barley, 31 YO, OB, 53.0%, B:1997, c. 486 | Rating: 18/20 |
| Springbank 1966 Local Barley, 32 YO, OB, 54.4%, B:1998, c. 494. | Rating: 18/20 |
| Springbank 1966 Local Barley, 33 YO, OB, 53.0%, B:1999, c. 502 | Rating: 19/20 |
| Springbank 1967 "House & tree label", 24 YO, OB, 46%; B: 1992 | Rating: 16/20 |
| Springbank 1970 Local Barley, 23 YO, OB, 46%, B: 1993, c.1767 | Rating: 17/20 |
| Springbank 1972, OB, 46%, cask 759, 242 bottles | Rating: 15/20 |
| Springbank 1972, OB, 46% | Rating: 17/20 |
| Springbank 1991 Wood Expression Rum Wood, 16 YO, OB, 54.2% B: 2007 | Rating: 15/20 |
| Springbank 1996 For Lateltin, OB, 52.9%. B: 2008, c. 266. 645 b. | Rating: 08/20 |
| Springbank 1996 for Potstill, 17 YO, OB, 56%, B: 2014 | Rating: 14/20 |
| Springbank 1997 Vintage Batch 1, OB, 55.2%, B: 2007. | Rating: 15/20 |
| Springbank 1999 Local Barley 10th Anniversary Springbank Society, 14 YO, OB, 57.6%, B:2014, 546 b. | Rating: 17/20 |
| Springbank 1999 Local Barley, 16 YO, OB, 54.3%, B:2016. 9000 b. | Rating: 17/20 |
| | |
| Not Specified | |
| Springbank C.V., OB, 46%, B: 2001 | Rating: 13/20 |
| Springbank CV, 46%, OB, B: 2010 | Rating: 14/20 |
| | |
| | |
| --- | --- |
| Independent bottlings (IB) | |
| Adelphi | |
| Springbank 1998 Geigy Cask 4, 12 YO, Adelphi, 51.5%, B: 2010, 253 b. | Rating: 13/20 |
| Springbank 1997 Geigy Cask 2, 14 YO, Adelphi, 52.5%. B: 2011. | Rating: 15/20 |
| | |
| Bottlers, The | |
| Springbank 1993, 18 YO, The Bottlers, 58.9%, B:2009, c. 180. | Rating: 17/20 |
| | |
| Cadenhead's | |
| Springbank 1964 For Samaroli, 15 YO, Cadenhead's, 45.8% | Rating: 20/20 |
| Springbank 22 YO, Cadenhead's, 80 Proof, B: 1970s. | Rating: 15/20 |
| Springbank 1997 Rechar Sherry Warehouse Tasting, 19 YO, Cadenead's, 59%, B:2016 | Rating: 14/20 |
| | |
| Chieftains | |
| Springbank 1969 Refill fino, 36 YO, Chieftains, 57.3%, B: 2005, cask 793. | Rating: 17/20 |
| | |
| Dewar Rattray | |
| Springbank 1993, 12 YO, Dewar Rattray, 57.5%, B: 2006 c. 212, 282 b. | Rating: 10/20 |
| | |
| Douglas Laing | |
| Springbank 1967 OMC, 33 YO, D. Laing, B: 2001, 41.4%, 204 b. | Rating: 19/20 |
| | |
| Dun Bheagan | |
| Springbank 1968, Dun Bheagan, 51.4%, c. 1415, 432 b. | Rating: 16/20 |
| Springbank 1969, 35 YO, Dun Bheagan, 50% | Rating: 15/20 |
| | |
| Duncan Taylor | |
| Springbank 1996 Port Cask NC2, Duncan Taylor, 46%, B: 2007 | Rating: 09/20 |
| | |
| Dun Eideann | |
| Springbank 1969, Dun Eideann, 51.6%, B: 1997, butt 2381. | Rating: 17/20 |
| | |
| Hart Brothers | |
| Springbank 1967, 34 YO, Hart Brothers, 40.9%, B: 2001 | Rating: 17/20 |
| | |
| High Spirit | |
| Springbank Valentino Zagatti Personal choice, 17 YO, High Spirit, 46%, B: 2008 | Rating: N/A |
| | |
| James MacArthur | |
| Springbank 12 YO, James MacArthur, 59.8%, B:1990s, c. 226. | Rating: 18/20 |
| | |
| Milroy's | |
| Springbank 1965, 26 YO, Millroy's, 46%, B: 1992. | Rating: 18/20 |
| | |
| Murray McDavid | |
| Springbank 1965, Murray McDavid, 46%. | Rating: 18/20 |
| Springbank 1967, 31 YO, Murray McDavid, 46%, B:1998, ref 1315 | Rating: 16/20 |
| Springbank Cuvée 65-93, Murray McDavid, 46% B:2004 | Rating: 16/20 |
| | |
| Scotch Malt Whisky Society (SMWS) | |
| Springbank 1964 27.41, 31 YO, SMWS, 51.1%, B: 1996. | Rating: 17/20 |
| Springbank 1965 27.21, SMWS, 52.8%, B:1992 | Rating: 17/20 |
| | |
| Signatory | |
| Springbank 1969, 27 YO, Signatory, 54%, B:1997, c. 2383, 580 b. | Rating: 18/20 |
| Springbank 1970, 36 YO, Signatory, 53.1%. B:2006, c.1629, 461 b. | Rating: 17/20 |
| | |
| The Whisky Agency | |
| Western Highland (Springbank) 1965 Private stock, 45 YO,TWA, 45.7%, B: 2010, 98 b. | Rating: 18/20 |
| | |
| The Whisky Chamber | |
| Springbank 1998 Rum Cask, 9 YO, The Whisky Chamber, 57.7% | Rating: 14/20 |
| | |
| The Whisky Exchange / Speciality Drinks | |
| Springbank 1995, The Whisky Exchange, 56.5%, B: 2012 | Rating: 14/20 |
| | |
| Whiskyfair (Whisky Fair) | |
| Springbank 1970, 35 YO, Whiskyfair, B:2005, 59.5% | Rating: 18/20 |
| Springbank 1971, 35 YO, Whiskyfair, 59%, B: 2007, 239 b | Rating: 18/20 |
| | |
| Others | |
| Springbank Solera, Dornoch Castle Whisky Bar, Abv ?, B: March 2016. | Rating: 18/20 |