Whisky-news.com is a fully independent whisky website created in 2006 by a whisky enthusiast for the whisky enthusiasts, from novice to expert, with a huge collection of tasting notes, distillery presentations, whisky fair reports in Europe, reports about whisky from all over the world, and many more. It is also the leading site for whisky literature review. Updated almost daily and free from financial support from any whisky company.
Distillery in Focus: Mortlach
Region: Speyside
Name: Mortlach ("big hill" or "the great hollow").
Status: Active
Website: http://www.malts.com
Telephone: +44 (0)1340 820318
E-Mail: No
Address: Dufftown, Keith, Banffshire AB5 4AQ, 57°26′27″N 3°07′34″W
Visitor centre: No
Owner: Diageo
Established in 1823
Technical details:
Water source: Convall hills (production), cooling water from the Dullan river
Malted barley: unpeated.
Malt bins: n.a.
Mill: Porteus
Mash tun: Stainless semi-lauter, made in 1996.
Washbacks: 6 made of wood, capacity of 59,000 litres each.
Yeast: Distillers & brewer yeast
Fermentation: 57-60 hours
Stills: 3 wash and 3 spirit stills. Worm (wurm) tubes for condensation.
Warehouses: 21,000 casks on 5 dunnage warehouses.
Production capacity: 3 mio LPA
Employees: n.a.
Casks used for maturation: refill bourbon and sherry casks.
Percentage for single malts: n.a.
Contribute(d) to the following blends: Johnnie Walker, John Barr
Mortlach has an unique distillation process. Please click on the photograph for an image at higher resolution.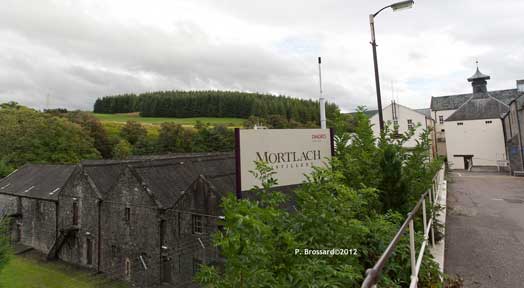 The Distillery of Mortlach nowadays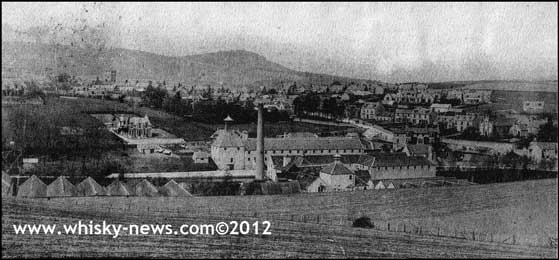 And the distillery 100 years ago (circa 1908)
Regular Bottling:
Mortlach Fauna & Flora, 16 YO 43%

Other bottlings:
As part of their Special Releases, a 1971 31 YO Mortlach as been released, as well as Manger's choice. Prior to that, a Mortlach was bottled in 2002 in the Manager's dram serie (for Diageo staff only) and several version under their Rare Malts serie.
For the tasted whiskies, click here
---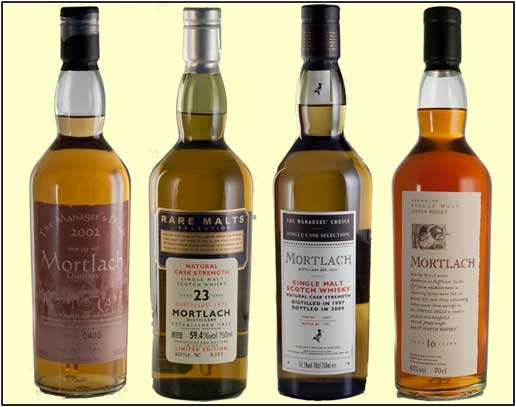 Several of the official Mortlach (from left to right): Mortlach Manager's Dram 2002, Rare Malts 23 YO, Mortlach Manager's Choice and the Mortlach 16 YO, from the Fauna & Flora range.
---
History of the Mortlach Distillery
Mortlach Distillery History
The distillery was licensed in 1823 to James Findlater and was the only distillery in Dufftown until 1887. Mortlach Distillery was built on the site of an illicit still that drew its water from a spring called Highland John's Well. Today process water comes from springs in the Conval Hills and cooling water from the River Dullan. The partners of James Findlater between 1822 and 1825 were Donald McIntosh and Alexander Gordon. In 1829, the output was 69 gallons a week
The distillery was sold in 1831 for £270 to John Robertson, distiller and tanner. In 1832, the distillery was silent and Arthur Thomas Gregory resumed production in 1833. It closed again in 1837. It was purchased in 1862 by J. & J. Grant of Glengrant, distillers at Aberlour, who acquired the distillery to transfer the apparatus to their distillery. The granary served as a free church. Some years later, John Gordon purchased the distillery to use it as a brewery, before distillation resumed again. Under his ownership, the whisky attained some celebrity and was called 'The Real John Gordon'. Eight men were working and used 40 quarters of barley a week.
George Cowie (1816-96) became a partner in 1853. After the death of Gordon in 1867, he became the sole owner of the distillery. His son, Dr. Alexander Mitchell
Cowie (1861-1940), took over the distillery, when his father died. William Grant, the founder of Glenfiddich distillery, worked for 20 years, until 1866 as distillery manager at Mortlach.
Major additions to the premises were made in 1897, including an additional larger still-house, when a siding was built from the railway, near Dufftown Station, right into the distillery. Electric lighting was installed in the following year. Mortlach then assumed the form described by a contributor to the Wine & Spirit Trade Record in 1923. He found "a veritable village" that dwarfed all neighbouring distilleries. It had two barley lofts, four "gigantic" malt floors, the largest mash-tun in the district, seven exceptionally large wash-backs, and two still houses: "in one there are three old-fashioned stills, with a capacity of about 2,000 gallons (5, 200 litres) each (and) in the other are three larger stills, installed in 1897". Driving power for the malting and mashing processes was supplied by a new Marshall steam engine of 50 h. p. The substantially built warehouses were capable of storing two million gallons (5, 200,000 litres).
Since his only son was killed during the Great War, Dr Cowie sold the business to John Walker & Sons Ltd in 1923. Walker and Sons merged in 1925 with the Distillers CompanyLimited Ltd. Mortlach was transferred to the Scottish Malt Distillers (SMD), a subsidiary of The Distillers Company Ltd in 1930. During the Second World War, it was only closed in 1944.
SMD embarked in the 1960s on a long-term programme of modernising and re-equipping its distilleries. The cramped layout of the site at Mortlach and the condition of the old buildings made it necessary to demolish and to rebuild the premises from scratch. In the new distillery, completed in 1964, the mash-house and tun­ room were combined in an open plan, and the six stills, previously hand-fired, were converted to a mechanical coal-stoking system. The stills were again converted, in 1971, to internal heating by steam. Floor malting operations were stopped in 1968. Full computer control and a new mash tun were installed in 1996.
Source: The Scotch whisky industry record by H. Charles Craig,, The Scotch Whisky Distilleries by Misako Udo, The Making of Scotch whisky by John R. Hume & Michael S. Moss, Rare Malts, Facts, Figures and Taste by Ulf Buxrud, distillery visit.
www.whisky-news.com/Patrick Brossard © 09 September 2012.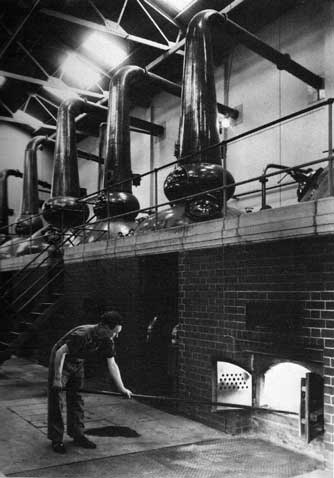 Old pictures of the stillhouse (copied from Hume & Moss)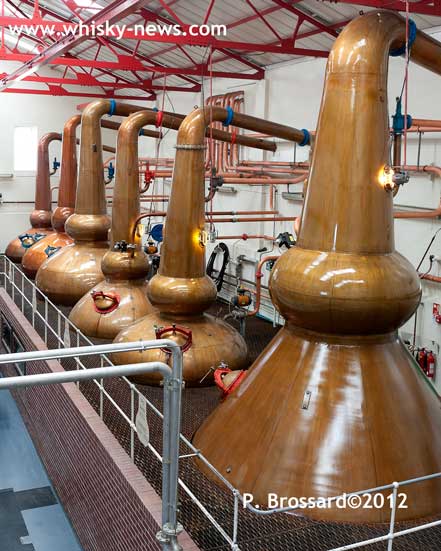 And a recent version.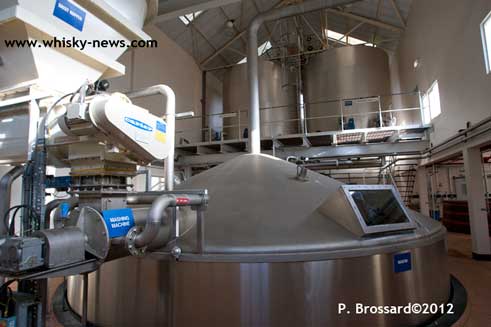 The mash tun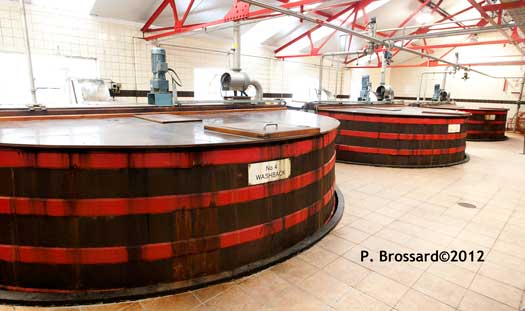 The wooden washbacks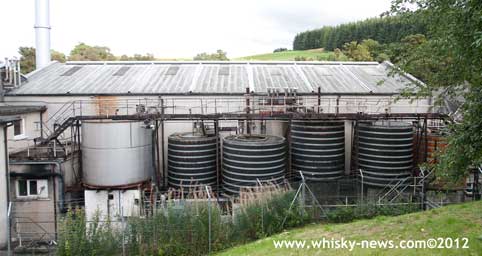 And the old worm (wurm) tubes for cooling down the distillate.
| | |
| --- | --- |
| Official/original bottlings (OB) | |
| Age | |
| Mortlach Manager's Dram 19 YO, OB, 55.8%, | Rating: 13/20 |
| Mortlach 18 YO, OB, 43.4%, B:2016 | Rating: 12/20 |
| Mortlach 25 YO, OB, 43.4%, B:2014. | Rating: 15/20 |
| Mortlach 25 YO, OB, 43.4%, B:2016. | Rating: 12/20 |
| | |
| Vintages | |
| Mortlach 1971, 32 YO, OB, 50.1%, B: 2004 | Rating: 17/20 |
| Mortlach 1978 Rare Malts, 20 YO, OB, 62.20% | Rating: 14/20 |
| Mortlach Manager's choice 1997, 12 YO, OB, 57.1%, c. 6802, 240 b. | Rating: 15/20 |
| | |
| No Age Specified (NAS) | |
| | |
| Mortlach Speyisde Festival 2013, OB, 48%, B: 2013 | Rating: 16/20 |
| Mortlach Rare and old, OB, 43.4%, B:2014 | Rating: 13/20 |
| Mortlach Special Strength, OB, 49%, B:2015 | Rating: 14/20 |

| | |
| --- | --- |
| Independent bottlings (IB) and anonymous Talisker | |
| Adelphi | |
| Mortlach 1991, 15 YO, Adelphi, 57.5%, B: 2007, cask 5947 | Rating: 16/20 |
| | |
| Berry Bros & Rudd | |
| Mortlach 1991 Sherry, BBR, 56.4%, B: 2007. c. 4227 | Rating: 08/20 |
| | |
| Bottlers, The | |
| Mortlach 1983 Bodega American Oak, 18 YO, The Bottlers, 57%, B: 2001, Cask 2378 | Rating: 16/20 |
| | |
| Chieftains | |
| Mortlach 1990, 22 YO, Chieftains 50%, B: 2013, c. 5159, 654 b. | Rating: 17/20 |
| Mortlach 1993, 18 YO, Chieftains, 57.3%, B: 2011, c. 3595 | Rating: 15/20 |
| Mortlach 1997 for Asia Palate Association, 18 YO, Chieftains, 58%, B:2015, c. 5238, 623 b. | Rating: 17/20 |
| | |
| Cooper's Choice | |
| Mortlach 1995 Refill sherry, 17 YO, Cooper's choice, 46%, B:2013. | Rating: 17/20 |
| | |
| Douglas Laing | |
| Mortlach 1997 OMC,13 YO, D. Laing, 50%, B: 2011, 424 b. | Rating: 13/20 |
| Mortlach 1992, 16 YO, Douglas of Drumlanrig, 46%, B: 2009, c. 504. | Rating: 16/20 |
| Duncan Taylor | |
| Mortlach 1993 NC2, Duncan Taylor, 46%, B: 2007 | Rating: 10/20 |
| | |
| Dun Eideann | |
| Mortlach 1989, 15 YO, Dun Eideann, 43% | Rating: 10/20 |
| | |
| First Editions | |
| Mortlach 1989, 22 YO, The First Editions, 52.1%, B:2012 | Rating: 12/20 |
| Mortlach 1989, 24 YO, The First Editions, 57.9%, B: 2013, 192 b. | Rating: 16/20 |
| | |
| Gordon & MacPhail | |
| Mortlach 1951 Private Collection, Gordon & MacPhail, 42%, B:2006, Cask 703/705, 110 b. | Rating: 13/20 |
| Mortlach 1968 Private Collection, G&M, 45% | Rating: 13/20 |
| Mortlach 1971, Gordon & MacPhail, 40%, B:1996. | Rating: 17/20 |
| Mortlach 1980 for Scot & Scotch, G&M, 46%, B: 2001, c. 6424 | Rating: 15/20 |
| Mortlach 14 YO For Sestante, G&M, 57%, B: 1980s. | Rating: 16/20 |
| | |
| Hart Brothers | |
| Mortlach 1990 Sherry, 23 YO, Hart Brothers, 55.1%, B: 2013 | Rating: 08/20 |
| | |
| High Spirit | |
| Mortlach Valentino Zagatti 1990, 18 YO, High Spirit, 46%, B; 2009 | Rating: 15/20 |
| | |
| Jack Wiebers | |
| Mortlach 1974 Prenzlow Collection, 28 YO, JWWW, 51.1% | Rating: 15/20 |
| | |
| Jas Gordon | |
| Mortlach 1966, Jas Gordon, 40%, B: 1987 | Rating: 18/20 |
| | |
| Jean Boyer | |
| Mortlach 1997 Best Casks of Scotland, Jean Boyer, 57.8%, B: 2006 | Rating: 12/20 |
| | |
| Kingsbury | |
| Mortlach 1989 Or Sileis, 27 YO, Kingsbury, 55.7%, B:2017. | Rating: 14/20 |
| | |
| Mackillops | |
| Mortlach 1990, 16 YO, MacKillops, 46% | Rating: 16/20 |
| | |
| Moon Import | |
| Mortlach 1984 In the Pink, 16 YO, Moon, 46%, B: 2000 | Rating: 13/20 |
| | |
| A.D. Rattray | |
| Mortlach 1991, 16 YO, A. D. Rattray, 55.5%, B: 2007, c. 4238 | Rating: 16/20 |
| Mortlach 1996,17 YO, A.D. Rattray, 56.3%, B: 2013, c. 995. | Rating: 15/20 |
| | |
| Riegger's selection | |
| Mortlach 1995 For The Whisky Schiff Luzern 2014,Riegger's selection, 55.8%, B:2014, c. 3420, 150 b. | Rating: 15/20 |
| | |
| Royal Mile Whiskies | |
| Mortlach 1993, RMW, 12 YO, 57.8%, 324 b. | Rating: 14/20 |
| | |
| Samaroli | |
| Mortlach 1957, 22 YO, Samaroli, 45.7%, B:1979, 360 b. | Rating: 18/20 |
| | |
| Sestante | |
| Mortlach 1969, Sestante, 56.5%, B: 1985 | Rating: 18/20 |
| Mortlach 20 YO, Sestante, 43%, B: 1980s. | Rating: 17/20 |
| | |
| Signatory | |
| Mortlach 1988, 19 YO, Signatory, 58.5%, B: 2008, c. 4727 | Rating: 13/20 |
| Mortlach 1991, 21YO, Signatory, 53.9%, B: 2013, c. 7708, 591 b. | Rating: 16/20 |
| | |
| Strathblair Collection | |
| Mortlach 1980, 20 YO, Strathblair collection, 40% | Rating: 13/20 |
| | |
| Whisky Club Royal | |
| Mortlach 1997, 16 YO, whisky club royal, 43%, B:2013 | Rating: 16/20 |