Review of the year 2015 and the first 10 years of whisky-news.com!
Whisky-news.com 2015 Figures

In terms of visitors, the growth has stopped in 2015 and remained to similar levels as 2014, with approximately 24,000 visits a month.
I created a new Facebook page (https://www.facebook.com/whisky.news.3/). Feel free to make any comments on that Facebook page.
By the way, I am continuously looking for whisky samples to taste. Feel free to contact me here if you want to send me some. This will be much appreciated.
Business trends
The Glenlivet malt has now overtaken Glenfiddich as the best selling malt in the world, after several years of continuous growth, while sales of Glenfiddich remained stable, according to the Malt Whisky Yearbook.
In order to maintain their position and to continue a further growth, both distilleries have revealed new plans for capacity extension.
Diageo with the brand "Singleton" (Ord, Dufftown and Gendullan) is the number 3 and has confirmed the move forward with their extension at Clynelish.
While the Chivas Group launched a few years ago their "Age Matters" Campaign, 2015 has seen their move to the "Non Age Statement" (NAS) expressions, with e.g., their new Scapa Skiren, Longmorn The Distiller's Choice, or The Glenlivet Master's distillers reserve.

While some NAS whiskies might be very good, many companies take the opportunity to remove the age statement of some of their whiskies and replace them with younger NAS versions while keeping the same price tag. I have nothing on the principle about NAS, but companies should at least provide some information about what goes inside. Unfortunately, Compass Box has shown a full transparency on some of their blended whiskies, but the Scotch Whisky Association complained strongly about it, as this was a breached of an EU law "under Regulation 12.3 of the Spirit Drinks Regulation No 110/2008, any mention of a maturation period or age could only refer to the 'youngest alcoholic component' in a spirit."
The consumer would certainly not mind a change in the law…

The number of new distilleries keeps growing as Dalmunach was built on the former site of Imperial, the Wemyss Kingsbarn distillery started to operate in Februrary, as well as Ballindalloch, Ardnamurchan and Annandale.
The Scotch Whisky Association released in December 2015 the figures for 2014 indicating that the total malt production increased from 274 to 285 mio litres of pure alcohol (LPA) from 2013 to 2014, a new record, while stocks increased more slightly from 3,633 to 3,8118 mio LPA over the same period. In terms of whisky exports, the volume decreased from 344 to 333 mio LPA and in value, from 4,260 to 3,951 £mio.
While single malts represent 9% of the total volume (in LPA) of exports in 2014, they represent 29% of the export value!
We hope for the whisky industry that the trend of increased production and decreased sales will not continue, otherwise a new whisky overproduction (whisky loch) might happen again. With all the new distilleries built over the last few years, it would not be surprising to see several small scale distilleries closing before their 10th anniversary and the big groups (e.g., Chivas or Diageo) might close down their smaller production units and to focus more (expansion?) of their major distilleries.
The first ten years of Whisky-news.com
I launched this website in January 2006 in order to share my passion for the whisky with the community of whisky enthusiasts.
Investment: Time and money
This website is a substantial time investment for me, as I spend approximately 7 to 10 hours per weeks to publish the information in French and in English. Some of you might remember that for a while, a German version was available, but this was short lived, due to time constraints. Some have asked me if this makes sense to have a French version of this website and the answer is yes and for two reasons: 1) As a naïve French speaker, I want so share my community with the dynamic French speaking community, who might have a limited command of English. In addition, most blogs are limited to tasting notes and this site offers more to them and 2) the traffic for the French section is a 1/3 of the total traffic.
Not only time investment is high, but also financial investment. I have kept this website advertisement free for the first 10 years, but with the rising prices of whiskies, I might have to reconsider this.
Why? With the exception of a single donator, I have not received any financial support from any visitor of whisky-news.com via my donation button. To keep this website active, I have to pay some web hosting fees and to keep the domain name, but my main source of expenses is the tasting note section. In 2014, I have published over 350 tasting notes. From these 350 whiskies, not a single company or distillery sent me any free samples. Some requests have been made, but only 1 company made the effort to reply (negatively). The whiskies reviewed come from samples I acquire during whisky fairs (e.g., Limburg, Whisky Schiff) or purchased from private individuals from bottle splits organised on some whisky forums. Last year, I might have received about 20 samples from whisky-enthusiasts, including some samples swapping. Thank you very much to them!
Knowing that 2-3 cl of a standard whisky might cost 3-5 euros, but going up to 50-60 euros for rare whiskies, you can do the maths…
So, feel free to send me samples. This would be much appreciated!
As you might have seen, I have decided to refresh the design of the website and I hope that you will appreciated your experience on www.whisky-news.com even better. The appearance might change, but the quality of the site and the reports will remain the same, if not higher.
My website is not optimized for figuring on the top list of the search engine and this will remain so. I focus on the quality content and feel free to make any comments or suggestion via my new Facebook page: https://www.facebook.com/whisky.news.3/
Metrics

I tried to some metrics about the information published on www.whisky-news.com for the first ten years:
Tasting notes: > 3000 (in English and in French)
Book reviewed: >120
Reports: >125
Distilleries in focus: >50
Books
With the exception of Amazon, whisky-news.com is certainly the blog with the highest number of book reviewed.
I enjoy reading very much books about whisky and I am always looking for reading any new one. Should you want me to review one of your books, then feel free to to send me one copy!
Whisky literature is one important source of information. However, you should be careful with the accuracy of the information provided in some of them, as many books copy and paste information, without checking the accuracy of the information.
In addition to these activities, I published my first book in 2014: Glengarioch: The Manson Distillery. More details are provided here: http://whisky-news.com/En/Glengarioch_book.html. There are still copies available, so feel free to contact me, if you want to purchase 1 or more.
As a sneak preview, a first draft of the cover page of my second book that should be available by mid-year.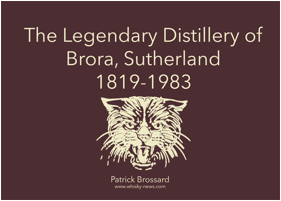 Changes
Over the last 10 years, many changes took place in the whisky world.
Whisky is for me a passion and I prefer to talk about the pleasure associated with the drink, the whisky making process and its history, bu it is difficult to make a retrospective without mentioning the price question.
In the table below, the increase of prices of a selection of standard and premium single malts from 2006 to 2016 is presented. Prices were selected from one UK retailer and displayed in GBP:
Price difference between 2006 and 2016:
| | | | |
| --- | --- | --- | --- |
| | 2006 | 2016 | Difference (%) |
| Standard | | | |
| Aberlour 10 | 18.99 | 26.45 | 39 |
| Ardbeg 10 | 26.99 | 40.75 | 51 |
| Bowmore 12 | 22.99 | 32.5 | 41 |
| Bunnahabhain 12 | 23.99 | 37.95 | 58 |
| Dalmore 12 | 24.99 | 38.95 | 56 |
| Edradour 10 | 29.99 | 36.75 | 23 |
| Glenfarclas 10 | 21.5 | 31.95 | 49 |
| Glenfiddich 12 Special Reserve | 20.99 | 28.75 | 37 |
| Glenmorangie 10 | 24.99 | 29.95 | 20 |
| Laphroaig 10 | 19.99 | 32.9 | 65 |
| Springbank 10 | 24.99 | 36.95 | 48 |
| Talisker 10 | 26.99 | 34.95 | 29 |
| The Glenlivet 12 | 21.49 | 30.95 | 44 |
| | | | |
| Premium | | | |
| Balvenie 30 | 239 | 680 | 185 |
| Brora 1982 Rare Malt | 73.5 | 699 | 851 |
| Glenfarclas 25 | 77.5 | 108 | 39 |
| Highland Park 30 | 179 | 599 | 235 |
| Isle of Jura 21 | 45 | 99.45 | 121 |
Prices for standard single malts have increased on average of 43% over the last ten years. Even if the duty increases from £5.48 per 70 cl to £7.74 from 2006 to 2016, respectively (SWA Statistical Report 2014, December 2015), the difference in prices is driven by other factors, such as increased margins from the producer and/or the intermediates. For the premium malts such as the Balvenie 30 YO or Highland Park have seen the prices increased by 3x! As competition is intense for the standard malts, benefits are low and companies try to increase their margins by positioning their aged products as exclusive super premium whiskies and thus pricing these products on their emotional values ("how much are you willing to pay") instead of the production costs.
Only a few companies such as Glenfarclas are keeping a pricing based on the production cost, and thus delivering good value products that whisky drinkers can afford to drink. The Brora 1982 Rare Malts is almost 10x more expensive than in 2006, as the distillery was closed and reached a cult status amongst whisky enthusiasts and collectors. Since 2006, prices for the whiskies for closed distilleries are constantly on the raise, with Port Ellen reaching very high prices (over £2,000), while some others, e.g., Coleburn, had only modest increases. Similar trends are observed for whiskies distilled before the 1980s.
To come back to premium whiskies from active distilleries, the price increase is not necessarily associated with increased quality.
Unfortunately, this trend is unlikely to resolve, unless overproduction would occur again, as this happened in the 1980s, the famous Whisky Loch.
While most single malts enthusiasts were mainly European and American in the early 2000s, this changed progressively afterwards, as whisky became more fashionable in Asia. Asia has now a very active whisky community, mainly in Japan, Singapore, Taiwan and Hong-Kong. At the same time, Europe discovered the quality of the Japanese single malts, such as Karuizawa, Hanyu, Yoichi or Yamazaki. Their success is such, than whiskies from Yoichi or Yamazaki are now on allocation. New distilleries have been built in Japan, but also in Taiwan (Kavalan) and even India (Amrut, Paul John). They are now exporting their single malts to Europe.
We have seen the emergence of craft distilleries in most European countries, as well as in the rest of the World. Scotch whiskies is also facing the resurgence of the Irish Post Still whisk(e)y. The craft distillery is in full expansion in the US.
Change of habits
While whisky used to be mainly a man's drink, the proportion of woman interested and drinking whiskies is increasing progressively and attracts also a younger generation. Since I started my website, many new blogs have created, of various quality, with some closing after a few years, as this is a time intensive activity, with limited or no financial benefits. Publications about whisky are numerous and also of variable quality. We have seen a few high quality scientific book on whisky (e.g., The Science and Commerce of Whisky), some specific books (e.g., about the Laphroaig Distillery), but also many general whisky books, with more a few authors collecting information from similar books and replicating the same errors.
Whisky fairs and whisky events
One of the first whisky events I attended was the Islay Festival of Whisky, the Feis Ile. At my first participation, the festival was friendly, with relative easy access to the each distillery and tasting, easy access to festival bottling fairly priced, as well as nice events. For instance, the Isle of Jura day was half-day long, with a tasting session, food, and a blending master class. It is now victim of its success, as you need to book for accommodations almost 1 year in advance, the master classes are fully packed and of relatively short duration. This remains however a very good event and Islay is a beautiful Island. The Autumn Speyside whisky festival is a smaller festival that retained its character and over the years, additional smaller regional whisky events were organized.
The main whisky fairs in Europe were the Whisky Live in Paris and London, as well as the Whisky Fair in Limburg, Germany and the Whisky Schiff in Switzerland. Over the time, the number of fairs increased, with e.g., The Whisky Show in London, Whisky and More in Lausanne, Whisky Schiff Luzern.
All these whisky fairs and whisky events are increasing the opportunities for whisky enthusiasts to taste the new products.
Some whisky fairs are dedicated to new releases (e.g., the Whisky Live and The Whisky Show), with sometimes a high entry fee, but then the tasting is free for the standard whiskies. At other events, such at the Limburg Whisky Fair or the Whisky Schiff, as whiskies are paid per glass; a substantial amount of rarities can be tasted. This is a good way to taste whiskies prior to purchasing a full bottle and to compare different whiskies.
The whisky industry
Distilleries
Over the last 10 years, many changes took place. While some distilleries have been lost (e.g., Imperial and Caperdonich), several distilleries have or are beeing expanded (e.g., Glenmorangie, The Glenlivet, Clynelish), some reborn (e.g., Glenglassaugh, Tamnavulin) and many new ones, some small to medium size (e.g., Kilchoman, Annandale, Wolfburn) or large (e.g., Roseile).
Of note, Roseile was the first green distillery.
Production
Between 2006 and 2016, production of malt whisky increased from 167 mio LPA to 285 mio LPA (SWA Statistical Report 2014, December 2015), while stocks increased from 2,889 mio LPA to 3,818 mio LPA over the same period. Out of the 1,921 mio LPA of single malts stocked in 2014, only 228 (approximately 11%) are older than 11 years. Considering a total of 333 mio LPA exported in 2014 (malt and grain), supplies of aged whisky are very tight. In order to continue selling whisky, most companies are removing the age statement on their label, either to decrease the age of the whisky (while maintaining the price) or to mix young with older whiskies. To give the impression of maturation, distilleries have increased the filling of first fill casks, as the interaction between the wood and the distillate is more intense than with a second or third fills casks. This creates this "oaky" or "modern" profile that is present in many recent whiskies.
Whisky auctions
While whisky auctions were limited to a few whisky auctions (e.g., Bonhams, McTears and Whiskyauction.com) in 2006. later, the ban of alcohol sale in UK via eBay lead to the creation of many UK-based online whisky auctions (e.g., whisky.auction, whiskyauctioneer.com, just-whisky.co.uk, scotchwhiskyauction.com, whisky-onlineauctions.com). This market is very dynamic and the number of bottles for sale high. Unfortunately, for most whisky enthusiasts, speculation on whisky is increasing and many bottles will remain locked and unopened.
Independent bottlers
Since 2006, a few new independent bottlers have emerged, such as the Whisky Agency, Asta Morris, Chapter 7, Sansibar, The Stillman, or Warehouse 8 or passed of hands (e.g., Silver Seal). In addition, several retailers have whiskies bottled for them, such as Acla Selection or Whisky Doris.
Conclusion
During these first ten years, I had the pleasure a tasting a very large number of whiskies, some of poor quality, but mainly good one and some superb ones. I had also the chance to attend many whisky events, to visit a fair amount of distilleries, not only in Scotland, but also in the USA and in Japan. I also had the opportunity of meeting extraordinary people, not only from the trade but also many whisky enthusiasts that I am meeting regularly in whisky fairs throughout Europe. My passion for whisky has not diminished and please be confident that Whisky-news.com will continue as long as my passion will continue.
Slainte
Patrick
08 January 2016