Whisky In the Church 2 (WITCH2), Den Haag/La Haye, The Netherlands, June 22, 2008
Van Zuylen/ www.whisky-distilleries.info whisky event
Presentation:
A private tasting was organized in the Netherlands, on Sunday the 22nd of June 2008 in Den Haag by Jean-Marie Putz (www.whisky-distilleries.info) and the famous Dutch whisky retailer, Van Zuylen (www.whiskyvanzuylen.nl). For the report of the first event, please click here. This tasting event was dedicated to the independent bottlers (Adelphi, Alchemist, Berry Bros and Rudd, Best Cask of Scotland, Clydesdale selection, Daily Dram, Dewar Rattray, Duncan Taylor, First Cask, Gordon & MacPhail, Iain McLeod, Murray McDavid, Scott's Selection, The Ultimate), with the bottles kindly provided by their importers, Bresser & Timmer,Whisky Import Nederland, Van Wees (Whiskyworld and others). This year, Bladnoch Distillery, BenRiach Distillery, and the French Independent bottler Jean Boyer (Best Cask of Scotland and Gifted Stills) were present.The participants were all whisky connoisseurs from the Netherlands, Belgium, Germany, France, and Switzerland.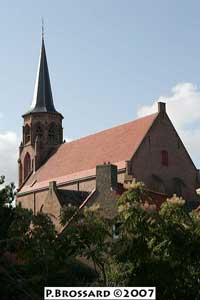 The venue: Abdijkerk, the oldest church in Den Haag.
During the event, over 80 single malt and grain whiskies were available for tasting and I managed to taste most of them (including some others during the festival off).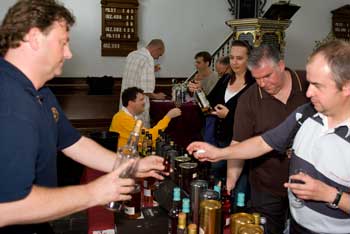 The stand of Bresser & Timmer with some exclusive bottlings.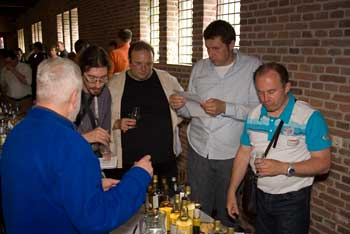 The stand of Jean Boyer, the French independent bottler attracting the crowd.
The tasting notes will be published in the tasting note section. They will also appear in the section below:
Ardmore 1977, Scott's selection, 58.1%, B: 2007
Arran (Isle of)1996 sherry, 11 YO, Murray McDavid, 46%
Balmenach 1998 advanced sample, Jean Boyer, 57%
BenRiach 16 YO Sauternes finish, OB, 46%, B: 2008
Benriach 1988 sherry finish, 16 YO, OB, 54.7%, B :2005, cask 802, 675 b
Bladnoch 6 YO, OB, 57.3%, B: 2008
Bladnoch 6 YO lightly peated, OB, 58.1%, B: 2008
Bladnoch 6 YO Sherry matured, OB, 56.9%, B: 2008
Braeval 1999 Gifted stills, Jean Boyer, 40%, B: 2008
Bruichladdich Links Birkdale, 15 YO, OB, 46%, B: 2008
Caol Ila 1979 Best Casks of Scotland, 26 YO, Jean Boyer, 46%
Daintier Bull (Tullibardine) 1992, 16 YO, Daily Dram, 54.8%, B: 2008
Finlaggan, The Vintage House, 58%, B: 2008
Glenglassaugh 1983, Berry Bros & Rudd, 46%, B: 2007
Glenmorangie Astar, OB, 57.1%, B: 2008
Glenrothes 7 YO, First Cask, D: 2000, B: 2008, cask 2417, 312 b.
Glenrothes 1968, 39 YO, Duncan Taylor, 53.3%, B: 2007, c. 13483, 102 b.
Glenrothes 1986, The Ultimate for Van Wees, 43%, B: 1994, 425 b.
Glenrothes 1990, 17 YO, Clydesdale, 59.9%, B: 2008, 542 b.
Highland Park 15 YO, The Alchemist, 46%, B: 2008
Highland Park 1986, Scott's selection, 55.3%, B: 2005
Highland Park 1995, Gordon & MacPhail, 57.9%, B: 2006, cask 1329, 307 b.
Imperial 1982, 25 YO, Signatory, 53.4%, B: 2008, cask 3715, B: 2008, 198 b.
Inchgower 1988, Scott's selection, 56.1%, B: 2007
Laphroaig 1990, Berry Bros & Rudd, 55.6%, B: 2008, cask 2248
Laphroaig 1998 "our Fifth Birthday", Jean Boyer, 61.2%, B:2008, 260 bottles
Linkwood 1989, 18 YO, Adelphi, 55.6%, B: 2008, cask 7323, 590 b.
Mortlach 1991, Berry Bros & Rudd, 56.4%, B: 2007. Cask 4227
Mortlach 1997 Best Casks of Scotland, Jean Boyer, 57.8%, B: 2006
North of Scotland, 44 YO, Scott's selection, 44.8%, B: 2008
Old Pulteney Best Cask of Scotland 1998, Jean Boyer, 43%, B: 2008
Rosebank 1991, 17 YO, Clydesdale, 56.3%, B:2008
Rosebank 1991, Gordon & MacPhail, 54.4%, B: 2008, c. 2095, 196 b.
Strathmill, 31 YO, Adelphi, 44.8%, B: 2008, cask 1126, 227 b.
Tamdhu 1973, Gordon and MacPhail, 56.0%, B: 2008, c. 3230, 481 b.
Tobermory 15 YO Limited Edition, OB, 46.3%, B: 2008
!www.whisky-news.com ©June 23, 2008