Whisky Schiff Zürich, 30 Nov-03 Dec 2017, Zürich, Switzerland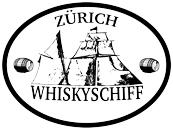 For the photo gallery, click here
DRAFT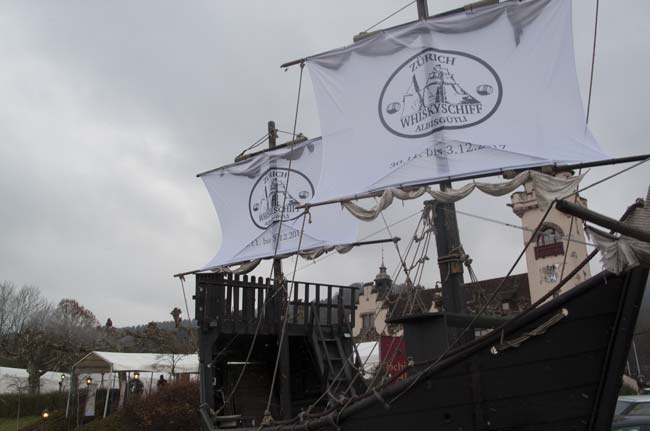 The new location for the Whisky Schiff: Albisgütli in Zürich
For the first time in its history, the Whisky Schiff Zürich took place on solid ground, at the Albisgütli, a spacious hall located 16 min by tram from the main train station. The hall was huge, with different stages, with a style close to a Viking gathering hall, with the shields painted with the flags of each Swiss cantons.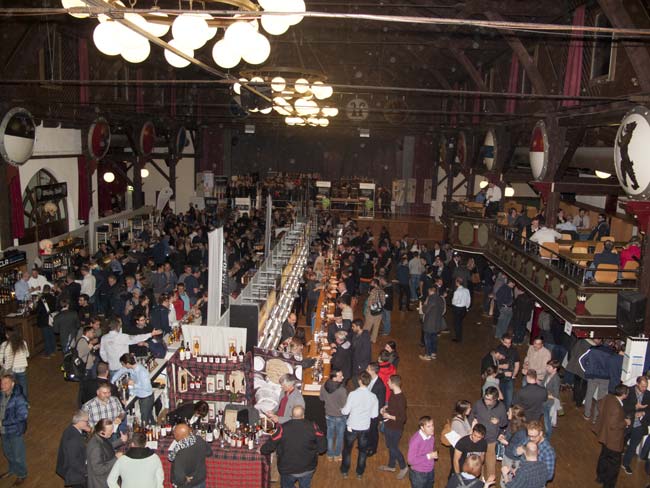 The new location for the Whisky Schiff: Albisgütli in Zürich
Before entering the hall, one goes through a series of corridors, before entering to a large tent with a few stands.
This is where I started, with a newcomer, Von Burg Collection, the importer of the Sansibar whiskies for Switzerland. I started with some whiskies from the Butterflies collection of Lions Antique collection. The Lions Antique Collection is a joint bottling between the Italians of Whisky Antique and Lions Whisky and the Germans of Sansibar. The Bladnoch 27 YO was smooth, elegant, and slightly floral, with just a hint of spices. As the bottle was cold, I would not be surprised if the whisky would be richer at room temperature. The 1989 Irish malt from the same collection was mellow, slightly starchy, with a flavour profile reminding me strongly of the 27 YO Irish bottled this year by Acla Selection. The 15 YO Irish Single malt bottled last year by Sansibar and Van Der Boog was a pleasant spicy, rich, and fruity Irish whisky, with some red fruits and toffee. From their new Clan series at Sansibar I tasted a very rich, complex and fruity 23 YO Tobermory, quite thick, on sticky chocolate cake, dried and candied oranges, with a light seabrine. Very good.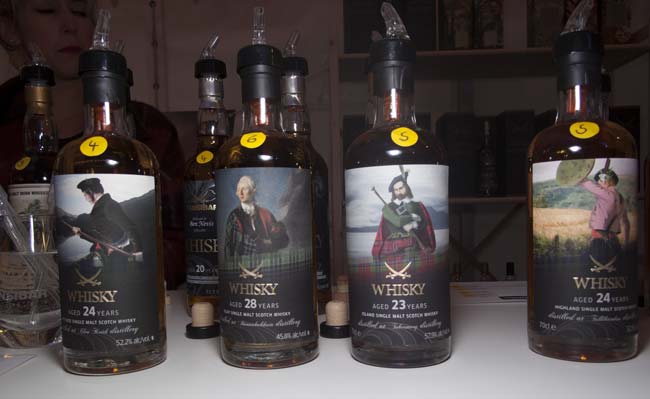 The new Clan series from Sansibar
At Säntis, I could not see any new Whiskies, except a new Snow white, and the same was true for Rüger Brau. I have not tried Langatun for a couple of years, and thus was curious to try a few of them, starting with the American Barrel Aged, matured exclusively in ex-American oak whiskies, while all others are matured in some wine casks. The whisky was very smooth, slightly bold and light oaky and spicy flavours. A whisky with a pleasant mouth-feel. I also tried their new Langatun Peated unplugged, a 6-month old peated distillated matured in ex-Chateaux neuf du Pape wine cask. A dry and peated distillate, rather tarry and far from being unpleasant, with light winey flavours.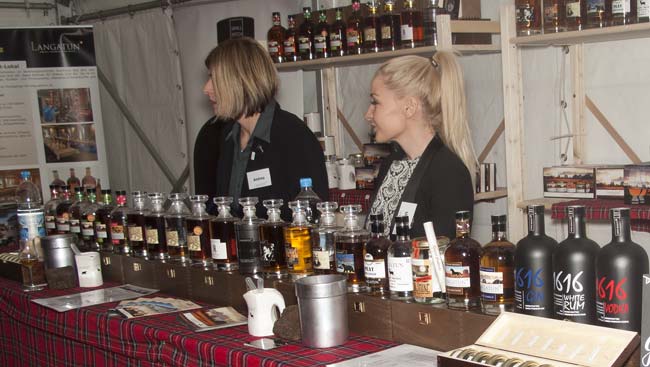 The stand of Langatun, with a fair number of different Langatun single malts
It was then time to move to warmer great hall; starting with Latetlin and the 22 YO PX finished BenRiach Authenticus, a moderately peated BenRiach, with an old dry peat smoke and on dried fruits. I moved afterwards to GlenDronach and tasted the new 1995 single cask exclusive for Lateltin Switzerland, a very good, syrupy and very fruity Glendronach, with rich sweet fruity flavours and lots of dried fruity. The brand new GlenDronach Peated Port Wood was well balanced, with a moderately peated and aromatic smoke married with pleasant sweet Port flavours. I found it better than the GlenDronach peated. The Glenglassaugh 2009 Single Cask for Lateltin was matured in an ex-Massandra Aleatico cask, giving syrupy and winey flavours, berries and various spices. The 2009 BenRiach Single Cask Port Matured Peated was rather dry and peaty, with some sweet sugary flavours from the Port Wood.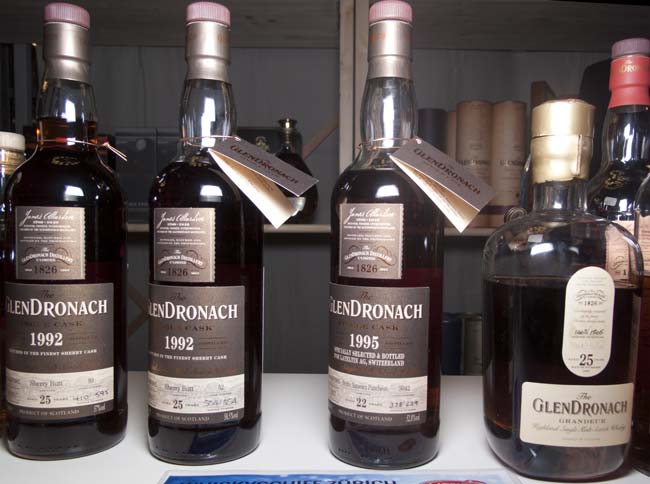 Several GlenDronach with the Lateltin bottling in the middle.
I moved then to Acla selection, starting with the Springbank 1994 23 YO for the Nectar, which might be indeed a Longrow. Simply excellent, with very little wood influence and a complex and subtle dry peat smoke and some maritime flavours.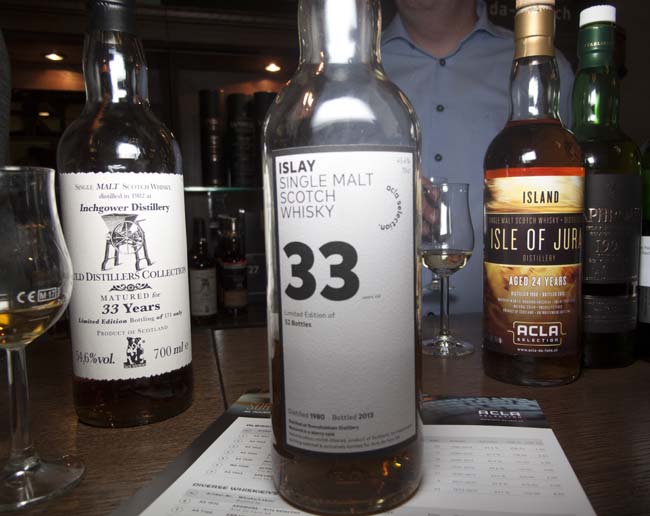 An excellent Bunnahabhain bottled in 2013 and rediscovered in 2017
I tasted then an excellent rich, salty and maritime Bunnahabhain 33 YO, intense and with a very fruity sherry influence. This whisky was bottled in 2013 and the stock re-appeared in 2017, thus explaining the presence of the new label on a whisky bottled several years ago. The two Orkney Islands single malts from Acla Selection are coming from the distillery founded in 1798. The 17 YO is from an ex-bourbon cask, with the rather typical flavours profile from this distillery, while the 15 YO from an ex-sherry butt was rather oaky and spicy, with some dry peat smoke, dried fruits and marmalade. The 44 YO Invergordon from the Nectar of Daily Dram was an explosion of rich sweet and sugary fruity flavours, rather syrupy and very good: a fruit juice. The 21 YO Glen Elgin from the Nectar of the Daily Drams was also very good, mellow, slightly grassy, with some honey, light aromatic herbs and pleasant fruity flavours (Mirabelle and gooseberries). The next one was a surprise, as this was the first Octomore bottled by The Whisky Agency and Acla selection. Matured in ex-bourbon cask, it was a very peated whisky, rather maritime and showing a nice maturity and roundness, with light medicinal flavours. It is good to taste an Octomore without any wine cask influence. The Octomore 8.2 OB Master Class was a 8 YO whisky, maritime, slightly oaky and on peat smoke. The peat smoke was rather mellow and not as dry or peated, as one could expect.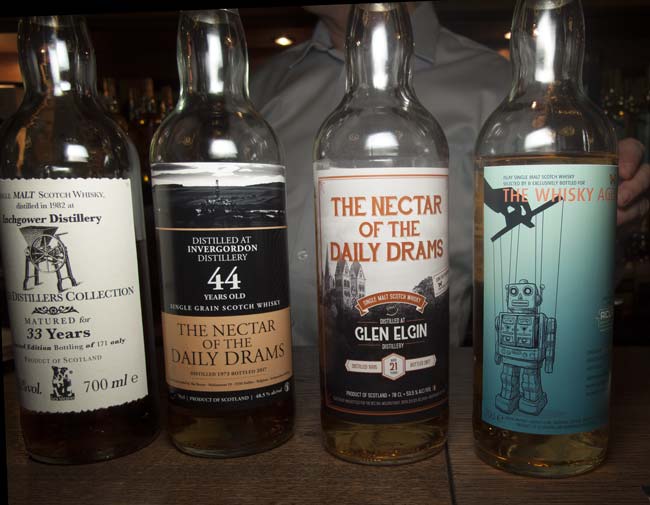 Several bottling at Acla, including the Octomore (right).
After this long stop at Acla, it was time to move to World of Whisky and to try their new releases, starting with a very good, mellow, intense, bold and complex Caledonian 1987 bottled for Signatory for Waldhaus am See. Most enjoyable! From the same series, I tried their new Inchgower 1997, a good salty sherried Inchgower, with sweet and fruity sherry flavours, with a pleasant spiciness. For the first time, they have a private bottling of an Irish whiskey. A 27 North of Ireland single malt has been bottled for them. Distilled at Bushmills, the nose was very fruity, on exotic fruits, mainly mango, some blackcurrant and diverse berries, while it was slightly more starchy on the palate. A very good one. I could also taste there the new official Bladnoch and went for the Adela, a 15 YO Bladnoch finished in ex-PX sherry casks. A surprisingly spicy whisky, with intense and chewy sherry flavours, dried fruits, orange, tangerine and various spices. The next one was an Ocean Special Old whisky blended and bottled by Mercian, who owned the Karuizawa distillery. It is supposed to contain Karuizawa single malts. Even though it has been reduced at 40%, the nose was nicely rich, intense, fruity and spicy, with a good complexity on the palate and a nice sweet fruity flavour. I enjoyed this one and it might be indeed contain a high proportion of Karzuizawa single malt. I could not feel any noticeable grain whisky influence.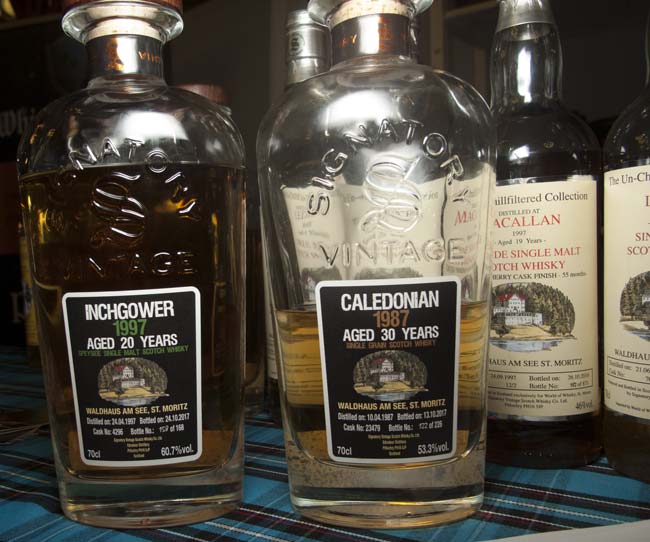 The new Inchgower and Caledonian from Signatory for Waldhaus am See
Moving to the stand of Dettling, the brand new Highland Park The Dark was proudly displayed, close to the new Full Volume as well. The Full Volume (100% bourbon) tasted slightly young and round, with a round peat and light creamy flavours. The 17 YO Dark with composed of 100% 1st Fill sherry, with a nice earthy peat smoke and a pleasant sweet and slightly fruity flavours. The sherry was less intense you could expect from a 1st fill, resulting in a pleasant balanced whisky. Very good. It was then time for my most expensive dram of the day, the Macallan Reflexion. The packaging as well as the price (1190 CHF) was impressive, however the content left me short of my expectation. It was a very easy drinking whisky, very sweet, fruity, but I missed some complexity, intensity and spiciness in there. It reminded me strongly of the Rare Cask, but slightly more intense and complex. It might have been good to bottle it at a slightly higher strength than 43%. Talking with distributor, I was informed that the 21 YO Highland Park will be phased out next year and the prices of the range will increased of approximately 25%. Victim of their success?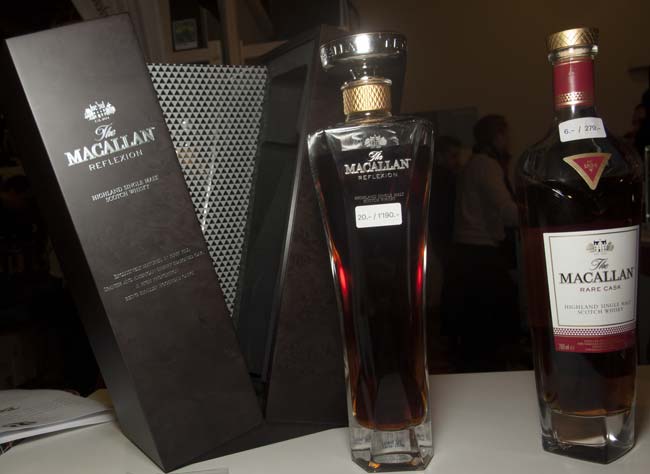 The Macallan Reflexion, an excellent packaging work.
At Angel's share, I could not find any new James MacArthur, as the owner sadly decided last year to step out of the business. However, I could taste the new English single malt of Cotswolds. Their aim was to create a very fruity. To enhance the fruitiness, they proceed to a long fermentation of 96 hours. Founded in 2014, their whisky is now 3 years old and it is a vatting of bourbon and ex-wine casks. The result was a good smooth and fruity whisky, with light winey flavours and red berries. It appeared already well matured, without any new-make influence that you might observe with such young whiskies.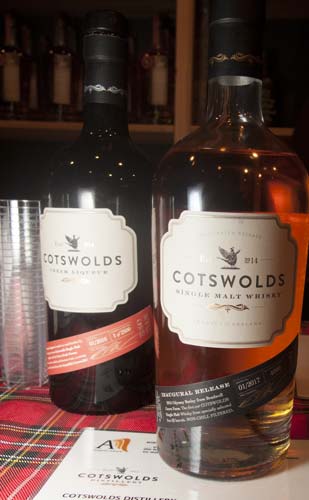 The first single malt from the English of Cotswolds
Slightly further, at Cadenhead's, I tasted a nice round and creamy Caperdonich 20 YO, a rather complex, intense and aromatic Glen Garioch 25 YO, with a very nice light aromatic peat smoke and a deliciously sweet and fruity Glen Grant, with an explosion of fruits and red berries. Matured for 31 years in an ex-sherry Butt, I could find the same fruitiness as the old sherried Glen Grant from the 1960-70. Excellent.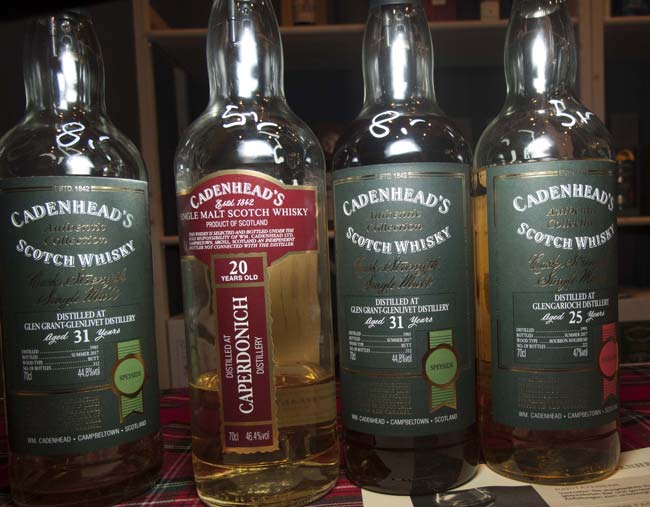 The Cadenhead's tasted during the evening
At C-Ach trading, I tasted some of their Sgile single malt at the last Berner Whisky Mess. However, I was curious to taste the Millstone 100% Rye. A nice spicy, rich, complex and intense whisky, slightly peppery. Very good, as expected from the Zuidam distillery.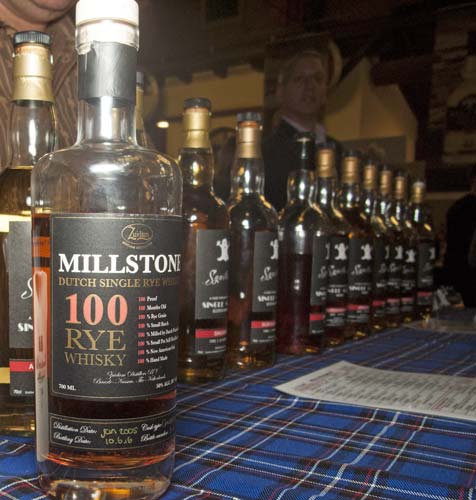 At C-Ach Trading, a large selection of Sigle and several Millstone, including a very good 100 Rye
At Alexander Weine, the Wolfburn Klyver #3 was not yet there. On the balcony, I could not find any interesting rarity, not amongst the recent bottling. However, at Monnier, there was several good surprises amongst their special bottling, starting a very fruity, waxy, rich and balanced Glen Elgin 1995 from their Kreuzritter range. Their special bottling for the Whisky Schiff Zürich was the a 1988 Blair Athol, mellow, round and rather fruity, with a round fragrance, and without any bitterness. One of the best Blair Athol I have recently tasted. The Glentauchers 19 YO Fighting Fish was another example of a very fruity and round whisky. Thanks Fritz for your recommendations.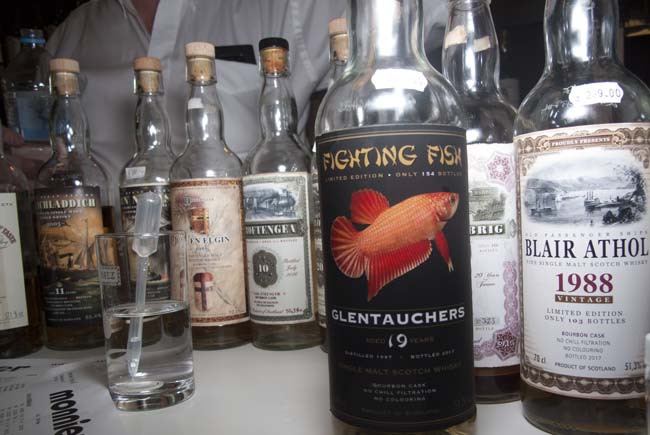 The Glentauchers Fighting Fish amongst other private bottling for Monnier
Moving down to Best Taste Trading, I tried to talk to the distillery manager (or brand ambassador?) from Glen Scotia, but unsuccessfully, as he was very busy. I had however a nice and long discussion with the one from Bunnahabhain. The full range will be repackaged, with new boxes and label, in order to more easily identify the different products. This will be associated with a price increase next year.
Amongst the Speyside distillery whiskies, they had 3 different bottling of their dark whisky, the Beinn Dubh. The Flying Scotsman and the black are the same bottling, with a different label for the Ruby Black and sold at the Museum of the Flying Scotsman. The 20th Anniversary has a slightly different composition, but of similar age. These whiskies are distilled at Speyside distillery, with a vatting of ex-bourbon and ruby port to give a dark colour. Caramel (E150) is added to make it black, as there is a demand for this type of black whiskies.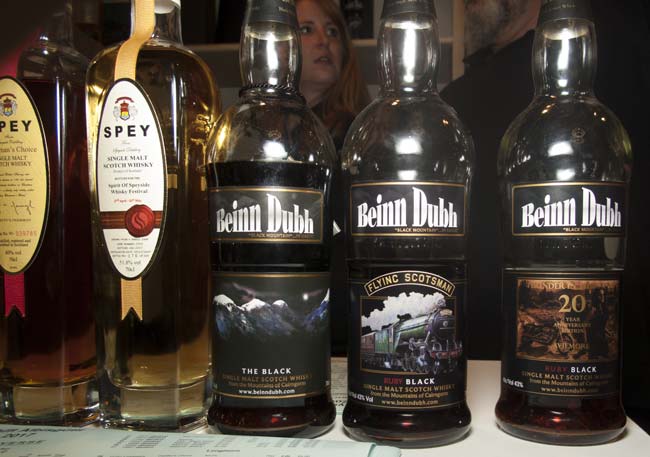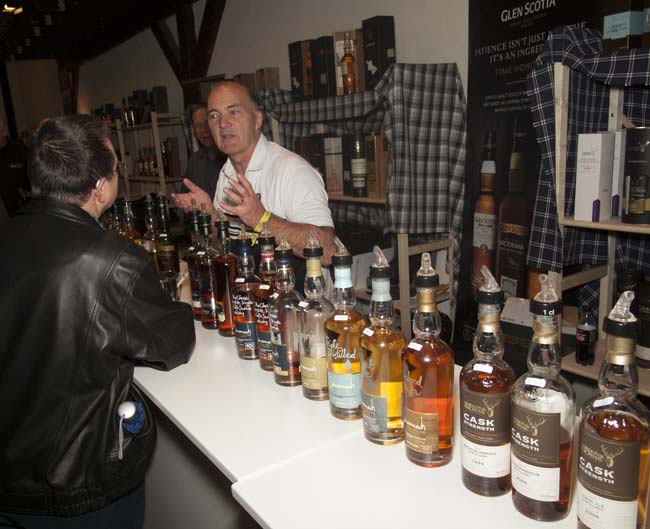 The Black Whisky from Speyside (top) and the BenRomach and Gordon & MacPhail at Best Taste Trading
On my way to the exit, while I stopped to collect my shopping at Acla, I saw the back label from a distillery I know very well, and as hoped, a bottle of Glen Garioch 1968 OB Archives made it appearance. I could not resist buying a sample of it!
Amongst the other retailers was the Whisky Store and the products from the Stillmans and cooper's choice.
In conclusion, the new venue was a positive surprise, very spacious and on the Thursday, at all time, it was easy to move between the stands. The number of whiskies proposed was huge and I got the feeling, it was even more than on the ships. On the downside, the number of rarities was rather low or more recent than the in previous edition. In the tent, the temperature was pretty low, making difficult to fully appreciate the whiskies tasted there. I was struggling to find spittoons and hope to see more next year. A very pleasant novelty was the cloak room (2.- CHF). I could finally do the whisky Schiff without my coat and large backpack.
I had an excellent evening, with many new whiskies in a pleasant atmosphere. Looking forward for the next edition!
Slainte
Patrick B., 02 December 2017, last update: 07 Dec 2017