Whisky Schiff Luzern, Switzerland, 8-10 March 2018
http://www.whiskyschiff-luzern.ch/
For the photo gallery, please click here
All the tasting notes given here my first impression of the whiskies I tasted during the event and will be reviewed soon in standard conditions

With my cold gone and nose restored, I was eager to addend to this year edition of the Whisky Schiff, as many special bottlings were announced this year.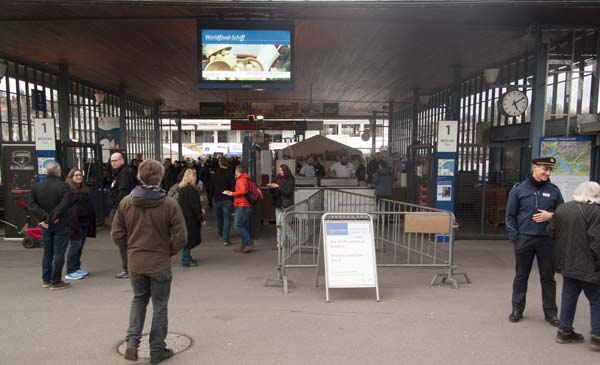 The entrance to the ships
This year included several new comers, coming with very nice surprises. Also, the price remained at 15 CHF, with the glass at 3 CHF.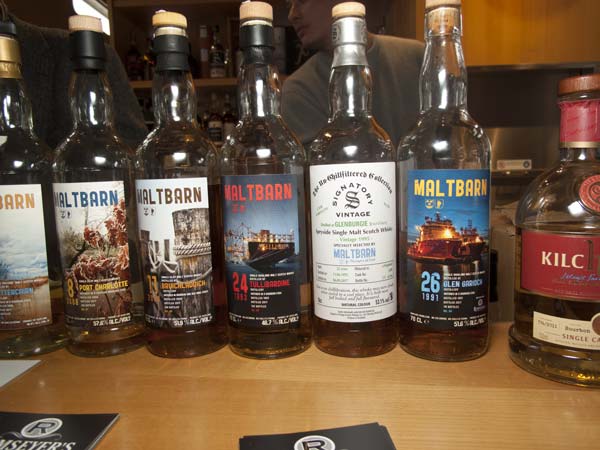 Most of the recent bottling of The Malt Barn at Ramseyer's Whisky Connection, including the exclusive Glen Garioch 26 year old
My first stop was at Ramseyer's Whisky Connection, where I was keen on tasting their special bottling for the Whisky Schiff 2018, a 1991 26 YO Glen Garioch from Maltbarn, nicely balanced and intense, complex, rather waxy, with rich spices, including ginger and cinnamon, as well as a slight smokiness. A very good one. Surprisingly, there was a Signatory bottled for Malt Barn, a Glenburgie 22 YO 1995, which was deliciously sweet and fruity, intense, with a light spiciness contributing to a nice complexity to the whole. Most enjoyable. The Port Charlotte 8 YO 2008 with fierce, intense, very peaty and with rather strong winey flavours. It is only when reading carefully the label I noticed "matured in a châteaux Margaux cask". Markus Ramseyer brought many rarities with him, some for sale as full bottles, but many "at the glass". I could not resist tasting the Brora 1981 18 YO Signatory 43%. A Brora rather peaty and smoky for its vintage, with an old-fashioned farmy peat smoke. Very different from the 1981 Millenium bottling, which was much rounder and markedly less peated. This was a very good start and thanks for the team for the drams of Maltbarn!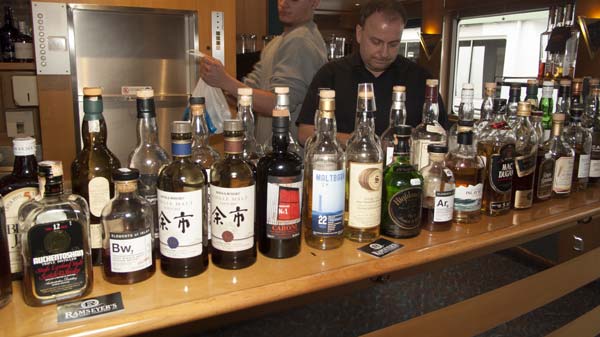 A substantial amount of rarities at Ramseyers.
On the deck above, the Bar du Nord travelled from Carouge (Geneva) to Luzern for their first time and Stan, his owner, brought a very nice selection of old and rare bottling. Needless to say I spent a lot of time (and money) there! I started with a lovely grassy, sweet, round and fruity Lochside 23 YO 43% from Cadenhead's, followed by a round, slightly spicy and oaky Glenugie 1965 23 YO from Hart Brothers. This was followed by a rich, very fruity Rosebank sherry 1983 from Rosebank, with lots of dried fruits and a rather thick body. A top notch sherried malt from that distillery.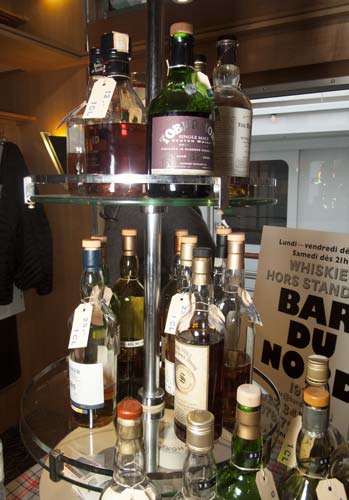 A carroussel of rarities at the Bar du Nord
The next one was a Brora 1981 from Duncan Taylor from cask 1426. I tasted its sister casks, but never this one. The whisky was round, mellow, waxy to very waxy, slightly farmy, and spicy, with some vanilla, as you could expect from that vintage.The Dallas Dhu 1979 from Cadenhead's was a very good surprised. A complex, intense, round, slightly waxy Dallas Dhu, with nice mellow and balanced flavours. One, if not the best Dallas Dhu I ever tried. For the fans of Laphroaig, there was a very sexy Laphroaig 10 YO 75cl Italian import. The Glenlivet 1965 YO for Intertrade was excellent, clean, sharp, slightly mineral and peaty, with an elegant and light spiciness. Finally, I tasted their Single Cask bottling, The Erin's Drop, a very intense and peaty young Caol Ila, with strong maritime flavours.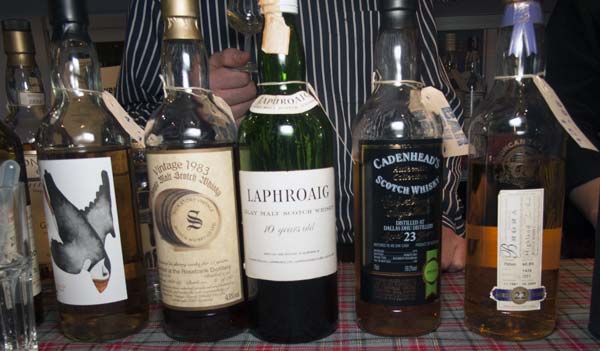 A selection of the whiskies tasted at the Bar du Nord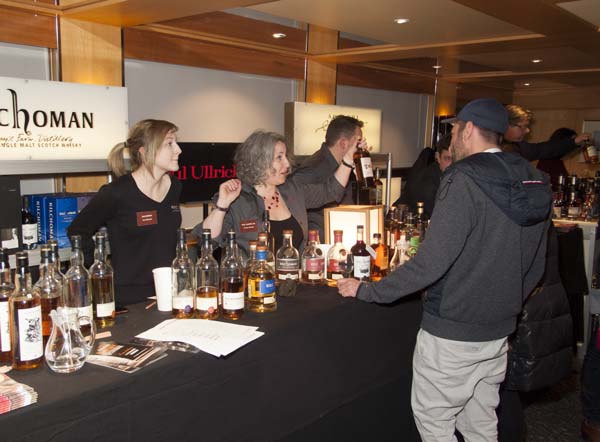 The stand of Paul Ullrich
At Paul Ullrich, there was a large selection of Wild Turkey, Kilchoman and Adelphi. As I already tasted all the Kilchoman displayed and most of Adelphi, I then discovered the stunning stand of Ralph Peschl. It is not often that I see a stand, with 95% of bottles I have never tried before. Peschl is touring frequently Scotland and purchasing at the visitor centres the Distillery bottlings. There was probably something like 80 distillery only bottles.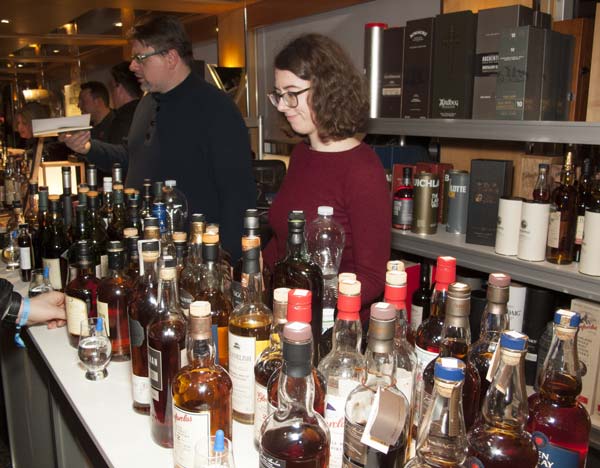 Part of the selection of Peschl: only distillery exclusive bottling!
The Hand Filled cask 6630 bottled in 2017 from GlenDronach was excellent, round, fruity, well balanced, complex, on berries and dried fruits. The Glendronach Distillery Exclusive 2016 cask 3399 was mellower, more woody and slightly weaker. Very good. The Glenfiddich 15 YO bottled in 2017 at 55.6% was a rich, fruity, round, intense and balanced version of Glenfiddich, with some dried fruits and clean orchard fruits. Very good. I wished there was more regular bottling from that distillery of that quality and strength. The Glengoyne Distillery Cask 2004/2018 cask 3559 was round, malty, slightly mellow, and with a light fruitiness. A rather bold expression of Glengoyne. I could not resist tasting the Lagavulin Distillery Exclusive Bottling of 2017, which was very good: intense, peaty, smoky, maritime, with a rather dry smokiness. I wish I could go to the distillery soon. On my way to leave, I was kindly offered, a glass of Edradour 14 YO PTM distillery only. PTM stands for Peated through maturation. More precisely, this round, balanced, and rather waxy Edradour was complemented by a subtle, elegant, maritime peat smoke coming for the Port Ellen Cask used for its maturation. There was the same type of bottling of Ballechin that I will try to taste next time.
The two GlenDronach distillery only tasted during the festival
At Cadenhead's and Cotswolds, there was pretty much the same line up as at the Whisky Ship in Zürich, so I moved to Awico and Willy Cotting. I started with a nice balanced, sweet sherried Dalmore 2006 10 YO from the Whisky Chambers, well rounded and with light spices. It has been a while since I tasted a good Dalmore. Then I move to the Buair an Diabhail of Islay N°1 ex-Sauternes exclusive for Awico, which is a single malt distilled at Lagavulin and matured in a Sauternes wine Cask. I am usually not so found of wine matured whisky, but this one was really excellent and one of the best I tried during the event. It was peaty, smoky, maritime, complex, matured, with a most pleasant round sweetness and a heavy body. The smokiness of the Lagavulin was excellent, dry and intense and the Sauternes very well integrated. A symphony of flavours. The other Buair an Diabhail of Islay N°1, the ex-Port, probably suffered from the comparison with the excellent Sauternes casks, as this one was drier, more oaky and more winey. A fine Lagavulin in any case.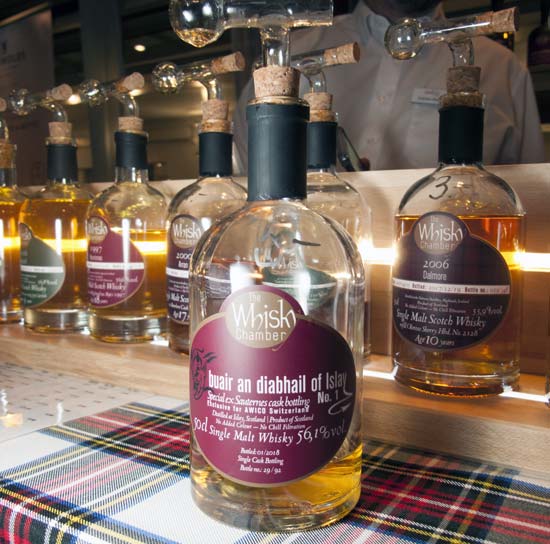 The excellent single malt from Lagavulin bay bottled by The Whisky Chamber and matured in a Sauternes Cask.
It was then getting difficult to move through the stands, as the crowd grew very dense at around 20h. From what I could see, there were not much new products from the BeamSuntory group at Haecky. The Choice of Glengoyne was very good, but as it was too difficult to get close to them and to taste the Glengoyne 30 YO, I moved to Whisky Haupstross in order to try some Caora, but it was unfortunately too difficult to reach to the stand. On the way out of this deck, there was a free spot at the Trésor du Chai and I opted for two Alsatian single malts. The first one was the AWA (authentic whisky Alsace) Gewürztraminer, a pleasant and easy drinking whisky, with rich fruity aromas of yellow fruits (including peach). A whisky that attracted a lot of attention. A good surprise that is worth tasting. I tasted then the whisky from the other distillery from Uberarch, The Uberarch Aslace Whisky Cask Jaune Cask 209F. The whisky was intense, rich, rather winey and oaky. I found more aggressive that the AWA when tasting notes, but adding some water, it became fruitier and more pleasant. Finally, I tasted a Colombian rum they are importing, the Juan Santos Gran Reserva. Distilled by the last family owned distillery of Colombia, this is a natural Rum, with no sugar added. The Rum was very elegant, subtle, on mango and other exotic fruits and well balanced. Tasted after a cask strength whisky, it seemed that the finish faded very quickly. Thank you for the drams!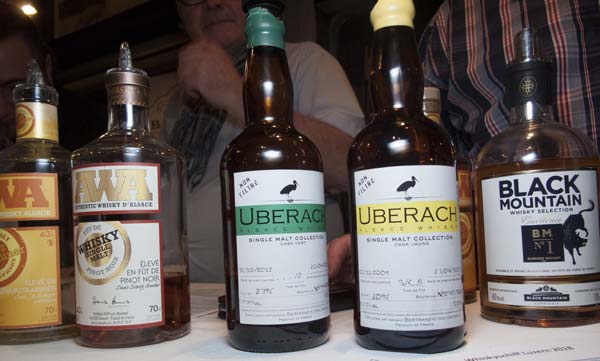 At the trésor du Chai, the AWA whiskies (left) and the Uberach (right), from the two distilleries of the town of Uberach.
It was then surprisingly easy to reach the stand of Acla, where I could taste a mellow, round and very good Glenlossie 1997 20 YO signatory for Acla. Their 1997 Glen Keith was more oaky, slightly rougher and spicier. The Hammerfall 18 YO was a good and round Imperial bottled for the music brand of the same name. The sherry influence was rather thick and syrupy, with lots of fruits and light aromatic flavours. An easy drinking whisky, with a good complexity. As part of the rarities, I could not resist tasted again the Port Ellen 20 YO Rare Malts, with its massive and intense maritime peat smoke delivery, and rather strong maritime influence. A masterpiece. The Highland Park 1967 Murray McDavid Mission was a very good malt from that distillery, very mellow, with a nice dry peat smoke and heather smoke and honey.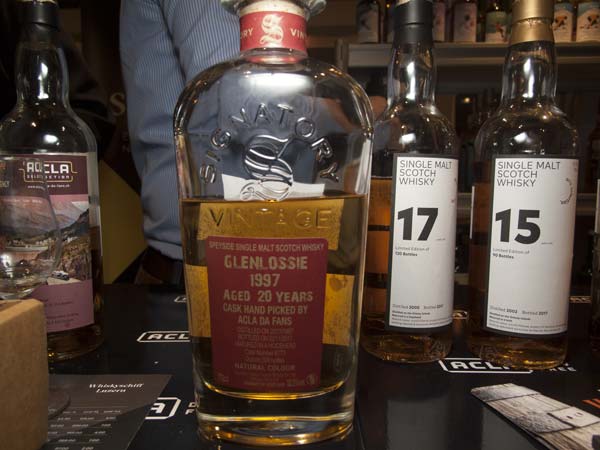 One of the new Acla Selection by Signatory
Then I tried to move around Glenfahrn, but after a few attempts to get within 1m of any stand, I had to resign and changed of ship. By World of Whisky (WoW), it was quieter and I was glad to have the opportunity of tasting their official Single Cask Bottling of Highland Park 2002/2018. The alcohol was rather strong, but once some water has been added, a clean and sharp whisky appeared, on rather dry smoky flavours and cocoa. A very one, if you do not forget the water. The Ardmore 20 YO was a rather mellow whisky, with a lingering peat smoky, slightly aromatic and winey. Rather subtle and good. The brand new Jura 20 YO One and All OB was mellow, very round and winey, on grapes, dried fruits and light spices. The winey flavours were rather dominating. I tried also the new Glen Keith 1997 signatory for the 20th Anniversary of WoW, which shared a comparable profile to the bottling for Acla. It was getting then late and it easier to move through the stands.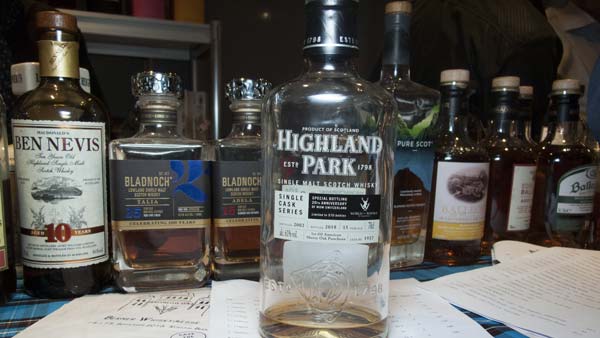 The new Single Cask Series for World of Whisky
At the Stillman's, a fair number of new products were available, starting with a very good, fresh and fruity Irish single malt Jack Ryan 12 yo, on cooked orchard fruits and round malty flavours. The Dunville's peated was a very unusual Irish whisky, with a peat smoke fading rather quickly and very strong aromas of juniper berries. The new batch of Old Perth 21 YO was rich, intense, spicy to very spicy, floral, on tangerine and dried fruits. Old Perth are blended malts at cask strength with a very good value, as they are sold under 100 CHF (90 euros). The German partner of Daniel Kissling is now bottling single malt under the Stillman's DE. The Seiran Peatside is a peated Glenglassaugh, slightly young, but round, with a nice peat smoke slightly aromatic, bold and light spices. A well made whisky. From Carn Mor, the Glen Grant 1996 was a very round, mellow, floral expression of that distillery, with some honey and round fruity flavours. The Clynelish 2006 from Carn Mor was bottled at a very high strength (65.5%). It was very pleasant to drink, with the typical waxiness of Clynelish, spices, including some mustard seeds, and a nice round light sherry influence on orange. Very good and enjoy while you can, as there are no more casks of Clynelish available on the market for IBs. Thanks for the drams!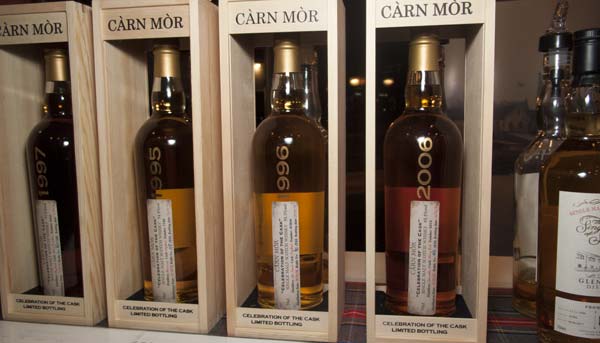 The selection of Carn Mor Celebrations of the Cask at the Stillman
At Best Taste Trading, I opted for a very good Glen Scotia OB single cask for Best Taste Trading, spicy, intense, slightly maritime and smoky. The Glentauchers 1990 Cask Strength from Gordon & MacPhail was sweet, sugary, slightly spicy and on humus.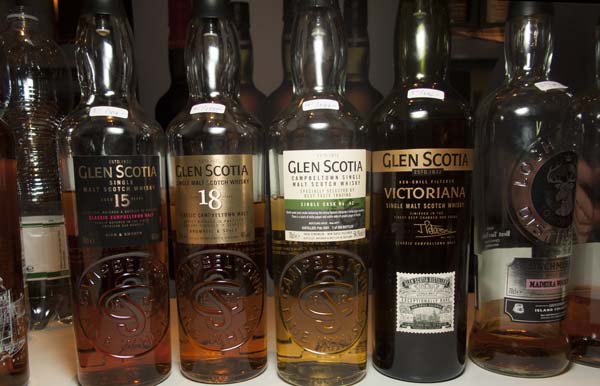 The range of Glen Scotia at Best Taste Trading, including the single cask for Switzerland
I moved then to Monnier and I have a long and pleasant discussion with Davide Romano, the founder of the independent bottler Valinch & Mallet, while tasting an elegant, subtle and well made mellow Tobermory 22 yo from his range, from a sherry cask, together with a Tobermory 22 yo from Jack Wiebers, from an ex-bourbon cask. Two very good expressions from that distillery, but with a different flavour profile, as expected by the difference of cask. I tasted then a very nice, clean, sharp and winey Glen Garioch 2010 Red Wine Barrique from Exclusive Malts, before tasting an excellent subtle, complex, rich and peaty 32 YO Port Ellen from Valinch & Mallet.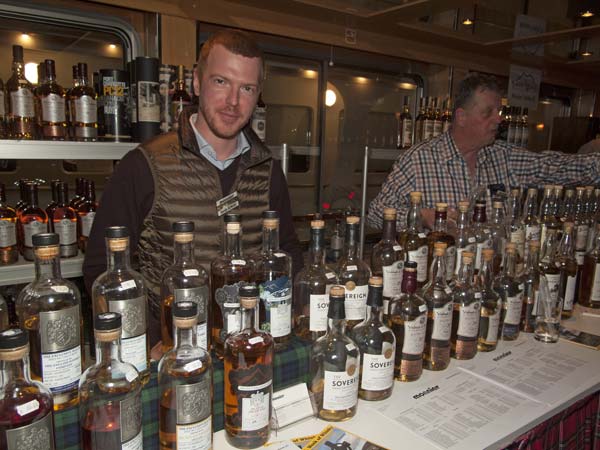 Davide Romano at the stand of Monnier with his Valinch & Mallet whiskies

My finale stop was at Alexander Weine to taste the new Wolfburn N°270 and the Conrad Gessner, a limited edition of Wolfburn exclusive to Switzerland. Both were hand labelled the day before in order to be presented for the Whisky Schiff. The N°270 was an unpeated malt matured in ex-Islay cask, while the Swiss one was matured in 8 quarter casks.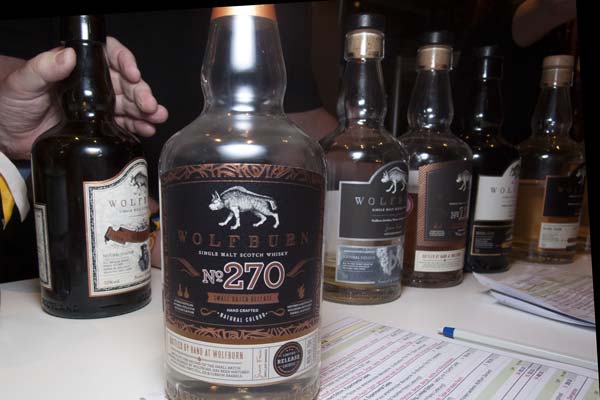 The new Wolfburn 270 and on the left, the new Wolfburn exclusive to Switzerland at Alexander Weine
The choice of whiskies presented at the Whisky Schiff Lucerne/Luzern was excellent, more diverse than in the previous edition. The organisation was very good, but moving between the stand between 20h00 to 21h30 were a challenge. In some places, I simply skipped some stands, as it was too crowded. Also, placing a cashier in the exit at the stand of Glenfarhn created a bottleneck on that deck. Access to water was acceptable, but the number of spittoon was very limited, unfortunately.
Overall, it was an excellent event and I am looking forward for the next edition.
Slanthe,
Patrick, 14 March 2018, last edit 07 April 2018