Whisky Schiff Luzern, 30-31 March/ 01 April 2017
http://www.whiskyschiff-luzern.ch/
For the photo gallery, please click here
All the tasting notes given here my first impression of the whiskies I tasted during the event and will be reviewed soon in standard conditions

As last year, I managed to attend the event on the Friday and thus to avoid the dense crowd of the Saturday.

Even though the event was shifted from early to end of March, quite a few new bottlings did not make it on time for the show.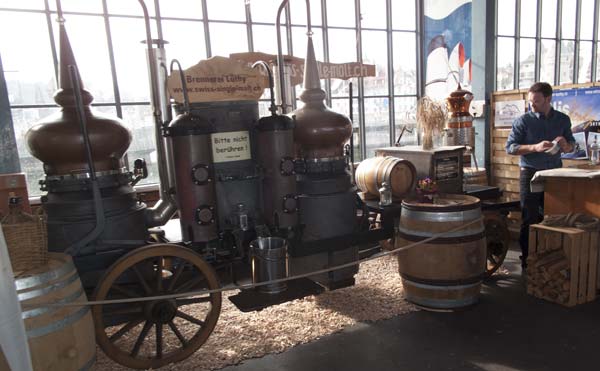 The mobile distillery of Lüthy

A nice sun was greeting us moving through the stand at 17.00 was very easy. To maintain my habits, I started with a visit to Acla da Fans and an old sherried Speymalt 1974 from Gordon MacPhail. This old Macallan was nicely floral, rich, intense, and quite spicy, with sweet and round sultanas and dried fruits. A nice way to start, isn't it?
The BenRiach 1977 PX finish cask 34 YO was rich and mellow, with a mixture of spicy and oaky flavours contrasting with sweet fruity flavours. Although the Speymalt was bottled only at 40%, it seemed more intense than the BenRiach.
I then visited the new Bowmore Travel Retail range, starting with a rich, sweet to very sweet, slightly maritime Bowmore 10 YO, with lots of sultanas and round fruity flavours. Not overly complex, but pleasant. The 15 YO is made with first fill bourbon cask, with strong spicy and oaky flavours, on vanilla and some ginger, as well as peat smoke and a maritime influence. For the ones who like their Bowmore with a strong oaky influence. The sherry influence seemed less intense in the 18 YO than in the 10 YO, but it was more complex and quite rubbery.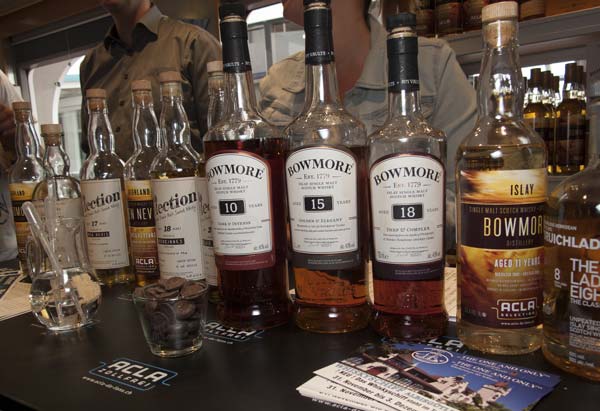 The new Bowmore travel retail range of Bowmore at Acla da Fans, as well as some of their own bottling.
The new Laphroaig 4 Oak was weak and thin, tasting pretty much like peated water. Matured in ex-bourbon casks, quarter casks, American and European oak casks. In any case, no noticeable sherry influence. Laphroaig does not seem to support dilution to 40%. The Laphroaig Brodir Batch 2 has a light sweets-sugary Port influence with very strong spicy and oaky flavours. Quite smoky and rough. It seemed young as well.
I move then to World of Whisky to taste some official releases from the Chivas group, starting with the Longmorn Distiller's Choice 40%. Round, smooth, floral, slightly spicy and grassy, with nice sweet fruity flavours. Quite good and intense for its 40%. World of Whisky/Waldhaus am See managed to obtain a very good official sherry cask of the Glenlivet, the 14 YO Glassachoil, sweet, spicy, intense, fruity, on sultanas, dried fruits, some tropical fruits and red berries.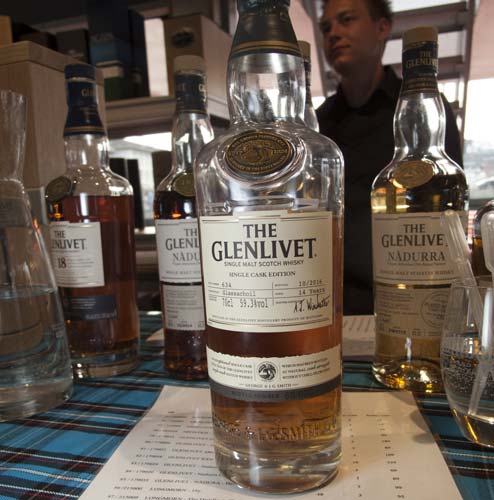 the Glenlivet single cask for World of Whisky
I spent then quite some time at Monnier, as I failed to visit them last year. The Bruichladdich 11 YO Special bottling for the whiskyschiff was rather sour, slightly peaty and mineral. Rather untypical. The Inchgower 33 YO 1982 Dark Sherry from Jack Wiebers was very mellow and smooth, and dominated by round salted fudges. I also tasted a nicely and rather sweet sherried Caol Ila 16 YO from Valinch & Maillet, with strong peaty and tarry flavours. A good value whisky. I took the opportunity of talking to Davide Romano, the co-founder of the independent bottling company Valinch & Maillet, a company founded late 2015 and who already bottled 26 casks, mainly from their own private stocks. While Davide comes from a financial background, his partner is a veteran from Ian Mcleods/Glengoye. Apparently, they are not facing difficulties in finding casks, however, finding a good cask is a real challenge.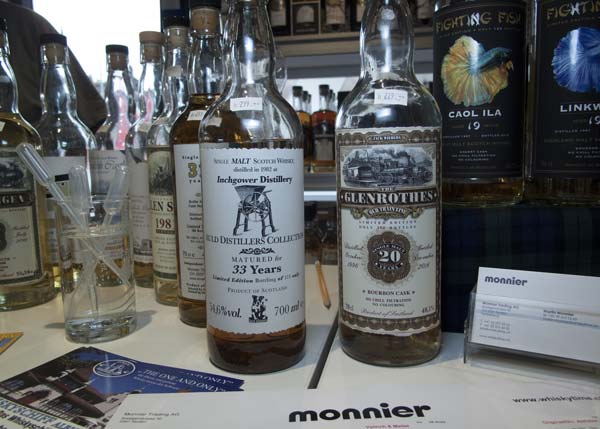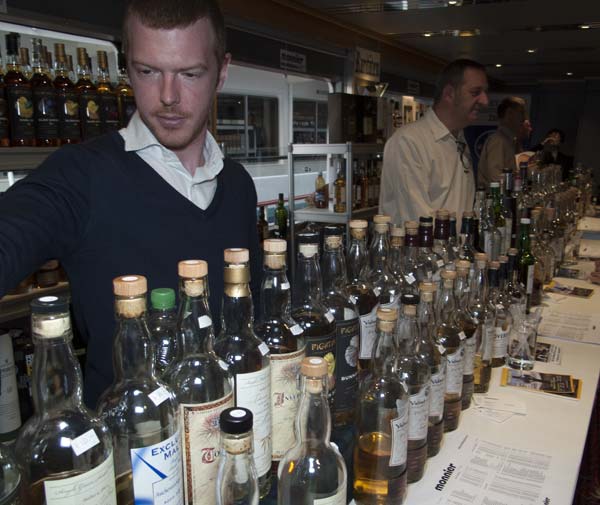 Some of the recent Jack Wiebers bottlings at Monnier (top) and Davide from independent bottler Valinch & Maillet (bottom).
I returned to the stand of World of Whisky to taste a few special bottling for Waldhaus am See. The Glenlossie 1997 19 YO Signatory cask 1132 was very good, smooth, mellow, fruity to very fruity, on melon, blackcurrant, gooseberries and Mirabelle. Simply lovely and a good value. One the best recent Glenlossie I have tasted over the last years. The Cambus 1976 40 YO Waldhaus am See was an excellent mellow and complex single grain, on cooked cereals, subtle spices, some peach and apricots. Very good and at a bargain price compared to the Cambus 40 YO Special Release. The Glen Garioch 1990 26 YO Waldhaus am See was intense, spicy to very spicy, quite aromatic and on ginger. The Caol Ila 1995 21 YO Waldhaus am See left me an excellent impression, with a rather dry, maritime and complex peat smoke, intense, without any roughness, but a nice mellowness, with the sherry giving a pleasant roundness and fruitiness.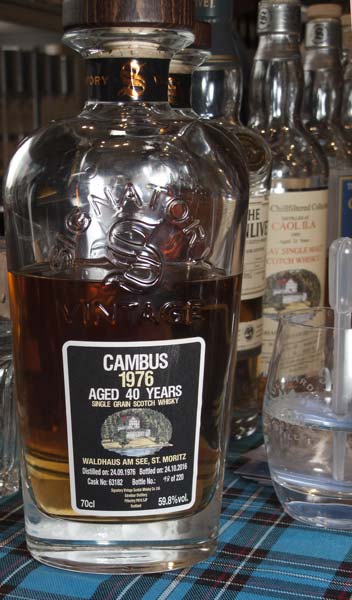 One of the special bottling for World of Whisky/Waldhaus am See
At Lateltin, the Swiss importer of Springbank, I saw the last bottle of local barley on the shelf and I politely left the person on my left to go first then. It just happened he was there to purchase that bottle I intended to acquire. Never the less, I could at least taste it and I like it very much. Some found it expensive at £125 (145 CHF in Switzerland), the price seemed rather fair to me, knowing it was done with an old type of Barley, the 2-row Bere which has a lower yield per hectare and lower yield of alcohol per tonne of barley. It was fresh, very oily-waxy, quite salty, and intense, on vanilla and some melon. I style that I enjoyed very much. On the other hand, the new Springbank 12 YO Cask Strength 54.2% was less to my liking, since it was too vegetal and rubbery to my liking.
On the other side of the deck, I could taste the new Kilkerran 8 YO Cask Strength that is currently being bottled. The outturn is around 7-8000 bottles. The whisky is slightly peaty, quite spicy, oaky and waxy, with some ginger, sea brine, a touch of citrus, including some tangerine.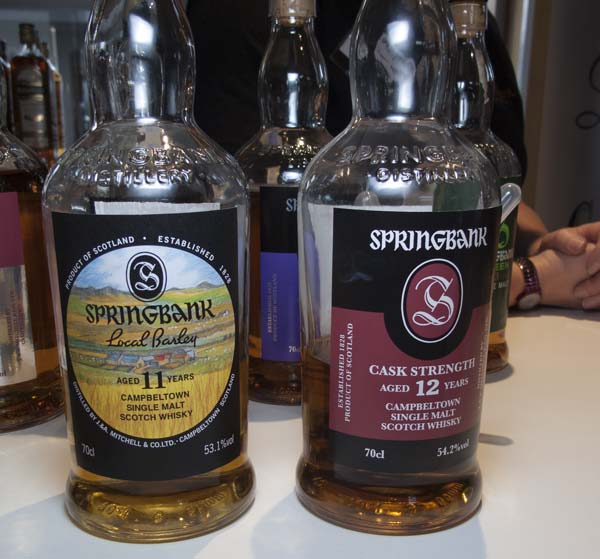 Two recent official Springbank
The Arran Bodegas Tradicion 14 YO is a new Arran sold together with a 20 YO Pedro Ximenez bottle. It is very smooth, heavy on grapes, rather thick and on sultanas. The influence of the Pedro Ximenez is strong to very strong, and while it might dominate the whisky, it is far from being unpleasant.

The Swiss whisky Säntis proposed a small single cask of Säntis sherry finish, which is a combination of the peated Dreifaltigkeit with some unpeated Säntis matured in beer casks. While the combination of the peated and unpeated whisky might have work well, I found that the hops flavours coming from the beer cask did not marry so well with the rich vegetal and slightly rubbery flavours from the sherry finish.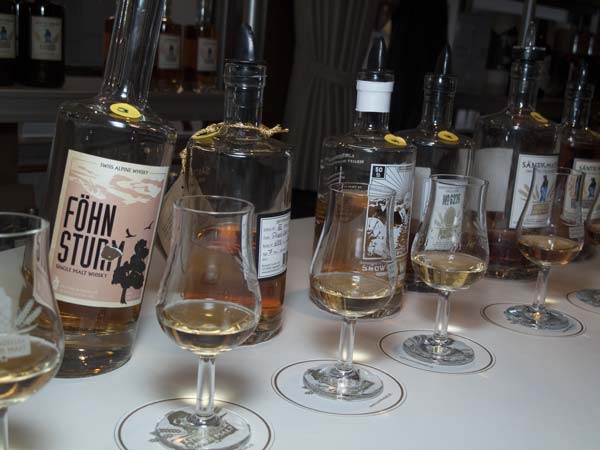 The range of Säntis single malts
At another stand, most of the latest releases from Teeling were available. While I tasted the last Rum and Port Revival edition, I could not resist tasting the new Teeling 24 YO with a 3-year final maturation in Sauternes casks. The whisky was mellow to very mellow, smooth, fruity, with light syrupy flavours, some white grapes and blackcurrant. While I am usually not so found of Sauternes finish, this worked very well in this whisky. Very good! Talking to their Marketing Manager Hugh Mac Gabhann, Teeling started production in their new distillery 2 years ago, and 600,000 LPA of pot still whiskey triple distilled have been produced last year. Some production was made during the summer with barley peated to 64 ppm and some experiments with rye were made as well. They have plans to produce single post still whiskey as well.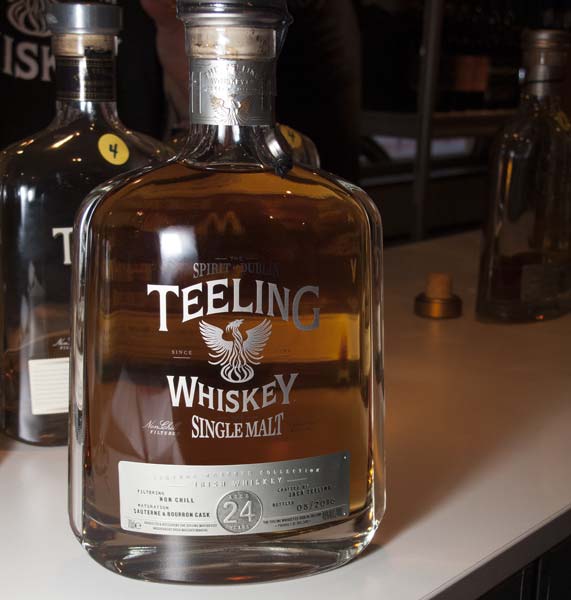 A very good 24 YO Teeling Sauternes cask finish
Johnett is a Swiss whisky distilled in the canton of Zug. I tried already in the past their standard bottling and tried their new single cask (74) bourbon matured. A well-balanced and very smooth whisky, more spicy and complex than the standard, with nice light fruity flavours. Very drinkable. Further at Whisky Universe I tried the Wemyss 1989 26 YO Cream of the Crop distilled at Glen Garioch, a very fine example from this distillery, rather peaty and mineral, mellow, waxy and grassy, on honey, some mineral and aromatic smoke. Delicious and must to try, especially for the Glen Garioch fans.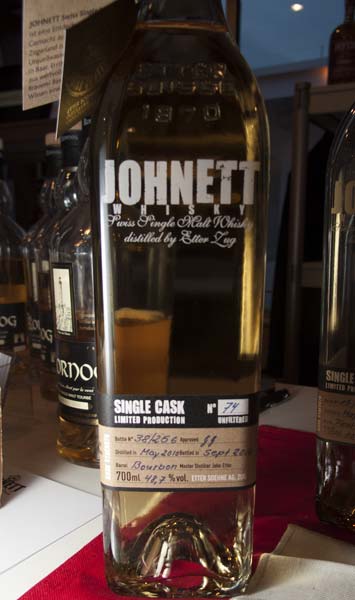 A Johnett bourbon single cask
First Edition has several new products that I haven't had the chance to taste it, starting with a nice floral, smooth, rather complex and slightly fruity Benriach 1989. Very good. The Glen Garioch 1991 was aromatic to very aromatic, moderately spicy, and slightly austere. Pretty good. The Ardmore 1996 was very smooth, unpeated and rather one-dimensional. My last dram there was my most expensive dram of the day (50 CHF per 1 cl), the sherried Port Ellen 1983 from their Author series, but at least it was excellent: very peaty, maritime, intense, smoky, on a combination of dry and sweet sherry, some red fruits, dried fruits, orange and tangerine. A great combination of peat and sherry.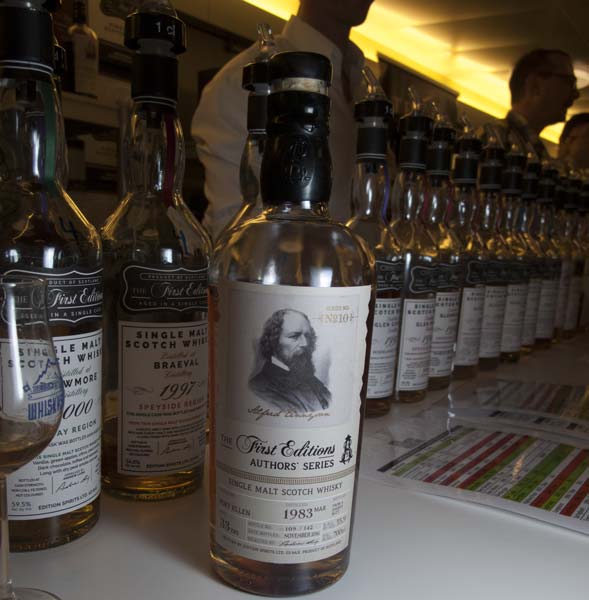 The Port Ellen sherry 1983 and most of the First Editions series
At Alexander Weine, I tasted the new Wolfburn Northland. A pretty good whisky, in the oily, slightly mineral and dusty style of the previous ones, with a clear fresh and vanilla influence from the oak cask. Less complex and spicy, but more oaky than the Aurora. Lady of the Glen labels are now printed with a bolder font, but the labels still remains difficult to read. The Speyside dark sherry 22 YO is not an undisclosed sherried whisky from an undisclosed Speyside distillery, but from the Speyside distillery. It was very good, very smooth and mellow, floral to very floral, with some sultanas, dried fruits, various spices and a touch of fudge. Well made and without any rubbery flavours. While I was not so found of the young versions from that distillery, it seems like their products improve with age, as for instance, Littlemill. The Aultmore 23 YO Lady of the Glen was one of my favourite of the day, amazingly complex, very smooth and mellow, with an initial soft delivery, before gaining in intensity and delivery a complex fruity flavours mixing melon, honeydew melon, some banana and tropical fruits. Wow. A whisky to savour. At the Ultimate Van Wees, the majority of the new products were around 7-8 years old, and decided to go for the Blair Athol 1988, a rich, robust and quite smoky and spicy single malt, but with a rather bitter-aromatic finish with too much rubber to my liking.
An excellent Aultmore 23 YO from the Lady of the Glen
From Cadenhead's, several wine finished versions were present, but upon recommendations of friends I met, I tasted the new Dufftown 38 YO. A whisky that needs time to breath, extremely mellow and quite soft. Pleasant, but it seemed slightly tired (or did I?).
At the Whisky hood, the new Circus range was available and I opted for the Port Springer, a 15 YO Port matured Springbank bottled for Awico, a very well know Springbank fanatic. While I am usually not too fond of Port finished casks, the full maturation in Port Cask worked very well with this whisky, bringing sweetness and fruitiness to an excellent old style Springbank, quite smoky and mineral, on sea brine and sweet fruity flavours. Well-done Willy!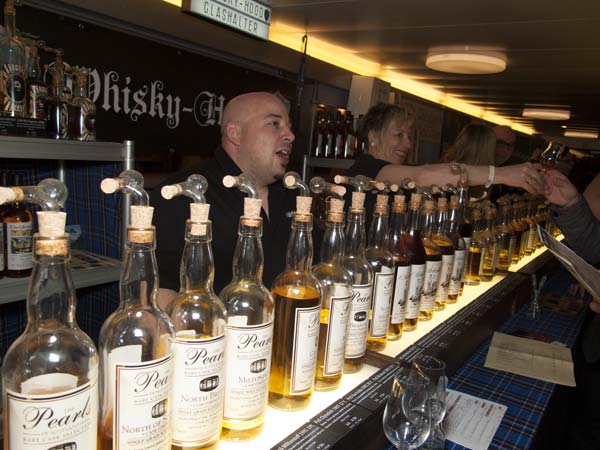 The Whisky Hood stand, with the new Circus serie on the top shelf on the left
To close the evening, I stopped at the Stillman's. Unfortunately, most of the new bottlings from Cooper's choice could not make it for various reasons, but the sherry 1998 Springbank made it. A very good one, sweet, maritime, complex, well balance and fruity. The final dram was a very good Glenrothes 26 YO from the Single Malts of Scotland bottled this year, floral, elegant, well balanced and with nice fruity flavours.
A fine Springabnk sherry cask at the Stillman
After 6.5 hours spent in Luzern, it was time to take the train home.
I enjoyed the event very much, as I could taste a fair number of new products, meet and discuss with several whisky fans, and retailers very friendly. Between 19h and 21h, the fair was very crowded and it was rather difficult to move between the stands, otherwise it was rather good. Plenty of water was available, unfortunately, only few stands had spittoons. This should be provided by the organisers, at the ships might become very crowed and warm inside.

The event was well organised and the entry price was fair (15 CHF + 3 CHF for the Glass). The whiskyburger and fries I ate on my way home were very good and reasonably prices.
Even if I spent 6.5 hours there, I could not taste all new whiskies or visits all the stands, especially a few new Swiss whiskies, such as the new Langatun Sherry finish cask strength or the new Rügger or Telser (Lichtenstein) whiskies. Amongst independent bottlers, I noticed there seems to be a gap in the 10 to 20 years old whiskies, as the new bottlings were either very young (6 to 8 years old), or rather old (>20 years).
Slainte,
Patrick, 01 Apr 2017, last edits: 07 April 2017.