Whisky Schiff Luzern, 3-5 March 2016
http://www.whiskyschiff-luzern.ch/
For the photo gallery, please click here
I managed to attend to the Whisky Schiff in Luzern (Lucerne) on Friday this year.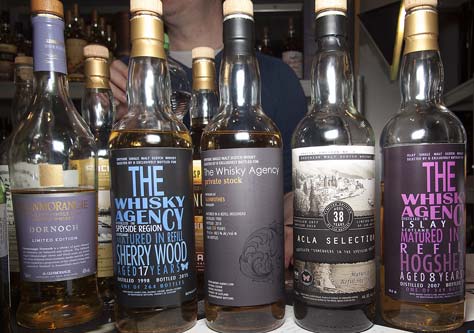 Some of the latest products at Acla Da Fans
My first stop was at Acla da Fans. Contrary to the Whisky Schiff in Zürich, the selection of rarities is very limited., but the choice of new products was large and included the new The Whisky Agency unnamed single malts and the new Liquid Sun Glenallachie 20 YO and the Allt-a-Bhainne 22 YO. The Glenmorangie Dornoch is a new Glenmorangie Limited Edition matured partially in sherry Amontillado casks. The nose was nice, clean, mineral, slightly austere and smoky, while it tasted rather young, oaky, spicy and with some toffee on the palate. The Whisky Agency 17 YO Sherry wood is a floral Speyside whisky, with a nice round sherry influence on fudge and toffee. The Glenrothes 1980 Private Stock from The Whisky Agency is an elegant smooth, mellow and slightly floral whisky, and complex on the palate. Very good. The Acla Selection 38 YO "Somewhere in the Speyside region" is a nice, round floral with a very smooth sweet sherry influence, with some toffee and complex light fruity flavours. The Whisky Agency Islay 8 YO is a nice oaky, smoky, peaty and maritime whisky, on seaweeds, some camphor, iodine and vanilla. An Islay from the Kildalton shore? The Talisker Nest Point is the latest release from Talisker, combining smoothness and smokiness, with a nice complexity. Very good, although I miss the peppery flavours from the 10 YO.
For Von Fass, Hunter Laing has bottled the range FassZination, all reduced to 46%. From this range, I tasted a very good, complex and waxy Glen Garioch 24 YO with nice austere flavours. The Laphroaig 17 YO was very peaty, oaky, clean and maritime. Very good as well.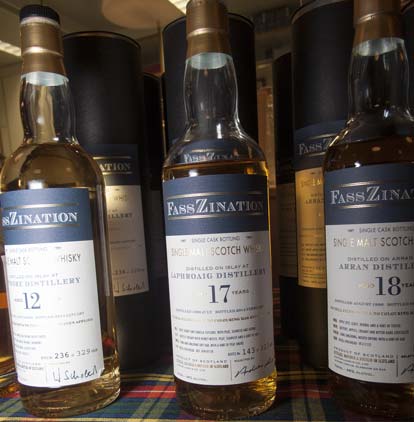 The selection of Von Fass bottled by Hunter Laing
At Cadenhead's, I tasted several versions, starting with a smooth and very waxy Clynelish 19 YO sherry wood, with nice smooth aromas of tangerine. The Caperdonich 23 YO was smooth and mellow, slightly spicy and rather uni-dimensional. The Highland Park 25 YO Small Batch bottled at 50.6% had a light smooth sherry influence and nice round honey flavours. The Mortlach 1988 26 YO had a nice smooth sherry influence, spicy to very spicy, complex, with light peppery flavours, on tangerine and orange.
A selection of bottles tasted at Cadenhead's
The Stillman's had some new expressions, including a spicy Lochside 1964, rich and with round flavours of corn (maize). The flavour profile is rather different and spicier than the Lochside 1964 blends I had the opportunity to taste. Considering its age, it is rather fairly priced. The Glen Garioch 1998 Carn Mor is a very dark sherry, with rich and thick sherry influence, waxy, on honey, cocoa, leather, tangerine, orange, a touch of smoke, and light floral flavours. An excellent sherried Glen Garioch without any off-note flavours.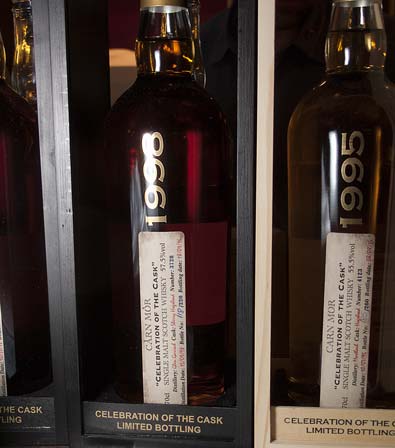 A selection of Carn Mor at the Stillman's with an excellent sherried Glen Garioch
Wolfburn made the world premiere launch of the Wolfburn whisky at the Schiff. It appeared slightly more spicy than the 2.5 yo version I tasted in December in Zürich.
At Haecky, I tasted a nice round, waxy, honey, spicy Fettercairn 17 YO Old Particular from Douglas Laing with a nice balance. A good surprise. As part of the Director's Cut, I tasted a spicy, aromatic, 1993 Glen Garioch, on ginger and a slight smokiness. Slightly spicier than the 24 YO Glen Garioch FassZination.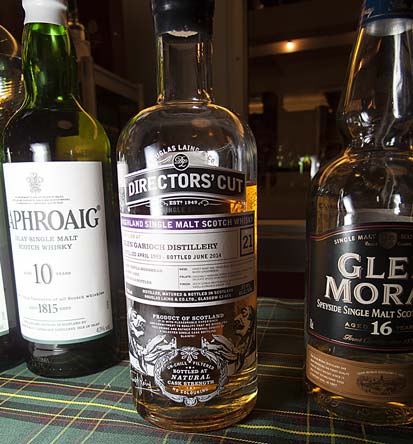 The Glen Garioch Director's Cut from Douglas Laing
At Whisky Universe, I tasted the latest Kinninvie, the 1990 25 YO "The First Drop", which is much more to my liking than the previous Batch 1 and 2, more spicy and complex. Really good, but not cheap. I published recently tasting notes for several new releases of the Balvenie, but I failed to taste the new Single Barrel 15 YO Sherry Casks. This barrel (cask N° 214) was very rubbery and quite sulphury, not my style, but this might please sherry freaks.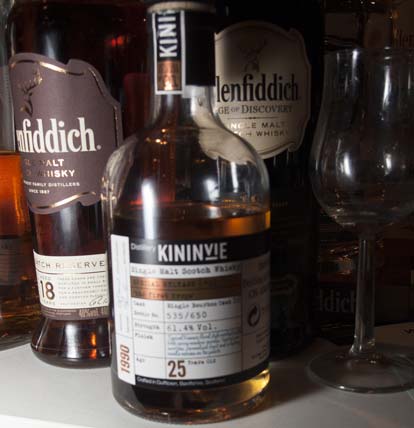 The Kinninvie 25 YO First Drop
Several single casks of GlenDronach were available at Lateltin, some from the batch of August 2015 and one single cask for the Swiss market. The 1995 PX Sherry 19 YO was heavy on the sherry with some rather bitter and tannic flavours. The 2004 11 YO PX Sherry Puncheon was spicy, oaky, on leather, cocoa and toffee, with some tannins and lots of sultanas, while the 2003 12 YO PX Puncheon was my favourite of the lot, with a nice balance between the leather, tannins, spices, sultanas and fruity flavours. The Longrow 18 YO was nicely, peaty, with the dryness of the peat balanced by some sweet influence from the sherry. I could also taste the last drops of the Springbank 16 YO Local Barley, with nice salty, mineral and spicy notes. It tasted also rounder and waxier than the core range. One of the best, if not the best Springbank bottled these last years.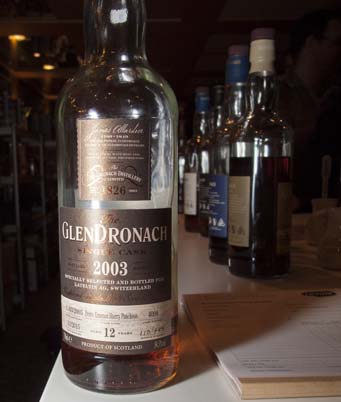 The GlenDronach Single Cask Private Bottling for Switzerland
At Angel's share, I started with the smoothed, creamy, spicy and malty Glengoyne Cask Strength Batch 3, with fresh and intense sherry notes, before tasting the Kilkerran Work In Progress 7. They were both pleasantly smooth, matured and balance, with a nice roundness. Even at full strength, the Bourbon Wood was dangerously drinkable. The profile of the sherry wood was close to the bourbon, with some rather mild additional fruity and fudge flavours. Several new Penderyn were available and I opted for the Celt, a smooth, clean and sweet Pendery, with a light peatiness coming from a partial maturation in ex-peaty cask. Tasted slightly young. From James MacArthur, there was an excellent Glen Grant 25 YO Old Masters, deliciously smooth, sweet, fruity, floral, with nice round flavours of tangerine, orange and some dried fruits. An old style of sherried whisky and good value. Highly recommended. The Ardmore 14 Old Masters was a fine peaty, smooth, complex and matured whisky, clean and with some aromatic peat flavours. Very good. Unfortunately, as finding casks is getting extremely difficult and prices fetching very high prices, we might not see any new whiskies bottled by James MacArthur & Co.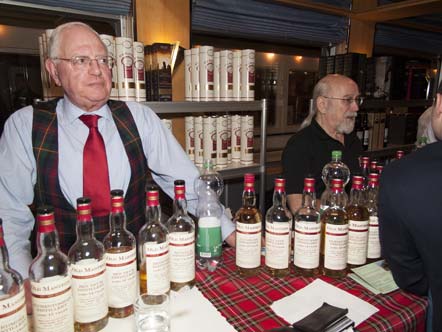 The selection of James MacArthur bottles at Angel's share
And amongst the news gathered, some distillation took place in Geneva and you might expect to see some Geneva Swiss whisky at the Bar du Nord in Carouge in 3 years!
Slainte,
Patrick