Whiskyschiff Luzern 2023, 30 March-01 April, Luzern, Switzerland
https://whiskyschiff-luzern.ch/
For the photo gallery, click here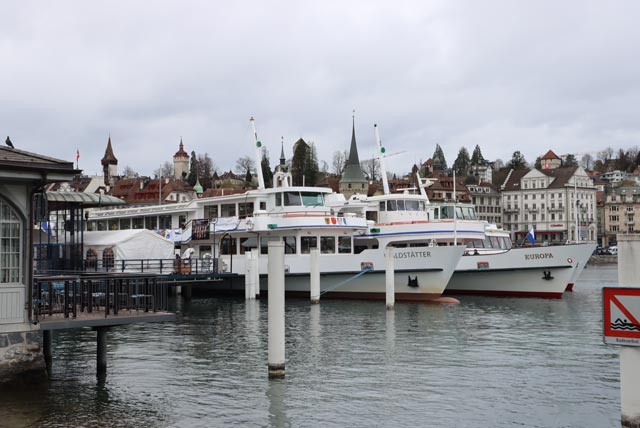 The ships on the Lucerne Pier
The Whisky Schiff Luzern is my favourite whisky event in Switzerland. Not only the location on the lake with the view over the alps is very nice, but the selection of whiskies available is impressive, with a mixture of rarities, recent expressions, original and from independent bottlers as well.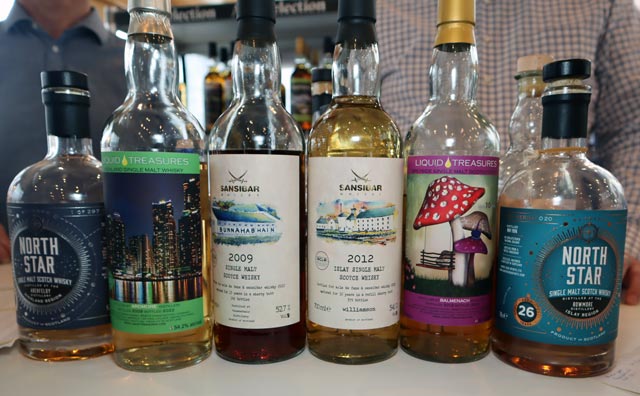 Some of the new expressions at Acla Da Fans
On the right side of the first ship was Acla da Fans and I could not resist visiting them to discover their new releases. Their new expressions were some North Star, Sansibar and Liquid Treasures whiskies, some Isle of Raasay, and one in their own label. My first whisky was a 2012 Balmenach from Liquid Treasures, a rich and sweet sherried whisky, on mushrooms, wood forest and dried fruits. A very good whisky, with lots of depth. The next one was a 2009 sherry Bunnhahabhain, bottled jointly by Acla and Sansibar, very round, heavy on the sherry and with light maritime flavours. The Ardmore 2009 Liquid Treasure was matured in ex-Islay cask with a finish in a barrique. The result was a mixture of peat, winey flavours, aromatic herbs and fruity flavours, with limited balance between the flavours. I tasted then 3 Isle of Raasay, which contrary to label were no single malts, but spirits, one unpeated and two peated. The unpeated rye was very smooth and young, with some dry spices. Tasted rather like a new make, as the peated rye. The peated distillate matured in chinkapin oak was more complex, rich, oaky and on woodlands, with a mild maritime peat smoke. The 14 YO Secret Highland malt from Sansibar was a nice, sweet, fruity, moderately spicy Glen Garioch, with some leather, heather, ginger, orange and sultanas, as well as various spices. The Secret Highland 9 YO from Sansibar was a clean, intense, moderately oaky and spicy Clynelish. The Bowmore 26 YO from North Star was a moderately smoky and peated whisky, on vanilla, wih some woody and spicy flavours. Slightly too oaky flavours to my liking. The Invergordon 32 YO from Acla was a delicious, round and fruity single grain, intense, complex, with a very pleasant mouthfeel, on vanilla, round fruity flavours and some cooked grain. The 2012 Williamson bottled jointly by Acla and Sansibar was a very intense, peaty, maritime and slightly oaky Laphroaig. A peat blast. The last dram there was an excellent, rich, and rather peaty Caol Ila 1977 bottled by Gordon & MacPhail, with lovely sweet and fruity sherry flavours.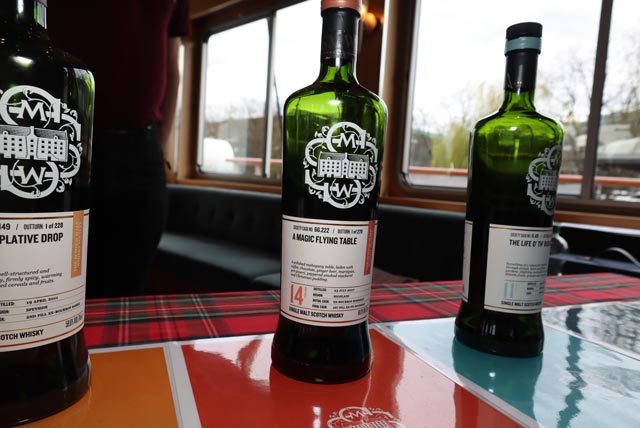 Some of the expressions from the Scotch Malt Whisky Society, with many more bottles available, but for members only.
For the first time, The Scotch Malt Whisky Society had a stand at the Whisky Schiff. My first dram there was a 14 YO Ardmore 66.222, rich, intense, spicy, moderately oaky, with some coffee beans, sultanas and a moderate aromatic smoke. A nice one. The following one was a clean, peaty, intense, smoky Caol Ila on seaweeds and hemp rope, as you would expect from that distillery.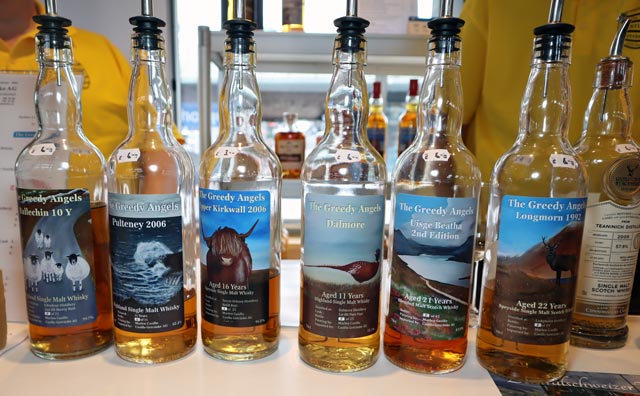 Most of the Greedy Angels from the new comer Casillo Getränke
Moving of ship, I discovered another new comer, Casillo Getränke based in Baar. Since about 1 year, they started bottling some limited outturn under their label " The Greedy Angels". I started with a very fruity, bold and slightly creamy Longmorn 22 YO, followed by a rich Upper Kirkwall 2006, with a light smokiness, on nice honey and sweet juicy flavours of orange and other fruity flavours. Very nice. Their Ballechin 10 YO was impressive, very intense and peaty on the nose, with a dry and very intense peat smoke on the palate, on leather, sultanas, orange and some high grade tannins. Surprisingly complex for a 10 YO and a very long peaty finish. In the Van Wees The Ultimate collection, I tasted a nice, rich and spicy Ardlair 2011. Ardlair is the name used for the unpeated Ardmore. Very nice. The Glen Keith 1991 was round, malty, rather grassy and complex, with light floral flavours and vanilla. Very good. The Glenlivet 2007 was a heavily sherried single malt, rich, with lots of leather, dried fruits, some rubber, moderately spicy flavours, some orange and light aromatic flavours. Intense and very enjoyable. While I was getting close to leaving, the shop owner, Carlo, arrived with some additional bottles, including a bottle of Greedy Angels Smoke and Sherry III, a very round, smooth, maritime and moderately peaty Islay single malt, on orange juice, some cinnamon and leather. Reminded me strongly of these NAS Lagavulin in sherry cask. A nice and easy drinking peated whisky. Carlo explained me that these Greedy Angels are "left over" of bottlings made for clients and labelled with paintings from his wife.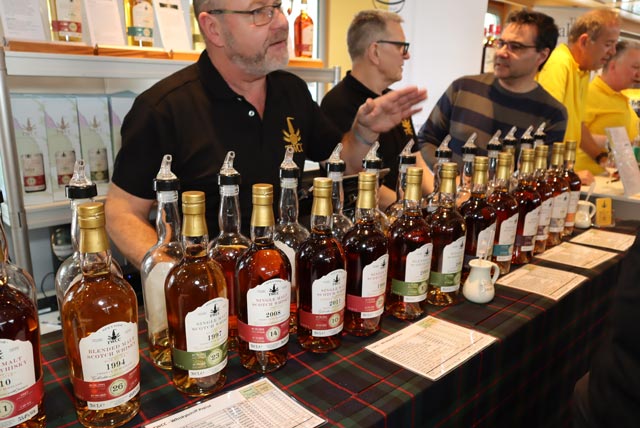 Most of the whiskies proposed by TWCC (The Whisky Cask Company)
Moving a bit further, I was happy to see Dani Kissling back with his selection of TWCC (The Whisky Cask Company). They released in the past several excellent bottlings of whiskies, in particular Irish whiskies and I was eager to taste some of their new releases. My first dram there was the Clynelish 1997 23 YO: a delicious Clynelish, waxy, complex, with light citrus and farmy flavours. The citrus flavours were mild and round, without leaving any bitterness or citric mouthfeel. The balance of the flavours and mouthfeel was simply impressive. One of the best Clynelish I have tasted these last years. It was followed by another 1997 Vintage, a sherry Ledaig. The nose was very round, with a fair amount of fruity flavours, including some cherries, and a moderately maritime peat smoke. On the palate, the peat was rather intense, complex, elegant, and well-integrated with the aromas of cocoa, leather, orange, cherries, and some light medicinal and maritime flavours. The finish was long and a few drops of water releases more peat and leather flavours. Very well and complex. A whisky that needs a few minutes to breath and to deliver its full potential. Excellent! My next whisky there was the Holy Illicit 2009, a single malt distilled at Highland Park. A nice expression of that distillery, rather juicy, with lovely round flavours of heather honey and a light round and slightly dry peat smoke. Very good. My last dram there was the Dufftown 2008 14 Sherry finish. The whisky had nice smooth, malty and mild floral flavours, with a rich and round sherry, with lots of red berries, leather and orange juice. The influence of the sherry was strong, but well-integrated and not dominating the whisky. A very good surprise.
The quality of the new releases from TWCC was impressive and I am looking for tasting more whiskies from that company.
Nearby was DramCatcher, a recent Swiss independent bottler (composed of 2 friends) and I could taste their future release, that is being labelled as we speak. It is a North British 32 YO, with a lovely rich and intense nose, rather floral, slightly grainy, with a lovely round mouthfeel, some cream, vanilla custard and fragrance. A very good expression from North British.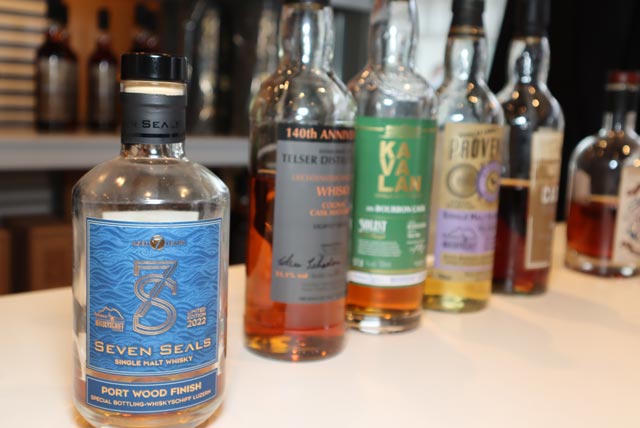 Different whiskies bottled for the Whisky Schiff over the years
At the Whisky Schiff Luzern stand, I tasted their new special bottlings for the event, with a 12 YO Linkwood matured in a first fill Oloroso cask, a mixture of malt, floral, oaky and wet wood, rather spicy and with some woodlands flavours. Not a bad one. The second one was a 7 Seals bottling. Seven seals is a Swiss independent bottler. This whisky was 7 YO Langatun matured in a Port quarter Cask with a finish by 7 seals. The whisky was malty, oaky to very oaky, sweet, winey and spicy, with rather pronounced winey and syrupy flavours and mouthfeel. Not sure what was the second finish, if it was a final maturation in another Port Cask, but the whisky was rather unbalanced, starting on the malty side, but the oaky and winey flavours took over the spirit.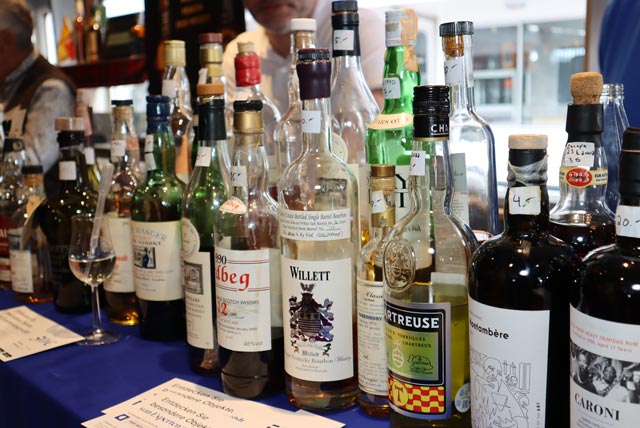 Some of the whiskies at the auctioneer CataWiki
I move of ship and went to CataWiki to visit my friends Nicolas and Enrico, who had, together with Jeroen a nice selection of old and rare whiskies. My first whisky there was a Bunnhahabhain 1976 Moon Import The Birds, a delicious old fashion Bunnhahabhain, on tropical fruits, a light maritime peat smoke and a delicious round mouthfeel, with rich flavours. The Old Pulteney 1974 15 YO for Intertrade was another excellent whisky, moderately coastal, slightly salty, with some rather dry and meaty sherry, on leather and various candied fruits. From a great sherry cask. The next whisky was a blended malt from Berry Bros and Rudd Blue Hanger probably from 1963, an old style of blended malt, with a dry sherry, some rancio and mild bold and slightly aromatic peat smoke, mixed with some maritime peat and light austere flavours. A nice one, that keeps changing over time. The Rosebank 14 YO For Peck imported by Zenith was a surprisingly round and fruity Rosebank, rather different from the Zenith bottling that I tried in the past. In all cases, a great example of the Rosebank style from the 1960s/70s. My last whisky there was a 1979 22 YO Port Ellen from The Bottlers, an excellent, intense, peaty, maritime, tarry and with light medicinal flavours. Even if it is very intense, it remains rather complex and balanced.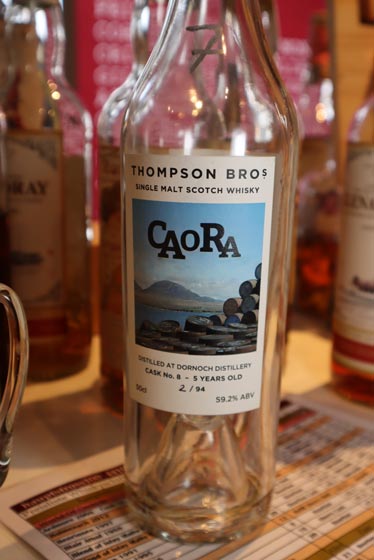 The Dornoch single malt for Caora
At the stand of Caora, there was the first bottles of Dornoch single malt for Caora, a spicy and oaky single malt, with nice "dirty" malty flavours. Rather young. At Lateltin, I was surprised to see the Springbank 11 YO Local Barley, and unsurprisingly, it was sold out on the first day. This Springbank was very spicy, rather oaky, on wet wood, dirty malt and a light smokiness. A good Springbank, but not worth the price on the second market from an organoleptic perspective.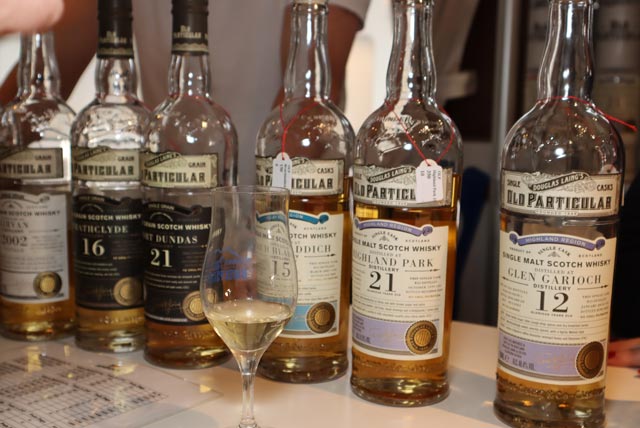 Some Douglas Laing bottlings
At the Stand of Smuggler/ Haeky, I tasted a nice spicy and gingery Glen Garioch 12 YO from Douglas Laing, rather clean and fresh. From the Douglas Laing XOP range, I tasted the Laphroaig 2000 Black, a very complex, elegant, smoky, maritime and medicinal Laphroaig, with a nice intensity. Very good.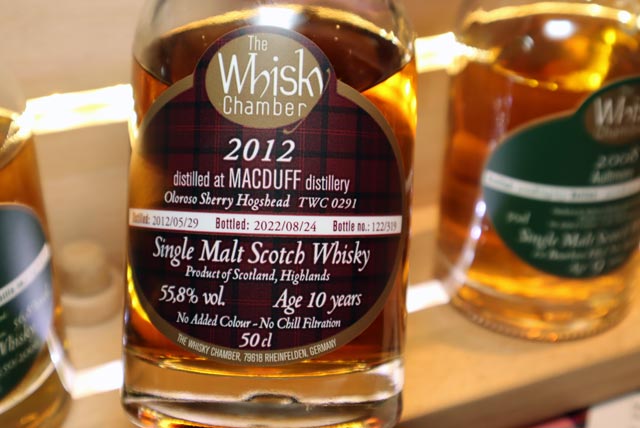 One of the new expression of The Whisky Chamber
At Awico, the founder of The Whisky Chamber, Thomas Ide, was present. There was a fair number of new released, mainly matured in sherry casks. I started with the Aberlour 2002 matured in a Ruby Port Barrique, a very expressive and intense Aberlour, winey, syrupy, malty, spicy, rather complex, on grape sugar and round fruity flavours. Very good, with the Port well-integrated. The Teanininch 2008 PX sherry cask was a very smooth, light, grassy and easy drinking single malt, rather fresh and with smooth and round fruity flavours. A very nice expression of this distillery. The Longmorn 2012 Oloroso Sherry was a nice fruity, rich, spicy Longmorn, on fudge, orange and berries. Very nice. The Macduff 2012 Oloroso sherry was a very nice round, smooth and malty single malt, with nice round sherry flavours, some round leather and juicy flavours. The official bottlings of Macduff are marketed as Glen Deveron and do not offer the same type of quality of independent bottlers such as this one.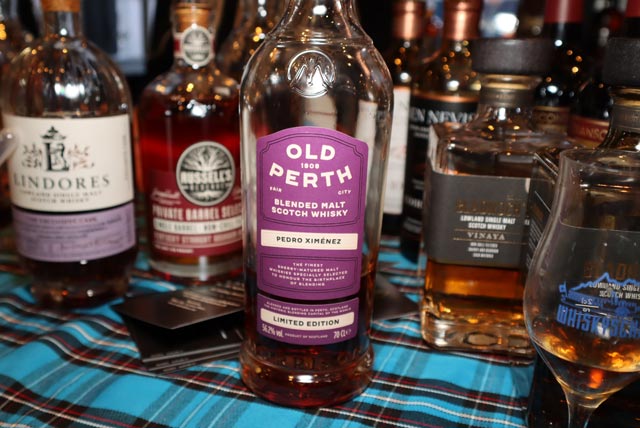 At World of Whisky, the Old Perth blended malt
Moving to World of Whisky (Waldhaus am See) I taste the Ben Nevis Coire Leis, a non-age statement of Ben Nevis, a nice grassy, juicy and slightly oaky. A nice introduction to Ben Nevis. From Signatory, the Ardlair 2011 was a pleasant, smooth, moderately oaky, slightly grassy and aromatic unpeated Ardmore, with a touch of smoke. The Old Pert Limited Edition Pedro Ximenez was a nice rich, complex blended malt, with a mixture of spices, grass, dark fruits and cocoa, as well as orange. Well balanced and very enjoyable. This was followed by the Redbreast 27 YO Ruby Port, a delicious, bold, malty and very complex Irish Pot Still, with lots of depth, and a delicious mouthfeel. The finish is long, and even if I am not a fan of Port Cask maturation, the Port is luscious, and gives a nice roundness and fruitiness, without being too winey. An excellent and well-made whisk(e)y. The next whisky was the Speyside (M) 2005 17 YO Signatory, a very nice expression of Macallan, with rich dark fruits flavours, leather, treacle and dried fruits. Even if It does not the intensity and complexity of the Macallan distilled until the turn of the Millenium, this bottling is more complex and intense than any Macallan OB bottled recently, including the few ESC I have over the last few years. A sister cask might be bottled soon. Sorry to mention that it is a very good value. So, if you like drinking Macallan, try to find a few bottles of this one, if you still can.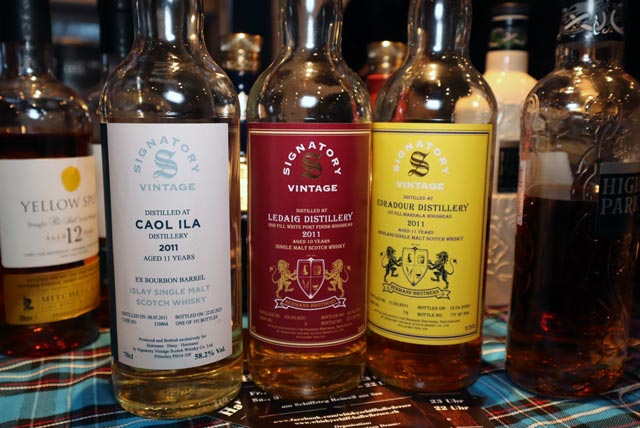 The new expressions from Hermann Brothers
I was offered to taste the latest Hermann Brothers bottlings, a selection of whiskies bottled by two brothers, who are organizing the Hallwilersee Whisky Schiff. The Caol Ila 2011 from Signatory was a very nice Caol Ila, very maritime and peaty, with light medicinal flavours and a fair dose of seaweeds and hemp rope. The Ledaig 2011 White Port Finish was not as peaty as I was expecting from a Ledaig of this age, as the peat was rather moderate, with rather sweet and slightly sugary flavours. However, on the palate, the peat was there, dry, maritime and intense. Interestingly, even if the peat smoke appeared very dry, the mouthfeel was rather round and smooth, thanks for the Port Wine. A very enjoyable expression of Ledaig. The Edradour 2011 puzzled me at first, as the nose was rather round and fruity, with a fair amount of dark fruits, but also with some tropical fruits. This is a rather atypical and playful Edradour that was fully matured in an ex-marsala cask. The wine influence contributed to nice round, fruity and grape sugar flavours, working well with a rather bold distillate of high quality. A whisky to savour, so take your time when you will drink this whisky to reveal its full potential. Rather complex for a whisky of this age. My next whisky was an unusual Big Peat from Douglas Laing. This was not the typical dumpy bottle, but a tall one, with a large Old Particular shoulder label and a rather small image of the Iconic "big peat" seaman. This was a single cask Islay Malt, from one of the distillery used in the Big Peat blend. The whisky was very maritime, peaty, dry, tarry, on hemp rope, some seaweeds and rather round sherry flavours on old leather, sultanas and other dried fruits. Very good and with a profile reminding me of an Islay distillery located on the East Coast of Islay. I tried then two Highland Park OB, with a very nice, sweet, rather juicy and slightly smoky Highland Park 21 YO, on heather honey, some vanilla and orange, rather mellow and complex. I have not tried it for many years and happy to see that the current production is very good. The new Cask Strength Batch 3 has arrived: the whisky is smooth, intense, slightly oaky and spicy, but with a certain bitterness and too much rubber to liking.
At Whisky Bibliothek, their single of cask of spirit of Yorkshire has been bottled. Unfortunately, due to issues with labels, the new bottles were only available for preorder. The whisky is smooth, malty, slightly floral and grassy, rather young, with some spices, grapes, sultanas, a touch of honey and some freshly cut grass. The influence of the Madeira cask complemented well the distillate, without being too dominant. A nice refreshing whisky.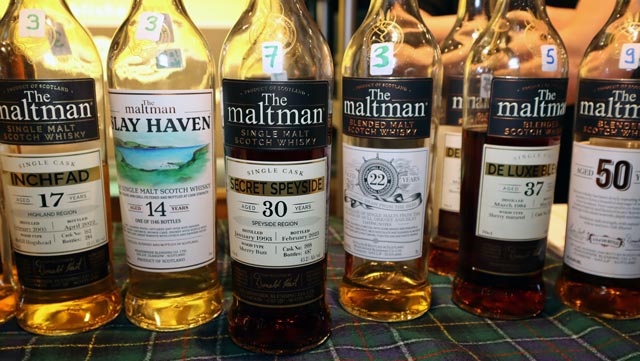 A selection of The Maltman bottlings at House of Single Malts
At the House of Single Malts, I tasted the Athru Irish single malt. Athru is a recently established Irish distillery, who is now selling Irish single malt (from Cooley) under their label until their production has matured. The 2004 Athru single cask was bold, grassy, slightly spicy, with a full body, some ripe orchards fruits as well as some heather and tropical fruits. Very good. They had several new releases from The Maltman. Discussing with Ivan, the shop owner, I learnt that many more new releases were to be proposed, unfortunately the palette of whisky he was expecting got stolen during the transit in France. Anyway, I could taste the New Secret Speyside 1993, a very good Speyside single malt, complex, slightly mellow, with rich dark fruits flavours, on dried fruits, cacao, some roasted coffee beans, cinnamon, orange and Christmas Cake. Very pleasant. The next one was the just released 50 YO blend, a mellow and rich whisky, on leather, orange, cinnamon, berries, chocolate, with some fudge, chocolate and dates. Lighter in body than the Secret Speyside, but with nice and rather complex fruity flavours (mainly dark fruits). A very nice whisky and certainly a very good value for a whisky of that age. It was also rather complex and well-made, as there was no any pleasant woody, astringent or bitter off-notes. With that, my last sample bottle was filled. My final move was a Whisky Shop Neumarkt as the shop owner, Reto Stöckli, mentioned that Andrew Laing had an advance sample of Ardnahoe, the new distillery of Hunter Laing on Islay. Talking to Andrew, the distillery is working well, and producing currently 650'00 LPA per year. They are currently working towards increasing the production of 300'000 LPA, using mainly heavily peated whisky (coming from Port Ellen maltings, with circa 40 ppm). The sample I tasted was closed to 3 years of age, and matured in a sherry cask. The nose was smooth, round, spicy, moderately peaty. On the palate, there was an explosion of dry and maritime peat smoke, with lingering dried fruits as well as some leather and dried fruits. Remarkably complex for its age and while it seemed rather contained on the nose, it is very intense on the palate. Very promising for the future.
Well, not only my stock of sample bottles was empty, but after 10 hours on the ships, by batteries were empty and it was time to take the train home.
I enjoyed this whisky event very much and I was very happy with the quality of the whiskies during the event, as well as the choice for all types of budget. Even with 10 hours spent on the ship, there was a fair amount of stands that I could not visit.
I will be definitively back next year and thanks to all the retailers and whisky enthusiasts that I met during this event.
Patrick, 06 Feb 2023.