Whisky-news.com is a fully independent whisky website created in 2006 by a whisky enthusiast for the whisky enthusiasts, from novice to expert, with a huge collection of tasting notes, distillery presentations, whisky fair reports in Europe, reports about whisky from all over the world, and many more. It is also the leading site for whisky literature review. Updated almost daily and free from financial support from any whisky company.
Whisky Live Paris, 24-26 September 2022
For the photo gallery, please click here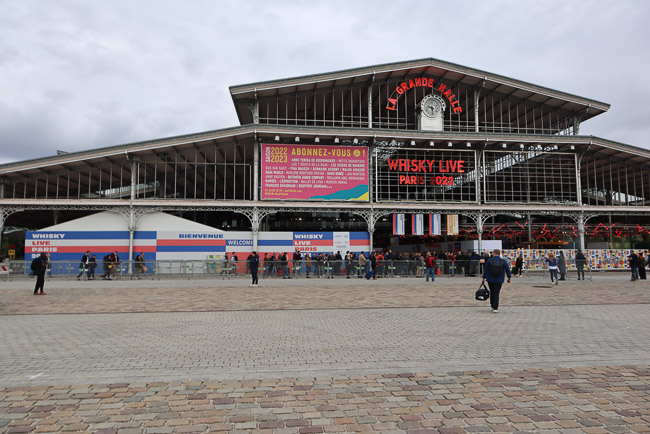 The Parc des Expositions de la Villette in Paris
My last participation to the whisky live was pre-covid period, thus I was thrilled to return to Paris.
I already attended to the event on Saturday afternoon, to have a first look at some stands, and tasting an excellent, elegant and subtle Ardmore 1985 Private Collection from Gordon & MacPhail, as well as a rather heavily sherried Macallan Speymalt Cask Strength from Gordon & Phail. This was followed by a rather heavily sherried Redbreast 21 YO Cask Strength for La Maison du whisky. A nice expression, but you need to like the heavily sherried Irish whiskies.
I made a whisky break on Sunday to enjoy a visit at the Versailles Castle.
On Monday, I was back at the gate at the time of opening and made my fist stop at the Indian of Amrut to taste their new releases.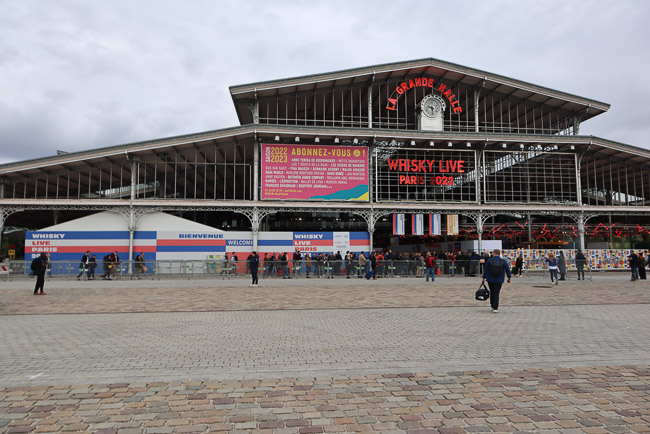 The Parc des Expositions de la Villette in Paris
The Amrut ex-bourbon cask for La Maison du Whisky (LMDW) was a nice round, unpeated Amrut, on vanilla and toffee. The Amrut Triparva is a triple distilled Indian single malt, lighter than the previous one, but also fruitier. The Ex-Sauternes for LDMW was nicely sweet, fresh, well balanced and rather complex. The ex-Peated for LDMW was a lovely peated whisky, with nice vanilla and malty flavours, as well as some rather mellow peat smoke.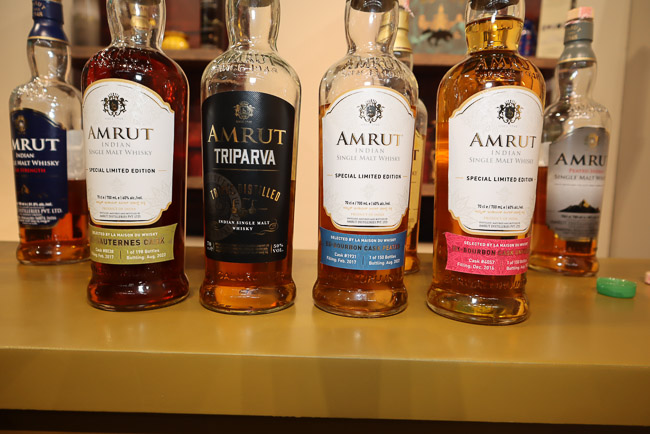 The Indian single malts of Amrut tasted during the show
The next move was at Nikka, where I tasted both new Yoichi and Miyagikyo Aromatic Yeast, which are expression of about 10 years of age. They are made a different type of yeast than the standard Yoichi. The Yoichi is moderately peated and rather round, moderately complex. The Miyagikyo was sweeter and slightly more complex. I was told that the Yoichi with age statements will return next year with the Yoichi 10 years old.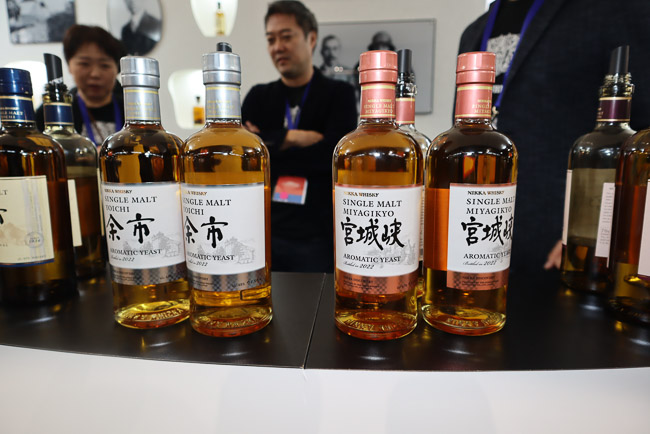 The Yoichi and Miyagikyo Aromatic Yeast at Nikka
Staying the Japanese corner, I tasted then the Chichibu Paris Edition, a rather light Chichibu, with a good body and roundness, and not overly complexed. The Chichibu Peated 2022 edition was a light, malty Chichibu, on dried aromatic peat.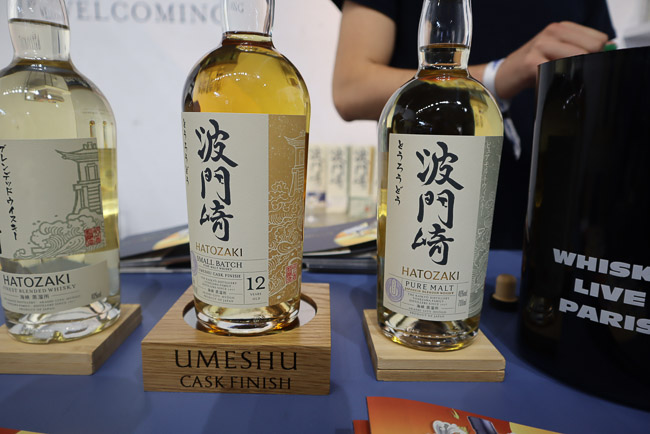 The whiskies from Hatozaki
The Japanese company Hatozaki is bottling some pure malt 12 YO, a mixture of Japanese and Scotch whisky. The 12 YO pure malt is a light whisky, rather fresh and with a maritime influence. The Small Batch Umeshi Cask Finish is rather light and maritime, but also rather sweet and on dried plums. The Umeshi is a plum liqueur from Japan.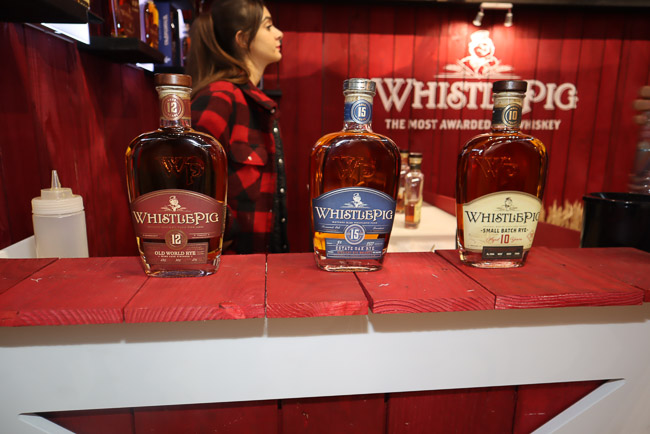 The Whistle Pig whiskies
I then landed in the American sector and my first stop was at Whistle Pig. Whistly Pig is a vatting of Canadian whisk(e)y from Alberta and whisky produced at their US distillery. The Whistle Pig 15 YO is a rye whisky, with a final maturation in Oak Casks coming from their Estate. I enjoyed it very much, as it was nicely complex, round, with a gentle rye, without any astringence and a nice mellow mouth feel. Very good. The Whistle Pig 12 Old World was made of 100% rye (96% for the 15 YO). The distillate was drier than the 15 YO, but also rather sweet and winey, with a rather strong influence of the Madeira. This whisk(e)y was matured in 3 different ex-wine casks, with Madeira representing 63% of the wine casks. The others being ex-Sauternes and Porto.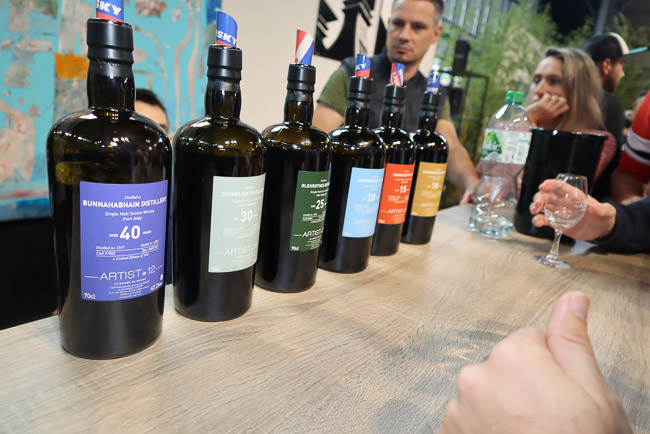 The new whiskies from the Artist range in the VIP area
Moving to the VIP area, I tasted a rather subtle expression of Clynelish 30 YO from the Artist Collection. A nice expression, but it seemed rather thin. From the same collection, the Bunnahahbain was a mellow expression from that distillery, with a light sherry influence on dried fruits. Good, but with a rather short finish. The Ledaig 15 YO Artist was a very peated whisky, with a strong sherry influence, thick, chewy, slightly bitter and with a hint of sulphur. Not my style of sherried peated whisky.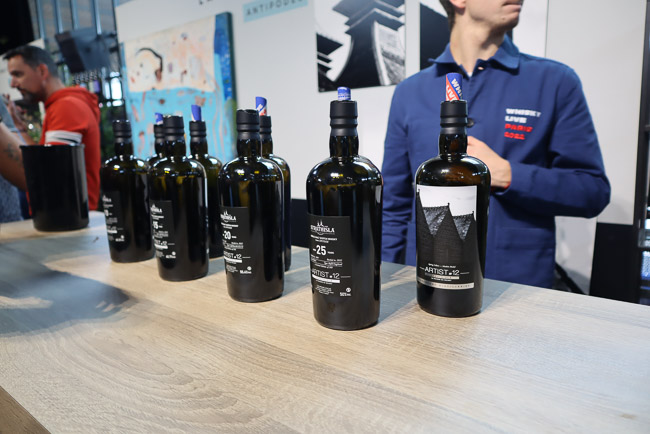 The selection of Strathisla in the Artist range
La Maison du Whisky has created a Strathisla range in their Artist label, with a 10, 15, 20, and 25 years old expression. The 20 was a nice floral, round and mellow expression matured in ex-bourbon casks, while the 15 YO was the only sherry expression. The 15 YO was very intense, rich, complex, with a sherry on dried fruits and leather. A most enjoyable whisky. The Benriach 1994 single cask for LMDW was a moderately peated whisky, with rather thick leathery flavours from the sherry casks, on spices, dried fruits and Christmas cake. A high quality Benriach.
As part of the ex-libris, I taste their 3 Knappogue castle, the 1994 ex-bourbon, 2000 ex-port and 1997 ex-sherry. The 1994 was a lovely, round and complex Irish whiskey, with nice fruity flavours, as well as some ripe berries. The ex-port was slightly less complex and drier, while the sherry and a very good balance between complexity, freshness and sweetness.
The Ledaig 20 YO from Signatory for LMDW was peated whisky, less peated than the Artist edition, but also more meaty and slightly bitter.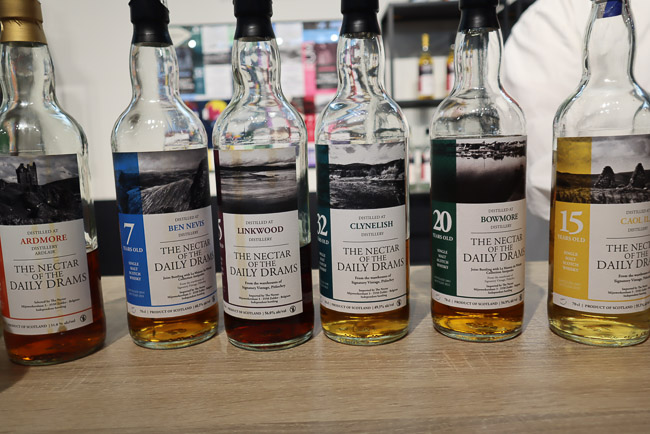 A very nice and good selection of single malts from the Belgian of The Nectar
It was then time to move to the stand of the Nectar, where I enjoyed a very good, complex and waxy Clynelish, with some ripe yellow fruits. More complex and intense than the Artist edition. This was followed by a 32 YO Balmenach, mellow, intense, rich, very fruity, rather tropical and slightly herbal. Very good. The Linkwood 25 YO was rich, sweet, fruity, complex and most enjoyable, with a delicious sweet and fruity sherry influence. The Ardmore 12 YO was also very good, slightly peated, on leather, figs and other dried fruits. The Bowmore 20 YO was peaty, maritime, complex, and moderately salty, and rather subtle. The selection from Mario was of very high quality and amongst the best single malts I tasted during the event.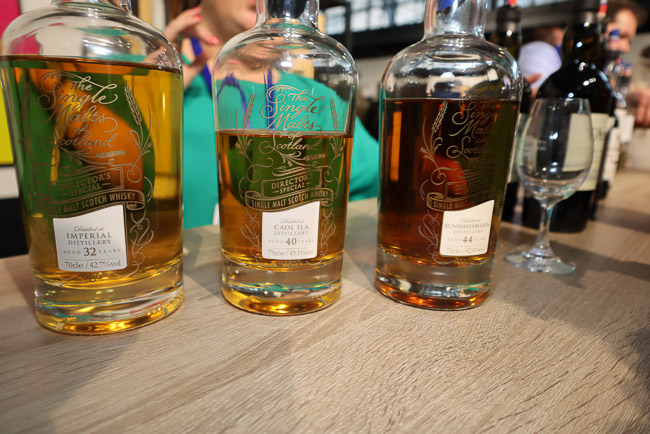 Some delicious single malts from Elixir distillers in their Director's Special selection of The Single Malt of Scotland.
Moving to Elixir Distillers, I tasted a lovely complex and herbal Imperial 32 YO their Director's Special, followed by a rich, spicy, intense and a rather maritime Bunnahahbain 44 YO. For being 44 YO, the intensity is rather impressive, and no woody influence could be detected. Their Caol Ila 40 YO was rather smoky, well balance, maritime and gentle. The Single Malts of Scotland for the Speyside distillery was slightly misleading, at it could have suggested to be a whisky distilled from the Speyside distillery, while it is a Speyside single malt coming from Chivas Brothers. It was rather floral, with a nice spicy burst, a good balanced and some vanilla-buttery flavours. I could also taste a 42 YO blended whisky to be bottled soon by Elixir distillers: it was a very enjoyable sweet, fruity whisky, with a mellow grainy influence, dried fruits, orange and soft spices, without any noticeable woody flavours. Very good. Talking to Oliver Chilton, their distillery on Islay is progressing slowly, but they are still hoping to make solid progress next year and to start distilling in 2024.
Moving a few meters away, there was Gordon & MacPhail, with only 1 bottle left, a very good Speyburn 1977 Private Collection, mellow, slightly musty and yeasty, with some floral and nutty flavours.
Going back to the ground floor, I stopped by J.G. Thomson, a recently established and sister company to the SMWS. I tasted there the Rich 23 YO blended malt, a rather spicy whisky, with some dried fruits, light malty and floral flavours. Rather gentle and slightly soft. Their sweet 1972 blended grain is a blend from 3 grain distillery, a whisky with a good intensity, slightly spicy and some cooked cereals, and with a rather short finish.
At Isle of Jura, I tasted their 18 YO, a nice whisky, rather round and bold, with some sea brine, oak spices, grapes and sultanas. Matured in ex-bourbon casks with a final maturation in red wine casks. The 21 YO Tide was more intense, spicier and more on vanilla. A good one.
Moving to Berry Bros & Rudd, I tasted their Caol Ila 2010 for LMDW, an intense, syrupy and winey Caol Ila matured in ex-Moscatel cask. The influence of the Moscatel is very strong, both in terms of mouthfeel and flavours.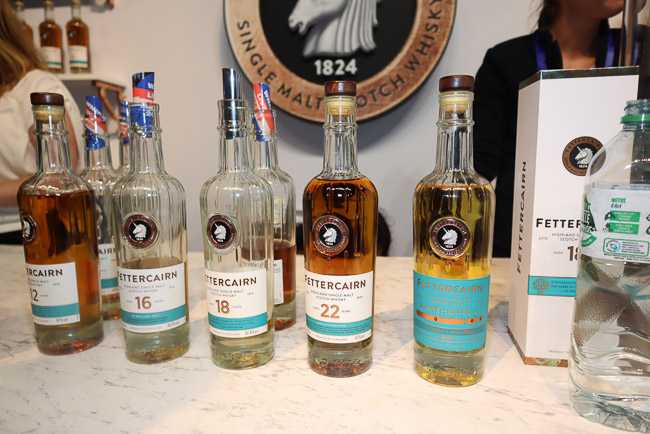 A nice selection from Fettercairn, including the new 18 YO and Warehouse 2
At Fettercairn, I had a nice chat with the distillery manager, while enjoying their brand new Fettercairn 18 YO, which has been matured for approximately 16 years in ex-bourbon casks, before moving to Scottish virgin oak. The whisky was very good, intense, floral, slightly malty, with oak spice, light buttery and green flavours. The Warehouse 2 is a vatting of casks selected from the Warehouse 2 at the Fettercairn distillery. The whisky is intense, oaky, on vanilla and light floral and creamy flavours. A rather sharp contrast to the 18 YO. The Fettercairn 22 YO was matured in ex-bourbon casks and transferred again in ex-bourbon casks. The whisky was very vibrant, rather fruity and floral and with rather soft spices, rather surprising considering this double maturation. It was also rather round and well balanced. Very enjoyable.
At Loch Lomond, I enjoyed their Glen Scotia "Distillery of Year 2022 Limited Edition bottling", a rather mellow and maritime expression of Glen Scotia, with some coconut, sea tang and vanilla and a good complexity. Very nice.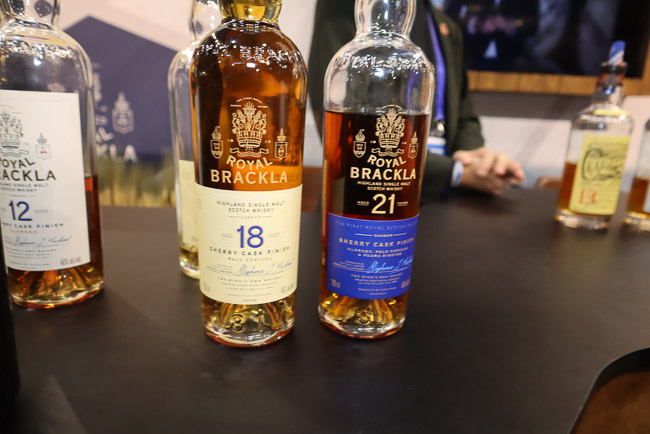 Le Royal Brackla 18 et 21 ans
I tasted then two new expressions from the Royal Brackla core range, the 18 YO Sherry Cask finish Palo Cortado and the 21 YO Sherry Cask finish Palo Cortado, Oloroso and Pedro Ximenez sherry, The 18 YO was vibrant, intense, floral, with nice sherry flavours, rather dry and slightly aromatic from the Palo Cortado, while the 21 YO was markedly mellower, sweeter, more sugary and heavy. Both were well-made, but I enjoyed the freshness and sharpness of the 18 YO better.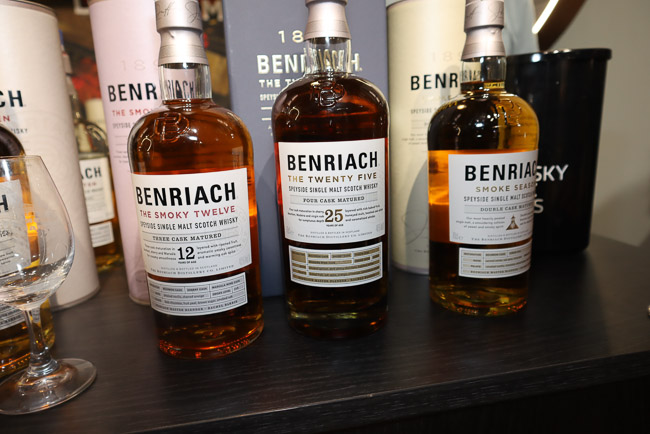 The Benriach 12, 25 YO et Smoke Season
I had not tried any of the new Benriach core range, so I started with their Some Season, a rather young, malty, slightly floral, very smoky and rather peaty expression, on vanilla, bread dough, toasted bread and dry peat, with a rather malty mouthfeel. The next one was a rather creamy and round Malting Season batch 2, the second batch of Benriach made with barley exclusively malted on their floor malting. The whisky was also rather bold and malty, slightly buttery and with soft spices. A nice whisky, with more body than the other expression. Curious to taste their peated floor season when (and if) it will be released. In the past, Benriach had a non-peated range (the Speyside style) and the peated one, but since the range has been revised, those two styles have disappeared, and the core range is composed of the Speyside style with some heavily peated whisky casks added. The Benriach 25 YO was rather intense, with a rather mild aromatic peat smoke, round, rather mellow and winey. A pretty good whisky, with a nice touch of peat but the winey flavours (mainly from the Madeira casks) are rather dominant.
I move then to the French whisky corner, starting with Le Breuil, a distillery in Normandy. The Single Malt Origine was light, young, fresh, malty, and with light fruity flavours and some vanilla. For being 3 years old, it is a pretty good whisky. The Sherry version had more weight and slightly more complexity. The Finition Tourbé was matured in ex-Islay cask. The whisky was rather light, fresh and floral, with some iodine and some light maritime peat. Their casks selection is very good, as the wood influence is rather light, and the character of the distillery is very apparent.
The Moon Harbour from a French distillery from Bordeaux.
Moon Harbour is a recently established distillery in Bordeaux, with whisky matured in wine casks from Bordeaux. I tasted first their Dock 3, a very surprising and original smoky whisky. For this whisky, the malted barley is smoked with burnt seaweeds and kelp. The whisky was rather bold, salty, with a rather gentle maritime smoke, on iodine and slightly green flavours with a light sweetness. The red wine cask influence was gentle, and the smoke contributed to maritime smoky flavours. It tasted somehow liked a peated Islay malt, with the peaty flavours removed, just keeping its smoky influence. Best to taste it by yourself if you can. A very good surprise. The Dock 2 had a rather confusing label, as it stated "Pur Malt Whisky Français", suggesting a blended malt. This whisky does not contain however any malted barley, only malt corn, resulting in a light, fresh and very sugary whisky, reminding me of a light version of Corn syrup. Original and special. The Dock 3 was a single malt without any "eccentricities", resulting in a rather young, malty, rather bold whisky, with some vanilla and a touch of dry and leathery winey flavours.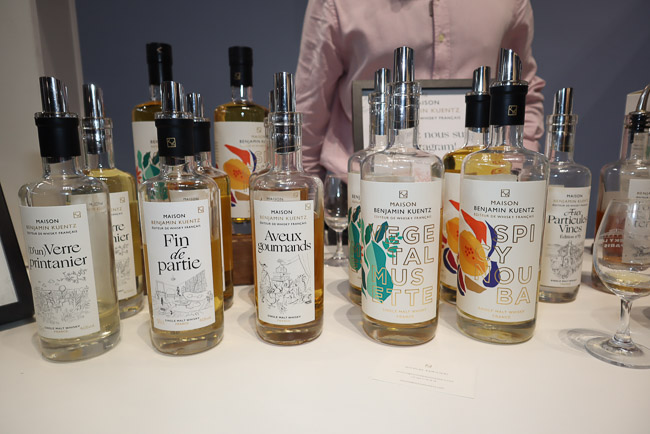 Most of the Benjamin Kuentz's whisky range
Benjamin Kuentz does not produce any whisky, but they blend whiskies from distilleries in France, or in some cases, a single malt from one French distillery. Based on the flavour profiles that were described to me, I tasted probably their oldest expression, a moderately peated Tohu-des Bohu terres, a nice peated smoky, with some soot, smoked bacon, oak spices and light malty flavours. A good whisky.
The next meeting was at the Distillery de Paris, the only distillery in Paris. Their single malt was young, light, sweet and smooth, but also rather resinous and with a rather disturbing flavour balance, coming probably from the use of chestnuts and acacia casks. An unusual whisky.
At the Italians of Hidden Spirits, I tasted their Bowmore 20 YO from their Poker Face series, a nice maritime, smoky and peaty expression, gentle and subtle, with a very pleasant complexity and very discreet influence from the cask,
At Bushmills, I tasted the Bushmills 16 YO Single Malt, a nice fruity Irish malt whisk(e)y, with winey and sugary flavours. Good, but with only 40 % abv, it tasted slightly thin.
The irish whiskies from Dingle
The Dingle Fifth Single Pot Still release was a nice fruity, malty whisky, with some berries, vanilla and some banana. Pretty nice, but still rather young.
With the event getting close to the end, I made a final tour at the Japanese of Mars and tasted their Tsunuki single malt produced at the sister distillery of Komagatake. The whisky was young, fresh, malty and slightly spicy, with some green orchard's fruits. Not far from there, I discovered the small stand of Nagahama, a distillery built about 5 years ago. In the southern part of Japan mainland. Their only expression was a heavily peated bourbon cask single malt, made with peated malt coming from Scotland. The whisky showed a very good complexity, on peat smoke, bacon, some aromatic herbs, soot and a touch of spices. A very nice one.
The French distillery Artesia are producing single malt, but using the confusing terminology of " Pur Malt Whisky". The Limited Edition sherry is a nice round malted whisky, rather light and fresh, with some dried fruits. Their Artesia Fût Noir Char #3 was a rather special whisky, as the charring of the cask took over the whisky, giving strong green hazelnuts flavours, barbecue and green aromatic flavours. Not a whisky for me.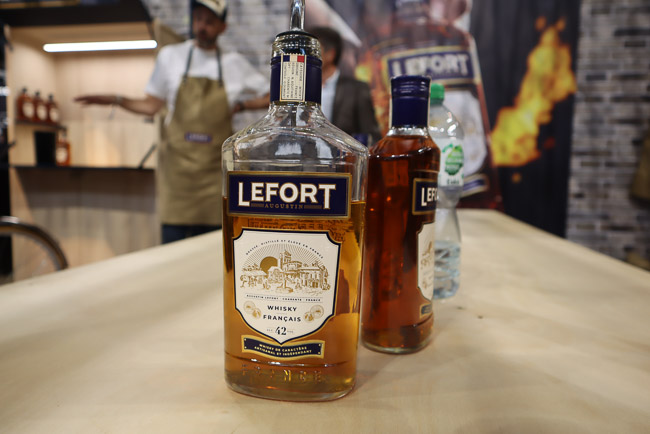 the French whisky Lefort
LEFORT whisky had a "supermarket" style of cheap whisky bottle shape. The whisky inside is only 3 years old, matured for 1 year in an ex-bourbon cask and 2 years of final maturation in ex-cognac casks. The whisky was juicy, sweet, bold, on grape juice and slightly sugary, but the whole is rather pleasant. The expected retailing price is about 22 euros, so definitely a very good value whisky.
My final stop was at West Cork distillery, where I tasted their "black label" single malt expression and the Peat charred cask. The Black label was rather young, malty, fresh, with some orchards fruits, and I enjoyed better their Peat Charred Cask expression, where the whisky is matured in casks with are charred and infused with peat smoke. The peat smoke was rather gentle, but contributing to more complexity to the whisky.
With that, it was time to take the train home.
I really enjoyed coming back to this event after so many years and meeting many whisky friends.
The number of single casks from the distillery owners was rather limited at the event, and the presence of major companies active in the Scotch whisky business, i.e., Diageo and Chivas, was limited, with e.g., Mortlach for Diageo and The Glenlivet and Aberlour for Pernod Ricard (Chivas). The selection of scotch whisky was often limited to the core range; therefore, I focused mainly on independent bottlers, including all the brands associated with La Maison du Whisky in the VIP corner, who offered a rather impressive selection of single malt. There was a wide range of world whiskies, including from New Zealand, India, Japan and Ireland, and a very important section of French whiskies.

French whisky makers are producing a wide style of whiskies, including some very original products.
I had not time to visit the Sake or Rum sections, but the Whisky Live Paris is worth attending. Even though I was at the event for more than 8 hours on Monday, I could not visit all the stands, as some were extremely, such as the SMWS or Decadent Drinks.
Regarding the passes, the standard pass allowed you to access to the core range of products, but if you are interested in single casks and/or cask strength whiskies, then the VIP is a must have.
Thank you Xavier, Stéphane, Serge, Gygamax and all the other whisky friends that I met again during this event!
See you hopefully next year.