Whisky Show Old and Rare 29 February-01 March 2020
https://whiskyshow.com/old-and-rare/
For the photo gallery, click here
As always, tasting notes presented here are impression recorded during the event. The whiskies will be then tasted again in controlled condition.
The first editions of Whisky Show Old & Rare took place in Scotland in Glasgow. As the venue was not available this year, the organisers decided to move it to London. Conveniently located close to Westminster, it was easily accessible.
The ticket price was £75 for 1 day and limited to 350 persons per day. One glass was included as well as the lunch buffet.
With the dram list accessible on the web prior to the start of the event, I prepared my list and sample bottles prior to the event, including a fair number of spare ones, just in case.

A circular view of the hall, with plenty of space to move around. A very relaxing atmosphere.
In terms of prices, each pour (1 cl) was priced between £1 and £200. I will not comment if the price is right or not, as everyone can decide that for her/himself, according to his/her budget and one should not forget, that this often once in a life time to taste such old whiskies.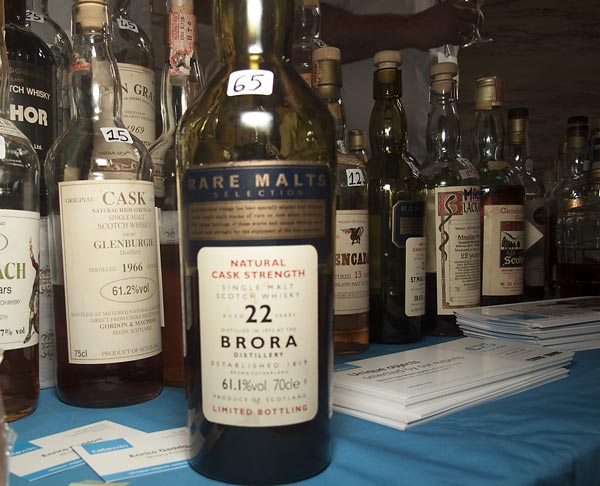 The Brora 1972 22 YO Rare Malts, one of the rarest of that range.
My first visit was at CataWiki, a whisky auctioneer, to taste the Brora 1972 22 YO Rare Malts 61.1%, one the rarest bottling of Brora 1972 from that range. An excellent Brora, maybe not as peated as its other siblings, but more grassy, waxy and balanced. The Samaroli Aging Monography 1968 was only sampled. On the same stand, there was a remarkably round and fruity Longmorn 1962 27 YO from Spirit of Scotland, a brand owned by Gordon & MacPhail, that left with an excellent impression. They had also a whisky that I was very curious to taste, the Glen Brora, a blend from Carradale Blending (a company of Ainslie & Heilbron, who owned the Brora distillery), a blend with lots of toffee, some waxy and sooty flavours. The McLellands 12 YO Highland Single Malt French Import was an excellent old style of peated Glen Garioch, sooty, heavily peated, with light sweet fruity flavours. Lovely.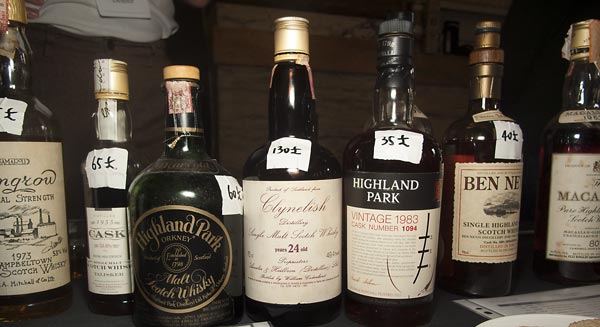 Some of the bottles I sampled from the Golden Promise Whisky Bar in Paris.
Golden Promise, a whisky bar in Paris (France), had an impressive selection of rare whiskies. Most of them were only sampled (e.g., Yoichi 1987 Single Cask Sherry, Highland Park 1956 Ferrareto, Highland Park 1983 Single Cask for LMDW, Ainslie 12 YO or Ardbeg Manager's Dram). I took a small sip of the Clynelish 24 YO for Sestante, an old Clynelish distilled in 1965 showing the old style of waxy, sooty, slightly grassy and mineral whisky from the old Clynelish (Brora) distillery.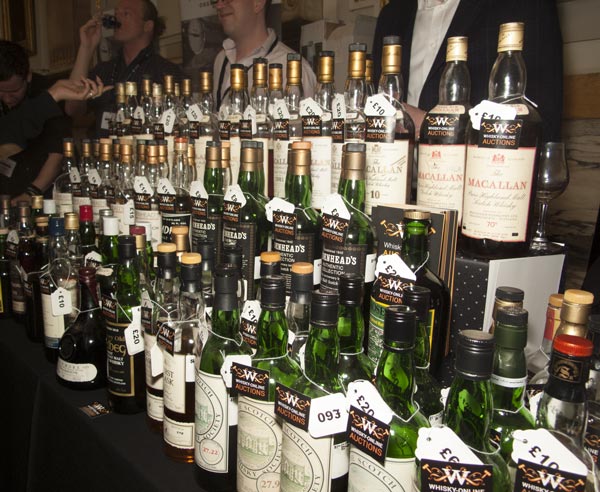 An impressive selection of Macallan and Cadenhead's white labels at whisky-online.com auctions
At Whisky-Online Auctions, they had an impressive range of Macallan 18 YO, ranging all the way from the 1960s until early 1980s, as well as two 1L bottles of Macallan 10 YO OB bottled for the New Club Elgin. In addition, they had a rather exhaustive number of Cadenhead's single cask white labels and many other interesting drams. I sampled many Macallan and the GlenDronach and Lagavulin from Cadenhead's.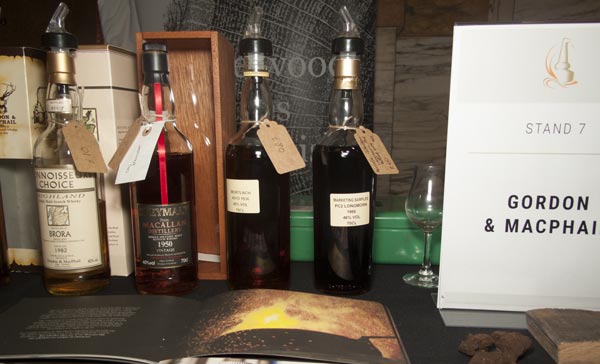 The curious "marketing bottles" from Gordon & MacPhail contain in fact whiskies from their prestigious and exclusive Decanter range
Gordon & MacPhail had some curious "Marketing" sample and my attention was brought by the Longmorn 1966 bottled in 2019. Longmorn is a distillery that I enjoy very much and thus, I could not resist buying a sample of it. This whisky is indeed the same as the Longmorn 1966 in their prestigious decanter range. Only that small amounts are filled in regular plain bottles for whisky tasting, so that whisky enthusiasts can afford the pleasure of tasting them. I find this a very good idea, as one of my biggest frustration with Gordon & MacPhail is the difficulty of tasting anything else that entry level connoisseurs choice.
Tomislav is a very active whisky enthusiast and was proposing a remarkable selection of single malts
Tomislav Ruszkowski had a very interesting selection of whiskies. As I knew most of his whiskies, I only sampled the Longrow 1974 18 YO bottled by the Italian of Wilson & Morgan, a bottling I have never seen before.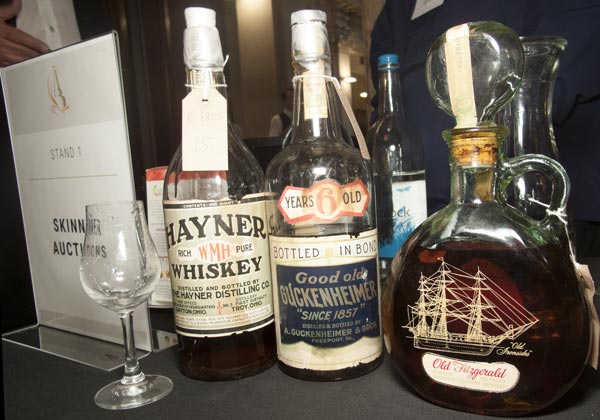 Some of very rare American Whiskey at Skinner Auction. Some very old blended Scotch whiskies from the early 20th century were available.
At the American auctioneer Skinner, I tasted first the "Scotch Whiskey" 1885 imported via London for the US market. A blended whisky with strong flavours of mushrooms and mold. Not really to my liking. The Fine Old Irish Whiskey Burke's was sampled only. The Good Old Guckenheimer was a nice very round and moderately spicy whisky, on orange, dried fruits, toffee and light peppery flavours. The selection of skinner was very interesting, as it was composed mainly of blends distilled 100 years ago…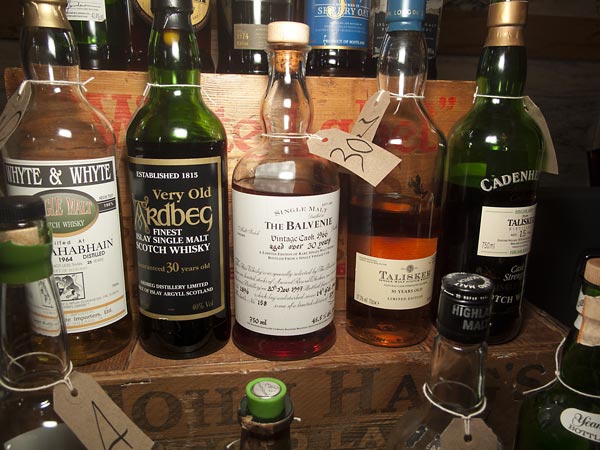 A very old and rare Balvenie OB distilled in 1966
At another stand, I tasted a 1966 Balvenie single cask taken from the collection of the former onwer of Pepsi Co that will go soon on auction. A rather complex, aromatic and slightly peated version of Balvenie, with light grassy flavours.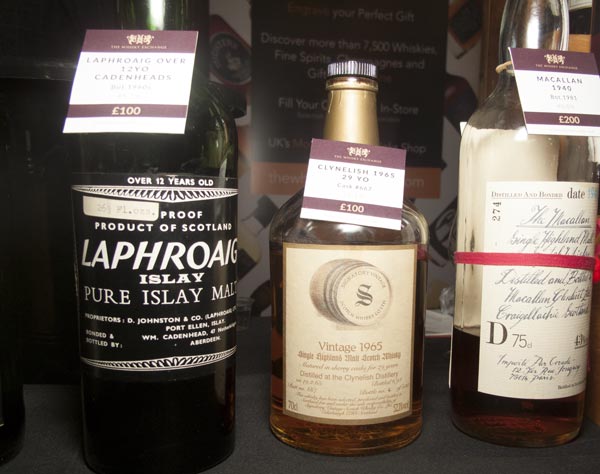 The most exclusive single malts at The Whisky Exchange
At The Whisky Exchange stand I tasted a very good, mellow, rich, and nicely balanced GlenDronach 1993 bottled for the now defunct scotchwhisky.com, with lots of dried fruity and soft leather and spices. The Clynelish 1965 Signatory cask 667 was only sampled, while the unlabelled Dufftown 1950s was an excellent old style of Dufftown, sooty, mineral, slightly rusty, with exotic fruits, a moderate mineral peat smoke, soot and light grassy flavours. Far from the current style.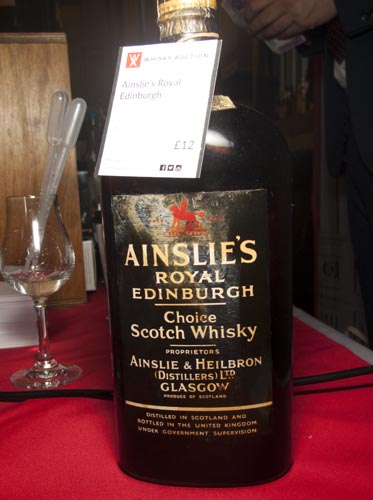 A "flat" Ainslie's spring cap bottling
I could not resist sampling the Ainslie's Spring Cap "flat" bottle at Whisky.auction, which was also proposing a fair number of old blended whiskies and other very affordable malts.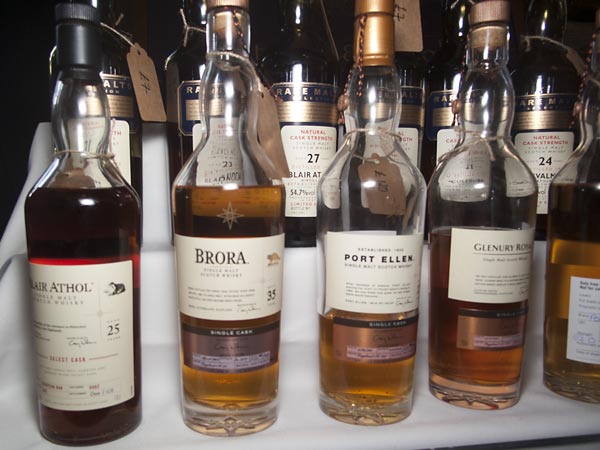 A very nice selection of single malts from the Cask of Distinction program from Diageo sold via their retailer Justerini & Brooks
Then I had a long discussion with Colin, Ewan and Tod, from Diageo/Justerini & Brooks about Brora and the cask of distinction program. Also, for clarification, Diageo used to be present at the Show under the Diageo name, but now, they are present with their retailing company Justerini & Brooks (J&B). J&B remains fully owned by Diageo, although they sell not only Diageo products. Not only they had a very nice range of single malts from their old Rare Malts range, but as well, many single casks, part of their worldwide program Casks of Distinction (CoD). I could not only taste an excellent, waxy, slightly mineral and very elegant 35 YO Brora, but two other excellent CoD, including a very peaty and maritime Port Ellen 40 YO that is being bottled, with nice medicinal flavours progressively coming through. The Glenury 50 YO had a gorgeous oily mouth feel, with various tropical and dried fruits, as well as light aromatic flavours and a touch of peat smoke. Having read that many whisky enthusiasts complained about the quality of some of the latest CoD, I was pleased to taste, that there are really excellent CoD recently bottled.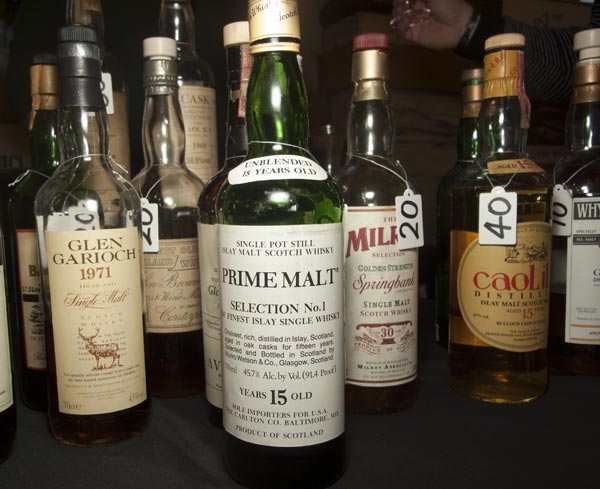 Some old single malts at Bihan Yang
At Bihan Yang, I sample the Brora 1978 41 YO CoD, that he bottled together with his friend Edward and the Auld Alliance. I was happy to taste once the Balmenach-Glenlivet 14 YO Cask Strength bottled in the 1980s. The nose was thick, heavy, moderately nutty, on humus, dried fruits and with some tree sap. On the palate it was nicely aromatic, grassy, complex, with slightly sappy flavours. Very good, even if not as good as I was expected based on some comments I read previously. This is the good thing with such events, is that you can make your own opinion on some rather "legendary" drams. He had a lot of very nice drams, such as the Glen Garioch 1971 for Oddbins, one of my favourite Glen Garioch. Following the recommendation of my friend Patrick De S., I tasted the Caol Ila 1968 Cask Strength from G&M, an excellent old style of Caol Ila, mixing a very elegant sooty and mineral peat smoke, with moderate but gorgeous flavours of exotic fruits. Finally I tasted an Islay unblended 15 YO single malt bottled in the 1980s, a whisky with a nice and subtle light sherry influence, moderate maritime influence, as well as with some dried fruits, pink grapefruit and exotic fruits. The peat was very light at the start and progressively grained in strength, but remained moderate, as if it was a blend of 15 YO malt mixed with older casks.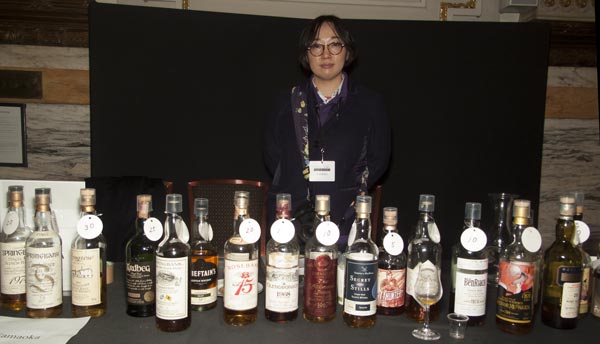 The selection from Hideo Yamako
As many more whiskies showed up on the stands than previously listed and my stocks of sample bottles drained to a critical level, I moved to the stand of Hideo Yamako to taste an old Springbank 1974 25 YO OB cask strength, with a nice moderate peat smoke, slightly oily, mineral and maritime, with a nice balance and a very good balance.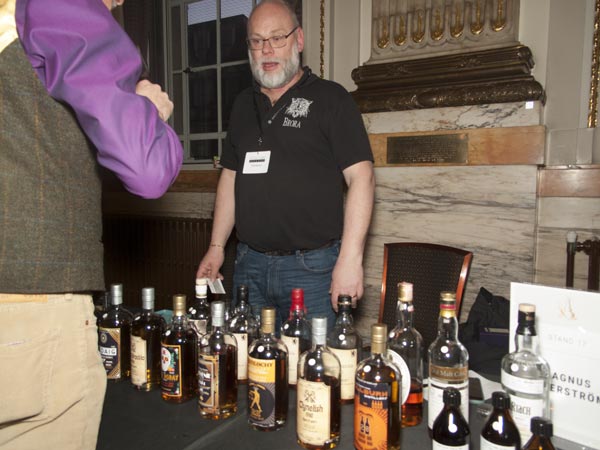 A lots of private bottling at the stand of Magnus Fagerström
Time was running was very short, as it was time for the last pour. I could not resist visiting Magnus Fagerström, who was proposing a lot of private bottlings of single malts from lost distilleries. The Ledaig 1974 27 YO was a very elegant and rather subtle whisky, with a very elegant maritime and slightly medicinal peat smoke, and a touch of aromatic herbs. The Glenlochy 1974 was only sampled and while talking to my friend Ingvard Ronde, author of the famous Malt Whisky Yearbook, I closed the event with an excellent waxy, round, Clynelish 1980 31 YO Private bottling, with nice moderate vanilla flavours and a touch of candied lemon. A nice way to celebrate the end of the event.
I finally left the place after having spent more than 7 hours there. The event was well organised, with plenty of water and spittoons, a decent buffet (mainly pastas, cheese, meat and vegan samosa) and sitting tables. Not only the choice of drams was impressive, but by limiting the number of attendees, the atmosphere was very friendly and I spent several hours, talking with people that I have been "meeting" often at other events, but never had the time for a proper discussion. For me, this was the best part of the event and should it remain in London, I will definitely return there. Even if the number of exhibitors seemed limited, there was many of them I could not visit. Should you want to attend any master classes, a two-day pass is highly recommended.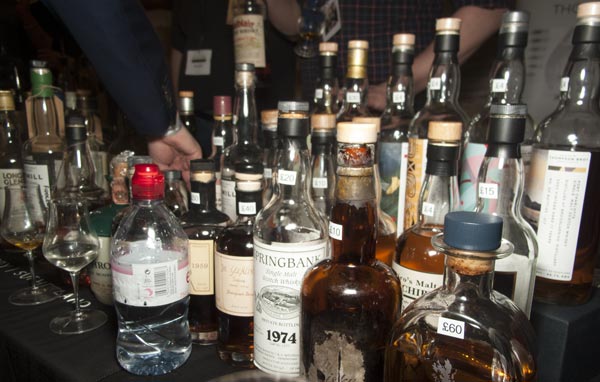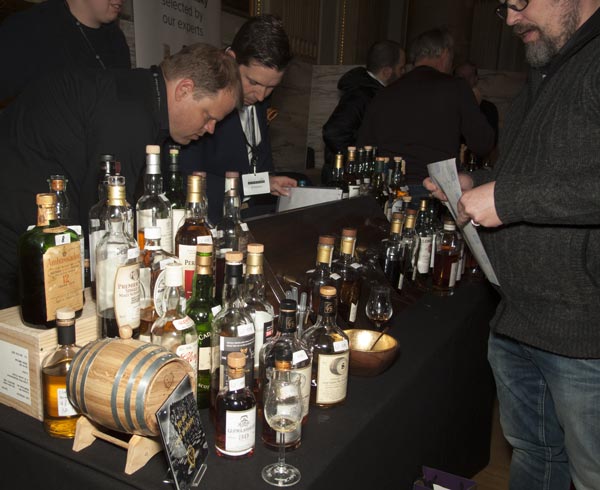 Quelques autres stands (distillerie Dornich (en haut) et C. Dully (en bas))
I was almost forgetting, for all the fans of the Dornoch distillery, the first official release is due for this year, with allocation based on your tier level and the plans for the Elxir distillery on Islay are being modified to address the comments of the authorities.
Slainte
Patrick, 4 Mars 2020