Whisky & Music, Zürch, Switzerland, 3-4 February 2023
https://www.whiskyandmusic.com/
For the photo gallery, click here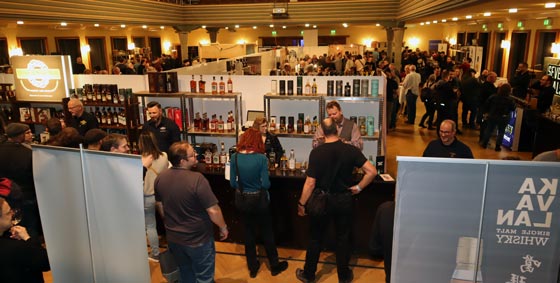 The main hall with the exhibitors
The Whisky and Music whisky festival was created a few years ago, when the Whiskyschiff (now the Swiss Whisky Experience) decided to move outside of the economical capital of Switzerland, Zürich.
After a break due to the COVID-19 outbreak, it is now back and it will be my first whisky fair of the year, and I was looking forward to tasting new whiskies from some of my favourite's whisky retailers.
The event is located at walking distance from the main train (circa 20 min) at the Volkhaus. It is less central than the previous edition, but it is much larger, with the ground floor reserved for the whisky and the top for the music.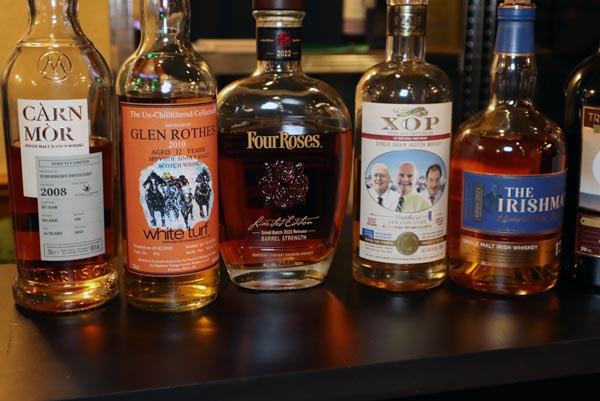 Some of the whiskies tasted at Worldofwhisky.ch
My first stop was at World of Whisky. There was no special bottling for Waldhaus am See from Signatory, but there were several new releases since December, starting with a good aromatic expression of Tobermory 2008 for World of Whisky by Carn mor, with nice round sherry flavours and nice pronounced aromatic herbs giving a smoky-like profile to this whisky. Very nice one. The Four Roses Small Batch 2022 is a rather mild expression of Four Roses, smooth, with some cinnamon and a good balance. The Russell's Reserve for World of Whisk(e)y was a very smooth and elegant Wild Turkey, soft, on lingering spices, vanilla and some ginger and cinnamon. A well-made bourbon. The Irishman 12 YO was a nice Irish single malt triple distilled, on vanilla, vanilla custard, ripe pears and with light malty flavours. Rather bold and slightly creamy. The Strathclyde 1990 XOP Douglas Laing was a very nice intense and spicy grain whisky, rather complex and on green grains.
I moved then slightly to the end of the World of Whisky stand for a small chat with the two founders of whiskybibliothek and their plans for the future Filey Bay Bottlings but Pssst.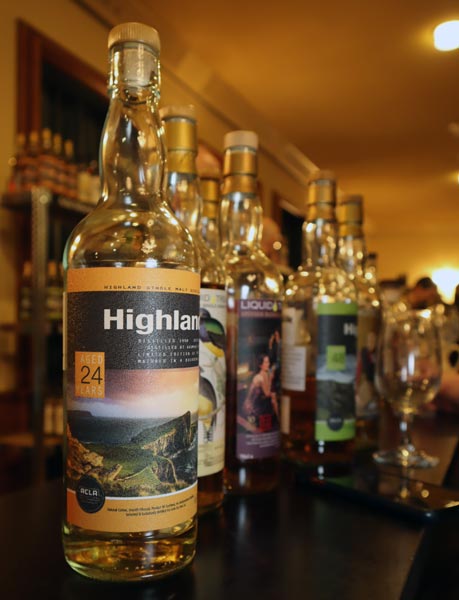 The new Ardmore 24 YO from Acla Selection
Moving around the lobby, I was curious to see what is new at Acla Da Fans, since I have not seen them since the April last year. So, I started with their grain, with the oldest one, the 48 YO Invergordon Acla Selection, a very round whisky, on porridge, some vanilla and soft spices. A vibrant grain whisky, pleasant to drink. Invergordon rarely disappoint, and this one is no exception. The next grains where two North British bottled by Liquid Treasures, the 29 YO was a very soft and mellow expression, on vanilla and light floral flavours, while the 32 YO was spicier, more intense and with a longer finish. My first single malt was a joint bottling between Sansibar and Acla, a Bunnahabhain 2009 Sherry, with a very nice interplay between the sweet sherry flavours from the cask and the saltier and slightly bitterness of the distillate, that kept changing over time. A whisky to savour and showing a remarkable complexity for its age. The 21 YO Blended Malt for China from The Liquid Treasures was nice fruity, juicy and slightly spicy whisky, with an interesting complexity, but rather thin in intensity. I enjoyed better the new 24 YO Ardmore Acla Selection, a very nice and elegant Ardmore, with a mild aromatic peat smoke, some aromatic and austere flavours. The peat smoke is well present but balanced and not dominating. I notice also a new Unnamed Islay Single Malt 31 YO from the Whisky Agency: a very mellow Islay Malt, with a mild maritime peat smoke, on seaweeds, vanilla, vanilla custard and a fair dose of aromatic herbs. There have been several bottlings of unnamed Islay coming from a distillery on the South shore of Islay and this one is the roundest one I have tasted, but also the more aromatic. Not a typical Islay single malt, but very good. This was followed by the High Coast bottled by Sansibar and this Swedish single malt was light, fresh, slightly green, with lots of wild berries, sultanas, some caramel and some cocoa. A good example of the care taken by Swedish in the production of their whisky. The Williamson 2012 Acla/Sansibar single malt is a very nice, intense, salty, maritime and smoky Laphroaig and clean. Nice to taste again a Laphroaig not dominated by the oaky flavours from very active first fill bourbon casks. Before leaving Acla, I tasted the 1970 25 YO Hillside Rare Malt, a very nice grassy and herbal expression of this distillery, with light smoky flavours and fair amount of dry flowers. Markedly better than the following expression of in the Rare Malts series.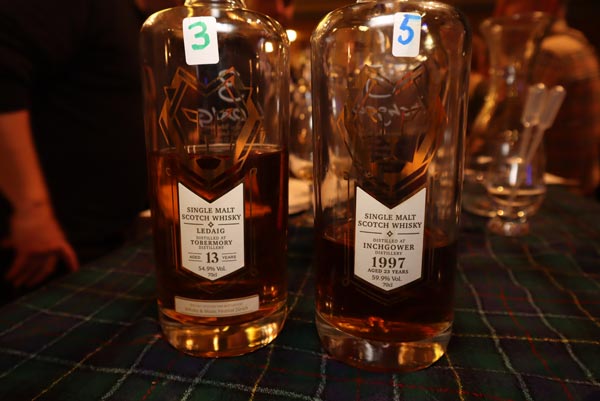 The two new expressions from C. Dully, a Ledaig and an Inchgower
My next move was to the House of Single Malts to try the new C. Dully, starting with a mellow, juicy and salty expression of Inchgower, with light fruity and sea brine flavours. The Ledaig 13 YO for the Whisky & Music Festival Zürich was a light smoky and peaty expression of Ledaig, rather complex and subtle. The peat smoke was not as explosive as one might expect from a Ledaig of this age, but more elegant and complex, giving the impression of tasting a markedly expression whisky.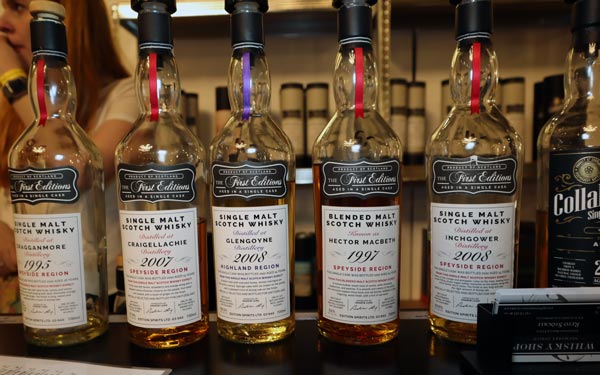 Several new releases at the Whisky Shop Neumarkt from Reto Stöckli
As the stand was busy and time running, I moved to Whisky Shop Neumarkt, where I had a nice chat with Reto, while tasting several of his new products. My first whisky there was the 1997 Hector Macbeth, a very nice, complex, round and fruity whisky from the Glenfiddich distillery with a tea spoon of Balvenie, with lovely ripe pears and some vanilla. Not only a very good value whisky, but old Glenffidich are hard to get. The Inchgower 2008 was a round expression of Inchgower, intense, salty, on vanilla custard, sea brine, light floral and malty flavours. Complex and well balanced. An exclusive bottling for Switzerland. The Glengoyne 2008 was a surprisingly round and malty Glengoyne, intense, rather creamy, with some vanilla custard. Very good as well, with more punch than the original bottlings. Finally, my last dram was a Craigellachie 2007, a very intense and rich sherried single malt, spicy, complex, rather sharp, with lots of dried fruits, berries and an incredibly long and chewy mouthfeel. Another bottling exclusive for Switzerland. A delicious one! It has been a while since I tasted The First Editions bottlings, as they tended to be rather young and pricey. This has definitely changed, as all the whiskies tasted showed a remarkable maturity and the value for money has markedly improved as well.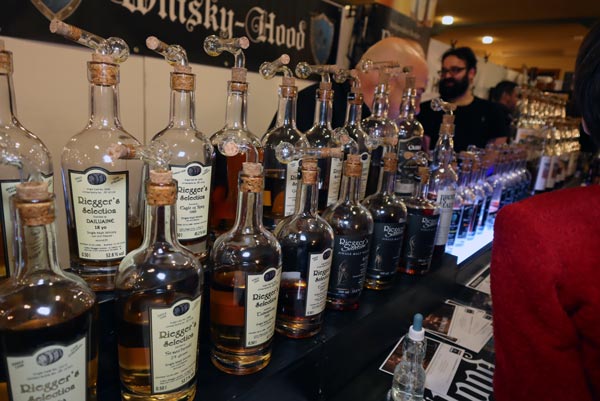 Some of the whiskies at Whisky-Hood
I moved then to Whisky Hood and tasted their Brothers In Malt 20 YO Blended Malt, a blended malt coming from Edrington, thus containing probably some Macallan, Highland Park and Glenrothes. This blend did not disappointed, as it was rich, juicy, with sweet and fruity sherry flavours, spices, cinnamon, some honey and light spicy flavours. I would not be surprised if the core of this blended malt was Macallan. They had some new Riegger's Selection with black labels, but as they were young (less than 10 YO) and with a wine finish, I preferred to taste a 1990 Old Rhosdhu from Exquisite Casks, a very good, aromatic, herbal and slightly bitter and austere whisky. Old Rhosdhu might not be a whisky with a profile to everyone's liking, but I liked this one very much.
The new malts from DramCatcher
My final stop was a DramCatcher, a recent independent Swiss bottler. I have the opportunity of tasting all their previous bottlings and I was curious to taste their new products. I just sampled their Glen Moray 14, but could not resist tasting their Ardmore 2009, a very intense, clean and sharp Ardmore, with a nice intense aromatic peat smoke, some herbs and a light waxy austerity. An excellent whisky to end my evening.
As I started to feel rather tired, It was time to take my train home.
As always, I had no the time to stop to each stand, but I was very happy with my day and having the opportunity of tasting many new whiskies. The event was of a good size, rather spacious and I was happy of having time to discuss with the retailers, that many of them, I will be meeting again in April at the Whisky Schiff Luzern.
Slainte,
Patrick
Patrick, 06 Feb 2023.