Whisky-news.com is a fully independent whisky website created in 2006 by a whisky enthusiast for the whisky enthusiasts, from novice to expert, with a huge collection of tasting notes, distillery presentations, whisky fair reports in Europe, reports about whisky from all over the world, and many more. It is also the leading site for whisky literature review. Updated almost daily and free from financial support from any whisky company.
Whisky Live Paris, 22-24 September 2018, Paris, France
For the photo gallery, click here
Remark: The impressions provided below are the notes taken during the event. Most of the whiskies mentioned below will be tasted again in standard conditions.
Remark 2: This is working draft and subject to typos and minor changes
Whisky Live Paris 2018, 22-24 September The journey to Paris went rather well, with the TGV having a delay of 15 min. The sun was shinning and I promptly walked from Gare d'Austerlitz to the Cité de la Mode et du Design.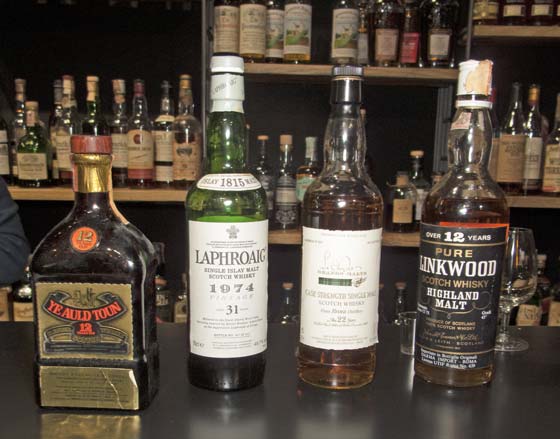 My selection at Golden Promise
Arriving 30 min after the opening, access to the Cloak Room was much easier and faster. Right after the entrance, I turned right to discover the stand of Golden Promise, the famous whisky bar in Paris with a very large selection of old and rare whiskies. My first dram was a nice spicy Brora 22 YO distilled in 1980, a rather spicy, moderately smoky and peaty. A good one. I tried then the Linkwood over 12 YO OB from Parma Import, a rather green, bold, grassy and spicy Linkwood, with some humus, dried fruits and some orange. I tried then the Laphroaig 1974 OB 31 YO for LMDW, as the first two times I tried it, it was rather soft, soapy and unpleasant. This bottle has been opened only a couple of months ago, and it was markedly different from the bottles I tried before: more intense, peaty, with a dry sherry influence, various spices, some sea brine and maritime flavours. Finally, I tried the Ye Auld Toun 12 YO for Giaccone, a very nice old grassy blend, slightly spicy, grassy, waxy and peppery, with a light dry and austere peat smoke, some honey, mustard seeds, humus, candied oranges and other nutty flavours. Very enjoyable. All these whiskies were to be paid per measure, with 50% off compared to the regular bar price at Golden Promise.

The new Elements of Islay bottlings
My first stop was at Elements of Islay, where the whole new range (e.g., Cl11, Pl5, Lp9) was available. I started first with the "Peat and Sherry" selected by LMDW. It is the Element of Islay Peat (blended malt), which has been further matured in a sherry Oloroso Sherry butt. The result is a very nice rich and sweet peaty whisky, with lots of dried fruits (mainly sultanas, some dates and figs), with a very nice peat smoke. I enjoyed very much. I just nosed the Cl11. Matured in ex-Solera cask, the influence of the sherry cask was rather surprising, acetic, deep and vegetal. Will be curious to taste is next week in London. Talking to Oliver Chilton, they managed to purchase several ex-solera casks. As the aromatic influnce of the solera casks is markedly different from the traditional sherry casks, the other whisky matured in solera casks will be vatted with other sherry casks in future bottlings to bring more complexity.
The planning submission for the new Elixir Distillers Distillery on Islay is moving. The distillery will be composed of 4 stills, with a long fermentation of up to 170 hours, with a production planned of 1.2 mio. As accommodations are limited on Islay, they plan to build accommodation for their staff in a separate application. They plan to create an old style of whisky, with modern technologies. Back to the whiskies, I tried the new Lp9, a very good and rather old Laphroaig sherry matured. Very dark in colour, the sherry influence is more on the clean and dry side, on leather, dried fruits, a dry peat smoke, cocoa, liquorice, spices and some iodine. Very good. Most of the elements of Islay were fairly priced and the allocations for France sold out before the Whisky Live. They will be present also next week at the Whisky Show, although most of them sold out within hours last week.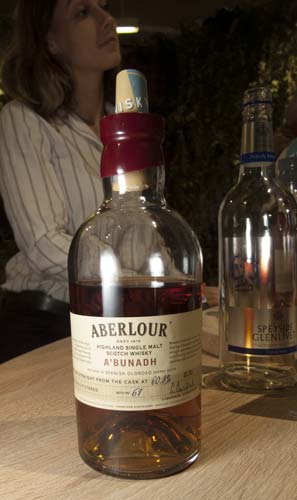 The A'Bunadh batch 67
At Aberlour I could try the A'Bunnadh batch 61, I have not tried this whisky for a while, and it was a nice creamy, malty and oaky version, with more vanilla that I am used to (sherry American oak casks?), and nice spicy flavours. A good one.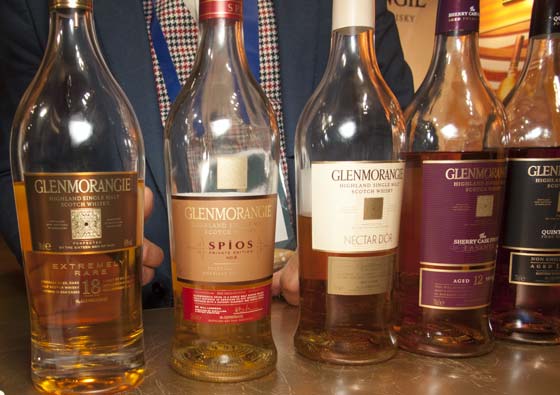 The Glenmorangie range, including the new Spios
At Glenmorangie, I tried their new Spios Private Edition, a whisky matured in ex-rye casks. The whisky was rather oaky, spicy, on dry spices, some light creamy and floral flavours, with some vanilla and light orchard fruits. Well made and the rye influence is well integrated, as it gives some dry spices, without being unpleasantly dry or spicy.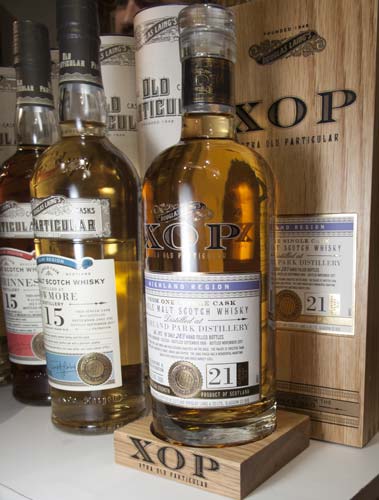 Some of the selection of Douglas Laing, including a very good Highland Park XOP
At Douglas Laing, I tried their Highland Park 21 YO XOP, a very good and complex Highland Park, on heather honey, vanilla, creamy flavours and soft floral flavours, and rather round. Maybe not the most typical flavour profile from that distillery, but I enjoyed very much its balance and complexity. The Ledaig 15 YO Old Particular was peaty, oaky, and maritime, with a fair dose of iodine. A good one. Markedly less complex than the HP though. I will be reviewing their blends later on, but they made a lot of efforts on the packaging. I really enjoyed the packaging of their Cauldron.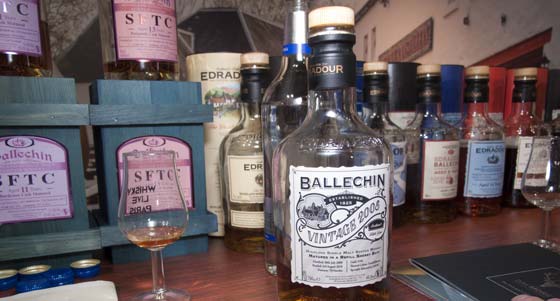 The Ballechin Vintage 2008 and several other Edradour and Ballechin in the back
Signatory is celebrating their 30th Anniversary and they will be bottling a rather impressive set of single malts, mainly from lost distilleries or lost "malts", including a 1972 45 YO Bowmore. Unfortunately (and maybe as expected), none were available for tasting. From their Cask Strength range, I tasted a nice 1990 27 YO sherry Bruichladdich, a sweet, slightly smoky and rather fruity expression from that distillery. As the stand was very busy, I returned later to try the Ballechin 2008 Edition, a very nice dry, peaty and slightly meaty expression from that distillery, with a nice sweet sherry influence, on dried fruits, some orange and cacao. The Edradour 10 YO 2007 Straight from the Cask was a nice bold, intense, floral whisky, on leather, dried fruits, orange, cocoa, roasted coffee beans, cinnamon and clove. While I did not enjoy so much the produce of this distillery before, I am enjoying more and more the whisky produced under the management of Andrew Symington. The distillery has now double of production, with the second still house being a copy of the first one, including a replica of the Morton's refrigerator.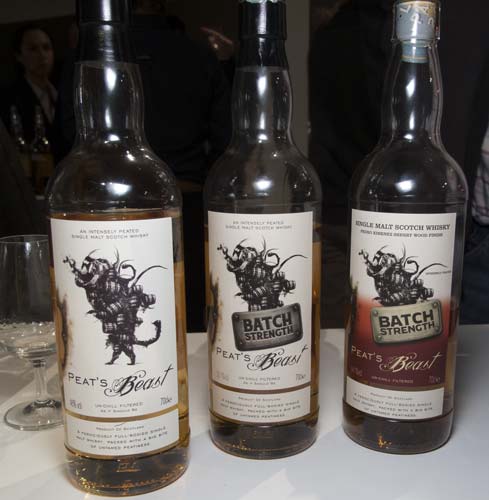 Three different expressions of Peat's Beast Single Malt
At Rest and Be, they had a bottle of Octomore and Port Charlotte. As it was the same bottles as last year, I tried instead their Peat's Beast Batch Strength with a Pedro Ximenez sherry wood finish. While it might tasted slightly young and smooth, the peat smoke was very enjoyable and the whisky easy to drink, with nice sweet and fruity flavours coming from the PX finish. A good daily dram.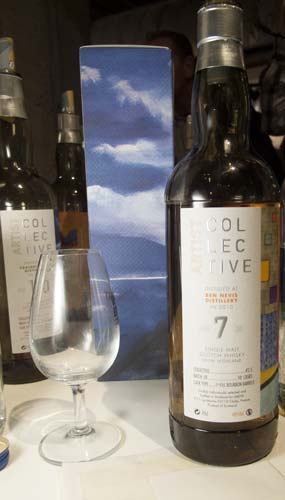 From the Collective, a suprisingly fruity Ben Nevis 7 YO
Collective is a small batch collection of whiskies from La Maison Du Whisky, and I tried first their Craigellachie 10 YO. A nice and clean whisky, floral, slightly round, but some inner tubes flavours. The Linkwood 21 YO was very sweet, floral, slightly malty, on sweet and juicy flavours and honey. An easy drinking whisky, rather mellow and I did not notice the 58% abv! Talking with my whisky friends, Stephane kindly recommended me to taste their Ben Nevis 7 YO. It was a rather smooth and floral expression, rather bold, with the expected initial flavour profile of that distillery, before a surprising juicy and fresh fruitiness exploded, on exotic fruits and some ripe orchard fruits. The fruitiness for a 7 yo whisky was impressive. It should not last long on the shelves.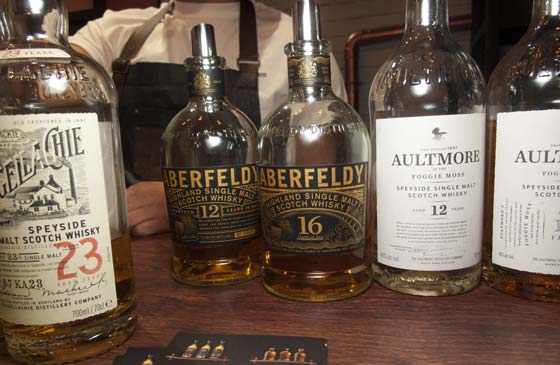 A selecton of Aberfeldy and Aultmore
There was no new Aultmore or Craigellachie expressions available, but I tried the Aberfeldy 12 and 16 YO OB, nice malty, moderately spicy and floral whiskies, with a nice honey sweetness, with the 16 YO being more complex and spicier than the 12 YO.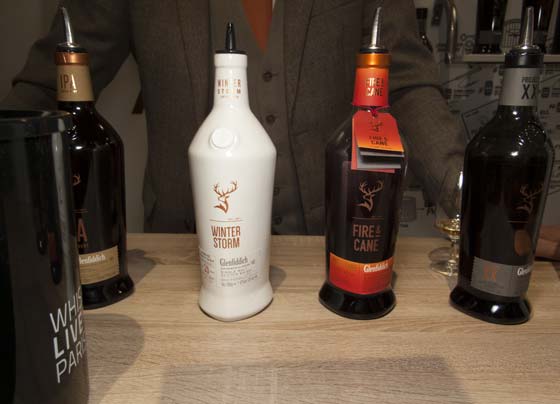 The second batch of Glenfiddich Winter Storm and the new Fire & Cane
At Glenfiddich, I tried the second batch of Winter Storm, finished in ex-Pelletier Canadian Ice Wine casks. As all their remaining casks have been used for the second batch, this will be the last batch. Matured in ex-wine casks for 12 months, as batch 1, it is a nice, sweet and sugary Glenfiddich, slightly winey. It appeared slightly rounder and mellower than batch 1. The Glenfiddich Fire and Cane was introduced to the US last month, but only this weekend in Europe. It is a lightly peated Glenfiddich with a finish in ex-rum casks. The peat smoky is rather dry and tarry, but rather light to moderate, with pleasant sugary flavours. Do not expected an Islay-like peatiness, but a more subtle peat smoke, combined with a sugary rum influence. The whisky is markedly different from the core range, but I enjoyed this profile.

The Macallan Gold Double Cask
At Macallan, I could try the Macallan Edition N°4. While I enjoyed very much the editions 2 and 3, the sherry in this version was already very intense, with the wood influence was very strong, even dominating the sherry. The Macallan Gold Double Cask is a 12 YO Macallan Double Cask bottle for Nicolas in France. It is a version with a different ratio of casks compared to the standard 12 YO Double cask. The whisky was extremely soft, smooth, with just a hint of spices. Surprisingly, there was no stand with Highland Park.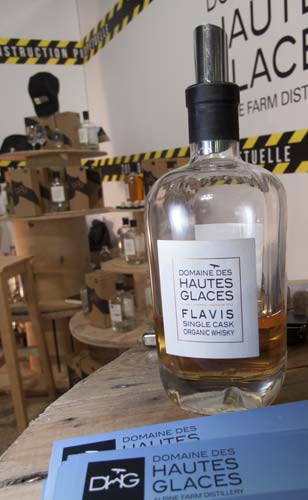 The Flavis, the oldest cask of the Domaine des Hautes Glaces
Moving to the European section, I tried The Flavis from the Domaine des Hautes Glaces (DhG), Distilled in 2010, this single cask organic whisky was very smooth, light, fresh, with a nice complexity and rather round spicy flavours. Fresh. Le Moisson was smoother, young, markedly less complex and more on green orchard fruits.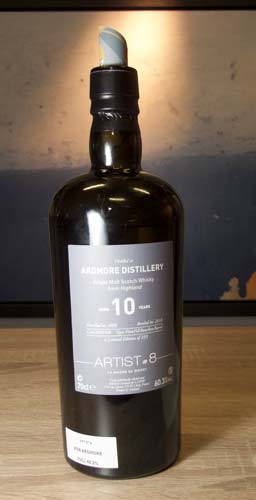 A very good and heavily peated Ardmore Artist
In the VIP section, I tried the Bunnahabhain 1979 Artist. The whisky was complex, maritime, salty, slightly smoky, with some tobacco and rather intense and rubbery sherry influence. Too rubbery to my liking. The Ardmore 10 YO Artist was on a very intense, dry, rooty and aromatic peat smoke, clean and sharp, and on dry roots. A good punchy whisky, and one of the peatiest Ardmore I tried. From the Nectar of Daily Drams, I tried their 22 YO Clynelish, a very sweet and mellow expression of that distillery, with some pepper and mustard, very sweet fruity flavours as well as some rubber. I liked better their Irish 29 YO, fruity, complex, rather intense, with lovely tropical fruits and some blackcurrant. All bottles of Silver Seal were emptied.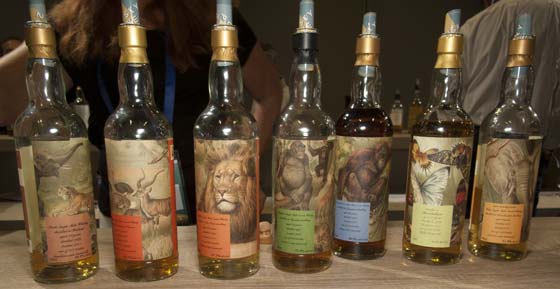 the Antique Lions of Spirits range
At Antique Lions of Whisky, I tried their Clynelish 20 YO, a very nice, elegant expression of that distillery, complex, moderately waxy and a pleasant smoothness and balance. Very good. The new Fettercairn 28 YO OB was a soft, floral to very floral whisky, with light fruity flavours. Pleasant and easy drinking, but rather soft. It would be nice to taste it at a higher strength than 42%. The BenRomach 2009 For La Maison du Whisky was a very good whisky, complex, balanced, bold, moderately peaty and spicy. I really enjoyed the balanced between the different flavours and one of my favourite whisky of the day. The Jura 1988 Rare Vintage OB was very dark, mellow, thick, slightly floral, on humus and dark fruits. Matured in ex-bourbon cask, it was thick, rich and spicy like a sherry-matured whisky. Good and enjoyable to drink. The Caol Ila 2003 Gordon MacPhail for La Maison du Whisy was a nice, clean, light, peaty to very peaty whisky, rather maritime, with some iodine, camphor and medicinal flavours.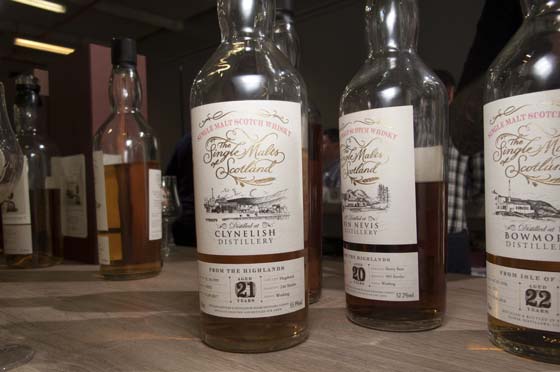 Some of the Single Malts of Scotland
Another one of my favourite was the Imperial 21 YO from the Single Malts of Scotland (SMOS), a very elegant, complex, grassy whisky, moderately floral, with light spices, herbal flavours and gooseberries. Very good. Talking to Billy and Olivier, more Imperial are to be expected from SMOS. I enjoyed also very much the Clynelish, smooth, waxy, with light floral and farmy flavours, soft spicy flavours and a smooth mouth feel. SMOS started now to produce small batches, including a very nice maritime and salty Bunnahabhain 27 YO, complex, well balanced, with a touch of smoke, tobacco and vanilla. Very good. The other small batch is their Mortlach 22 YO that I will be tasting later on.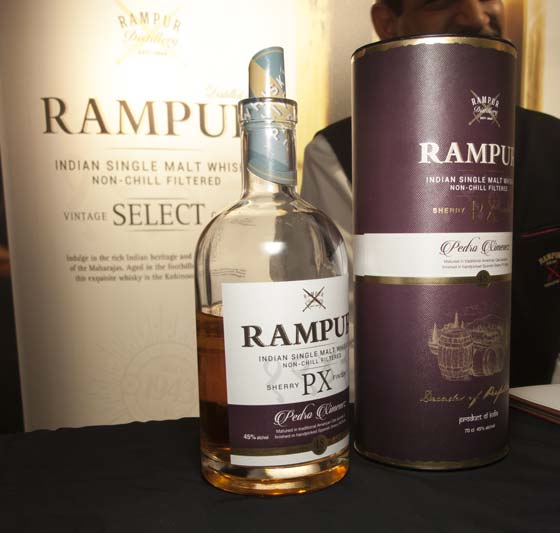 The new Rampur PX
I left then the VIP section to taste the new Rampur PX, a rather aged expression from the Indian distillery of Rampur (approximately 7-8 years old). A nice round and spicy expression, with sultanas and some berries coming from the PX finish.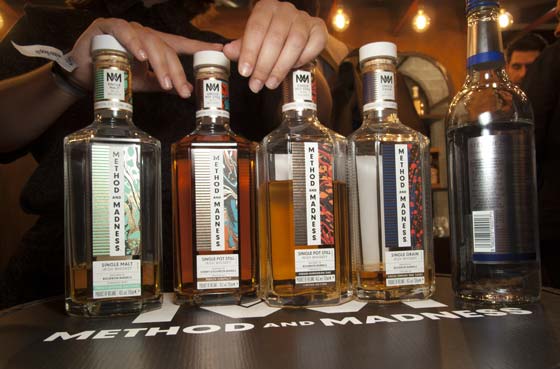 The Method and Madness range, including the new Hungarian Oak finish
At Midleton, I had a lengthy discussion with Billy Leighton, the Head Blender. As part of their Method and Madness, they released a Single Pot Still Virgin Hungarian Oak finish. The finish is made of virgin oak coming from the North of Hungary, where the growth is slow, allowing to a much less porous grain than the one growing in the south of that country. Some experiments are ongoing with ex-Tokaji wine casks. He also informed me that the Chestnut finish will now be a core expression. The Hungarian virgin oak was a nice bold and very fruity expression, rather complex and spicy. Some might find the spiciness too strong, but I enjoyed it. The Midleton Dair Ghaelach Bluebells Forest was a rather complex expression of Midleton, intense, rather oaky and spicy, with some cream, butter and vanilla.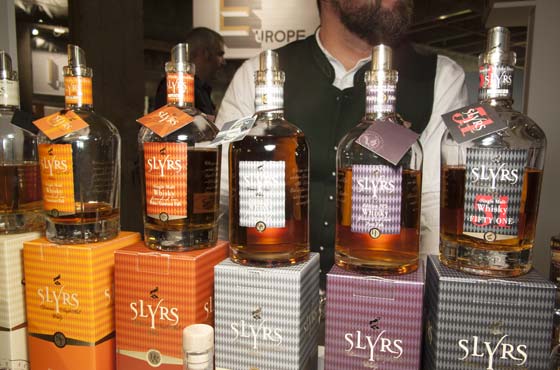 The new finished Slyrs products
I skipped the stand of Macmyra as it was too crowded. At Penderyn, some impressive efforts have been done on the packaging, with the some very nice bottles. The German of Slyrs have now released different wine finish variants of their Classic single malt, with a Sauternes, Oloroso, Pedro Ximenez and Port finish. The Oloroso was nicely fruity, round, and sweet, on orange, some berries and sultanas, while the PX was drier, more on leather and spices. Two successful finish. I could also try the 12 YO 2006 edition, which is their oldest whisky. Bottled only at 43%, it was markedly more complex than the Classic, spicier, slightly woody, with hops, more vanilla and some tannin.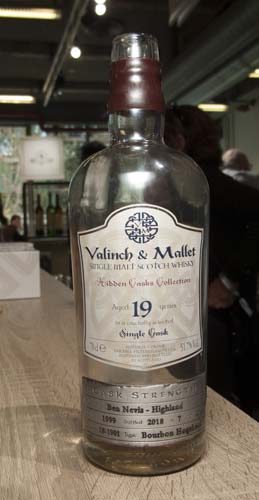 The very dark bourbon matured Ben Nevis from Valinch & Mallet
Back to the VIP section, I tasted the 1996 and 1997 Clynelish from Spirits Shop Selection. The 1996 was a nice Clynelish, rather mellow and sweet. It was a vatting of an ex-bourbon and ex-sherry cask. The fruity flavours were sweet, but rather juicy and light, with light spicy flavours. Very enjoyable. The 1997 was also a rather mellow and soft expression of Clynelish, with some slightly more oaky spices. Two Karuizawa Cask Strength editions 1999/2000 were on the bar, but emptied. Davide Romano was presenting his Valinch & Mallet products including a surprisingly dark Ben Nevis 1999 from an ex-bourbon. The whisky was intense, complex, grassy, slightly aromatic, on vanilla, some honey, light fruity flavours and nice spicy flavours. Well balanced and very good. The next one was his 22 YO Bunnahabhain, an intense, round whisky, moderately salty and maritime, with some tobacco and a hint of smoke. Less complex than the SMOS, but more intense and of the same high quality. What is interesting at the Whisky Live is the possibility to taste several expressions of the same distillery, but from different ages and wood types.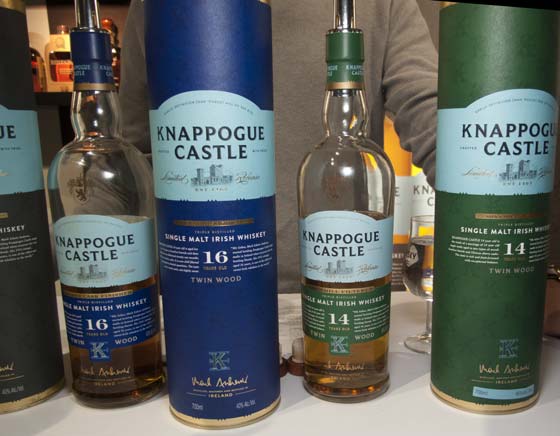 The age statement range of the Irish of Knappogue Castle
The stand of Jefferson's and Knappogue Castle was rather empty. Since I had not tried any Knappogue for several years, I tried the 14 YO Twin wood, which is a vatting of ex-bourbon and ex-sherry casks. The results is a very nice, light, malty and fruity Irish single malts, on tangerine, some orange, dried and exotic fruits, as well as blackcurrant and orchard fruits. They changed from a vintage to age statement product and the one I tasted was very good. Probably an underrated product.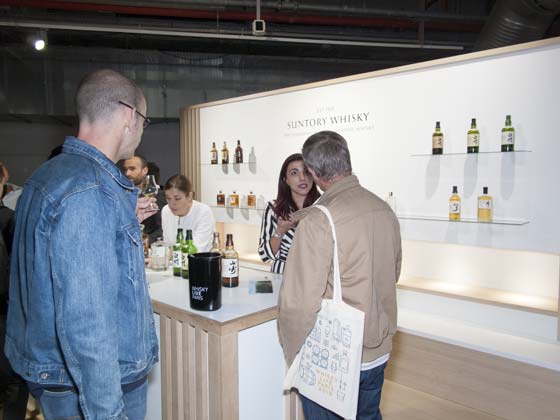 All in white, the stand of Suntory whisky
At Suntory, I tried their blended Suntory Toki, a blend of Chita grain and Hakushu single malt. The result is a rather plain and smooth whisky, with some pear drops. Not really a whisky to drink on its own, but more as a mixer for cocktails.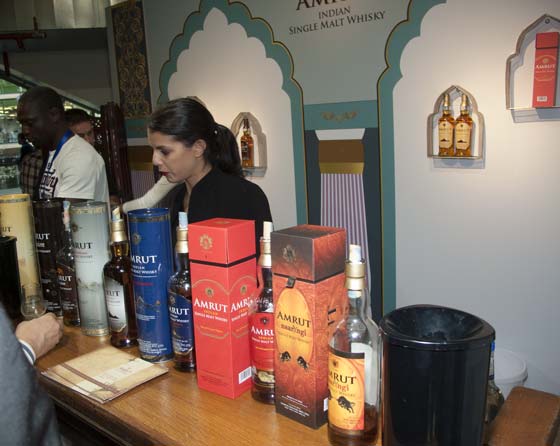 The stand of Amrut, with its new packaging and several new products
The Indian of Paul John had no new products. The other Indian, Amrut had either new products or a new packaging for their Peated Indian, Amrut Cask Strength, or Amrut naarangi.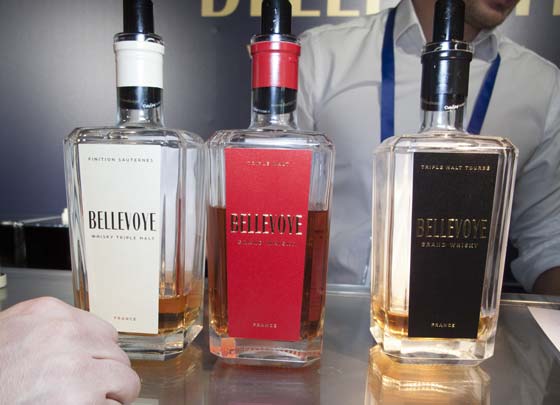 The triple malt whiskies from Bellevoye
On the French side, no new products were available by Rozelieures, but I went I tried most of the Bellevoye, which is a vatting of whiskies from 3 different regions of France, including Alsace and Lorraine. The Blue label was matured in Virgin oak. The whisky was rather smooth and unpeated, but the oaky flavours from the virgin oak were very strong. I did not like the Red label "Grand Whisky", as the smooth whisky was dominating by strong red wine flavours, spices and grapes. A wineshky. However the Black label (Triple Malt Tourbé) was very pleasant, rather bold, balanced with a very nice, dry, elegant and aromatic peat smoke.
At Gordon & MacPhail, they only had the discovery range, which is now the introductory range (low priced) of their new portfolio. Their Ledaig tempted me, but after a couple minutes of waiting, I moved to Glenfarclas. The new Glenfarclas 105 22 YO was easily available and the 1994 Family cask was already empty. However, I could still enjoy the Family Cask 2002 Winter 2017. A very intense, spicy, rich, and heavily sherried Glenfarclas. Not for the faint hearted but very good.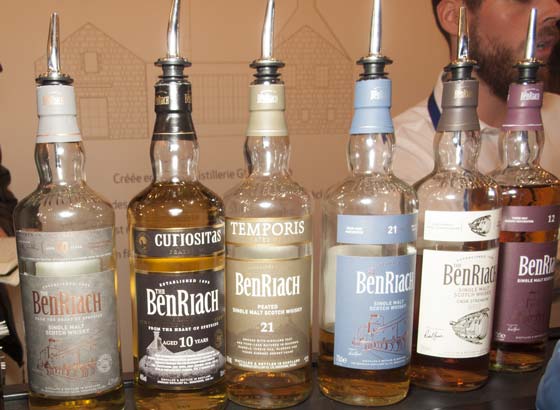 The BenRiach range displayed at the show
At BenRiach/GlenDronach, I had a lengthy discussion with Stewart Buchanan, who is now responsible for the brand education of the Benriach distilleries. The new Revival 15 YO is a different version from the older one, with Rachel Barrie, who worked on different combination of 1st sherry casks(PX and Oloroso), to create a version less sherry dominated than the previous one, and closer to the old style of the distillery. When I tasted it, the whisky seemed slightly drier, but also with a more subtle and complex sherry influence. Very good! Two new expressions of BenRiach were available, with the 21 YO Four-Cask maturations, a whisky made with 4 different types of cask (virgin oak, bourbon, PX and Oloroso). This is an unpeated, round, oaky, and rather spicy whisky, smooth and with light creamy and fruity flavours. Rather different from the older 20 YO BenRiach. The BenRiach Temporis 21 YO was a nice elegant and moderately peated whisky, with a fine and elegant aromatic peat smoke, well balanced and complex. The cask influence was rather discreet, so that the complex peat smoke could be enjoyed. A very good one. BenRiach is now starting to work on the duty free market by launching there their triple distilled BenRiach. The production of triple distilled BenRiach is now taking place on a yearly basis. About the peated distillate, they run the distillate with own floor malting separately from the commercial peated barley.
We talked so much that I forgot to taste their new GlenDronach Cask Strength batch 7.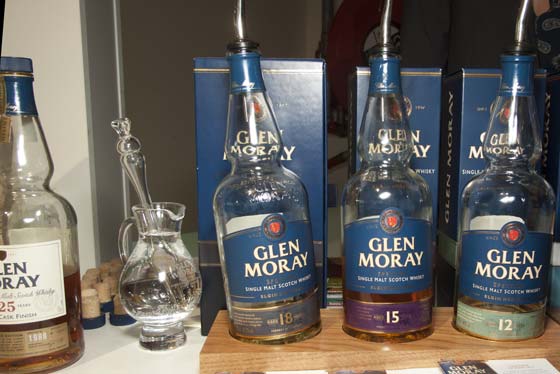 Most of the Glen Moray presented
I visited then Glen Moray to try their 15 YO, a nice floral, slightly malty and spicy whisky, with some sweet fruity flavours. Pretty good, but I found it slightly soft and weak, probably due to its reduction to 40%. The 18 YO was influenced by virgin oak, the aromatic intensity was markedly more pronounced. It was more complex, spicier, and mellower, with a rather strong oaky influence than the 15 YO.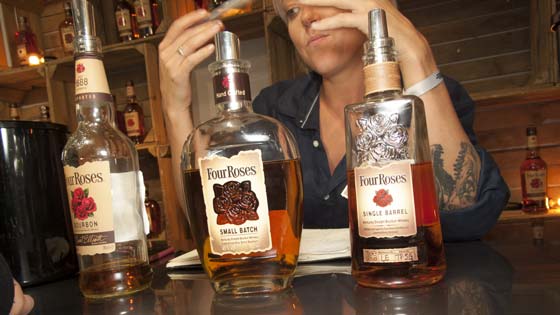 The different expressions of Four Roses
I move a bit further, to the US corner and to taste Four Roses single Barrel, LE 18-5 G, a very intense, round, spicy, and smooth bourbon. Powerful, spicy, well balanced and nor too sweet and woody. Very enjoyable.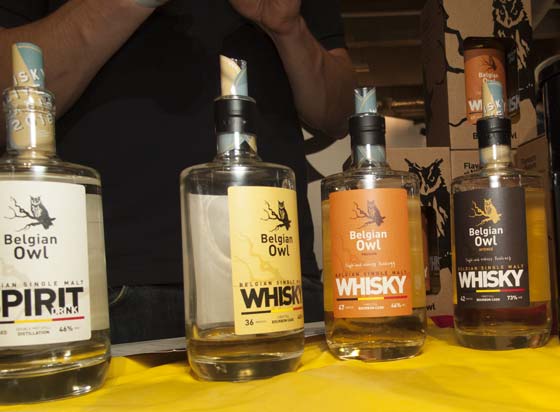 The Belgian Owl Range
At the Belgian Owl, I could taste the spirit, their 36, 46 and 47 weeks. The whisky to be was very smooth, but still very young, floral and malty. The oldest expression was bottled at an impressive 73% abv, and as expected, the alcohol was burning. By the end of the year, older expressions will be released, including expressions from the first distillery, with its small stills.
I will review the core range of Kavalan separately. The Kavalan Single Cask Sherry for 20 Rue d'Anjou was a true sherry monster, dominated by tannins, spices and wood. Bitter, woody and astringent. Not my style at all.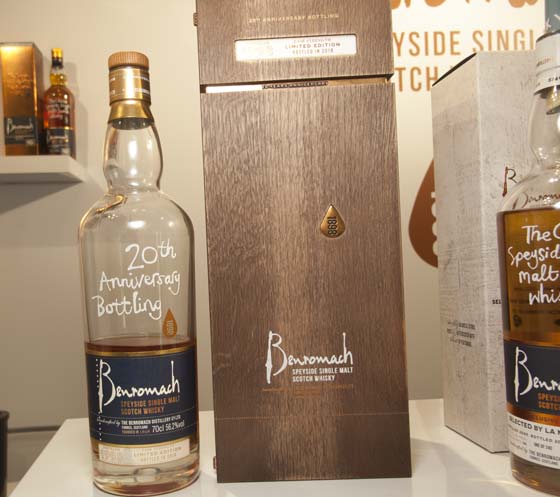 The last dram in Paris and a very good one. The 20th Anniversary bottling of BenRomach and on the right the special bottling for LMDW
My last dram of the day was the 20th Anniversary bottling of Benromach, a very good, rich, intense, mellow, malty and fruity whisky, with some rich and sweet yellow fruits, a light peatiness, a very pleasant balance and combination of flavours. Very good!
With that and over 7 hours spent in la Cité de La Mode et du Design, it was time to take the train home. Next year, the event will take place at The Villette.
Organisation was good, but I regret the zero tolerance for liquids at the entrance. Even with 1cl samples, I was not allowed to get it. There was plenty of water, the spittoons were often emptied and the magazines prepared for the event rather impressive. While last year, many of the limited editions available at the VIP sections were also present in the stands, but this has changed. The number of whiskies was very high, but it seemed lower than last year, or at least, with a reduced number of new products. At most distillers stands, the choice was mostly limited to the core range and it was difficult to find any whiskies older than 21 yo.
Slainthe,
Patrick ©27 Sept, 2018, last edit: 13 Oct 2018