Whisky-news.com is a fully independent whisky website created in 2006 by a whisky enthusiast for the whisky enthusiasts, from novice to expert, with a huge collection of tasting notes, distillery presentations, whisky fair reports in Europe, reports about whisky from all over the world, and many more. It is also the leading site for whisky literature review. Updated almost daily and free from financial support from any whisky company.
Whisky Live Paris, 23-25 September 2017, Paris, France
For the photo gallery, click here
Remark: The impressions provided below are the notes taken during the event. Most of the whiskies mentioned below will be tasted again in standard conditions.
Remark 2: This is working draft and subject to typos and minor changes
The journey to Paris was pleasant and although my first train was delayed, I could make the connection. Last year was the 60th Anniversary of La Maison du Whisky, the organiser of the Whisky Live Paris. Thus, the number of new releases was impressive.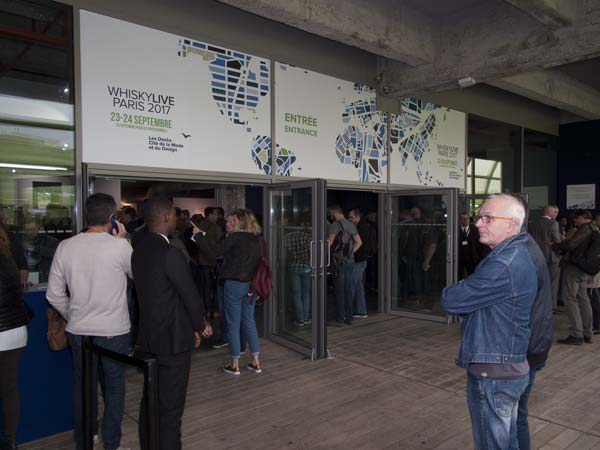 The entrance to the Live
This year, I had no special plans, but started anyway with the tour in the VIP area. The first tasting took place at the Last Drop, a company bottling very exclusive whiskies. I have seen many advertisements from them, but I never had the opportunity in tasting any of them. I started with their 1971 blended whisky, with an excellent sherried whisky, rich, intense, smooth, mellow, on delicate spices, cocoa, dried fruits, peach, orange and fruits melting on the tongue. Very nicely balanced and complex. One of the best blended whisky I ever tried. The other one was the 50 YO blend. The flavour profile was quite different, more sappy and bitter, slightly more bitter, less spicy and sherried. Very good, but I enjoyed the first one better.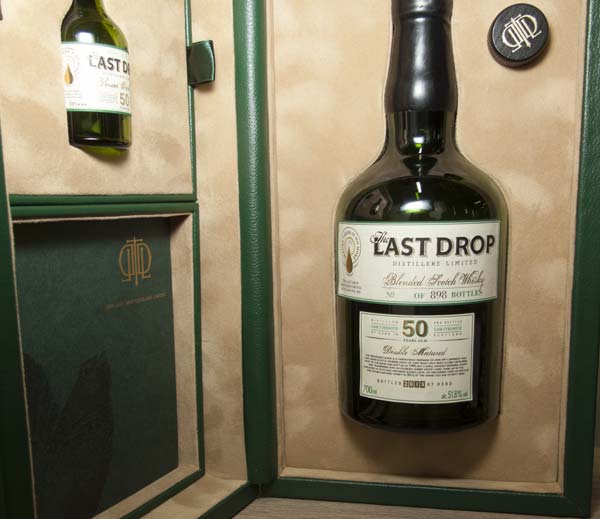 A rare opportunity to taste some of the Rare Drop whiskies
On the other side of the stand, Spirit's shop collection is a new comer from Taiwan. I started with a rather phenolic Caroni 1997 from them. It was round, mellow, on treacle, cinnamon and exotic fruits. Their Linkwood 1989 was mellow, light, floral, with some freshly cut grass, honey and orchard's fruits. Their Laphroaig 1998 was intense, smoky, maritime, rooty, slightly medicinal and with a nice intense peat smoke, while the 1996 Laphroaig was markedly more mellow, softer and more gentle. A very nice start.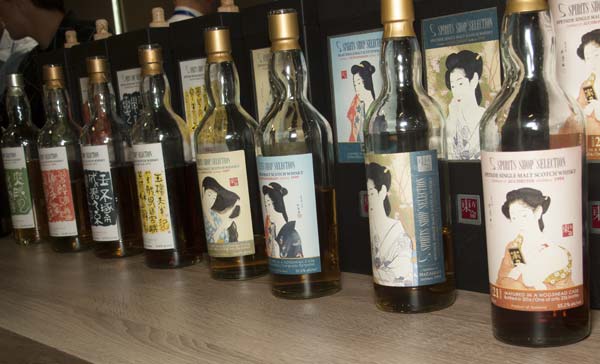 A very nice selection from the Taiwanese of The Spirit Shop Collection
I move then to another section of the Whisky Live to try several of the new special releases for La Maison du Whisky (LMDW). Their 13 YO OB single cask of Aberlour was richly spicy, floral, round, slightly fruity, on cinnamon, nutmeg, sultanas and dried fruits, reminding me of a more complex and mellower version of A'bunadh. Very good! The 1999 OB Single Cask of Craigellachie was very elegant, complex, fresh, on orchard's fruits, light spices and a few drops of honey. Most enjoyable. I struggled more with their 1995 23 YO Single Cask OB of GlenDronach, which was very spicy, slightly bitter, on rubber and a touch of sulphur. The GlenDronach 1993 24 YO, a joint bottling with the nectar, was more to my liking, as it was sweeter, fruitier and rounder. The BenRriach 1996 OB single cask for LMDW was an intense, oaky, round, rather thick BenRiach, with a thick sherry influence on sultanas and dried fruits, as well as some candied oranges. The Arran 17 YO Private Cask for LMDW was a mellow to very mellow whisky, round, thick, chewy, slightly malty, on dried fruits and orange. The Kilchoman 2007 Sherry Butt for LMDW was on a similar sherry profile, round, smooth, peaty, smoky, maritime, slightly tarry, dried fruits, leather and cocoa.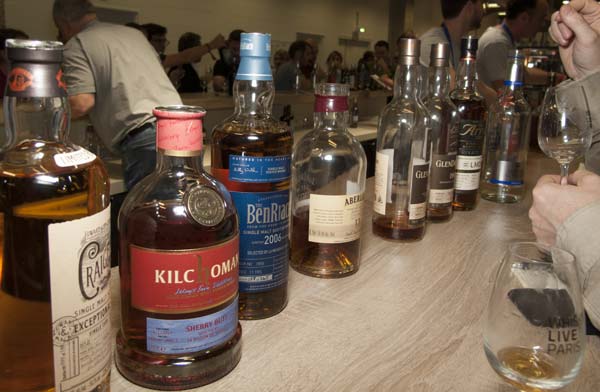 Most of the official single cask bottlings for La Maison du Whisky
From Valinch & Mallet, the Longmorn 28 YO was very mellow, soft, creamy, on vanilla, soft spices and light floral flavours. The Caol Ila 15 YO was smooth, round, mellow, peaty, smoky, with a round and sweet sherry influence. An easy drinking version of Caol Ila.
Some of the Valinch & Mallet expressions


From the Nectar of the Daily Drams, I started with a nicely smoky, maritime, clean and moderately peaty Springbank 23 YO. An old style of Springbank that I enjoyed very much and one of the best I tried over the last years. The Irish Single Malt XOP is coming from an unknown distillery and without age indication: it was rather sweet, slightly oaky, green and with a light spiciness. It might be a vatting of some young Irish Single Malt teaspooned with older whisk(e)y. Good, but not overly complex. Their 1973 44 YO Speyside was very good, with some slightly austere and aromatic flavours suggestive of a fino cask: complex, floral, rich, well balanced and with a slight spiciness. Lovely and very good, as most of its recent siblings.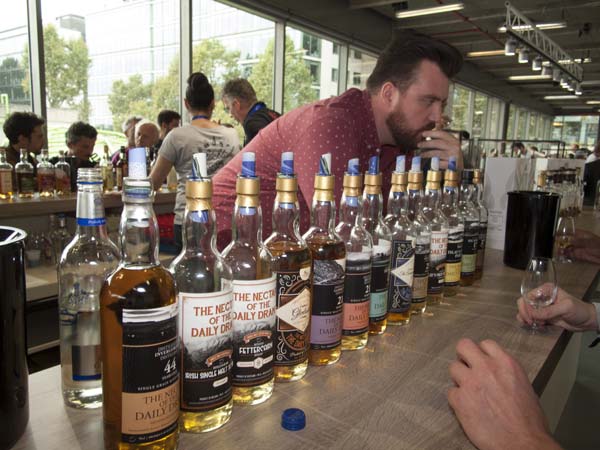 A very large selection of the Nectar of the Daily Dram
I move then to the American corner and tried the FEW bourbon. FEW is a distillery located close to Chicago and their Bourbon was most pleasant, well balanced, with a noticeable rye influence, without being to dry or bitter. I enjoyed it very much. The Rye was more bitter, spicy (cinnamon, coridander) and on charred wood.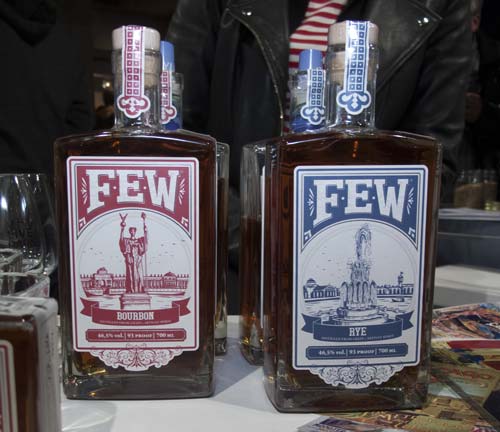 The FEW
At Koval, I started with a very smooth millet whiskey, slightly creamy, well balanced, round and slightly spicy. Bitterless. The Rye was surprisingly smooth, elegant, slightly floral and fragrant and quite creamy. The Bourbon was spicier, bitterer, more intense and peppery and with a fair dose of vanilla and charred wood. Finally, their Four Grain was well balanced, smooth, slightly creamy, with a light spiciness and a nice sweetness.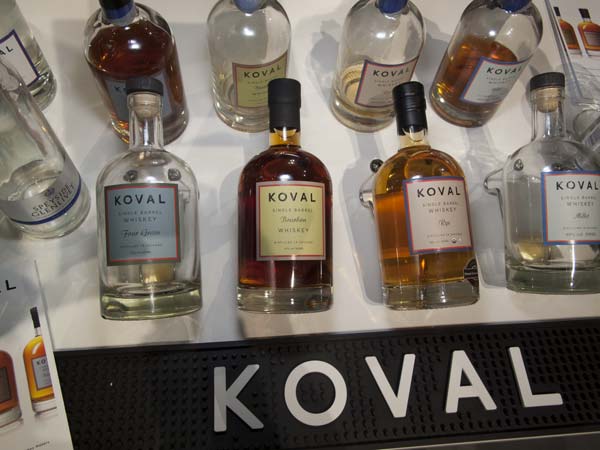 The Koval range
From Dad's Hat, a Pennsylvania distillery, I started with their Rye, which was not labelled as Whiskey, since it was only two years old. The spirit was round, rather smooth, spicy and with a light bitterness. The Straight Rye whisky was more complex, spicier and bitterer. A good one. Their Vermouth cask finish is an original version, but that worked well in this cask, as the bitterness and aromatic flavours from the Vermouth were working well with the bitterness of the Rye. On the other hand, I enjoyed less the Port Cask finish, as the sweetness of the Port contrasted with the rye.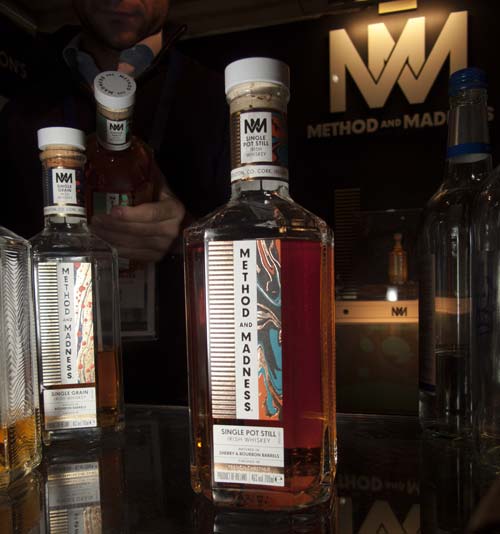 The new Irish whiskies from Method and Madness
On the Irish area, I tasted most of the Method and Madness, a micro-distillery located inside the Bushmills distillery. The Single Pot still French Chestnut was a vatting of 6 to 9 years single post still whiskey matured for 12 months in French chestnuts casks. On the nose it was very smooth, with a slight fruitiness and a light spiciness, while on the palate, flavours of chestnuts purée were clearly present on the palate, without being unpleasant. A good experiment. The French Limousin Cask Finish was a more mature version (approximately 13 to 14 years of age), complex, bold, on berries (including blackcurrant), honey, some sultanas, dried fruits and elegant spicy flavours. One of my preferred whisk(e)y from the Live, with a complexity and flavours profile reminding me of some North of Ireland single malts from the 1990. Simply lovely. If I like Irish single malts, this one should be on your list! I taste the grain afterwards, but it appeared quite bland and bitter after the excellent Single Pot Still.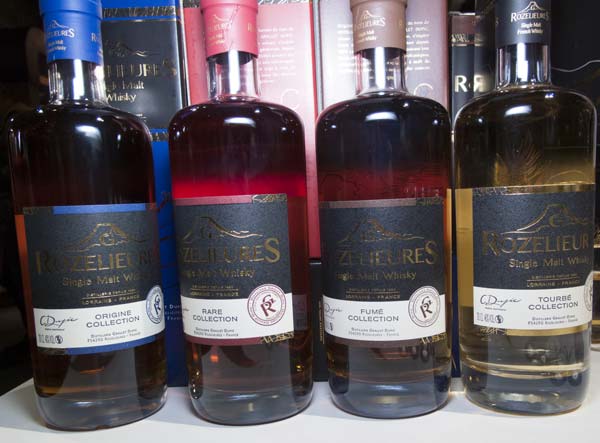 The Rozelieures whisky range
From the French distillery of the Rozelieures in Alsace, I started with the sweet Origine Collection, a sweet whisky, matured partially in cognac casks contributing to sweet flavours of grapes and a light peatiness. A good sweet whisky. The Rare collection contains in addition some ex-Sauternes wines casks. It was also good, but I found it less balanced than the Origine. The Fumé collection in an older whisky matured exclusively in ex-European sherry casks and with more heavily peated malt (25 ppm vs 10 ppm). The name "Fumé" originates from the smoky flavours present in the ex-sherry casks. The whisky was complex, rich, on cocoa, dried fruits, leather, orange, some dry tarry peat smoke and soot. A good to very good whisky matured in high quality sherry casks.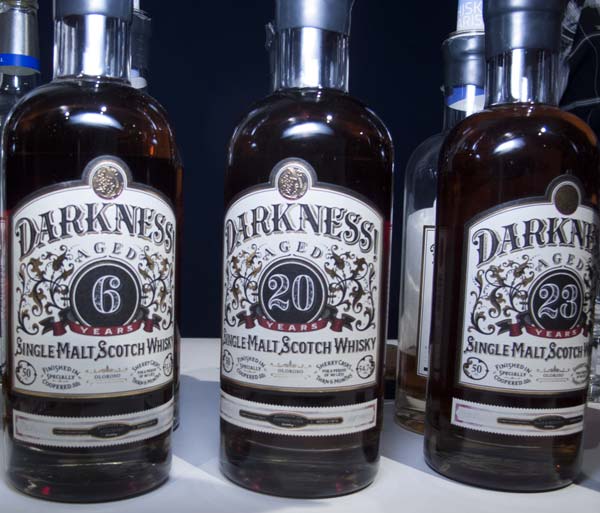 The dark sherried Darkness, each from a different distillery
At That-Boutique Y whisky I tried their 20 YO Darkness Fettercairn. The Darkness range is a collection of whiskies which received a final maturation in small sherry cask in order to provide an intense sherry influence. The Fettercairn was very thick, chewy and rather floral, with intense aromas of dried fruits. Not the typical Fettercairn but I found the result god. Their Blended Whisky #1 35 YO was a complex, well balanced whisky, moderately spicy, with some peach, floral flavours, dried fruits, honey and orange. Very enjoyable.
At another Stand, I tasted a couple of Rest & Be, with a very peaty, intense, complex, tarry and maritime Port Charlotte 13 YO, with a light sweet sherry influence. Very good and intense, The 12 YO Port Charlotte had a light sherry influence, more oaky and drier. The Octomore 7 YO was good, intense, peaty and oaky, but less complex and balanced than the 2 Port Charlotte.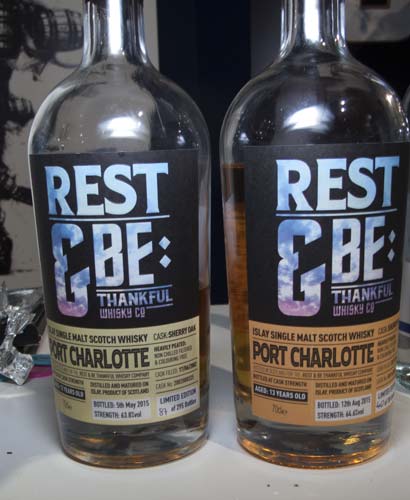 Two Port Charlotte Rest & Be
Back to the American Corner, I tried the Widow Jane Bourbon distilled in Brooklyn, an aged, spicy, slightly bitter bourbon, on cinnamon, nutmeg and some cloves, as well as a touch of juniper berries. The Rye Mash was a young spirit, intense, bitter, on juniper, with light mineral flavours. A good one, but slightly too bitter to my liking.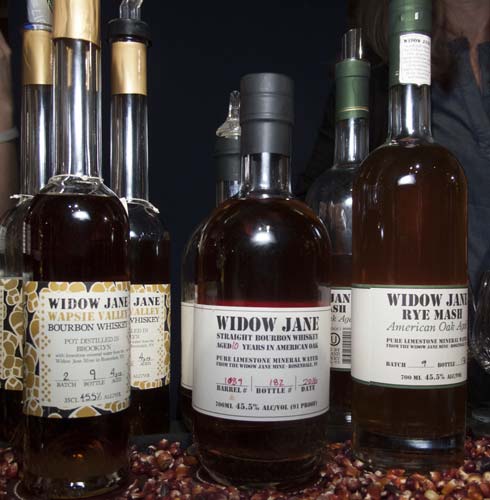 The Widow Jane
As Sonoma Country, a Californian distillery, I tried their full range, starting with their spicy, peppery and intense Rye, which was moderately bitter. The West of Kentucky bourbon had a very strong rye influence. The 2nd chance was a wheated whiskey, which had a strong rye influence as well. My favourite of the range was the cherrywood Rye, as the cherrywood contributed to smoke bacon flavours, as well as a very enjoyable sweetness. Very good.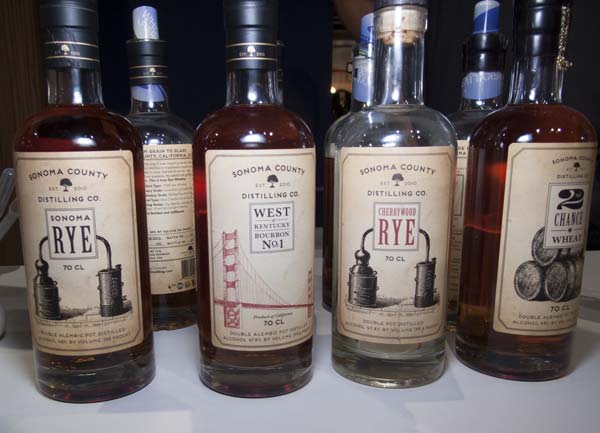 The Californian of Sonoma
At Bruichladdich, I tried their brand new Master Class 8.3 matured partially in ex-red wine cask. A very good peaty, intense, tarry and slightly maritime whisky, with a nice sweet winey influence, which complemented well the whisky, without being dominating.
At Ardbeg, I tasted the new An Oa, a nice intense, peaty and medicinal, more gentle and lighter than the 10 YO.
From Signatory, I tried the 1988 28 YO Tormore, a rather bold, floral and malty version from this distillery, as well as the mellow, elegant, floral and slightly fruity Glen Grant 1995 21 YO.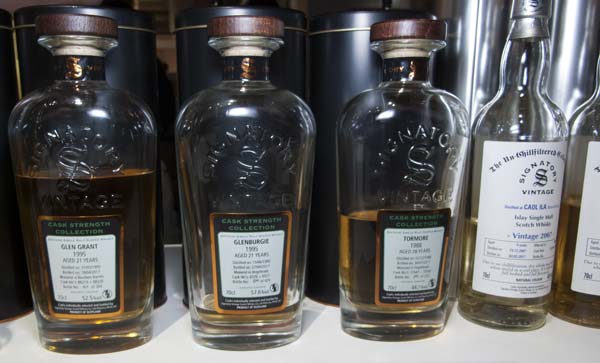 Some of the Signatory bottles
Kinnivie stopped labelling the batch number after the batch 3 and the 23 YO was a mellow, round, floral whisky, with a soft spiciness and light round and sweet fruity flavours. Slightly rounder, fruitier and mellower than the batch 3.
Glenfiddich has launched a new limited edition, as part of their experimental project. I found the new Winter Storm 21 YO very good, as it showed a nice complexity and balance with the Icewine cask finish from the Pellier Canadian estate contributing to a nice sweetness and fruitiness to the whisky. A dangerously drinkable whisky, perfect to accompany a dessert (or on its own as well).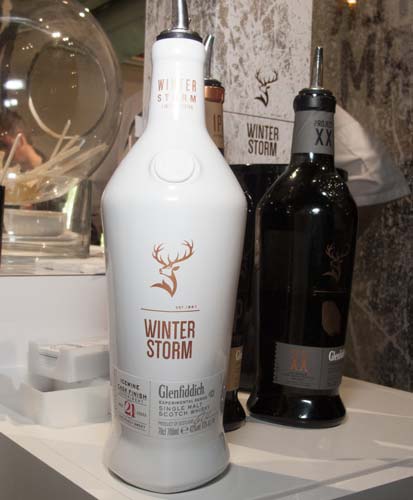 The new Glenfiddich 21 YO Winter Storm
I tried also a floral, elegant and slightly spicy Speyburn 15 YO, which contains a higher proportion of sherry casks than the 10 YO.
At Kavalan, I tried both their Solist Amontillado and Manzanilla. While they appeared slightly younger and less complex than the ones I tried last year, the quality was very good.
At Chichibu, I tried their IPA Cask Finish 2017, a Chichibu finished in ex-beer casks. The presence of hops is noticeable and the flavours profile reminded me strongly of the Säntis Swiss Single Malts matured as well in ex- beer barrels.
I enjoyed very much the new GlenDronach Kingsman 1991 Edition. A sweet, fruity round, and slightly spicy Glendronach, on dried fruits, orange and light spices. A whisky melting on your tongue. Lovely.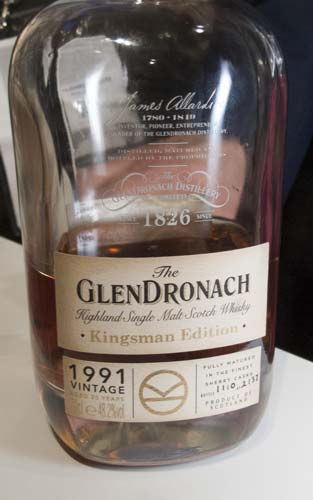 The GlenDronach 1991 Kingsman
The BenRiach 10 YO Curiositas remains a good peaty whisky, tarry, smoky, and with some sweetness on the finish.
Chivas has now released the Ultis, a new blended malt made with malts from 5 of their Speyside distilleries (i.e., Longmorn, Braeval, Strathisla, Tormore and allt-a-bhaine). The result is a creamy, spicy, floral and slightly nutty whisky. Pleasant, but I miss some extra abv here.
At BenRomach, I tried their new triple distilled single malt, a light, sweet and smooth whisky, with some vanilla and lemon. The 2009 Single Cask for LMDW was more robust, intense, spicier, bolder and richer. The 35 YO was very good, intense, malty, creamy, bold, slightly spicy with round and rather intense fruity flavours.
As I could only taste a few drops of the 25 YO Aultmore OB, last year, I was pleased to obtain a larger measure this year, as the sweetness and fruitiness from the sherry finish provides a good complexity and balanced to this fine whisky.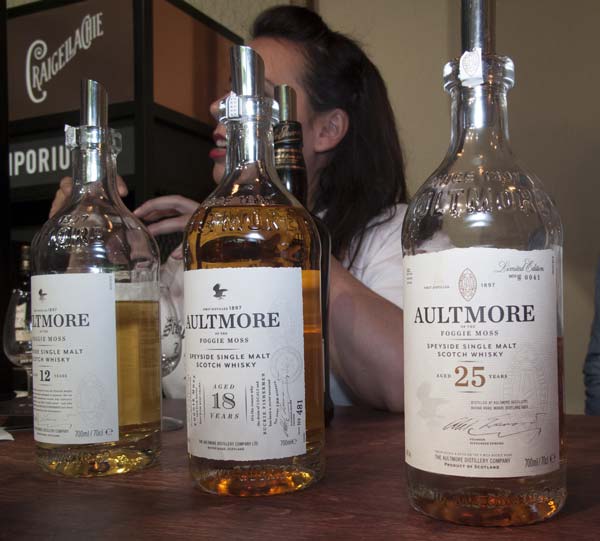 The Aultmore range
The Glenfarclas 1999 Family Cask was intense, rich, spicy to very spicy, on sultanas, dried fruits and a thick sherry influence. Very good.
Aberlour is going to launch soon two new expressions in France, the triple casks for the Supermarkets and the Cask Annahm for the retailers.
The new Wolfburn Morven has arrived. It is a lightly peated version of Wolfburn, coastal, slightly spicy, with some dry, tarry and maritime peat smoke. A good one.
From Tasmania, I tried most of the Hellyer's road range, starting with the smooth, soft, malty and creamy Original, before moving to a more winey and peppery Pinot Noir Version and a very good Slightly Peaty 12 YO for LMDW. The peat was moderate, dry, and maritime and slightly tarry. It tasted more peaty, complex and intense than the "Peated" version.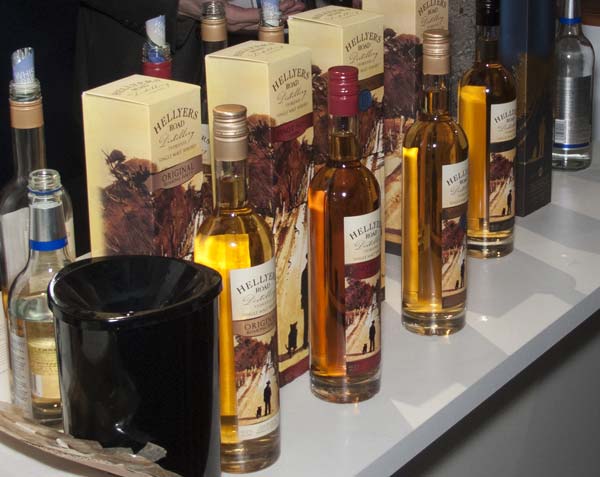 Hellyer's road range
At Macallan, I enjoyed very much their Edition N°2 with casks selected by their whisky maker and Can Roca. The whisky was intensely sherried, very intense, with strong spicy flavours, on cinnamon, nutmeg, leather, orange and cinnamon. At last, a Macallan that I really enjoy. We are pretty much in the style of the old Exceptional Single Cask series and I hope to see more Macallan of that quality in the future! And thanks Nicola for the talk.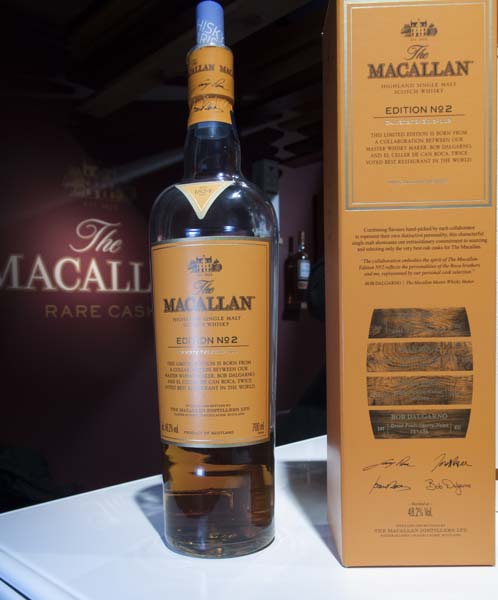 A very good and intense sherried Macallan
I have not tasted any official Glenrothes for a couple of years, thus I tried their new sherrywood reserve, a sweet and easy drinking Glenrothes, with light floral flavours. The 1995 American Oak was a mixture of sherry and bourbon oak, a good, thick, chewy and creamy Glenrothes, but with slightly too much treacle and rubber to my liking. I enjoyed better the more complex, elegant and less rubbery 1988 vintage.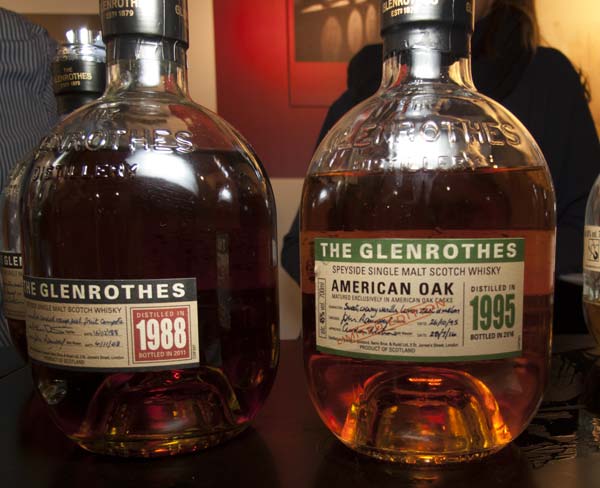 Some of the Glenrothes tasted
Bowmore released a new Bowmore N°1 Malt made from selected casks with a salty tang. Bottled at cask strength, it was indeed salty, maritime, oaky, peaty and clean.
The Caol Ila 2006 cask strength from Gordon & MacPhail was intense, very peaty, tarry, clean and maritime and although it was made from 1st sherry butts, the sherry influence was rather moderate.
At Douglas Laing, I continued with the same distillery and tasted a mellow Caol Ila 19 YO, maritime to very maritime, on seaweeds, liquorice roots and some disinfectant.
With time running, I made a try to the Brenne Single Mlat Whisky, a whisky distilled in France in Cognac. A pretty young whisky, simple, very round and sweet that tasted like banana purée and banana flambée. Finally, I tasted the No Name, a new blended malt from Compass box made from Caol Ila, Ardbeg and a dash of Clynelish. It is their most peated whisky. The peat, coal, tar and hemp rope is well present, but the whole was not too dry, as there were a light sweetness on the back.
A short video (sorry for the quality) to provide you some impressions of the fair
Finally, it was time to go take the train home, after a very long but rewarding day. I had the opportunity of meeting some whisky friends and as you can see from this report, there was a substantial number of new whisky releases.
A short video (sorry for the quality) to provide you some impressions of the fair
Thanks to all the exhibitors and see you next year! This was a great event and well organised!
Slainte,
Patrick 26 September 2017, last edit: 02 October 2017