Whisky-news.com is a fully independent whisky website created in 2006 by a whisky enthusiast for the whisky enthusiasts, from novice to expert, with a huge collection of tasting notes, distillery presentations, whisky fair reports in Europe, reports about whisky from all over the world, and many more. It is also the leading site for whisky literature review. Updated almost daily and free from financial support from any whisky company.
A one-day trip to Bologna for a whisky paradise (and souvenirs from Italy)
A few years backs, I made a first trip to Milano and Modena to visit the Bar Metro of Giorgio d'Ambrosio and Whisky Antique of Massimo Righi, respectively. This time I decided to pay a short visit to Whisky Paradise of Giuseppe Begnoni and the Kik Bar Whiskyteca both in Bologna.
As it seems like I never published a report on that older visit, I will combine both visits, starting with the most recent one.
Bologna
Travel from Switzerland to Milano by train is fast and convenient, as it is from Milano to Bologna with the Italian high-speed train Frecciarossa (the equivalent of the well know French TGV). The delay to Milano was mild, of approximately 12 minutes, and the one to Bologna, on time.
Using public transportation in Bologna turned out to be a nightmare. The counter of the T<per, the public transport of Emilia-Romagna, was closed, with only a sign in Italian indicating that closest office, but without any map. In addition, no tourist information was available in the train station, and although I prepared my move using google maps, I could not find the bus stop for the bus going in the right direction, thus I took the taxi to the Kik bar, where I learnt that the whisky part was opening only at 14.30. Moving from the Kik bar to Whisky Paradise (http://www.whiskyparadise.com) was not straightforward, as it was not possible to pre-order the taxi. When I tried to call the taxi company, the phone number did not worked from my phone and when I asked the bar for the bus stop given by google map (170m from the bar), no one knew where it was. Thus, I walked away to the closest bus stop I had seen and it was the right one. As I just missed the bus, I managed to find a taxi a few meters from there and drove to Whisky Paradise.
Short video of the show room (private collection) of Mr Begnoni at Whisky Paradise. If it does not display correctly, click here
The view over the private collection of Mr Begnoni is impressive. It is more certainly the largest malt whisky collection in the world, and probably one of the largest whisky (malt and blend) collections in the world, with probably 7-8000 bottles, as you might see from the photographs. Not all the bottles are displayed, as for lack of space, the draws below the glass windows are also filled with whisky bottles. The full set of Moon or Samaroli are present, as well as countless of whisky bottles that many (all?) of us would dream off. For some distilleries, such as Bowmore, Glen Grant, Springbank or Macallan this is simply stunning. His stocks are even more impressive, exceeding 50,000 bottles, with for instance a dozen of cases of Strathisla 1937! His whisky business is focused on whisky importers, and orders from private clients can be arranged, with prices reflecting the rarity of these bottles, mostly old to very old.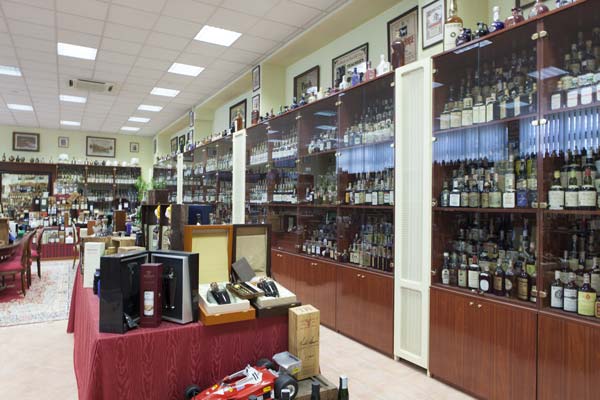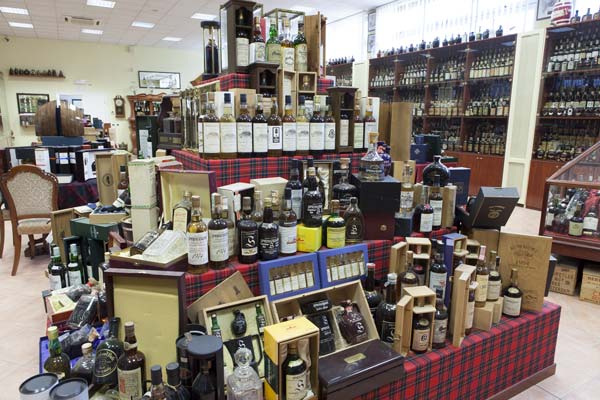 Some view of the show room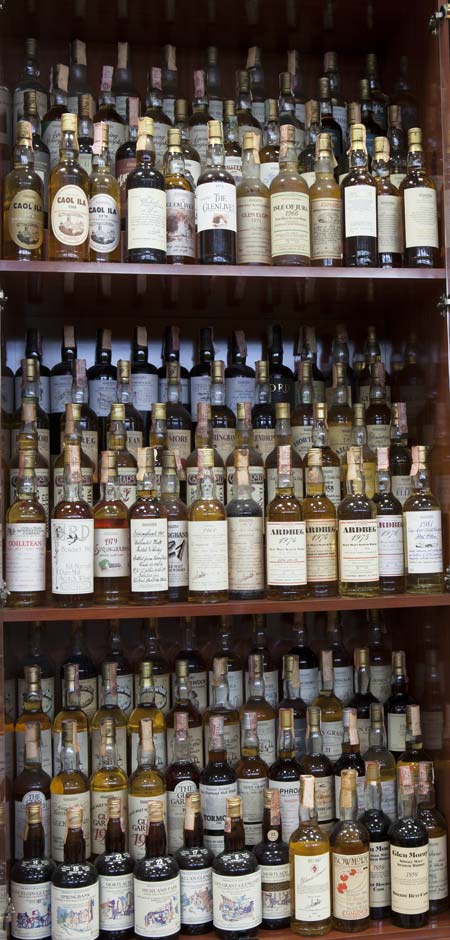 The full set of Samaroli bottling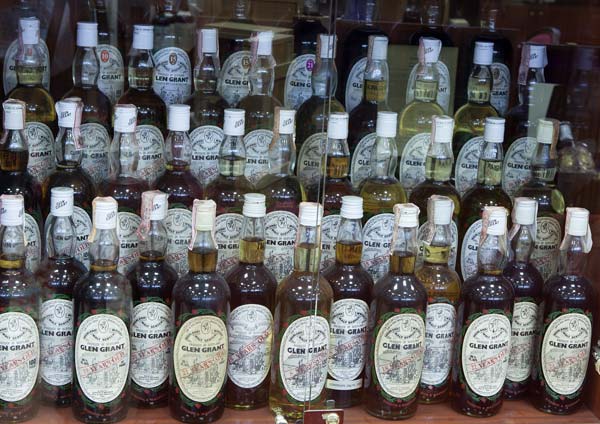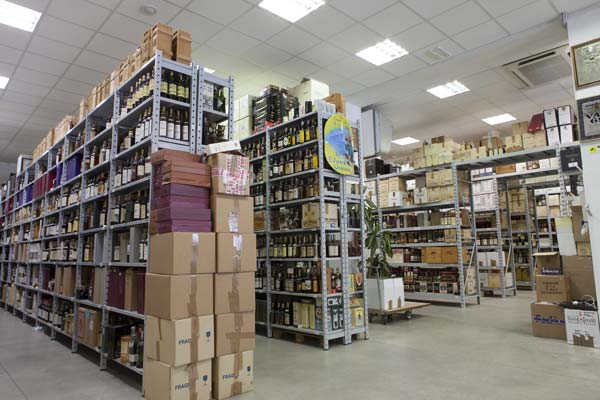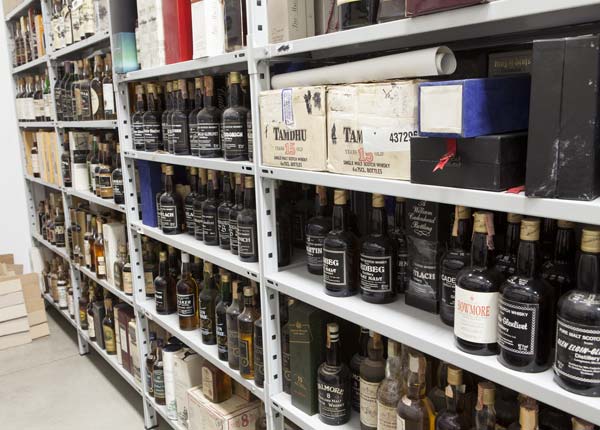 The private collection of Glen Grant (top) and some parts of the impressive stocks
The Kik bar (http://www.thewhiskyhouse.it) is a bar, with a small enoteca (wine shop) and a nice whiskyteca (whisky shop). On the upper part are displayed the recent bottles (with prices), while the basement, the "whisky story" is a private collection, with a nice selection of single malts and most of them for sale, with prices available upon request.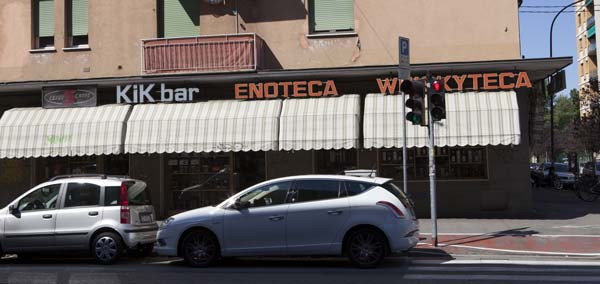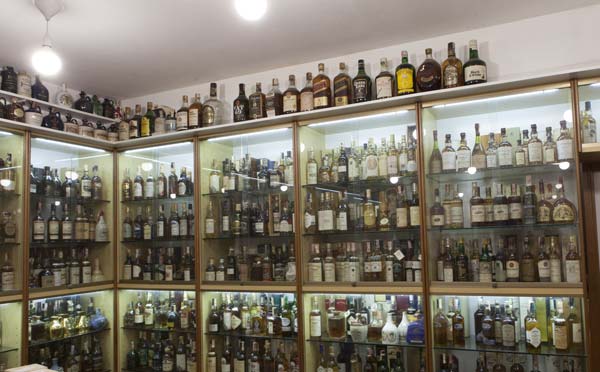 The Kik Bar and the whisky story on the basement
After this whisky visit, I enjoyed some sight seeing, and I was pleasantly surprised by the old city centre, with a fair number of old buildings in good condition or under renovation.
I took some buses in the evening, but this turned out to be rather complicated, as none of the buses I took had a map of the bus stops, and only a handful of them were announcing the name of the next station.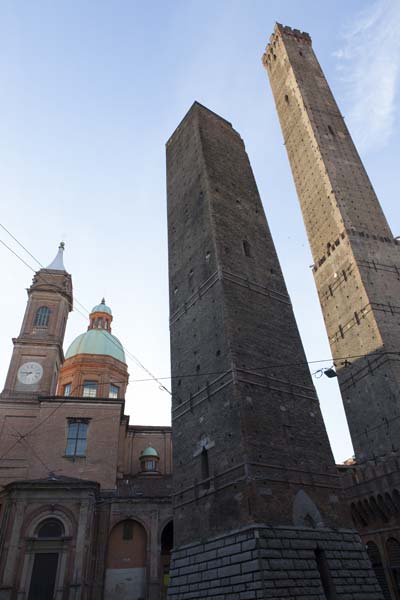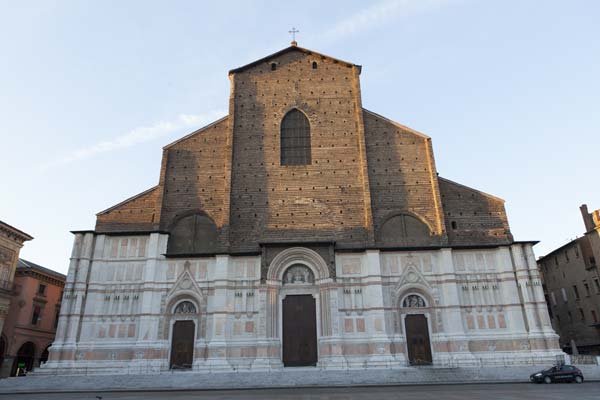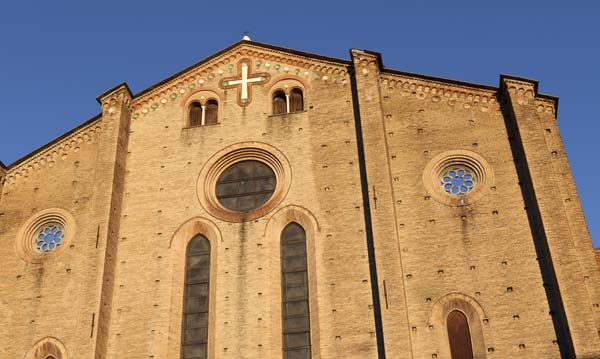 Some views of the old town center of Bologna
In short, Bologna might be the paradise for whisky, but not for the public transportations. Travelling by taxi is fortunately rather cheap, but it might not be easy to find one, depending on which part of the city you are. As for the trains in Italy, expect about 50% of them to be in late of 10 to 20 min, even the intercity connections.
Modena (Formigine (MO)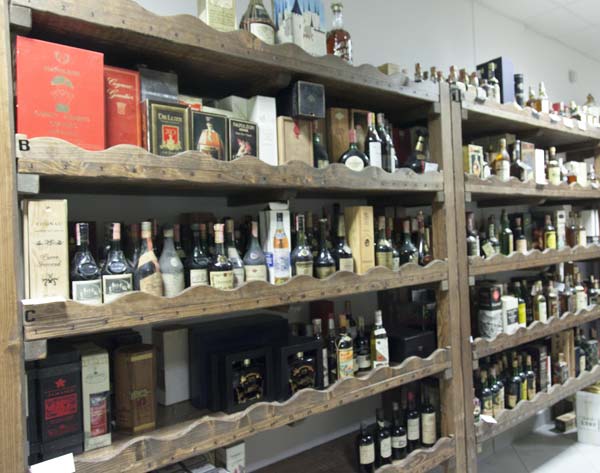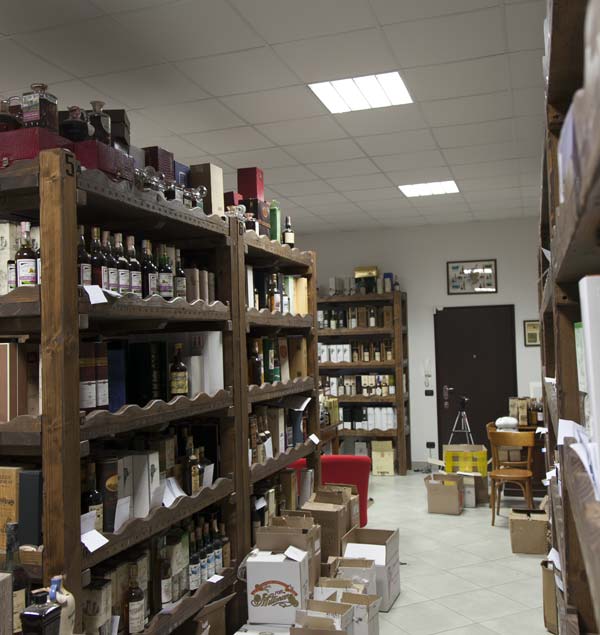 Views of Whisky Antique shortly after its opening in 2010.
Massimo Righi started his whisky business (www.whiskyantique.com) later than Begnoni, and thus, had not the opportunity to purchase some of the whisky stocks of the legendary Edoardo "baffo" Giaconne, the pioneer of the single malts in Italy. His start has been more modest, but quite impressive, with a very large of single malts. With his Venetian friend Diego Sandrin (lionswhisky.com), they managed to purchase over time several collections and thus are able to propose an impressive whisky selection, with a convenient and easy to use webshop, with worldwide deliveries. In addition to whiskies, Massimo Righi managed to gather a very large selection of old rums. Since a couple of years, he acquired the Silver Seal brand and opened a new whisky shop, Whisky & Co, in Milano, in addition to his shop in Formigine. While Begnoni might offer a very large selection of old dumpy Cadenheads, Samaroli or Gordon & MacPhail, Whisky Antique proposes a larger diversity of independent bottlers, such as Douglas Laing or Silver Seal.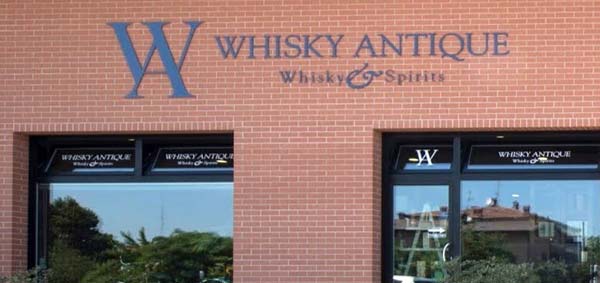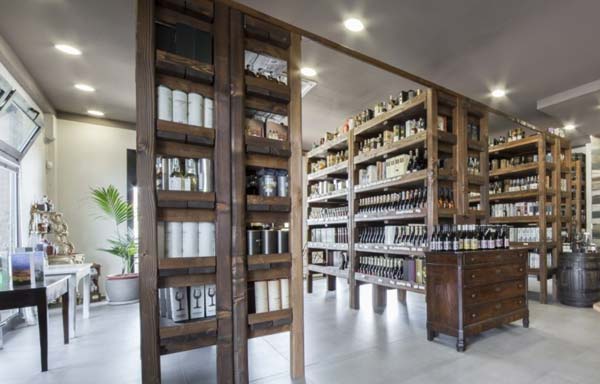 Whisky Antique in 2015 and an artistic presentation of the new shop for Whisky Antique and Silver Seal that should opened next month (October 2016), images courtesy of www.whiskyantique.com
Milano
My visit at Bar Metro took place before the sale of Giorgio d'Ambrosio whisky stocks a couple of years ago, and thus, I had the opportunity of appreciating his full private collection and huge stock of whisky for sale. His stocks consisted of a mixture of old and recent bottles, of all types, with a total number of bottles probably close to 10,000. For me, the most impressive part was the collection of old bottles, that could only be matched by Valentino Zaggati's collection before its sale in 2015. The number of bottles from the 19th Century was exceeding 100, and acquired mainly during the 1970s-1980s.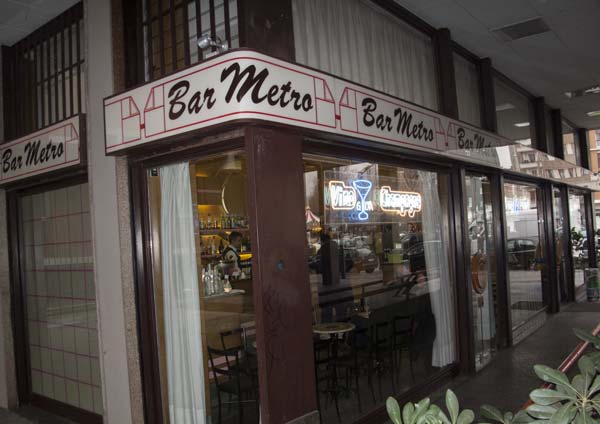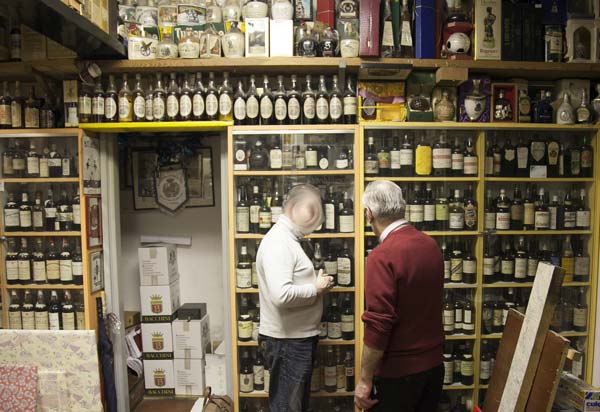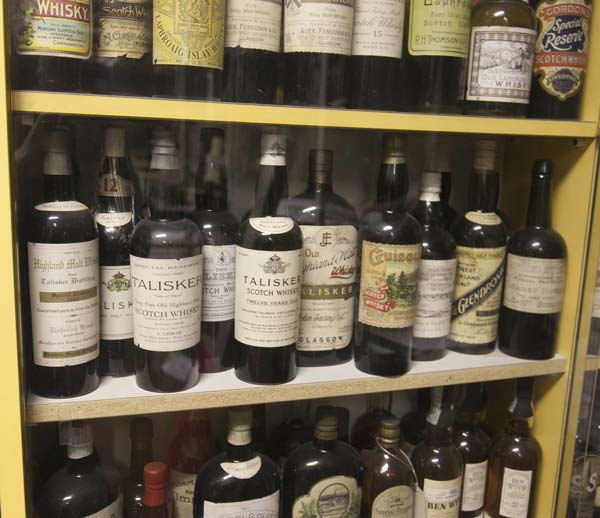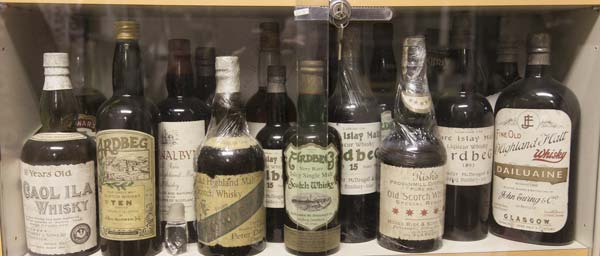 Bar Metro in Milano with a partial view of Giorgio d'Ambrosio collection, including some of his oldest bottles, as of 2010
We wish we could go back in time in Italy during this period. Even if the stocks of old whisky bottles in Italy are impressive compared to other countries, they are dwindling and prices increasing. This will certainly not stop, and for whisky antique retailers, acquiring new products is a real challenge for three reasons: 1) potentially sellers are trying to sell their products online and 2) they want to sell them at the current price and 3) the taxes are high in Italy.
P. Brossard ©September 21, 2016