Whisky-news.com is a fully independent whisky website created in 2006 by a whisky enthusiast for the whisky enthusiasts, from novice to expert, with a huge collection of tasting notes, distillery presentations, whisky fair reports in Europe, reports about whisky from all over the world, and many more. It is also the leading site for whisky literature review. Updated almost daily and free from financial support from any whisky company.
The Whisky Exchange Whisky Show 30 Sep-02 Oct 2017, London, UK
https://whiskyshow.com/london/
For the photo gallery, click here
Remark: The impressions provided below are the notes taken during the event. Most of the whiskies mentioned below will be tasted again in standard conditions.
Remark 2: This is working draft and subject to typos and minor changes
After a smooth flight and recovering from the previous day of filling the Malt Maniacs Awards samples with my fellow Swiss maniacs Patrick S., I headed towards Oldbillingsgate in London for the Blogger breakfast organised by Billy Abbott, the new Brand Ambassador for the The Whisky Exchange (TWE). He clarified the situation between the TWE and the sister companies (Elixir distillers and Speciality Brands, Bill correct me if I am wrong). TWE is a separate company from the others and it is basically only the shop of the whisky exchange, while the other companies bottled, distribute and sell whiskies to retailers.
When it was time to take my first pictures, I experienced a rather unpleasant event, as the camera displayed "change battery pack". While it was full two days ago and perfectly working, I carried my camera equipment for nothing. Thus, all photographs have been made with a smart phone, thus explaining the inferior quality of the images. My apologies.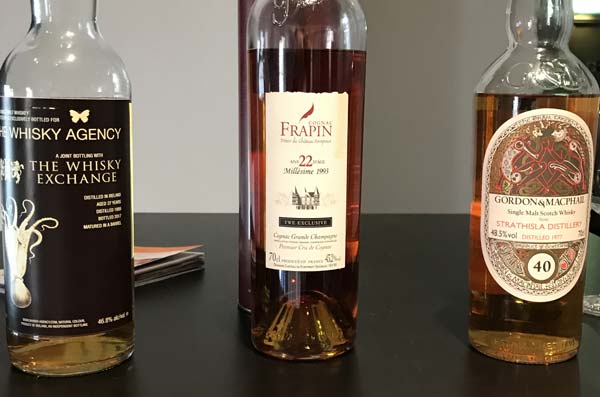 The breakfast of the whisky show, a nice way to start your whisky day with a clean and fresh palate
As part of the liquid breakfast, we started first the Irish 1990 27 YO 46.8% bottled by the Whisky Agency for the Whisky Exchange. A smooth, mellow, slightly bold and fruity whisky, mainly on apples and with some pears. Diluted, it became even fresher and more on freshly pressed orchard fruits. Very good. This was followed by a Cognac, a 22 YO Frapin from 1993. It was mellow, rich, sweet, sugary, on grapes, with some vanilla and flavours reminding me of some virgin oak Speysider. I am not an Cognac expert, but it find it pleasant and easy drinking. The last one was a fine example of old and aged Strathisla, a 40 YO bottled at Cask Strength for the TWE by Gordon & MacPhail. The typical aromatic and slightly bitter flavours of the old Strathisla were clearly pleasant and the sherry influence rather discreet, but well integrated and the whole without any oakiness or heavy tannins. Lovely! And thanks Billy for the event!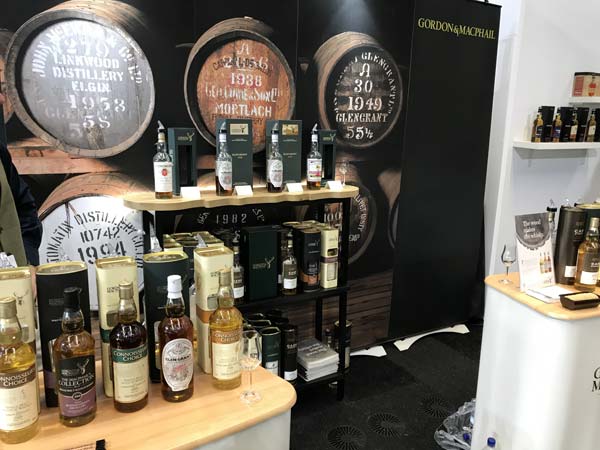 The stand of Gordon MacPhail with the new recent bottling at the front and a fair number of rarities (Longmorn, Glen Grant and Glenlivet from the 1940s to the 1960s).
I moved then downstairs directly and started with Gordon & MacPhail, as I almost visited them last the last years. I started with a nice and mellow Highland Park 1995 Cask Strength, slightly smoky and maritime, on stewed fruits, some Mirabelle and quince. The next two whiskies, a Glen Grant 2005 and 1954 will be reviewed later on.
At AnCnoc, I tried their new products, with a spicy and rather heavily sherried floral expression, the AnCnoc 24 YO, which has spent 22 years in ex-bourbon casks before spending an additional 2 years in ex-Oloroso sherry casks. A whisky with lots of dried fruits. Very good. The 18 YO YO was a mixture of spicy to very spicy whisky, on honey, vanilla, dried fruits and oaky flavours. A good whisky, but less balanced than the 24 YO.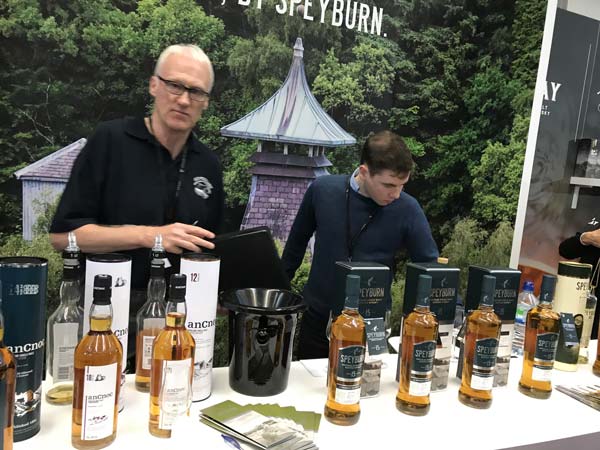 The AnCnoc and a large display of Speyburn 15 YO
Moving to another stand, I could not resist tasting the Chichibu 2012 peated for TWE, a very dry and peaty whisky, intense and slightly maritime. The peat was impressive by its intensity. Did they use malted barley for Octomore?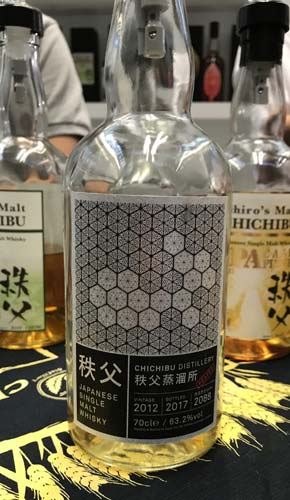 An intensly peated Chichibu. Lovely
Well trying to talk to Colin Dunn at Diageo was a challenge I failed to realise, as I waited for more than 10 min for him and he kept moving from one person to the next. However, the compensation for waiting him was good as he emptied the last drops from a 1965 Clynelish sample that appeared from nowhere. An astonishingly aromatic version of Clynelish distilled at the old Brora distillery. In addition, I could taste an intense, rather oaky and slightly fruity Convalmore 32 YO from the Special Releases, as well as a waxy, round, rather peppery Brora 34 YO from the Special Releases as well. The profile is markedly different from the previous year, as expected, as the distillate from 1982 was almost unpeated. The profile is very close to the 1982 Brora 20 YO from the Rare Malts range, but waxier, more intense and peppery. I enjoyed it very much. And thanks Donald for the drams !
A very pleasant intense, waxy and almost unpeated Brora 34 YO from the Special Releases 2017
Whisky du Monde is a French importer of world whiskies and distributes brands such as Akashi, Nantou or Okayama to UK via Cellar Trends. The Oakayama single malt is a young whisky distillery from Japan. Their single malt was very smooth, round, slightly sweet with some schnapps influence. Rather original and young, but pleasant. The Akashi single malt from White Oak distillery in Japan was oaky, spicy, slightly smooth, with some nuts, cinnamon and dried fruits. Still young and quite coarse, but better than the version I tasted 2 years ago.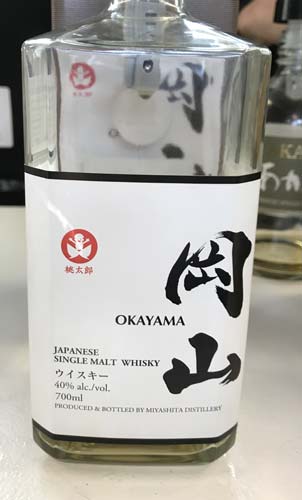 The Okayama japanese single malt
At BenRiach, GlenDronach and Glenglassaugh, I tried their new 22 YO, which is a 17 YO peated Benriach from ex-bourbon cask transferred into sherry casks for an additional 5 years. It has a lovey dry, aromatic and complex peat smoke, with a light sweetness and dried fruits from the sherry. I really like this old style of peated BenRiach. The BenRiach 30 YO Peated Authenticus was mellower, elegant, with slightly rounder and sweet sherry flavours. Very good and quite different from the 22 YO. In their peated range, there was also the Batch 1 of peated BenRiach Cask Strength made under the new ownership (and distilled by B. Walker). The whisky was young, sweet, smooth, peaty and slightly tarry, with a sweeter and smoother peat smoke than the older Authenticus. The Glenglassaugh Pedro Ximenez wood finish was very smooth, sweet and tasting very young, with thick, rich and chewy sherry on sultanas and dried fruits. Too young for me.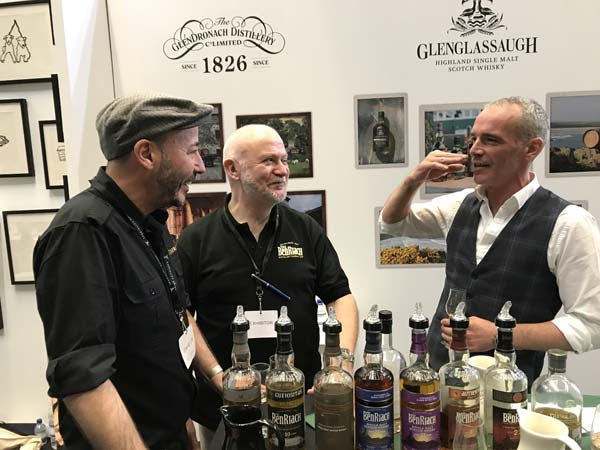 The friendly staff at GlenDronach, Glenglassaugh and BenRiach with a fair number of new products.
The Craigellachie Hotel has launched new blended malt, with the help of a blender from Diageo. The nose of the whisky was mellow, rather soft and thin, on dried fruits, some nuts and orange, while it was quite spicy, floral and fruity on the palate. A good one, but at 40%, I find it slightly thin.
At Whisky.auction, I enjoyed a few drams with my friend Nicolas, including a very intense 9 YO Kilchoman from 2006 that will appear soon on their website. I enjoyed also a nice discussion with Isabel, the directo, regarding the current situation of the auction market in the UK and the question of fakes. As part of their strategy, they have developed a very comprehensive archive of whiskies.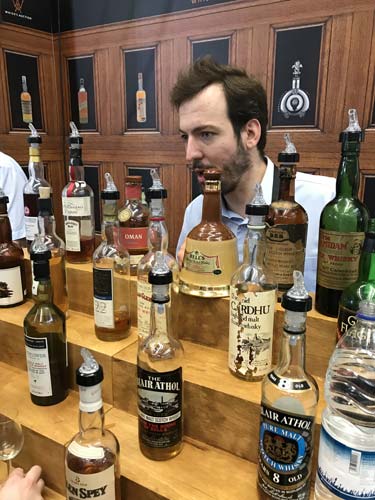 A very nice display of collectors bottled at whisky.auction
From Glengyle distillery, I enjoyed very much the Kilkerran 12 YO 46%, with its dirty and coastal side, moderate spiciness and light fruity flavours. The Kilkerran 8 YO Cask Strength was more brutal, cleaner and more oaky, without the sweetness of the 12 YO, as this one is 100% bourbon. The 12 YO Springbank 56.5% was very heavy and thick on the sherry, on red berries and rubber. Too much to my liking. Although the 18 YO had the same proportion of sherry (30%), the rubbery flavours were markedly less intense in the 18 YO Springbank 46%. It was also more complex, smokier and more elegant. Very good.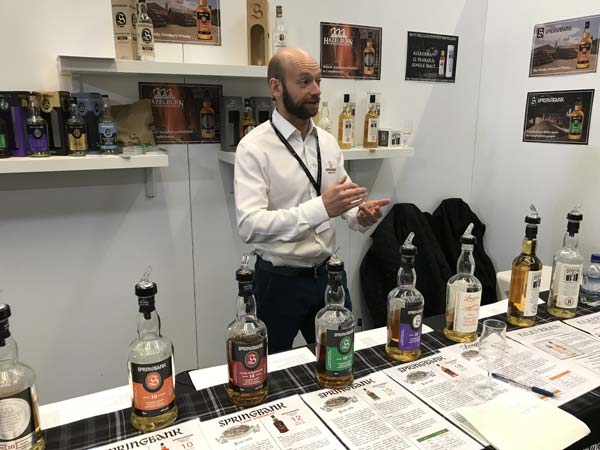 The stand of Springbank and Glengyle distilleries. They ran out of the Springbank 14 Cask Strength very quickly.
On the stand of Balvenie, I enjoyed their new Peat Week 14, a Balvenie made with peated barely instead of being matured in ex-Islay casks as this was for the Balvenie Islay Cask of some years ago. It was lightly to moderately peated, round to very round, malt, crisp, quite sweet, on honey, some nuts and light tarry flavours. Very good. The Balvenie 14 YO Carribean rum was slightly floral, malty, round with a sweet and sugary rum influence. A decent whisky, but not well balanced.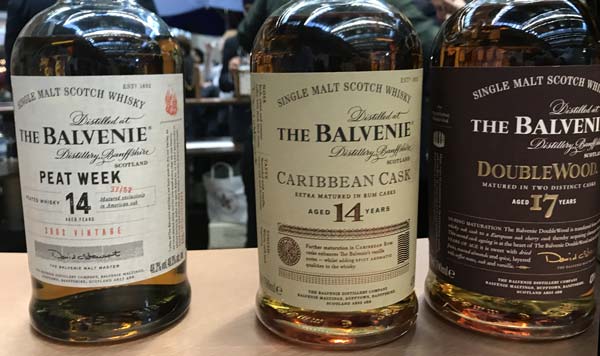 The two new Balvenie on the left
It seems like the timing to the stand of Chivas was perfect, as Billy, the master blender from Middleton was pouring a 31 YO Irish grain whisky from Method and Madness. A stunning grain whisky, mellow, rich, complex and with an impressive balance. Simply excellent. The new Longmorn Distiller's Choice was a smooth and creamy expression of the distillery, slightly oaky and nutty, and with some vanilla. The Longmorn 16 YO 48% was more intense, spicier, with more dried fruits and orange. A good one.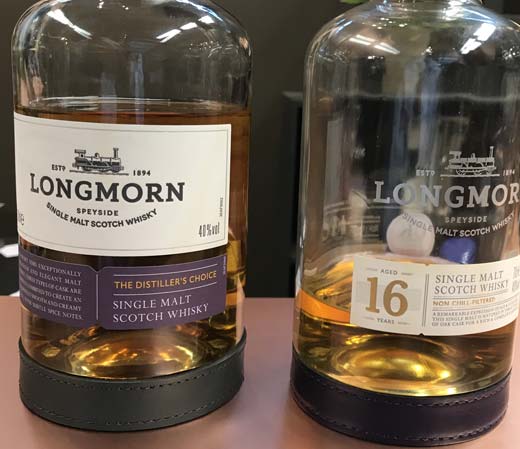 The new Longmorn Distiller's choice and the 16 YO
Signatory a bottled a very good 21 YO sherried Clynelish from 1995 for the Whisky Exchange. A mellow, very smooth and slightly waxy whisky, with round, sweet and fruity flavours. The Carsebridge 1984 32 YO was a very mellow, round grain whisky, with some peach, apricots and corn and light creamy flavours.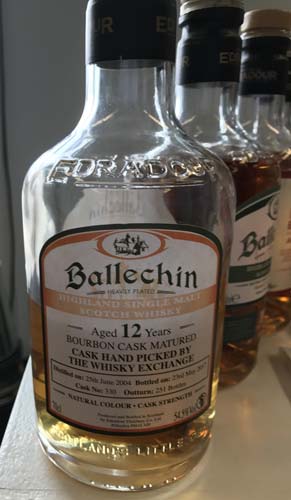 The 12 YO Ballechin bottled for The Whisky Exchange
From Tomatin I tried the very good Tomatin 36 YO, mellow, very fruity, round, slightly floral, on tangerine and orange. The new Earth is made with peated malt from Tomatin. While the Cu Bocan is made from first fill casks, this version is made with refill casks. It is a light and floral whisky, with little wood influence and a light to moderate dry and tarry peat smoke.
The new Tomatin Earth Peated malt
At the TWE Exclusives, I tried the very good 1989 27 YO Bunnahahbhain bottled by The Whisky Agency, a mellow, round, slightly maritime whisky, on round vanilla flavours. The Glen Scotia 1992 25 YO bottled by The Whisky Agency as well was quite salty and maritime, on old harbour flavours, diesel smoke, some leather and a touch of burnt rubber. A good "dirty" Glen Scotia. The last one there was a clean, waxy Clynelish 21 YO Art of Whisky Distilling. It was rather mellow, slightly mustardy with light and round vanilla flavours.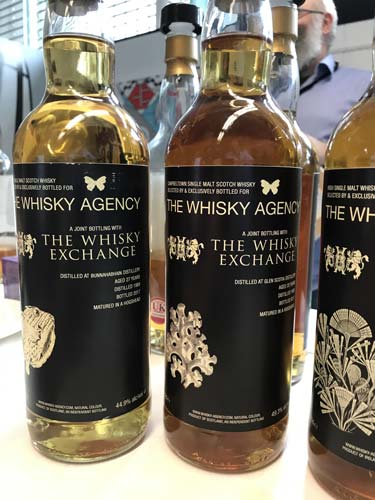 Some of the TWE exclusives bottled by The Whisky Agency
Bimber is a London whisky distillery that started last distilling last year. They new make was very smooth, slightly floral, quite bold and creamy. Their 14 months old sherry matured was pleasantly matured, sweet, creamy, on dried fruits and some red berries. A distillery to follow.
The London distillery of Bimber
At Macallan, the new Edition N°3 was presen. Made in collaboration with perfumers, this whisky was thick, rich, intense, with lots of dried fruits, orange, tannins and lots of spices. Compared to the Edition N°2, it is slightly less spicy, more rubbery and much more fragrant. I also took the opportunity of tasting again the standard Macallan 12 YO sherry and it tasted rather bland compared to the Edition N°3.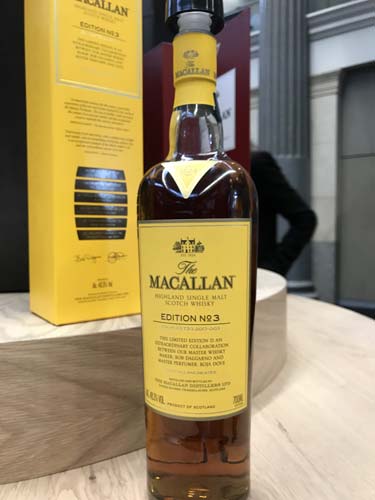 The Macallan Edition N°3
At Elixir distillers, I tried their Elements of Islay Lp8, a 1998 Lahproaig with the 9 last years spent in ex- Madeira casks. The whisky was very dark in colour, thick and chewy on the palate, with treacle and syrupy-winey flavours on top of maritime and peaty flavours. Very good. From their Single Malts of Scotland, I tried first a very elegant, floral, subtle and complex Glen Elgin 21 YO, with light flavours of kiwi and vanilla. A mellow, round, rather fruity Glen Grant 25 YO, on vanilla and some cooked fruits, followed this. As part of their Directors range, I could enjoy again tasting their excellent Glengoyne 40 YO distilled in the late 1960s. Before leaving, I was kindly poured with the Port Askaig 45 YO, a very fine Bunnahabhain 1968. 1968. Thanks guys at Elxir!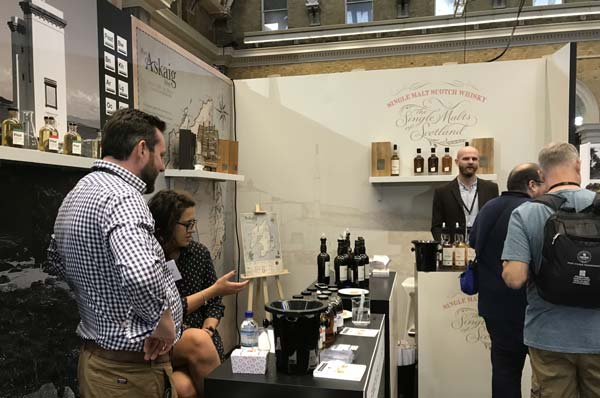 The stand of elixir distillers
Slightly further, at Glenfarclas, I could enjoy a fine Glenfarclas 30 YO, a subtle, complex, spicy, floral, elegant Glenfarclas, on dried fruits and leather, with an elegant and moderate sherry influence. Well balanced.
I tried most of the new products from Tomintoul, with the gentle, elegant, slightly balanced Tomintoul 21 YO with very nice round and fruity sherry flavours, and just a touch of spices. A well made whisky. The Tomintoul 40 YO was a very mellow and gentle sherry whisky, with delicate and well balanced fruity flavours. From the sister distillery of Glencadam I tried their new 13 YO, a light, bold, rich, complex, intense whisky on vanilla. Very good.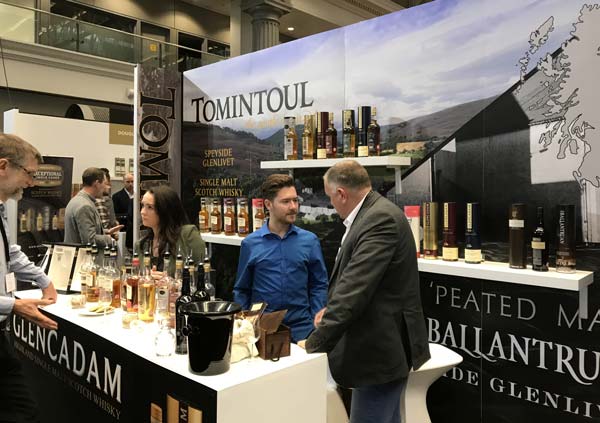 The stand of Tomintoul and Glencadam
At Suntory, I tried The Chita, a very smooth, simple grain whisky. Rather bland (neutral).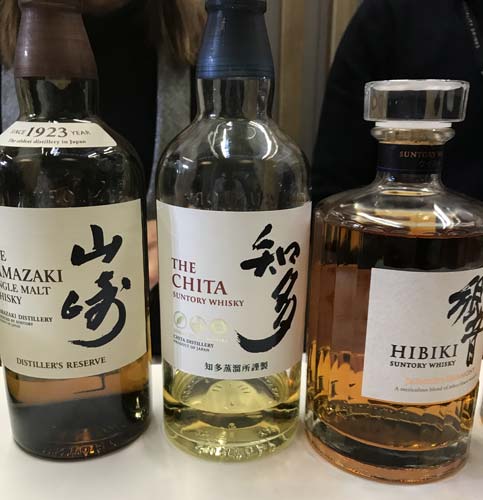 The Suntory products. Unfortunately, no a single one with an age statement
From Teeling, I enjoyed the Teeling Revival N°3, an Irish whiskey finished in ex-Pinault des Charentes wine casks. It was fresh, intense, rather complex, with some blackcurrant, pleasant sweet and slightly sugary flavours as well as some creamy and vanilla flavours. Very good. I could have a wee taste of their new Vol 4, which is currently bottled. Finished in ex-Moscatel casks, it is more winey, slightly drier and bitter. The Babazon Bottlng 01 is a sherry version of Teeling, younger than the revival and with some rather thick and sherry influence. The 02 is a Port Edition, with a rather dry and winey port influence.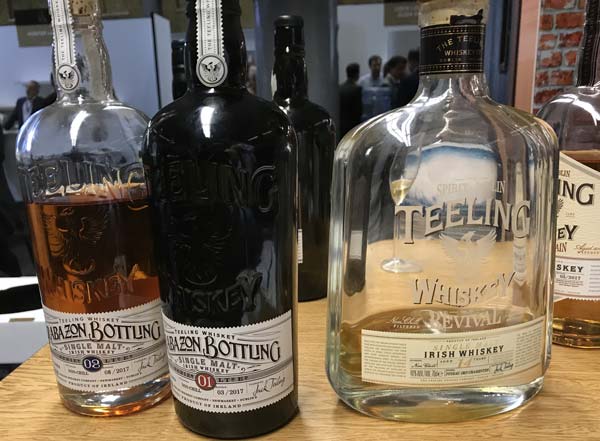 The Teeling Irish Whiskies
My final visit was the Loch Lomond group. While only standard bottlings were displayed at Paris, the new Glen Scotia 25 YO was there, as well as the excellent grassy, complex and bold Littlemill 27 YO. Lovely. The final pour was an excellent surprise with the Inchmoan 1992 Peated: A very complex whisky, with a lovely complex peat smoke of moderate intensity, light spices, grassy, creamy and on dry smoke. The balance was impressive. Just loved it.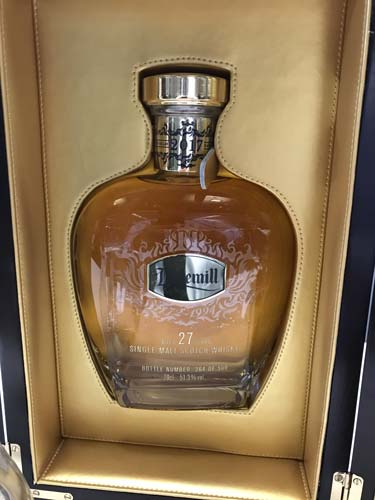 An excellent official Littlemill 27 YO
With this, it was time to make my way home. That was a great and very intense day, with no time to use my food coupon. The selection of whisky was impressive and we clearly notice that companies are investing large sums of money on creating impressive displays for their bottles, probably to match the investment on the packaging of the bottles. While I might have tasted less whiskies that last year, but also took more time to discuss with the different retailers and producers. Between a full day at the Paris Whisky Live and a full day at the Whisky Show, I could taste a very substantial number of new releases. However, should you be able to attend to only 1 event, I would strongly suggest you to visit it over two days, especially if want to attend to master classes.
That was a great event, with a flawless organisation, plenty of water and spittoons available. Well done and see you next year!
Slainte
Patrick, 04 Oct. 2017. Final edits: 11 Oct 2017.