Spirit of Speyside Whisky Festival May 1st-5th 2008
While I was in Limburg and on Islay during the Feis Ile, therefore I could not find time to get to the Speyside Whisky Festival. Fortunately, Bruce Crichton attended the Spirit of Speyside Whisky Festival held on May 1st-5th and he had the courtesy to allow me to publish his report, along with his photographs. Bruce is a very friendly whisky enthusiast and a regular at the Speyside whisky festival. I hope that you will enjoy his report has much as I did.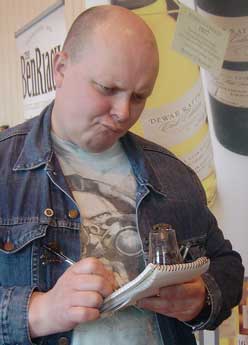 Bruce Crichton
Perplexed by the failure of my latest book, 'The Joy of Shaving', to become a bestseller - it was outsold by 'Mike Tyson's guide to Morris Dancing', I headed to Dufftown. With the dulcet sounds of Jethro Tull still ringing in my ears from the night before, the Spirit of Speyside Whisky Festival was just what I needed and after several days of great whisky, great food and frenzied scribbling, here is my account of it.
Once again, each festival event was done in 'Brucie style', which means that Lord Lucan could have hidden in my slops bucket without getting wet. Because of this, I apologise in advance for any factual errors in my report as my approach is not calculated to improve the memory. All of the views expressed on the whiskies available are a reflection of my own ability to nose and taste so please excuse my famously duff notes. More seriously, I would add that, to keep this report from being even longer than it already is, I refer the reader to previous reports and tastings if a whisky has made a re-appearance, plus I have also assumed the reader is familiar with any widely available bottlings which popped up.
Steve Oliver Talk and Tasting
Opening the festival, fine gentleman Steve Oliver took us through his 'Seven Stills' tasting in which we tasted bottlings from Dufftown distilleries, some of which have long gone .
Glendullan 8 had a slightly floral nose with a fresh and creamy taste and a lightly spicy finish which Steve found prickly, indicating that Glendullan should borrow Colin from Aberlour to clear the hedgehogs out of their casks. As Steve told us of the presence of esters in whisky and their reaction with water, we tasted Gordon and Macphail's Connoisseur's choice Convalmore. This distillery closed in 1985 and this example would have made a fine nightcap with its' dry, slightly woody flavour and faintly smoky finish. Next up was an official bottling known as 'Singleton of Dufftown' at 12 years old and 43% abv. This was slightly sweet and also slightly flavourful. It was pleasant enough but would have been better off in a bottle of blended whisky. By contrast, the official Glenfiddich Solera Reserve was slightly bitter and woody with a crisp finish, though a gentleman beside me reckoned he tasted coconut. The newly launched Balvenie Signature 12 year old was marvelously sweet with more sherry and less honey than the 10 year old it is meant to replace. I found it rather charming but it seems odd to bottle two official 12 year old versions and whether it was better than the outgoing 10 year old, I wouldn't like to say.
The official Pittyvaich 12, at 43% abv, was excellent and will be sadly missed when it is unavailable. This puts one in mind of Bells' Superior 12 year old blend with sherry and honey on the taste and some toffee on the finish. The official Mortlach 16 has been withdrawn from the market but the bottling we tasted had some dark, bitter chocolate and wedding cake on the taste and is not disgraced by its' eventual destination in a bottle of Johnnie Walker's blended whisky.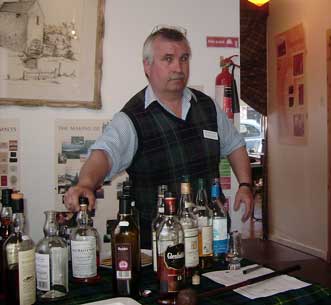 Steve Oliver Talk and Tasting
Susan Webster Talk & Taste
After meeting local author Ken Grant on Friday morning and picking up a signed copy of his new 'Willie Whisky' novel, I returned to the museum for the next tasting taken by Susan Webster, now with Dewar Rattray, an independent bottler from Ayrshire, in south-west Scotland.
As Susan (who missed the autumn festival after sustaining an injury whilst moving her house three feet to tighten the washing line) took us through the history of the company and its' bottling policy, we had a 1976 Stronachie (from Benrinnes distillery) at 52.6%abv. This was from two refill bourbon barrels and had a syrupy nose with pleasing honey-sweetness and lasted about four seconds in my glass. Despite the advanced age, no woodiness was apparent. Feeling mischievous, I attempted to drive Susan round the twist with contradictory and pretentious tasting notes and ludicrous serving suggestions. (I wasn't as successful as I was hoping.) A Craigellachie 16, at 60.7%, despite my recommendation of having it with Ribena, had a citric nose and tasted of pineapple chunk sweets. A speck of water made it velvety and no 'burn' from the alcohol was obvious. This made its' way back down south with me and we moved on to Glenlivet 29, at 47.2%. Despite my description of it as elegant and dry, like a hippo at the bottom of Niagara Falls, it was floral to nose and tasted citric and is recommended as a digestive. A 34 year old from the long-closed but recently bought over Glenglassaugh distillery, at 52%abv, had a sweet nose, a light body and a slightly alcoholic finish. This is a favourite of Susan's and she explained that the company uses only whiskies matured in ex-sherry or ex-bourbon casks and does not 'finish'. They only bottle 50-60 casks per year and reject 20-30 casks for every one they accept. Water added a hint of wine taste to this one.
Dewar Rattray now have A.D Rattray on their labels because of legal threats from the giant Dewar's blends and a 1989 Linkwood bottle, at 58.7% abv, was full bodied with treacle on the nose and had the classic toffee, fudge and wedding cake flavours one expects from maturation in a sherry cask. Unsurprisingly, after driving everyone spare by talking utter mince throughout the session, I was offered a job writing for Whisky Magazine.
Independent Bottler's Challenge
My friend, Stuart Kerr, arrived soon after and we headed to the independent bottler's challenge where 5 companies: Duncan Taylor, Adelphi, Dewar Rattray, Speyside Distillers (Scott's Selection) and MWBH had each entered one whisky in the Speyside category and one in the 'rest of the world category'. (MWBH entered two).
In each case, a brand ambassador would tell of their company and we would taste the whisky blind, not knowing which was which. It was a fine event but the number of high quality drams did make me rather lose the thread as it wore on. However, I particularly enjoyed dram 2 which had a light sherry taste, a treacle nose and some toffee, fudge and dark chocolate on the finish. Dram 5 was intriguing with Bovril and balsamic vinegar on the nose, reminiscent of a recent Adelphi Glenrothes 6 YO, and the body was muscular and dark with a thick, rich spicy liquorice palate and lingering coffee on the finish.In the second category, I took a shine to Dram b. (Apparently this was Dewar Rattray's Cooley whiskey, from Ireland). I found it to be vibrant with lemon zest on the nose and lemon juice with bananas on the palate. The finish was lingering and delicately sweet.
I apologise for anyone I missed out but I didn't find out exactly which whisky was which afterward and this report should in no way be taken as comprehensive. The event was, however, very keenly contested although the number of drams did militate against accurate recollection, even with a notepad.
That evening, Stuart and I headed to the Gordon Hotel in Tomintoul for a fine meal, finer whiskies from Mike Drury's Tomintoul Whisky Castle and even finer songs from Robin Laing. Robin was kind enough to sign my copy of his 'Whisky Muse book and told me that he is researching a sequel to his 'Whisky River' book, this time about Highland whiskies.
The flamboyant Mike told of his bottling range and of his love for uncoloured and unchilfiltered whiskies and the Provenance Mortlach at 11 years old and 46%abv was soft and refreshing while his own Auchroisk 18, at 61.9%, he accurately described as 'golden liquid'. Also, there was a Bunnahabhain 9, from Adelphi, of which more, later.
Robin Laing is a supreme entertainer and rounded off the evening with songs about Elijah Craig, the bourbon pioneer, black coffee, inflatable mishaps and his famous ditties about the world of whisky and the Speyside distilleries.
A day such as this can easily leave one with the feeling of having fallen down the wrong leg in the trousers of time but, come Saturday morning, the trousers were back on properly again in time for the Whisky Fair, in the Memorial Hall.
Whisky Fair
Gordon and MacPhail's Mortlach 15 (non-vintage) was the ideal starter with mellow sweetness and a creamy finish. Over at Speyside Distillers' stall, Andy and Pamela tempted me with a Private Cellar Allt-a-bhaine from 1992 and the creamy and soothing character together with its' fruitiness soon won me over.
Duncan Taylor's Mark Watt, who had bounced back from being kicked off the Rolling Stones tour for leading Keith Richards astray, had some 1979 Cameronbridge grain whisky and, as a Fifer, I was honour bound to try this. A delightful, silky dram with some faint hints of bourbon proved once again that the company's stocks of aged grain whiskies are the standard for everyone else to beat. An honourable mention goes also to the cask strength 1979 Invergordon from the long gone Dumbarton distillery which had syrup and honey gliding playfully over the tongue.
From Benriach, I plumped for the fine 16 year old which is unpeated and has no wood finish. This, I described as a 'Classic Spring Whisky' which Allan and Stewart from the distillery concurred with absolutely. Next, I headed over to Tomintoul to try some new offerings from the 'gentle dram. Stuart likes the tremendously sweet, limited edition Oloroso sherry finish but I tried the 'Peaty Tang' version. Sure enough, it was both lightly peaty and slightly tangy and was a fine Speysider for Bruichladdich lovers. However, being true to myself, I grabbed the heavily peated 'Old Ballantruan' bottling which is best tasted on a day of the week that has a 'y' in it.
Some more alchemy in a glass was available from Adelphi's 'Breath of Isles' 1992 (probably the Isle of Skye) which had salt and a fine coastal character with some smoke wafting slowly over the palate on the finish.
At the MWBH table, a 1972 North Of Scotland Grain whisky had mostly vanilla with a stylish and pleasing bite on the finish while the newly released Longrow CV from the Cadenhead's/Springbank had a lovely maritime nose and smoked fish to taste and a fresh, young and lively character. This expression is meant to offer the chance to try young and inexpensive Longrow as the older bottlings are in very high demand.
After annoying a local reporter, who quizzed me, by telling him my name was Moist Von Lipwig, I headed to the Dewar Rattray stall where a Longmorn 15, at 56.8abv%, pinged the ears of the useless 16 year old official bottling. The crisp, malty cereal flavours were just what I was hoping for and, hopefully, there will be more single cask, bourbon matured bottlings from this distillery. Also brilliant was a Laphroaig 18, at 56.6%abv, which had aged gracefully and was light and complex and not a 'one big punch' whisky at all.
Shortly afterward, Mike Lord's next 'Whisky and Food' talk offered the chance to eat food and drink whisky and drew me to the museum like a moth to a light bulb. (How does he think of these ideas? The man is a genius.)
Mike's theme for this talk was to combine some recipes from Graham Harvey's 'Whisky Kitchen' book with the widely available whiskies that were used in making them. The food was, as usual, from the Aberlour Spey Larder and whiskies were from Mike's shop. Cragganmore 12 started us off with some French onion soup (literally Scotch broth, in this case). As we ate, Mike told us that, historically, Speysides were more heavily peated than Islay whiskies until the advent of the modern railway system meant that peat was not necessary to dry the barley.
Royal Lochnagar 12 accompanied some thick woodland mushroom soup which contrasted nicely with the whisky and worked rather well. Mike also joked of the wildlife battles between Black and Grey squirrels but added that they barbecue equally well. Some Glenfiddich 12 was matched with chicken liver pate but best of all was some smoked salmon pate with Laphroaig 10. Some cream cheese and Worcestershire sauce had been added and, accompanied by oatcakes; this was the most effective combination of the lot. The whisky kicked strongly through the food and closed the session in fine style.
Robin Laing sings before your Supper
Later, Robin Laing turned up to sing before our supper and had picked some whiskies to accompany his songs, one of the whiskies not having a song of its' own.
Elijah Craig 18 Single barrel bourbon, at 45%abv, was delicious with an oaky and vanilla nose, a medium body and a fruity taste and divided the audience evenly into fans and non-aficionados. Interestingly, Elijah Craig was the first man to char the barrel to flavour the spirit and aid maturation. Robin also sang a song about Heaven Hill whiskey and talked lovingly of his bottle of 20 year old which had appreciated in alcohol, during maturation, and led him to look forward to global warming.Some Arran, finished in Sassicaia wine casks, at 55%abv, led Robin to tell us of his love of 'finishes' which add to diversity, in his view. The whisky had tasted of sweet wine and had some subtle fruit and a slight prickle on the finish (probably from alcohol rather than from hedgehogs in the cask). Robin unveiled a song called 'Arran dram' about the distillery and another about an escaping whisky smuggler then we moved on to Aberlour A'Bunadh (batch 22) at 59.3%abv which went beautifully with dark chocolate as we listened to Robin's 'A'Bunadh' track. Only the slight kick on the finish indicated the high alcohol strength of this fantastic dram. Benriach's peated 12 year old 'Arumaticus Fumosus', from their 'Daftus Namicus' series of wood finishes was the only one not to have its' own song but we enjoyed hearing the Speyside whisky song again as we drank the whisky, finished in rum casks and which Robin prefers to the 'Curiositas' expression. This had a very pale colour and a delicate tickle of sweetness that slid elegantly over the taste buds and was truly delicious.
Bruichladdich's Port Charlotte PC6, at 61.6%, had no sign of rawness from the youth and strength of the whisky and Robin regaled us with many tunes about this distillery as we drank. In fact the whisky was surprisingly subtle and reminiscent of the peated Speyside whiskies which have gained popularity in recent years.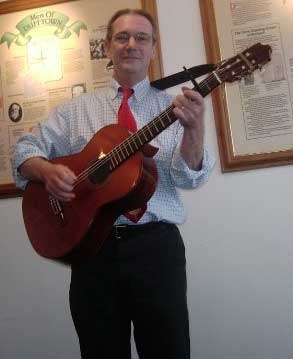 Robin Laing on stage

Tannochbrae Restaurant
With this in mind, I headed to the Tannochbrae restaurant where Allan and Susie served up some more fantastic fare with Irish whiskeys from Cooley and more songs from Robin who had to consult his lyrics book as he had not sung these tunes since he had recorded them some years before.
As Winning a lot of new friends was Cooley quality manager Noel Sweeney, accompanied by friends from the Malt-Teasers Whiskey club. Noel talked us through the reasoning behind some of our whiskeys for the evening, including the unusual fact that the 10 year old expressions of Tyrconnel had identical whiskey in them before being transferred to Madeira, Sherry or Port casks. Noel also reckons that the peated Connemara (no age statement) tastes a lot older than it actually is. I mentioned earlier, this day of the week had a 'y' in it and this meant that a brilliant slap-up feast was in order. This part is certainly true as I thought it was at least 8 years old but it apparently contains 4 and 6 year old whiskey and only a small proportion of 8. As well as this tremendous dram, we also had the Connemara 12 and Locke's 8 and the three expressions of Tyrconnel were particularly brilliant. Try tasting the Tyrconnel sherry finish to wash down a small box of Turkish Delight sweets for some exquisite self-indulgence. As the evening wore on, increasingly merrily, Noel also told us of we could look forward to 15 year old expressions of Greenore grain and Kilbeggan blended whiskey. (I also recommend the cask strength Connemara which is 59% abv but has the smoothness of a 43% abv bottling.) Robin kept us entertained with more songs, including the one about the lustful, wandering eagle and we ended with an impromptu sing-along to 'Whiskey in the Jar', though not all of us were singing the same words. Hopefully, this will not be Cooley's last visit to Dufftown.
Minibus Tour ~ Knockando & Cardhu
After avoiding Mike Tyson, still gloating over his the success of his book on Morris dancing, Sunday morning brought a trip to Knockando distillery, home of J&B Rare blends, with Charlie, our capable bus driver for the day, and Andy Cant, our host for the day. Andy is manager at Knockando, Cardhu and Cragganmore distilleries. Tours of the distillery, established in 1898, are rare but it does have a fine corporate hospitality suite and we were shown round and given little pointers as to the character of the spirit produced and treated to a brief history before the master class at the end.
Interestingly, Cardhu produces clear wort during mashing while Knockando aims for cloudy wort, which is obtained by extracting the small quantities of oil from the barleycorn. The washbacks also have no 'switcher blades' as they are not in danger of overflowing with froth. The wash has a short fermentation of about 48 hours and the aim is to give a nutty character, rather than a fruity one – a fascinating twist as the process still has at least 12 more years to run. The stills are designed to give slightly less interaction between the spirit and the copper than is achieved at Cardhu. This imparts nuts, spice and a little sulphur into the spirit. Knockando produces about 1.3 million litres per year and is mostly aimed at the French and Spanish markets. A sight to behold is the 'Ultima' warehouse. The aim of this warehouse was to collect 2 casks from every distillery available and contained casks from many distilleries, some of which have been long demolished, and the whisky was used to mark 500 years of Scotch whisky distillation and marketed as J&B Ultima. The master class began with some surprisingly good clearic, with notes of nuts, biscuits and sulphur, before three 8 year old samples. The first, from a refill bourbon cask was remarkably smooth with syrup, fruits and vanilla flavours and backed up Andy's view that this is the best for allowing distillery character to shine. A first fill bourbon sample was softer with more obvious vanilla taste while a first fill sherry cask had wedding cake and Belgian chocolate but the cask rather overpowered the spirit. Andy's take on wood is that European oak matures the spirit more quickly than American oak and we moved on to the official 12 year old bottling. This is fully matured in refill bourbon casks and had lovely esters and vanilla with nuts and a light finish, hinting at wine. Rounding off was a very soft 16 year old, again from a second fill bourbon cask. A slight speckle of vanilla was there but, despite no outstanding flavours, had charm in abundance. Heading to Cardhu for a condensed tour, Irene and Andy took us through, pointing out the differences between Knockando and Cardhu, historically linked with the Johnnie Walker's blends. Walking in, we saw an amusing model of the malting, closed in 1968. Lightly peated malt is brought in from Roseisle and a 75 hour fermentation is used. The distillery is now 7 days per week production, though demand still far exceeds supply. A small amount now goes to Johnnie Walker blended whisky but most malt goes to Spain, Greece, Portugal, France and Switzerland. Interestingly, the stills have the lie pipe sloping upward so that only the purest vapours are collected. The stills are oil boiler heated and produce about 3 million litres per year.
The current 12 year old bottling is still light, sweet and amiable and ideal for introducing newcomers to Speyside. The new 'Special Cask Reserve' small batch bottling has almost the same flavours with a little more freshness but a slightly bitter finish.
Cadenhead's Master Class
That afternoon, Mark Davidson took us through some unchilfiltered single cask bottlings from Cadenhead's. Mark cunningly brought a load of savoury oatcakes and milk and dark chocolate and we took our tastings 'blind' – not knowing what we were having and guessing the distillery, age and price.
An Allt-a-bhainne 15, at 56.2%abv, foxed me completely as to the identity but made a good starter. Not too complex and with a little toffee and vanilla. A 1979 Imperial, at 54%abv, tasted much younger than its' age with a syrupy flavour and Mark reckons it makes a fine digestive.
An Auchentoshan 17, at 59.2%abv, tasted of completely of superior bourbon which Mark thinks could be from a first fill cask that hadn't been used very long to mature the bourbon. By contrast, I thought the Ben Nevis 16, 46%abv, smelt of rum but, in fact, was matured in a sherry cask (Mark guesses Manzanilla). Still, I tasted rum and syrup. Even odder was an Ardbeg 14, 46%abv, which must have been some of the last production when Allied distillers owned it. This was an incredibly light Ardbeg with a little smoke, vanilla and a hint of spice about it.
Adelphi Master Class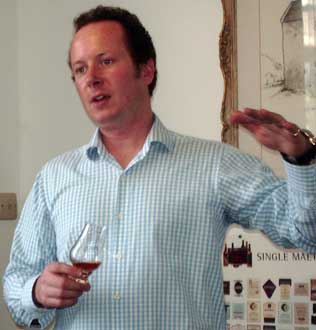 Alex Bruce ready to delight his audience
I then took the morning off to go shopping in Elgin, where I met the insufferably smug Mike Tyson, I nearly hit him but decided against it. After that, the most exciting Monday afternoon in history began with some more cask strength magic potions from Adelphi with Alchemist-in-Chief Alex Bruce (his colleagues are Harry Potter, Merlin and Gandalf). Official tasting notes were, as usual, from popular writer Charles Maclean. We kicked off with a Strathmill from 1976, at 44.8%abv. This is rarely seen as a single and this example had some fabulous golden honey on both nose and taste which gave way to a little treacle. Alex views this as ideal for Wimbledon.
Alex had us in stitches by recollecting that he had used one of my rarer-than-Aardvarks-in-my-fridge accurate tasting notes from the last festival and an Israeli customer had asked 'What happened to Charles Maclean?' (He had obviously shaved, lost all his hair and doubled in size.) Next up, Alex explained that the Ben Nevis Distillery had produced grain whisky for five years, alongside their malt, and some of the grain had been married with the malt at birth, as it were, to produce a 'single blend'. This 1970 vintage cask smelt of wild berries and tasted of dark chocolate. (Charles Maclean got macerated plums from this one which sounds excruciatingly painful.) As we savoured this rare treat, Alex told us the story of a 'Wee Free' minister who tried to warn off children from the 'Devil's Brew' by dropping worms into water and into whisky and cracked us up completely. This cask had been the subject of an expletive-filled call from the distillery manager who tried to buy this cask back, as well he might. Even better was a 1990 Dalmore, at 59.7%abv, which tweaked the nose and then stole the girlfriends of weedy rival bottlings. Wonderfully silky, the complexity of this dram was outstanding and this had a balance not usually associated with single casks from this distillery with notes of Brazil nuts, coffee, sugar and Seville oranges. A 1989 Linkwood, 55.6%abv, followed and brought coffee liqueur to my mind followed by toffee and sherry trifle. (Linkwood, according to Alex, had a highly superstitious distillery manager in the 1940s who, after renovation, replaced the cobwebs exactly where they had been.) Alex gets ginger and spice from this one - the Geri Halliwell of whiskies, then.
We closed with a reappearance of 1997 Bunnahabhain, 59.6%, which I reckoned, on Friday, tasted of smoked fish and which Charles Maclean thinks tastes of smoked salmon. (Close enough to count as an accurate tasting note, I think.) This rare, heavily peated cask was made to bring peat flavours to the Black Bottle blends as the owners thought that the heavy south Islay whiskies would not be available. Despite slightly higher peating, this was softer than Ardbeg and had been matured in a refill sherry cask (possibly third or fourth fill). This was an instructive example of the importance of spirit in producing whisky and, after we gave Alex his now customary thunderous round of applause, I did a quick Carl Lewis impersonation up to the shop to get this and the Dalmore (didn't want a tweaked nose.)
Duncan Taylor Master Class
Keeping up the standard of this greatest Monday afternoon in history was Mark Watt, of Duncan Taylor, who strongly denies that he once turned up for work sober. (As well he might, he'd get sacked on the spot for that.)
A Miltonduff 8, at 43%abv, from the Battlehill range had a grassy floral nose and some citrus fruit and Mark succinctly described it as 'nice, easy drinking whisky' which was a lot better than the rubbish I had written about this youthful and zesty dram. Replacing the old, low strength Lonach bottlings were some younger, higher strength whiskies – DTC have run out of old casks suitable for this range. A Glengarioch 18, fully matured in cognac, freshened with a drop of water to give summer fruits and syrup. Mark then horrified us with the story of having to be a barman and serve Macallan 25 to a customer who mixed it with tomato juice. A 38 year old dram, beginning with Glen and ending with arclas, from the 'Special Selection range, was also fantastic. At 48.8%abv, it was still minty and fresh and backed up Mark's contention that cask is king. With such a large quantity of whisky, my already duff notes began to deteriorate so the reader will have to take my word for it that Lonach Strathisla 40 year old, 46.4%, had good balance and was brilliantly soothing. This stellar whisky had stood up very well to the cask and was not overpowered by the wood in any way.An NC2 Bowmore from 1998 prompted Alex, sitting beside me, to comment 'barbecue sauce.' From a refill sherry butt, this lovely whisky had some slight smoked fish and a subtly warming end.
Closing, Mark gave us a bonus dram of his beloved Caperdonich from 1968, 56%abv. This was crisp and still lively and definitely deserves a livelier palate than mine was by the end of the session. Still Mark's favourite, he told us that DTC has a very large stock of it, though I think he will do his best to drink it.
The Dregs Party
Abandoning all pretence at notes, we ended the festival ends in style with the dregs party and Mike announced the winners of the WSD challenge which were: Scott's Selection 1964 North of Scotland Grain whisky and Duncan Taylor's Macallan. Festival regular, Phil Yorke won the competition and was invited to read out his tasting notes.

The party was a well-behaved affair this time and I'd like only to add some random observations of mine and other people's that didn't really fit into the report earlier:
Describing a whisky as 'Yummy', 'yummy' and 'yummy' is not acceptable, no matter how drunk you are. (Yes, you know who you are, the person that wrote this.)Tasting sessions are much improved by staying awake. You would think that people would know this by now but not everyone does, apparently.The number of people fascinated by the appearance and then disappearance of my beard was surprisingly high, though this did not translate into sales of 'The Joy of Shaving'....Grr!Mark Watt hates it when it people describe a whisky as 'complex' and 'interesting'. He doesn't say if he prefers them described as 'Simple' and boring. (Well done to Stuart for pointing that out).Yes, I really did tell a reporter that my name is Moist Von Lipwig and, no, I don't think he used the article. When we were all singing different words to 'Whiskey in the Jar', I said that Captain Farrell gets shot in my version and Robbie from the Malt-Teasers said that 'he deserved it.' In closing, I'd like to thank everyone involved in organising and running the festival and, in particular, Mike Lord, Steve Oliver, the wonderful people at the 'Coffee Pot' for keeping me going through the weekend, to Andy, Val, René and Claire at the Whisky Shop, to all the people who work behind the scenes, to bus driver Charlie and Alan and Susie at the Tannochbrae plus congratulations to Mike Tyson on the success of his Morris Dancing book. (Nobody likes a sore loser) and condolences to Charles Maclean on his macerated plums (ouch!)
I'm off to have an Aardvark sandwich, now you know why they're never seen in my fridge, and, hopefully, I'll see you again at the Autumn festival, an event guaranteed to add sauce to the bacon sandwich of life.
Bruce Crichton ©2008