Scotland whisky tour 29 Sep-05 Oct 2011
Day 4
As part of Speyside whisky festival, I went for the bus tour to Tomintoul, with a visit of the distillery carrying the same name as the village, the highest in the Scottish Highlands. Tomintoul is a fully manual operating distillery built in 1965, showing no major signs of recent high tech upgrade. An automated mashing upgrade was considered, but before the costs were evaluated (£3.5 mio). The annual production is 3.3 mio LPA, capacity reached thanks to a huge mash tun of 70,000 L capacity. The fermentation last 60 h and a mixture of M and MX yeast is used. Tomintoul is part of Angus Dundee Distillers Ltd producing yearly 72 mio of whisky bottles. In France, Angus Dundee owns the 4 top sellings brands. Whisky is sent in bulk there, reduced with French water and bottled in France. However, as per regulation, the Tomintoul single malt is only bottled in Scotland. Stocks of whiskies at Tomintoul are huge, since Tomintoul includes a blending facility. Blends produced here are mainly cheap and young blends (3-4 years old) and sold under diverse brand owners (including supermarkets). Recently, Tomintoul has decided to suppress their advertisement budgets. A new Tomintoul 14 years old has been released (100% first fill bourbon)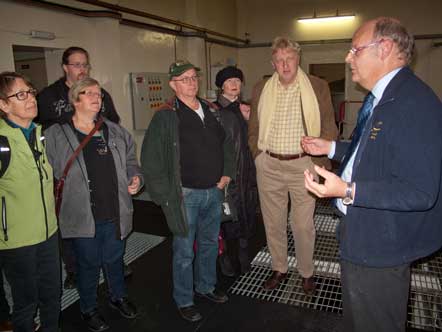 Tom Gerrie, Distillery Manager at Tomintoul educating its audience.
.
After the visit of the facilities, we could taste the gentle and smooth 16 YO, followed by the sweeter and pinkish 12 YO Port Wood finish before tasting the oaky and rather thin 21 YO. For some obscure reason, the 21 YO0 is bottled only at 40% and thus suffered directly from the comparison with the 12 or 16 YO bottled at a higher strength. To conclude the tasting, we could taste the "Old Ballantruan", a heavily peated and young expression of Tomintoul.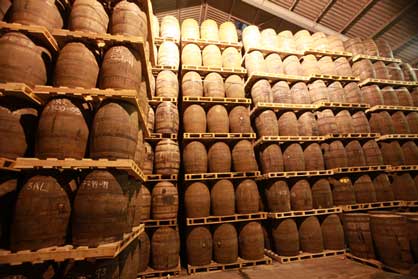 Inside one of the palettised warehouse at Tomintoul. More than just a few casks.
This was followed by a pleasant lunch at the Clock Tower after a very brief stop at the Tomintoul Whisky Castle Shop. It was then time for our return to Dufftown and to join the whisky auction after a third of the lot had been sold. After a dinner at the Highlander Inn and a wee dram of Yoichi Sweet and sherry, it was time for a good night of sleep.

Day 5

I was most interested by the mysterious bus tour organized by the Autumn Speyside Whisky Festival. Unfortunately, it sold out too quickly for me. In absence of any last minute cancellation, I decided to go on my own and to visit the lovely distillery of Cragganmore, after a short stop for some outdoor photographs of Benrinnes.

The picturesque distillery of Cragganmore
With nothing planned in the afternoon, I decided to drive in direction to Ardmore distillery where I had an appointment on Tuesday early morning. After a longer drive than anticipated (got slightly lost on my way), I finally arrived at Ardmore distillery mid of the afternoon. Ardmore is not only of my favourite whisky, but also a charming distillery very nicely located and with some fascinating curiosities. A mixture between a modern distillery and a whisky museum. Ardmore is a rather large distillery producing over 5 mio LPA, where several distillery managers have been trained (e.g., John Campbell now in post at Laphroaig distillery) on a full manual process.

Ardmore distillery
After taking some outdoors photographs, I had a short discussion with Gordon, engineer, where I learnt that Steve Oliver and a bus from the Autumn Speyside whisky festival had a tour organized later on that day. With the permission of Steve, I joined the group for the distillery tour. In the meantime, I made acquaintance with Ronnie Mennie, the former distillery manager, who retired 10 years ago. A very interesting man and after the tour was completed, I discussed with him for a further 1h, enquiring about the history of Ardmore and the changes that occurred here between the mid 1960s until the mid 1990s.
The full video tour of the Ardmore distillery (10:00 min)

Day 6

I spent the whole morning photographing the Ardmore distillery under all possible angles, from inside and outside, before moving to Oldmeldrum where I had lunch. Of note, several might have expressed the wish to tour Ardmore distillery. Other the last couple of years, you might have received the following answer: "we are not opened to the public, but a visitor centre will be build next year". Good news, thanks to the change of ownership, Beam Global, the money for the new visitor centre has been granted and sketches could be seen in the future visitor centre of Ardmore. Very good news. Furthermore, Ian McWilliams, has recently published the book "Ardmore: Portrait of a distillery". A good book with stunning photographs.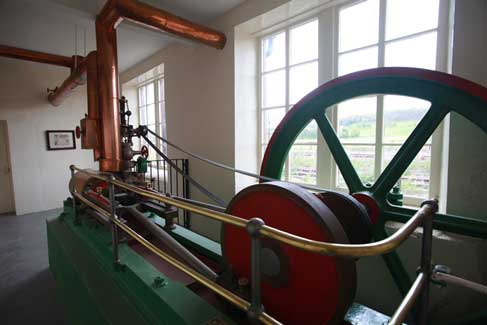 The Old Steam Engine at Ardmore will be revised and put back to life in the future vistor centre.

In the afternoon, I had a pleasant discussion with Mr Akki Manson, one of the descendants of John Manson, the founder of the Oldmeldrum (GlenGarioch) distillery. In the afternoon, I had a first stop at Glengarioch distillery where I was fortunate to have a long discussion with Colin, who started working in 1970 at the distillery. Very interesting.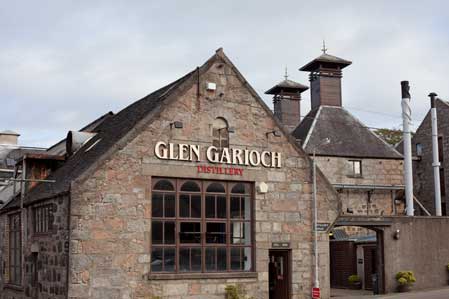 Glengarioch distillery
Day 7

This was my last day in Scotland and I returned to Glen Garioch to take further photographs of the distillery as well as to attend the 11h tour. Our guide was Frank and this was probably one of the most entertaining tours that I ever attended. Not very academic, but with a plenty of jokes and Scottish humor. I had a pretty good laugh!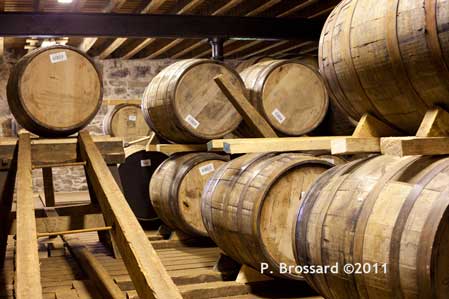 Inside one the Glengarioch warehouse with casks of Glen Garioch whisky.

I had a lovely stay at Glen Garioch and met lovely people there. Thank you to Colin, Fiona, Frank, Claire and Kerry.

With some sadness but on beautiful memories, it was time to say goodbye Scotland.
www.whisky-news.com ©31 Oct 2011