Limburg Whisky Fair, Limburg, Germany 27-28 April 2019
For the photographic gallery, click here
As for the previous, all whiskies tasted here will be re-tasted again in standard condition. Due to the high temperature at the fair, there might be some marked differences.
The temperature was pleasantly fresh at Limburg on Saturday morning.
After a most pleasant private dining the night before, I was eager to join the whisky fair.
Part of the queue at one of the entrance
As rather expected, the queue was already rather long at all entries 20 min before the opening. With almost everyone having a printed or electronic ticket, I was already in after a 10-min wait.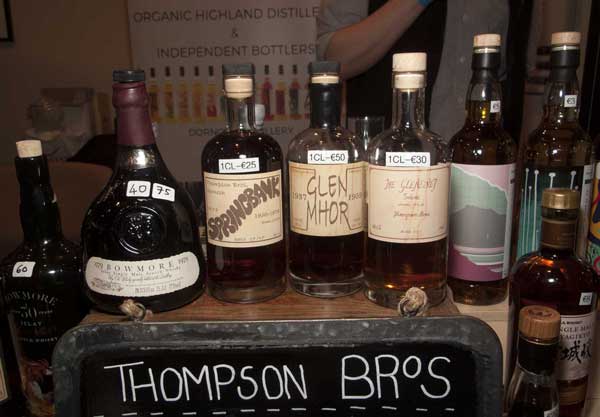 The selection of old bottling at Thompson Bros / Dornoch distillery
My first stop was at the stand of Thompson Bros / Dornoch Distillery, where I was welcomed by a very nice round, mineral, moderately peated and slightly aromatic Glenlivet Solera Thompson Bros 1994, a very good old style of Glenlivet, with probably a fair dose of Glenlivet from the 1970s. Very good! Talking to Simon, the work is going well with the new distillery and experiments are going well at Dornoch, where they do experiments with spent yeast, re-kilned barley and testing different varieties of barley. The new make I was given was nicely floral, malty, and rather robust. Made with a narrow cut and an old barley type, it might be bottled soon as new make for Japan. I tasted then the Imperial 21 YO Thompson Bros, a nice, intense, round, moderately grassy and round single malt, with moderate spicy flavours. A good one. This was followed by a rather young, malty and rather grainy Ichiro's "Malt and grain world blended whisky" selected by the Thompson Bros. The oaky and slightly creamy flavours from the Virgin French oak were clearly noticeable.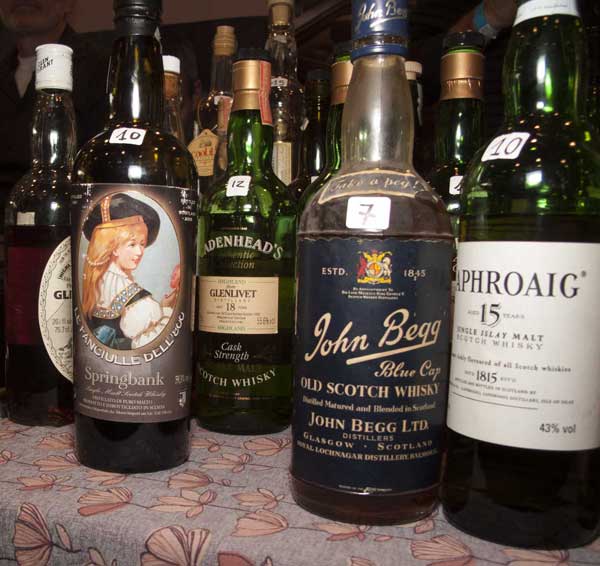 A very good sherried Springbank Moon Import for Japan at Enrico Gaddoni stand
Moving slightly to the left, I was kindly served a dram of Springbank 1991 Moon Import for Japan, a very good intense, slightly mineral and peaty single malt, with a nice and round sherry influence on leather, without any off notes. Most enjoyable. Thank you Enrico. From the same series Le Fanciulle Dell' Eco, I tasted a rich Littlemill, intense, quite spicy and with moderate grassy flavours. A nice one. My last dram there was Pittyvaich SMWS 90.2, a clean, intense, slightly malty and waxy expression of the distillery, with moderate spicy flavours and some vanilla. My youngest Pittyvaich so far.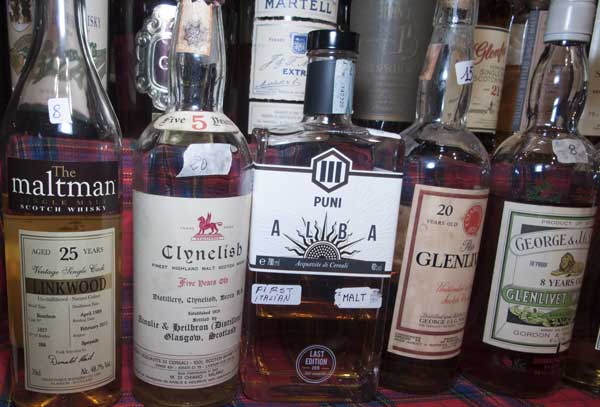 Could not resist tasting again the old Clynelish 5 yo distilled at Brora at Giovanni stand
Moving after to the main stage, I visited the stand of Ilie and Giovanni, and I could not resist tasting the Clynelish 5 YO that was there: as good as always!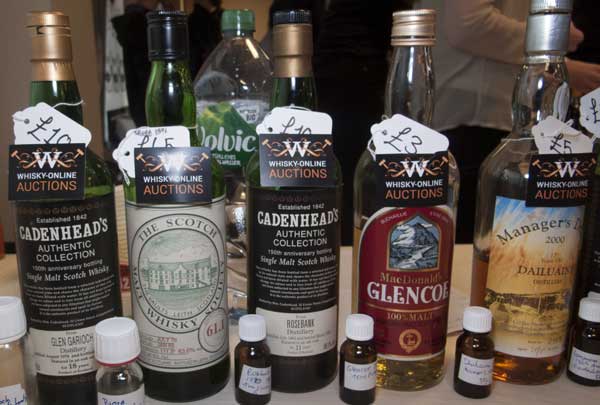 Part of the whiskies I selected from the large selection of whiskies at whisky-online.com
After collecting some purchases, I moved down to the extension in the basement to visit the stand of Whisky-online auctions. For a first participation, their selection was impressive, with a large selection of Manager's Dram, Cadenhead's 150th Anniversary and old bottlings from the SMWS. They had the nice idea of sharing the list on Facebook before the event, thus I came prepared with pre-labelled samples. For time reasons, I only sampled a long list of whiskies. Talking to Harrison, they want to keep their shop and online auctions site at this level. I hope they will return next year! And for the tasting notes of these whiskies, you will need to wait a bit …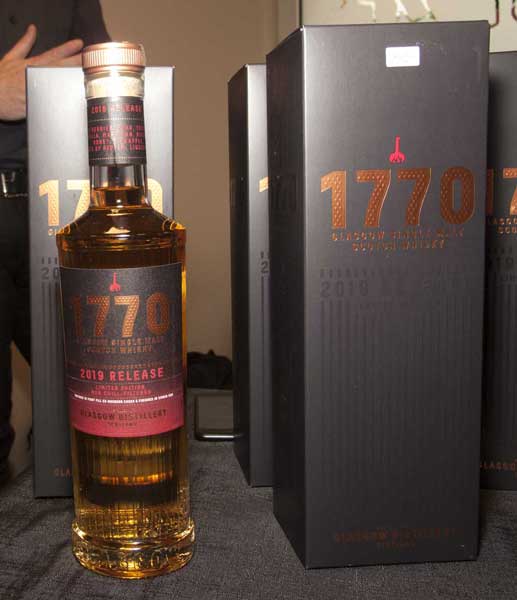 The first single malt whisky from the Glasgow distillery
Besides them was Glasgow Distillery presenting their 1770 single malt. The peated version will be released around October and their Triple Distilled one next year. The whisky had a moderately smooth body, light creamy and rather spicy-oaky flavours coming from the finish in ex-virgin oak. A pretty good and matured whisky for its age.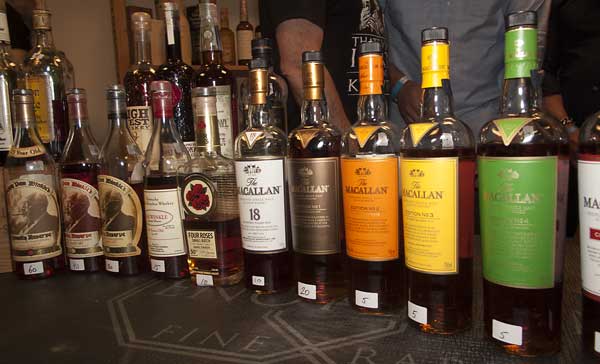 At a Danish stand, a nice selection of Macallan Edition 1-4 and Pappy van Winkle
Further on its left was a Danish stand with a full set of Macallan Editions, from 1 to 4, as well as the Classic Cuts 2017 and 2018. Although quite pricey (20 euros), I finally managed to taste the Edition 1: a good Macallan, rich, fruity and rather sweet, with sultanas and spices. As it was reduced more than the others, 48%, it appeared slightly soft compared to the later editions. Besides the Macallan, they had a nice selection of Pappy Van Winkle.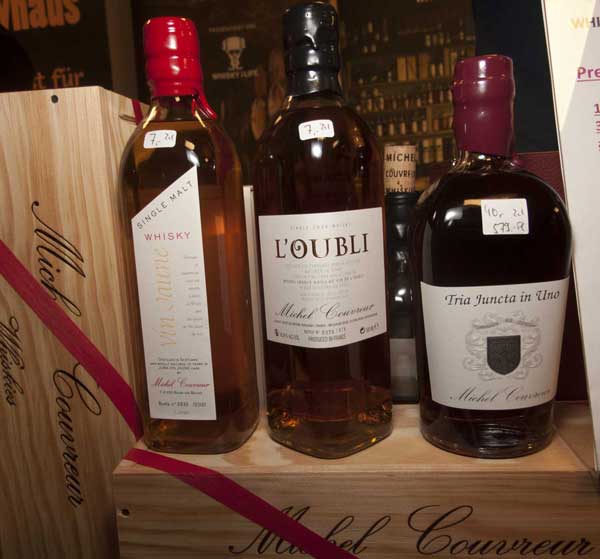 The latest releases from Michel Couvreur
On the other side of the room, I was pleasantly surprised to see a large selection of Michel Couvreur. As the Maitre de Chais ("Warehouse manager") was present, I took the opportunity of discussing with him, while tasting the Tria Juncta in Uno, a vatting of sherried (PX and Oloroso) Michel Couvreur of different ages, including malts of 29 and 25 years of age, some slightly peated malt and bere barley from 1989. Michel Couvreur was the first to bottle Bere barley single malts in the early 2000s. It is quite unlikely that Bere barley will be distilled again, as the institute that planted the Bere barley then does not want to sow it again and Bruichladdich is not keen about selling them such malts. To come back to the Tria, it is a very heavy intense, heavily sherried whisky, with lots of brambleberries and leather, on thick and syrupy dried fruits flavours as well as other tannins and some woody flavours. As Michel Couvreur is purchasing distillate from 4 different distilleries, it is unclear if it is a single malt or blended malt. A very good whisky. L'Oubli was a very different whisky, fresher, lighter, more intense, round to very round, with a mixture of dry fino and sweet wine. Very good. The whisky was matured for 1 year in an ex-fino sherry cask and then 9 years in a Gaillac Vin de l'Oubli. The "Vin de l'oubli" is produced in a similar fashion as the Vin du Jaune du Jura, with a flor that floats on top of the cask. This complements very well the whisky and I really enjoyed it. Definitely worth a try.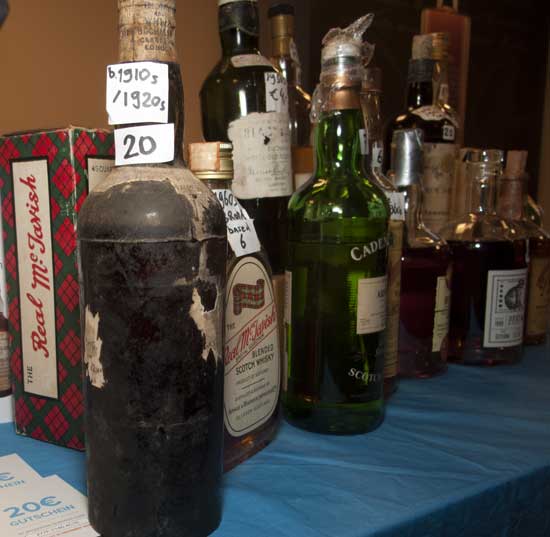 A very good and vibrant old Black & White and a rather soft (evented?) Real McTavish at CataWiki
Besides them was Catawiki, where I could finally taste the pear shape Real McTavish: the nose has nice waxy old Clynelish-like flavours, with some dried fruits. The nose was very good but the finish was very short. Discussing with the exhibitor, it was opened last year and I would not be surprised if it went below 40% abv. The Longrow 13 YO Private Cask 635 was a dirty-peaty style of Longrow, intense, dry, and slightly oaky and with some wet wood. The Black & White from the 1910s-20s was very good, with a mixture of bold fruity flavours, old-fashioned peat smoke and some round sooty flavours. Opened in the morning, it was very vibrant and fresh. Quite different from the B&W from the 1950s. It is pointless to compare it to the current bottling.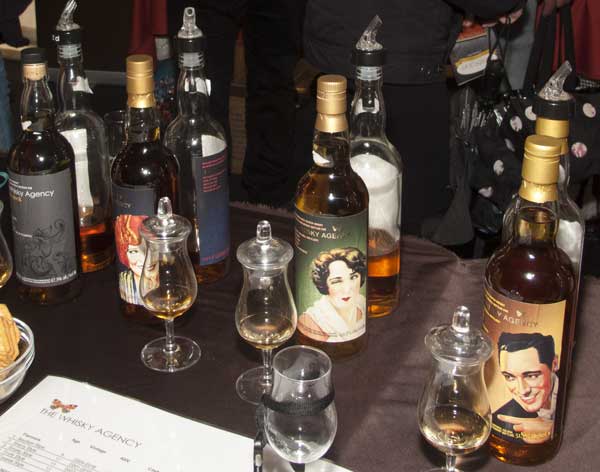 Some of the newest releases from The Whisky Agency
At the Whisky Agency, following the suggestions of my friend Pascal, I tasted their new Littlemill 1991, a surprisingly fresh, intense, oaky and spicy single malt, with moderately round grassy flavours. The Lochside 1981 had nice sweet and juicy fruity flavours from the sherry casks, with some sultanas, guava, exotic fruits dark chocolate and only light woody flavours. Very good. Finally, I tasted the Irish 1990 Private Stock, a mellow, fruity and Sweet Irish single malt.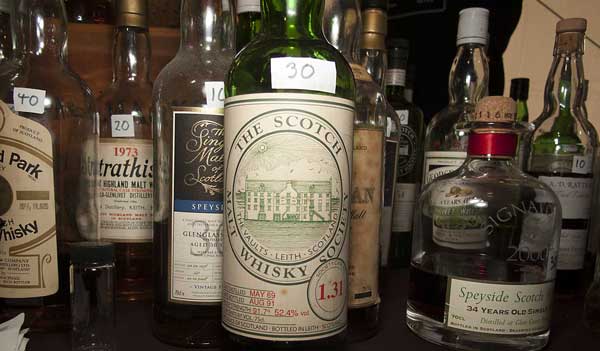 A very good, complex and intense Glenfarclas at the Angus corner
On its corner there was Angus. Puzzled by the squat bottle of Balblair, he told me this was a private cask sample of Balblair bottled at cask strength: a very good, fresh single malt, very intense, moderately spicy and with very pleasant round and moderate dry fruity flavours. A very intense, clean, mustardy, moderately waxy and mineral 1972 Clynelish for Scotch Malt Sales, with some aromatic herbs and other slightly austere flavours, followed this. Lovely. The Whiskysponge 21 YO unblended malt from Campbletown (i.e., Hazelburn) was a very nicely balanced single malt, round, intense and with some toffee flavours. Hazelburn seems to reach its peak at around 20 years of age, like Littlemill. Finally, I tried a very old Glenfarclas 1.31 from the SMWS: distilled in 1969 was rich, intense, spicy, complex, and slightly dry and with a lovely balanced. A prime example of old Glenfarclas.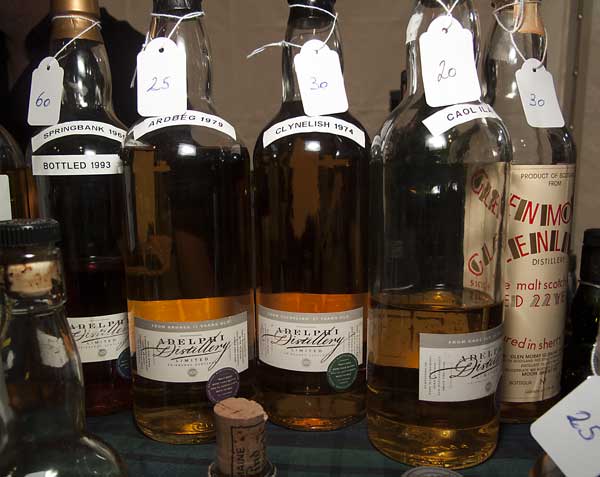 A very nice selection of Adelphi at Geert & Billy
It was very nice to move out of the main building and to enjoy the freshness in the tent. Lion's whisky not attending this year, the spot was taken by the Belgian Geert and Billy. I could not resist tasting there the round, mellow and waxy Clynelish 1974 from Adelphi. A very different profile from the 1972 for Scotch Malt Sales, but very good as well. I tried then two 1974 Caol Ila from First Cask, with an excellent dry, peaty and tarry Islay whisky from cask 17470. The sister cask 469 was rounder and softer. The Lochside 1966 22 YO from Signatory offered a nice contrast to the recent bottling of TWA, more intense, spicy and with more intense sweet fruity flavours, on exotic fruits, leather, and dried fruits. Most enjoyable.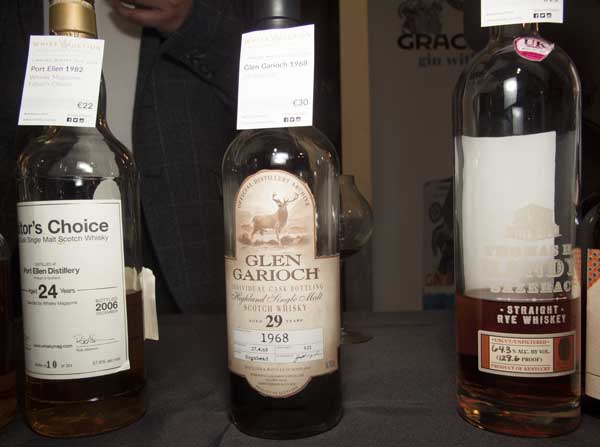 An excellent old Glen Garioch 1968
At Whisky Antique, I have not seen any interesting new additions, thus I move to whisky.auction. The stand was rather sparse and talking to Nicolas, a large consignment of bottles was still on transit, so for the ones attending the event on Sunday might be more lucky. Anyway, the bottle of Glen Garioch 1968 cask 612 caught my attention as I have not tried this one. It is a very good Glen Garioch, moderately peaty, with an intense and round sherry flavours, dried fruits, sultanas, orange, coca and some tannins. These old Glen Garioch are excellent.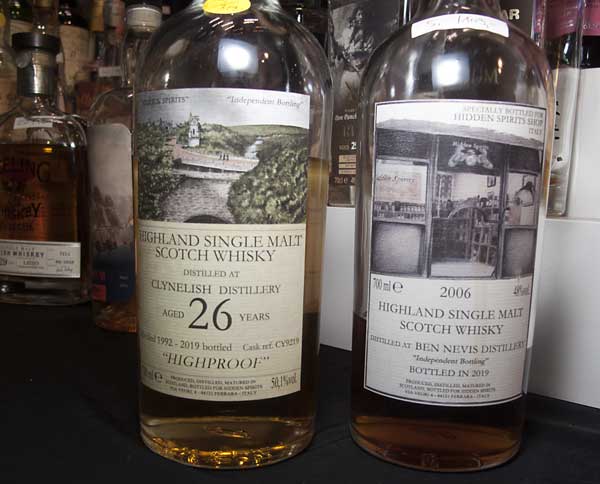 Two of the latest expression of the Italian independent bottler Hidden Spirit at Sansibar
While over 160 cases have been recently stolen from Hidden Spirits, there was a fair number of new malts at Sansibar, including a heavily peated Ben Nevis with a finish in an ex-Laphroaig cask, a clean, mellow, and elegant Clynelish 1992 26 YO, a 12 YO Teaninich and a 12 YO Ledaig. Except the Clynelish, they were all samples and will tasted later. At the end of this stand was Finest Spirits from Berlin, with a lovely round, sweet and waxy Clynelish 12 YO bicolour label for Widimport, which is sweeter, rounder and less mineral than the similar version for Di Chiano. The Glenury Royal 1974 Silent Still was intense, spicy, slightly smoky, grassy and aromatic. Very good!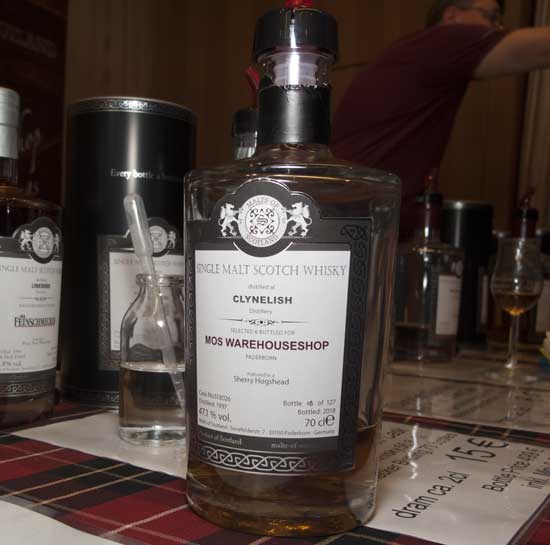 The Clynelish MoS Warehoushop at Malt of Scotland
From Malts of Scotland, I went for the Clynelish 1996 MoS Warehouseshop, a whisky with a lovely round, mellow, sweet and fruity nose, with a pleasant mouth feel and some slightly sulphury and rubbery flavours on the finish.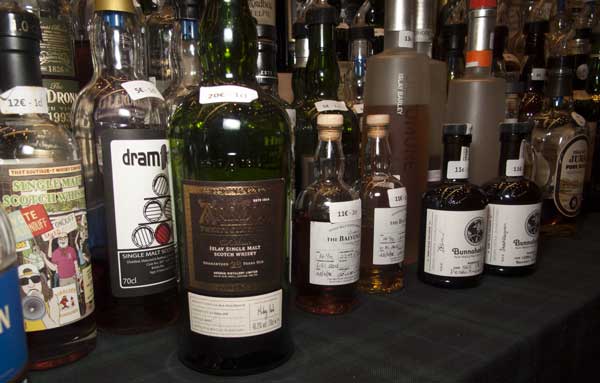 The Ardbeg 23 YO OB at My Tasting
On my way to the exit, I visited My Tasting, with a nice selection of whisky, mainly cask strength Islay malts. As I was curious about the Ardbeg 23 YO OB, I could not resist tasting it. A good Ardbeg, with a light sweet influence, a maritime and rather mellow peaty flavours, but it seemed slightly thin and woody.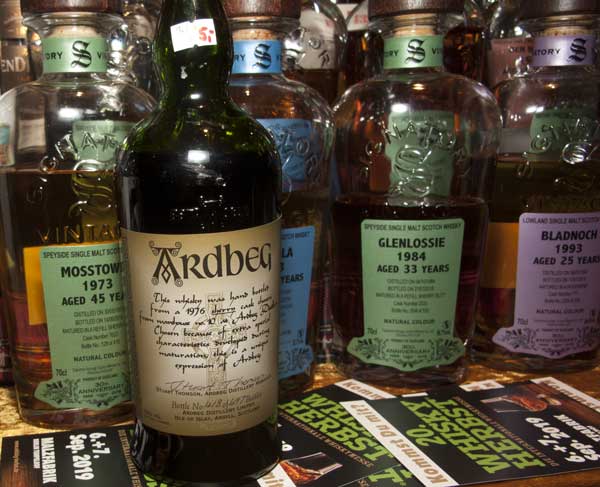 And my final dram, the Ardbeg 1976 Manager's Dram
As I saw at Whisky Kanzler tasting some Ardbeg 1976 Manager's Dram, I had to slow down to taste that one: an excellent, round, sherry, maritime and peaty Ardbeg, more intense, complex and smokier than the 23 YO.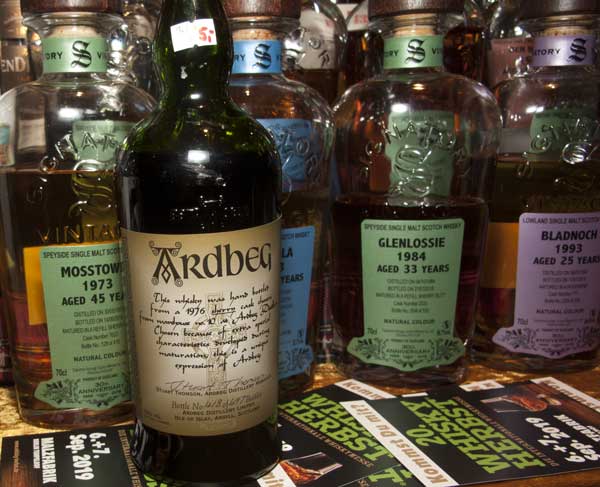 Mon dernier verre, l' Ardbeg 1976 Manager's Dram
With that, it was time to return home. As the trains from the Deutsche Bahn are very punctual, I experienced, as often delays. Unfortunately, the delay was so much from Limburg, that I missed my connection. As I learned from the previous years, it is safe to ensure there are later trains. This precaution was useful, as I managed to reach home, although at a later time than planned.
I enjoyed the event very much, water was plenty, but the number of spitoon was limited. As several new exhibitors joined the fair, a nice selection of new rarities was present. I am looking forward to the next edition and I wish to thank also all the whisky fans, with whom I shared a most pleasant and convivial evening the night before.

Slainte
Patrick, 26 April 2019