Limburg Whisky Fair, Limburg, Germany 21-22nd April 2018
As for the previous, all whiskies tasted here will be re-tasted again in standard condition. Due to the high temperature at the fair, there might be some marked differences.
For the photographic gallery, please click here.
With the return of the spring and the sun, it is also the time for Limburg Whisky fair, a gathering of exhibitors from the whole of Europe, offering for sale per measure (2cl) the latest products as well as one of the world exhaustive selections of old and rare whiskies.
Entry price remains the same (10 euros, including 1 glass) and the online booking of tickets allows a smooth organisation, but this does not prevent the long queue in front of the gate.
The journey to Limburg started well, as the trains from the Deutsche Bahn (DB) were on time, thus no issues with the connections.
On Friday evening, I had a very enjoyable evening at the restaurant with many friends from all around the world, with lots of pleasant discussions and dram sharing.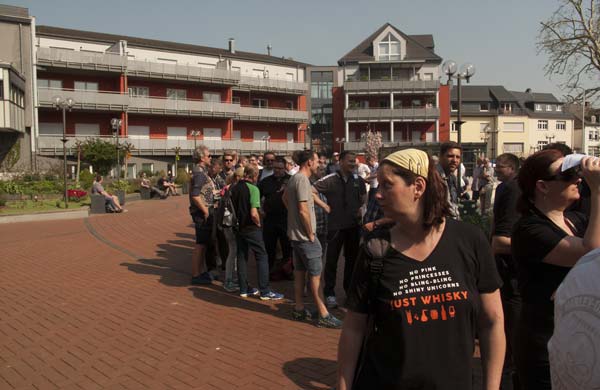 The sun was shining at the Whisky Fair
Saturday was very sunny and warm, thus queuing outside was not too much of a problem. Some might have wished there was some drinking water available during this time. While queuing, I had a good time with friends.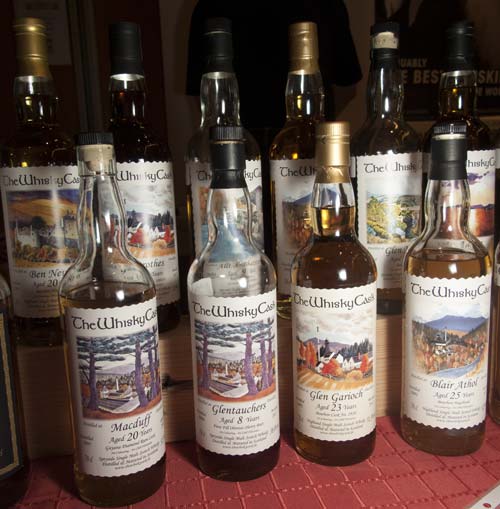 My firs dram, a Glen Garioch from TheWhiskyCask
My first dram of a day was a very good, slightly austere and peaty Glen Garioch 1993 from TheWhiskyCask, intense and rather spicy.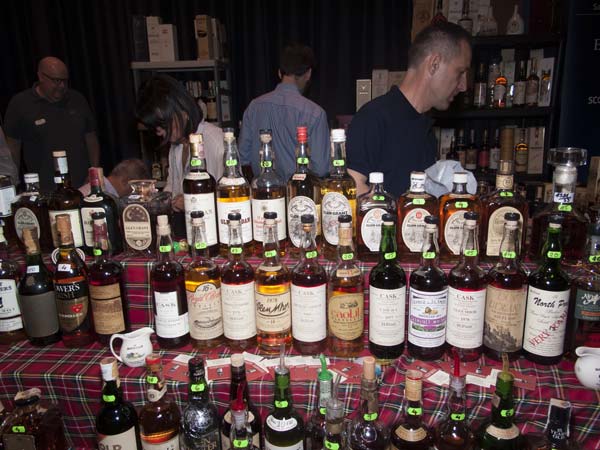 A nice selection of rarities at Giulliani Rarities
I moved thereafter to the stand (booth) of Giulliani Rarities. I started there with a very clean, slightly green and grassy Glen Mhor 1978 Cask Strength 10 YO from Gordon & MacPhail. I enjoyed more and very much the Glen Mhor 1978 "white label" Cask Strength from Gordon MacPhail, a it was markedly more complex, sweeter, and more intense, with some mineral smoke, humus, wax and dried fruits. The Caol Ila 15 YO "orange label" Bulloch Lade imported by Bonfanti was a fine example on the clean style of Caol Ila distilled in the old Caol Ila distillery, with a subtle and elegant maritime and mineral peat smoke, with light sooty and tarry aromas. Well balanced. The Gordon & MacPhail 1977 Caol Ila Cask Strength was slightly more oaky and peaty, but also slightly less subtle. My last one there was a Glen Garioch 1986 3rd Millenium from Samaroli. A rather soapy and perfumy version of Glen Garioch. One to keep sealed.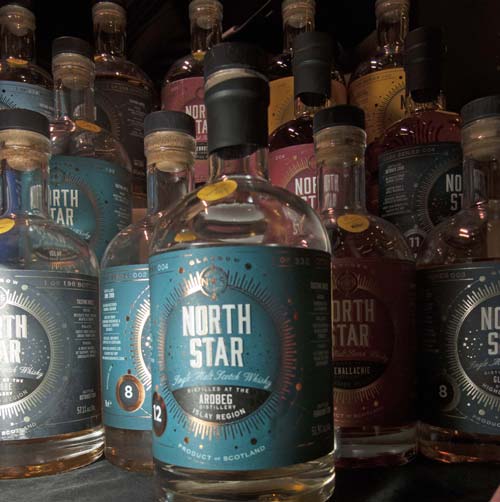 The Ardbeg North Star with a constellation of other stars at Sansibar
Moving closer to Sansibar, I met my Swiss "Kitty" friends who were enjoying quite a few old Islay single malts, and based upon their recommendations, I went for a thick, chewy and heavily sherry Ardbeg 1972 13 YO Connoisseurs Choice from Gordon & MacPhail. While it was heavily sherried, the peat was nice and it was richly fruity as well. Very good. As suggested by Jens, I had a discussion with Iain Croucher, the founder and director of North Star Spirits, an independent bottler founded in 2016. Iain has a long experience in the whisky business and his last position was at A.D. Rattray. For being such a young company, the number of bottling was impressive. I tasted a slightly young, peaty and rather maritime Ardbeg 12 YO from his range, with pleasant phenolic and smoky flavours. A different style from the core and official range of Ardbeg. It is nice to see that some independent bottling from this distillery released. His Vega blended Speyside malt 1977 40 YO was really good: spicy, intense, floral, with complex spicy flavours, some leather, tannins and nice complexity and balance, as well as rich fruity flavours. For less than 200 euros, it is one of the best value whiskies I have seen for long time. If you can taste this excellent whisky, do not hesitate to do so.
Down, on the main hall, the new Ardbeg 1993 25 YO from Douglas Laing caught my attention, but at 20 euro the cl (999 euro the bottle), it went over my psychological threshold.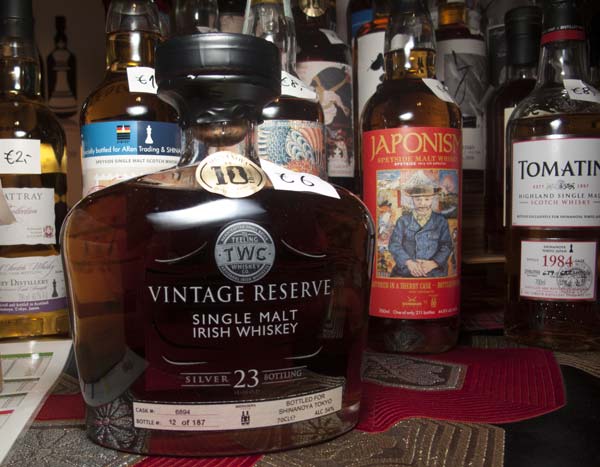 An excellent but unfortunately sold out Teeling for Shibnanoya
At the stand of the Japanese of Shinanoya, I enjoyed very much the Teeling 23 YO for Shinanoya 10th Anniversary: a very rich and fruity sherried Irish single malt, combining berries, orange, tangerine and exotic fruits. A lovely fruit bomb. The Tomatin 1984 OB for Shinanoya was a mellow, grassy and slightly floral Tomatin, on humus, some heather and light spicy and fruity flavours. I could also taste their my oldest Komagatake, a 29 YO distilled in 1988. Produced at the old distillery, it combined rather spicy flavours, with a round and mellow sherry influence and a round body.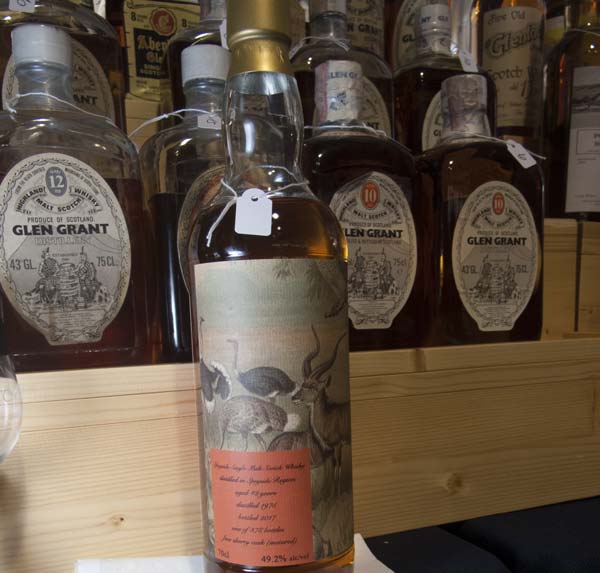 An excellent Speyside Region from the Lions Antique Spirits range
At Lions whisky, with the exception of some Glen Grant, almost only full bottles were available for sale. At Whisky Antique, I tasted their brand new Speyside Region 1976 Sherry 42 YO from Antique Lions Spirits: an excellent, complex, very fruity, mellow and slightly spicy single malts. A most enjoyable single malt. The Clynelish 1998 20 YO and Springbank 1998 20 YO from the same range were only samples, as the old Clynelish 12 YO 70 Proof OB white label or the Linkwood 1939 37 YO Connoisseur's Choice black label from Gordon & MacPhail. When leaving the stand, I was kindly offered a dram of a very good and fruity Inchmurrin 1967 from Part Nan Angelen by an unknown Swedish whisky fan and a lovely dram of Speyside Region 1973 Whisky base from a German (?)whisky fan. Thank you for the lovely dram!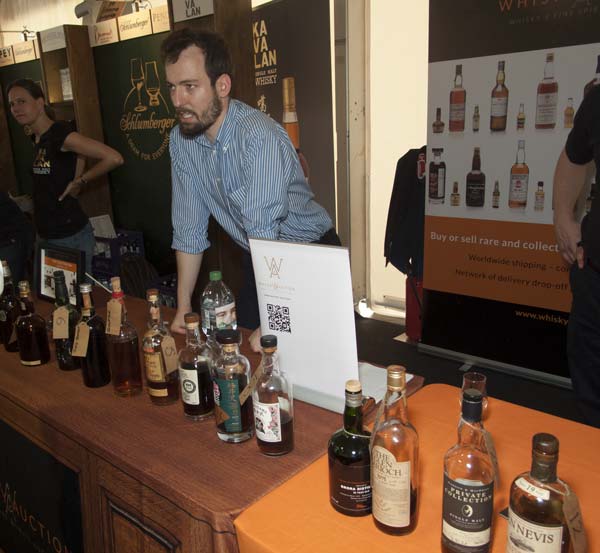 A combination of rare malts and blends at whisky.auction
There was a rather various selection of whiskies at whisky.auction (old and rare single malts and old blend). I started there with a rather nutty and slightly oaky Ben Nevis 1972 OB 19 YO. Not an easy one. The Dailuaine 1980 Cask Strength from the Fauna & Flora range was a true sherry monster, very heavily sherried, meaty, on fresh leather, rubber and some sulphur. Not my style. My Swedish friend Thomas "Mr St Magadalene", kindly offered me a dram of a very good, complex and well balanced Linlinthgow 1974 26 YO Old Malt Cask from Douglas Laing. This was followed by a nice dram of Sandy Ross blended whisky from Nicolas: a rather sappy, aromatic, slightly peaty blended whisky, lightly fruity and with some humus and pine wax. A good old blend, with its own style.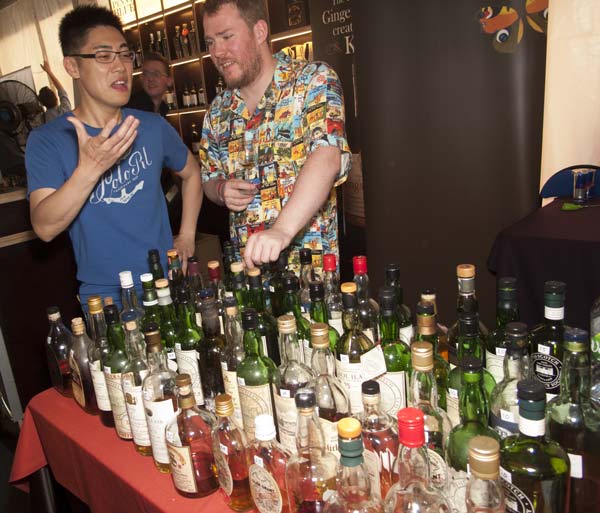 The "Angus" corner of rarities
At the corner of Angus, my choice went to the Highland Park 8 YO 100 Proof James Grant from Gordon & MacPhail, a clean, sharp, slightly smoky and maritime Highland Park, with some heather and peat smoke, as well as some sea brine. The Old Vatted Malts all over 10 years old 80° Proof from Cadenheads was a rich, juicy, mellow, fruity, slightly smoky and spicy whisky. A very good one, but it tasted weaker than 80° (46%).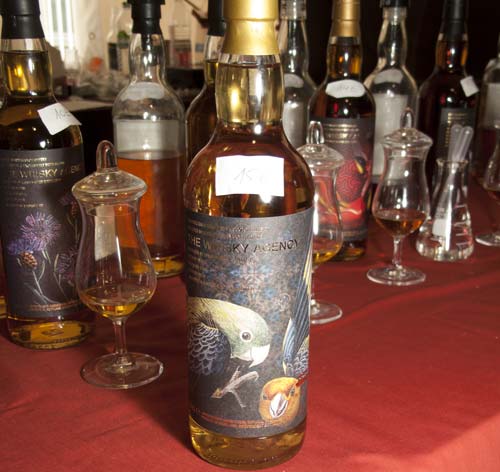 Very colourful labels from the Whisky Agency for their 10th Anniversary
To the right, there was The Whisky Agency with a large set of new bottling to celebrate their 10th Anniversary. My first choice was the Springbank 21 YO 1996 Peated (i.e., Longrow). A very different whisky from the Peated Springbank 23 YO The Nectar bottled last year, with a rather soft and moderate peat smoke, slightly maritime and mineral. A good one, but I was expecting more. The Irish Single Malt Sherry 1990 28 YO was a very mellow whisky, on blackurrant, sweet and juicy flavours (mainly orange and mandarine), with some exotic fruits. A very good and intense sherried Irish. The Speyside 1979 was a complex, mellow, fruity, complex and very sweet whisky, rich, on very sweet fruity flavours, including orange, tangerine, some berries and tropical fruits, as well as some spices. The Speyside 1976 46.1% was more complex, intense and with strong aromas of blackcurrant juice. Very good. From these whiskies, it is a fair assumption to say that the quality of the bottling selected by Carsten and his team for their 10th Anniversary is very high, as expected from this bottler.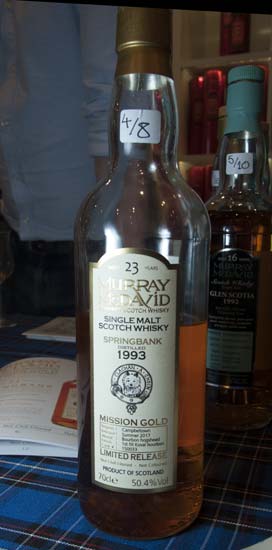 A very good Springbank from Murray McDavid
In another part of the fair, Murray McDavid had its own stand and I choice went to the Springbank 1993-2017 Mission Gold finish in a Koval cask. The Koval cask is a 80 L cask. The whisky was very good, spicy, rather smoky, with some sea brine and a nice complexity. Interestingly, they had a large selection of "cask sample" bottles and I was pleased to see they had a 1991 Glen Garioch 21 YO 1 bottle of 1 that I could purchase. This makes it my rarest bottle.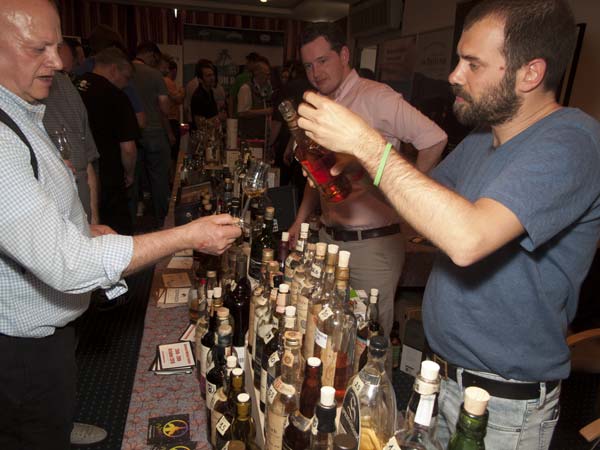 The joint "Gadonni" and Dornoch distillery stand


Opposite, there was the joint stand of Dornoch Distillery and Enrico Gaddoni. I went first to the stand of Phil Thompson to taste their very good, complex, rich, intense, slightly floral 40 YO Blended Malt, with nice spicy flavours and dried fruits. At Enrico's, I followed its recommendation and started with a very intense Glenlivet 10 YO 1984 from Wilson & Morgan. A very good surprise, as it was sharp, heavily sherried, slightly mineral and smoky, on high-grade leather, bloody orange and various spices. An old style of Glenlivet. Excellent. Freshly opened today was a Highland Park 8 YO 100 Proof from Gordon & MacPhail. Same label as the one from Angus, much darker (red) in colour. Not only was it darker, but it was more intense, fruitier and more complex. Very good. Before I left ihm, I was kindly offered a glass of Coilltean Pure Malt 1997 from Samaroli.
With the time running, I tried to locate a friend of mine, but not only it turned as an impossible mission, but then I moved to the ground floor, I discovered a maze of corridor and stands sprawling in every possible corner of the fair.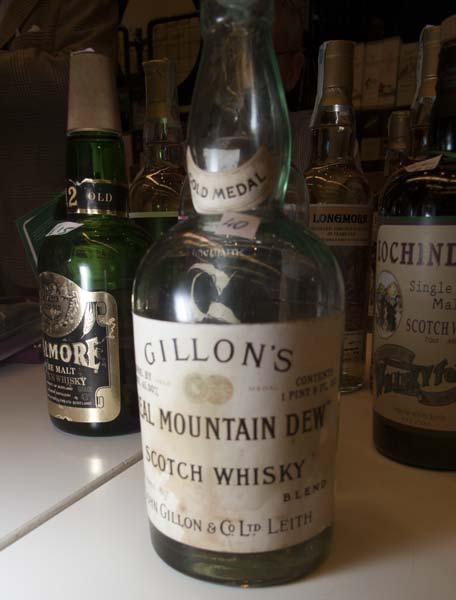 The oldest whisky at Limburg at the Milano Festival stand: an old Mountain Dew from Gillon's
Browsing through the stands for a last time, a mention on a label caught my attention " Gillon's" and "Real Mountain Dew". The ones who know the story of Clynelish well or bought my book on the Brora distillery will know that Gillon's amalgated in the early 20th Century (1913) with Ainslie & Heilbron, the owner of Brora distillery. Gillon's owned Glenury Royal and probably purchased Clynelish single malts for their blend. It was the first time in my life I saw this bottling, dating probably between 1890 and 1910. This blend was very resinous on the nose, with lots of aromatic herbs, some coal, soot and light dry peat smoke. On the palate, it was sticky and very waxy, slightly spicy, aromatic, peaty and mineral, with some coastal influence and pine and fur tree sap. Subtle and elegant, with no noticeable grain influence. Not the most complex blend, but very different from today's blends and a flavour profile that is compatible with the old Clynelish (old Brora) single malts.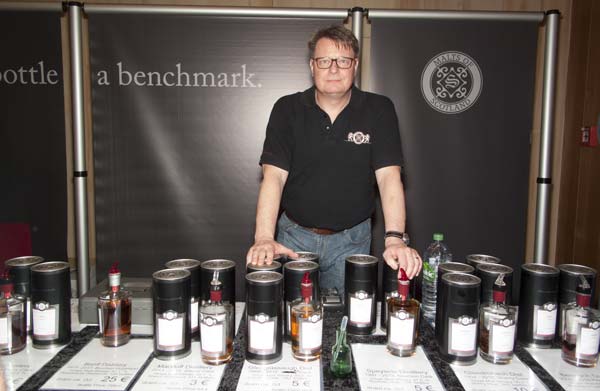 The stand of Malts of Scotland, with a large range of new products, including a 18 YO sherrry Ardbeg
My final dram was a nice, spicy, very intense, maritime, peaty and slightly sweet Ardbeg 2000 18 YO from Malt of Scotland. Some water will help to increase its sweeter side and make it slightly smoother. Not only a rare sherry independent bottling of Ardbeg, but a very good one as well.
With its latest expansion, the whisky fair as markedly increased its surface over the years. However, some better signalisation would be useful, as I discovered many stands on the basement almost only by chance. Water was available, but surprisingly, I have not seen a single spittoon on any stand. I hope this will be corrected next year.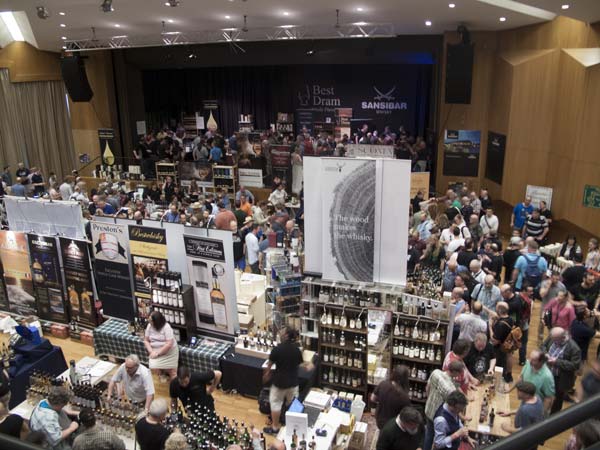 View over the main hall

In terms of rarities, Limburg still impresses me, even the choice is reduced year by year. The selection of recent and affordable bottling was huge and even though some do not go to Limburg due to the large crowd, it remains one of my favourite fairs. Not only by the whiskies presented, but by the possibility of meeting whisky friends from all around the world makes it unique!
Well, concerning the return journey, the train from Limburg to Frankfurt was markedly delayed (20 min), and if not, for sprinting through the Frankfurt main station with my luggages and trolley and a slight delay with the connection, I would be stuck for a long time in Frankfurt. Still waiting experiencing a punctual return train journey in Germany without any delays...


Slainte,
Patrick, 21 April 2018, first draft. Last edit: 29 April