Whisky-news.com is a fully independent whisky website created in 2006 by a whisky enthusiast for the whisky enthusiasts, from novice to expert, with a huge collection of tasting notes, distillery presentations, whisky fair reports in Europe, reports about whisky from all over the world, and many more. It is also the leading site for whisky literature review. Updated almost daily and free from financial support from any whisky company.
Dr Nicholas Morgan has been working in the whisky industry for over 30 years, starting with United Distillers (now Diageo). Following the completion of his bi-centennial history of Johnnie Walker, A long stride, the story of the worlds No 1 Scotch whisky in 2020, he left Diageo. His second book, Everything you need to know about whisky, was published shortly after his departure.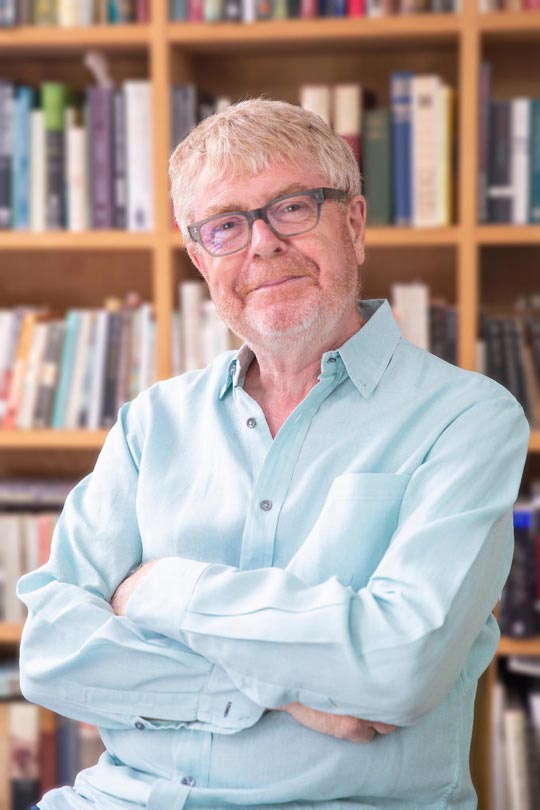 Dr Nick Morgan (courtesy of N. Morgan)
His name might not be as well-known as other whisky veterans, but his contribution to the single malt whiskies should not be underestimated. So, I was very pleased that he accepted this interview, and I hope that you will enjoy it very much.
Whisky-news.com (WN): Dear Dr Morgan, how did you decided to join the whisky industry?
Dr Nicholas Morgan (NM): In 1990 I was teaching Scottish History at the University of Glasgow. I was invited to an interview in London by United Distillers for a newly created role of archivist. It seemed like an interesting challenge.
WN: Can you tell us in which condition were the United Distillers Archives then you joined the company?
NM: United Distillers Limited (UDL) had been formed following the 1987 merger between the Distillers Company (DCL) and Guinness, and it comprised the rump of the DCL's spirits brands (most notably Johnnie Walker, Dewars and Buchanan's) along with Bell's (acquired by Guinness in 1985). Whilst Guinness had a famous archive at its Park Royal site in London there had been no formal historical archive in the DCL. Old records that had survived had either been in the hands of the various brand-owning companies (such as John Walker & Sons or Buchanan's) or were distributed around production sites and distilleries. I was given two floors of the Crabbie's bonded warehouse in Great Junction Street in Leith and with my team began the task of locating, identifying and centralising material there.
WN: When you moved to marketing, can you tell us how the single malt market looked like and what did you know then about single malts?
NM: At that stage, the single malts category was small, and dominated by a handful of big brands, notably Glenfiddich and Glenlivet. The DCL had steadfastly refused to make any serious investment in single malts until the last few years of its existence. United Distillers had launched the Classic Malts in 1987, but although everyone loved the idea, they received scant attention compared to the big blended Scotch brands. However, their distribution was being expanded by a move into multiple retail channels. The specialist and collector's market was gaining momentum, and the Classic Malts Distillers Editions and the Rare Malts were just being launched.
Of course, I'd been living and working in Scotland for over ten years before joining UD. I'd already done some historical research on the Scotch whisky industry, and I'd been visiting distilleries on Speyside, and I'd been to Islay. I was also lucky enough to share some great whiskies with friends and colleagues. That's not to say I didn't face a steep learning curve when I first joined UD.
WN: Wm Grant promoted actively the sale of the Glenfiddich single malt at a large scale already in the late 1960s. What there the expectation of Diageo (then United Distillers) when you joined their marketing department?
NM: The important time to think about is when Guinness merged with Grand Metropolitan in 1997. That was when I was appointed Global Marketing Director for single malts, a surprising decision perhaps, but it possibly reflected the fact the new company didn't really take the malts opportunity seriously. The new business viewed profitability rather differently from the old, and it turned out that single malts weren't making a lot of money, and were haemorrhaging profit in channels like Duty Free. In the minds of senior leaders Diageo was hamstrung on account of the relative smallness of its distilleries. They certainly didn't (and still don't!) have anything that could compete in terms of production capacity with a Glenlivet or Glenfiddich, and the new business was very focussed on big brands. With brands like Oban and Lagavulin being put on allocation, malts were increasingly seen as something of a nuisance. Always bad news, never good. However in Spain meanwhile, almost out of sight, the team that had built up J&B so successfully took Cardhu to the trade they knew so well with a vengeance. Suddenly we had a monster on our hands. And then we ran out of juice. What happened next is pretty well known to everyone.
WN: One of the first malt that you tried to push was Talisker, can you tell us why?
NM: Diageo's strength in single malts, an unbeatable range of styles and flavours within its remarkable portfolio of distilleries, was also its weakness. Like I said, lots of pretty small distilleries. And when the Classic Malts were created sales forecasts were so modest that it never occurred to anyone that we might run out of 16 year old spirit from Lagavulin (which we did in around 1998 when the brand was put on allocation). Within the Classic Malts range some lovely whiskies like Cragganmore were doomed to be slow movers. Talisker however had everything going for it as a potential breakout brand. Exceptional provenance, a spellbinding location, a rugged character that seemed to reflect its origins and a unique flavour profile. Quite a polarising flavour profile in fact, which as Laphroaig have demonstrated so well, is not necessarily a bad thing. Oh yes, and the distillery was the largest of the six Classic Malts, and the main brand was a ten year old, which meant you could plan for growth.
WN: You were behind the Special Releases, can you tell us what was the idea behind them? And the freedom you had for selecting casks?
NM: I was managing the Rare Malts programme which was a very time consuming and fiddly exercise, with relatively limited reward as the original pricing had been so conservative – it would have been a steep climb to get them to where they needed to be. . It was also hard to maintain the 'rules' of rotation and age that we had set ourselves for each of the twice yearly bottlings. We had pretty good sight of the inventory by this stage so I knew that we had some really interesting old and rare whiskies to play with which were all in good condition, and it also gave us a chance to bring back some old favourites like Lagavulin 12. Overall, I remember one of the things we talked about when we formulated the idea was 'demonstrating industry leadership in single malts'. We wanted the trade and consumers to take us seriously. I think we achieved that.
WN: Johnnie Walker and other blends are the priorities in the Whisky franchise of Diageo, how challenging was it to get cask allocations for single malts, and how did this evolved during your time in the company?
NM: I imagine that situation has become a lot more complicated now with (obviously) a shrinking inventory of the really old whiskies, and with programmes like Casks of Distinction in place. We mostly got along ok, but I know that Jim Beveridge (now also retired) and his colleagues had a soft spot for whiskies like Convalmore, which they liked to use in their very special and sometimes bespoke Walker blends, so there were occasional little squabbles.
WN: Were you involved in the experiments of Diageo, such as Wine finishes or maturation, decharred-recharred casks?
NM: Not the practical side of the experiments, which were led by colleagues at Diageo's Technical Centre in Menstrie near Stirling. However I did work with Mike Collings on the development of the original Distillers Edition range, and on a number of subsequent projects where we were developing liquids with the benefit of all the research that had been done on casks.
WN: Can you tell us how was your relationship with the master blenders and the distillery managers?
NM: It was very good. Diageo was (and I imagine still is) a company where relationships were hugely important if you wanted to get things done. Both distillery managers, and the blending team, were at the forefront of most of what we did. It was critical to take the time to develop relationships and friendships, and to explain what we were trying to do, and why. Over the years I asked a lot of favours from these people, and often asked them to go the extra mile. I can't say they ever refused.
WN: An important part of your job was education, internally and externally, can you tell us what were the challenges you faced?
NM: In the old days at the Distillers Company most people in sales and marketing roles spent a week or more in Scotland learning how to make whisky. Over the years the learning element seemed to have disappeared, and instead 'training' had become no more than two or three days touring distilleries and staying at fancy hotels. We wanted to change that, but first we had to persuade the normally secretive technical people to unlock their enormous wealth of knowledge. There was a real sense of reticence that we had to overcome, a bit of 'them and us', and 'why do they need to know that'. It took time, but again it was down to building relationships and trust, and demonstrating the positive impact that sharing knowledge more widely would have on the bottom line of the business. The result was The Malt Advocates course, based at Royal Lochnagar distillery, a week long immersion in whisky making led by Diageo's distillers, blenders and technical experts, and independent authorities to give the content a sense of balance. Best-in-class training for sales people, marketeers and their agencies from all over the world.
WN: You have been one of the key person behind the projects of rebuilding the Port Ellen and the Brora distilleries. Can you tell us how did you convinced the management to fund these projects?
NM: Not the key person, but one of the very small team who were asked to make a business case to reopen one or the other of them. In the end we decided to go for both. It wasn't difficult to make a compelling case, not least because there were already people making it known to Diageo that they would be prepared to pay significant sums to acquire one or other of the old sites. Why sell when you could do it yourself and have a real legacy to leave to the industry.
WN: I have the feeling that you have a soft spot for Clynelish and Brora, can you tell us why?
NM: I visited Clynelish a lot in the early 1990s and the manager at the time, Bob Robertson, was passionate about 'old Brora'. He wanted to reopen the old distillery, and at one time there was a proposal to use the warehouses as a site for whisky museum. Neither were likely to happen at the time, but some of Bob's intense enthusiasm for the place just rubbed off on me. Of course Clynelish was a delicious whisky, one of those that was considered within the business to be 'special'. Later I got to become very familiar with the old Brora whiskies that were made in the late seventies and early eighties before the closure in 1983, which I simply adored.
WN: During your last 30 years in the whisky industry, what were the most important changes that took place, to your opinion?
NM: The introduction and widespread use of finishing (not always for the better); the proliferation of new distilleries (all over the world, and not always for the better); the rise of Japanese whisky, and more recently the rebirth of American whisky; over the last ten or fifteen years the serious adoption of sustainable technologies and practices by producers both large and small
WN: And what were your 3 key achievements at Diageo?

NM: I'd like to think I got customers, influencers and consumers to take both Diageo's blended whiskies and malt whiskies more seriously than they had done in the past, and I'm certainly very proud of the new expressions of these malts that I brought to the market, as well as things like the Special releases. I was also instrumental in making sure that when the old pier at Lagavulin was condemned on safety grounds a new one was built in its place. That is a very special legacy.
WN: Talking about history and whisky, your first book, the Long Stride, how long did it take to write it and what were your challenges?

NM: In one sense I'd been researching the book for almost thirty years, but I didn't start working on it (almost) full time until the end of 2017. To be honest I could probably have done with another twelve months research before writing it, particularly on some of the most important export markets. The big challenge with any historical research are the gaps in the records that you will always come across. So with Walker although it was possible (albeit bloody complicated) to reconstruct the firm's financial performance from the 1850s using annual balances, private ledgers and accounts there was very little surviving about actual sales volumes and markets until the early 1920s. That was a big miss.
WN: I really enjoyed that book, as the history of Johnnie Walker is associated with the development of the whisky industry over the last 200 years. As you are a Historian by background, did you enjoy the historical work?
NM: Yes of course. I have never lost my appetite for getting into an archive or library and digging as deep as possible into primary sources. Sadly, with a few notable exceptions, whisky has not been served too well by so-called historians; a lot of what has been written about the history of Scotch is simply repeated from one book to the next, and often no one questions where it comes from. That's shame, because there is so much more to know, and to understand, from a more professional approach to research and writing.
WN: Your second book, Everything you need to know about whisky, was a rather different work. It is published by Ebury press, a division of Penguin book, and your name is mentioned as the author, but the copyrights owned by The Whisky Exchange. Could you please clarify what is the link between you, the publisher and The Whisky Exchange?
NM: Ebury, part of Penguin Random House wanted to find a commercial partner for a whisky book and approached The Whisky Exchange with the idea. They were interested and were kind enough to ask me if I would like to write it. The rest is history …
WN: Every year, many "generic" books on whisky are published. When I started to read your book, I was very positively surprised by its content. Not only your view of the whisky industry as an insider is apparent, but your opinion on different subjects can be also rather direct, e.g., anyone involved in the whisky business is there to make money. It seems like you are happy to express freely your opinion, am I wrong?
NM: Apart from the occasional obligatory dig at big companies like Diageo, or the Scotch Whisky Regulations, whisky writing is largely an opinionated yet opinion free-zone. I have very strong views on quite a lot of things that are happening in the industry, and I see no reason why I shouldn't express them. Having worked on the inside for many years, I feel (at the risk of seeming immodest) that I'm in a much better position to comment than most people. I just hope that some people find that helpful, even illuminating.
WN: In whisky books, authors usually show a romantic image of the product, as do many whisky bloggers. What do you think of that?
NM: Well of course there's romance in every drop of whisky in a glass, but there also has to be reality to match the romance. In the new book I wanted to redress the balance between the two.
WN: Still today, we can see photographs of very expensive single malts being drunk in a Tumbler, with leather seat and a chimney fire on the background. What do you think of that?
NM: I'd love a large leather armchair, an open fire and a tumbler full of very expensive single malt. What's not too like?
WN: Several recipes for cocktails are provided in your book. Do you enjoy cocktails and how do you usually drink your whisky?
NM: My favourite whisky cocktail is either a Sour, or a Blood and Sand, both made with Johnnie Walker Black Label. Sadly I can never get a Blood and Sand right. Normally, whether it's a blend or a single whisky, I prefer my Scotch in a tumbler with a little water, but rarely if ever in a large leather armchair in front of an open fire.
WN: On social media, single malts are considered as the product of the connoisseur. But as mentioned in your book, producing a consistent blend is more complicated than bottling a single malt. In your opinion, is this focus on single malt is driven by marketing?
NM: Partly yes, some fantastic marketing by brands such as Glenmorangie (and Ardbeg), Macallan, Glenlivet and Glenfiddich. But there's also a real and sustained consumer interest in provenance and authenticity; for some drinkers single malts seem to promise more of this than blends. Maybe Scotch blends should spend a little more time explaining how great they are.
In fact another project we pursued some years ago was to emphasise to whisky writers and other commentators that "blending" was not a dirty word, or intended to produce a less sophisticated or interesting drink. We reminded these influencers (as we now call them) that many wonderful food and drink products are frequently blended, and all the better for it. We had evenings, hosted by Jim Beveridge, where we fielded specialist tea blenders, perfume makers and chocolate specialists, all of whom generally used blending techniques to create terrific products. We could also have mentioned that leading wine categories like champagne and the red wines of Bordeaux are very often blends. The other point we emphasised was that even single malts are, for the most part, blends from carefully selected different casks. Our blenders do not simply make blended whisky!
WN: In your book, there is chapter on whisky collector. Nowadays, some companies keep releasing "exclusive" malt whiskies for this market. How important is the collector market?

NM: The collector's market has become incredibly lucrative for producers over the past ten or fifteen years, although the collectability of whisky goes back a lot further than that. It's also driven the growth of the secondary market, and of course at its highest level sees whiskies changing hands for tens of thousands of pounds a bottle. However I don't think Robert Burn's had this in mind when he praised the egalitarian nature of whisky, a sentiment which seems to have got left behind in a rather unseemly rush to grab the cash. Whisky also needs to be careful in this territory.

WN: What are your thoughts on premiumisation?
NM: That's a word that's been used for so long that I'm not quite sure what it means anymore. I know that when times are relatively prosperous consumers like to spend a little more on their indulgences, and it makes sense that producers provide the right products, in terms of both quality and price, that allow them to do this. I also think that as drinkers develop more understanding of spirits, and whisky in particular, many seek to 'trade up' in terms of what they choose to buy. However premiumisation only works if the products deliver against the price.

WN: Whiskies, blends and single malts are being produced in many countries all around the world, with often softer regulations than in Scotland. Do you think that regulations for Scotch whiskies should be revised? And with some many whiskies available in the shops, will the consumers not being lost in their choices?
NM: No! Quite the reverse. As more whisky categories gain scale so the need for tighter regulations will increase. Commercial success is based on distinctiveness. Regulations protect that. It's as critical for Scotch to make sure it retains its distinctiveness as it is for new producing areas to define and protect theirs.
WN: In your book, you wrote about "whisky experts", and indeed, anyone can proclaim himself or herself as a whisky expert. Already in the past, some whisky authors wrote inaccurate or sometimes wrong information in their publications, and social medias are full of erroneous or misleading information. What are your thoughts on that? And any recommendations for the newcomers to the whisky world?
NM: In a world increasingly dominated by social media there is a platform somewhere for everyone to tell the world what they think or believe they know about whisky. This can be great – think of resources like Whiskybase (which all whisky marketers would do well to take a regular look at) or the reviews on sites like Whiskyfun. But there's a lot of shouty nonsense out there too, opinions and prejudices (sometimes malicious) masquerading as fact, and of course supposedly independent 'influencers' plugging the latest brands they've been induced to promote by brand-owners, and the brand owners themselves, offering their often-distorted views of reality. It's like trying to fight your way out of a jungle of misinformation. For newcomers I'd certainly recommend the two websites I've already mentioned here, and of course Whisky-news, and also the old Scotchwhisky.com site. For books? Well, you could do worse than read my Everything You Need to Know About Whisky, Dave Broom's Whisky – The Manual and Charlie Maclean's Scotch Whisky: a liquid history.
WN: With two books published within a year, can we expect new books from you in the short future?
NM: It will be a little while before the next book, but I do have two or three publishing projects that I'm trying to develop. In the meantime I'm writing shorter pieces for various online blogs and magazines.

WN: What are your new objectives in life? Are we going to see you more often in whisky shows and/or on a stage playing music?
NM: Well, you'll certainly both see and hear me if I have anything to do with it …
WN: Thank you very much Dr Nicholas Morgan for answering my numerous questions and I wish you all the best for your new projects!
P. Brossard, whisky-news.com©2022