Whisky-news.com is a fully independent whisky website created in 2006 by a whisky enthusiast for the whisky enthusiasts, from novice to expert, with a huge collection of tasting notes, distillery presentations, whisky fair reports in Europe, reports about whisky from all over the world, and many more. It is also the leading site for whisky literature review. Updated almost daily and free from financial support from any whisky company.
Whiskyschiff Hallwiler see 24-25 September 2021
https://www.whiskyschiff-hallwilersee.ch/
For the photo gallery, click here
Note: the tasting notes mentioned in this report are my impressions during the event and most of the whiskies will be tasted again in standard conditions.
After a long whisky break due to the COVID-19, I was really looking forward to attending again a whisky event and to tasting whiskies, as my stock of samples ran dry. From the whisky bottled in 2021, I had only had the opportunity of tasting some new Acla selection during a trip to Samnau and some fine Glen Scotia as part of their warehouse tasting.
With the shipping costs for samples from UK and duty to be paid, the offers for the Feis Ile samples or Whisky Show London become rather expensive. Travelling abroad is now still a challenge, so I was happy to join this Swiss whisky event. Also, I heard very positive feedbacks from whisky friends in the past, thus I was curious to attend to that event.
Arriving by train offers a splendid view over the Hallwiler lake, with a free shuttle bus driving you to the harbour.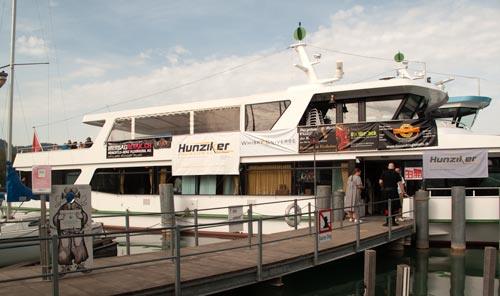 View of the ships where the show took place
Having only received my first shot of the vaccination, I had first to go for a check, that was well organized with a local pharmacist. After 15 min, I got my covid-19 certificate and could start enjoying the event!
Compared to Lucern or Zurich, the event is smaller, with only 2 ships and stands on 1 deck, as well as 1 room in the hotel at the pier (serving excellent food).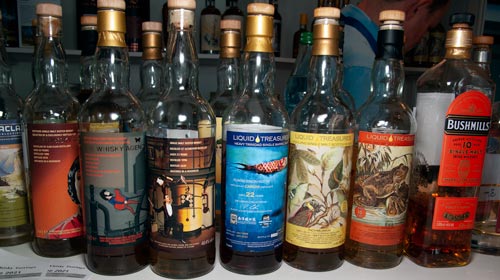 Most of the whiskies I tasted at Acla da Fans (and the rum)
I started with the ship on the back and Acla selection. I was curious to taste their previous Acla selections, but almost all were already sold out. As sourcing of quality price at a decent price is a real challenge lately, it is unknown what and when their new bottlings will be. The COVID and Brexit situation not helping the situation. My first dram at the show was the Bushmills 10 YO Sherry cask finish for travel retail, a nice round malty Irish whiskey, with a rather spicy influence from the sherry cask, bringing also red berries to the flavours. The Inchmurrin 1997 23 YO from Liquid pleasure was a very good, round and rather aromatic and herbal single malt, with a nice bold mouth feel and some vanilla flavours, with a good balance and intensity. The Benriach 1996 Retro series 2021 from Liquid Treasures was mellow, well balanced, with nice fruity and mellow floral flavours, as well as some vanilla and a hint of smoke. The Benriach 1997 Winter 2020 from the Whisky Agency (TWA) was matured however in a sherry butt, with a sweeter and mellower mouth feel, with more dried fruits as well as some exotic fruits. The Glenrothes 1996 23 YO , TWA and 3Rivers joint botting was round, floral, on dried fruits, sultanas and a touch of toffee. The Glenrothes 4 seasons 2007 from Acla Selection was markedly younger (12 YO) and thus, was more intense and vibrant, with a clean but rather complex fruity profile. The Isle of Jura 28 YO from Liquid Treasure was a rather mellow expression from that distillery, with some herbal flavours, some old furniture and mushrooms, as well as some green herbal flavours. For a change, I tasted the Caron 22 YO Rum Session 10 from liquid treasure, a very heavy rum, dusty, intense, round, with some mineral flavours as well as nice round exotic fruits. A well made rum, moderately phenolic. This was followed by a 10 YO Ardmore Living World series 2020 from Liquid Treasures, a very good whisky, with a nice aromatic smoke moderately peated, with a lot of finesse, and some slightly herbal and austere flavours. Finally, I tasted a nice round, fresh, Auchentoshan 15 YO bottled by Douglas Laing for Shinanoya a few years ago, with some green and malty flavours.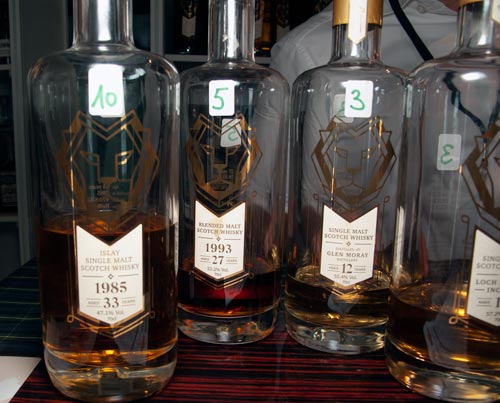 The new C. Dully bottlings at House of Single Malts
I moved then to the House of Single Malts, who is distributing the brand C. Dully, a Swiss independent bottler that I have known for some years. I started with his new Glen Moray 12 YO, a very made whisky, intense, malty, with some vanilla, floral and a touch of fruitiness. Glen Moray is too often ignored and this expression from that distillery was very elegant, with no burning sensation, even though it was cask strength. Diluted, it was rounder, slightly more creamy and remained very enjoyable. The second C. Dully was the Blended Malt 1993 27 YO, a house blend from Edrington. On the nose, it smells loud the good old style of Macallan, rich, spicy, complex, with lots of complexity and a hint of some. On the palate the rich notes of dried fruits, round floral flavours, berries and a hint of sea brine coated nicely the palate. I loved the mouthfeel and just wished that the finish was longer. With water, some tannins are present. A whisky with an excellent price value. The last new C. Dully whisky was a 1985 33 YO Islay Whisky, with a lovely round nose, an elegant dry peat smoke, and fruity flavours. On the palate, it was round, complex, slightly maritime, on dry peat smoke, vanilla custard and lots of gooseberries, with a very long finish. A single malt distilled at Bowmore.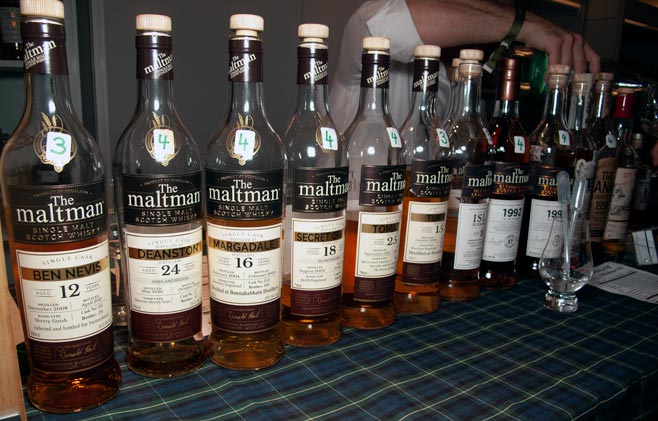 The Maltman whiskies at House of Single Malts
On the same stand, there was a very good, round, malty, fruity 12 YO Ben Nevis from Maltman for Switzerland, on cooked cereals and strong fruity and malty flavours. The second whisky from the same series that I tasted was Margadale, a very peated whisky distilled at Bunnahbhain. An excellent Islay malt, on dirty and maritime peat smoke, complex, well balanced and a long peated retro-olfaction. The peat smoke was intense to very intense, but well integrated and thus offering an excellent tasting experience, in a style close to Ledaig. Definitely worth a try, if you can taste it.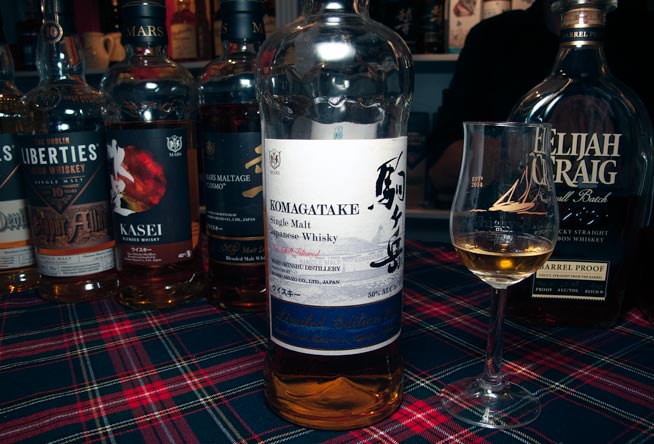 The Komagatake at Diwisa
I move then to Diwisa to taste the Komagatake Limited Edition 2021 distilled at the Mars distillery in Japan. The whisky taste rather young and sweet, but with nice green flavours, vanilla, soft and round floral flavours and strong malty flavours. Good, but too young to my liking. The Dublin 10 YO The Liberties was an intense, rather spicy and slightly rough Irish whiskey. A whisky that benefits from some water to reduce its harshness. The Glenfarclas 185 is a special malt to celebrate the 185th anniversary of the distillery this year. It is a vatting of casks aged between circa 10 years up to 50 years. A nice floral whisky, rather light on the palate, intense and spicy, with nice round of dried fruits, leather and floral flavours. Well balanced and enjoyable to drink. I tasted then Goldwaescher, a swiss rye whisky distilled by Diwisa, made exclusively with Swiss ingredients and matured in Swiss virgin oak casks and two types of rye produced by local farmers. The whisky was fresh, intense, slightly mineral, on vanilla, nice smooth spice, and a very pleasant rye influence: spicy, but without harshness or dryness. A very nicely made whisky, with a good balance and very pleasant to drink.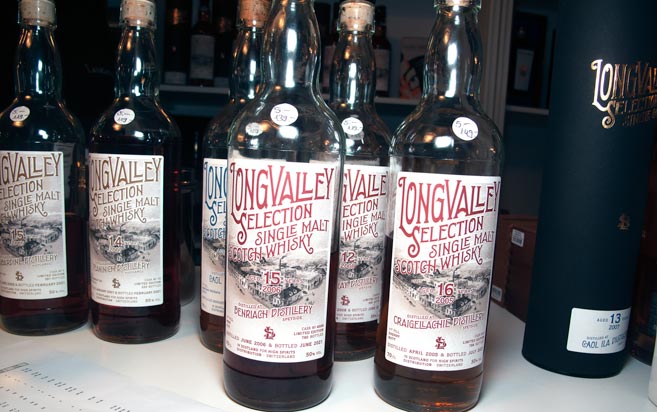 The Long Valley range at Whisky Universe
At Whisky Universe, labels from the Long Valley brand captured my interest, as I had not seen that brand before. Long Valley is a new independent bottler created the Swiss single malt Langatun, long valley being the translation from German of Langatun. As I am not a fan of red wine cask finish, I tasted the Benriach 15 YO matured in a first fill Port Pipe, a very good, rich, fruity, round and floral unpeated Benriach, with a round sweetness from the Pipe, well integrated with the character of the distillery. The Craigellachie 16 YO was very different, with smooth and elegant floral, malty and fruity flavours, some dried fruits, but also freshly pressed berries and some exotic fruits. Very fruity. I tasted then one official Glenturret, the 15 YO cask strength edition 2021, with the characteristic yeasty flavours of the distillery, hops, but also sweet and juicy fruity flavours, dried fruits, orange, toffee and leather.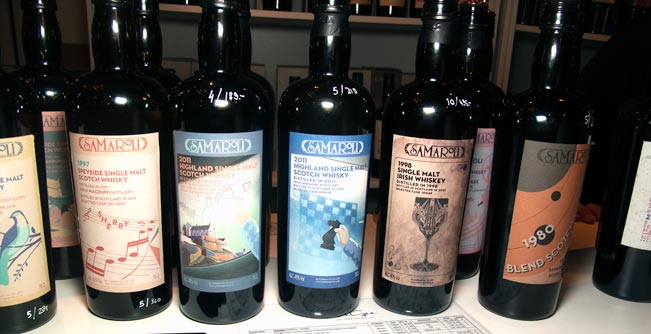 Most of the selection of Samaroli at FiGee
I made a quick tour of the other stands, and decided to move on solid ground, in the room of the hotel, starting with the one from FiGee, an importer and distributor based in Zurich, that I have not seen in any previous whisky show in Switzerland before. As it has been a few years since I could taste Samaroli (post- Silvano time). As a fan of Glen Garioch, my first Samaroli was the 1980 Blended scotch, a vatting of 80% Glen Garioch and 20% North Brisith, finished in a sherry cask. The whisky was very mellow on the nose, fruity, with lots of dried fruits, some leather and grain. It was smooth and mellow on the palate, with a more noticeable grain influence. The Irish 1998 single malt was a very good and intense Irish Whiskey, rather spicy, on berries (gooseberries and blueberries). Although it was reduced at 40%, it was very intense and complex, elegant and nicely fruity. A very good surprise. The 2011 Highland single malt was a 10 YO Glen Garioch, intense, spicy, malty, with a fair amount of candied ginger, some vanilla and light floral flavours. I wish more Glen Garioch bottlings of that quality would be available, as the distillery is making delicious single malts.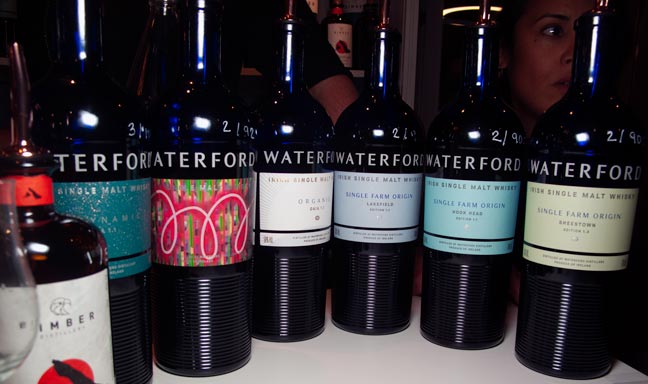 The Waterfords selection at FiGee
I moved then to Waterfords, the Irish distillery founded by Mark Reynier (ex-Bruichladdich). I started with the Cuvee, the "standard" bottling of the distillery composed of 25 single farms waterfords. A rather bold and malty whisky, spicy but also slightly unbalanced. The Biodynamic Luna 1.1 was much more coherent, more balanced, less spicy and more creamy. A nice one. For the Single Farm Origins, this is the same concept as Bruichladdich, where malt from a single farm is distilled in a single malt to assess the effect of terroir. The Lakefield Farm 1.1 showed a dirty and malty flavour profile, with freshly crushed barley, and even some bread crust and pepper, while the Sheestown Farm 1.1 reminded of the Irish style of aged Bushmills and Cooley, with an oily mouthfeel, green malt, some cooked cereals, blackcurrant and gooseberries. The effect of terroir between these two farms is impressive, and while both single malt are approximately 4 years old, they showed both a remarkable maturity, which is very promising for the future. After Ireland, It was time to taste an English whisky, from Bimber. After their initial release, the London based distiller has bottled for each country a single cask. Switzerland has an excellent ex-bourbon cask, intense, complex, moderately spicy and oily, with nice fruity notes, mainly of gooseberries as well as some vanilla. The initial release left me with a very good impression, but this was is even more impressive. It is nicely balanced and extremely complex for such a young whisky, tasting more like an 8-10 years old whisky. A small batch of Bimber ex-bourbon is expected shortly. Very pleasant. Before leaving FiGee, I tasted a nice Ardmore 2011 10 YO from Samaroli, a well balanced, smooth, moderately aromatic and peated whisky. The aromatic peat smoke was smooth and well balanced.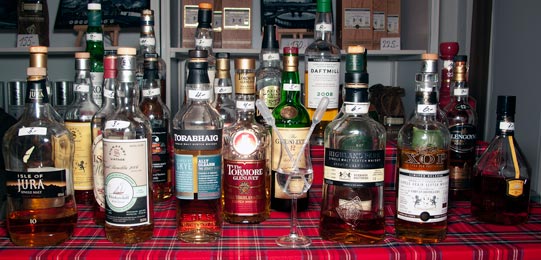 The selection of whiskies at Hermann brothers
At Hermann brothers, I tasted my first Torabhaig, the single malt from the second distillery of skye. It was rather young, sweet and smooth, on iodine, strong sea brine influence and a rather maritime peat smoke. Tasted blind, I would have guessed it was a young Talisker. The Clynelish 2008 bottled by Signatory for Hermann brothers was very round, waxy, on candied lemon, vanilla and round malty flavours. Their own bottling of Highland Park 2007 was a nice and smooth sherried Highland Park, on orange, heather honey and some vanilla. The sherry influence was moderate initially, getting more on toffee, fudge and dried fruits on the finish. Their latest release is a 31 YO Givran single malt bottled by Douglas Laing XOP, a very smooth and mellow whisky, on cooked maize (corn) and cereals, vanilla custard, some melon and other light fruity flavours, with a pleasant bold finish on round cereal notes, without a single hint of wood. Very nice.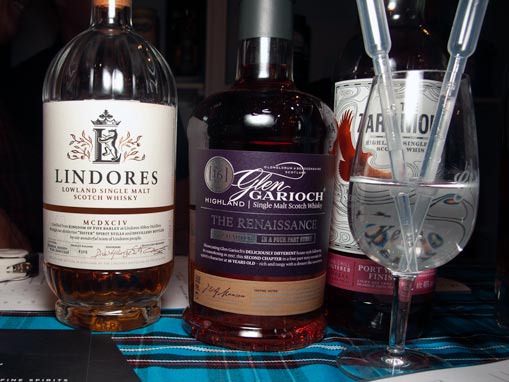 The new Lindores whisky at World of Whisky (Waldhaus am See)
With time running, I made a quick tour of the other stand and made my final stop at world of whiskies (Waldhaus am See) to taste my first Lindores Whisky, the first general release of from this distillery located in the Lowlands. It tasted young and smooth, with a mixture of winey, spicy and crushed malt flavours. A whisky that is too young to my liking and the vatting of different type of casks (ex-bourbon, wine and sherry) rather unbalanced. The Dalmore 1992 28 YO bottled by Signatory for Waldhaus am see was a very good mellow aged Dalmore, with smooth spices, oily and herbal flavours, as well as some nice mushrooms and pipe tobacco flavours. I enjoyed it better than their previous Dalmore. Their Knockdhu 2008 Waldhaus am See was a very different whisky, big, bold, malty, rather green, with some woodlands flavours and a hint of aromatic herbs. Finally, I concluded with a 14 YO Bladnoch, a bold, malty, rather spicy single malt, on dried fruits, toffee, sultanas, orange and other nice sweet fruity flavours. Very good.
With that, it was time to rush for taking the train home.
My first impression of the Hallwiler See Whiskyschiff was very good. The event is rather small (probably about half the size of the Luzern or Zurich Whiskyschiff), very well organized (with their Covid-19 test centre and shuttle bus). The number of visitors was rather small, so it was easy to move between the stands and you had time talking with the exhibitors. But even so, I did not managed to stop at each stand.
After a long period of whisky show abstinence due to the COVID-19, it is nice to attend such events again and to taste the produce of several recently established distillers such as Lindores, Bimber or Torabhaig. Talking to several exhibitors, the COVID-19 had little impact on direct sales to consumers, but the impact for distributors working with restaurants and bar was very high. This does not prevent the prices for whisky from rising, even though the pound went down. Regarding independent bottlers, the short term future seems rather dark, as most casks available are of average quality and when a good one is found, often the price asked is too high.
Patrick