Whisky-news.com is a fully independent whisky website created in 2006 by a whisky enthusiast for the whisky enthusiasts, from novice to expert, with a huge collection of tasting notes, distillery presentations, whisky fair reports in Europe, reports about whisky from all over the world, and many more. It is also the leading site for whisky literature review. Updated almost daily and free from financial support from any whisky company.
Whiskymesse Bern, 5th edition, 13-14th September 2019
http://www.berner-whiskymesse.ch/
For the photo gallery, click here.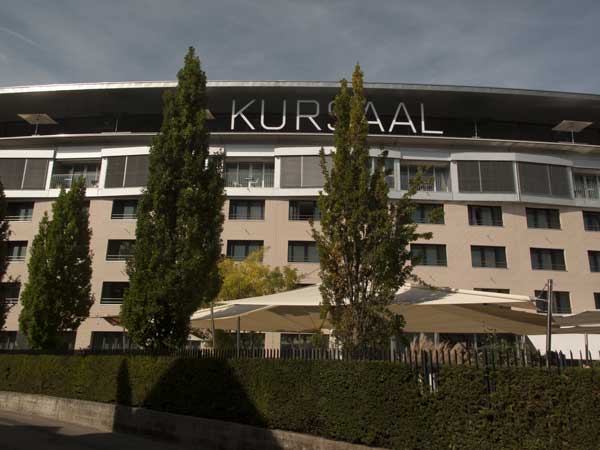 The Berner Whisky Fair was taking place at the corner of the Kursaal
Saturday was a very nice and sunny end of summer day.
After a smooth train ride, I walked to the Kursaal in Bern. The price of the entry was 20 CHF, including the glass, and then you pay per glass, with most whisky tasted costing between 2 and 8 CHF per cl.
It was the same venue as the previous edition and the attendance was light to moderate, thus allowing you to move smoothly between the stands and to be served rather quickly.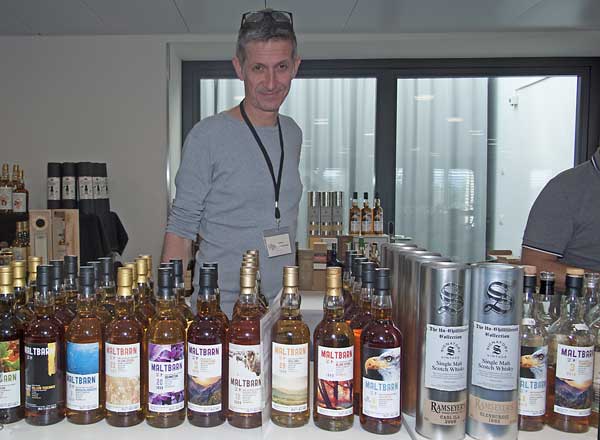 The Maltbarn selection from Ramseyer's Whisky Connection
The stand of Whisky Neuhaus being deserted I moved directly to Ramseyer's Whisky Connection with a fair number of new releases, mainly from Maltbarn. Starting with this independent bottler, my first whisky was a lovely fruity, round and slightly meaty Granville 1996. Distilled at the distillery of Clynelish it was quickly sold out. This was followed by a heavily peated Islay single malt bottled exclusively for Ramseyer's Whisky Connection: a 2010 rhuvaal. Matured in a sherry cask, the nose of this Bunnahabhain was dominated by very pleasant strong and peaty flavours, with some soot, dried seaweeds and a nice roundness. On the palate it was well balanced, with nice round sweet sherry influence complementing the charming peat smoke. Very good!
As there was only 1 bottle of the 1989 Irish single malt, it was not available for tasting, as well as the new Glenlossie 1997, 15 YO Port Charlotte or 23 YO Arran. However, they had a very nice 20 YO 1999 Deanston, smooth and mellow, with very nice round floral flavours. Very pleasant too, as expected from this bottler.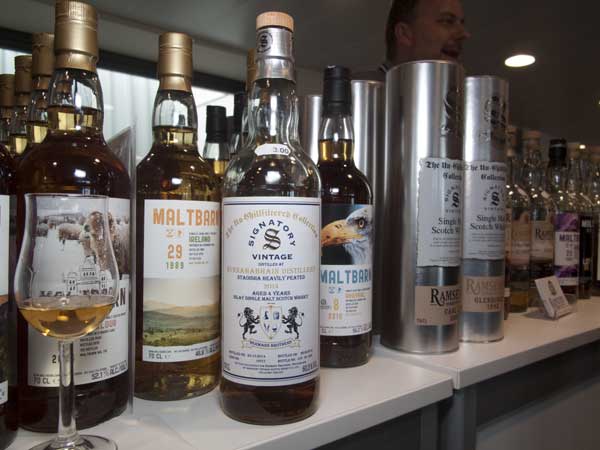 My first Staoisah heavily peated Bunnahabhain, the peat beast from that distillery
I was then served a very young (4 YO) staoisah heavily peated Bunnahabhain from Signatory for the Hermann brothers. This was my first Staoisah, the super heavily peated single malt from that distillery, peated to levels comparable to Octomore. On the nose, it was very heavily peated and rather maritime. Surprisingly on the palate, it was smooth, with nice toffee flavours and a very nice peat smoke. I found the peat smoke more complex than most Octomore and the sweetness on the palate probably comes from the decharred-shaved-recharred cask used for the maturation. A very nice discovery. Thank you Markus! Before leaving, I tasted a very smooth Dufftown 21 YO Cars from Moon Import, with heavy but round and smooth sherry flavours, on cinnamon, leather and some cloves, as well as some meaty flavours.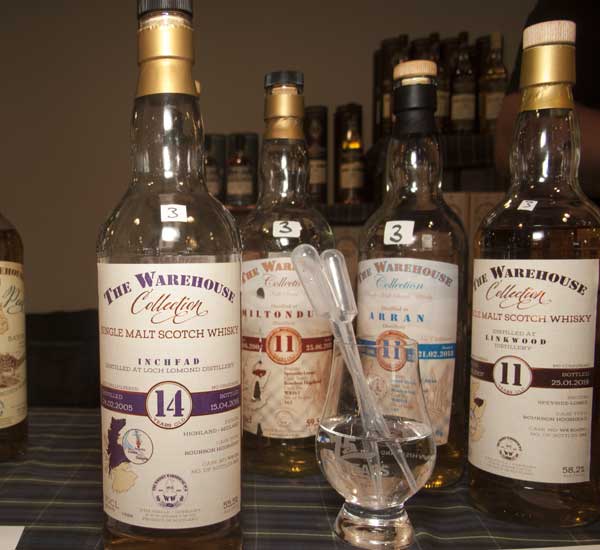 A nice heavily peated Inchfad at House of Single Malts
At the House of Single Malts, they had several new releases from their Maltman range, but as they were mostly finished in ex-wine casks, I opted for the Inchfad 14 YO from the Warhouse collection. A well made heavily peated single malt distilled at Loch Lomond, smooth and with a rather earthy peat smoke. The finish was rather short and the peat faded quickly too.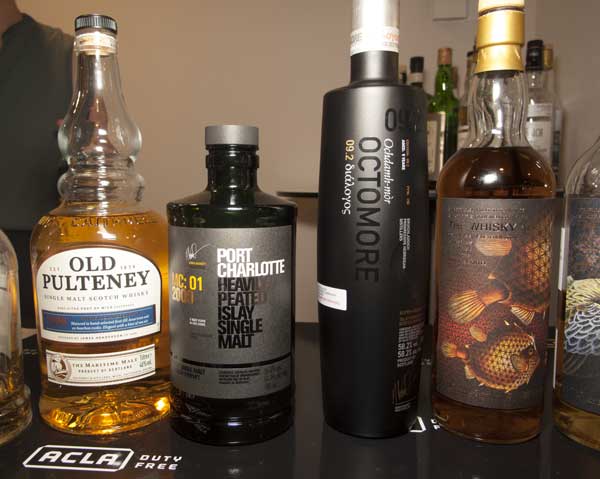 The new Port Charlotte MC 01 for Travel Retail
Moving to Acla Selection, I took the opportunity of tasting the new products and The Whisky Agency bottlings that I failed to taste in the past. Starting with The Whisky Agency, the freshly opened Inchgower 29 YO was round and mellow, slightly salty on the palate, with a round and mellow finish, where the fruity flavours became more apparent. Diluted, it started to open, gaining in complexity, with more salty flavours, a slight austerity and more fruity flavours. I found the 23 YO Glen Elgin even better, with more intensity, slightly bolder and grassier, with a nice balance. From the 10th Anniversary edition, I enjoyed very much the Springbank 21 YO, with nice sweet, juicy and fruity flavours, nice salty and sea tang flavours. It reminded strongly of the old 21 YO tall bottle. The Speyside 43 YO 10th Anniversary was simply superb, very complex, fruity, and balanced, without any off notes. A whisky that one can enjoy for hours. In the official bottlings for travel retails, I tried a nice GlenDronach 10 YO Forgue, with a nice sherry influence, the spicy flavours that you can expect from this distillery, with a round-toffee sherry influence. Not overly complex, but enjoyable and easy to drink. The Port Charlotte MC:01 2009 is the latest travel edition from this brand, with a finish in ex-Sicilian Marsala wine cask. It combined well the sweetness of this wine with the dry and tarry peat smoke of the distillate. Very good. From Liquid Treasures, I tasted their new Tomintoul 2004, with a strong sherry influence, on toffee and dried fruit, and a rather spicy-oaky mouth feel. Good, but rather different from the official bottlings. Probably from a very active casks.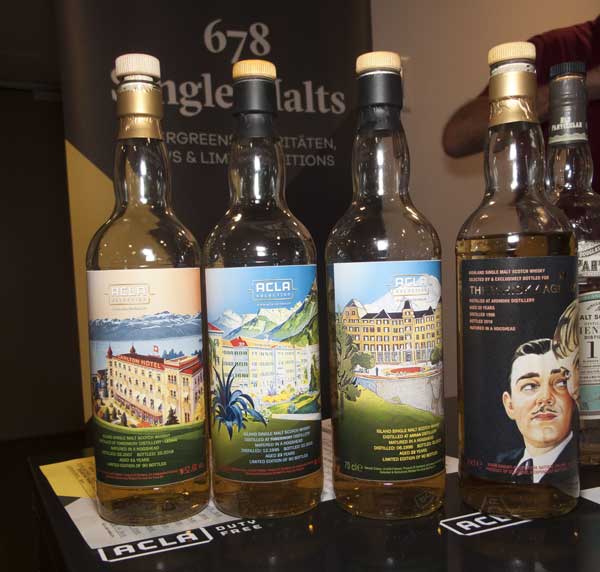 The 3 new bottlings from Acla Selection, including their excellent Ledaig and a very good Ardmore 20 YO from The Whisky Agency
From their own Acla Selection, I started with the 1996 Arran, a very smooth and mellow expression from this distillery, easy drinking, but with a short finish. The Tobermory 1995 was more intense, heavier, slightly spicier, with a pleasant balance and nice light fruity flavours. A very well made Tobermory. Finally, the Ledaig 2007 was simply excellent: a peated whisky, with a complex peat smoke, a very light influence from the wood, elegant and a light sweetness. Of the same quality of the Tobermory (peated) from Liquid Treasures bottled last year. I am very found of such elegant whisky, with a excellent intense and complex peat smoke, as you can find in some old Islay or Highland single malts distilled in the 1970s. One of my preferred whiskies from the fair.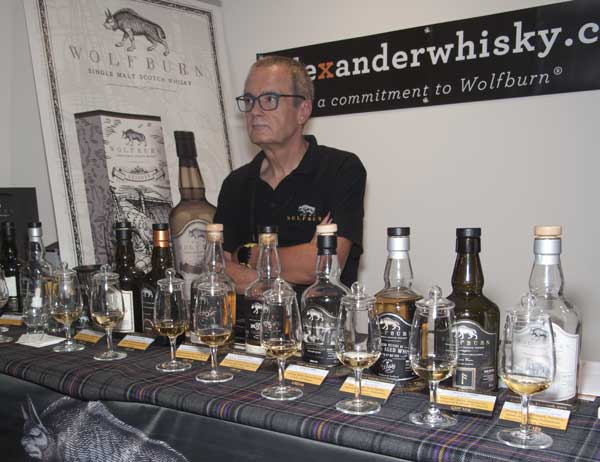 The various Wolfburn bottlings at Alexanderweine.ch
At Alexanderweine.ch, several new Wolfburn expressions were available. I started with the light Special Release for the Highland Whisky Festival, with a nice round coastal nose and on vanilla, while it was rather light and young on the palate, with orchards fruits. The From the Stills Sumer 2019 was rounder, more oaky and on vanilla, while the new Kylver 5, vatting of ex-bourbon and Oloroso cask. The whisky was rather light and oaky. The Latitude for Travel Retail is a lightly peated (10 ppm) version of Wolfburn, with a nice earthy peat smoke and a good balanced.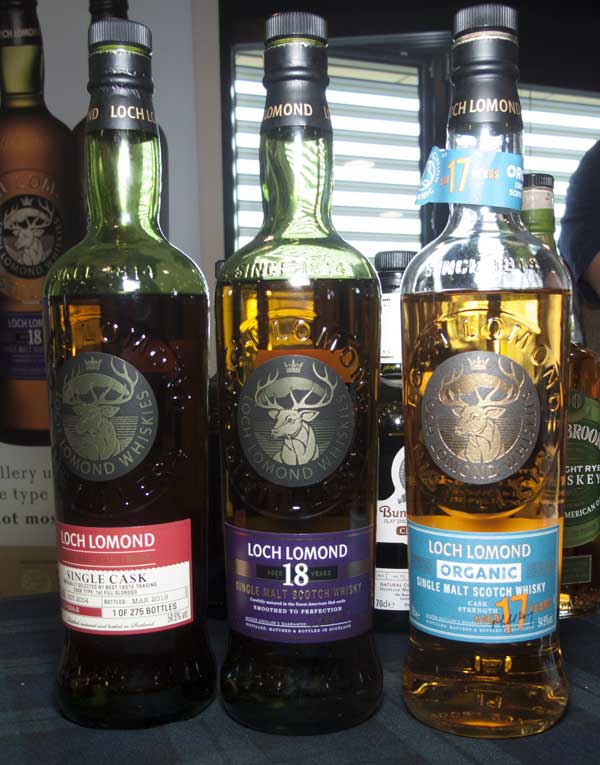 The new Loch Lomond Organic and single cask for Switzerland (Best Taste Trading)
Moving to the other side of the room, I tasted some new Loch Lomond. The 17 YO Organic Cask Strength edition was a very round malty expression of this distillery, moderately oaky and on vanilla, as well as with freshly ground malt. The 2004 Single Cask for Best Taste Trading was markedly more complex, with a heavy and round sherry, on toffee, fudge, sultanas, dates and some strawberries.
A most enjoyable Glenturret for Waldhaus am See
Several new releases were present at World of Whisky, and as part of their Waldhaus am See, I started with an excellent 1989 29 YO North Irish, fresh, complex and lovely, reminding me strongly of another similar Northern Ireland bottled for another Swiss independent bottler. They had also a remarkable 2008 bottled for them from Signatory, combining a nice balanced and complexity, with nice waxy flavours. A very good value whisky, which will please the Clynelish fans. Their Glenturret 1989 was a most pleasant Glenturret, complex to very complex, balanced, with excellent fruity flavours and a long subtle finish. Certainly one of the best, if not the best Glenturret I have tasted so far. A must to try whisky. Their Bunnahabhain 2008 was a round, bold and slightly maritime Islay single malt, a thick, heavy and round toffee influence from the sherry cask. Moving then with the Signatory Cask Strength collection, I tasted a round, bold, slightly spicy and waxy Ben Nevis 1991 27 YO, with a round and sweet sherry influence, on red berries, toffee, and butterscotch, as well as some rubber. The new Caol Ila 2006 12 YO was a clean, very peaty and tarry Caol Ila, rather maritime and on hemp rope. Very good. The Highland Park Valfather was on the other hand rather disappointing: monodimensional, salty and on toffee, with no much going on ZzzZZZ. The new Ailsa Bay 1.2 Sweet Smoke was a light, smooth, and lightly peated, with light vanilla flavours. A good one.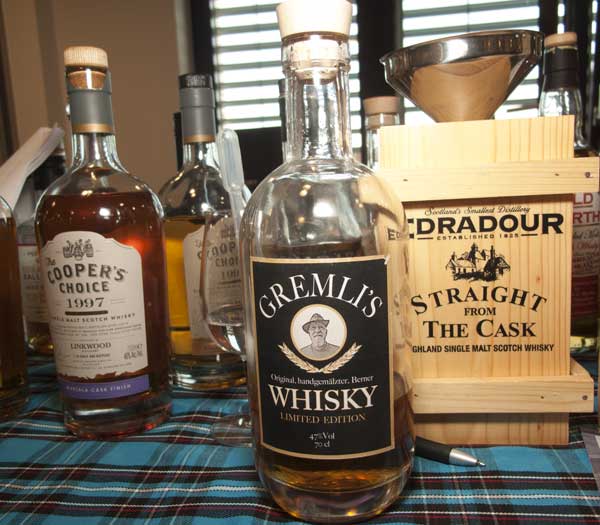 My first tast of the Swiss whisky Gremlis's distributed by worldofwhisky.ch
My last one on the stand was the Gremli's whisky, a local Swiss whisky maker from Bern, and sold via World of Whisky. Made by a passionate whisky maker, it is craft whisky, with the barley kilned over a coal and peat fire, hand-milled, and mashed in coal heated pot, before being distilled. The result was a very made 9 YO whisky, round, with nice round and mellow malty flavours, some dried apricots, vanilla and other fruity flavours, as well as some home made fudge. A fairly priced whisky, especially considering the work behind this product.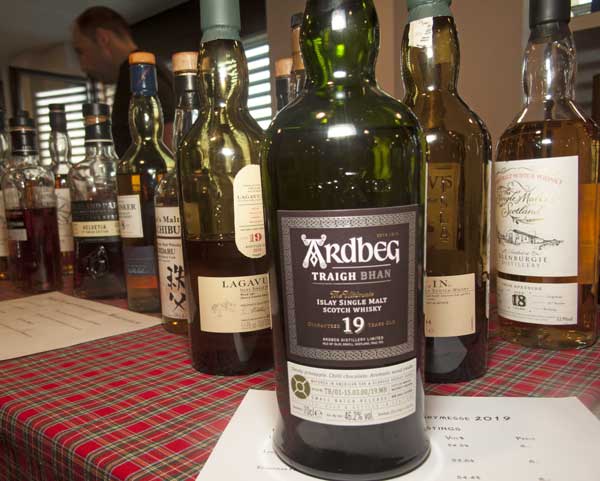 At the stand of bernerwhisky messe, I tasted the new Ardbeg 19 YO, as well as the Lagavulin Feis Ile 2019
At the stand of the Berner Whiskymesse, they had a large selection of Kilchoman and I tasted the Feis Ile 2019 edition, a vatting of ex-bourbon and sherry casks. The nose was very good, with a complex, intense, maritime and tarry peat smoke, lots of intensity and some dried fruits. On the palate, the initial delivery was very good, with the same complex maritime and tarry peat smoke, before some heavy sherry flavours are coming, as well as some fresh rubber. The Lagavulin Feis Ile 2019 19 YO was coming from sherry-treated American oak cask: the nose was pleasantly smoky, phenolic, maritime and complex, rather oaky on the palate, before heavy winey and rubbery flavours took over the whisky. The brand new Ardbeg Traigh Bhan 19 YO was also available. A good Ardbeg, maritime and smoky, rather mildly peated and slightly thin, with seaweeds and some salt. A whisky that I need to taste again in better condition, as it tasted like an Ardbeg from tired casks.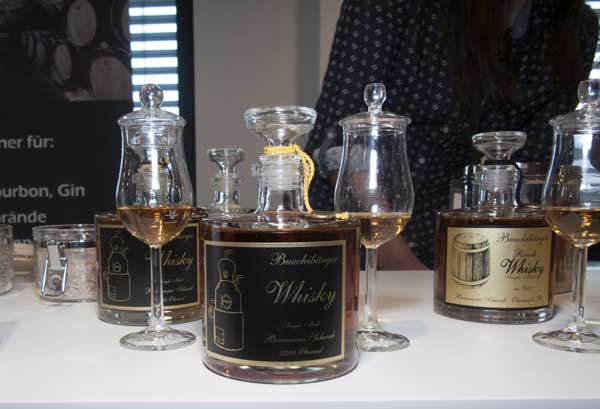 The "Whisky" from the local distillery Schwab, a 11 YO single malt
Another new whisky tasting experience was at the stand of Brennerei Schwab, a small family company that started to produce whisky 11 years ago. They are producing 3 main types of whisky, a bourbon-like whisky made with maize (corn), another one, combining wheat (?), maize and barley and finally, the single malts. The "bourbon" was very round, on cooked maize and vanilla, very much as expected from a bourbon-style whisky, while the Börben, with its 3 cereals, was more spicy, complex, and also less round. The single malts are matured in ex-pinot noir wine casks and showed a remarkable maturity. The cask strength version was round, malty, slightly spicy and winey, with some round fruity flavours and vanilla. A well made Swiss whisky. In addition to their "whisky", they are a lightly smoky single malt matured in ex-chardonnay casks.
Time has been flying and I had to rush for catching my train. I enjoyed very much my afternoon at the Berner Whisky Messe and I hope it will continue, as the Whisky& Rum Whisky Fair in Zürich will not take place this year. The atmosphere was pleasant and relax. It remains a small whisky fair, and I am curious to see its future development.
Slainte
Patrick 14 Sep. 2019