Whisky-news.com is a fully independent whisky website created in 2006 by a whisky enthusiast for the whisky enthusiasts, from novice to expert, with a huge collection of tasting notes, distillery presentations, whisky fair reports in Europe, reports about whisky from all over the world, and many more. It is also the leading site for whisky literature review. Updated almost daily and free from financial support from any whisky company.
Berner Whisky Messe, Bern, Switzerland, 8-9 September 2017
For the photo gallery, click hsere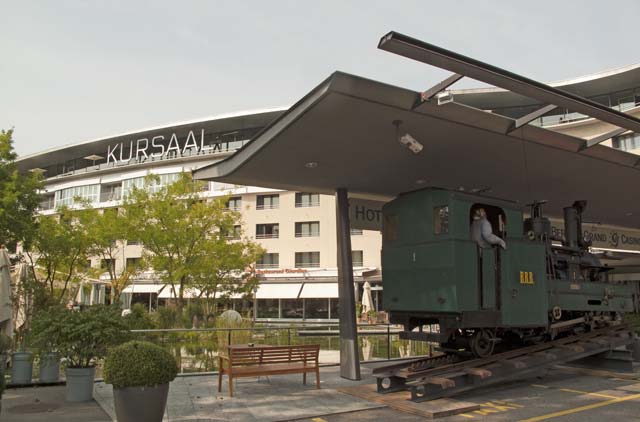 The Kursaal
The Berner Whiskymesse is my first whisky event from the second part of the year.
This event, located at the Capital of Switzerland, Bern, is now at its third edition and I took the opportunity to attend it on its first day.
The Kursaal is within 20 minutes walking distance from the main train station. The entrance is 15 CHF, including a tasting glass, with all whiskies to be paid at the glass. A few new comers have joined this event and the number of new releases available was quite impressive. I try to taste most of them, except the new Ardbeg.
As always, I started with the stand of Acla Selection, who had a very large selection of new whiskies, starting with an "Extra Old Irish" bottled by them. The whisky was clean, smooth, slightly spicy and intense. A different style from the older Irish whiskies they have bottled. The new "Irish Single Malt Whiskey" 27 YO Acla Selection was much more mellow, rounder, more fruity, rather malty and creamy, with a light fruitiness. More mellow and rounder, as well as less fruity than the previous editions 5 or 6. The Pogues is a new Irish blended whiskey. It is the official bottling from the music band. Aged 3 years and 1 day (according to the back label), the result is a very smooth, easy drinking Irish whiskey, with a light fruitiness and orchard's fruits. Surprisingly good and matured. I moved then to the Tennessee whiskey 13 YO bottled by the Whisky Agency. It was a smooth and mellow Bourbon, with lots of spices, on treacle, orange, cinnamon, nutmeg, tannins, some bitter orange and peach. A good old whiskey, with some bitterness, but without being too woody or tannic.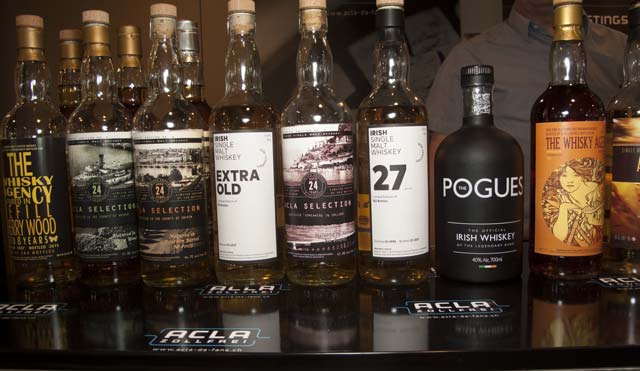 Most of the Irish and the Tennessee whiskey at Acla Da Fans
The nose of the Bruichladdich 1990 25 YO OB sherry edition was pleasantly mellow, round and fruity, with a dash of sea brine, becoming rather rubbery and slightly weak on the palate. The rubbery flavours became more intense once water has been added. The Cragganmore 27 YO for the Whisky Agency was very pleasant, floral, mellow, smooth, slightly grassy and aromatic, well balanced and complex. Lovely. The Glen Keith 20 YO from the Whisky Agency was less complex, cleaner and with some hops. The Glenfarclas 18 YO is a new official bottling for travel retail. It was smooth, mellow, rather sweet and fruity, with some spices, leather, orange and tangerine. An easy drinking but rather complex whisky. The Glenrothes 20 YO Acla Selection was very good: intense, round, malty, slightly floral and waxy, on dried fruits, some spices and nice orange and tangerine flavours. The Speyside Single Malt 44 YO from Acla Selection was a very good whisky from an undisclosed distillery, with a remarkable complexity, rather intense, on various fruity flavours, as well as some drops of berries. These Speyside from 1973 or 1975 rarely disappoint, and this one, is not an exception.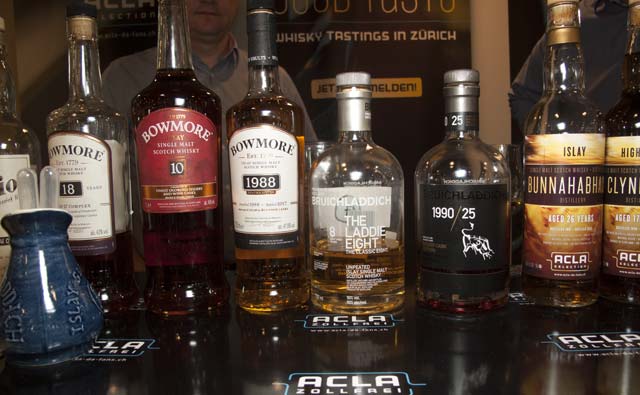 The two new Bowmore and the Bruichladdich 1990 25 YO
Bowmore had some new releases. While I liked the peatiness and the salty flavours from the Bowmore 1988 OB were most pleasant, I had more difficulties with the fragrance on the palate. The 10 YO Travel Retail Oloroso and Wine cask was a very sweet Bowmore, on dried fruits, sugar, candies, strawberries and winey flavours. Diluted it became sweeter and more winey. A whisky for the "winesky" drinkers or who like their whiskies very sweet and sugary. While the label carries a strong similarity with the Devil's casks, its flavour profile is quite different.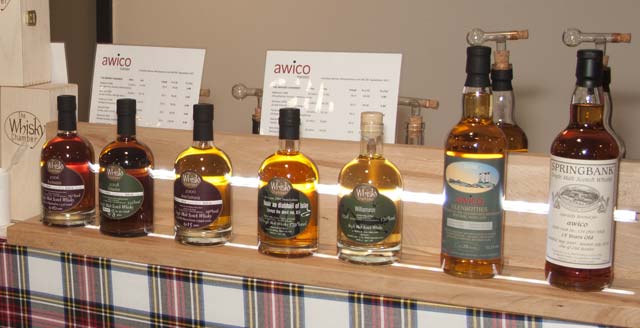 The two bottlings for Awico (on the right) and some of The Whisky Chamber
I moved next to Willy from Awico who imports The Whisky Chamber (TWC) into Switzerland. I started with a very nice round sherry Bruichladdich 2006, round, rich, fruity with intense round sherry flavours of dried fruits, spices, orange and other fruits, as well as some rubbery flavours becoming stronger once some water has been added. A well made whisky. Under the label Awico, the Glenrothes 1996 was very good, well balanced, round, slightly floral and spicy, with some melon, vanilla, honey and light grassy flavours, becoming slightly fruitier and smoother after dilution. The Springbank 2000 Port Wood Private Bottling for Awico was matured exclusively in a Port cask (since birth). A very good Springbank, salty, maritime, slightly smoky, on seaweeds and a well integrated slightly austere, vegetal and winey flavours coming from the Port cask. Rather old school Springbank. The Whisky Chamber "Tempt the Devil XI" was an intense, peaty, maritime, smoky and slightly rooty single malt from the South shore of Kildalton. Very pleasant. I also a sneak preview of the TWC Buiar an diabhail of Islay whisky, which was simply excellent. There was no age statement but the combination of very fruity sherry flavours with an intense maritime peat smoke worked extremely well. It is not often that the sherry and peat marry so well. Should be available next week or so. Thanks Willy!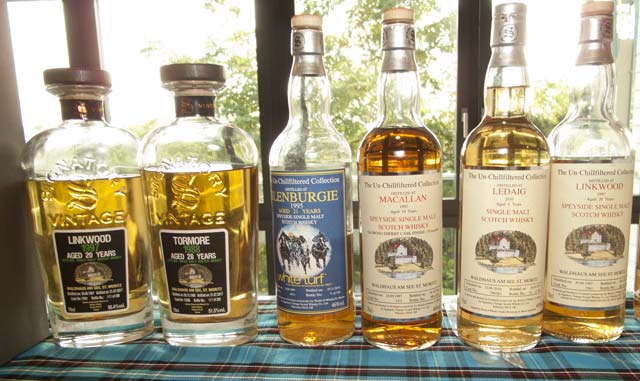 A full range of Signatory bottling for Waldhaus am See
At World of Whisky (WoW, Waldhaus am See), they have bottled a new Linkwood 1997 with Signatory. Bottled at 46%, it was deliciously sweet and fruity, slightly malty and well balanced, with water enhancing the tropical fruits and the honey flavours. The sister cask has been bottled at cask strength. It was more intense and rougher, and less fruity as well. However, if you kept in your mouth for a while and/or added some water, then the pleasant fruity flavours from the version bottled at 46% are coming through. The label of the Glenburgie 1995 White Turf is inspired by the winter polo competition taking place every year at St-Moritz on the frozen lake. The Glenburgie was smooth, rather spicy and oaky. A good example from that distillery but it found it slightly too rough after having tasted the lovely Linkwood. The Tormore 1988 for WoW was in a style close to the Linkwood, but bolder and waxier. The Ledaig 2010 WoW was very peaty, intense, smoky and quite maritime, with a remarkable maturity. A whisky that hides its age very well and that should appeal any "peat head". A very good surprise. The Balvenie Tun 1509 Tun 4 was a very good whisky, with a pleasant round sherry influence, with some vanilla, dried fruits and oak extracts. The sherry influence and the flavour intensity was stronger than the last batch, and better. The Highland Park Valkyrie was a rather smoky and young version of that distillery. I really liked the packaging, but less by the content. The Octomore Master Class 8.1 was a pretty good Octomore, peaty, maritime, and rather clean, on seaweeds and peat smoke. It is more mature and complex that most version of the 7.X serie, but markedly less peated as well.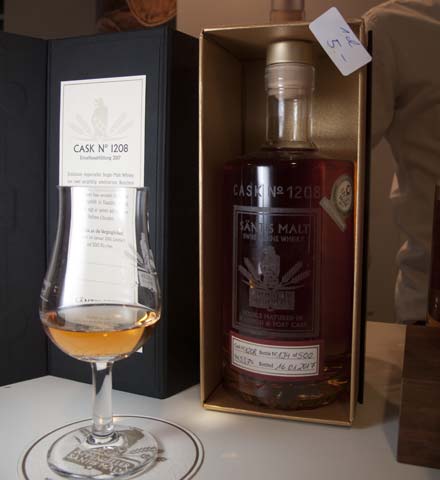 A new Säntis single cask
At Säntis Malt, I tasted their new Single Cask, a 7 YO whisky matured in ex-bourbon and Port Cask. The profile is noticeably different from the core range, mellow, more aromatic and slightly austere, with nice oaky flavours as well as some light winey and spicy aromas from the Port. Pleasant, although I would have preferred it without the Port Influence.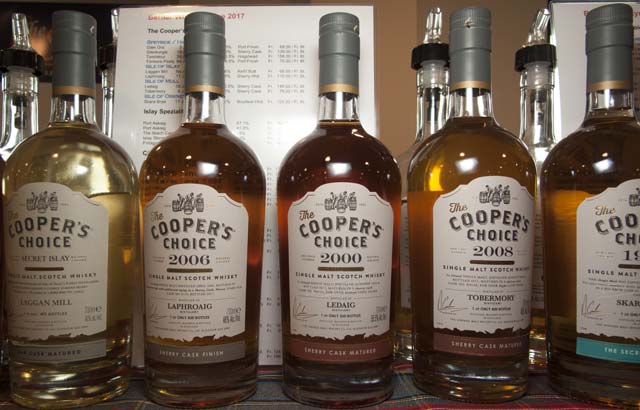 Some of the new Cooper's choice at the Stillman's
At The Stillman's, I started with the new Cooper's Choice (CC), starting with a round, spicy, vegetal, malty and slightly rubbery Glenburgie 1997 sherry. On the peaty side, the Laphroaig 2006 Sherry finish, was very peaty and oaky, intense, rather spicy, on vanilla, with light winey aromas and some dried fruits. The sherry influence was moderate and the whisky rather "modern". The Ledaig 2000 Sherry matured was more complex, elegant, and round, with sweet and fruity flavours, as well as some sultanas and seaweeds. Very good!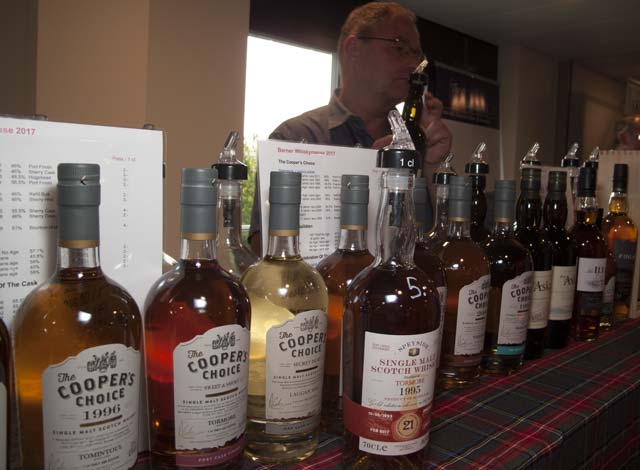 Other Cooper's and the very good Tormore from TWCC at the Stillman's
As part of Daniel Kissling Private bottlings (TWCC), I tasted an excellent Tormore 1995, with a delicious sherry influence mixing dried fruits, orange, tangerine with elegant floral and leathery flavours. One of the best Tormore I have tasted so far. His peatside is a peated Glenglassaugh. This whisky was difficult to rate, as I do not recall having tasted a whisky, that mixed a dry peat smoke, with very round oaky flavours, malty, floral and slightly milky aromas. It is not a bad whisky, but the combination of flavours is unusual.
I was then kindly offered a glass of Old Perth 21 YO, a cask strength blended malt whisky from Morrison & MacKay, with elegant floral and spicy flavours, as well as a balanced and slightly dry sherry, resulting in a most pleasant and enjoyable dram. A whisky that should not be underestimated.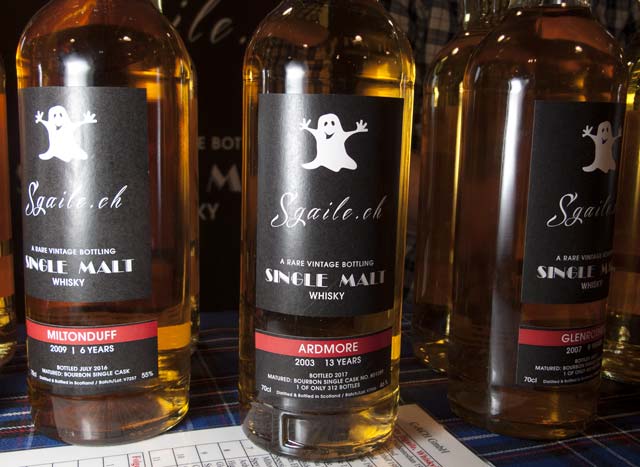 Some of the bottling from the swiss independent bottler Sgaile.ch
At a next stand, there was a new independent bottler called Sgaile.ch. I followed the recommendations of the retailer and started with their 1992 Dailuaine, a grassy, mellow, rather fruity and easy drinking whisky. The Ardmore 2003 was quite heavily peated and aromatic, combined with rather sweet and honey flavours. A rather sweet version of Ardmore. They also import the Dutch whisky Millstone from the Zuidam distillery. Having discovered their excellent single malts during the Malt Maniacs Awards, I was keen discovering their core range and opted for the 12 YO (which contained in fact 16 years old whisky) Sherry cask, a well-made, complex, elegant whisky, on soft spices, some leather tannins, orange, tangerine, cinnamon and light malty-floral flavours.

The Orma single malts
From Orma single malts, I tasted the 3 new bottlings from 2017, starting with their 11-4, a nice whisky, smooth to very smooth, rather malty, with well integrated winey flavours. One of their oldest, if not their oldest release so far, that benefited from a decent maturation. On the other hand, the Corvatsch edition 13-1 matured in ex-Port and ex-Pinot Noir cask was rather unbalanced, spicy, peppery and very young. This whisky has been matured in Corvarsch, a mountain part of the skiing domain of St-Moritz. A whisky that should have been kept for a longer time. The Orma 12-4 Cask Edition was matured in ex-Pinot Noir Barriques from the canton of Graubünden. It was a peaty and meaty expression of Orma, on dry peat smoke and rather strong meaty (dry meat from Graubünden) flavours mixed with rather strong winey and peppery flavours from the wine cask.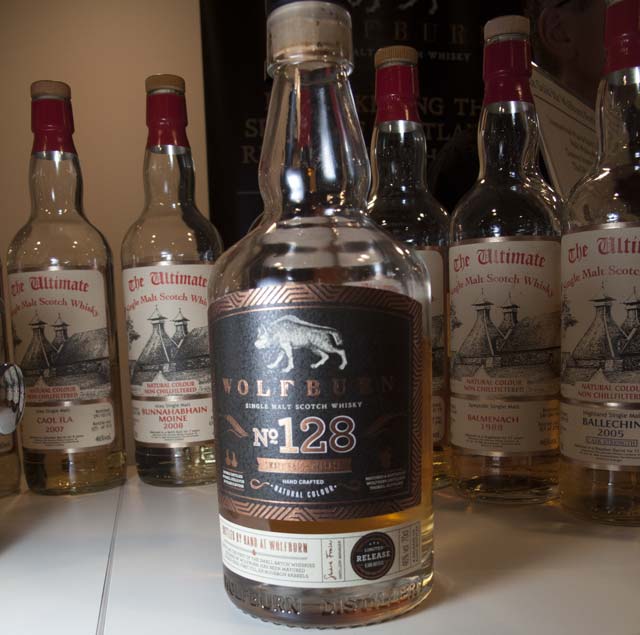 The new Wolfburn 128 at Alexander Weine with The Ultimate /Van Wees in the back
At Alexander Weine, I tasted the two latest Wolfburn starting with the very good Klyver edition 2. It was well matured, complex, with nice fruity flavours and some mineral honey flavours that can be found in some Highland single malts. Nicely balanced. I really enjoyed it! The new limited edition N°128 was matured in small casks and the flavour profile proposed a strong contrast with the Klyver: markedly younger, spicier and much more oaky, on vanilla and a bit rough. It is nice to compare them together.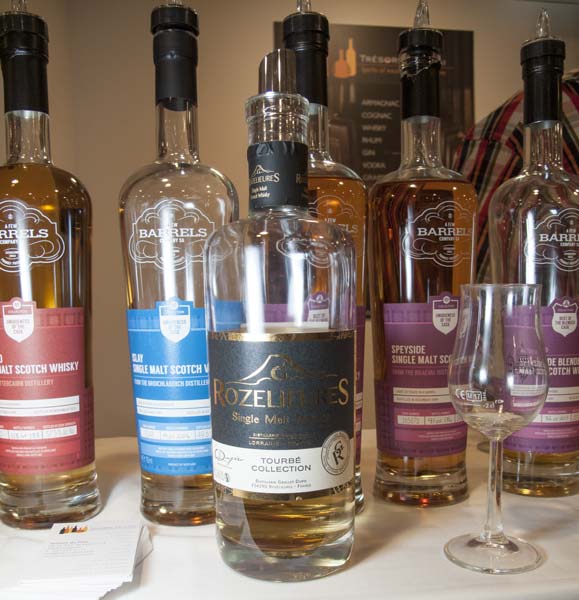 At the Trésor du Chai, a very good surprise: the Tourbé from the French distillery Rozelieures in Lorraine, with the FEW Barrel collection in the back.
Le Trésor du Chai was the only stand from the French speaking part of Switzerland (Lausanne) and they proposed French whiskies or single malts from a regional bottler. I tasted previously a BM (Black Mountain), and I was quite curious to taste the Rozelieures, a French single malt distilled in Loraine. The design of the bottle was attractive and I opted for the Tourbé Collection. The whisky was pleasantly good, very smooth, malty, slightly fresh, with a meaty-tarry peat smoke. The whole was well balanced, well-made and showed a nice maturity. This is a distillery I will keep in my watch list and if you see it, do not hesitate to try it, at least the Tourbé. As part of the FEW Barrels collection, the Bruichalddich 1992 was a very good Islay whisky, surprisingly intense and fresh, slightly salty, smoky and peaty, with a good complexity and no off-notes. Much more to my liking than the official 25 YO tasted earlier. Discussing with the retailers, additional French single malts will be added soon to their range.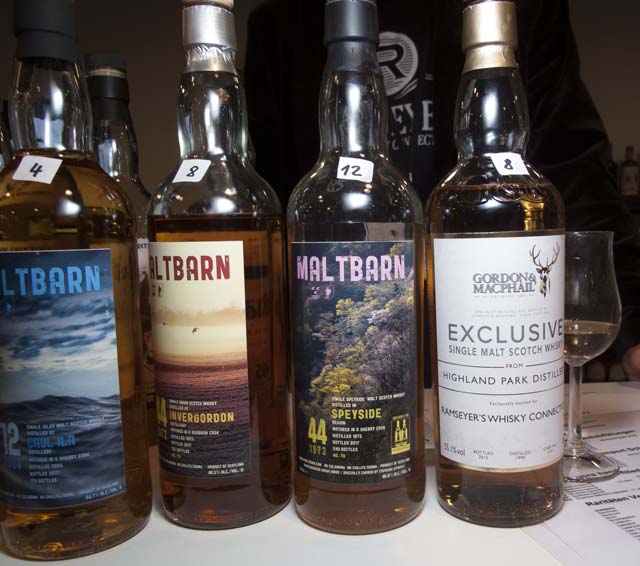 Some of the Maltbarn at Ramseyer's Whisky Connection, including one of his exclusive bottling
Last but not least was Ramseyer's Whisky Connection, a retailer based in Zurich who imports the Maltbarn range to Switzerland, in addition to his own private bottling. I started with the Maltbarn Speyside 1973 44 YO bottled for the Japanese company Shinanoya, an excellent mellow, complex and well-balanced sherried whisky, probably a fino. Different from the Acla selection, but as good. From the same bottler, the Caol Ila 12 YO Sherry (bottled 2017) has a round and sweet sherry influence, moderately peated, with a nice balance. I enjoyed better his private bottling of Caol Ila from Gordon & MacPhail bottled in 2015, which was markedly more peaty and intense, with lots of tar and good maritime flavours. Very good! His Single Cask Release of Kilchoman from an ex-bourbon cask followed this. It was younger than his Caol Ila, also slightly more oaky and rounder, with a slightly more complex peat smoke. Still slightly young to my taste, but more complex and better balanced than most official Kilchoman I have tasted so far. My final one was the Highland Park 1990 Ramseyer's Whisky Connection from Gordon & MacPhail. It was from a bourbon cask, intense, rather peaty and smoky, elegant and with a lot of punch. While most Highland Park tend to be slightly soft after 15-18 years, this one kept the intensity of its youth while gaining the complexity from the age. One of the most pleasant recent Highland Park I have tasted. Thank you Markus!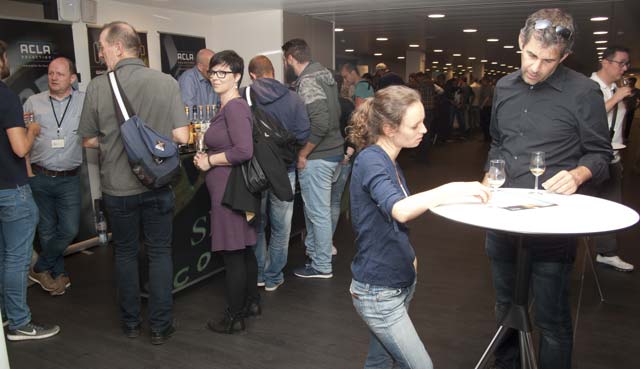 A partial view of the exhibition hall
There were other stands, but as it was running late and my palate tired, I decided to leave to take my train home.
From Glengoyne, Tomatin, Glenrothes, BBR, Glenlivet, Nikka, Loch Lomond, The First Editions, I will probably taste their new releases at the future planned whisky events (Whisky Live Paris or Whisky Show London).

I enjoyed very much this event, as it was moderately crowed. Thus, it was an excellent opportunity for me to discuss with the different retailers.
So, see you next year for the 4th edition!
Slainte
Patrick