Distillery in Focus: The Yamazaki
Region: Japan
Name: The Yamazaki
Status: Active
Website: http://www.suntory.com/factory/yamazaki/
Telephone: + 81 75 9621423
E-Mail: N.A.
Address: 5-2-1 Yamazaki, Shimamoto-cho, Mishima-gun, Osaka.
Visitor centre: Yes
Owner: Suntory
Established in 1923
Technical details:
Water source: From rivers flowing from Mt Tennozan
Malted barley: Mainly from Simpson in Scotland.
Malt bins: N.A.
Mill: Porteus, 4 Rollers
Mash tun: Full lauter, 1 of 18 tonnes and 1 of 4 tonnes
Washbacks: 18, 8 made from Oregon pine (40,000 L) and 10 from stainless steel (50,000 L)
Yeast: Brewer's and distiller's yeast.
Fermentation: 64-80 hours. For the short fermentation, the alcohol fermentation last for about 40 hours and it is followed by 24 hours of lactic fermentation.
Stills (excluding the new still house):
Wash stills:
-2 wash stills of 15,000 L with a lantern head
-2 wash stills of 12,000 L with a straight head
-1 wash still of 12,000 L with a lantern head
-1 wash still of 10,000 L with a straight head
Spirit stills:
-2 spirit stills of 12,000 L with a lantern head
-2 spirit stills of 5,000 L with a straight head
-1 spirit still of 4,000 L with a lantern head
-1 spirit still of 4,000 L with a straight head

Warehouses: 5 on site (36,000 casks)
Production capacity: 3.5 mio LPA until 2014. 2015: 5 mio LPA (estimate)
Employees: N.A.
Casks used for maturation: American bourbon casks (80%), Spnaish butts (ex-oloroso, 15%) and Japanese oak (Mizunara, 5%)
Percentage for single malts: N.A.
Contribute(d) to the following blends: Suntory Hibiki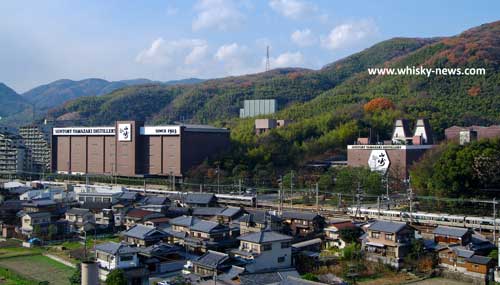 The Yamazaki distillery, courtesy of Suntory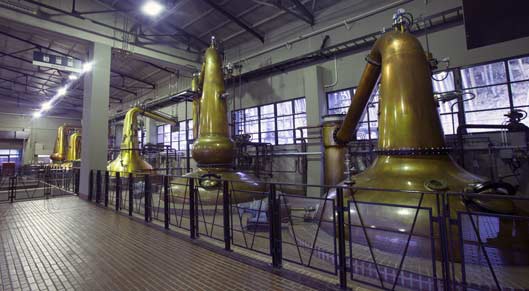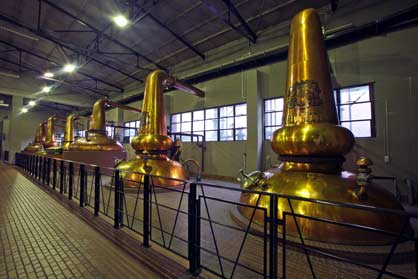 Parts of the still house in 2015 (©www.whisky-news.com)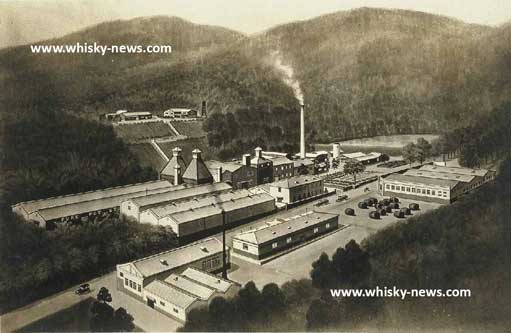 An artistic view of the distillery in the 1930s, courtesy of Suntory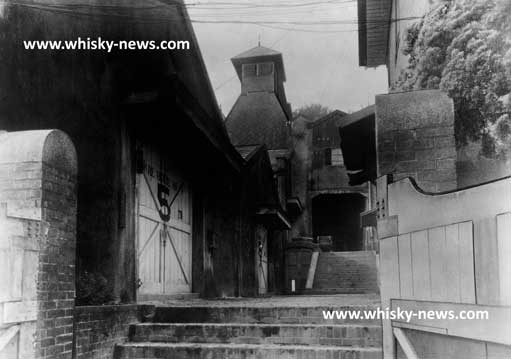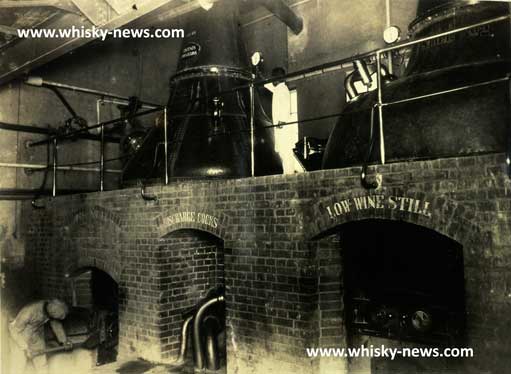 Some original photographs from 1934, courtesy of Suntory
For additional photographs from the distillery, please consult my report on the distillery visit.
Regular Bottling:
Yamazaki Distiller's Reserve, 43%
Yamazaki 12 YO, 43%
Yamazaki 18 YO, 43%
Yamazaki 25 YO, 43%
Other bottlings:
In addition to their core range, a few single casks have been released as part of their Owner's caks and in the mid 2000s, some Vintages (e.g. 1984) have been released.
For the tasted whiskies, click here
---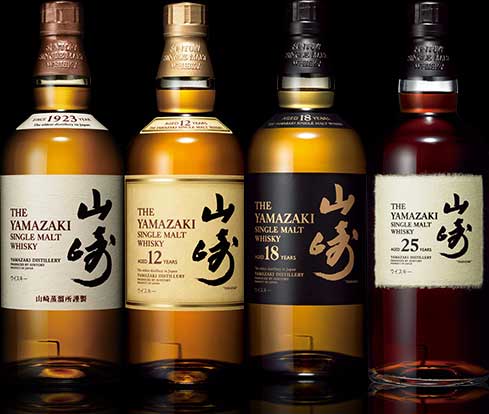 The core range of Yamazki
---
History of The Yamazaki Distillery
In 1923, Shinjiro Torii, the founder of Suntory, started to build Japan's first malt whisky distillery in the Vale of Yamazaki, in the outskirts of Kyoto, with the help of Masataka Takesturu (later to be founder of Nikka), who was trained in single malt distilling in Scotland. The first distillation took place in November 1924. Manual floor malting was done one site until 1969, and mechanical maltings from 1969 to 1972. The malted barley purchased from Scotland afterwards. In 1980, an expansion doubled the production capacity from 2 to 4 stills. It underwent a major refurbishment from 1987 to 1988, and the stills were replaced the next year. An additional still house was added in 2014.
Japan's first genuine whisky the Suntory Shirofuda (White Label) launched in 1929 and was exported for the first time in 1931. The Suntory Kakubin (square bottle) whisky was launched in 1937, followed by the Suntory Old whisky in 1950. A few more blended whiskies will be launched afterwards, and it is not before 1984 that Suntory Single Malt Whisky Yamazaki is launched and the iconic Yamazaki 18 YO single malt was launched in 1992. In 2004, the name on the labels were changed from "Yamazaki" to "Suntory Single Malt Yamazaki".
Source: Distillery visit, Suntory.com, Japanese Whisky: Facts, Figures and Taste, The definitive guide to Japanese whiskies, Ulf Buxrud
www.whisky-news.com/Patrick Brossard © 02 December 2015
| | |
| --- | --- |
| Official/original bottlings (OB) | |
| Age | |
| Yamazaki 12 YO, OB, 43%, B:2015. | Rating: 13/20 |
| Yamazaki for The Whisky Shop 3rd Anniversary, 13 YO, OB, 59%, B: 2013, c. EO70049, 506 b. | Rating: 17/20 |
| Yamazaki 18 YO, OB, 43%, B: 2007 | Rating: 11/20 |
| Yamazaki 18 YO, OB, 43%, B: 2015. | Rating: 17/20 |
| Yamazaki 25 YO, OB, 43%, B: 2011 | Rating: 16/20 |
| Yamazaki 25 YO, OB, 43%, B: 2015 | Rating: 16/20 |
| Yamazaki 25 YO, OB, 43%, B:2017 | Rating: 17/20 |
| | |
| | |
| Vintages | |
| Yamazaki 1984, OB, 56%, B: 2005 | Rating: 14/20 |
| Yamazaki 1984, OB, 48% | Rating: 19/20 |
| Yamazaki 1984 sample, OB, B:2015. | Rating: |
| Yamazaki 1986 Bar Barns, OB, B:2007, c. 6G5020, 244 b | Rating: 17/20 |
| Yamazaki 1986, OB, 51%, cask 6B0168 | Rating: 17/20 |
| Yamazaki 1989, OB, 56% | Rating: 16/20 |
| Yamazaki 1990, 18 YO, OB, 61%, B: 2008, c.70646, 504 b. | Rating: 15/20 |
| The Cask of Yamazaki 1990, OB, 61%, B:2008, c.ON7064. | Rating: 16/20 |
| Yamazaki 1993 , 15 YO, OB, 62%, B: 2008, c. 70048, 492 b. | Rating: 16/20 |
| Yamazaki 1994 Owner's Cask for Bar K6, OB, 59.0%, B: 2009, cask 4R70414 | Rating: 16/20 |
| Yamazki 1995 The Owner's cak for LMDW, OB, 54%, B: 2010, sherry butt 5J3020, 420 bottles. | Rating: 12/20 |
| Yamazaki 1995, OB, 62%, cask 5P70008 | Rating: 13/20 |
| Yamazaki Sherry Cask 2012, OB, 43%. | Rating: 14/20 |
| Yamazaki Sherry Cask 2016, OB, 43%, B: 2016 | Rating: 18/20 |
| | |
| | |
| No Age Specified (NAS) | |
| Yamazaki Bourbon barrel, OB, 48.2%, B: 2011 | Rating: 12/20 |
| Yamazaki Bourbon barrel, OB, 48%, B: 2013. | Rating: 13/20 |
| Yamazaki Distiller's Reserve, OB, 43%, B :2015 | Rating: 12/20 |
| Yamazaki Distillery Selection, OB, 43%, B :2015 | Rating: 12/20 |
| Yamazaki Mizunara, OB, 48%, B: 2013 | Rating: 16/20 |
| Yamazaki Puncheon, OB, 48%, B: 2013 | Rating: 13/20 |
| | |