A trip to Japan
For the photo gallery, click here
After having toured most of the Scottish malt distilleries, a handful of Bourbon distilleries and a Swiss one, I had the strong wish to visit some Japanese distilleries. Since I had to travel to Japan, I took this opportunity to extend my stay of a couple of days not only to visit distilleries, but also whisky bars. As some of you know, some bars in Japan have an impressive selection of old Scotch Single Malts, probably more important than in their home country. And since it was my first travel to Japan, I took the opportunity to describe my journey in the "lost in translation" country.
Day 1 and 2: Zurich-Tokyo-Yamazaki-Kyoto

After a 12-h direct flight to Tokyo Narita, I landed at 09.00. My initial plan was to fly directly from Tokyo to Sapporo to visit the Yoichi distillery on the isle of Hokkaido. Unfortunately, the distillery was remote and it was not possible to go there, visit it and to return to the "mainland" on the same day. Therefore, I decided first to visit Yamazaki distillery situated very close to the former capital of Japan: Kyoto. Jetstar is a low-priced airline company offering a direct connection from Tokyo Narita to the Osaka Kansai airport.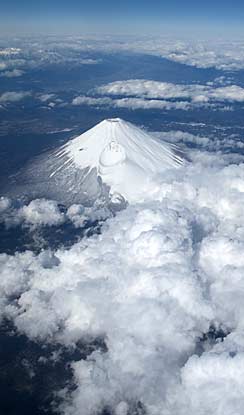 View of the Mount Fuji on the flight from Tokyo to Osaka

This second flight went as smoothly as the first one and I landed on time. Unfortunately, when I went to the Japan Railways (JR) information booth, I discovered that the plan I prepared to go from the Airport to Yamazaki distillery was flawed: Kansai is not the Osaka Airport, but another Airport located about 60 km away from the Osaka centre, in the other direction, of course!
Furthermore, the person at the ticket office could not propose me an alternative, since I planned to take another company to final destination! Therefore, I followed his suggestion to take the JR train to Osaka station and then to look for another solution. By chance, there were several trains every hour going from Osaka to Yamazaki, located on the busy Osaka-Kyoto line and I included 1 hour of "buffer" in my schedule. Finally, I arrived at Yamazaki as initially planned at 15.00!! After all these emotions, Yoshio Myojo, general manager and blender at Suntory, who was my host for the distillery tour, greeted me at the gate.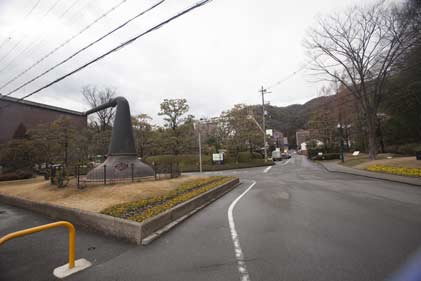 First impression of the distillery

Yamazaki was the first whisky distillery built in Japan, in 1923. Since its foundation, the distillery has been extended several times and rebuilt as well. With the exception of the pot still displayed in the garden at the entrance of the distillery, nothing is left from the original distillery. The distillery is very modern, with all sections separated by locked doors and impeccably clean. Japanese are very strict with hygiene. The distillery is equipped with two mash tuns, including a giant full Lauter one (18 tonnes). The mash is then transferred to either one of the 8 wooden washbacks or one of the 10 stainless steels and yeast is added. While in Scotland the distillers are using almost exclusively distiller's yeast, Suntory emphasizes on the importance of adding a combination of brewer's yeast to generate an elegant and fruity new make, as I could taste it afterwards.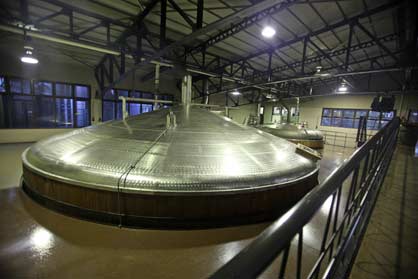 The huge mash tun with the smaller one behind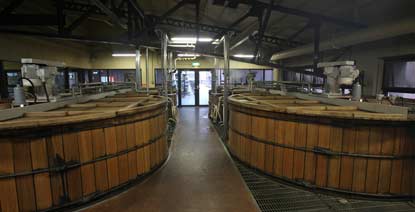 The wooden washbacks
The first fermentation takes between 65 and 75 hours, before the wort is distilled by double distillation in 1 pair of stills. The original still house contains 6 pairs of wash and spirit stills and 2 in the new still house built last year. Contrary to Scotland, there are two similar stills. For instance, half of the wash stills are cooled by worm tubes, while the others are using condenser, in addition to different shapes. The same is true with the spirit stills: it is a combination of onion, and lantern shaped stills, with or without balls and with a straight or declining Lyne arm! The "old" still house is an impressive sight, with its two rows of stills. It remains me strongly, in terms of disposition, of the Glenrothes still house (named the "Cathedral" by its employees). Not only the sight is impressive, but they have also a golden hue, almost suggesting that they have been painted with gold.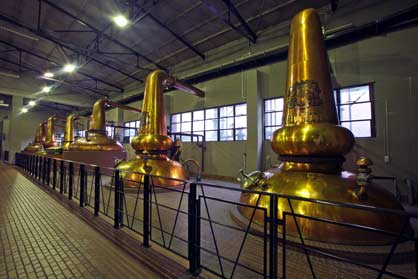 The wash stills from Yamazaki, all of different shape or with a lyne arm at a different angle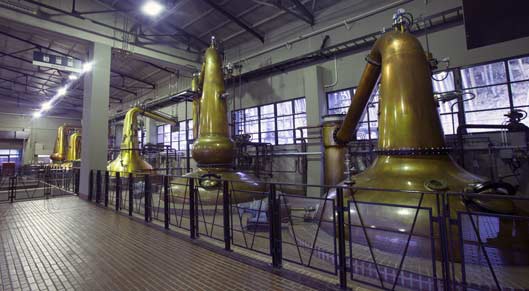 And the spirit stills
Yamazaki is not only using unpeated malted harvested all around the world, but also some heavily peated to 40 ppm. The sample of Yamazaki Heavily Peated, aged for approximately 15 years, offered a smooth, sweet and fruity rather intense delivery of peat, without the dryness experienced in most Islay whiskies.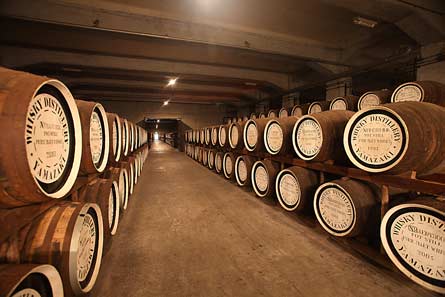 Inside of the concrete warehouse

The distillery is filling some casks on site and it has limited warehouses capacities on site, with most whisky maturing at another site. The warehouse I visited looked pretty much like a Swiss bunker for military aircrafts. The distillery currently employs about 50 employees, with most of them working at the bottling hall that I could not visit. The distillery is working 7 days a week and computer controls the distillation. Two men per shift are assuring the production of whisky.
Since the event of the whisky Highball in 2008, the interest for whisky has grown in Japan and Suntory is struggling to meet the demand. For many Japanese, drinking often Highballs was not considered as drinking whisky. While whisky was considered the drink for older people, whisky in general is very trendy with the young consumers. Suntory is proud to have their Yamazaki 2013 Sherry voted as Best Whisky in the World by Jim Murray, however, they prefer to emphasize that all Yamazaki whiskies are well made and good value whiskies for each of their products (e.g., Yamazaki 1923, 12 YO and 18 YO).
After the distillery tour, I was invited to taste many expressions (samples) from their distillery, including a deliciously sweet, fruity, syrupy and complex Yamazaki Mizunara aged for at least 30 years in a Japanese Oak cask. The complexity was admirable and I loved its soft and sweet fruitiness. According to Yoshio, maturation in Mizunara casks is a slow process and the whisky gains needs to mature ideally for 30+ years in order to get its full potential. I wished I could have a full bottle of that one!

Compared to the Mizunara, the ex-bourbon matured sample (about 25 YO) was creamier, cleaner, less fruity and complex, but more on vanilla. The European Oak matured one was very dark, almost black, with intense sherry notes of dried and dark fruits, dark chocolate and roasted coffee beans. On the palate, some tannic and woody astringent notes were discernable, associated with pleasant fruity notes. Very good.

After this, I tried a circa 15 YO Yamazki matured for about 13 years in ex-bourbon casks, before 2 years of final maturation in a French Sessile Oak cask (ex-wine cask). The French wine cask gave some extra sweet and sugary flavours to the whisky, without dominating it. An interesting sample was a circa 15 YO Yamazaki matured in a cask with the ends made of Cedar wood. Cedar wood is a soft wood, therefore the cask would leak if the staves were made of Cedar. The fragrance of the Cedar was immediately present on the nose, with notes of lavender as well and strong on the palate, putting this whisky as a class apart and difficult to compare with the other Yamazakis. It is difficult to make an appreciation of this whisky, except that this was a very good sensorial experience for me. With this, I left Yamazaki for Kyoto.
Day 2

From Yamazaki distillery, I took the train to Kyoto, dropped my bags at my hotel close to the satiation before moving to Bar Calvador. Bar Calvador is rather easy to find, with the logo of the bar clearly visible from the street. As for most Japanese bars, it was rather small (a couple of table), rather dark, with comfortable seating and an important display of bottles. Calvados is the speciality of the bar, but the selection of malts is significant as well, in particular the Manager's Dram section.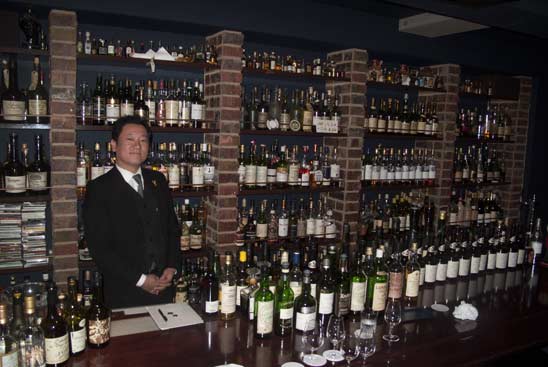 Hiroyuki Takayama and his Bar Calvador in Kyoto
For my first whisky in Japan, I started with a very smooth, well balanced, sweet and fruity Glendullan Manager's Dram. An excellent old style of Glendullan. The second one was the Aberfeldy Manager's Dram, a whisky in the same type as the Glendullan, but heavier in style and more on honey. The Mortlach Manager's Dram had a milder sherry influence, rather spicy and slightly vegetal, more in the style of the new Mortlach range. My last Manager's Dram was the Benrinnes. I am usually struggling with the soapy-fragrant and rubbery style of this distillery, but this one was rather low on the sulphury-meaty notes, with nice malty flavours and some spices. One the best Benrinnes I have tasted so far. The Manager's Dram was initially a single cask selected by the Diageo Distillery Managers from one the malt distillery and sold only to the staff working on the production sites at Christmas.

Amongst the other bottles, several very old bottlings from the Scotch Malt Whisky Society (SMWS) were available and I opted for the 14.1, the first bottling from Talisker. Distilled in 1976 and bottled 8 years later, this whisky was very intense, spicy, peppery, rather peaty and with a strong maritime influence. Probably due to its long time spent in the bottle, the whisky was rather smooth and not as harsh as I would have expected from a whisky of this age. To continue with the peat, I tasted then an excellent Ardbeg 1976, cask 2396 bottled for Velier Italy. An excellent Ardbeg, with a delicious smooth, sweet and rather fruity sherry influence in symbiosis with the intense peaty and medicinal notes. Delicious.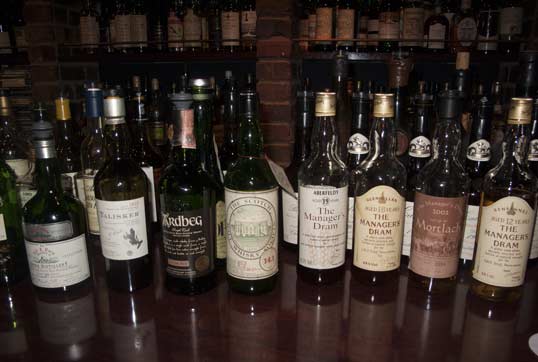 The whiskies tasted at Bar Calvador

The next Islay single malt was a 10 YO Laphroaig 43% from a 1.14 L bottle. The nose was rather peaty, medicinal and citric, mainly on grapefruit, while the palate was rather peaty and maritime, and with less citrus than on the nose.

Upon recommendation of the owner Hiroyuki Takayama, I tasted the 25 YO Talisker from the vintage 1975, the first 25 YO bottled by Diageo. It was a very good Talisker, intense, rather peaty and spicy and with a rather important sherry influence.

The last dram at Bar Calvador was a Brora 1972 29 YO Douglas Laing Platinum 240 bottles, that was kindly offered to me, since it was the last cl of the bottle. The whisky was very intense and peaty, dry and farmy, with rather intense rooty flavours (liquorice roots). Thank you Hiroyuki Takayama.

This was my first visit of a whisky bar in Japan and it started very well, with a most enjoyable tasting experience. In terms of prices, I found it very reasonable, with the Manager's Dram in the 2'000 yens (16 euro) range and about twice for the Ardbeg, with a 30 ml serve.

Based on the Calvador recommendation, I went for a light dinner meal at the Bar K6, situated at walking distance (about 300 m) from Bar Calvador. To my surprise, only Western meal bars were proposed and I opted for some excellent Spagetthi c.arbonara. In terms of whiskies, the selection of single malts was very important, unfortunately, almost exclusively composed of recent bottles. I could however found a bottle of Glenmorangie Culloden 1971, a very good sherried and complex fruity Glenmorangie. I tasted there also a rather mineral and peaty Glen Garioch 1984 Friend of the Oak, a bottling from the Japanese company Accorn. Seeing a cask end of Yamazaki Owner's cask for Bar K6, I asked if they any bottle left from that cask and they had indeed still some. It was an excellent, velvety, very smooth, floral and heavily sherried Yamazaki. Unfortunately, they were not selling any bottles.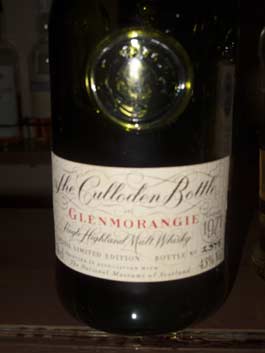 The Glenmorangie 1971 Culloden at Bar K6 in Kyoto


Day 2:
This was a whisky-free day to enjoy sight-seeing in the former capital of Japan, Kyoto, with many historic buildings listed at UNESCO as World Heritage. Briefly, I visited the Tenryuji Zen temple and its renowned Sogenchi gardens in the outskirt of Kyoto, before moving to Kinkakuji and its golden temple, Ninjo-jo, a former imperial castle, a tour around Gion renowned for its shops and Geihsa, and visited other temples and shrines as well, such as Nishihonganji Temple. A very busy and intense day, before taking the train back to Kansai Airport where I spent the night at the Airport hotel.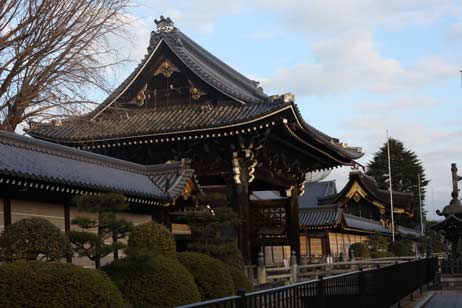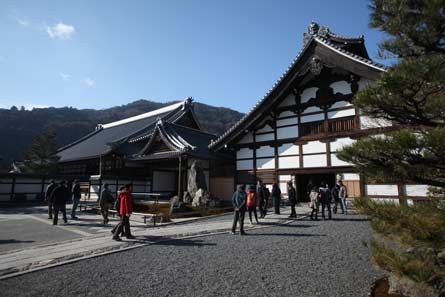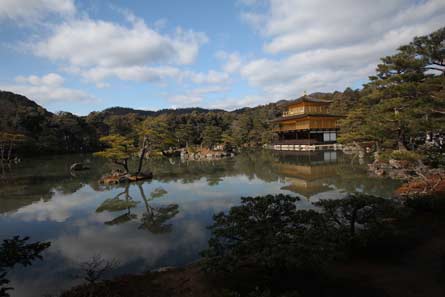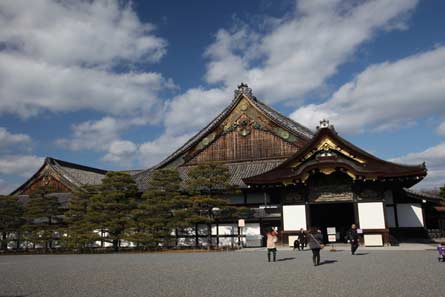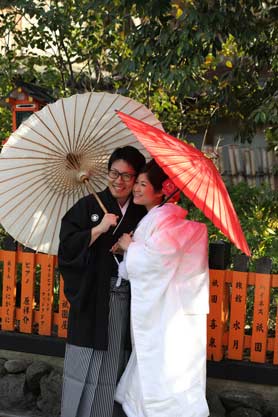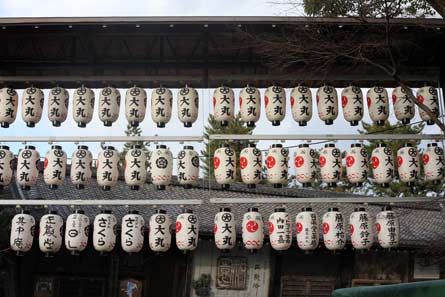 Some sightseeing in Kyoto and surroundings, with a perfect weather


Day 3: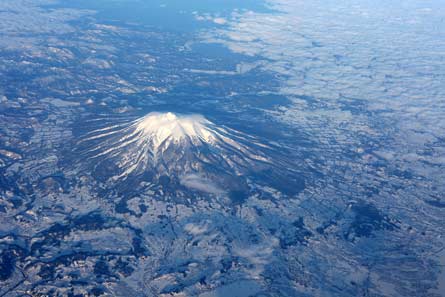 From the sky flying towards Hokkaido

My day started very early, with a wake-up call at 5.10 and a flight at 6.25 from Kansai Airport to Hokkaido (New Chitose Airport). The flight from Osaka to Sapporo was very smooth and discovered on Hokkaido an airport recovered by 20-30 cm of fresh snow. I then took the train from the Airport to Otaru, before taking the local and scenic train to Yoichi. The view from Otaru to Yoichi was beautiful, between snow covered hills and the sea.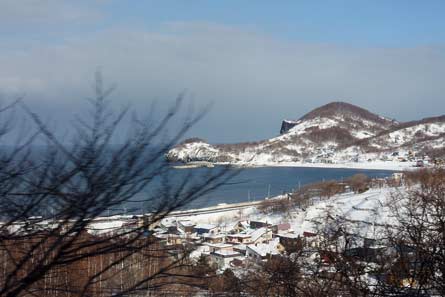 From the train from Otaru towards Yoichi: between snow-covered hills and the sea
Finally, at around lunchtime I arrived at Yoichi station and walked the 100 m to the Yoichi distillery. The distillery under the snow, with its red roofs and dark stones is a beautiful sight. Unfortunately, the mash house was closed. Of note, the distillery is not in production during mid-summer and mid-winter, but production increased since 2008 and sales have increase since the diffusion last September on the Japanese TV of the life of Masataka Taketsuru, the founder of Yoichi distillery.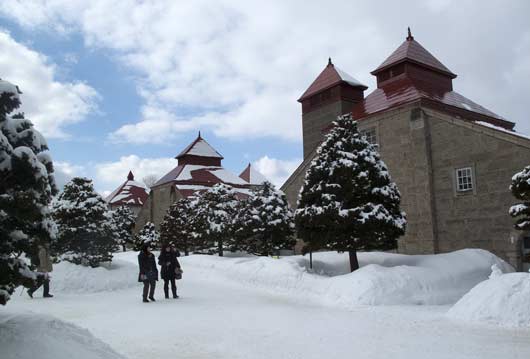 The first view of the distillery
The Raw Cask shop selling cask strength distillery only Yoichi bottles was also closed, since it opens only during summer.However, I could visit the still house, with the stills cold, one warehouse, a replica of Taketsuru house and the Nikka museum containing several documents, mainly books from Taketsturu, the founder of the distillery. Inside the museum, there was a "Nikka's Bar", where one could taste most of the Nikka products, including most of the distillery only bottles for a fee. The serves were 1.5 cl and priced were between 700 and 1600 yens for the malts I tasted.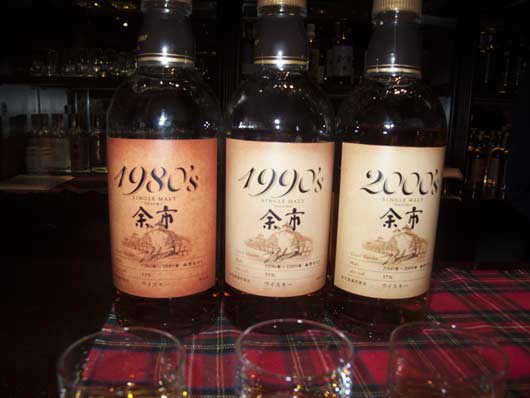 The Distillery Only "Decades" range

I started first with the "decades" distillery only range, all bottled at 55%. The Yoichi 2000s is a vatting a whiskies distilled in the 2000-2009 period. I cannot remember well the details of this whisky, but it was rather intense, fresh, round and slightly peaty. The 1990s (with casks selected from 1990 to 1999) was very slightly smoky, smooth, floral and strongly influenced by the sherry, with some rubbery notes. The 1980s is the oldest current expression of Yoichi containing casks from the 1980-1989 periods (at least 25 years old). The flavour profile was different from the others, very complex, rich, combining moderate peaty notes and mild sherry influence. Lovely.
The other distillery only bottles were variations of Yoichi 12 years old at 55%. The "sherry and sweet" is indeed a sweet and smooth product, with a pleasant sherry influence and only traces of peat, while the "woody and vanillic" was a surprise to me. I was expecting something oaky and slightly dry, but the whisky was very to extremely smooth, slightly creamy, on peach, apricots and vanilla, with a flavour profile reminding me strongly of a Bourbon. Unexpected, but very good. The "peaty and salty" is indeed a very peaty expression, dry and tarry, with some saltiness. Well appreciated.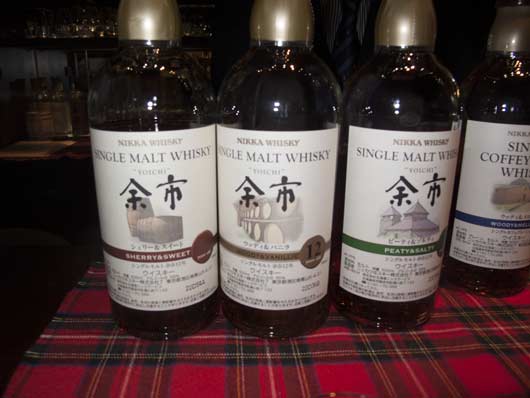 Variations on the 12 YO Yoichi, distillery only bottlings

All the expressions, maybe with the exception of the "sherry and sweet", were available in the busy and large modern distillery shop. In terms of prices, the 12 YO variations were selling for ¥6'680 the 500 ml bottle and the most expensive one, was the Yoichi 1980s at ¥37'800 for 500 ml (about 280 euros).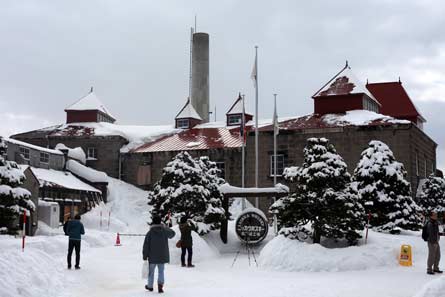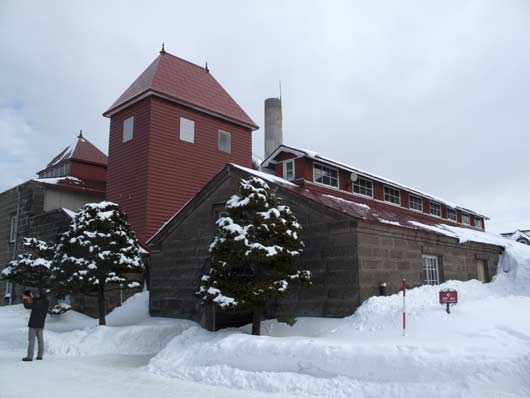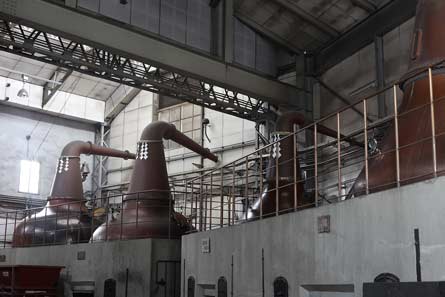 Diverse views from the distillery
Of note, no tours in English are provided and some audio information is available at some spots. The entrance is free and some whiskies are free for tasting. With this, it was time to return to Otaru and to take the train back to the airport for a flight to Tokyo.

Day 4:
By chance, I had a business dinner to attend at Roppongi, just opposite to the bar Cask Strength. The bar is really nice, rather big, well lit and with an impressive selection of whiskies, combining old and recent bottles, mainly Scotch but as well some Bourbon.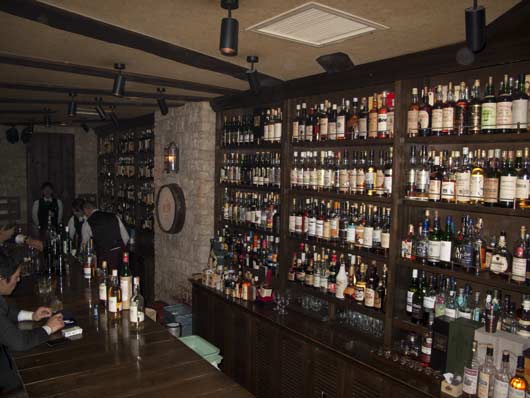 Cask Strength: a very large and diverse choice of whiskies, Scoth, Irish, Bourbon and Japanese, malts and blends.

I was interested by an old bottle of Dufftown from the late 1970s-early 1980s, but , I decided to opt for half a shot of Black and White springcap. It was not cheap (around ¥4'500 for 1.5 cl), but at first nosing, this whisky was in another league than the current Black & White product. The nose was rich, slightly peaty, on the old style of bold smoke, dark and rich fruity notes, slightly mineral and with some humus. Really good.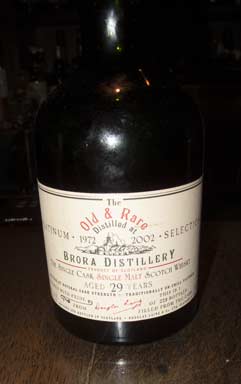 A good old 1972 Brora at Cask Strength

My next whisky was an excellent heavily peated Brora 1972 29 YO Douglas Laing Platinum (228 bottles), a smoother, mellower and less peaty version than the 1972 240 bottles. At ¥4'000 the shot (3 cl), this was a bargain considering the current prices for a full bottle. Other blends were tempting, including a very old Haig and Haig, but at ¥15'000 the shot, I decided to move to another bar in the same area of Tokyo, Wodka Tonic.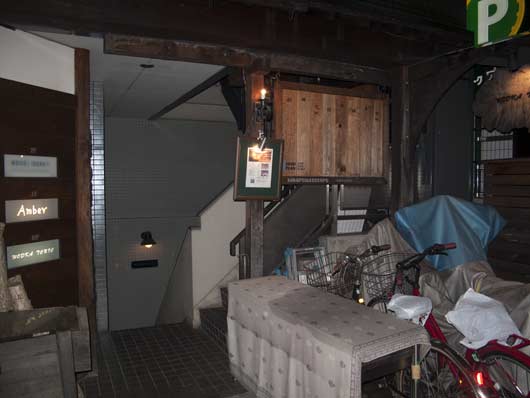 The discreet entrance to Wodka Tonic.
Even with the help of Google map, I could not find the entrance and the cook of a neighbouring restaurant brought me to the stairways conducting to the bar. Wodkatonic was a rather small bar, but rather busy. The choice of old single malts was very good. I could not resist tasting the Clynelish 1965 bottles for the US Company Whyte and Whyte. The whisky was an intense and spicy Clynelish, slightly mineral and smoky. Very good! I could not resist either to the Highand Park 100 Proof with the St- Magnus label. The whisky was intense, spicy to very spicy, salty, and slightly maritime, with some citrus and light sweet notes of tangerine.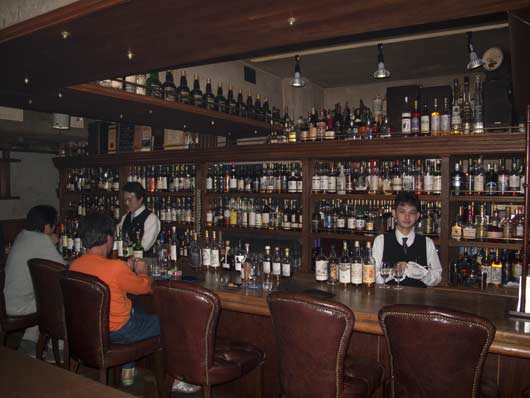 The bar Wodka Tonic

I switched then to Japanese whiskies, starting with 1981 31 YO Karuizawa bottled for the Japanese retailer Shinanoya, an excellent sweet, rich and well balanced whisky, on spices, tangerine and oranges. The 1984 Karuizawa 29 YO for The Whisky Exchange was bitterer, on dark chocolate, with some roasted coffee beans and heavier on the sherry. My last dram of the night was a 20 YO single cask Yoichi distillery only, which was moderately peaty, slightly salty and with some sweet and fruity sherry influence. With its large diversity and choice of whiskies fairly prices, Wodka Tonic is definitely a good address in Tokyo.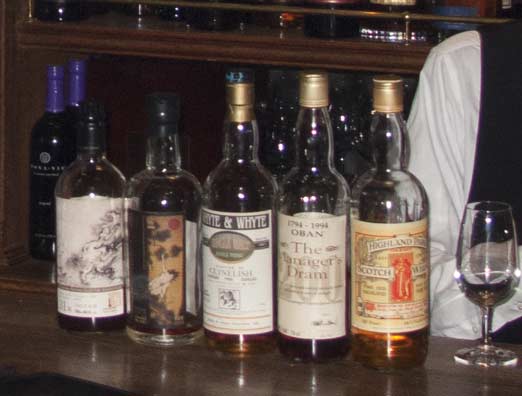 Most of the whiskies tasted during the evening at Wodka Tonic

Day 5:
This was my last full day before flying home and thus took the opportunity to visit some recommended liquor shop. Not too far from my hotel was shinanoya Shinjuku. The selection of whiskies was very good, with probably over 400-500 single malts, but with a rather limited selection of Japanese whiskies. Even limited European bottles, such as Acla Selection were available there. At Tanakedai Mejiro, the selection was probably of similar size, with some old bottles as well. Not too far from Mejiro was the whisky bar The Crane. Based on the book "Drinking in Japan" from Chris Bunting, I was expected an overpriced bar, but it was not this case for the type of whiskies presented there.
View of The Crane bar

Once you have entered the bar, you will find a small bar with a few tables, but with an impressive wall full of old whisky bottles, mainly from the 1970s and 1980s. It is like going back on time!
My first whisky was an excellent, peaty and aromatic Glen Garioch bottled in 1987 by Duthie for the 30th Anniversary of Samaroli. A bottle that I have never seen before, even at auctions!
Several version of Clynelish 12 YO 56.9% for Edward and Edward were available and I opted for the rare version with a short cap. The tasting experience was most pleasant, with a light, slightly mineral and rather spicy old style of Clynelish (Brora). The Dufftown 8 YO 80 proof (cork version) was smooth, very smoky, rather thick and syrupy, and with some humus, as well as some pleasant sherry influence. Very good!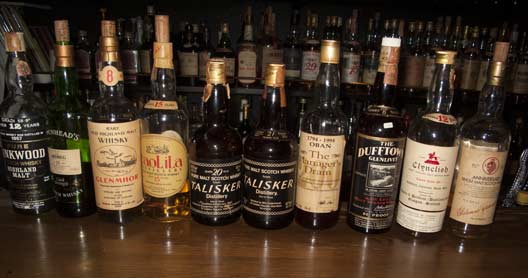 Whiskies tasted during the evening. A nice selection of old and rare single malts

For the 200th Anniversary of the Oban distillery, a sherry cask of Oban was bottled in the Manager's dram range. It is my first sherried Oban and this whisky was excellent, with a sweet and rich sherry influence, slightly mineral, rather salty and with some peat smoke. A must to try whisky! Not too far from Oban is Skye and the Talisker distillery. The Talisker 1957 21YO from Cadenhead's was a very good sherried Talisker, sweet, rather smooth, syrupy, on oranges, dark fruits, dark chocolate, nicely spicy and maritime. Very good, but slightly woody on the finish. The Caol Ila 15 YO 57% (orange label), was a very clean peaty and mineral old style of Caol Ila, rather dry and tarry, with complex peaty notes.

At the Crane, the full selection (6, 8 and 10 years old) official Glen Mhor (Mackinlay) was there. Based on recommendation on the owner and a consumer (the one who designed the website for the Crane), I decided to go for the 6 YO. This whisky was very light, on mineral smoke, rather sweet and grassy, with some honey drops and nice fresh fruity flavours. Much better than the latter bottling of Glen Mhor (the one in the Jura-like bottle shape).

The Ardbeg 1965 29 YO 54.4% from Cadenhead is the favourite bottle of Norimichi Tsurumi, the owner of the Bar (of note, Tsurumi means Crane in Japanese, therefore the name of the bar "The Crane"). This is an old style of sherry Ardbeg, with a complex and rich old style of sherry, on mineral-sweet sherry influence combined with an old style of complex style of peat smoke, all well balanced and integrated. Superb!
Asking to the website designer, who has tasted most of the bottles on the bar, one of his two favourite bottle was the Linkwood 12 YO 56.9% for Giaccone. While I am not impressed by the current production at Linkwood, this whisky was stunning! It was very rich, thick, intense, fruity, syrupy, with lots of spices, orange, tangerine, humus, dried fruits, peat smoke and chocolate, in a style not too far from the very best Macallan of the same period. A dream dram! And difficult to believe it is only 12 years old. A memorable whisky!

After this, I went back to Talisker with a 1957 20 YO from Cadenhead's. This version was more intense and peppery than the 21 YO and with a lighter sherry influence. Different from the 21 YO, but to same level of quality. As a "welcome" drink I was offered an excellent Glen Grant 42 YO 70 Proof, very rich and fruity, rather spicy and with some peat smoke and no noticeable woodiness. A master piece, with a whisky probably distilled in the 1930s or 1940s. Finally, I tasted my most expensive whisky with a Springbank 1966 24 YO Western Highland. An excellent sherry whisky, slightly peaty, fruity and more intense than the 1966 Local Barley ex-bourbon matured.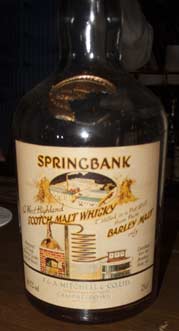 My last whisky in Tokyo

After this whisky marathon and a very nice discussion with the owner and his friend, it was time for me to visit a bar close to my hotel, the Argyll bar in Shinjuku. My visit at the bar turned out to be very short, since the selection was rather limited and composed only of recent bottlings. Therefore, I went back to my hotel for a good night a sleep before flying home.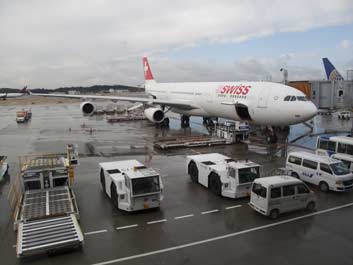 Going home

My first trip to Japan was a memorable experience and I am looking forward my next trip to the country of the rising sun.

While my stay was unfortunately short, the preparation was heavy, in particular for finding the timetables and to identify the exact location of the bars in Tokyo. In Tokyo, I made extensive use of Google maps, but even with this, I was often struggling to find the entrance. Please make sure to have the address with you in Japanese, since it happened more than one that I walked in front of the door or staircase, without finding the entrance.

In general, in Japan and in the bars, most owners or bartenders do not speak English or just a few words, but I always managed to be understood, sometimes with the help on online translators. In most bars, there is a cover charge, generally ¥1000 + 8% tax, so do not be surprise to have an extra line on your receipt. Payment by credit card was accepted in all visited bars and the standard serve is 3 cl. Most of the time, I asked for a half shot (1.5 cl). In terms of prices, the whiskies I tasted were between ¥2'000 and ¥25'000 (for the Springbank Western Highlands). The prices might look high, but the whisky connoisseur will notice that the whiskies that I selected were old and/or rare whiskies, that would be certainly more expensive in most whisky bars in Europe, if you could even find them.
Slainte,
Patrick, February 2015
Informations :

Yamazaki distillery, http://www.suntory.com/factory/yamazaki/
5-2-1 Yamazaki, Mishima-gun, Shimamoto-cho 618-0001, Osaka Prefecture, Japan
Tel: 075-962-1423
Open: 09:30 to 17:00. Booking required. Audio guide in English, Chinese and French available.
Shop with Beam Suntory products and bar with wide range of whiskies (from Scotland, US, and Japan)

Yoichi distillery, http://www.nikka.com/eng/distilleries/yoichi/index.html
Hokkaido Yoichigun Yoichimachi Kurokawacho 7-6, Japan
Phone : +81 135 23 3131 Fax : +81 135 23 2202
Free. No guided tours in English.
Open: Every day from 09:00 until 17:00
Shop with several distillery only bottlings

Bar Calvador, www.calvador.jp
2F Wakabayashi BLD. Teramachi Nijo sagaru NakaGyo-ku, Kyoto 604-0932, Japan
Open: 19.00 to 01.00. Closed on Thursdays.
Tel: 075 - 211 - 4737
Bar K6 http://ksix.jp
481 Higashiikesucho, Nakagyo-ku | 2F Vals Bldg., Kyoto 604-0922, Kyoto Prefecture, Japan
Tel: 075-255-5009
Open: 17.00 to 02.00 Closed on Tuesdays
The Crane, http://www.the-crane.com
Akebono Building (1st floor), 2-3-3 Ikebukuro, Toshima-ku, Tokyo, 171-0014, Japan
Tel: 03-5951-0090
Open: 17.30 until 05.00 and until 04.00 on Sundays
Wodka Tonic, http://wodkatonic.tokyo
Tokyo, Minato, Nishiazabu, 2 Chome−25−11
Tel 03-3400-5474 from 18:00 until morning.
Open: 18.00 until morning, every day.
Cask Strength , http://cask-s.com
Main Stage Roppongi B1F 3-9-11 Roppongi Minato-ku Tokyo, 106-0032, Japan
Tel : +81 3-6432-9772 Mail : info@cask-s.com
Open: 18:00 until morning, Open 365 days.