Distillery in Focus: Glendullan
Region: Speyside
Name: Glendullan Distillery. Glendullan is the name of one river of Dufftown. Status: Active
Website: No
Telephone: 01340822100
E-Mail: N.A.
Address: Dufftown, Moray, AB55 4DJ
Visitor centre: No. Closed to the the public
Owner: Diageo.
Established in 1896 (Glendullan "1") and 1972 (Glendullan "2").
Stills: 3 Wash and 3 Spirit stills.
Percentage of single malts: Not known (but very low).
Casks used for maturation are refill sherry and bourbon.
Contribute(d) to the following blends: Old Parr, Cardhu Vatted malt, Black & White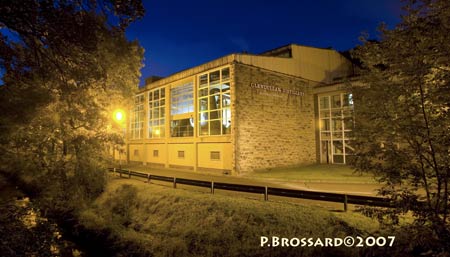 Regular Bottling:

Glendullan 12 YO 43% Fauna & Flora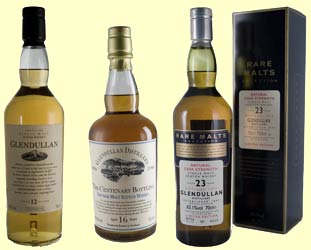 Some official Glendullan bottlings (from left to right): Glendullan 12 YO Fauna & Flora, Glendullan 16 YO Centenary bottling and Glendullan 23 YO 1974 Rare Malts.
The Glendullan 8 YO, 40% can be occasionally found. Some limited editions have been released over time for the staff, such as Glendullan The Centenary Bottling 1998, 16 YO, 62%, Glendullan Manager's dram and for the general public in the Rare Malts serie (distilled in 1972, -73,-74, and -78. A few bottlings from the old Glendullan (Glendullan 1) were bottled by independent bottlers such as Cadenhead, Gordon & MacPhail or Douglas Laing.
Of note, Glendullan was the last distillery to be built in Dufftown in the 19th Century.
---
History of Glendullan Distillery
The distillery was built in 1896-7 by William Williams & Sons, a blending company, and received its first consignment of barley on January 28, 1898. The company changed its name to MacDonald Greenless & Williams distillers when MacDonald Greenless bought shares from William Williams & Sons in 1919. In 1925, the company is reorganized as Macdonald, Greenless & Williams. In 1926, the distillery is acquired by the Distillers Company Limited (DCL) and transferred to its subsidiary, Scottish Malt Distillers (SMD) in 1930. In 1962 major works were done and the distillery renovated, including a new still house and a new heating system for the stills. In 1972, a new distillery ("Glendullan 2"), with six stills, was build next to the old one ("Glendullan 1"). Between 1972 and 1985, the two distilleries are running in parallel and Glendullan 1 was mothballed in 1985. During these 13 years, the spirit from the two distilleries was vatted together in casks and used for blending. Glendullan 1 is now the central workshop for Diageo and Glendullan 2 was intermittently active (until 2006). Since 2007, Glendullan 2 is working at full production.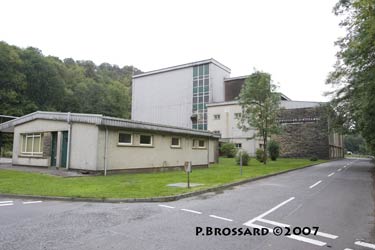 The new Glendullan distillery (Glendullan 2)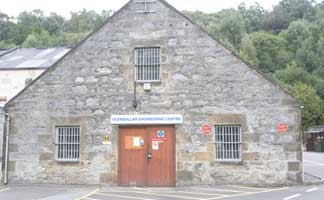 And one of the remaining building of the old distillery (Glendullan 1)
Source: The Scotch Whisky Book by Tom Bruce-Gardyne, The Making of Scotch whisky by John R. Hume & Michael S. Moss, Rare Malts, Facts, Figures and Taste by Ulf Buxrud and The Scotch Whisky Distilleries by Misako Udo.
©P.Brossard 19Nov07.
| | |
| --- | --- |
| Official/Original bottlings (OB) | |
| Age | |
| Glendullan 12 YO Fauna & Flora, OB, 43%, B: 2008 | Rating: 11/20 |
| Glendullan Singleton, 12 YO, OB, 40%, B:2016 | Rating: 14/20 |
| Glendullan Manager's Dram,18 YO, OB, 64%, B:1989 | Rating: 18/20 |
| | |
| Vintages | |
| Glendullan 1972 Rare Malts, 23 YO, OB, 62.43%, B:1995 | Rating: 15/20 |
| Glendullan, The Singleton, 1976 Special Releases 2014, 38 YO, OB, 59.8%, 3756 b. | Rating: 15/20 |
| Glendullan 1978 Rare Malts, 26 YO, OB, 56.6%, B:2005 | Rating: 14/20 |
| | |
| Non-aged specifided (NAS) | |
| Singleton of Glendullan House of Tully, OB, 40%, B:2019 | Rating: 14/20 |
| | |
| --- | --- |
| Independent bottlings (IB) | |
| Douglas Laing | |
| Glendullan 1966 Platinum, 34 YO, D. Laing, 46.8%, D:1966, B:2003, 217 b. | Rating: 18/20 |
| Glendullan 1978 OMC, 20 YO, D. Laing, 50%, B: 1999, 299 b | Rating: 13/20 |
| | |
| Jean Boyer | |
| Glendullan 2002 Le Puits à Whisky, 8 YO, Jean Boyer, 43% | Rating: 11/20 |
| | |
| Gordon & MacPhail | |
| Glendullan 1993, 25 YO, Gordon & MacPhail, 56.2%, B:2018, Batch 18/081. | Rating: 11/20 |
| | |
| The Whisky Agency (TWA) | |
| Glendullan 1981 Flowers, 28 YO, TWA, 49.6%, B: 2009 | Rating: 13/20 |
| | |