Tasting notes
To my tasting notes (i.e., colour, nose, mouth, finish, general impression and personal scoring), I have decided to add another parameter, the Flavour Profile (FP). The tasting note is a subjective appreciation of the whisky by the taster, based on his repertoire and memory of the different flavours. With my currents tasting notes, it might be difficult to estimate some parameters such as the level of peatiness. In order to provide more informations about my perception of the whiskies, I have decided to adopt the Single Malt Whisky Flavour Map prepared by Dave Broom for Diageo Scotland Limited and to use the same grading as the well-known shop, the Loch Fyne Whisky shop in Inveraray, Scotland, where the whiskies are rated on one axis graded from 1 (Delicate) to 10 (Smoky) and on a second axis from A (Light [floral, grassy]) to J (Rich [nutty, barley]).
Figure 1: Single Malt Flavour Map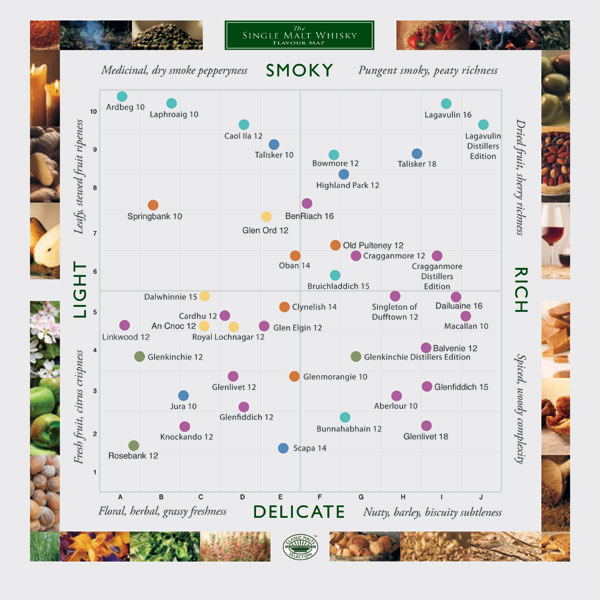 As mentioned by D. Stirk in the Malt Whisky Yearbook 2009, "The real beauty of this system is, that at a glance you can cluster whiskies and very easily agree or disagree with someone's plotting". However, this system is a simplified system and a whisky can at the same time have barley and floral flavours.
Other ways of "mapping" whisky flavours more extensively could be done, for instance, by plotting all flavour intensities from my tasting note sheet, but this would create tasting notes too complex for being interpretable.
I hope that you will find this addition useful.
Slainte!
Patrick