Distillery in Focus: Tamnavulin
Région: Speyside
Nom: Tamnavulin
Status: Active
Site web:http://www.whyteandmackay.co.uk/
Téléphone: 01340 872 280
E-Mail: non
Adresse: Ballindalloch Banffshire AB37 9JA
Centre pour visiteur: Non
Propriétaire: Whyte and Mackay (UB group)
Etablie en 1965
Alambiques: 3 Wash et 3 Spirit stills
Pourcentage de single malts: ?
Fûts pour la maturation sont: bourbon
Contribue(ait) aux blends suivants: Scots grey, Glenfoyle, Whyte & Mackay.

La distillerie de Tamnavulin
Embouteillage officiel:
Tamnavulin 12 YO, 40%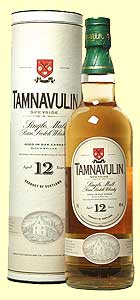 ---
Histoire de la distillerie Tamanvulin:
La distillerie de Tamnavulin fut construite entre 1965 et 66 par the Tamnavulin-Glenlivet Co. Ltd, une filiale du group Invergordon Distillers plc. La distillerie change de propriétaire en 1993, lors du rachat d'Invergordon par Whyte & Mackay, qui fut elle-même rachetée par United Spirit, une filiale de United Breweries of India en 2007. La distillerie fut mise en sommeil en 1995 et recommença la production en 2007, après des travaux de remise à jour. Entre 1995 et 2007, les chais furent utilisés pour entreposer des fûts du groupe. Lors de la remise à jour de la distillerie, les wash stills furent remplacés et le style de distilat produit est désormais plus lourd. En 2009, la capacité maximale de production était de 3.7mio LPA.
| | |
| --- | --- |
| | |
| les washbacks en acier corte(e)n à gauche et en acier inoxidable à droite. | La still house vue d'en-haut |
Les alambiques avant la rénovation de 2007
Source: visite de la distillerie, The Making of Scotch whisky par JR Hume et MS Moss, The Scotch Whisky Book par T. Bruce-Gardyne, World book of Whisky, Brian Murphy, et The Scotch Whisky Distilleries de Misako Udo.
©www.whisky-news.com 13 Sep 09. Denière mise à jour: 31 Oct 09.