Distillery in Focus: Parkmore
Région: Speyside
Nom: Parkmore
Status: Démantelée
Website: non
Téléphone: non
E-Mail: non
Adresse: Duffown, Moray
Centre pour visiteur: Non
Propriétaire: Highland Distilleries Plc (Edrington)
Etablie en 1894.
Alambiques: n.a.
Pourcentage de single malts: n.a.
Fûts pour la maturation sont: n.a.
Contribue(ait) aux blends suivants: "n.a.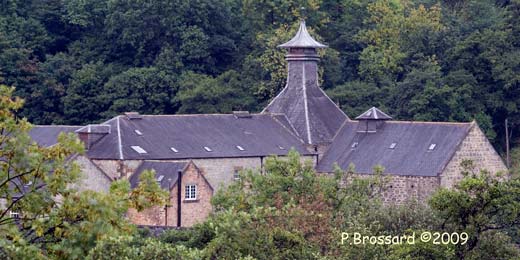 La distillerie de Parkmore
Embouteillages officiels: n.a.
---
Histoire de la distillerie Parkmore:
La distillerie de Parkmore fut la 5ème distillerie établie à Dufftown. Construite en 1894 par Parkmore distillery Co, rachetée aux environs de 1900 par James Watson & Co, la distillerie fut acquise en 1923 par John Dewar & Sons ltd. D'après le Moray and Banff Illustrated, James Watson & Co. aurait construite la distillerie en 1891. En 1925, la distillerie passe entre les mains de la Distillers Company Limited (DCL) et transférée à sa filiale Scottish Malt Distillers (SMD) en 1930. La distillerie cesse de produire en 1931. La distillerie sera définitivement fermée en 1988, après plus de 50 ans d'inactivité. Néanmoins, en 1940, la licence est attribuée à Crawford & Son Ltd de Leith, des blenders, pour la maturation des fûts de whisky. La distillerie sera acquise en 1988 par Highland Distilleries Plc, une companie du groupe Edrington. Les chais sont toujours employés. A l'extérieur, c'est la distillerie la mieux conservée des années 1890.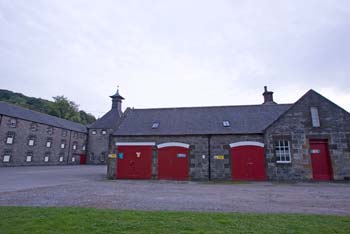 Les batiments
et quelques chais.
Source: The Making of Scotch whisky par JR Hume et MS Moss,The Scotch Whisky Distilleries de Misako Udo et The Scotch Whisky Industry Record by H. Charles Craig.
©www.whisky-news.com 24 mai 2009.