Whisky Schiff Zürich, 28 Nov-01 Dec 2019, Pfäffikon (Zürich), Switzerland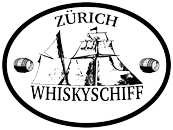 For the photo gallery, click here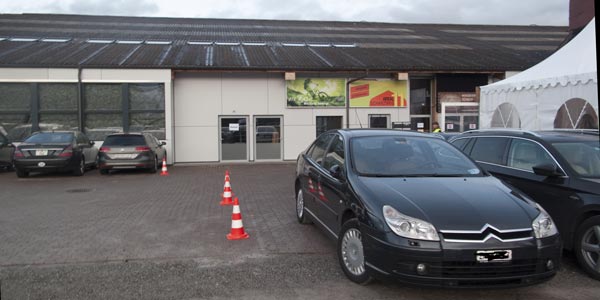 The Whisky Schiff seen from the outside and inside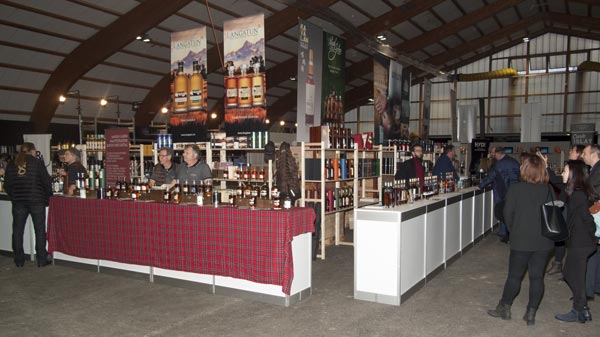 Due to the renovation of the Albisguteli Hall in Zurich, where the two previous editions of the Whisky Schiff Zurich took place, the event was moved outside Zürich, to Pfäffikon, a 30 min Train ride from the Zurich Main Station. Once I was outside the train, as with many followers, we were looking for the shuttle bus. There were many Post buses in front of the track 2, but no sign for the whisky Schiff. Finally, someone try to use the underway pass and saw the signs. I jumped to the Post Bus and after a 15min ride, I arrived at the place: a big old tennis hall. It was warm inside, with plenty of place to move around, but a rather small number of exhibitors, as many declined to join due to its location.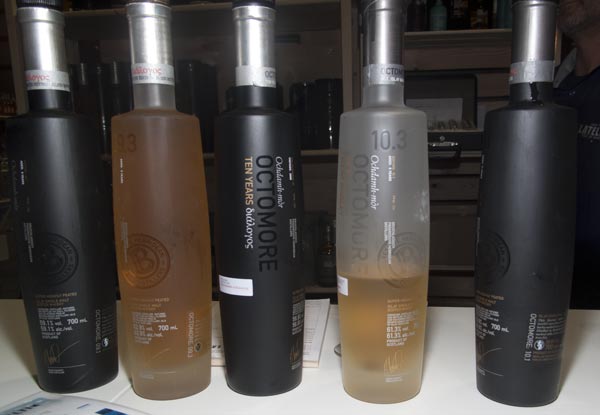 The selection of Octomore at Lateltin
After a first initial tour, I started my whisky tasting at Lateltin, with a nice, bold, malty, fresh and rather creamy Bruichladdich Bere Barley 2008. I like these Bere Barley, as they are heavier and bolder than the traditional Bruichladdich. The new Octomore 10.1 and 10.3 were also there. I found the 10.1 rather rough and oaky, and enjoyed the 10.3 better, as it was sweeter, less oaky, more balanced and slightly more complex as well. The Octomore 10 YO was very enjoyable, complex, markedly less peated than the 10.1 or 10.3 but also more balanced. A very enjoyable one.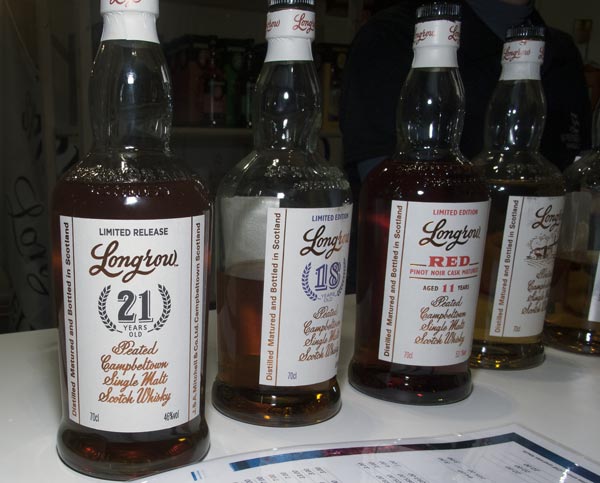 And the selection of Longrow
Continuing with the peated whiskies, I tasted the new Longrow 21 YO, a good peated whisky, peaty, smoky, and slightly maritime, on red and dried fruits. Rather round. A nice one. Later on, I tasted at Monnier the Longrow 1974 OB, and the difference was striking. The 1974 was markedly more peaty, finer, more elegant, complex and elegant. The Springbank 10 YO Local Barley had similar bold and malty flavours as the Bruichladdich Bere Barley, but smoother, grassier, with some coconuts and maritime flavours. A nice one.
At Monnier, Davide Romano from Valinch & Mallet, with a very large selection of his bottling
At the Happy Ness stand, I had nice discussion with Ben that I met last week at the Acla Da Fans. He wrote a very nice and surprisingly thick and heavy book called Whisky Burn, a narration of his journey through distilleries in Scotland with his Vespa, and a second book, called Whiskey Burn, a Vespa journey through Irish distilleries. As I knew all the Blackadder available for tasting, I moved next to Monnier, where I had a very lengthy discussion with Davide Romano from Valinch & Mallet. Following his recommendation, I tasted his Glencadam 7 YO, a remarkable fruity, malty and rather bold single malt, with rich and round fruity flavours. A pleasure to taste and tasted blind, I would have given twice its age. Very nice! The second one was his Glenlossie 1993 25 YO, a lovely rich, bold, green, grassy and rather spicy, with water bringing more grassy and orchards fruits flavours. Very good. The last one from his range was his 10 YO Caol Ila, a nicely balanced creamy and floral expression of Caol Ila, with a fair dose of peat, but without being dry.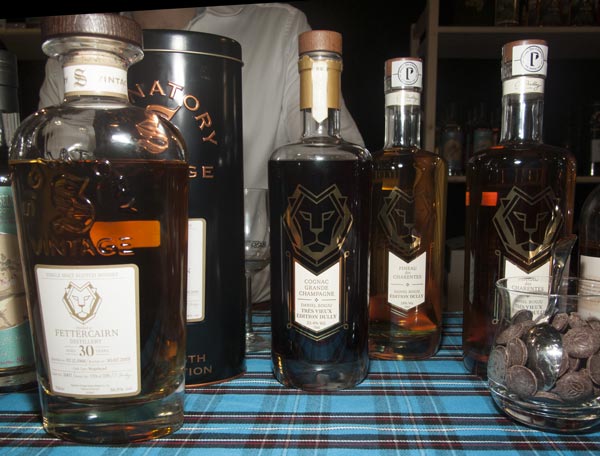 The selection of C. Dully products, his Fettercairn, Cognac and Pineau des Charentes
Opposite to Monnier was Waldhaus am See and I could not hesitate visiting Christian Dully, who started now his own company. Since I reviewed recently its very good Fettercairn 30 YO, I tasted his other products, A Très Vieux Cognac Grande Champagne from Daniel Dully, a heavy style of Cognac, with black berries, cherries, a fair amount of dark chocolate, on the bitter side, but without being tannic or astringent. A Cognac for the sherry whisky lovers. I could also taste the next Cognac that is being bottled, a very different version, much more fruity, with various stewed fruits and a pleasant complexity. A style that I prefer. Then I move to his Pineau des Charentes. I tried last year some French whiskies with a Pineau des Charentes, a French fortified wine (grape juice fortified with Cognac), that I enjoyed and thus, could not resist my first Pineau des Charentes. Bottled a 18% and served chilled, these are very refreshing, sweet wines, with a slightly sour side, sweet grapes and some fur tree sprout flavours. The Tres Vieille Edition was even slightly sweeter and less sour. Very good as well.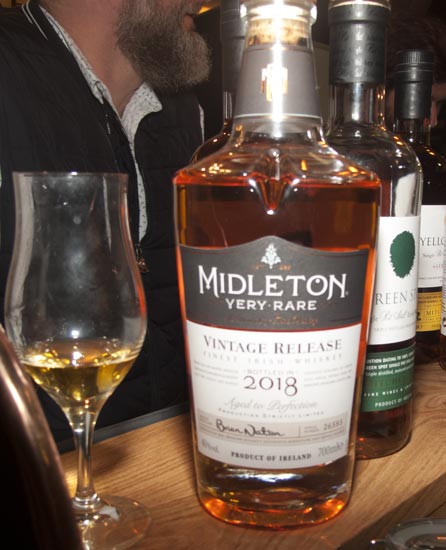 The 2018 Vintage Release of Midleton
Moving to the Irish side, I went for the Midleton Very Rare vintage 2018, a nice good, mellow and malty Pot Still whiskey, with a nice fruitiness. At Charles Hofer, I started with the ex-bourbon Kilkerran 8 YO, a nice intense, oily and dirty whisky, with a fair dose of spices, but also on vanilla and sea brine. The latest 8 YO sherry was very round, less peaty, with a very round sherry influence, slightly meaty, on dried fruits, orange and berries.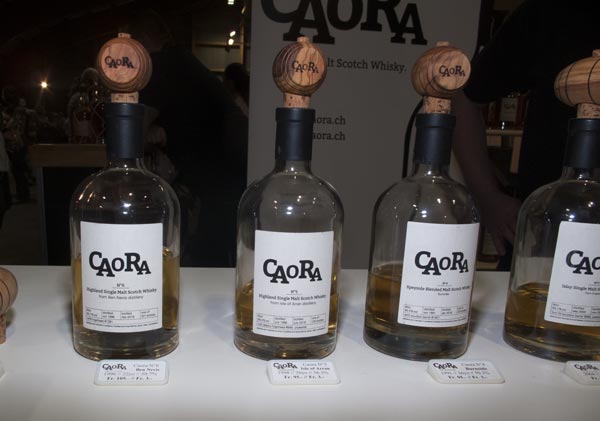 Most of the Caora range, a swiss independent bottler, including their excellent Ben Nevis
At the stand of the Swiss independent bottler Caora, I could not resist tasting their 1996 22 YO Ben Nevis, a deliciously fruity, sweet and grassy whisky, with a lovely mouth feel. A real treat! Their Port Charlotte 13 YO was a nicely balanced version of Port Charlotte, maritime, peaty, and slightly medicinal and with some vanilla. Very good as well. My final dram was the new 12 YO Highland Park Single Cask for Bernasconi, a rich, spicy to very spicy single malt, with a fair amount of peat smoke, berries and cocoa. A nice one.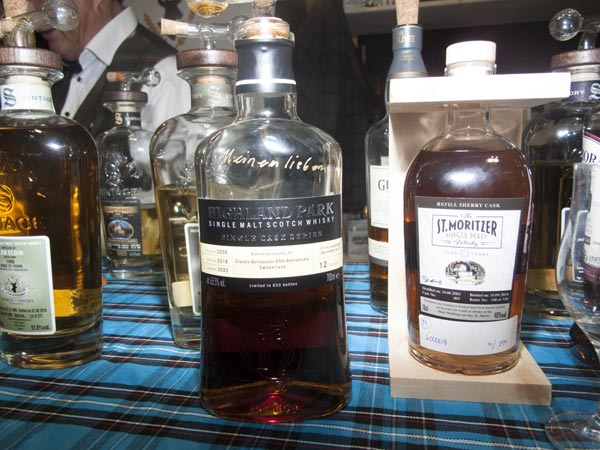 The new Highland Park for the 65th Anniversary of Claudio Bernasconi
With that, it was time to take the train home. Looking around the entrance for the shuttle bus timetables, I could not find any and thus decided to go back to the bus stop. With no light, I had to walk over 100 m on a pitch-dark ground track. Wishing to go to the same train station, I tried to cross the road, but this was a tricky business, as there was no crossing line, no lightning and loads of traffic, with cars passing at high speed. Then I looked at the timetable, I noticed that I just missed the bus and the next one was in 30 min. Thus, I decided to put by biker yellow jacket with reflecting bags to walk back to the train station. With a light drizzle, visibility was slightly low. To reach the train station (28 min fast walk), I had to cross a few times roads and I felt far from being safe. I also crossed a few other people walking to or from the event on my way.
Finally, when I arrived at the train station, I saw a white shuttle bus.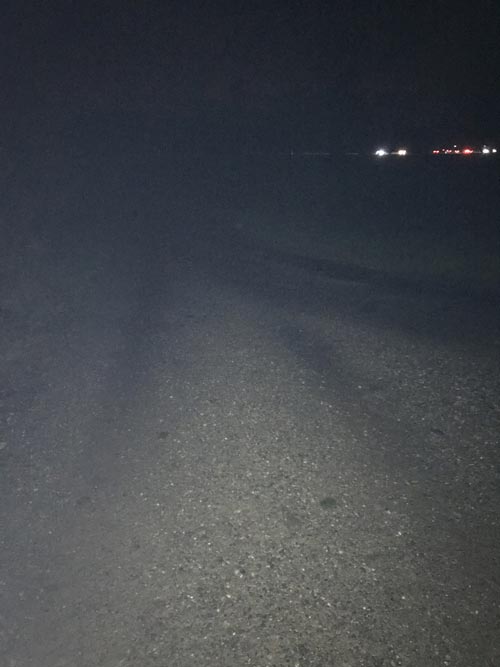 The path to the Bus stop by night lighted by phone
As I only do microtasting during the events (but sampling them for tasting at home), I had a clear mind. But if drank more than a few whiskies, one could easily twist his/her ankle to the bus stop or could get hit by a car if attempting to cross the road. Illuminating the path to the bus stop is the least they could do and to have a security person standing there to help the participants. I am really concerned that accidents, especially serious one will take place. I hope this will be resolved very soon.
To come back to the event proper, it was nice, with plenty of space, but I was struggling to find spittoons and the number of exhibitors was low, reflecting the isolated location of the event. I tasted fewer whiskies than I wished and visited maybe onlly 50% of the stands, but I do not regret of having taken lots of time talking to various whisky enthusiasts. From Basel to the event it took me close to 2 hours and more than 2 hours for the return. Combined with the safety measures around the event, it is clear that I will never return there. I will be very happy to see the next edition back to the Ship or Albisguetli and hopefully the return of many exhibitors who skipped that one.
Patrick, 28 Nov 2019.