Whisky Schiff Zürich, 28 Nov-01 Dec 2018, Zürich, Switzerland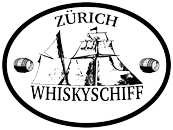 For the photo gallery, click here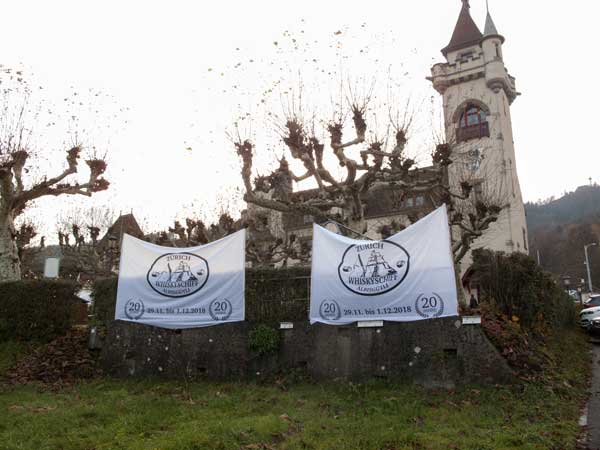 The Whisky Schiff seen from the outside
Compared to last year, the number of retailers has slightly decreased, with the galleries turned into resting areas. However, the main hall was full of stand.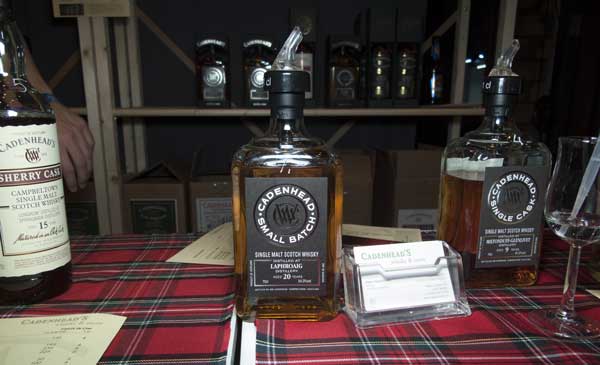 Some of the new Cadenheads, the Laphroaig 20 YO Small batch and the very good Longrow (on the left)
My first stop was at on the stage, close to the Cadenhead's stand, where I had a nice and long discussion with long term Swiss whisky friends, before finally getting my first dram, a very nice sherried Longrow 2002 15 YO from Cadenhead's, rather peaty, with a thick, sweet and syrupy sherry influence. Rather heavy on the sherry, but not too much. The new Laphroaig 20 YO Small Batch 54.7% had a nice and elegant peat smoke, but it was slightly dry and oaky. The wood was slightly too pronounced to my liking. Finally, I could taste a very round, fruity and well-balanced Strathmill 1992 22 YO Authentic Collection, with a nice round and fruity Port Influence.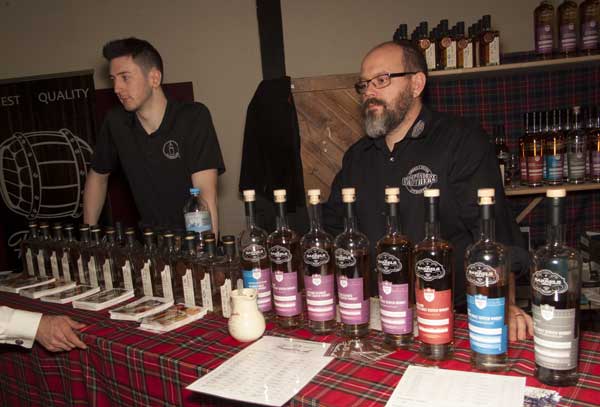 A large selection of The Single Cask and the FEW barrels at Fassstar


At another stand, I tried two peated whiskies from The Single Cask. The first one was a Croftengea Loch Lomond 11 YO, a rather vegetal, malty, oaky and peated expression from that distillery. Not an easy one. The Ledaig 10 YO was more to my liking, with a clean, dry, intense peat smoke and light maritime flavours. On the same stand, they also the full selection of FEW barrels, including the new Blended malt, a vatting of 9 YO Glenfarclas and Bruichkaadich 25 YO (that I forgot to taste), as well as a very round and mellow Port Charlotte 15 YO, with a very sweet and round sherry influence. As I have already tried the full Blackadder range, I made a small tour and noticed that Glenfahrn had a similar selection as the week before at the Whisky&Rum Schiff, with the exception of a large selection of Murray McDavid. After waiting several minutes and no chance to taste a whisky, I moved further. Whisky Universe had a large selection of Spey Distilleries, Hart Brothers, A.D. Rattray and Tullibardine.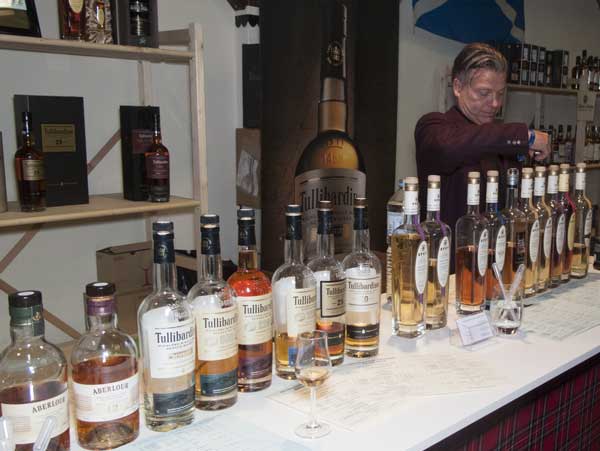 A selection of Tullibardine and Spey distilleries at Whisky Universe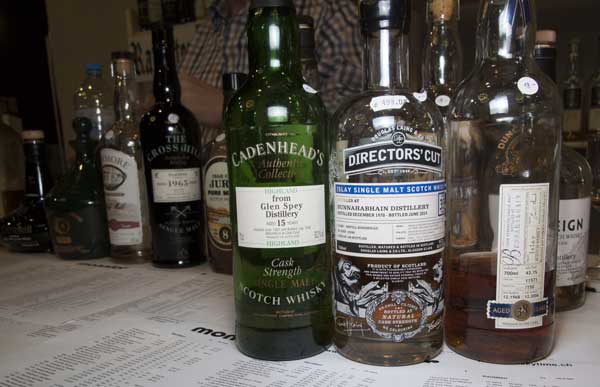 A small part of the selection of rarities at Monnier
Since I could not find whiskies that I have not tried before that captured my attention, I moved to the stand of Monnier Rarities, with a very selection of old and rare whiskies. I purchased mainly samples, as I wanted to enjoy tasting them at home in better conditions. My selection was a 22 YO Glenury Royal 1984 from Duncan Taylor, a 1972 32 YO Glenury Old Malt Cask, a very nice grassy, round, and slightly smoky Glen Spey 15 YO 1981 Cadenhead's, a 1978 Bunnahabhain 35 YO Director's Cut, a 1968 38 YO Bunnahabhain Duncan Taylor, The 30 YO Royal Lochnagar Rare Malts and a trio of 20cl Rare malts, the 1973 22 YO Dailuaine, the 1972 23 YO Teaninich and the 1972 23 YO Glendullan.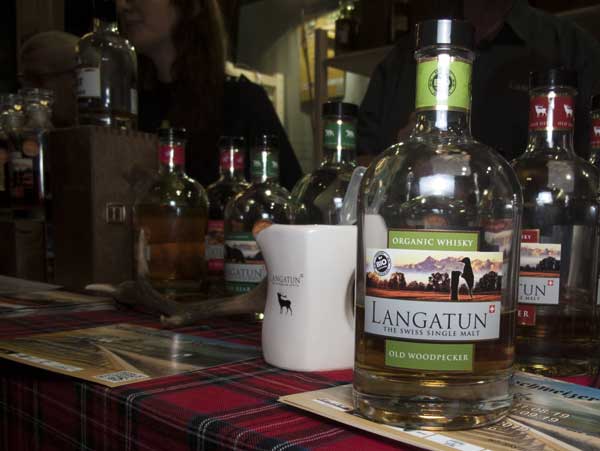 An non-finished single malt whisky from Langatun, the Old Woodpecker. While the price of the bottle was correct (65 CHF for 50 cl), the price for the dram was very hefty (5 CHF for 1 cl!)
At Langatun, looking for an un-finished whisky, I managed to find the Langatun Old Woodpecker, Swiss single malt matured exclusively in ex-Chardonnay wine cask. This organic whisky was very malty, clean, with light spicy and winey flavours. Well made, but the price of the dram (5 CHF for 1cl of a 50cl bottle selling for 65 CHF) was exaggerated.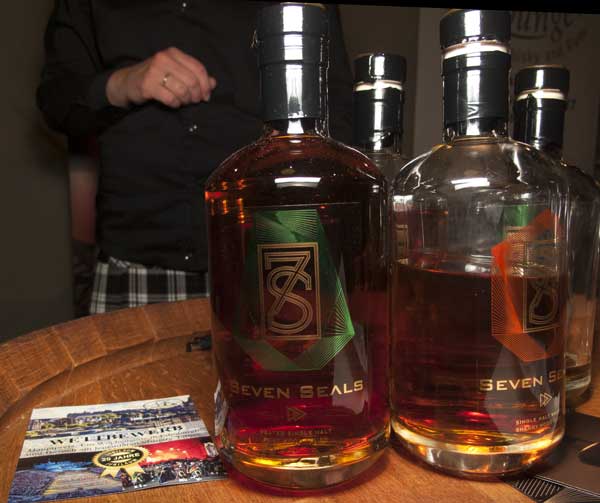 A new Swiss "whisky" concept, Seven Seal, a malt with an accelarated maturation through finishing.
Seven Seals is a new product from a new company based in Stans (Switzerland). They had two Port finished products (a peated and an unpeated one) and a sherry finish one. Two of the 3 products are single malts (aged of less than 3 years) and 1 is a whisky (at least 3 years). Since I received conflicting information, either the Peated Port or the Sherry finish is at least 3 years old. They are made of Swiss single malts and finished in a Port or Sherry cask, using a process that is being patented. They are trying to accelerate maturation using unique finishing processes. The sherry finish Seven Seals was initially young to very young and smooth, and after a short time, sweet round and nutty sherry flavours come in. The results is a very round, rather malty and slightly floral product, with nice round sweet and nutty flavours. It is well balanced, not very complex, but enjoyable to drink. For a malt of approximately 3 years of age, the product is good and shows a nice maturity.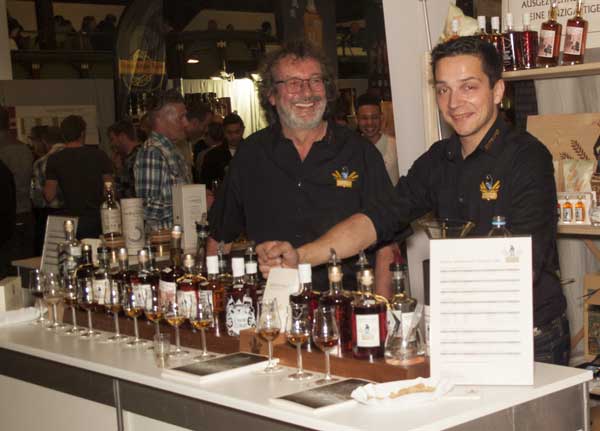 The Säntis stand
At Säntis, the same products were present as last week, and the stand with the Distillery bottlings being so crowded, I intended to return later, but I failed doing so.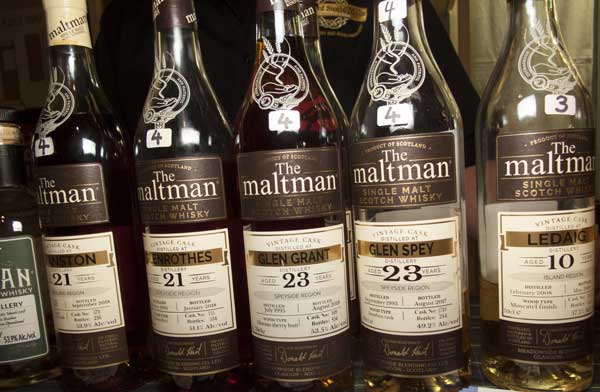 Most of the Maltman at House of Single Malts
At the House of Single Malt, I tasted the new Springbank 22 YO for the Whisky Schiff bottled by The Maltman. Matured (or finished) in an Octave Cask, the whisky was very mellow, soft, and on soft sweet fruity flavours of tangerine and orange. The Glen Grant 23 YO 1995 Maltman was slightly heavier and more floral, very mellow and also slightly soft. I wished these two Maltbarn were more intense.
The Longrow 18 YO at Lateltin
The Longrow 18 YO OB at Lateltin was very round, mellow, slightly peaty, sweet, juicy and on toffee. Pretty good, but also rather soft. The Springbank 21 YO OB was nice round and mellow Springbank, quite spicy, slightly rough and with some sea brine. A nice one.
From the Rügen distillery, the Master Edition Captured my attention, but when I read that this Swiss single malt matured in Oloroso sherry cask was finished in an ex-Islay Cask, my attention decreased markedly.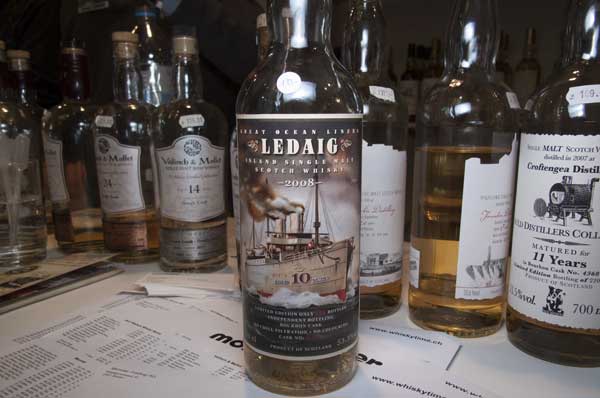 The Ledaig 2008 for the Whisky Schiff at Monnier, with some JWWW and Valinch & Mallet in the background
At Monnier, I tried the new Ledaig 2008 10 YO For the Whisky Schiff 2018, a rather oaky and slightly rough version of Ledaig, reminding me of the Croftengea The Single Cask. Davide from Valinch & Mallet was also working on the stand and I could not resist tasting the Irish single Malt 14 YO County Louth, as it is one of the few I have not tried from his range. An extremely round and smooth Irish whisky, with velvety and soft dried fruits. A very different profile from the older Irish single malts I have tried so far.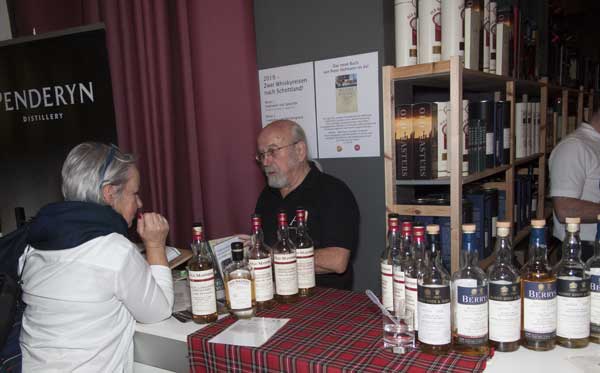 Some Berry Bros & Rudd and the remaining range of James MacArthur at Angel's share with Peter Hofmann, who was also presenting his latest book
Moving to Angel's Share I took the opportunity to purchase the new book of Peter Hofmann Whisky, Whiskey, Schottland, Irland, Nord Irland from atVerlag. It is currently available since September in German and an English version might be coming. Although it is a printed a pocket format, it is rather thick (over 600 pages) and up to date, with photographs even from the latest distilleries. He spent 7 months travelling to UK for this latest version, printed on high quality glossy paper and with a pleasant layout. In addition to the Berry & Bros bottling I have already tasted, I could see a few James MacArthur Old Masters I have not tried before, a mellow and very sweet Glenrothes, 20 YO Classic Editions easy drinking, floral, on very sweet fruity flavours and some liquid honey. The Allt-a-Bhainne 21 YO was a nice round, grassy, slightly vegetal whisky, very mellow, and with some honey.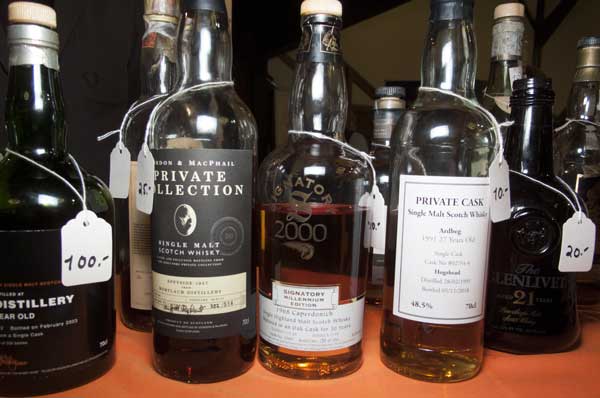 The whiskies tasted at whisky.auction, including an Ardbeg 1991 27 YO Private Cask
I visited afterwards the stand of whisky.auction for their first participation. In addition to some legendary bottlings such as the Glen Garioch 1971 Cask Strength Samaroli or the Brora 1972 The Whisky Shop, there was some old blends and old single malts, such as a nice intense and complex Caperdonich 1968 Millennium from Signatory, a Mortlach 1957 Private Collection mixing some bitter and slightly astringent wood, with nice sweet fruity flavours, spices (cinnamon and nutmeg mainly), with some lacquer and precious wood. My last dram there was a private bottling of Ardbeg, a 1991 27 YO that will be available at whisky.auction. The number of bottles is confidential, but in this case, whisky.auction helped the cask owner to bottle and label it. The Ardbeg was nicely peated, mellow, on round to very round, vegetal and slightly aromatic flavours, sea brine, with a rather complex peat smoke and light medicinal flavours. A very good one. From an ex-bourbon cask.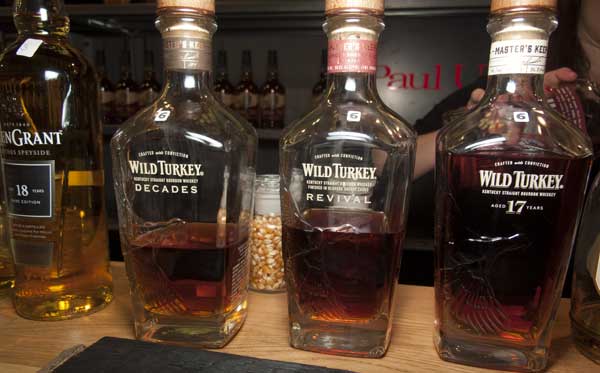 A trio of Super Premium Wild Turkey at Paul Ullrich
I moved then to Paul Ullrich to taste a Kilchoman 2011 Single Cask, which was rather oaky, slightly young, peaty, and maritime, on seaweeds and some oaky spices. Slightly rough. I tasted then most of the Wild Turkey range, starting with a rather young, oaky and moderately grainy Russel's Reserve single barrel. Being reduced at 55% and no indication of cask number, difficult to specify which one has been tasted. The Wild Turkey 17 YO Batch 1 is the oldest Wild Turkey that I have tried. It is rather soft, on marmalade, orange, caramel and with a noticeable dry, woody and bitter influence. The wood was too pronounced to my liking. The Wild Turkey Revival is a vatting of 12 to 15 years old whiskies finished in ex-Oloroso Casks. It is milder and spicier than the 17 YO, but more balanced, with some sultanas and other dried fruits. Mellow, slightly soft, but very pleasant to drink, without the bitterness or woodiness of the 17 YO. My favourite from this decanter series is the Decades, a vatting of casks from the 2000 decades. The whisky was intense, complex, nicely balanced, with a nice mouth feel, candied oranges, cinnamon, nutmeg, some light maple syrup flavours, vanilla custard and porridge. Very good!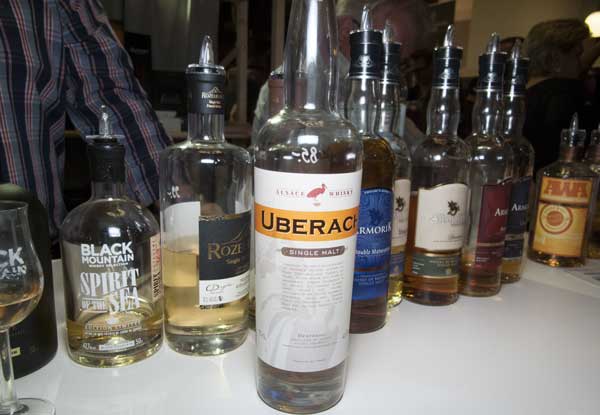 Several of the French whiskies at Le Trésor du Chai
My final visit was at Le Trésor du Chai, where I tasted the most original whisky, the AWA (Authentic Whisky D'Alsace) The Dirty Dozen, a French Single Malt with a mixture of single malts matured in 12!! Different wine casks, from Stout, Vin Jaune, Pineau de Charentes and many others. Well, my nose was rather tired and I will need to review it later on, but I seemed rather complex and spicy, with a wide range of winey flavours rather well integrated. From the French Black Mountain, I tried their new Spirit of the Sea, a whisky that finished its maturation on a cask transported on a ship over the sea, as this occurred often a century ago, This blended whisky was round to very round, slightly floral and malty, on round vanilla flavours and nice saltiness in the finish. Markedly better than the BM 2. Simple, but enjoyable. Since I know the full Rozelieure range and most of the Armorik, I decided to taste the Uberach Single malt, the standard bottling from this Alsace whisky brand. This single malt is made with lightly peated malt and matured in Banyuls French wine casks. The result is a pleasant whisky, with fresh and intense barley flavours, a light smokiness and nice round and sweet grapes flavours. The barley flavours are very nice, as it gives similar flavours as some malted barley that you crush with your teeth. With that, it was time to rush for the tram and to catch my train.
I took this event relax and had lengthy and pleasant discussions with many whisky fans and retailers. As for the Whisky & Rum the week before, from a visitor perspective, the attendance was lower than last year, but the stands were always busy and talking with several retailers, they seemed rather happy with the event and sales. I found it rather easy to move between the stands, but even so, sometimes you needed to be patient in order to get a dram, as I guess that retailers started to feel tired on the last day of this whisky fair.
As with several visitors, I waited at the entrance on the wrong desk, as we thought we should get the tickets at the first desk on our left, where you could get jetons as well. The organisation was pretty good, but I wished there was an easier access to water, as you could not help with water. As some stands, like Paul Ullrich, the number of pipettes with water to dilute your whisky was insufficient, and I deplored the absence of spittoons. I really hope that this will be resolved next year. Either the retailers were trying to find an old cup or simply to pour the left overs on the floor.
The price for the entrance was 18 CHF. Several retailers were the same as on the Whisky & Rum Schiff, so 4h30 on site was almost sufficient. If you are travelling by car, the Albisgütli is convenient, as numerous parking places were available. The journey by tram takes about 20 min from Zürich HB.
In summary, a good whisky event and less crowded than last year, but with a very fair number of products, including a large selection of rarities from Monnier. I still miss the rarities from Glenfahrn, as they had in the past a very nice choice and more importantly, the spittoons!!
Slainte
Patrick, 02 December 2018, last edits: 06 December 2018