Whiskyship 2006 and other swiss events.

Some of the ships of the whisky ships in the harbour
At the whiskyship, around 7000 visitors were expected. Several seminars were given (e.g., Ardbeg by Anthony Burnet, Bowmore by Jamie MacKenzie and Bruichlladich by Jim McEwan). I attended the seminar of Edradour given by Andrew Symington and the BenRiach seminar by Billy Walker. At the whiskyship, almost every independent bottler and whisky company were represented by their different distributors and almost every bottle was available for sampling. The prices for one measure of whisky (1-2 cl depending on the booth) were charged reasonably (generally between 2-5 CHF [1.5- 3 euros or 1.6- 4 US$], with the most expensive dram being the Kinclaith 1969 from Duncan Taylor sold for 30 CHF (20 euros, 25$) the glass at The Stillmans stand.
Seminars:
Edradour / Signatory
The seminar was organized by World of Whisky and nicely presented by Andrew Sygmington, the owner of the Edradour Distillery and owner and founder of the Signatory company, one of the major independent bottler.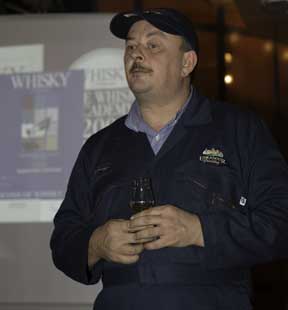 Andrew Sygmington with his working suit.
The presentation was very open, interactive and Andrew was very open with his answers. It started with the creation of the Signatory company and then continued on the presentation of the Edradour distillery. At the distillery, one of the buildings has been converted into a whisky bar, and a new building will be added. This new building will be used for the future Edradour Museum. In addition, Andrew is going to invest quite some money next year, since a bottling facility will be built in the distillery, close to the current car park. It will be used for bottling the Edradour and Signatory whiskies. With 100'000 visitors a year, the Shop will see its surface doubling next year too. One of the worries of Andrew for next year will be the price of the barley. This year, the barley harvest has been poor in Scotland and in the other European barley-producing countries. The price of barley will almost double next year!
Since last week, Edradour has a new distillery manager, coming from the Springbank distillery.
Edradour started the "Discovery Serie" in September 2006, with the Ballechin. The discovery serie is planned to last at least until 2014 and each serie will be limited to 6000 bottles worldwide. Some first fill bourbon, Burgundy, Bordeaux, Port, Sauternes and Oloroso maturations are foreseen.
Regarding Signatory, the company has spent quite some money in buying casks of Bowmore, Highland Park, Laphroaig, Dalmore, Ben Nevis, Aberlour and others.
During the seminar, the following whiskies were served:
Macallan Sherry Cask for Waldhaus am See, 16 YO, D:1990, 46%, Signatory: Very nice sherried nose, lots of character, strong wood influence, a bit dry. Very good price/ratio.
Bowmore 1970 for Waldhaus am See, 35 YO, 52.1%, Signatory. A superb whisky, see previous tasting notes.
Inchgower 1980 sherry, 24 YO, 55.6%, Signatory, cask 14145: At nosing, this whisky seems immature, with a rather young wood attack, but then it is a pleasure on the palate, very smooth and buttery, oily, with a long finish, on soft peat and sherry.
Edradour 1984 Pedro Ximenez finish, 22 YO, 48.2%, OB. A big oily, soapy and earthy Edradour made even more oily by the PX finish. For lovers of big and oily whiskies.
Edradour Chateau d'Yquiem Finish 1985, 21 YO, 50.8%, OB. The sweet influence of the Sauternes does offer quite a contrast to the big bodied and oily Edradour. A rather difficult whisky.
Ballechin Burgundy Finish, Discovery Series, 3YO, 46%, OB. The Ballechin is the new heavily peated whisky produced at Edradour distillery. The barley was peated to 50 ppm. It is a very peaty whisky, with a strong oily and malty flavour, on dry peated bread. It has matured quite well, but the Burgundy maturation does not hide its young age. I find it lighter than easier to drink than the older Edradour I tried that evening. Will be very interesting to try it again in 2-3 years from now.
North British Californian Sherry Cask, 14YO, 53.3%, Signatory, D: 1991. North British is one of the largest grain distillery and the flavours of the whisky they produce are rather light. On the other, the Californian Sherry cask, first fill (?) gave quite a lot to the whisky. It is quite dry for a grain whisky, with a strong wood influence dominating too much on the grain whisky to my taste. The influence of that Californian sherry cask does remind me of the Glenmorrangie Truffle oak. Worth trying.
At the stand of Signatory/World of whisky, I did some shopping and tried a few other whiskies:
Bunnahbhain 1997 Heavily peated, about 59%, Signatory, advanced sample. A big peated whisky. I only had a small sample, but it found it excellent: lots of peat, but quite subtle and complex for its age. A whisky to watch out when it will be bottled!
Benriach 1976 refill sherry, 29 YO, 54.6%, Signatory. A superb Benriach, combining a beautiful sherry sweetness with a nice peat flavours. Balanced, complex, a remarkable whisky.
I then got offered a Miltonduff Sherry Cask from 1964, 42 YO, 45.1%, Signatory. Miltonduff was always considered as a second rank whisky and when I received a sample, I thought I was given a left over of a cheap bottle. After the first sip, I knew I was wrong. I was caught off guard: This was a superb, big whisky, with a huge round and sweet fruity flavour, complex and flawless. A big and pleasant surprise!
Glenglassaugh wine treated puncheon, 1967, 38 YO, 59.3%, Signatory.
With Glenglassaugh, you never know what to expect. The Family Silver bottled by the owners some years ago was a beautiful whisky, but the latest original bottling, the 19 YO, was quite disappointing: earthy, on toffee and with strange off-notes (feinty ?). This one was earthy, grassy and spicy, with iodine and quite winey. White wine or moscatel? A lot of character for its age.
And to finish the Edradour/Signatory/World of Whisky section, I moved away after tasting the Glenfiddich 1973 Private Vintage Waldhaus am See, Sherry cask, 35 YO, 52.1%, OB. The nose was extremely sweet, almost like a sherry liqueur, the body was quite smoky, relatively earthy, with a touch of peat, quite subtle and complex. Will have to try it again, since my taste buds had had quite some exercise before I tried it.
P.Brossard ©12 Dec 2006