Whisky & RumSchiff Zürich, 22-25 Nov 2018, Zürich, Switzerland
http://www.whiskyundrumschiff.ch/
For the photo gallery, click here
Remark: The impressions provided below are the notes taken during the event. Most of the whiskies mentioned below will be tasted again in standard conditions.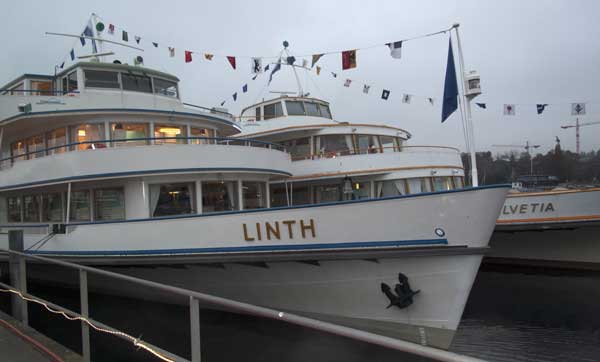 Back to the ships!
The Whisky Schiff Zürich is one of the oldest whisky fair in the world. For the first year, it moved last year on dry ground, to the Albisgütli. It offered more space, but being 20 min away by tram from the economical centre of the city, the frequentation dropped markedly compared to the previous edition on the ships. In addition, there was some financial disagreement with the organisers. Part of the retailers decided to create a new event, on the ships located on the pier of Zurich. This new event is the Whisky&Rum Schiff, and the original Whiskyschiff will take place next week at the Albisgütli. Thus, Zurich has now 2 different whisky fairs, separated by 1 week. Thus, this will be my first participation to the Whisky & Rum Schiff.
So, let us see what they have to offer!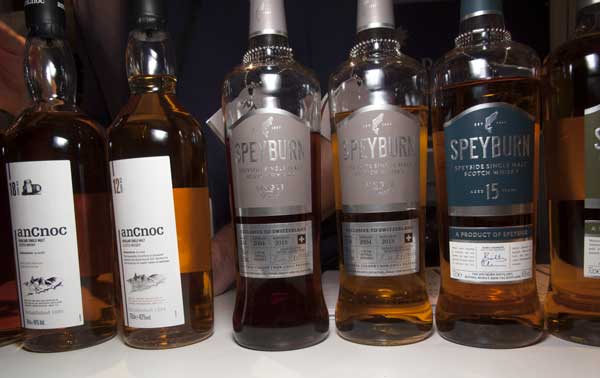 The Bourbon and Sherry single cask Speyburn for Switzerland at Glenfahrn
I was positively surprised by the queue, which was rather short and the wait was short. The glasses provided were the nice Rastal glasses with straight edges and 5 ships were docked on the pier. I started with the first ship on my left and stopped at Glenfahrn. A large selection of Rums were available and the choice of whiskies was limited. However, I was curious to taste the two 15 YO Speyburn single casks for Switzerland. The Bourbon cask was rather malty, clean, floral, slightly fragrant, on vanilla and hops, while the Sherry cask was round, on toffee, some berries, hops, dried fruits and orange. I liked it slightly better than the Bourbon one. Since I already tried the AnCnoc and Teeling available, I visited the stand of Diageo, but unfortunately, nor the Johnnie Walker Games of Thrones or any Blue Label Ghost series were available.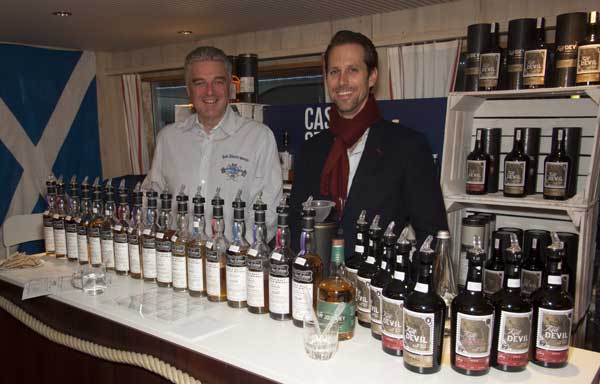 The First Editions single malts and the Kill the Devil Rums by Cask Strength Edition
The Germans of Slyrs presented the same products as at the Whisky Live Paris, so I moved then to Reto and his First Edition to try the new Jura 1992 26 YO First Edition, a mellow, round and rather intense Jura, slightly dirty and farmy. A good value whisky. The Macduff 1997 21 YO was floral, rather grassy and spicy, with a light fragrance and vanilla. The Tomatin 1994 was mellow, floral, sweet to very sweet, grassy, with round fruity flavours, sultanas, tangerine and some honey. Well balanced and with a most pleasant mouth feel. Dangerously drinkable. As the Kill the Devil Rums were tempting, I could not resist tasting the Uitvlugt Guyana 1999, a very rich and fruity Rum, complex and nicely intense, while the Caroni 18 YO from 1998 was a medium heavy style of Caroni, rather aromatic and sweet, and not as tarry or phenolic as the Velier I have tasted so far.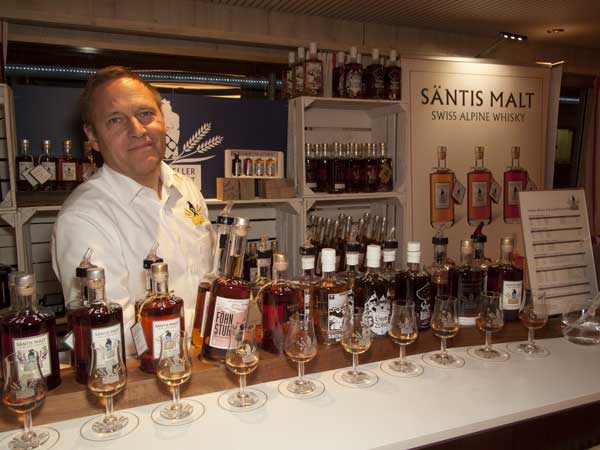 The selection of Säntis Malts
At Säntis Malt, I had a pleasant discussion with Detlef Sommer. As I complained to the fact that the great aged Säntis single malts are making their way to Taiwan, I was kindly served a glass of the Genesis, which is a very aged Säntis finished in an Austrian sweet wine cask. As they had two different casks, one will be used for the Genesis 1 and the second one for the Genesis 2. They should be launched in January and it will also be available in Switzerland! The whisky was excellent, mellow, complex, rich, round, on peach and apricots syrups, some hops, grapes, sultanas and other dried fruits. The whisky was matured in ex-bier casks at full proof, then reduced to 50%, before the second maturation in the Austrian Wine cask.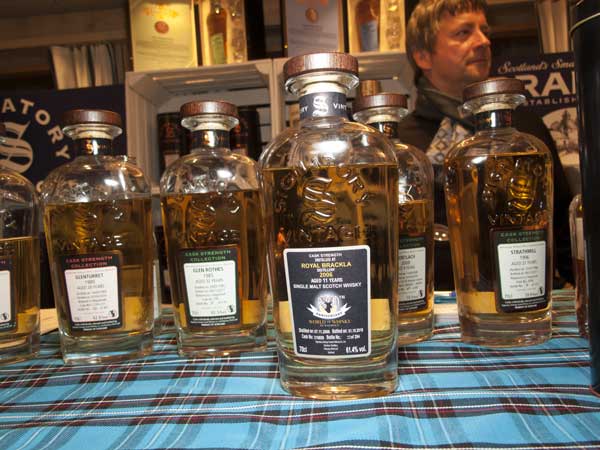 A small parf ot the whiskies from World of Whisky by Waldhaus am See


At World of Whisky, they had a fair number of new products. My first whisky there was a very nice round, mellow and floral Fettrcain 1988 29 YO from Signatory, well balanced, with nice round floral and slightly malty flavours, and some light fruity flavours. More complex, intense and to my liking than the new 28 YO OB (and also much better value). I tasted then all the new Signatory for World of Whisky by Waldhaus am See, with a very sweet and mellow Cameronbridge 1984 34 YO, syrupy, nice grainy flavours, some peach and apricots. Very good and intense. The Royal Brackla 11 ans was spicy, floral, rather complex and slighty malty. Intense and powerful. A sharp contrast to the Cameronbridge. The 1996 21 YO White Turf was a very good, round to very round Benrinnes, sweet, with rather moderate sulphury flavours.
The Four Roses Small Batch Limited Edition 2018 130th Anniversary at World of Whisky
I tried then the Four Roses Small Batch 2018 130th Edition, a remarkably complex Four Roses, elegant, on precious wood, spices, cinnamon, nutmeg, rather spicy flavours, as well as some marmalade and light grainy flavours. Bottled at Cask Strength, it is also made with older casks than the regular Small Batch, thus explaining the important price difference with the regular version. Finally, I tasted the Glen Garioch 1991 27 YO Carn Mor, a mellow, complex, waxy and slightly fruity Glen Garioch, with a light peat smoke, honey and some mineral flavours. Very good.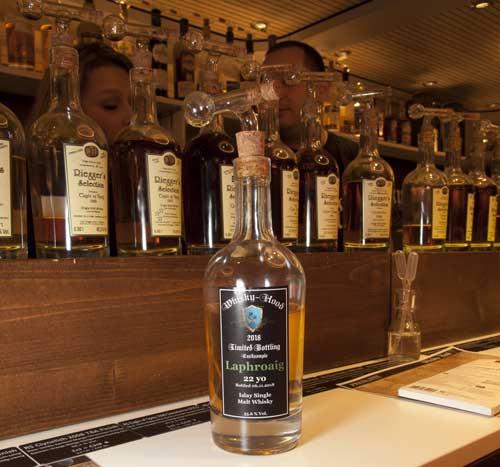 A very elegant expression of Laphroaig by Whisky Hood, with a nice and subtle peat smoke.
At Whisky Hood, I tasted a very pleasant, elegant Laphroaig 22 YO, with a nice long subtle and complex peat smoke. Very good! I tried then their rarities, starting with a nice and mellow Strathisla 1977 from The Bottlers, round, grassy, with nice aromatic and slightly bitter herbs, and some nice round vanilla and tangerine flavours. As I have heard a lot about the Sailing Seagull, a Bowmore bottled for the Regensburger Whisky club, I was curious to taste that one. It is a very juicy and fruity Bowmore, round, slightly light, on orange, tangerine, a nice round peat smoke and other juicy fruity flavours, Very good, but not as complex or deep as I was expecting.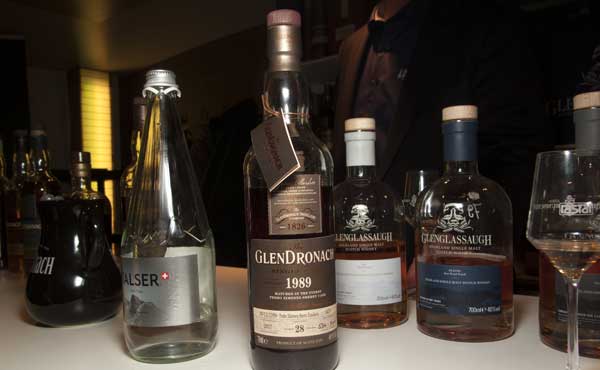 A very nice mellow GlenDronach with a rather dry sherry influence at Lateltin
At Lateltin, I was surprised to see that the Springbank 21 YO for Switzerland bottled in 2016 was still available and at its original price: a very nice, fruity, mellow Springbank, slightly maritime, on stewed fruits, orange, tangerine and some coconut. Very well balanced, rather complex and most enjoyable! The Local barley 9 YO will be coming to Switzerland in January, but I was kindly served a glass of it. A very nice and malty Springbank, rather round, slightly smoky and maritime, with light mineral flavours. It tasted heavier than the regular Springbank, rounder and slightly maltier as well. Very good. From GlenDronach, the 1989 28 YO Batch 16 was another very good GlenDronach, mellow, on cocoa, some precious wood, spices, round floral flavours, sultanas, and stewed fruits.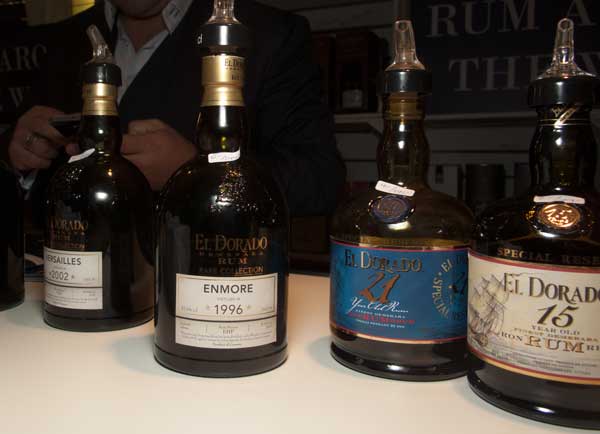 A very nice Enmore 1996 from El Dorado at Best Taste Trading
At Best Taste Trading, the El Dorado Enmore 1996 Rum captured my attention. A very nice Enmore, with a huge fruity development, complex, well balanced and light sugary flavours. Following a discussion with the Ambassador from El Diplomatico, I decided to continue the tasting with Port Mourant, a sweet, slightly woody and rather sugary Rum. Less to my liking. As he noticed my interest from the lost distilleries, he recommended me to taste the Caroni 21 YO from Rum Nation. Rum nation is owned by the independent Italian whisky bottler Wilson & Morgan. The nose was heavily phenolic and tarry, heavy, but lighter and rather sweet and sugary on the palate (for a Caroni), with a very long finish, starting on sugary flavours before moving to an elegant, lingering and subtle peat smoke. This Rum was finished in ex- Caol Ila cask and the peatiness from the cask worked very well in this case, much better than some Islay single malts matured or finished in ex-caroni casks. A most enjoyable Rum that should appeal very much to whisky fans.
I tasted in the past some standard Diplomatico Rums, which I found very sugary and easy drinking, but not rather simple. As part of their Distillery Collection, they started to produce 3 types of Rums, the N°2, The Barbet Rum, is a rather light, simple and sugary Rum distilled only in column, while the N°1 was a Batch Kettle rum, distilled fro a kettle. It was much heavier, rounder and more complex, rather intense, with some pineapples and cane sugar. Unfortunately, the N°3, the Pot Still could not be found.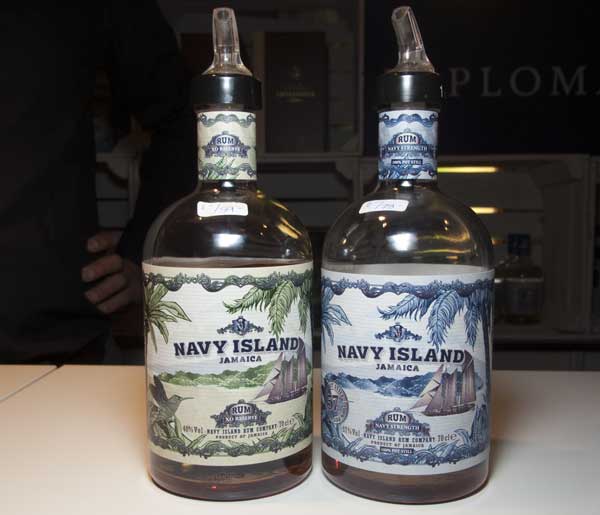 Two Navy Island, the 40% version is not a reduced version of the 57% (right), but also made with different types of Rums.
I was then red-directed to one of his colleague to taste the 2 Navy Islands, two rums made with Rums from 3 Jamaican distilleries, including Hampden. The version at 40 % was prepared with a mixture of Pot Stills and Column Rum. It was light, fragrant, sweet and on pineapples. Pleasant and easy to drink, but rather short on the finish. The version bottled at 57% is made exclusively from Pot Stills (11 types of Pot still from 3 Jamaican distilleries). It has a lighter body, but it is markedly more complex, more elegant, starting with rather sweet and sugary flavours, before it becomes dryer, slightly fragrant and less sweet. Two very different styles of rum. Well, it was a very educative rum tasting experience!
At another stand, there was Jameson, Koval and the Bacardi malt range (Glen Deveron, Royal Brackla, Craigellachie, etc.…) that I skipped, as I have already tasted the whole range.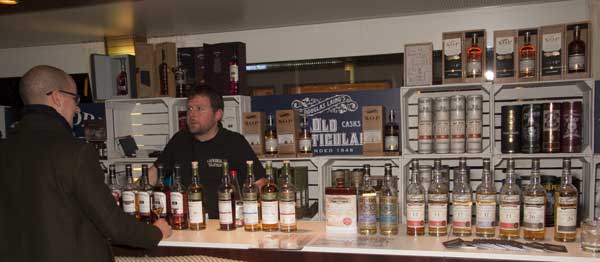 At Haecky, with a large selection of Douglas Laing and Morrison Bomwore / Suntory products.
At Haecky, several Old Malt Casks and Provenance from Douglas Laing were available for tasting, unfortunately not the XOP. About two years ago, with Suntory taking over Beam, and thus Morison Bowmore, Glen Garioch and Bowmore moved from Best Taste Trading to Haecky. I was pleased to see that they had the recent Glen Garioch Renaissance III and even more please with the price, which was lower than the Renaissance I. Talking with Tobias, I was pleased to hear that the allocation of Suntory whiskies for Switzerland is increasing, although limited. This suggests that even if some of their age statement products were discontinued, we might see in a couple of years the 12 years editions of their malts and blend back and with higher volumes than 1 or 2 years ago. I could not resist tasting the Bowmore Vintner's Trilogy, starting with a nice Bowmore 18 YO Manzanilla, a cask strength version of Bowmore matured in an ex-bourbon cask before spending five years in Manzanilla casks. The result was a very good whisky, moderately peaty and salty, with a nice rather dry and slightly acetic and citric sherry influence, as well as dried oranges and citrus. The 26 YO Bowmore French Barrique was finished in ex-Claret wine casks. As expected by the age, this was a different style of Bowmore, more floral and slightly soapy. I did not enjoy that one very much, as it was dominated by the strong red wine influence. The other Vintners Edition, finished in ex-Port Cask, was not available for tasting. Finally, I could enjoy the Laphroaig 25 YO 52%. A very nice Laphroaig, with a mellow and elegant peat smoke and long finish. Bottled at 52%, it delivers a nice intensity and very pleasant to drink neat. As some of the previous bottling of 25 YO were slightly disappointing, I was happy to see the 25 YO back to high standards.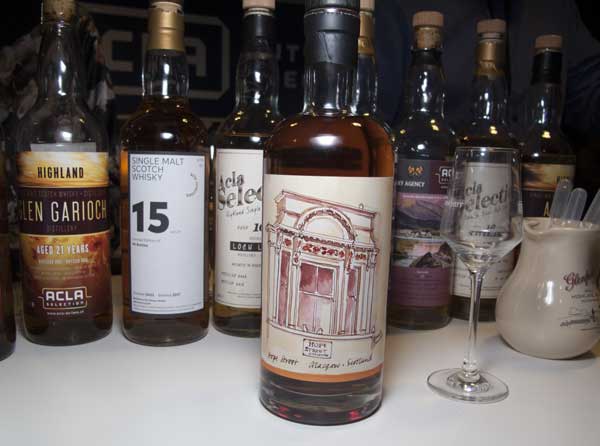 A very good Speyside region 1976 with each bottle carrying an unique and hand painted label,a joint bottlig between Acla Selection and Sansibar.
Moving on the other side of the pier, I arrived at Acla Selection. They separated the deck in two parts, one for the Acla product and one for the Sansibar products. As Bettina explained to me, they have started collaboration with Jens from Sansibar to see how the Sansibar and Antique Lions of Spirits would do on the Swiss market. Looking at the success of the Sansibar products, I would not be surprised if we will continue to see them in Switzerland. My first whisky was the Speyside Region 1976, a joint bottling between Acla Selection and Sansibar, with every label hand painted and unique. Not only the labels were very nice, but the content as well, with a mellow, very elegant whisky, floral, fruity, slightly spicy, on heather honey, tangerine, orange, some sultanas and a fair dose of spices, without any noticeable woody flavours. Very good! The second joint bottling was a Bowmore (22 YO?), with a label showing a sailing boat, inspired by the old Bowmore Sherrif label. Although it was from a refill sherry cask, the sherry influence was very discreet. Initially, the nose was slightly sour, but given some time, it come more pleasant, with a limited cask influence and nice elegant, light maritime peat smoke, with a hint of citrus, honey and mineral flavours. A nice one.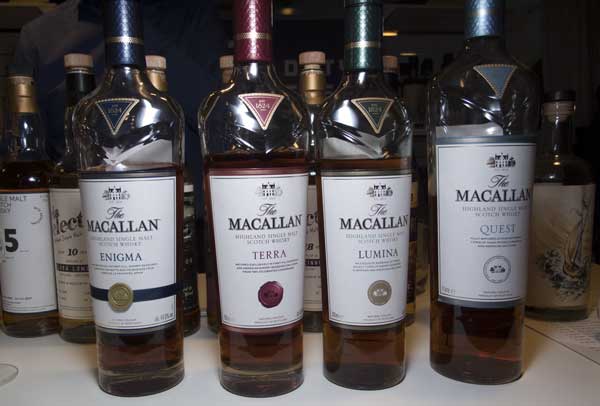 The Macallan Travel Retail range at Acla Selection
I then tasted the whole Macallan Travel Retail range, the Quest, Lumina, Terra and Enigma (in ascending order of ABV and price). The Quest was a floral and rather spicy version, quite heavy on the sherry, but rather weak, most likely due to the reduction to 40%. The Lumina was from a lighter sherry type, with more honey, less spices and some rubber. The Terra was more complex, more bitter and slightly rubbery, while the Enigma seemed rather old and complex, more refined than the other, with a rather dry style of sherry. Good, but quite dry and bitter on the finish. Each of these Macallan had a different style, from heavily to moderately-light sherried, from slightly sweet to dry. Pretty good.
The Glenfarclas 1995 for Germany was a nice spicy and oaky Glenfarclas, with a light sherry influence. Without the support of Stefan, I would not have noticed that the Ben Nevis 13 YO from Hidden Spirits was the heavily peated one I noticed on the Bar Card, as the mention Heavily Peated is painted on the hull of the boat of the label. The whisky was rather oaky, with a dirty aromatic style of peat smoke, reminding me rather strongly of the Ardmore style. A good one, but slightly rough.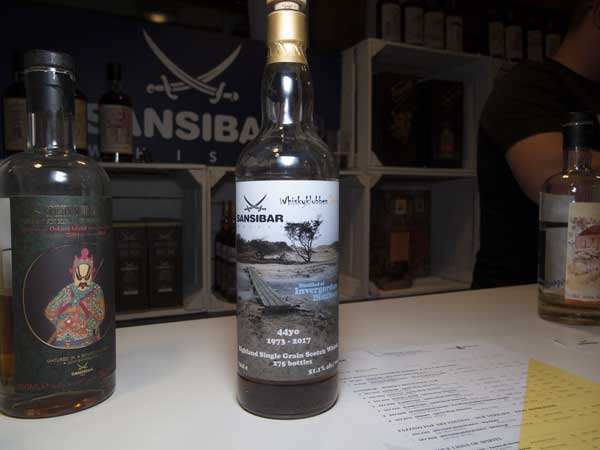 The Invergordon 44 YO Sansibar and the Orkney Island from Sansibar/Spirits Shop selection on the left
I switched then to the Sansibar side and started with the Orkney Island 2004 Spirits Shop Selection/Sansibar, a nice, mellow and very round expression of an Orkney single malt not distilled at Scapa, with nice round flavours of vanilla and candied citrus. Very pleasant to drink and very good value (109 CHF)! Not sure it will stay long. The Invergordon 1974 44 YO Sansibar for Whiskyklbubben in Sweden was a very mellow, sweet and fruity expression of the distillery, with nice sweet sherry flavours delivering a nice mouth feel. Dangerously drinkable.
The Ardmore 2008 Spirits Shop Selection /Sansibar whisky was a rather oaky, peaty and aromatic Ardmore, with some woodland flavours. The Antique Lions of Spirits Octomore 6 YO was a nicely matured heavily peated whisky distilled at Bruichladdich, rather round, moderately dry and maritime. Having recently tasted the 9.1 and 9.3, the Savannah seemed markedly more matured and without any winey flavours, as it was fully matured in an ex-bourbon cask.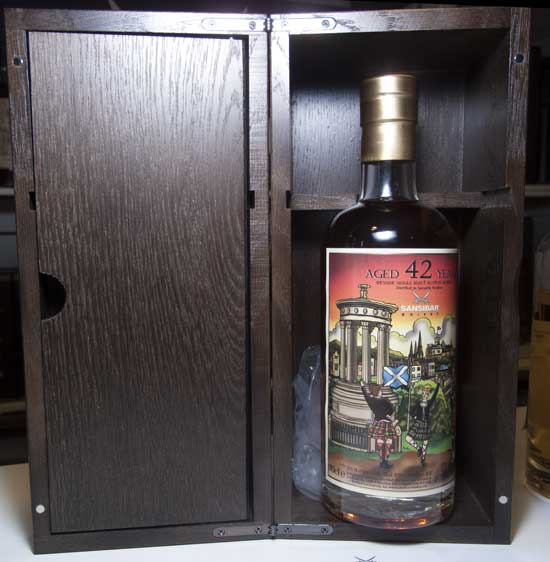 The Speyside Region 42 YO Fazzino from Sansibar, with its nicely made wooden case
Finally, I could not resist to sample 3 rarities from The Casks, more specifically a 1968 35 YO Glenury from Old Malt Cask, a Highland Park 1966 Prenzlow coillection from JWWW and a very rare cask strength Bowmore OB 20 YO 1973. I ended my discussion with Bettina regarding the new Sansibar Speyside Region Fazzino. From a whisky drinker perspective, the price tag of these bottles is rather high. As she explained to me, Charles Fazzino is one of the most famous Pop Art artists in the world, selling his work in the most prestigious art galleries in the world. Thus, the target for this type of bottlings is the Art amateurs or the Whisky drinkers with an Art Passion. Looking at the pictures, I was not so impressed by the work, and the case looked rather standard. However, when you open the box, then you see the quality of the wood and the case, with nice hinges as you can see in nice Swiss watches cases, and the 1973 labels contains some brilliance crystals.
At another stand, I tried the new Ballantines 15 YO Glenburgie single malt. Chivas is now trying to promote their "hidden" single malts, such as Glenburgie or Glentauchers under the Ballantines brand label. The Glenburgie was very smooth and sweet, slightly weak, with nice fruity flavours and soft spices. Slightly weak to my liking, but easy and enjoyable to drink.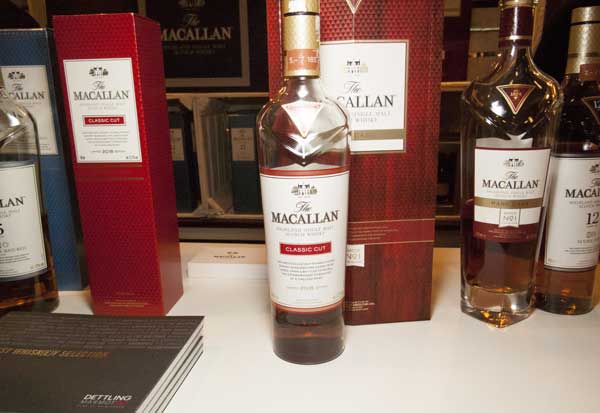 The Macallan Classic Cut and the Rare Batch N°1 2018 at Dettling Marmot
Then, my glass slipped from my glass holder and with only the stem intact, I could not taste any more whiskies. Since I had no time to purchase another glass, I moved to the Swiss importer of the Edrington products, Dettling-Marmot, to sample the Classic Cut 2018 and Macallan Rare Cask 1. Since this year, they start to number the batches of Rare Casks. Asking about the availability of the Classic and learning that the allocation for Switzerland was limited to 30 bottles, I understand better why I have not seen it here. This contrast with the Classic Cut 2017 that I saw in all the liquors shops I visited last month in the US. For Highland Park, the Single Cask for Switzerland (note: a different bottling than the single cask for World of Whisky) is already sold out by the importer. A few bottles were available for sale at the stand and a bottle was opened, so I acquired a sample of it.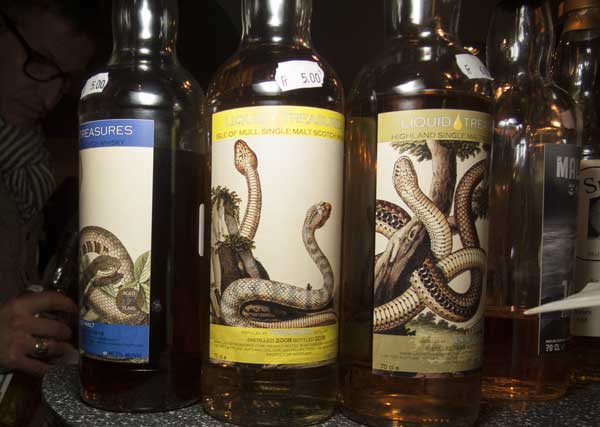 The new Snakes collection of Liquid Treasures from Ramseyer's Whisky Connection
My final stop was at the slightly hidden stand of Ramseyer's whisky connection, where one could see a row of bottles standing on a high bar. The number of new products impressed me since the Berner Whisky Messe a few months ago. From the Maltbarn there was a very nice looking Lochan Sholum, a 14 YO sherry Islay whisky, a 17 YO Port Charlotte and a 24 YO Epitome. I will try to review the two Islay malts soon, as I am curious to taste them! From the Liquid Treasures, a full new range, the Snakes was available, including a 2008 10 YO Ledaig. As I had already bought a timed train ticket to return home, I rushed to the cloakroom and then ran to the train station. Next time, I will stay longer as I have not had time to visit the last ship!
Well, I wished I had bought a ticket for a later train, as the 4 hours spent on the Whisky & Rum Schiff went very quickly. While it is based on the same concept as the former Whisky Schiff, the reduced number of stands allowed a very smooth move between the stands, even after 19.00. The attendance was moderate, probably due to the black Friday, but sales seemed pretty good, based on the comments received by some retailers. I had no issues finding spittoons or to obtain water. Overall, I really enjoyed this first Whisky & Rum Schiff. It was well organised, many master classes planned and with a large range of whiskies. The number of rarities was limited and the entry price fair (18 CHF). The price per dram were mostly fair (from 2 to 20 CHF per cl), although some were charging the price per cl almost at a bar price (e.g., 5 CHF for a bottle retailing to below 200 CHF). But for me, the most positive point, was the ease to move between the stands and having the opportunity to spend a few minutes talking to the retailers or brand ambassador, and not having to wait 15 min to reach a stand.
As an agreement has been signed for a couple of years, there will be a second edition. I am looking forward coming back next year and I hope the organiser will not increase too much the density of retailers.
Slainte,
Patrick, 24 Nov 2018, last edit: 26 Nov 2018