Whisky-news.com is a fully independent whisky website created in 2006 by a whisky enthusiast for the whisky enthusiasts, from novice to expert, with a huge collection of tasting notes, distillery presentations, whisky fair reports in Europe, reports about whisky from all over the world, and many more. It is also the leading site for whisky literature review. Updated almost daily and free from financial support from any whisky company.
The Whisky Exchange Whisky Show 10th Anniversary 29-30 Sep-01 Oct 2018, London, UK
https://whiskyshow.com/london/
For the photo gallery, click here
Remark: The impressions provided below are the notes taken during the event. Most of the whiskies mentioned below will be tasted again in standard conditions.
Remark 2: This is working draft and subject to typos and minor changes
Whisky Show London 29-30 September and 01 October 2018
Well, after a nice and sunny Whisky Live in Paris last week, a similarly nice sun was greeting me upon my arrival, although the temperature was rather low and the wind fresh and slightly chilly.
A special banner for this 10th Edition
The doors opened promptly, and even though I arrived 1h before the start, the queue was already rather long. I promptly went downstairs to the cloakroom to depose my suitcase and had a look at several bottles of whiskies that will go soon to a charity auction on whisky.auction, including several 1 of 1 bottle from famous distilleries such as Port Ellen, Brora, Ardbeg, Dalmore, etc.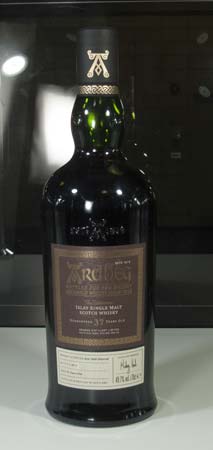 1 of 1, Ardbeg 37 YO, one of the bottle for the whisky charity auction to come on whisky.auction
After this sight seeing, it was time to go through back to the stage and taste plenty of whiskies. Most of the whiskies mentioned below will be tasted again in standard conditions and the tasting notes mentioned below were the ones made during the show.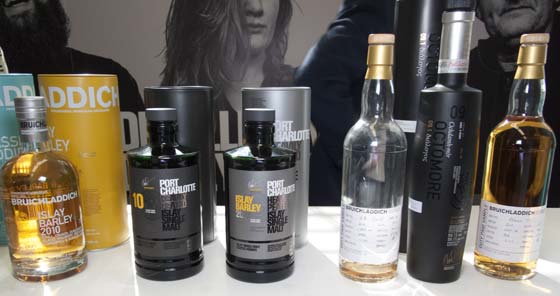 Most of the bottlings at Bruichladdich
My first stop was at Bruichladdich, starting with the Bruichladdich Black Art 6.1, a 1990 Bruichladdich in different oak cask. A very good aged expression from Bruichladdich, intense, oaky, spicy, slightly smoky and malty, with nice soft fruity flavours, some spice and a light peat smoke. Only a light winey influence with the whisky more intense and pleasant that the previous one. The Port Charlotte 2011 Islay Barley was very peaty, intense, tarry, slightly sooty and salty, with light winey flavours and a lingering peat smoke. Very good! The Port Charlotte 10 YO was on the other hand less intense, rounder and more winey. Rather different from the Islay Barley. The Port Charlotte MRC (Mouton Rotschild Cask) 2010 is a new Port Charlotte that is currently being bottled. We have the same intensity and peat delivery as the Islay Barley, but the whisky is slightly drier, and with more a sweet wine influence. Moving to heavier peated whiskies, I could try the new Octomore 9.1 and 9.3. Both are heavily peated whiskies, moderately tarry and dry, with light winey influence and a good oakiness. Difficult to say which one is better, but both were very good. I just wished there was an non-wine influenced peated expression of Bruichladdich. The winey influence is good, but I still like to get some pure ones.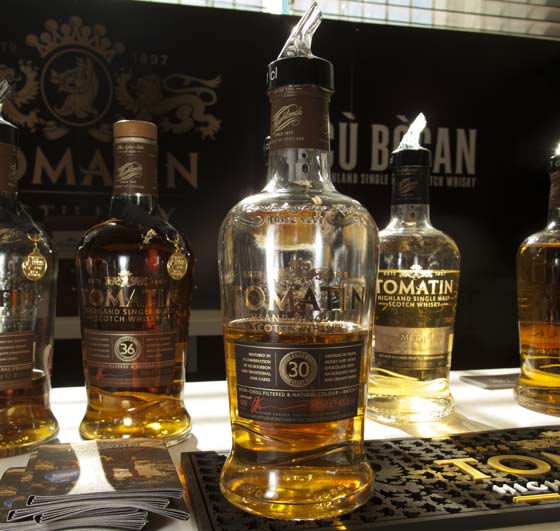 Some of the new products from Tomatin
Moving to Tomatin, I started with a very good Tomatin 30 yo, a very fruity expression of Tomatin, on mango, exotic fruits, melon, a very good texture and balance, as well as a nice slight smokiness that I find typical of the distillery.. It left me an excellent impression. The Tomatin 36 yo was very good; with slightly more mellow than the 30 yo, with more dried fruits. I also tasted their new limited, the Water Winter distillation and the Metal. The first one was about 13 years of age, with a combination of ex-bourbon and ex-sherry casks, while the second one was about 2 years older and only first fill bourbon. The Water was rather mellow, rich, moderately oak, nice a fair dose of nice sweet and fruity flavours and various spices. The Metal was much lighter, more floral, cleaner but also slightly more subtle and less oaky. A different style from the older expression, but well made as well.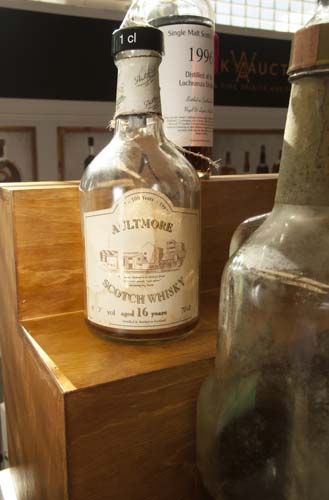 The Aultmore 16 YO Centenary Edition at whisky.auction
Nearby was the stand of Whisky.auction and started there with a J&G Grant 12 YO bottled in the 1940s. The old style of waxy, grassy, oily and moderately peaty whisky is definitely there, rather mineral and some diesel oil. Very good. The Berry Bros bottled in the 1950s reminded me on the nose very much an old Berry Bros blend from the early 20th Century that I tried several years ago, with a refined aromatic and earthy peat smoke, camphor, eucalyptus, diesel smoke, grassy flavours, some old wax and light floral flavours, as well as some old wood. The Stoddarts bottled in the 1940s reminded be slightly of the J&G Grant with its mineral flavours, but it was softer (lower abv?), more floral and fragrant, with some light soapy flavours. Moving to single malts, the Aultmore 16 YO Centenary edition was a very rich and heavily sherried Aultmore, on rather dry and old leather sherry influence, dates, figs, sultanas and light floral and slightly aromatic herbs, Quite dry and slightly bitter, but not in an unpleasant manner. This was followed by a remarkably fresh and intense Heaven Hill, with some rye hitting the nostril at the initial nostril. The whiskey was moderately spicy, on treacle, peach, apricots, some pepper and cooked cereals. I love this style of old Bourbon, more complex, heavier and spicier than the current Heaven Hill products. I tasted then several private cask bottling that would be soon available at whisky.auction, The first one was a 1996 distilled at Lochcranza distillery (i.e., Arran) for Nigel & Lynn Arnold. One of the nicest Arran I have tried, combining very nice sweet and fruity sherry flavours (mainly sultanas, candied oranges and tangerines), with a nice mellow and malty flavours. A flawless sherry cask and a most enjoyable whisky. Rather impressed.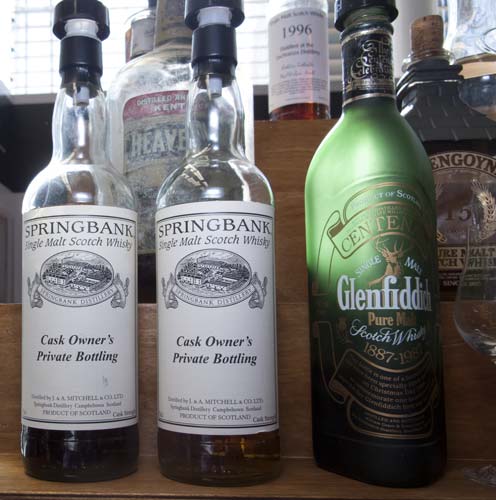 Two different Springbank Cask Owner's Private Bottling. You need to look at the printed bar code to differentiate the two bottlings.
There was two "Cask Owner's Private" labelled Springbank. The details will be added later one, but the first one should have been a 14 YO 1993 ex-bourbon cask. Deliciously mineral, complex, rather peaty and smoky, on diesel smoke, some soot, delicate peat smoke, sea brine and light farmy flavours. A whisky that reminds me of the first 16 YO Local Barley or the old Springbank from 1975. I am a fan of this style of Springbank! The second was a 15 YO Port Matured Springbank, in a style closed to the 15 YO Springbank bottled for Awico (Willy Cotting), with a nice and clean Springbank, slightly salty and spicy, with a rather dry and sugary style of Port, on berries and light winey flavours. A well made Port Matured Springbank. Finally, the last one was a Bruichladdich Private Cellar 1990-2005 cask 2064, a very good and mellow Bruichladdich, with a light mineral and maritime peat smoke, some melon, vanilla and a touch of seaweeds, as well as some light sweet fruity flavours. Compared to the new Bruichladdich Black Art 6.1, this is definitely mellower, with sweeter flavours, no winey aromas and easier to drink.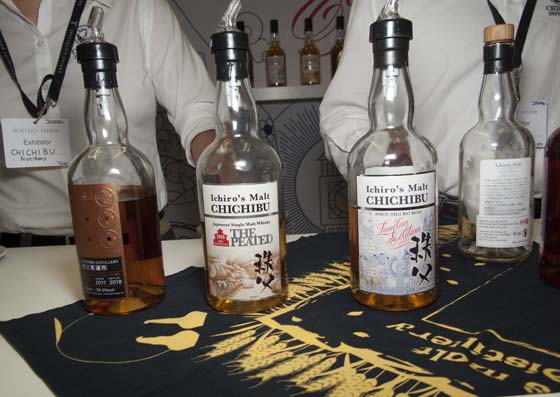 Three new expressions from Chichibu, including the rather impressive Imperial stout (left)
I moved then to Chichibu, and I was pleased to have access the stand more easily than in Paris. In addition, the whiskies presented are not yet commercially available, thus giving the opportunity of tasting them prior to purchase! My first one was a very good Imperial Stout matured whisky. A surprisingly mellow, round and fruity whisky, with some hops, with flavours that bring me back to my tasting of some aged Säntis single malts matured in ex beer casks. The balance between the flavours, the mellowness and the fruitiness was most pleasant. A whisky that I would expect to sell out within hours after its release early next year. The Chichibu London Edition 2018 is a special edition for the UK market, with a nice round oaky and vanilla influence. It seemed less complex and balanced than the Imperial Stout. The Peated 10th Anniversary was made to celebrate the 10th anniversary of the distillery. It is a vatting of Chichibu aged from 5 to 8 years of age, with malt coming for the Gordon Maltings and peat coming from the Eastern Highlands (between Inverness and Aberdeen). The whisky was rather light and clean, with one of this very enjoyable dry, elegant moderately tarry and aromatic peat smoke. A version that will hit the shelves very soon.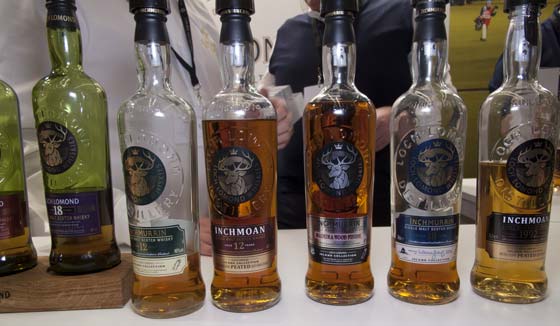 Most of the products distilled at Loch Lomond distillery
I spent then a long time at the next stand, the one from Loch Lomond, a distillery that has been surprising me over the last years, not only by releasing some excellent whiskies such as the Inchmoan 1992 25 YO, but also by improving the quality of their core range, not only the packaging but also the content. Some further marketing investments will be done in the short term to distinguish better the different products. Loch Lomond is able to produce 11 styles of whiskies. While the Inchmoan is made with peated barley (55 PPM), the Inchmurrin and Loch Lomond are produced with pot stills with different Swan necks from unpeated malt. I found that the 12 YO Inchmurrin and Loch Lomond shared some similar profiles, being rather round, slightly spicy and oaky, with some dried fruits, vanilla and light fruity flavours. The Inchmurrin was slightly lighter and more on pears. Both whiskies were matured in a combination of bourbon, refill and recharred casks. At the age of 18 YO, the flavour profiles were more different. The Loch Lomond was spicier and heavier, and the Inchmurrin lighter than the 12 YO, with more complexity and matured orchard fruits. I will review the Loch Lomond Special Edition (for the Gold Open) later on. The Inchmoan 12 YO is a very good peated whisky, with an elegant highland style of peat smoke, rather earthy, elegant and aromatic, and a lovely balance. The Loch Lomond Single Grain was nicely round, spicy, rather rich, with some porridge, peach and apricots. When I was told this was it was only a 3 years old grain, I was more than surprised, as I tasted more like a 12-14 years old grain whisky. As they use different temperatures and number of plates than in other distillery, their grain whisky is surprisingly rich and spicy. They have changed the recipe of the Victoriana and bottling it now at higher abv than before. Made with heavily charred casks, the influence of the charred wood and fudge is clearly present, but seems lower now and the maritime character more apparent.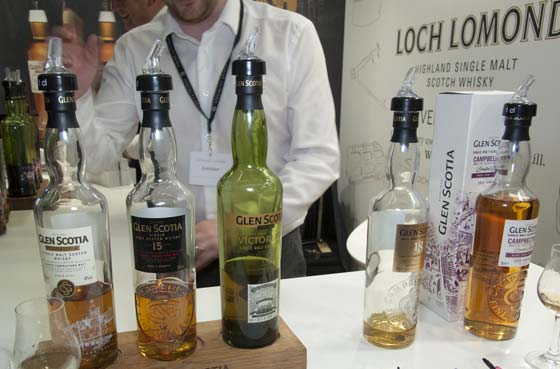 Most of the Glen Scotia, including the special edition for the 2018 Campbeltown festival on the far right hand side
The new owner has made substantial investments, in particular with cask management. A good example of this is the Glen Scotia Ruby Port Finish bottled for the Campbletown Malts Festival 2018. A very clean, intense, coastal and slightly salty Glen Scotia, with a sweet, sugary winey influence from the finish in ex-Port Cask. The Port influence is rather strong but well integrated. Sold then for £50, it is a very good value whisky. The Glen Scotia 25yo and the Littlemill 40yo were emptied during the weekend.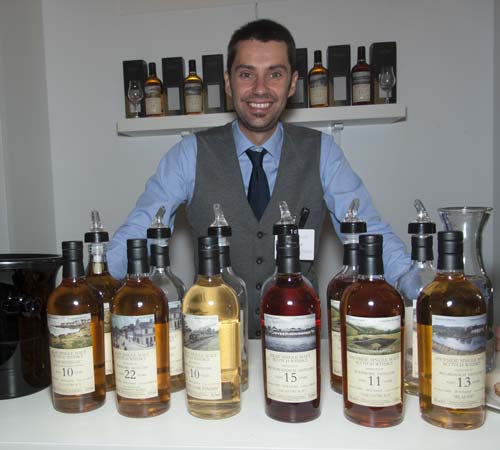 The Italian independent bottler of Hidden Spirits
Moving upstairs, I made a stop to Hidden Spirits, an Italian independent bottler, with interesting products, such a very nice elegant, slightly maritime and medicinal 22 YO Bowmore, with a light peat smoke, with a very good smoothness, in the style of the last recent Samaroli. The Loch Indaal 10 YO was a heavily peated Port Charlotte, as smooth as the PC10 was dry. At such events, it is interesting to see how different a product from the same age and same distillery can be different between different bottlings.
The Whisky Show 10th Anniversary bottlings
Well, on the next stand, I probably spent at least one hour with Billy Abbott and a few other friends at the Whisky Show Bottlings.
I started with the silver labelled Whisky Show 10th Anniversary bottlings. The Benriach 28 YO was a Highland Style, i.e., unpeated, mellow, fruity to very fruity, and a pleasant complexity. Very good. The Arran 21 YO was rather intense and spicy, slightly oaky, with some vanilla, light malty and creamy flavours. The third one was the Ardbeg 18 YO, a very peaty, complex, maritime, intense, with some camphor, iodine, seaweeds, tarry and maritime peat smoke and a long peaty finish. In conclusion, an Ardbeg that delivers that you expect, very well made and for the ones who like Ardbeg me, it is damn good!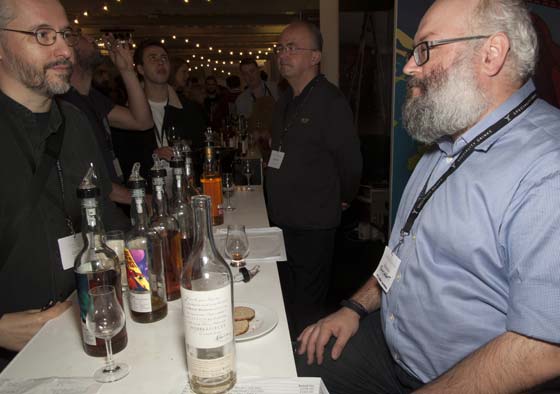 The Springbank Materpieces (with another Masterpiece on the right...)
The Irish single malt was the same as last year so I moved then to the Speyside Region 1973 from the TWA for TWE. It is not just another single malt from an unknown distillery in Scotland, but a blended malt according to the information gathered from Billy, made with single malts of the Speyside region from the Edrington distilleries. Regardless of its origin, it is a very well made whisky, round, mellow, floral, well balanced, lightly spicy, with some leather, dried fruits, ltoffee, orange and cinnamon. A very good and pleasant whisky to drink. The Masterpieces 1993 Sherry Cask was an excellent sherried Springbank, rather mineral, slightly peaty, with a sherry influence providing some moderate sweetness and fruitiness to the whole, but not taking over the mineral side of the whisky. Although pricey (£375), it sold out during the weekend, but a small allocation was reserved for the shops.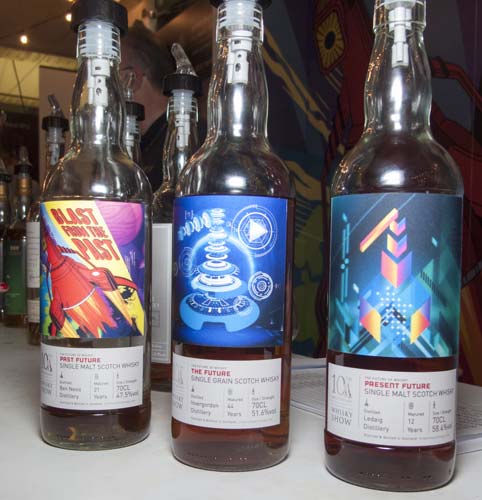 The trio of Future of the Whisky bottlings, with holographic labels
There was another trio of special bottlings for the 10th Anniversary, the "Future of Whisky" with holographic labels. It was composed by a very mellow, charming Invergordon matured for 44 years in a sherry cask. The Ben Nevis was very good, floral, grassy to very grassy, with a mixture of grassy, sweet and round fruity flavours. Like for the Invergordon, it might be not the most intense whisky, but the flavours are remarkably well integrated and balanced, that makes these whiskies very pleasant to drink. I loved the 12 yo Ledaig. The number of bottles was low (less than 120 bottles), so someone might have drunk the rest of the cask during repeated sampling. It was very intense, powerful, peaty, tarry, and slightly maritime, with a rather dry sherry influence, on leather, tannins and dried fruits. Very enjoyable. Well, spending time with Billy was worthwhile, and I was conveniently located on the corner of the stand, so then someone pulled out the duo of Karuizawa Geisha 29 yo and 31 yo (to be allocated by ballot next week), I was very fortunate to taste these whiskies that I will not be able to afford (£6000 each). The 31yo was a delicious Karuizawa, floral, very smooth and mellow, with a nice sweet sherry influence and soft spices. The sherry was slightly less heavy and tannic than on the 29 yo, and more of the sweet and juicy fruity flavour, more on orange and some mango. Thank you for the nice treat. It has been a few years since I could taste such good Karuizawa.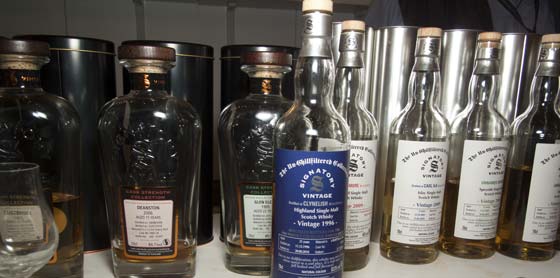 Most of the Signatory range, with the very good Clynelish for The Whisky Exchange (blue label)
Slightly further, some empty Signatory 30th Anniversary bottlings were on the shelves, but I tried there a very good, waxy, sweet and fruity Clynelish 1996 for The Whisky Exchange, with a nice complexity, intensity and light spices. The Carsebridge was mellow to very mellow, rather grainy, with light spices, vanilla, honey and tinned (canned) fruits. Good, but not overly complex.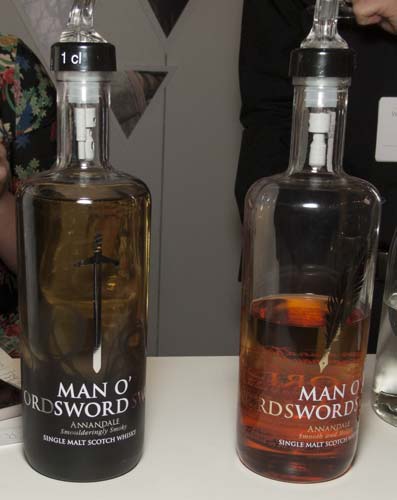 The first two single malt whiskies from Annandale

Annandale, a recently (re)build Lowland distillery was present for the first time, with two single malts, the Man of Word, a very smooth, round, malty, slightly peaty whisky on orchards fruits, while the Man of Swords was a peated version. It is moderately peaty, with a very elegant aromatic and slightly austere peat smoke, smooth, slightly malty and with light green fruity flavours. The two whiskies very smooth, young, but rather pleasant, with no new make-like sweet flavours. It is well made, and these two versions will be part of the core range. They are single casks and while no abv or cask numbers were available on the bottles displayed, a sticker will indicate the necessary information on the commercially available products (note: it is already on sale).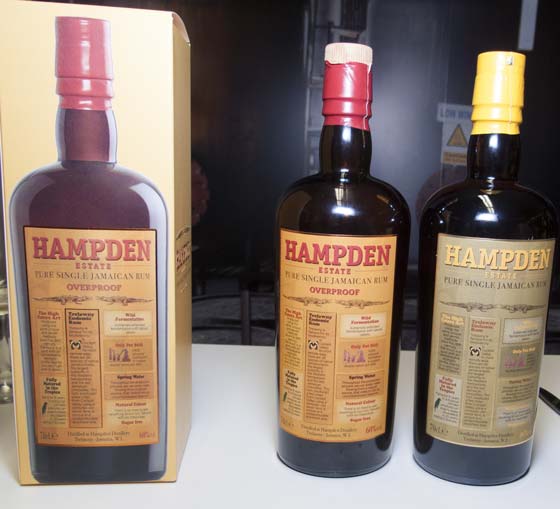 The two new official Hampden rums
I move then the end of the first floor to discover the Rum section. I stopped at the Hampden, with the two new official bottlings distributed by LMDW, the Hampden Jamaican Rum at 46% and the overproof (60%). The 46% was heavy on the esters, fresh, rather light, with light sugary flavours and some pineapples. The overproof version was slightly lighter, but I found it slightly more elegant and pleasant.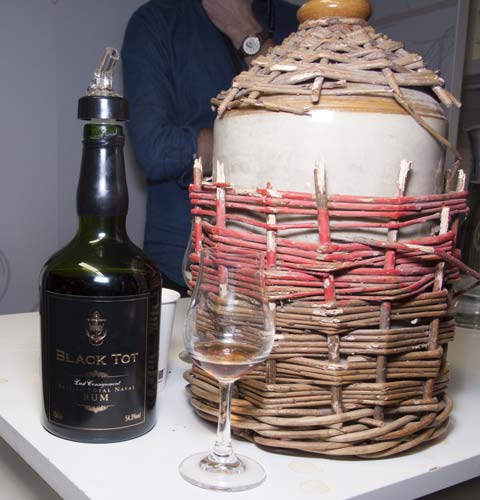 The Black Tot Rum
My next and final rum tasting was at Black Tot, a cask strength of West Indies Rum from the final consignment of the Royal Navy. I am far from being an expert in Rum, but it was really pleasant, with lots of depth, on charcoal, molasses, exotic fruits, while remaining rather light and fresh. Very good. A Rum to savour.
The Israelis of Milk & Honey presented their spirits, as the first commercially available whisky is yet to come. I tasted the Young Single Malt Triple Cask. It was young, very smooth, malty and with some orchard fruits, showing an impressive maturity for being less than 1 year old. Another fast maturing whisky, like the Indian or Taiwanese whiskies.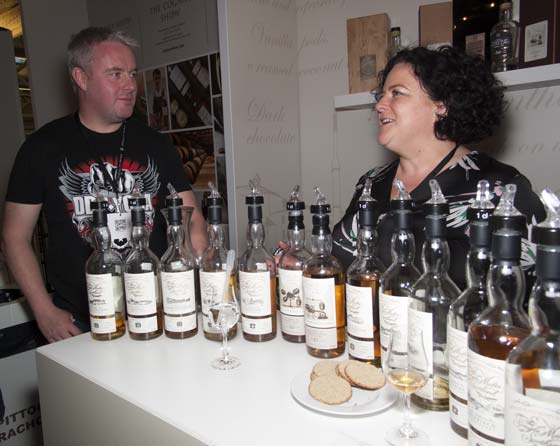 Julie at the stand of The Single Malts of Scotland
Moving back the whiskies, I stopped by The Single Malts of Scotland. As I enjoyed very much the Imperial 21 YO in Paris the week before, I could not resist tasting the Imperial 22 YO, which was rather sweet and juicy, grassy, slightly fruity, and light aromatic flavours. It seemed slightly sweeter and mellower than the 21 YO. Very good as well. The Benriach 28 YO was pretty good, and with a similar flavour profile as the one for the Whisky Show 10th Anniversary, but less intense and more mellow. The Bunnahabhain 16 YO was a very good surprise: bold, rather maritime and salty, with some tobacco and a very round sherry influence. The influence of the sherry was rather modest, but it enveloped very well the whisky, by giving some light dried fruits and candied oranges flavours. I enjoyed it very much.
At Nikka, I could try their new Nikka Days, a blended whisky to be used as a mixer for cocktails. It was rather bold malty, and slightly starchy, with just a touch of spices and peat. A vatting of grain whisky and Yoichi and Miyagikyo single malts. Rather simple, but with a rather heavy body.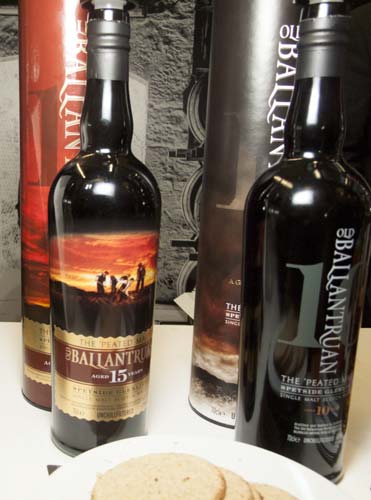 The new Ballantruan 15 yo
With the time running low, the chase for the last whiskies started. Moving in front of Tomintoul, the new Old Ballantruan 15 YO caught my attention. The whisky was very good, moderately floral and with a very elegant earthy and slightly aromatic peat smoke. I tried previously the Ballantruan 10 YO and it seems markedly more subtle and matured, with a more complex peat smoke. My palate being rather tired, I am looking forward tasting it again in fresh condition.
At Springbank, the choice was limited, as many bottles had been emptied. There was a heavily peated Kilkerran spirit, that might be bottled next year, when it will reach the age of whisky (i.e., 3 YO). They might considering making a new Work in Progress like release, with every year an older one. However, I tasted the new Springbank 12 YO Cask Strength, a vatting of 30% bourbon and 70% sherry casks, a well-made and round Springbank, with a round sherry influence and without any rubbery flavours.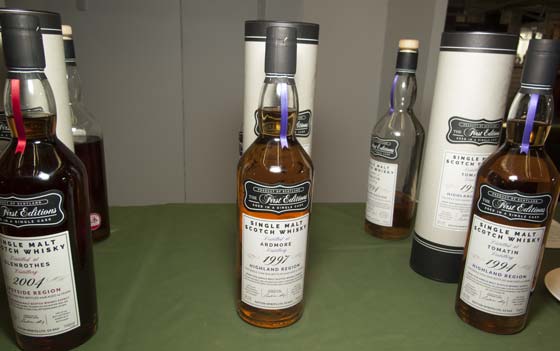 Several of the First Editions at Hunter Laing
At Hunter Laing, I tried a 25 YO Givran, a rather light, clean and grainy grain whisky. I tried a few ago an excellent example of Ardmore 1996 from First Edition and I will be curious to compare it to the 1997 present on the stand.
The 1998 Ardmore from Gordon MacPhail was a mellow expression from that distillery, rather oaky, aromatic and slightly meaty, with wood spices, some sweet sherry flavours and roots. Seemed rather woody.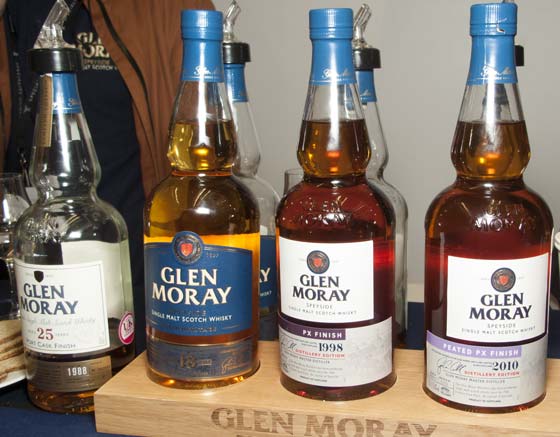 The cask strength bottlings of Glen Moray, including the 2 PX finish on the right
From Glen Moray, I tried both distillery editions, starting with a mellow, intense, slightly oaky, spicy and floral Glen Moray 1998 PX Finish, on dried and candied fruits, leather, and sweet sherry. Very good. The Glen Moray 2010 PX finish was oaky to very oaky, intense, clean, peaty, aromatic, slightly earthy, with some dried fruits, leather, berries and vanilla.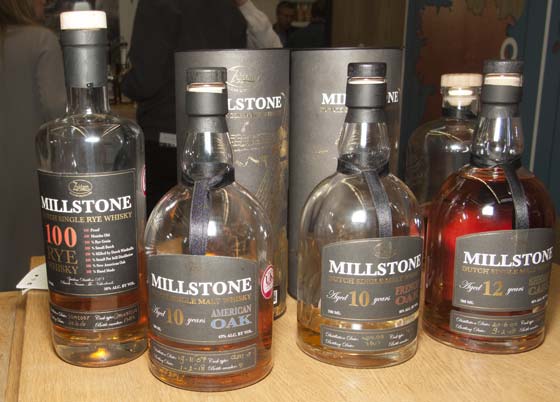 The core range of Millstone from Zuidam Distillery
Most of the Millstone core range was there, i.e., the 100 Rye, 10 YO American Oaky, 10 YO French Oak and the 12 YO sherry cask. They will be all reviewed later on. Millstone is produced at the distillery of Zuidam in the Netherlands and produces a very elegant and well-made whisky.
I was then kindly asked if I wanted to taste some Swiss whiskies (Langatun), but as I am familiar with these products, I declined the offer. However, I tasted there the Angel's Nectar blended malt, which was a whole new product for me. Looking at the business card, the name Robert Ransom was familiar to me. He was a former tour guide at Glenfarclas distillery, before starting his new business 4 years ago. The whisky was smooth, delicately peated, subtle, and slightly aromatic.
After all these fine whiskies tasted it was time to take the long journey home and to work on this report. The organisation was very good and the staff did a great job with this whisky show. The choice of whiskies was very good, the exhibitors friendly and the pours fair. Spittoons were plenty, water was readily availability, wide enough to circulate through the stands and cloak rooms available. Difficult to complain and the serves were larger than at the Whisky Live Paris, where sometimes only circa 0.3 cl. The dram list was available, which helps to make the selection and I had no time to use my food coupon. But from what I have seen, it looked very good. My main comment is the opening time. In about 4 hours and very intense work, I managed to taste a very substantial number of whiskies, but to through all my wish list and to spend more time talking, 2 days would be required. Well, I was back home almost 18 h after I left home in the morning, after a very exhausting, but very exciting day. I do not regret that and I will come back next year!
Thanks Olie, Billy, Nicolas, Katy and Julie for the discussions and the drams …
Slainthe
Patrick