Whisky-news.com is a fully independent whisky website created in 2006 by a whisky enthusiast for the whisky enthusiasts, from novice to expert, with a huge collection of tasting notes, distillery presentations, whisky fair reports in Europe, reports about whisky from all over the world, and many more. It is also the leading site for whisky literature review. Updated almost daily and free from financial support from any whisky company.
https://whiskyschiffzuerich.ch/
The Swiss Whisky Festival, November 25-27, 2021, Zürich, Switzerland
For the photo gallery, click here
The Whisky Schiff Zurich is one of the oldest whisky fair in world and it used to take place on ships at the pier in Zurich. Following disagreements between the exhibitors, there has been two whisky events taken place to Zurich, before the "original" whisky Schiff moved away from its original location. For this year, they have not only moved to a new location, Puls 5 in the suburb of Zurich, but renamed the event "The Swiss Whisky Festival".
I joined the event on its first day of opening, the 25th of November.
With a temperature below freezing temperature and fog, a perfect day for enjoying some whiskies?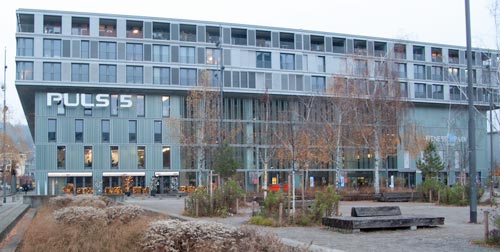 The Puls 5 Building from the outside
The Puls 5 is a rather big industrial building and when you enter the area for the Whisky Event, it was full of opaque fences and gave the impression of entering a contaminated area. The hall was large and provides ample space to move around, which is important in conditions of COVID-19 progression. The hall was very cold and thus, there was no need to leave your jacket in the cloakroom.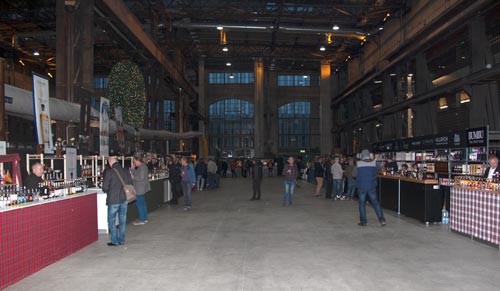 A partial view from the inside
All the tasting notes are preliminary impressions during the event and most of the whiskies will be tasted again in standard condition. Substantial differences might occur as I had to warm with my hands my glass with each pour, as the whiskies were so cold.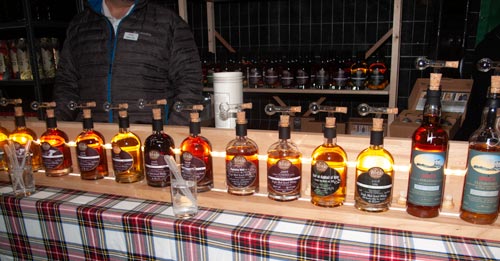 Most of the products from Awico
My first stop was at Awico trading. Willy Cotting is distributing whiskies from the German independent bottler The Whisky Chamber. My first whisky of the day was the Hogmanay Malt, a lovey round and complex sherry 13 YO whisky distilled at Highland Park distillery, on dried fruits, orange, leather with a nice complexity and intensity. A very good start. The next one was a 2009 Glenburgie, with a nice round and rather heavy sherry flavours, on toffee, orange, wild berries and some floral flavours. The sherry flavours were intense, but not rubbery or bitter. The other new product was a 5 YO Annandale bottled under his own label, Awico. Matured in an amontillado sherry cask is was a rather dirty, complex and intense whisky, moderately spicy, with some mineral smoke, spices and a rather dry influence from the sherry. The whole was very nicely balanced and I enjoyed it very much.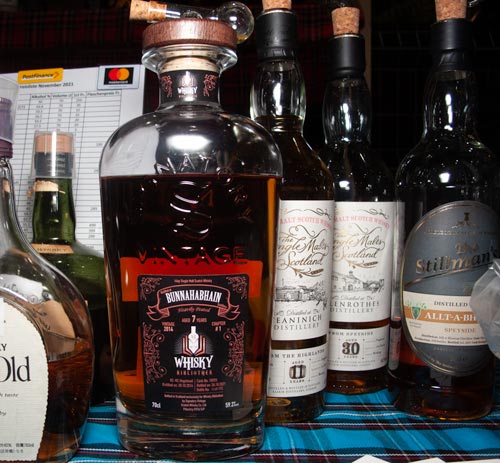 Some of the whiskies at Whisky Bibliothek
The second stop was at the stand of the Whisky Bibliothek, where I could my first Irten'ge Swiss single malt. Located in Gurten in the canton of Bern, this distillery benefits from the experience of Daniel Kissling. This Project Bottling N°1 is a 8 YO swiss farmhouse single malt, with a delicious fruitiness and mouthfeel, with lots of yellow ripe fruits, some malty flavours, tasting like some excellent aged ex-bourbon single malts. One of my favourite whisky of the day. A delicious surprise. It was followed by an original Lagavulin 11 YO Offerman edition finished in Guiness beer caks. The whisky was very smoky, maritime, on iodine and some heavy beer flavours. The beer influence was clearly present, but not overwhelming. The Caol Ila 22 YO Feis Ile 2019 was a very good balanced Caol Ila, with an elegant and complex peat smoke, maritime flavours and a light sherry influence smoothing the whole. I tasted there also their first bottling, a heavily peated Bunnahabhain 7 YO bottled by Signatory from a de-charred and re-charred whisky cask. The whisky was heavily peated, with liquorice and burnt wood flavours coming certainly from the alligator (heavily) charred cask, sea weeds, iodine, oak spices, some herbal and oaky flavours.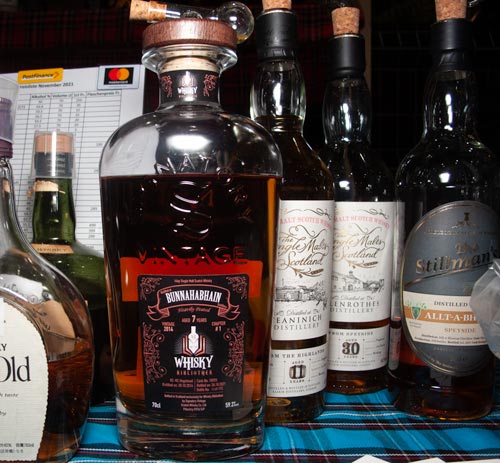 Some of the whiskies at Whisky Bibliothek
I moved then to their neighbour, World of Whisky, who had a impressive selection of new whiskies, mainly from Signatory Vintage.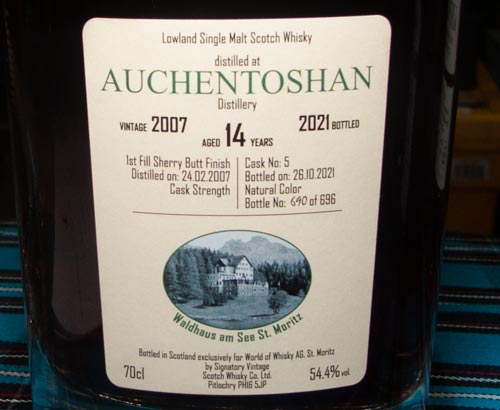 A delicious expression of Auchentoshan for Waldaus am See

My first one was an excellent and very fruity expression of Auchentoshan from Signatory for Waldhaus am See, with ripe yellow fruits from an ex-bourbon cask complemented by rich sweet brambleberries flavours coming from the first fill sherry butt. Intense and rich. The Allt-a-Bhainne 2000 20 YO from Signatory share similar intense berries flavours, on top of a more subtle and floral whisky. A very good sherry cask finish whisky. Then I tasted a series of 3 Islay single malt from the independent bottler Morrison, a mellow and elegant 15 YO Strata, with an elegant and subtle peat smoke with some hemp rope, a young, rooty and peaty Terra and the Mara, more mature than the Terra, more on citrus, iodine and medicinal flavours. The Glen Garioch Virgin Oak N°2 is the second batch of the Virgin oak expression. While the Virgin Oak might cover the ginger spices often found in this distillery, it was nicely round, on vanilla, on juicy oak and a touch of heather. Very nice. The new Highland Park Cask strength has just arrived. Darker in colour than the batch 1, it was a nice round and sweet Highland Park, slightly coastal and with some rubbery flavours, slightly too much to my liking. Like the Allt-a-bhaine and the Auchentoshan, the Benrinnes 22 YO from Signatory for Waldhaus am See was almost black in colour. It was a sherry monster, with lots of cocoa, dried fruits, leather, fudge, and tannins and a rather moderate rubbery influence. I continued with other bottlings from Signatory, with a Bruichladdich 1990 28 YO Sherry, a nice mellow and round Bruichladdich, with a good body and a light sweetness from the sherry butt. The Cambus 30 YO for Waldhaus am See with a lovely grain whisky, round, intense, nicely balanced, on vanilla and some lovely yellow fruits. Very good.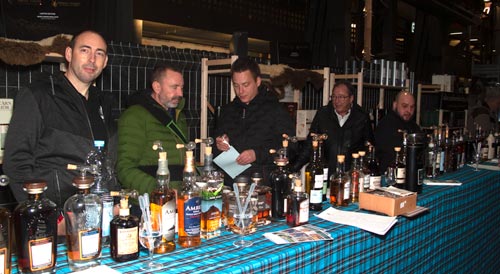 Part of the stand of World of Whisky
The Ledaig 2007 13 YO from Signatory was heavily peated, meaty, smoky, maritime, with some dried fruits and a touch of orange. The influence from the sherry cask was very discreet from this lovely whisky.

The Blair Athol 2008 13 YO was another very dark sherry, meaty, floral, on dried fruits (mainly brambleberries, candied orange),on leather, spices, including cinnamon and cloves, as well as rich fruity flavours. Very intense and with a lovely syrupy finish.
The number of new releases from Signatory, especially under their own label, Waldhaus am See, was impressive. Many very dark sherry were available (mostly sherry finish) but all the ones tasted were of very high quality, without any relevant astringency or bitterness. The value for the price of these whiskies is impressive, considering the raising prices observed these last months. My last dram there was a very nice and round Four Roses Small Batch 2021, on orange peel, cinnamon and some liquorice. A very well made whisk(e)y, without any bitterness.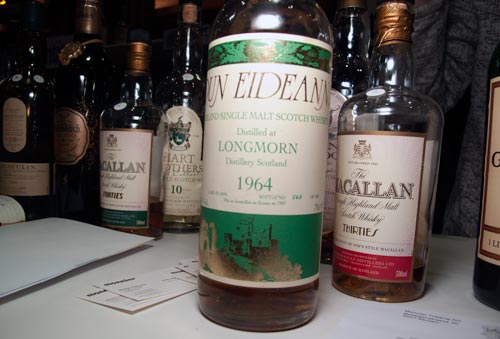 A delicious Longmorn in the rarities corner of Monnier Whisky
At Monnier, the special bottling, an Ardmore 2009 Heavily Peated whisky bottled for this event was available, but as the part of the stand was very busy, I moved to the rarity corner and tasted an old Knockhdu 21 YO in a black decanter. Knockdhu is a beautiful distillery and bottling now their products under the An Cnoc brand. In black decanter, the 23 YO is probably the most famous one and this 21 YO version is pretty rare. Although it was bottled at cask strength, the whisky was very light. A whisky that is best enjoyed neat on a rested palate as the flavour intensity is rather low, but shows a very nice subtlety in flavours, hence showing a remarkable intensity, with a sweet and fruity sherry influence, on tropical fruits, some round herbal flavours and a hint of smoke. A whisky to savour. The next one was a stunning Longmorn 1964 bottled by Signatory under their Dun Eideann Label for Divo Switzerland, a very intense, complex and balanced whisky, floral, with complex round fruity flavours, some round herbal flavours, ripe yellow fruits as well as a touch of peat smoke. These old Longmorn are superb whiskies. As I already tasted the other rarities, I moved then to another stand.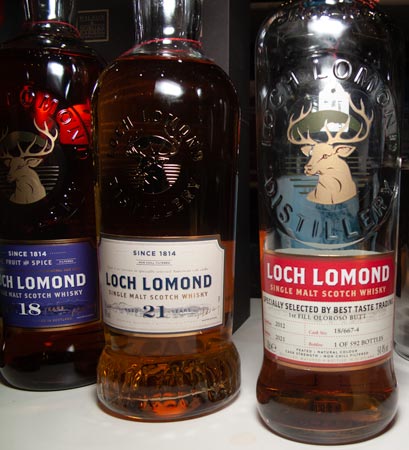 The Loch Lomond Single Cask for Switzerland (Best Taste Trading) at Spöwa Tasting
At Spöwa Whisky Tasting, I was curious to taste my fist peated grain whisky, the Loch Lomond Peated Single Grain. Distilled in a coffey still, this peated whisky was very round, smooth, with a nice aromatic peat smoke, some vanilla and round flavours of cereals. While it might not be overly complex, it is a well-balanced whisky, with a well-integrated peat smoke and pleasant to drink. The Loch Lomond Single Malt for the Swiss importer Best Taste Trading was round, malty, moderately floral, on dried fruits and rather intense rubbery flavours. A good one, but the rubber was too strong to my liking. I then tasted a very good, waxy, light and citrusy Clynelish 1996 21 YO with the old Old Malt Cask label.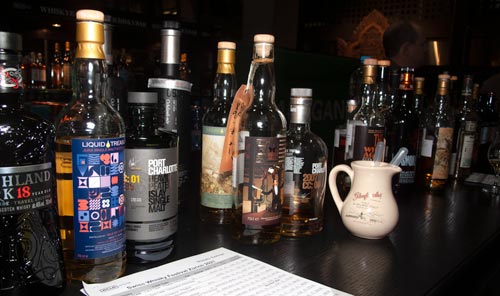 A small selections of bottles available at Acla da Fans
At Acla da Fans, I was impressed by the new releases proposed since the Hallwiler See Whisky Schiff the month before. I started with the first release of Mc' Nean, an organic whisky, herbal, very smooth and round, on juicy oaky flavours, some berries. Rather young, but easy and pleasant to drink. It was followed by a 2015 Single Cask 60.5% Man of Sword, the peated version of the whisky produced at Annandale distillery in the lowlands. The whisky was rather on nice "dirty" flavours, mineral and aromatic peat smoke, some sea brine, metallic brush, light coastal flavours as well some oak spices. A good one, but I enjoyed the version from Awico better. As part of their Acla Selection, they have just bottled a new Bunnahabhain 34 YO, a very mellow, round, rather grassy and moderately maritime malt, with a round and rather fruity finish. The finish is rather short. The Cameronbridge 1974 36 YO from The Whisky Agency for Head and Tails Canada was very mellow, fruity, on mellow grainy flavours, some exotic fruits. A good whisky, but rather fragile, therefore, do not add any water or it will get thin and oaky. From the series, there was another grain whisky, a 1991 29 YO Cambus, rather clean and grainy, with some oak spices and fragrance. The Glenmorangie 19 YO Finest Reserve is a rather round and mellow expression of this distillery, on oak spices, vanilla, and some yellow fruits. The Tomatin 21 YO OB is a very good value whisky, round, floral, oaky, with round grassy flavours, some gooseberries and vanilla. As part of their rarities, I tasted the Bruichladdich Valinch 1970 bottled for the reopening of the distillery. The whisky was rather closed, certainly due to the cold, and thus I will be curious to taste it again at room temperature. It was followed by the Glen Grant 1972 Dark Side of the Moon, an intense sherried Glen Grant, fruity, floral, with lots of dried fruits, orange and some tannins. The Caol Ila 1984 26 YO from Signatory for La Maison du Whisky, was a lovely Caol Ila, with a very good, elegant and moderately peat smoke, some iodine, seaweeds, camphor and seaweeds. The Caol Ila 12 YO from The Whisky Agency for Head and Tails Canada was a different whisky, markedly younger, clean, smoky, salty and moderately oaky.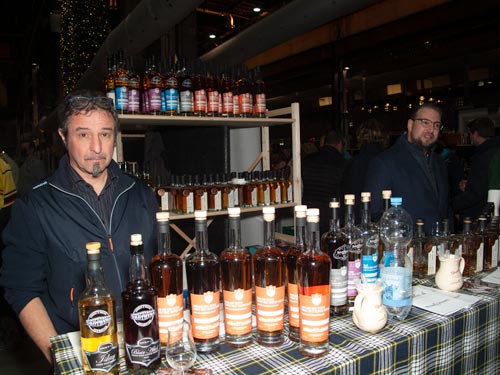 Fabrice Corneau, the man behind the fine selectionf of Strathearn single casks at Fassstar.ch
I moved then to Fassstar.ch for tasting several Strathearn from the Uniqueness of the Cask (A Few Barrels company) matured in an oak cask. I started with the French Oak unpeated version (cask 082), a very nice round and rather intense and spicy whisky, on vanilla and nicely balanced. Although it was only 4 years old, it was well matured and the wood influence was well controlled (i.e., not too oaky). The new charred American Oak cask 081 unpeated was lighter in flavours and body, round, slightly herbal and spicier. The peated American Oak cask 048 was a moderately peated whisky, with a surprising round and aromatic peat smoke, softer and without the maritime flavours often encountered in the Islay single malt. The origin of the peat is unknown, but the barley is coming from England and malted there, one could suspect that English peat is being used. The peated new charred French oak cask 087 tasted markedly less peated, rounder, and more floral. The unpeated Port Pipe cask 092 was a rather sweet version of Strathearn, with a rather winey and slightly syrupy mouthfeel. The Port was well balance and integrated in the whisy. My final Strathearn was the unpeated sherry cask, a sherry monster, round, vegetal, dried fruity (red berries), orange and malty flavours. Too rubbery for me, but one that will appeal lovers of sherry bombs as the sherry is very intense, without being astringent. The combination of recharred cask and small cask size (octave) worked well with the Strathearn. These whiskies were round, balanced and tasted more like a 10-12 years old whisky than 4 years old. It was also good meeting finally Fabrice Corneau, the man behind this swiss brand.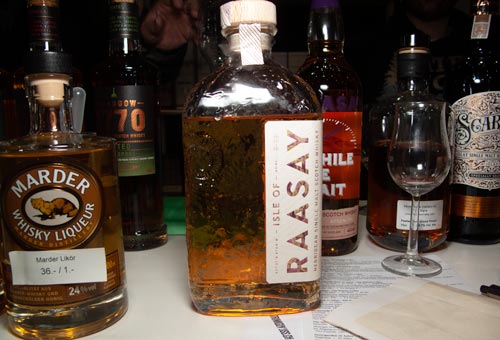 At Trinkgenuss, I could taste the lightly peated Isle of Raasay batch 2
At trinkgenuss.ch, they had the 3 different bottlings of Glasgow 1770, that finally arrived to Switzerland, but as I tasted them at the time of their initial release, I tasted the Isle of Rasay Moine, a rather dirty moderately style of whisky that reminds me of the old oily Campbletown whiskies, with a moderate winey (grapes) influence. This batch is composed of unpeated and peated whisky matured in 3 different types of casks: first-fill rye whiskey, virgin Chinkapin (American white oak), and first-fill Bordeaux red wine casks. A whisky difficult to judge, due to its originality and flavours going in many directions. In any case, a good one. The next one was a 8 YO Swiss single malt, the Swissländer fino from the Sönnenbrau distillery. A very round and smooth malty single malt, easy to drink, with a nice and rather sweet fino influence. A good whisky to start exploring whiskies.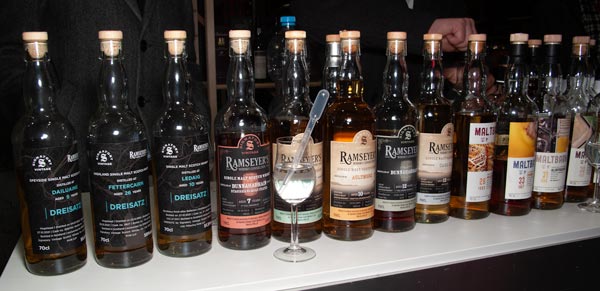 Ramseyer's Whisky Connection special bottlings and some of The Maltbarn selection
My next move was at Ramseyer's Whisky Connection , the famous whisky retailer of Zürich. As part of his own Ramseyer label, there is a new selection, the Dreisatz, a selection of whiskies made by his three assistants and bottled by Signatory. I started with their Fettercairn 26 YO, a mellow, very round whisky, with lovely round floral flavours, vanilla and some yellow fruits, with spices developing progressively. Markedly more intense than the official bottlings. The Dailuaine 9 YO shared a similar profile, with round floral flavours, vanilla, yellow fruits as well as spices released progressively. However, it was slightly cleaner and slightly more oaky and spicy. A very nice drinking whisky. Before tasting the peated bottlings from Ramseyer's whisky connection, I tasted several Maltbarn whiskies, starting with a 1992 29 YO Isle of Jura whisky, mellow, round, salty, with some fudge, salted butter and light vegetal and aromatic flavours. I enjoyed very much its salty and maritime profile. The 1987 33 YO Bunnahabain was a very good mellow, fruity and slightly maritime expression from this distillery, with nice round grassy and slightly fruity flavours, leaving a very nice impression on the palate. Going back to the Ramseyer's whiskies bottled by Signatory, I tasted the 12 YO Bunnhahabhain, a salty and maritime sherry bomb, with lots of dried fruits, orange, spices and rather strong rubbery flavours. Too much for me. One for the sherry bombs lovers. The Bunnahabhain Staoisha Heavily Peated 7 YO is from the sister cask of the Whisky Bibilothek and shared a very similar profile. A head to head comparison will be very interesting. The Ledaig 10 YO was a Bordeaux Finish after Ballechin, suggesting that a Ballechin (peated Edradour) was matured in an ex-Bordeaux cask and used for the final maturation of this meaty, very intense and peaty Ledaig, maritime, medicinal, on sea weeds, sea brine and a light winey influence. Very good, balanced and rather complex.
Looking at the time, it was already over 22h00 and more than time for me to catch the train for home. I did not managed to visit half of the stands, but I was very happy with the whiskies that I tasted and I am curious to see how they have evolved once I will be tasting them at home. There some kind of heating that the organizers put in place, but this did not really help to warm the place and my feet were frozen when I left. The location of the event provided lots of place, so it was very to move between the stands, but it is rather remote from the Zurich centre and the temperature did not allowed tasting whiskies in suitable conditions, unfortunately. I will be curious to see what will happen next year.
Except for the temperature, the choice of whiskies was excellent and the number of new releases impressive. In addition I enjoyed thoroughly the discussions with the different retailers that I met during this event.


Slainte,
Patrick, 27 November 2021