Report by Bruce Crichton
After recovering from tonsillitis in my leg, I headed to Dufftown. Relieved that the tonsillitis hadn't spread to my elbow – I really would have been in trouble then - the spring Speyside Whisky festival was just what I needed with several days of great whisky, great food, occasional wildlife, rare insight and perplexed scribbling, here is my account of it.

As usual, each whisky was finished completely, maintaining my reputation, if not my liver. Because of this, I apologize in advance for any factual errors and caution the reader that my tasting notes are even more subjective than most writers' and I defer to any expert tasters who commented in my presence. To keep this report from being overlong, I refer the reader to previous reports and tastings if a whisky has appeared before and I have also assumed the reader is familiar with any widely available bottlings mentioned. Any cask samples tasted are described briefly, since these are not available for the reader to buy. Finally, any water added to a whisky tasted was, literally, one drop and whiskies were 40% abv, if the strength is not otherwise indicated.

Mates of the Museum
On Thursday night, what better way to kick off the festival than by reuniting with old friends and making new ones at the 'Mates of the Museum'? Ian Millar of William Grant's joined us and treated us to a number of cask samples from Glenfiddich, Kininvie, and Balvenie plus a 1973 Ladyburn from the long closed Girvan distillery. Interestingly, Ladyburn was built to supply malt whisky for a lucrative contract and ran from 1966 to 1975 when the contract ended and much needed repairs were deemed too costly. Girvan remains the home of a fully functioning grain distillery and is also the home of Ailsa Bay malt whisky distillery. Worth noting as well is the fact that Grant's blended whisky contains a proportion of 20 year old grain whisky.

As a special bonus, we tasted the limited edition 'Snow Phoenix', at 47.6%abv, which tasted of very refreshing sherbet and is a must buy for anyone who can lay hands on it plus the new 19 year old Madeira cask available from the shop and from travel retail outlets.
Auchroisk and Glen Grant tour
Friday morning began with a bus tour to Auchroisk distillery at Mulben, by Keith. Greeted by Alistair Abbott of owners Diageo, we headed round the distillery, built in 1974 and historically associated with the 'J & B' blends. Auchroisk uses both long and short fermentations to maintain their spirit character of nuts and spice. The purpose-built site also has extensive tanking and warehousing facilities that allow spirit from nearby Diageo distilleries to be transported by tanker to Auchroisk. The distillery is used for gin production as well as whisky.

Closing our short but informative tour was a dram of the 10 year old bottling from the now discontinued 'Flora and Fauna' range that had a lovely syrupy and malty nose and a taste of nuts, spice and bourbon, fully representative of the house style.
Moving on to Glen Grant, the production of which is covered in my Spring 2009 festival report, we met distillery manager and master of his art Dennis Malcolm. As we headed round, Dennis treated us to a potted history of the distillery and noted that the addition of purifiers to the process was then revolutionary as most of the competition was making heavy spirit in the style of neighbouring Macallan.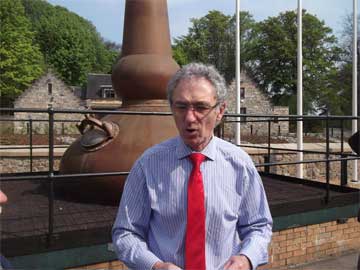 Dennis Malcolm, Glen Grant Disstillery Manager
Canadian giants Seagram's acquired Glen Grant in 1978 who used it for blending and it virtually disappeared as a single malt before Chivas bought it and then sold it to Campari in 2006, together with the Old Smuggler blend which sells 400,000 cases a year. Dennis told us that Italy is the biggest market in the world for single malt whisky and Glen Grant sells 350,000 cases there alone.
Dennis demonstrated his knowledge of both casks and quality control by noting that more and more stock is being laid down for future bottling and recalled a story of malt contaminated by diesel that was caught just in time. Despite his decades of experience, Dennis is not a traditionalist in his methods and stressed the importance of automation in the process for giving consistency, most notably in the spirit 'cut'.
Moving on to the tasting, we had both the widely available 'Major's reserve' and 10 year old expressions and I noted that both seemed more solid and flavourful than before which is down to increased use of refill sherry butts to the mix. By this method, Dennis also tries to achieve consistency of colour as well, in his whiskies. The 16 year old 'Cellar reserve', limited to 17,000 bottles at 46%abv, smelled of light treacle and indicated some subtle sherry influence and it was both elegant and velvety to taste. Though Glen Grant did not send Jim Murray a sample bottle, much to his annoyance, Mr. Murray did give the whisky a deservedly high score. A 1958 Gordon and Macphail vintage bottling was a once-in-a-lifetime experience to taste. From first fill sherry casks, this dates from the days when the distillery used its own maltings and it had 7ppm of peat. The nose and taste were of both leather and dark chocolate orange.
Closing the session was a 17 year old cask strength 1992 bottle, at 58.8%abv. (Cask 17152 yielded 360 bottles). The nose was fruity and sherbet and was marvelously sweet followed by a smoky aftertaste that came from the cask previously holding Laphroaig. Such a rarity made this a must buy and it was a tremendous finish to a lovely tour and it was a great honour to see a master such as Dennis at work.
Gordon and MacPhail
After lunch, Mike Patterson introduced the latest releases from Gordon and MacPhail. After first alerting us to a forthcoming 2000 'distillery label' Scapa that will replace the popular 1993 vintage, we tasted a 2001 'Speymalt' Macallan at 43%abv from refill sherry casks. Wedding cake on the nose was followed by a taste of marzipan, nuts and almonds and a spicy finish. Benromach 'Origins' batch 2, 50%abv, had spent all of its 10 years in port pipes and smelled of port, understandably enough. The raisin taste was velvety and smooth with an after dinner quality about it, especially the long, soothing finish.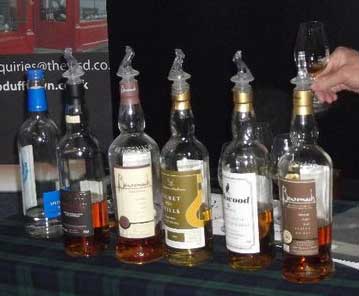 The Gordon & MacPhail bottling tasted during the tasting.
A 1994 'Secret Stills' 4.13, distilled by the shore of Lochindaal, Islay, at 45%abv smelled of mints, light smoke and salt and tasted exactly like its nose. This dram, from the oldest distillery on Islay, had been matured in remade bourbon casks and had a soft, delicate finish with a little smoke.

A 'Distillery Label' Linkwood 25 had just been bottled that week at 43%abv and we were among the first to officially taste this new bottling. Stephen Lunn recommended that this be left to breath before drinking it and the light nose was of peach syrup, followed by a floral taste that becomes creamy with a drop of water.
As an aside, Mike told us the story and process behind the stellar Benromach 'Organic' bottling. Matured in new wood for 6 years, Mike reckoned that any longer would have spoiled it. Benromach was closed by Diageo in 1983 and gutted. Reopened in 1998, the new Benromach has different shaped stills from the old one and, hence, produces much different spirit. The company, when buying the distillery, also bought all the Diageo stock and some of this production went to the Benromach 30 year old, 43%abv. The 25 year old is still available and contains a lot of older whisky. This bottling, from first and refill sherry butts, had aromas of toffee and wedding cake with some smoke to taste as well as marzipan and apricots.
As in the spring, we closed with a stellar 1996 Caol Ila, taken from three refill sherry casks and which was previously reported on in my Autumn 2009 report.
WSD Challenge - Speyside
Returning for the Whisky Shop Dufftown Speyside challenge, I was treated to a number of classic drams and offered the chance to write my own tasting notes. Being hopeless at this kind of thing, I'll mention only that the drams were: Wemyss 1996 Benrinnes 'Ginger Compote', G&M Linkwood 15, G&M 1996 Connoisseur's choice Glen Elgin, Duncan Taylor (DTC) NC2 9 year old Balmenach, 1997 Douglas Laing Old Malt Cask (OMC) Mortlach, Gordon & MacPhail Longmorn 30, Adelphi Linkwood 1984, DTC Rare Auld Tamnavulin 1989.
Special notice must go to the OMC 1990 Glen Grant. Douglas Laing's Jan Beckers had far surpassed my achievements over the winter by joining a secret society so secret that they don't know they exist and so secret that he didn't know he had joined them and he celebrated by pouring me a bucket of this wonderful dram that tasted like licking strawberries and cream off of Jennifer Lopez. (That got your attention, didn't it?). In seriousness, I've had whiskies with bigger flavours and others that are easier to describe but never one so heartwarming as this. This whisky, at 50%abv, has the official tasting notes saying that is rich, spiced and warming with gingery spiced fruits and a dry, leathery finish, tailing with a nutty spiciness. This was the perfect way to end a day packed full of stunning Glen Grants and distillery fans should not miss the chance to pick this one up.

Saturday Morning Whisky Fair
Highlights of the whisky fair include: 1997 G&M Fettercairn, 43%abv, a light, floral taste with lovely sweet vanilla and an interesting contrast to the official expressions and their sherry maturation.
Douglas Laing Clan Denny Girvan 20 year old, 59.7%abv, was both fresh and bourbony in taste and a must for grain whisky lovers.
Cadenhead's 'Duthies' Longrow 9 year old, 46% abv, achieved an excellent balance of peat and sherry while their 'Classic Campeltown', 50%abv, was a real find, tasting of malt and vanilla with a hint of smoke.
The new Tomintoul 21 had a Wham bar nose and was fresh, fruity and spicy with some elegant sherry while Glencadam 14 Oloroso finish, 46%abv, was warm, chewy and slightly prickly – no hedgehogs I hope – and tasted of stewed fruits.
WSD 1995 Balblair, 59.8%abv, trailered in Autumn 2010, is now an official Mike Lord bottling and demonstrates that Mike has his finger on the pulse of a great dram. My notes read "noses of rum and marzipan and tastes of cognac and Christmas pudding with no alcoholic burn, despite its high strength".
An official 1986 'Distillers Edition' Glenkinchie, 43%abv, finished in Amontillado sherry smelled and tasted of Turkish delight.
Benriach 'Horizons' 12 year old, 50%abv, is triple distilled, rich and syrupy in flavour while a most impressive 1984 peated Oloroso sherry finish, 55%abv, had coffee, dark chocolate, smoked fish, sherry and Turkish delight.
Dream Drams Longmorn 12, 57.3%abv, had cereal and malt flavours and water made it creamy while their Littlemill 18, 60.2%abv, had smoke, spice and bourbon, having been in a cask that had previously held Islay whisky.
Closing, I had 1991 Connoisseur's choice Littlemill, 43%abv, with some malt, cereal and refresher sweets to taste. Though the distillery is long gone, perhaps Littlemill will achieve posthumous recognition, going by the standard of the bottlings that have appeared at both spring and autumn festivals.

Bruichladdich range
Stating the case for Bruichladdich, all bottled at 46%abv as standard, was David Keir who began with the 2001 'Classic' bottling. Smelling of vanilla and honey, this had a smooth, warm and subtle taste with lightly smoked fish to finish. The 2003 'Organic' had barley aromas with a creamy taste and a hint of wine and a long peppery end while the 12 year old is undersold, being effectively a 15 year old. This had a floral, lemony nose and a brilliant lemon meringue pie middle that gave way to a slightly sharp, bourbon finish. The 18 year old, finished in Jurancon dessert wine, nosed and tasted of sweet wine though the finish was slightly bitter albeit long, spicy and peppery
The 'Laddie' was mothballed in 1995 by then owners Whyte and Mackay and reopened by Murray McDavid in 2001 though a small production was carried out in the intervening years. Bruichladdich has tall stills, producing a light spirit, rather than the heavy oily kind produced by the south Islay distilleries. The malt used is traditionally 3 ppm peat though the current 'Octomore' batch is peated to 167 ppm. In fact, the Laddie uses 7 or 8 types of barley and is currently experimenting with different types of yeast. Interestingly, the first batch, bottled as 'Resurrection', was made with 10 ppm peat and this writer recommends this to any fans of the old Whyte and Mackay bottling.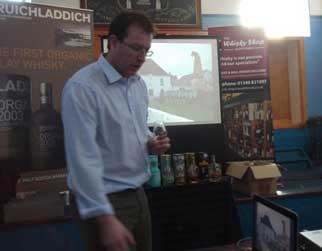 David Keir presenting the Bruichladdich range.
The previous owner's legacy was problematic with a number of casks virtually dead and had to be re-racked by Jim McEwan though the 1970's vintage casks were of a tremendous standard, David assured us.
Our final dram was the Port Charlotte 8 year old, at 60.5%abv, used barley peated to 40ppm and had some lovely salty, smoked fish aromas with the same again to taste with some additional toffee and a soft, restrained finish.

Cadenhead's Tasting
As he did in Autumn 2010, Mark Davidson of Cadenhead's had us taste our whiskies blind, as it were, and then guess what the whisky was before deciding if we liked it and how much, if anything, we would pay for it, effectively recreating Cadenhead's method of picking casks.
A Mortlach 16 year old, at 54.2%abv, smelled sweet, like Cognac, with vanilla and syrup flavours and a cereal finish, becoming very easy to drink on dilution. A 12 year old Glentauchers, at 56.1%abv, had a cereal maltiness to it and was light, delicious and creamy. A 30 year old Glen Elgin, at 49.1%abv, had coffee, treacle and dark chocolate on both the nose and taste though the finish is short. This bottle prompted a discussion between Mark and myself in which we reckoned that the age and price of a bottle isn't always reflected in the taste though I did think that rarity value, such as the Littlemill featured in the Autumn 2010 festival was worth considering because the distillery was now demolished.
Next was a delicious Hazelburn 8 year old, finished in Sauternes wood and at 55.9%abv, had a huge robust nose with toffee and wedding cake though it was lighter to taste with syrup and oranges and a silky, long finish. Concluding the tasting was a 16 year old Laphroaig, at 55.2%abv. In classic Laphroaig style, this had both smoke and salt on the nose and was both elegant and smooth to taste and finish.
Tannochbrae Gala Dinner with Glenglassaugh whisky
Saturday night in Dufftown brought a double treat with dinner at Tannochbrae restaurant where Allan and Susie served up some more fantastic fare accompanied by more whiskies and spirit products from Glenglassaugh distillery, presented by special guest for the evening Ronnie Routledge. Glenglassaugh was built in 1875 and ran till 1907 and then ran again from 1960 to 1986, when Highland distillers mothballed it. The whisky was used almost exclusively for blending in such brands as Famous Grouse and Cutty Sark. The Dutch company SKANT revived Glenglassaugh in 2008, buying back some 500 casks. The distillery can produce 1.1 million litres per year but currently produces 250,000 litres. The first spirit produced will officially become whisky in November 2011 and, in the meantime, several spirit drinks have been launched, together with a sloe berry liqueur. Also of note is a peated spirit, made with Aberdeenshire peat, produced 2 weeks out of the year.
The aged whisky available from Glenglassaugh is tremendous and all bottlings, bar the 26 year old, are single cask. Said 26 year old is from a solera system and is marvelously lemony sweet and makes a breathtaking dram to go with salmon. By contrast, a 34 year old single cask, at 52.3%abv, matured in sherry casks and finished in Sauternes wood was sweet, meaty and had some charming brown sugar notes.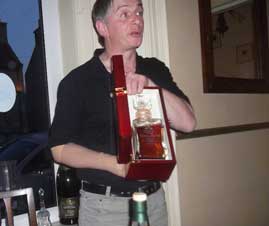 Ronnie Routledge and the Glenglassaugh 1966 single cask.

The 1966 single cask, at 49.2%abv, was from a refill sherry butt and was rich with coffee and toffee sauce flavours and had a subtle, restrained finish. Should the reader obtain any of these bottles, then consider yourself to have done very well as it was a real privilege to taste whisky like this.
To end with, I add that Glenglassaugh does 'behind the scenes' and 'ultimate' tours and, hopefully, this distillery will be as successful as recently reopened distilleries such as Benromach and Bruichladdich have been in the past decade.

Wemyss Whisky with Susan Colville
After I returned empty-handed from my Sunday morning duck hunt, I couldn't throw the dog high enough, Susan Colville presented whiskies from Wemyss Vintage malts of such quality; I hardly talked about wildlife at all. Each bottle was 46%abv. A 1996 'Honey Pot', from Glen Moray, lived up to its name and I also got citrus, honey and vanilla tastes and a spicy finish that led me to tell Susan that I got dry roasted penguin sandwiches, much to her obvious delight which she showed by dropping her shoulders. (These are not found in Antarctica but are still widespread in Patagonia, as you probably knew already.)
The 'Honey pot' also enthused festival regular Danny Maguire whose next business venture aims to follow the success of vintage wines and vintage whiskies with vintage milk and, if that is successful, vintage yoghurt. (Can vintage sandwiches be far away? You heard it here first.)
A 1989 Glen Garioch called 'Orange Tree' was the next in the series of casks that yielded the 'Herb Garden' and ' Fruit Bowl' releases. Very well named, this one had a light orange nose and a taste of orange sorbet and a finish that Susan describes as burnt marmalade.
The 1996 Benrinnes 'Ginger Compote', from a refill sherry cask, is one that Susan recommends to accompany vanilla ice cream. Though this didn't need water, a drop opened a treasure trove of flavours with ginger and cinnamon and stewed fruits before a sweet, long and charming finish. 1990 Dalmore was named 'Mocha Spice', who was certainly never in any popular girl group. This was another consecutive cask from last year's award winning 'Tropical Spice' and may have benefited from bottling at cask strength though it was still richly chocolaty with both coffee and spice notes.
We ended with a 1996 Caol Ila, named 'Smoke Stack' that again could have done with being bottled at cask strength but was still a treat. The nose had a light saltiness and smoke flirted with both my sense of smell and taste with a big finish that lived up to its name.

Adelphi Tasting with Antonia Bruce
Before Antonia Bruce presented the latest life savings bait from Adelphi, Mike Lord and I discussed the difference between 'stunned panic' and 'perplexity', resolving that Mike can keep his term to reuse as often as I reuse mine – just as well as the 'pyjamas of stunned panic' is a preposterous concept.
Three forthcoming releases were previewed, the first being a 1986 Strathmill, at 58.6%abv, that had light golden syrup, honey and vanilla notes as well as sponge cake, cream and vanilla. A drop of water revealed milk chocolate and some gentle smoke. 1997 Clynelish, at 59.5%abv, had some lovely warm honey and peach syrup vapours and a sweet, warm, lightly smoky tasted with a salty, smoky aftertaste with a superb mouth coating feel to it. A 1990 refill sherry matured Glenrothes, at 58.6%, had Antonia noting the smell of a varnished pine floor as opposed to the polished oak noted by brother Alex, in his notes. I found some treacle, fudge and wedding cake to this luxurious and well balanced dram.
A 1998 Bunnahabhain, at 53.4%, had me commenting that it smelled like 'treacle so thick you could dance on the top of it'. (When in doubt, recycle your old tasting notes and hope nobody notices). Also present were burnt sugar and Christmas cake as well as apple crumble and toffee with some dark chocolate to end. Moving round Islay, we closed with a 1998 Bowmore, at 61.9%abv, which smelled of mint, sherry and smoke. I also found it tasted of smoked fish, cooked in an exotic sauce with a slightly briny finish as well as accompanying oloroso sherry and amazingly, the official tasting notes agreed with me but I managed to resist asking for a sworn affidavit to that effect.

Robin Laing – 'Never mind the whisky, feel the box'
Robin's theme for the whiskies was packaging. In each case, the whisky had been presented in interesting or unusual bottles or boxes or tubes. The Glenfiddich 'Snow Phoenix', made from casks rescued from the warehouse roof collapsing on it, had featured in the 'Mating' from Thursday night and I add only that this had warm toffee sauce and apples on the taste, as well as the sherbet noted earlier. Glenmorangie 'Signet' was next, reappearing from the spring 2010 festival and prompted Robin to ask if packaging attracts us, helping to sell the whisky,
Bruichladdich 'Black Art' second edition 21 year old, at 49.7%abv, fully matured in red wine. This whisky is the inspiration for a track on Robin's new album 'Whisky for breakfast' alongside 'Turquoise frame of mind' and 'Bruichladdich dram', all of which are inspired by the same distillery. This was a dram that could tempt wine drinkers to switch to whisky and Robin described as a 'Special sipping whisky' – another track from the new CD. This had Turkish delight and aniseed aromas with a restrained taste and a finish that hovered between light treacle and syrup.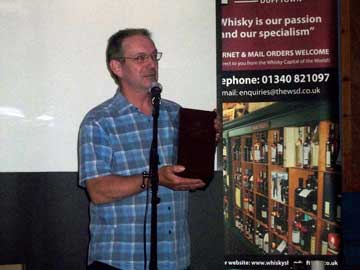 Robin Laing

Pulteney WK 209, at 46%abv, is available from airports and was more memorable for its packaging, truth to tell, than any outstanding flavours, rather resembling cough syrup on both nose and taste with a little salt hinting at the distillery character. However, noting that Pulteney's home town of Wick had prohibition for 25 years, Robin treated us to 'Snuffed out', a song about those years. To this day, Wick has a prohibition ball that, thankfully, is not a dry occasion and this song was specially written for the ball.
An SMWS bottle of Caol Ila, named 'Sea breezes over the machair at night' and bottled at 60.5%abv, upped the stakes with its smoked ham nose and taste and Robin's last dram was his own bottling of 2003 Bruichladdich, at 55.3% abv, fully matured in port pipes and only available from Robin himself and you can't get more exclusive than that.
Highlights from Robin's performance are available on both Facebook and www.youtube.com and his latest collection is his strongest to date, with thought-provoking songs about Glenlivet's George Smith, Monkey Shoulder, Paul Campbell, the smallest whisky bar (in Switzerland) plus a highly amusing rewrite of 'Wee Cooper o' Fife' as well as a number of tunes that had been trailered at previous festivals.
Benriach – presented by Stewart Buchanan.
Monday afternoon gave Stewart Buchanan, distillery manager, the chance to show us the latest releases from Benriach distillery.
We began with 'Horizons', the triple distilled version I had tasted on the Saturday and the thick golden syrup taste suited my palate extremely well indeed. This release will be limited to about 2500 bottles and will be out again in 3 or 4 years' time. It had begun life in bourbon casks then re-racked to sherry casks for the last 2 years to add depth as, in Stewart's view, such light spirit would be overpowered by first fill bourbon maturation.
Moving on to the production process, Stewart told us that peating began at Benriach in 1972, using highland peat, rather than Islay peat and this was great foresight by the previous owners. Such production involves a very broad cut of the spirit. Some of this peated spirit was filled into port pipes, Stewart's favourite type of cask, and the Solstice 15 year old, at 50%abv, had used the spiciest casks to maintain flavour. On the nose, the peat wrestled with the port until both were in a knot and the taste and finish were, just like Stewart said, spicy. Again, this release is limited to 2500 bottles.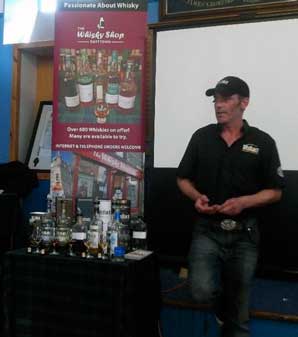 BenRiach distillery manager Stewart Buchanan on the stage

Benriach is known for a vast range of exotic cask finishes and Stuart told us of reviving whisky matured in Tokaji dessert wine casks by putting it into virgin oak and it was bought, ironically, by Hungarians whose country Tokaji comes from. By contrast, Stewart prefers Pedro Ximenez sherry wood to Oloroso as it adds more sweetness. As an example, he gave us a remarkably elegant 1977 cask sample and told us of a 1966 vintage that will be bottled in November as its alcoholic strength is falling low and won't see another year.
After tasting the widely available 10 and 16 year old versions, well covered in previous reports, Stewart did add that both expressions contain whisky substantially older than the advertised age and the same is also true of the 21 year old 'Authenticus', at 46%abv. The 'overage' policy is carried out to ensure a breadth of casks to choose from. Off all the peated Speyside whiskies, Benriach is the most Islay-like in character and the 'Authenticus' offers the peat lover a chance to buy relatively inexpensive 25 year old whisky. A bargain buy, given the price that older Islay whiskies command today. Also to look out for are some second fill bourbon quarter casks that have been used to mature peated spirit and this will be a fascinating comparison with Laphroaig's popular QC bottling. These casks have been filled at higher strength, which speeds maturation and improves quality. Fatally, for everyone else, but interestingly for myself, Stewart and Mike Lord, this idea sparked a discussion between the three of us about the peaks and troughs of phenolic flavours, a theme I shall no doubt return to in future reports.
As a bonus, Stewart brought along the so-called component parts of the Benriach 16 year old, with first fill bourbon, refill bourbon, virgin oak, peated and sherry matured all of very high quality and all of which could have made stellar single cask releases in both my view and Stewart's. Also worth noting is that he agreed with me that young bourbon cask matured Glendronach is excellent and perhaps we shall see some of this in future single cask vintages to come.
I close this section by recommending that any reader visiting the festival would do far worse than to come to a Benriach tasting, given the samples tasted here.
Duncan Taylor masterclass and masterpiece
Mark Watt, of DTC, who is writing his autobiography and would like anyone who remembers where he's been for the past 20 years to write in and tell him, brought the last festival tasting to us and we began with some of the second batch of Black Bull 40 year old, at 41.9%abv. At 90% malt, this was a delicate, light and silky dram, held together, in Mark's view, by the Invergordon grain whisky. The third batch is on its way soon, apparently. Also on its way is Black Bull 'Special Reserve', to be bottled at 46.6%abv, which carries no age statement but contains a high proportion of 1970's whisky and is 50% malt. This preview taste had a malty, sweet nose with a lovely Turkish delight middle and some smoke to finish with. Danny Maguire reckoned that this was straw in colour but didn't recommend drinking it through one, possibly because the gravy from his pork pie hat was running down his ears at the time. As a welcome little snack, we were treated to Black Bull ice cream and it was lovely, tasting, as it did, mostly of Scotch. (You probably saw that one coming……..)
The 'Rare Auld' 1989 Tamnavulin, entered in the WSD challenge, at 54.3%av had been matured in a refill sherry cask, giving it a meaty, Bovril-like nose with a spicy and well-balanced chewiness that gave way to a peppery and long finish. Mark reckoned, with justification, that chill-filtration would have ruined the chewiness of this one because, as we know and Mark has conclusively demonstrated, chill-filtration is evil.
A 1978 Octave cask (55 litres) Cameronbridge, at 53.3%abv, kept up DTC's legendary standard for grain whisky. The Octave range spends between 3 and 6 months in the cask, a process that revives old casks and beefs up young casks. However, the whisky must be considered good enough to bottle for DTC before it gets the extra maturation. This had both marmalade and bourbon on the nose and a middle that was delightfully balance between vanilla and sherry followed by a long smoky sweet finish. Mark reckons that this would have made better ice cream than the Black Bull but that's another story.
Also advantageous about the Octave range is that it does offer people the chance to buy their own cask as Mark admits he would get bored of a single full size cask, 439 bottles being too much and he loses interest after the first 200 bottles, or half an hour, whichever comes soonest.
The latest batch of 'Auld Reekie' 10 year old vatted malt, at 46%abv, lived up to its name, something that previous batches had not done. Though the quality of these batches was high, some sherry casks had been used, diminishing the smoke. This smelled and tasted of lightly smoked fish with some ash and smoke on the finish without being overpowering, in short, classic Caol Ila characteristics.
Mark ended with a 1983 'Rare Auld' Caol Ila, at 52.7%abv, from his favourite Islay distillery. This was exceptionally sweet and salty to nose with great depth of flavour, particularly pepper and smoke and a very long finish.
Such was the strength in depth of this tasting that I do hereby acclaim Mark as the god who everyone wants to be and whose liver no one wants to have.
The drams party brought the festival to a charming end where Mike announced that Gordon and Macphail's Longmorn 30 had narrowly defeated the OMC 1990 Glen Grant to win the Speyside category and DTC 1978 Cameronbridge had edged out Adelphi's 1979 Bunnahabhain. The most entertaining tasting note was this gem: Nose – weak. Like France, it may surrender at any moment though "Taste – Quite strong. Like a burly Highlander – rough but gentle" and "Finish – Like the Highlander had his way with me" from the competition winner and "Finish: Couldn't" were also superb.
In closing, I'd like to thank everyone involved in organizing and running the festival and, in particular, Mike Lord and his wife Val, Steve Oliver, the wonderful people at the 'Coffee Pot' for keeping me going through the weekend, to Vicky at the Whisky Shop, to the unsung heroes at the Masonic Hall for their bacon sandwiches, to Gordon Haughton, to Claire for the proofreading, to Rene and Glo and everyone involved with the 'Mates of the Museum' plus Alan and Susie at the Tannochbrae.
I'm off to help Manchester United recapture Wayne Rooney after they accidentally released him into the wild and hopefully, I'll see you again at the Autumn festival, guaranteed to be full of whiskies that taste mostly of Scotch, where some deserve to be signed 'Moist Von Lipwig' and will be followed by a report containing the word 'perplexed'.
.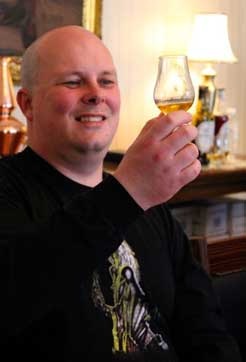 The Author, Bruce Crichton working hard during the festival.