Spirit of Speyside Whisky Festival May 2010
29 April- 03 May 2010
Report by Bruce Crichton
After abandoning my quest for enlightenment – the quest for perplexity is much more fun - I headed to Dufftown. To help me on my way, the Spirit of Speyside Whisky festival was just what I needed and after several days of great whisky, great food, great music, flashy shades, hakas, kiwis and the amazing re-emergence of Amazonian tree frogs, here is my account of it.

Once again, each event was done in 'Brucie style', my slops bucket being as of little consequence to me as a book of hair-raising stories, especially as Stone Cold Steve Austin nicked mine. For this reason, I apologize in advance for any factual error, as whisky is not a memory aid and caution the reader that my tasting notes are even more subjective than most writers' and I defer to any expert tasters who commented in my presence. To keep this report from being even longer than it already is, I refer the reader to previous reports and tastings if a whisky has appeared before and I have also assumed the reader is familiar with any widely available bottlings that popped up. Finally, any water added to a whisky tasted was, literally, one drop and whiskies were 40%abv, if the strength is not otherwise indicated.
In time for the festival, Whisky Shop Dufftown owner Mike Lord had launched his first bottling – a single cask 1998 Mortlach, at 59.1%abv, selected from Gordon and MacPhail's extensive stock. A fresh, rich dram, I found it chewy and with a taste of strawberry jelly.
Farewell to the Big Man
Mortlach was the favourite dram of the late, great Per Lovlie (19 Jan 1953- 08 Apr 2010), who sadly departed shortly before the festival. As the Mates of the Museum gathered at the new museum, Fiona Murdoch read the first of many tributes, over the long weekend, to our fallen hero and we all raised a glass of his beloved Mortlach 16 to his memory. Per Lovlie was a whisky expert and enthusiast from Norway and a good friend of mine. Per had attended every previous festival and his knowledge of and passion for whisky will be much missed. A recognized connoisseur and genuine nice guy, Per was the mainstay of many early festivals, conducting many talk and taste sessions when this writer was privileged to sit down the front and joust with the great man, benefiting immensely from his vast experience. And so it is that I end my own tribute and say "Goodbye Big Man and may your glass of Mortlach never be empty in heaven."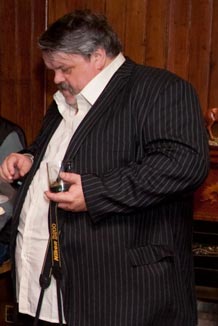 In Memoram: Per Lovlie

(19 Jan 1953- 08 Apr 2010). Photo taken in 2007 at Glen Garioch Distillery by P. Brossard.
Life, however goes on and our mating celebrated the life and times of the big man as Brett the Kiwi arrived, making his Dufftown debut and, no doubt aiding many others in their quest for perplexity as we tasted a number of Mortlach bottlings in memory of Per.
Glenfiddich Tour
Friday morning brought a manager's tour of Glenfiddich with manager Stuart Watts and Brian Robinson providing expert insight into a distillery with plenty of surprises in store for even the most hardened festivalgoer.
The mighty Glenfiddich distillery has both a standard tour and a connoisseur's tour available throughout the year and this extended tour provided an even more in depth look into this hugely popular malt, which uses 14000 tons of unpeated barley per annum while, by contrast, sister distillery Balvenie uses peated barley for approximately half a week's production per year. Glenfiddich wort, perhaps unsurprisingly, of cereal and malt and is one percent sugar – the equivalent of 20 spoonfuls of sugar in a cup of tea.
For Stuart, flavour begins in fermentation with pear, banana and apple flavours appearing in the wash before it heads to the 26 stills spread across 2 still houses. As an aside, it was pointed out that the severe winter had damaged the warehouse and there are plans to release the casks affected by the snow in a bottling whose name had yet to be confirmed at the time of the tour and which will be exclusive to the distillery.
On the way round, Brian was kind enough to tell me about William Grant's other distilleries – Girvan and Kininvie. Kininvie is now a perfectly consistent malt whisky and is available in travel retail under the name Hazelwood 107 but will not be launched as a leading brand as such a launch is prohibitively expensive for the company. Girvan whisky used to be available, also in travel retail, under the name 'Black Barrel' but it appears I will have to wait to try an independent bottling to see what this particular single grain has to offer. A 25-year-old Grant's blended whisky has also recently been launched; mostly in Russia and Grant's is apparently the 4th biggest blend worldwide.
After a brief detour to Balvenie distillery, we returned to Glenfiddich and its' Solera warehouse where we viewed ex-bourbon casks and ex-sherry butts as well as the marrying tuns used for the 18 year old bottling and heard the story of the 1937 cask and the 1927 cask that had, sadly, fallen below legal strength to be called whisky.
As a treat, a Solera competition was held and I joined two Swedish friends to challenge a team from Norway to see who could come closest to replicating the flavours of the 15 year old, Stuart's favourite of the range. Remembering the lessons from Ian Millar's master show the previous spring, my colleagues and I came closest to the taste required and, though it wasn't as good as the real thing, our effort was still mighty good stuff, if I may say so.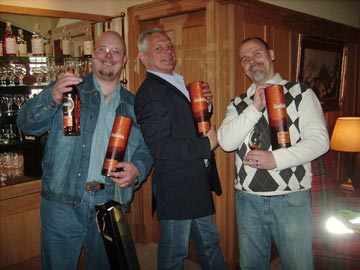 The winners of the Glenfiddich vatting competition (with the author on the left side)
Closing this heartily recommended tour was a final taste of two new releases: the 14-year-old Rich Oak and the new 30-year-old, at 43%abv. The Rich Oak, partially matured in new American oak and new Spanish Oak, smelled of oranges and citrus and tasted as if a Fry's orange cream had been dissolved in the whisky and is recommended to the home of every whisky drinker. The 30 year old was more obviously oaky to taste with orange also and had the feel of a luxurious digestif. As always, with such a rare and old whisky, if you can obtain a bottle, consider yourself to have done very well indeed.
Mike Patterson presents Gordon and MacPhail at cask strength
The afternoon began with Mike Patterson giving his guide to Gordon and MacPhail's rather unsung cask strength range. Mike began by noting that no bottling in this range is composed of more than 4 casks, as opposed to the Connoisseur's choice range, for example. A 1996 Miltonduff, at 60.9%abv, was highly impressive with a light sherry nose and wedding cake and toffee notes to taste a good indicator that it had come from two refill sherry butts. The attractive Scarlett-Johansson-like nose had honey and smoke led Mike to observe its' 'classic Speyside style'.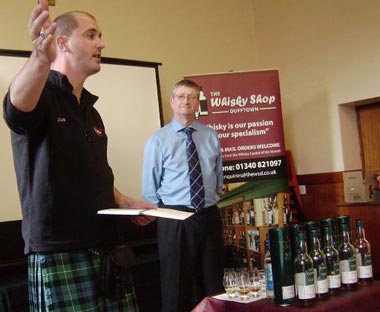 Mike Lord (left) introducing Mike Patterson (right)
Pausing briefly to give us the story behind Benromach Organic whisky, one to check out for the inquisitive reader, and noting the paramount importance of his company's wood policy, Mike followed with a 1991 Linkwood, 52.5%abv that he accurately described as beautifully balanced, coming from a single refill sherry butt. This had a sweetly floral nose and a velvety, herbal taste that made it a very good aperitif, according to Mike. Though not naming names, Mike also commented that he has come across a distillery that uses whatever casks they can get, something studiously avoided by G&M in their cask selection.
By contrast, a 1991 refill sherry matured Bruichladdich, at 55.9%abv, and with some delicate 'beading', brought sherbet to mind, on nosing, before some light smoke and fish broke through on the palate. A fine, mouth-coating whisky, the finish was short and briny.
After an amusing tale from Mike, about a Cabrach crofter who had spent all morning clearing 2 feet of 'partly cloudy' off his drive during the recent harsh winter, we tasted a 1997 Imperial, at 61.6%abv, matured in a single first fill sherry butt. Mike found this to have menthol notes, followed by an aniseed and licorice taste before a long, warm finish and we closed with a brilliant 1996 Caol Ila, taken from three refill sherry casks and which was previously reported on in my Autumn 2009 report.
Douglas Laing with Jan Beckers
There followed a trip through Douglas Laing's numerous ranges with Jan Beckers, who owns several different sized snooker tables, all of which are called Keith. A Provenance 1997 Caperdonich, at a standard 46%abv, was described by Jan as a 'summer whisky' and offered an unusual opportunity to taste relatively young whisky from this distillery. A light, estery nose gave way to a vanilla-sweet taste and a soothing though short finish rounded off this easy drinking dram. Another closed distillery came next, this one being a 1990 Old Malt Cask Rosebank, at a standard 50%abv, from a refill sherry cask. The smell was of syrup, Parma violets and wham bars before a creamy, fruity taste with just a hint of pepper, which continued on through the long, lingering finish. A 1999 Provenance Dailuaine, from a sherry butt, had a great smell of Turkish delight that was followed by spicy and creamy/fresh taste with a surprising smoky finish.
As a special treat, Jan paused to unveil a 1969 Clan Denny Strathclyde grain whisky, at 51.7%abv. This grain has a reputation amongst blenders for being harsh and unforgiving but, here, magnificent age had finally quelled the beast's fire and left a fine smell of both licorice and bourbon and a restrained taste dominated by vanilla. The finish was sweet with both smoke and spice present leading Jan to comment that this is 'dessert on its' own'.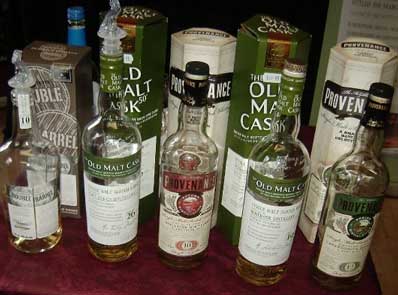 The Douglas Laing bottles tasted.
Moving west, a 1983 Old Malt Cask Port Ellen had an unusually syrupy nose, which gave way to a subtle waft of smoke. The still subtle taste had smoke again as well as a pinch of salt before a medium smoky finish which faded only slowly and had Jan comparing it to a walk on the beach. All of this set us up for a vatting of Ardbeg and Glen Rothes from the 'Double Barrel' range, at a standard 46%abv. This combination was one I found highly attractive, smelling as it did of caramel and toffee with subtle smoke and an attractively velvety taste, which led to a soft, silky finish and brought to mind the now defunct 'Serendipity' Glen Moray/Ardbeg bottling of recent years.
Saturday Morning Whisky Fair
A civilized Friday had done little for my quest for perplexity, so Brett the kiwi joined me for the Whisky fair, where the small fry of the industry congregate. A G&M Connoisseur's choice 1993 Bladnoch, at 43%abv, was an ideal start to the morning with a characteristic lowlander's light, spring-fresh nose and a fruity cereal taste. Moving over to Cadenhead's, Mark Davidson was kind enough to pour some 19-year-old North British grain into my glass and it provided an interesting comparison to the previous day's Strathclyde, being particularly chewy and having the reassuring taste of bourbon that I always seek from grain whiskies.
Also dominated by bourbon was a 1992 Adelphi Longmorn, of which more later, and I took the chance to taste an 8 year old Bowmore, at 59.9%abv, which smelled of Murray mints and had a muscular, phenolic body.
An interesting contrast to this was Benriach's 'Birnie Moss', at 48%abv. Despite being lighter to taste than its peating level would suggest, this Speysider had a soft, delicate Islay-like nose with a leafy, ferny fish-like taste and a salty, coastal finish guaranteed to fox even the greatest expert at a blind tasting. Stewart Buchanan was then kind enough to give a 1976 single cask Benriach, finished in a Port pipe for three years, giving it a wonderful treacle nose followed by a syrup and treacle again on the taste and a lovely warming finish.
Returning after years away was David Stirk, now owner of the Chester Whisky Shop, exhibiting his 'Exclusive Malts' range. His 17-year-old Bladnoch, at 49.6%abv, had been finished in a Gaja Barolo wine cask giving it a delightfully chewy and long taste. Interestingly, David bottles his 'Exclusive Range' at 45%abv, despite not chilfiltering his whiskies, and this means that the customer can see it cloud in the bottle. A stellar choice from this series is his 13-year-old Highland Park, which has some honey on the nose, sherbet on the taste and concludes with some charming light smoke.
As Brett worked his charms on Val, at the WSD Stall, I tried Douglas Laing's Macallan/Laphroaig Double Barrel pairing was lightly smoky and had some delicate sweetness and noted that the company also pairs Highland Park with Bowmore and Caol Ila with sherry matured Braeval, in this range.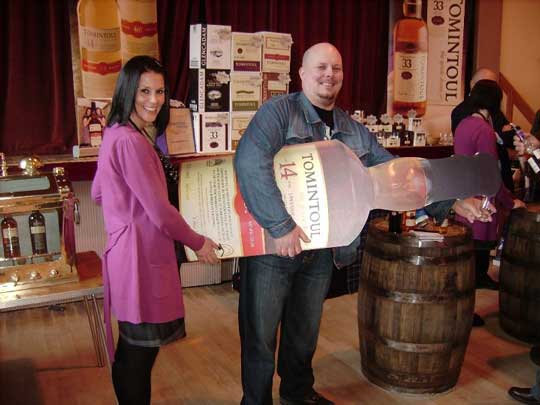 A full size Tomintoul bottle
Moving on to the Angus Dundee stall, Brett and Nikki got on so famously that Nikki gave me a taste of the 33 year old Tomintoul that had won the best whisky of over 21 years at the World Whisky Awards. A cornucopia of syrup, honey and toffee sweetness, this is a rare treat, as is the girl who served it to me. Talking again to Tom Gerrie, I continued my chemistry lessons as he explained the differences between phenolic compounds and which ones affected a whisky's flavour. Tom and I then took the opportunity to retaste the Tomintoul 14, at 46%abv, and found it to be both silky and spicy. One final note – the 10-year-old Tomintoul is possibly the easiest drinking distillery bottling around, with a level of smoothness unsurpassed by any whisky of similar age.
The Martin Grant guide to Glenmorangie
Stating the case for the mighty highland distillery was Martin Grant, making his Dufftown debut and demonstrating his passion and expertise. As the 10-year-old, Lasanta, Quinta Ruban and Nectar D'or versions are quite widely available; I'll keep the notes brief. All drams were at 46%abv, except for the 10 year old.
The 10 year old, relaunched in 2007, is now a much livelier dram than of yore and extremely well worth buying if the reader has not tasted it for a long time. Much more sweetness and vanilla character than of yore have made this a genuinely exciting dram and all credit to the company for changing what was a successful formula.
Martin notes that Glenmorangie, with two air bases nearby, does not live up to its' 'glen of tranquility' name but is renowned for its' complexity. A sample was sent to a French perfume house that found 26 distinct notes in it, including Ambergris. More than a decade ago, Glenmorangie began the trend for 'finishing', releasing its' Port wood bottling, the first of the range. This has now been superseded by the 'Quinta Rubin', which Martin recommends with some mint choc chip ice cream.
By contrast, the Oloroso sherry finished Lasanta – Gaelic for warm and generous – had some interesting Christmas cake flavours throughout and, Martin reckoned, a light orange finish. All of which led me to recommend some 'Maya Gold' chocolate to accompany this one.
My favourite and the most universal of the three finishes was the Nectar D'or. This is matured for its' final two years in Sauternes wine casks, which Martin reckons is perhaps the hardest finish to pull off, as it can leave sulphur in the whisky though not a hint of that was present. Ideal with a lemon meringue pie, this dram proved a hit with a lady in the audience known for her love of heavily peated whiskies and not for light highlanders.
The last whisky from this most versatile of Highland distilleries was the Signet. Glenmorangie was the first distillery to produce spirit from 'chocolate roasted' barley, a barley which gives a very low yield, in terms of alcohol. This bottling had rather a lot of history in it, containing 70s, 80's and 90's vintage whisky in it which combine to give it a coffee candy nose with glace cherries and a spicy, peppery taste which gave way to chocolate orange on the finish which lingers a very long time. I add here, that the second glass I had was even better than the first.
A bonus dram came in the form of Ardbeg 10 year old and Martin notes that the distillery cannot keep up with demand and has held back some production to age for the Uigeadail and other bottlings so those who are among the distillery's loyal following, take note.
Wemyss Whisky and Wildlife Interludes with Susan Colville
Having exhausted his comedy value, Brett stayed home, leaving me to drive Susan Colville round the twist as she showcased whiskies from Wemyss Vintage malts, the company that does not name the distillery and instead calls the bottling after the dominant flavours detected by Susan and whisky writer Charles MacLean. Each bottling, unless otherwise stated, was 46%abv and the exotic wildlife was mine.
A 1995 'Spiced Apples', from Benrinnes, kicked us off though Susan could have perhaps lived without my observation of 'Sea Otters and Alaskan Timber Wolves'. (I'm sure we all know what those taste like.) This smelled of peach syrup before a taste of cinnamon and ginger and, as described on the label, applesauce at the very end.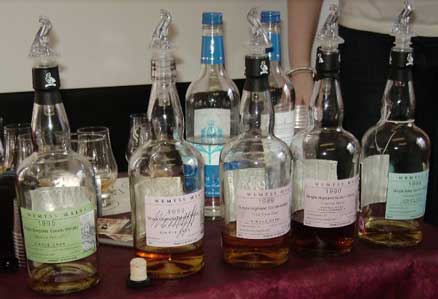 The Wemyss whiskies
Reappearing from the Autumn 2009 festival was a 1989 Glen Garioch called 'Herb garden' and was immediately followed by the very next cask in the production run, bottled under the name ' Fruit Bowl'. This was a definitive example as to how whisky can vary, depending on the cask used so I decided to tell Susan that I tasted Rock Wallabies just to see how she would react. (Rock Wallabies can be recognized in the wild with their spiky hair, leather jackets and Iron Maiden tour t-shirts which make them very hard to miss.) As usual, the whisky was accurately named with a fruity, woody nose with vanilla, fruit and spice to taste.
A cask strength 1990 Dalmore, at 59.4%abv, was named 'Tropical Spice' who may or may not have left the popular girl group early after she fell out with Ginger and Scary. Susan describes this as like a can of 'Lilt' soft drink and the nose was particularly punchy with treacle and wedding cake. A thick, rich dram was this and the finish was very long and fruity.
To finish, we had a 1996 Caol Ila, at 59.6%abv, named 'Honey Smoke' and prompted me to note, loudly, that I got the unmistakable taste of Natterjack Toads. (Not know what these taste like? Get your own!) The fantastic nose had both salt and syrup and gives another excuse to mention Scarlett Johansson again. The palate held both salt and pepper with some light phenol and smoke before a surprisingly sweet end. (And you still can't have any of my Natterjack Toads – get your own!)
Tannochbrae Gala Dinner
It just isn't Saturday night in Dufftown without heading to the Tannochbrae restaurant and so it was that Allan and Susie served up some more fantastic fare while whiskies, unrepeatable hilarious jokes and great company were provided by Dennis Hendry of Aberlour. A Scapa 16 year old accompanied our first course then each subsequent course was accompanied by whiskies from Aberlour which were:
Aberlour 10, Aberlour 10 sherry matured (distillery exclusive), A'Bunadh Batch 18, 12 year old, and a bourbon cask sample of the kind available to taste and bottle on Aberlour's altogether superior distillery tour. All of these whiskies, or at least similar ones, are available to taste on the tour, which cannot be recommended highly enough, especially if Dennis is your tour guide. Dennis made for a memorable night with his seemly inexhaustible supply of jokes on such subjects as fat men in pubs, laughing horses, cowboy boots, Dufftown Highland games and mean Scotsmen. Such was also the calibre of the whiskies that even the cask strength samples were not prickly, a testament to the sterling work done by Colin, the little man who prevents hedgehogs getting in the casks. As the night came to an end, Allan paid his own tribute to Per, a fixture at the Tannochbrae during his visits to Dufftown and, it must be said, a man of such quality that he deserves to be held in the same high regard as Colin.
Adelphi Tasting
Sunday afternoon brought Alex Bruce's Adelphi tasting, always a menace to life savings everywhere. A 1992 Longmorn, at 53.9%abv, was taken from one of a clutch of six casks of 1990 and 1992 vintage. The excellent nose had both bourbon and malt and the robust taste was mostly of bourbon as well before a fruity, licorice finish. Danny Maguire, none the worse after an embarrassing incident where he mistook a Silverback gorilla for a cheese sandwich, reckoned that this tasted of cream soda and ice cream.
As a historical footnote, Alex noted that the company has managed to acquire some 1912 Adelphi Distillery grain spirit, a spirit that continued production into the 1920's, some 15 years after malt spirit production ceased. Also, he said to keep an eye out for the next Adelphi 46%abv bottling, Liddesdale, which is released in June and will featured sherry matured whisky from an Islay distillery renowned for producing unpeated whisky.
A 1973 Glenallachie, at 48.1%, proved very popular over the long weekend. It smelled dry and spicy with a combination of spice and dry fruit to taste and a long, complex finish. By contrast, a 2000 Bunnahabhain, at 59.2%abv, and not to be confused with several heavily peated releases from Adelphi had no peat but had been fully matured in a sherry but and led me to describe the nose as 'treacle so thick you can dance on the top of it' which raised much laughter but no disagreement. Though by no means a dram for everyone, this 'love it or hate it' whisky was surprisingly to my taste, the palate being much lighter than the taste with some balsamic vinegar, fruit and toffee before a short, lightly smoky and enticingly attractive finish. Alex found some sulphur on the nose of this one and notes that this is only ever found in sherry cask bottlings. This naturally occurring impurity is removed by contact with copper and by contact with ex-bourbon casks – all highly entertaining to a one-time chemistry king.
A 10-year-old Fascadale, the second batch of this 46%abv release from a Skye distillery, was next and had a brilliant combination of syrup and sherbet on the nose before some pepper and seaweed broke through on the taste – something that characterizes whisky from this Carbost distillery. Smoke glided in on the finish, which Alex thinks is biscuity sweet and gave the whole thing a rather cheery feel about it. This proved an interesting one to have back to back with our final dram – a 2001 Bowmore, at 59.9%abv, which I had tasted the day before and which is also Adelphi's first Bowmore bottling. This had a sweet and punchy taste and some peat lingered a long time on the finish before Mike raised a big cheer by proposing Alex for the next king of an independent Scotland.
Robin Laing – Master Entertainer
Robin Laing's theme for the evening was to select a series of whiskies from the Scotch Malt Whisky Society (SMWS) and then to sing a song or two about the whisky or the town that it came from. SMWS bottlings are available to buy only for members and the title of each whisky is in brackets. The whiskies for the event were: An exceptionally good North British Grain (Desserts served under cedar), Isle of Arran (Gunpowder and lemon meringue pie), Cragganmore (Reformed Sinner's dram), Glen Moray (Moroccan tea room masculinity) and Bowmore (Fiery dipping sauce).
As always, the whiskies, are secondary to Robin, his songs and his jokes, highlights of which are on www.youtube.com and my Facebook page. Thought-provoking songs about Macallan and Arran distilleries were sung plus another about the notorious criminals Burke and Hare. Robin noted that North British distillery produces a book every 25 years and that he had been asked to write the latest one, finding out that it is very difficult to be entertaining about a grain distillery. Also out is a tribute album for Robert Louis Stevenson featuring 5 tracks by Robin and several poems by Stevenson made into songs.
The jokes came thick and fast about Seville Matadors, Bowmore's pagoda roof, an unappreciative audience at Elgin and many others although Robin lamented that Arran distillery is cutting back on their range of wood finishes, a series of which he has grown rather fond.
Other favourites included 'Rothes Loons', 'Speyside Whisky Song', a rewritten 'Missionary Song', 'Heaven Hill' and 'Usquebaugh Baul' plus 'Whisky and Women' complete with added verses for more comedy and a new song was called 'Black Coffee' before an encore which featured a bonus dram of David Stirk's Mortlach 17 – tasting pleasingly of Turkish Delight – and the inevitable and always hilarious 'Eagle Song' which slayed the audience and brought a thunderous round of applause.
Dalmore Range
Dropping in on Monday afternoon was the fine gentleman that is Steven McConnachie to guide us through the premium range from the Dalmore Highland distillery. Dalmore has been relaunched in the past couple of years with some new age statements and more pronounced sherry character to the whisky. (I recommend the book 'Goodness Nose' by Richard Paterson and Gavin D. Smith for an insight into Whyte and Mackay's modus operandi as well as the legendary master blender's vision and passion for whisky.)
The current 12-year-old version, much fuller than of old and covered in Autumn 2008, is blended from equal parts of ex-bourbon and ex-sherry casks and got us going splendidly. Steven does not recommend water with this one and discussed the idea that it could benefit from extra alcoholic strength with the audience. We moved on the 'Gran Reserva' bottling, which has no age statement but is usually between 10 and 15 years old, and replaces the old 'Cigar Malt' of years past. This had a lovely aroma of both ginger and marmalade. Plenty of complexity could be had on the middle, which was spicy with a hint of pepper and toffee apples. The end was both long and dry and Steven reckons that this takes water far better than the 12 year old.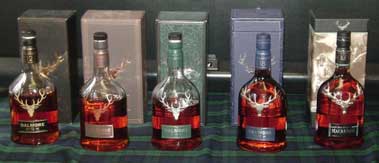 A selection of Dalmore whiskies
It is worth noting that these whiskies all go very well with ASDA dark chocolate and keeping up the standard was the 15 year old – fully matured in ex-sherry casks. This had a wonderful smell of hot toffee sauce and brought about an irresistible urge to get a sponge pudding to go with it. The enthusiast sitting beside me found dark chocolate on the taste and I found the finish to have some light smoke that lingered mournfully.
Stepping up in class and throwing down the gauntlet the illustrious Macallan 18-year-old vintage series was Dalmore's own 18-year-old, at 43%abv. The 'legs' on this whisky are truly spectacular and the lovely nose had rich caramel sauce and chocolate orange. Smoke and cocoa followed before a warm, long and charming finish. But how does this compare to the Macallan or even to Dalmore's mighty neighbour Glemorangie at the same age? That I leave to the reader to decide though this is a dram of rare quality.
The last Dalmore was the 1992 Clan McKenzie, at 46%abv, which had spent 11 years in ex-bourbon casks before 7 years in port pipes, all of which gave it a delicate, subtly spicy nose and a taste rather older than its' years. Ironically, I found it very oaky and the spice was more pronounced on the middle, though the finish was a little short.
Mark Watt's guide to Duncan Taylor
The final tasting of the festival Mark Watt, of DTC, who has the body of an eighteen year old though nobody knows where he keeps it hidden. Mark had hit 30 earlier this year and it had obviously hit him back at least as hard. To liven up his session, Mark had put a bingo game together where the players had to mark off several key words always used in his tastings, such as 'Imperial', 'Macallan', 'Caperdonich', 'Billy Walker' and 'Bruce' (!). This immediately reduced the event to surreal farce as many of the players, led by David Stirk and I, made several unsubtle attempts to get Mark to say his catchphrases.
Wasting no time, we opened with 1972 Caperdonich, at 56.5%abv, which was exceptionally bourbon-like to smell as well as having a elegant vanilla taste, which was no doubt helped by the cask having had fresh ends added to it. The finish was both spicy and fruity. Mark's old favourite was followed by his new one – Glen Moray and our 1973 bottling, at 53.1%abv, was from a range of casks that DTC had just acquired. Bourbon appeared again on the nose and taste as well as some mint cream. This was followed by a dry, exotic and tangy fruit finish.
Amusingly, Mark noted that Highland Park had launched a 1967 bottling, claiming that it was the oldest available. DTC took this as their cue to launch 2 casks of 1966 HP, just because they could. Mark also notes that a 40-year-old Kinclaith, from the long gone Glasgow distillery, is actually 'no bad' – a recommendation, I'm sure.
The absurdities came thick and fast, especially from David and I and we moved on to taste Black Bull 12, at 50%abv, and BB 40, at 40.2%abv, back to back. The BB12 is a standard product and will always be available and is 50%malt and 50% grain. The nose was of soft sherry and toffee with an elegant, dry and sweet middle. As should be the case, this blend has a stylish bite at the end, rather like a Dolce and Gabbana alligator. Breaking from the 50:50:50 format, BB40 has 90% malt and is naturally low in strength, with its' recipe on the back. Mark described the nose as like 'snorting syrup' and I found the taste delicate and perfumed with a hint of spice and oak to end with. Worth looking out for, is DTC's 'Black Ram' peated blended whisky, which will be available at 12 and 30 years old. Also in the pipeline is a plan to build a 1,200,000 million litre capacity distillery that will produce both malt and grain spirit.
The quality was unrelenting as we tasted a 1987 'rare auld' Glen Grant, fully sherry matured, at 57%abv. The nose of toffee and thick treacle though whether you could dance on it, I wouldn't like to say. Mark called this 'a sipper' and I found it to be tangy and the treacle lighter than on the nose before the long finish came with warm, chewy toffee.
At this stage, Pat Lunn won the bingo game, leaving Mark to try and fit in some of the phrases that he had left out and we closed with an awesome 1984 Caol Ila, at 53.8%abv. Mark said that it 'smacks you in the face like an Amazonian tree frog' proving that when in doubt, you should recycle your own jokes and not someone else's. This had a cracking aroma of lightly salted fish and a soft smokiness to boot. The finish was long and faded elegantly.
The drams party was a suitably classy affair with several festival favourites revisited and Mike announced the festival competition winners before saying a few words of his own about the great Per Lovlie.
In closing, I'd like to thank everyone involved in organizing and running the festival and, in particular, Mike Lord and his wife Val, Steve Oliver, the wonderful people at the 'Coffee Pot' for keeping me going through the weekend, to Claire at the Whisky Shop, to Gordon Haughton, Ian Millar, to Rene and Glo and everyone involved with the 'Mates of the Museum' plus Alan and Susie at the Tannochbrae.
Hopefully, this report will speed you on your on quest for perplexity and to get your own Natterjack Toads - you can't have mine. Brett the Kiwi is now with his new owner and I'm off to see Iron Maiden with a squad of Rock Wallabies. Hopefully, I'll see you again at the autumn festival, an event where the whiskies are all guaranteed to taste mostly of Scotch and not of Amazonian tree frogs.