Whisky-news.com is a fully independent whisky website created in 2006 by a whisky enthusiast for the whisky enthusiasts, from novice to expert, with a huge collection of tasting notes, distillery presentations, whisky fair reports in Europe, reports about whisky from all over the world, and many more. It is also the leading site for whisky literature review. Updated almost daily and free from financial support from any whisky company.
Limburg Whisky Fair 2016,
Limburg, Germany, 23-24 April 2016
For the photo gallery, click here
At the end of April takes place my annual visit to the Whisky Fair Limburg. As for the previous editions, I was looking tasting old whiskies as well as some new products.
As always, all these whiskies will be tasted later in my standard controlled situations.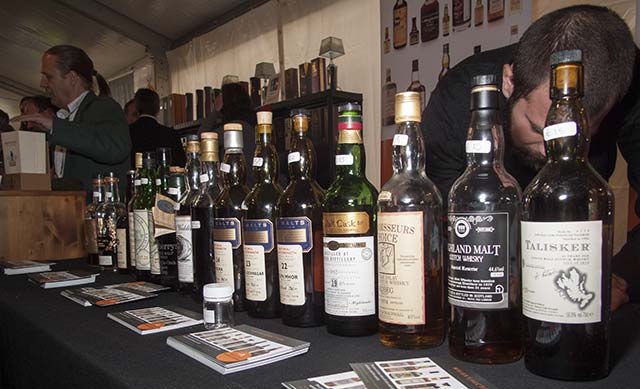 The selection of whiskies at whisky.auction.com
I started the fair by a quick round, before stopping at the stand of whisky.auction, where I had nice chat with Enrico, while sipping a few whiskies, starting with an old bottling of 15 YO Hudson's Bay 1670 blended Scotch whisky. The nose was pleasant, rich, with some old smoke and a nice complexity. On the palate it was less complex, easy drinking, sweet and very smooth. This was followed by one of the rarest Karuizawa, the 1983 from cask 3557 that was sold for charity in Nepal. Pricey, but very sherried, on plums, leather, tannins, sultanas. An excellent one, with some roasted coffee beans bitterness, but without being too woody or rubbery. For the Royal Wedding of Prince William and Catherine Middleton, The Whisky Exchange has bottled a nice peaty and sherried Port Ellen from 1982, with pleasant flavours of chocolate, seaweeds and iodine. Very good!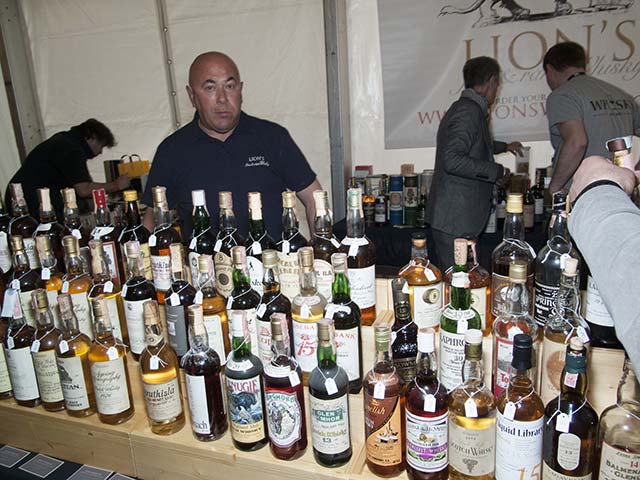 The selection at Lion's Whisky
I moved then to the other side at Lion's Whisky, where large selection of old whisky bottles was for sale. The number of opened bottles was limited. I opted for a rare Springbank 22 years old from Cadenhead's, probably from the later 50' or early 60s, with a good balance between smoothness, peaty and maritime flavours. An excellent old Springbank, with just a touch of sweet and sherry influence. His neighbour, Whisky Antique, had an impressive number of opened bottled, including a rare Clynelish 1965 from Duthies that I simply loved, as well as a very old Highland Park 5 YO, the legendary Ardbeg 24 years old Cadenhead's for Sestante and other such as the Macallan 1936 70° Proof by Gordon & MacPhail. The choice was excellent and the tasting notes of these whiskies will be produced later.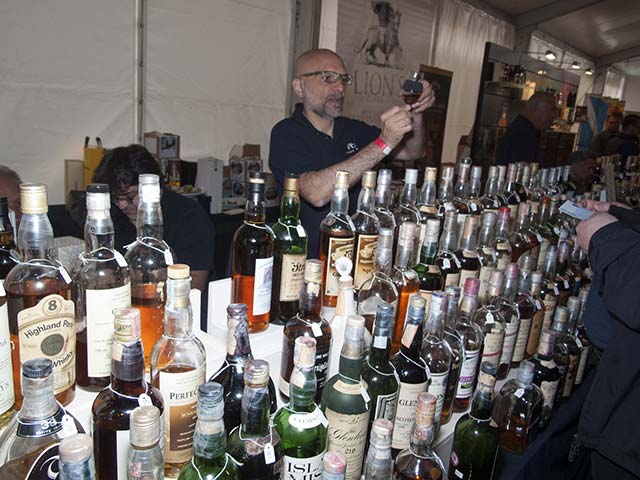 and the one from Whisky Antique
Murray McDavid is back in the business, with a redesigned range, but still at lot of wood finishes, such at the peaty, sweet, maritime and medicinal Tobermory 1995 finished in Allier wine cask. From the old stocks, I enjoyed the mellow and very smooth Tomintoul 1967. It was slightly fruity, light but without any woodiness.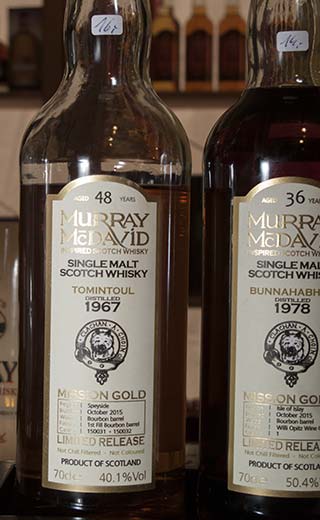 Some of the new Murray McDavid Range
In the main hall, I stopped first at Giulliani's at starting with a Port Ellen 1974 64.3% from Intertrade. A rather light, maritime, peaty and medicinal Port Ellen. The Longrow 1973 53% for Samaroli was more heavily peaty, tarry and intense, as well as stronger flavours of seaweeds. The Glenlivet 12 YO for Barreto was a nice Glenlivet, spicy, with a nice long old style of peat smoke. The profile is markedly different from the current 12 YO.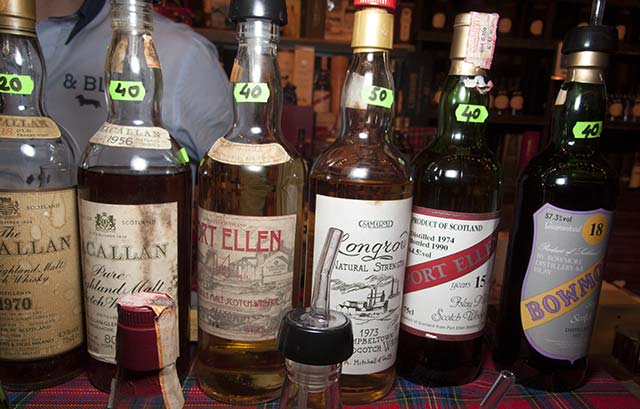 Some whiskies at Giulliani.
As Sansibar, they had several old whiskies, with a fair proportion that I remember having seen last year, with a few exceptions, such the very good Laphroaig 1977 OB, moderately peaty, but with nice tropical and citric flavours. The J&G Grant Ltd from Grant Bonding Co Ltd is not a Glen Grant as I thought first, but a lovely Glenfarclas, intense, round, on leather, on berries, some dried fruits and soft spices. Most pleasant.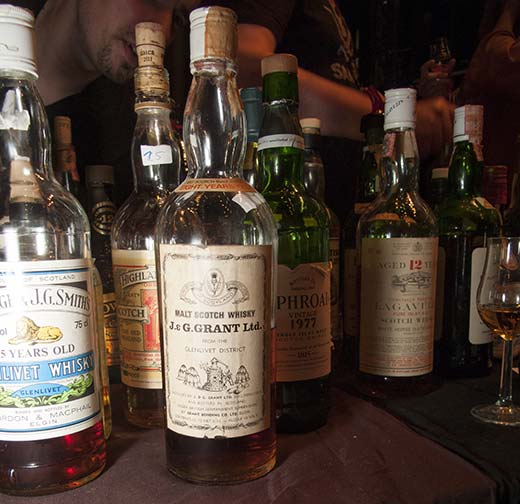 The Glenfarclas (J&G Grant Ltd) and other old bottles at Sansibar
A bit further, I tasted the Rare & Old Littlemill 1991 from Gordon & MacPhail, a pleasant round and grassy Littlemill, as we expect from this age. The Rosebank 1990 from the same range was fresh, mellow, smooth, malty, with some pastries.. On the same stand, I was also curious to taste a Sandeman from the 1960s, as I tasted one from the 1940s recently. The flavour profile was markedly different, less peaty, but smoother, mellower, with a more pronounced sweet sherry influence. The blends do not change over time?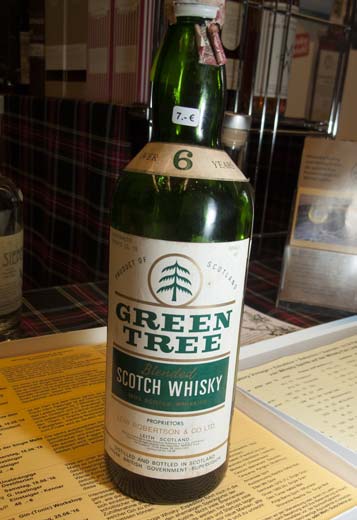 The Green Tree from the then owner of Port Ellen distillery
The blend Green Tree 6 YO was bottled by Low Robertson, who owned then the Port Ellen distillery. On the nose, a complex maritime and medicinal peat smoke is present and the whisky delivers a pleasant complexity, intensity and spiciness on the palate. A well balanced blended whisky, moderately peaty, with a faint influence of the grain, suggesting a high proportion of malt. Intense, although it was reduced to 40%. The Strathisla 1979 36 YO from Signatory was very good, with a nice sweet and very fruity sherry influence, on berries, a touch of eucalyptus and some tree sap. The Ardbeg Dark Cove Committee was very oaky and spicy, peaty, maritime, with some tar and rather strong note of seaweeds. After all these nice whiskies, I found it rather young and rough, with a spicy bite.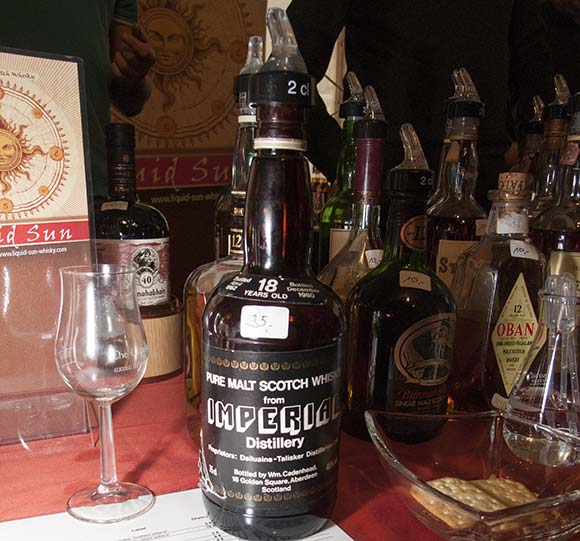 Some of the old bottles at the Whisky Agency
At the stand of The Whisky Agency, I went for the old bottles starting with an excellent Tobermory 1972 N°42.28 from the Scotch Malt Whisky Society kindly poured by Carsten: an excellent clean and maritime Ledaig, with a lingering complex maritime and mineral peat smoke that seemed to last forever. More complex than the famous Ledaig 14 YO 1972 from Sestante. I will taste the Rosebank 34 YO 88° (UK!) Proof from Strachan at home, but the Imperial 1962 18 YO from Cadenhead's was stunning, one of the nicest sherried whisky I have tasted, very complex, spicy, and with a sweet-mineral old style of sherry. A whisky that keeps evolving over time. A must to taste!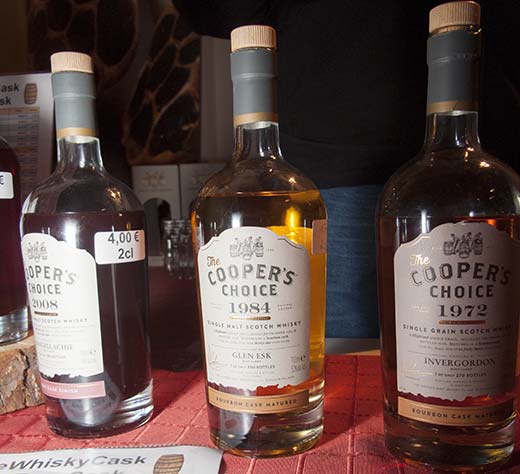 The new Glen Esk from Cooper's Choice. A good surprise
In direction to the main hall, I stopped to taste some Coopers Choice, including the smooth, soft and surprisingly fruity Glen Esk, on cooked fruits and some honey, without any dryness or bitterness. One of the nicest Glen Esk (Hillside) I have tasted. The Golden Grain was a blend of different grain whiskies of at least 50 years of age. Very smooth and soft, with some wood dry spicy flavours.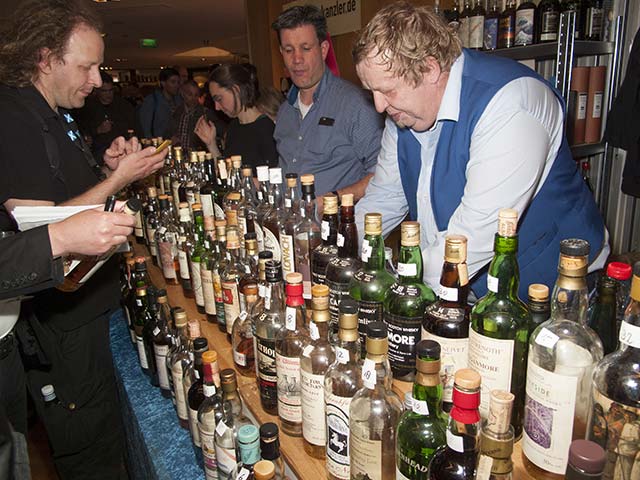 The stand of the Dutch Connection
At the Dutch connection, I went for an old bottling for the Whisky Fair, the Clynelish 1974, a rather mineral and smoky version of Clynelish and an old Ardmore 1965 18 YO from Cadenhead's, slightly peat, smoky and aromatic, with a nice sweet and slightly grassy and honey influence. From a refill sherry cask?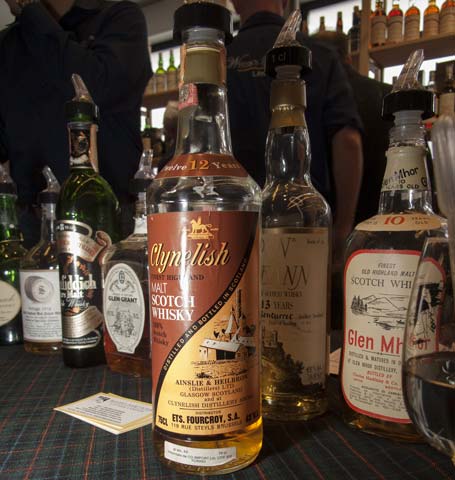 My very last dram: A Clynelish 12 years old for Belgium at Malt Mara Whisky Raritäten
With that, it was time to leave the Whisky Fair and to take the train home, that I just managed to take, at the shuttle bus to Limburg Süd ICE station arrived late and we just arrived as the train drove in. In my limited experience with German public transportations, delays are rather frequent and be careful when if you have short connecting times (less than 10 minutes).
I had the impression of always running against the clock. Although I spent almost 5 hours there, I had only the time to visit maybe 25-30% of the stands and too little time to spend chatting with whisky friends . I will try to spend more time at Limburg next year.
As Limburg is one festival with the highest number of old whiskies, I focused mainly on the old (and expensive) old bottlings. Upon request, the retailers often agrees on selling 1cl instead of the 2cl, allowing me to taste more whiskies, without exploding my budget. Talking about money, the prices for the old bottles continue to rise, especially for the sought after distillery and should you want to buy such bottles, please take enough cash with you, as most transactions are made in cash.
I thoroughly enjoyed my time there and I wish also to thank all the people who kindly offered me a drink and sorry, if the time for chatting was sometimes shorter than I wished.
As a final remark, the exhibitors should think about spittoons. I do not recall having seen any at the visited stand...
Limburg, see you next year!
Slainte,
Patrick