Whisky-news.com is a fully independent whisky website created in 2006 by a whisky enthusiast for the whisky enthusiasts, from novice to expert, with a huge collection of tasting notes, distillery presentations, whisky fair reports in Europe, reports about whisky from all over the world, and many more. It is also the leading site for whisky literature review. Updated almost daily and free from financial support from any whisky company.
Berner Whisky Messe, Bern, Switzerland, 14-15 September 2018
For the photo gallery, click here

I barely recovered from my trip to taste the new Diageo Special releases that I jumped in the train to the Swiss capital for the new edition of the Berner Whisky.
Having received the list of new products from some retailers, I was particularly eager to taste the new Highland Park range and the new bottlings from Acla da Fans. I was also to discover at lot of new products.
Disclaimer: the whiskies mentioned below will be tasted again in standard conditions, thus their appreciation is subject to changes.
So, let us go and visit the fair!
A nice and cosy atmosphere


I started with the first stand on my right, the one from Reto and Selection Trade. Back to Switzerland after several years spent in Glasgow working the Laing family, he is back to business here.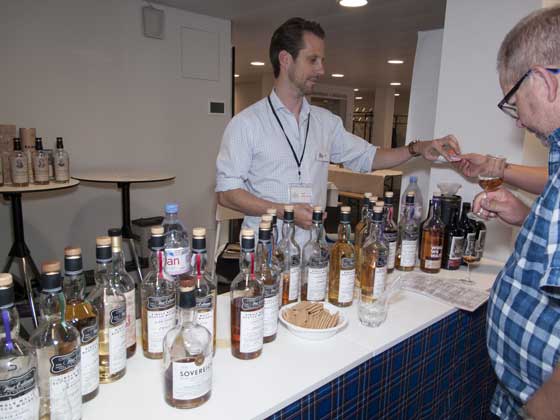 Reto with his nice and large selection of whiskies, in particular of The First Editions
Having tasted very recently the Carsebridge 48 YO from the Diageo Special Releases, I could not resist tasting the Carsebridge 45 YO The Sovereign. A rather different expression from the OB, less mellow and fruity, more intense and spicy, with a rather sweet and heavy body and stewed fruits, including peaches and apricots. Very good. I continued with a flight from The First Editions, starting with a very good Tormore 1988 28 YO, very round, grassy, floral, slightly green and a very nice sweet and elegant sherry flavours, on spices and dried fruits. The Ardmore 1996 21 YO was one of the nicest recent bottling I tried during the event, complex, peaty, smoky, aromatic, slightly grassy, with a complex and rather intense peat smoke, liquorice and some tar. Excellent. I like the Laphroaig 2000 16 YO less. It was very peaty, oaky, dry, rather tarry and maritime. A rather rough expression of Laphroaig, with a very light influence from the sherry cask. The 1998 18 YO Laphroaig had also a very strong and dry peat smoke, but it was more balanced and fruitier, with a moderately sweet fruity sherry influence, while retaining an intense peatiness.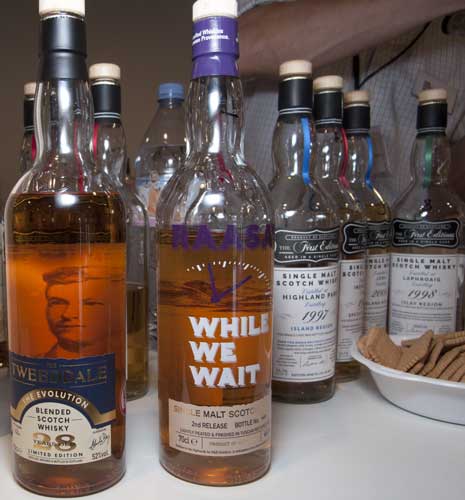 The Tweedale blended malt and the 2nd edition of Raasay
The distillery of Raasay is already operating, but the spirit is not yet of age. In the meantime, they are releasing a "While We Wait" single malt, a lightly peated whisky finished in Tuscan wine cask. It is not coming from the distillery, but the flavour profile should closed to the Raasay whisky. That whisky was grassy, sweet to very sweet, on grapes, sweet winey flavours, a nice light, dry and aromatic peat smoke, malty, slightly peaty and rather juicy. A nice drinkable whisky. The Tweedale The Evolution 28 YO is a blended whisky bottled at cask strength. The sweet and malty grain influence strikes immediately, with flavours of cooked cereals, porridge, vanilla and some peach. It was rather bold on the palate, rather sweet and mellow, and with a nice balanced. A good like if you like grain whiskies.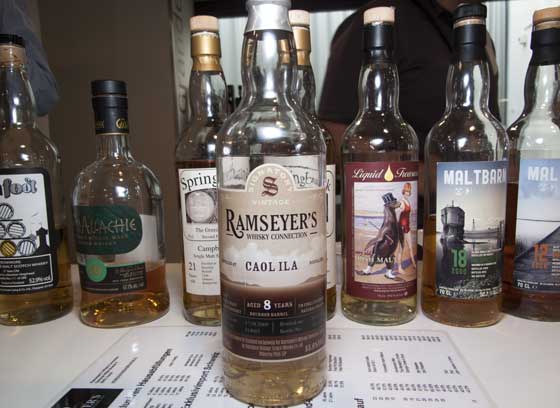 Several of the recent bottlings at Ramseyer's Whisky Connection, including a nice clean peated Caol Ila
I moved then to Ramseyer's whisky connection, which had an interesting choice of new bottlings. The Maltbarn Inganess Bay 18 YO 2008 is a very nice Highland Park, complex, intense, with a light smokiness, sea brine, and fine and high-grade vanilla, with a light spiciness and light floral flavours. A very fine, complex and elegant expression from that distillery. The Very Old Irish Malt from Liquid Treasure was a very light expression of Irish single malt, with a very limited wood influence, lots of green and freshly pressed orchard fruits and some blueberries. From Greedy Angels, I started first with the 1995 22 YO Springbank 3rd edition, a nice bold, waxy, and slightly peaty nose, moderately spicy, and nicely balanced. On the palate, it was rather salty, mellow, with some rubber and toffee. The influence from a rather active refill sherry butt was rather noticeable. I enjoyed better the Springbank 1995 21 YO Second Edition. The flavour profile was close, maybe slightly more briny and without the slightly rubbery and vegetal influence from sherry. The Caol Ila 8 YO bottled by Signatory for Ramseyer's whisky connection was a very nice clean and peaty Caol Ila, with a good balance. The Bowmore 21 YO Dramfoot was a complex Bowmore, with a nice balanced between a mellow maritime and medicinal peat smoke and maritime flavours. Very good and enjoyable. The Williamson Liquid Treasures is in fact a young Laphroaig. While it shows less maturity than the Caol Ila, it is also smoother, more maritime and salty, and smokier as well. Powerful and rather peaty. The part of rarities at the stand of Ramseyer's Whisky Connection was large. My next one was my favourite of the event: the Bruichladdich 18 YO bottled by Duthie for Giorgio D'Ambrosio, with delicious fruity flavours, a mixture of sweet juicy and dried fruit and a nice, clean and a lovely dry and tarry peat smoke. Simply excellent and very intense, even if bottled at only 43%. The next one was an even older Islay single Malt, a Laphroaig 10 YO bottled for R. Zehnder in Switzerland in the early 1960s. While it has sweet exotic fruits from the Laphroaig bottled in the late 1960s, this one was a rather peaty expression, slightly dry and on citrus. A very good and extremely rare one.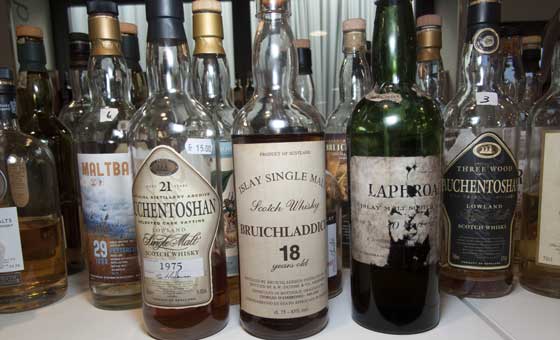 The rarities I tasted at Ramseyer's Whisky Connection
Moving to Hauspstross, they had two new bottlings are part of their Orchids collection, but being only 6 and 8 years old, I preferred to opt for the Irish Single Malt Nose Art 1991-2017, an excellent Irish single malt, complex, fruity, mellow on blueberries. These old Irish were so good.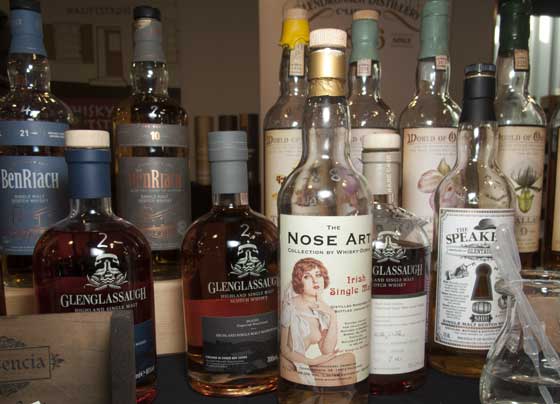 A very good Irish single malt from Nose Art
At the House of Single Malt, I tried the Ascona Single Malt whisky, a whisky distilled by Locher (Säntis Malt) and matured in Ticino. The whisky had the spicy and hops flavours that I am used to find in the Säntis malt. The whisky tasted young, rather round and vanilla. A good whisky. I tried then the Excalibur 1972, a 45 years old blend of Glenrothes, Tamdhu and Lochside. A very mellow blend, very round and smooth, with light sweet sherry flavours, some porridge, cooked cereals and light exotic fruits. My last one there was the 1997 20 YO Springbank sherry from The Maltman: a sherry monster, bitter, slightly astringent, with loads of rubber, on toffee and a fair dose of sulphur. Not my style.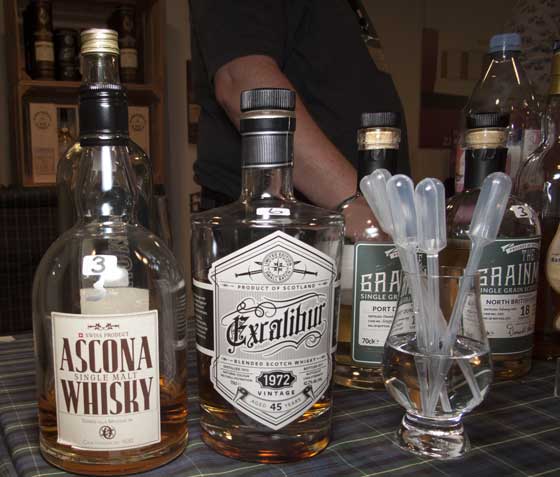 The Swiss Ascona single malt and the Excalibur blend
Time to move at Acla da Fans, where a large selection of The Whisky Agency 10th Anniversary was available as well several of their one new Acla Selection. From their own bottling, I started with a very good round, grassy, sweet and malty Deanston 1999, with a very sweet and fruity influence and very pleasant to drink. The Glen Moray 1990 28 YO was a mellow, round and well balanced whisky, with nice round fruity flavours developing over time, with vanilla, melon and pineapples. Very good! The Blair Athol 1988 was a good expression from that distillery, floral, rather fragrant and aromatic, as you would expect. The Speyside Region 38 YO is quite different from the previous and older expressions. The whisky was very round and mellow, rather bold, slightly waxy, with round fruity flavours.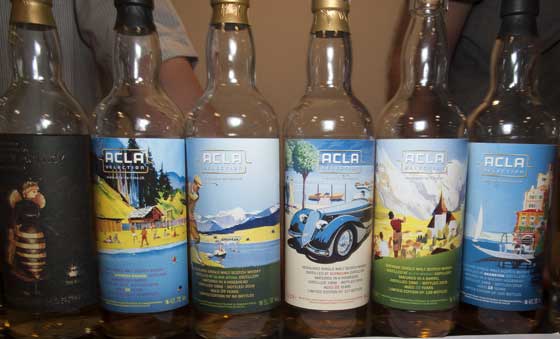 The full set of the new Acla Selections bottlings
The Glentauchers 1996 22 YO Signatory for Acla da Fans was round, slightly floral and fragrant, with some hops, light spices and herbal flavours. A nice one. The Glen Elgin 1986 31 Signatory for Acla was very mellow, slightly floral, with light spices, some aromatic herbs and eucalyptus. I took the opportunity of tasting again the official Macallan 12 YO 100% sherry. I had not tried that one for a couple of years. Well, the whisky is rather floral, slightly spicy, with loads of toffee and caramel, but where have gone the nice and intense spicy sherry flavours from a decade ago? Moving with other Edrington products, I tasted the new Highland Park 14 YO Royalty of the Bear, a Highland Park dominated by intense bitter and rubbery sherry flavours, cloves, toffee and some fragrance. The Highland Park 16 YO Wings of the Eagle was a very different beast, and it was flying over a nice balance of sweet fruity flavours, a light peat smoke, honey, and light sea brine. Very good. The new Glengoyne 28 YO 1st fill Oloroso OB for travel retail had a very pleasant, complex, rich and spicy, with deep sherry flavours. On the palate, it started on very nice, mouth coating and heavily sherried whisky flavours, on leather, orange, and rich spices, before, the wood starts to kick in. It becomes then very tannic, bitter and woody. The last official one was an older bottling of old malt cask, a Caol Ila 1994 18 YO, clean, with a very nice and slightly mellow peat smoke, iodine, camphor and hemp rope. While I was there tasting all these whiskies, I was presented to one of the organiser of the WhiskySchiff Hallwilsersee, one of the Swiss Whisky fair taking place on a ship. It is a continuously growing event and I hade the opportunity of tasting a very good Royal Brackla 2006 for their Whisky Schiff, a nice round, floral, spicy, intense and grassy malt, with some vanilla, honey and melon. Not only it becomes rather difficult to taste a Royal Brackla, but this one was very good!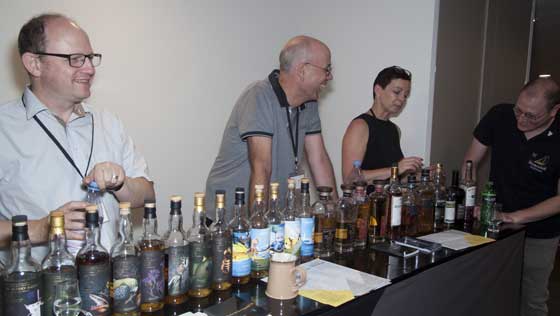 Almost the full selection presented by Acla Da Fans
At Le Trésor du Chai, there was a large selection of Armorik, some Black Mountain and the full range of FEW Barrels. Unfortunately, I will need to wait until the Whisk Schiff in Zurich to taste the new bottlings.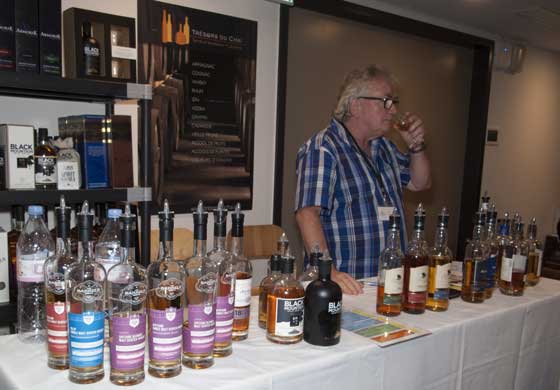 The selection of the Trésor du Chai
Alex Posalek just sold out his business, but he will remain active in the sale and distribution of Wolfburn in Switzerland. The new Worlfburn Langskip was there. The whisky is now 5 years old and made of first fill bourbon and filled at cask strength. This Wolfburn is rather austere and coastal, with light oaky flavours, vanilla, some melon and light fruity flavours. The whisky is maturing well.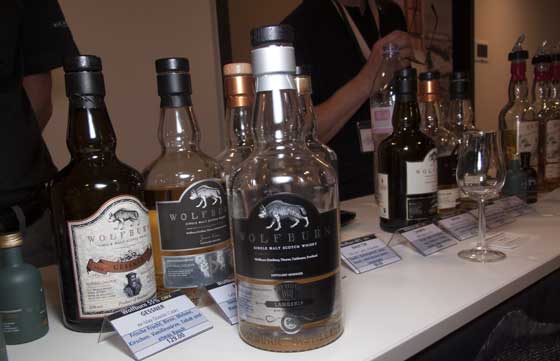 The new Wolfburn Langskip
World of Whisky presented some of their products, with a nice sweet, very malty and round St-Moritzer Single Malt 15 YO. This whisky was distilled in the parking place in front of the Waldhaus am See Hotel. It is the oldest Swiss whisky and a pretty good one as well. The other St-Moritzer was only 6 years old and matured in Islay cask with a Merlot finish. The whisky was rather young and the mixture of moderated salted and tarry peat smoke with rather pronounced winey flavours was not to my liking. Signatory has bottled several expressions for the Waldhaus am See. The Glen Elgin 1995 22 YO has a similar bold and waxy profile as the one selected by Acla da fans, but rounder, slightly more intense and with some mint. The Caol Ila 2009 9 YO was very peaty, intense, clean, on tar, some seaweeds and a nice clean peat smoke. The Ledaig 2007 10 YO Port Finish was a nice intense, clean, salty and maritime Ledaig, with lots of peat smoke and the Port providing some rather winey flavours. I was slightly struggling with that Port finish. The Edradour 2002-2017 Natural Cask Strength was mellow, heavy, round, with a mixture of dry and sweet sherry influence, rather floral flavours, marmalade and orange.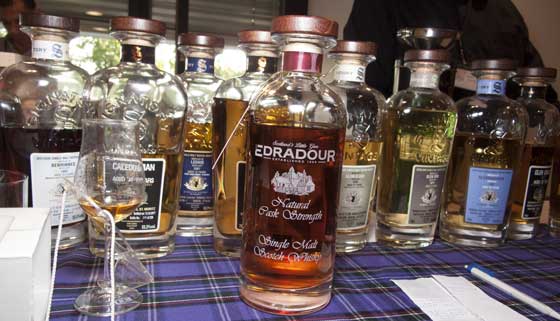 An old Edradour and in the back, a large selection of World of Whiskies exclusives
Awico Handel and Willy Cotting had no new releases since the Whisky Schiff Luzern, but some very interesting one, such as some "anonymous" Lagavulin and other Islay single malts under The Whisky Chamber label will be released later on.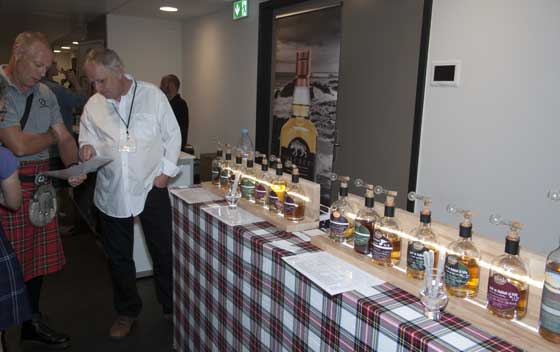 Awico and its selection of The Whisky Chamber
At Paul Hofer, I took the opportunity of tasting The Kurayoshi Pure Malt 8 YO. A rather bold, grassy and malty whisky, quite smooth, with light and softy spicy flavours, vanilla and some rubbery sherry influence. Rather simple, but easy to drink. The Whistler 10 YO Irish Whiskey was a nice light, smooth and fresh single malt, with lots of pears, some apples, and light dry and spicy sherry influence. The Single Malts from Orkney Islands from Berry Bros & Rudd for Charles Hofer was an intense, peaty, slightly spicy and smoky Highland Park, with some heather, sea brine and vanilla.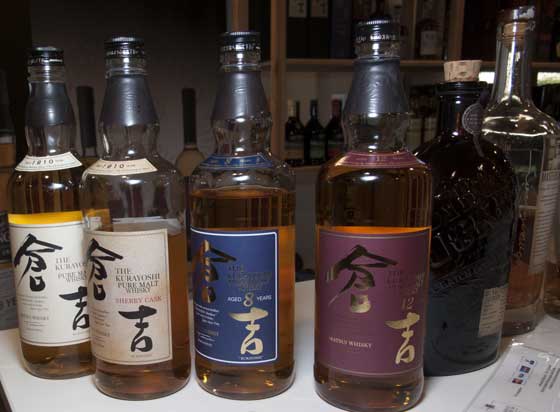 The Japanese Pure Malts
C-CACH Gmbh had a new bottling of Millstone 12 YO Sherry cask distilled in 2000 and bottled in 2017. The whisky was very round, smooth, complex, on dried fruits, slightly dry sherry, some candied oranges and nice spices. The complexity of these Millstone is rather impressive, the quality of the spirit is very good, as their cask selection. If you have not tried one before, do not hesitate to taste at least one.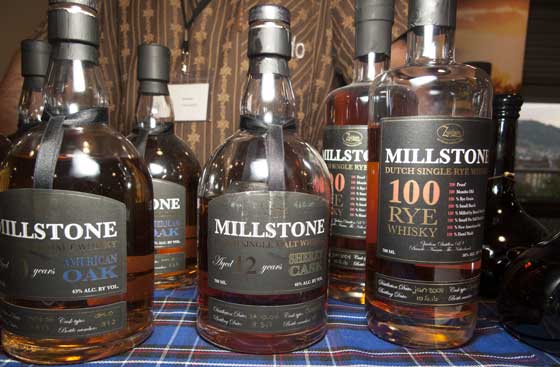 The very enjoyable Dutch single malts of Millstone distilled by Zuidam
The last whisky of the night was at Tom's Whisky with a Swiss Single Malt 2011-2018 from Brennerei Schaer Wedhöfler. A nice, round, malty whisky, with a light sweetness and a nice balance. The smoke was light, but very pleasant.
After almost 8 hours spent in the Kursaal of Bern, it was time to go home.
A large number of new releases were available, and the atmosphere pleasant. The possibility of resting in nice leather seats allows you to take the time to enjoy your whisky. However, there was only very few spitoons. This should be improved.
It was the first time I joined the event on a Saturday, and while I had ample time to talk to retailers and whisky friends, as well as moving freely between the stands, the question is for the future events. With such a low attendance, will retailers continue to participate to future editions?
As this whisky event does not compete with other Swiss events and its is conveniently located close to the main train station, why is the attendance so low?
This is a very enjoyable fair and I hope it will continue.
Slainthe
Patrick
Final version 28 September 2018