Whisky Schiff Lucerne, 2014, 8th edition (29-30 March).
click here for the photo gallery
http://www.whiskyschiff-luzern.ch/

Note: All tasting notes provided below are the initial impression during the whisky event and all these whiskies will be tasted again in a controlled situation.
On Saturday, Lucerne had the typical post card picture, with a nice cloudless blue sky, sun shinning and a springtime temperature.
The organization was very similar to the previous years and the price unchanged (15 CHF for the entrance and 1 tasting glass).
The Whisky Schiff in the first main Swiss whisky event of the year and I was longing for discovering the new products from 2014.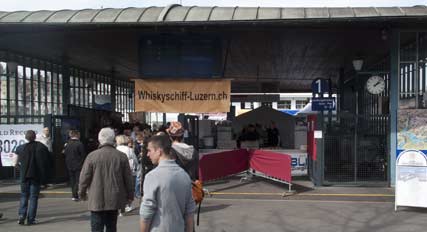 The Gateway to the Whisky Schiff
Without waiting too long, I headed straight to Acla-da-Fans to meet some acquaintances of mine for a small chat while tasting a very good Glen Garioch 21 YO bottled by Acla-da-Fans: it was complex, round, rather waxy, slightly aromatic and smoky, with a nice smoothness. Acla-da-Fans is located in a duty-free zone of Switzerland and therefore can obtain travel retail exclusive bottlings. To preserve my palate, the following travel retail exclusives were only sampled and tastings notes will be provided later on: Laphroaig An Cuan Mor and Blavenie 25 YO Triple Cask. The 1987 Bunnahabhain Fino for the Perfect Dram was rather round with a moderate fino influence. A whisky that I would need to taste again in better condition. The Imperial 18 YO Acla Selection was smooth, very fruity, mainly on banana: a very good and well balanced whisky. The Ben Nevis 43 YO Acla selection was smooth and very mellow, with a limited grainy influence but more on humus and tobacco leaves. The Ben Nevis 18 YO The Whisky Agency was a different whisky, with a slightly rough initial attack before becoming smoother and more fruity. An intense and pleasant whisky. Finally, the Glenturret 1980 from the Whisky Agency was a rather round and fruity version of middle aged Glenturrets.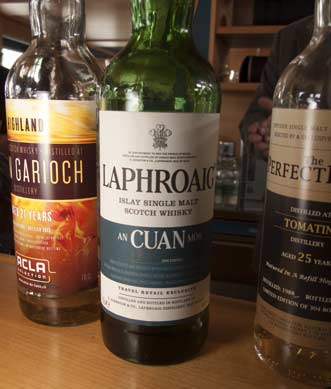 Some of the bottles available at Acla Da Fans


To my recollection, this was the first presence of Acla-da-Fans and no rarities were present, thus allowing me to focus on new products.
At Glenfahrn, I stopped at the rarity corner to sample an old Talisker 12 YO from the Dailuaine-Talisker distillery imported for Switzerland, the Mosstowie over 35 YO Artist 2 by La Maison du whisky and the last drops of the Macallan 1938 43% imported by Martel et al. Switzerland. Since most of the bottled displayed were present already 2-3 years, I hope the Macallan will still be fine. The final whisky sampled was the Karuizawa 1970 Cask 6177 that I never had the chance to try before.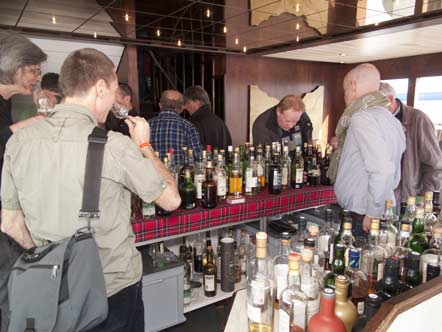 The Rarities corner of Glenfahrn
Higher on the deck, I stopped by Haupstross100 to taste two 1991 22 year old Glen Garioch: a round, relatively smooth and aromatic version selected by Jack Wiebers bottled under the World of Orchids Label and a more fragrant and bitter (wet tobacco leaves) version from Whisky Doris.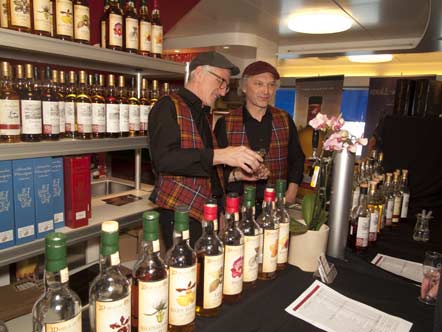 The colourful stand of Haupstross100
Slightly further on the deck was The First Edition with Reto Stöckli and Andrew Laing, who informed me about the development of a more exclusive range of bottling than the First Edition and some interesting possible bottles ;.-)
Since last December and the last Zürich Whisky Schiff, several new offers are available, including some refill sherry casks such as the Laphroaig 1999 or Craigellachie 1995 or an 1995 Longmorn ex-bourbon.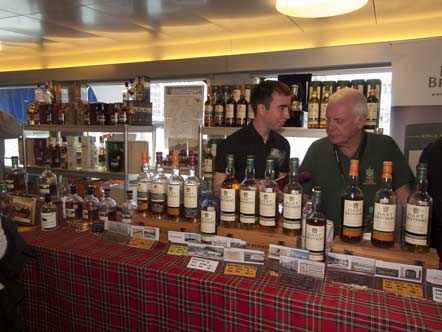 The selection of Hart Brothers, including the excellent Littlemill First Fill sherry Cask
At Langatun, I could not resist tasting the 1992 21 YO First Fill Littlemill: a very sweet, juicy and smooth version of Littlemill. Excellent! On the other hand, the 1990 23 YO Mortlach First Fill sherry Hart Brothers was heavily marked by the rubber. Not my type of whisky.
The following stop was at the Stillman with the 1991 St Beccan's Dram, a 22 year old Single Cask from Cooley distillery, very fruity, smooth, mellow and rich. An Irish Pot Sill whiskey reminding strongly of the famous 24 years old Limerick Slanley. A good value pot still whiskey worth trying. The 1993 Glen Garioch was slightly rough and appeared unbalanced. I will need to taste it again.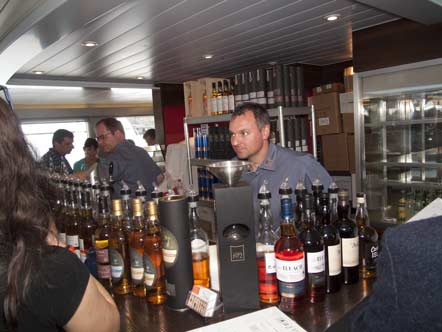 The Stillman's stand, including a fine single pure pot still whiskey from Cooley.
Sometimes during the day, I stopped to Cadenhead's to see the new Cadenhead's Small batch, mainly a 23 YO Balblair, a 16 YO Ardmore as well as a 23 YO Glendronach. Cadenhead's has a vast inventory of old casks explaining why they bottled such whiskies (in particular the Glendronach and Bablair) that are rarely seen as independent bottlings. The Bablair was pleasantly round and honeyed, with some nice oaky notes on the palate. A good value Bablair. Discussing with Grant MacPherson from Cadenhead's, they just bottled now a 41 YO Glenfiddich from a sherry butt. What other surprises do they have in stock?
At the Whisky Hood, a whisky society, representing the independent bottler Riegger's, I went for a wee sampling of the 1998 Dailuaine and the 1995 Mortlach bottled for the Whisky Schiff Luzern.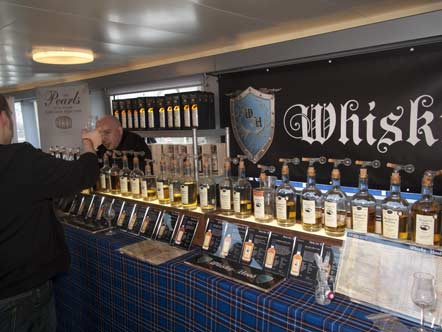 The stand of Whisky Hood
With time running, I move to Monnier to taste two Japanese single malts, the 18 YO Kirin Single Malt and the Mars Whisky The Malt of Kagoshina 1984. My palate was getting tired, but the nose of the Kirin was very smooth and mellow, with a slight oakiness on the palate, while the Mars Whisky was more on humus and wet tobacco leaves. Full tasting notes should follow soon after re-tasting.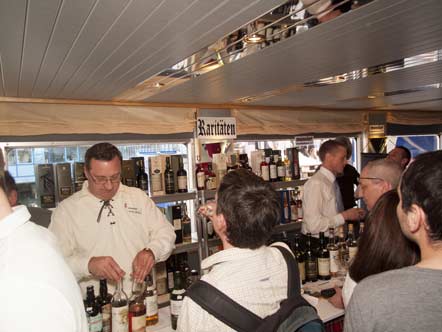 The rarities corner of Monnier (whiskytime)
My final stop was at World of Whisky, with a nice sweet and rounded Mortlach 1991 Signatory from a sherry butt. The Jura 1989 24 years old Heavily Peated did not taste as peaty as the younger peated expression of Jura and had a rather "dirty" taste. Finally, the 1979 Glenglassaugh from Signatory was rather light, mellow, syrupy and with a hint of eucalyptus.
As for the previous years, I enjoyed very much this whisky Schiff, not as crowded as the Zürich whisky Schiff, allowing taking some time discussing with friends and whisky retailers. Crowded is always relative, since some stands were so busy that I turned back. My last whisky fair was last December in Zürich and I am always surprised at the new bottling released since then. In terms of pricing, the sought after whiskies such as Port Ellen are out of reach of many pockets, but still attract a lot of attention and whisky enthusiasts wishing to taste these legendary distilleries. In terms of independent bottling, there was a fair number of Glenturret and Glen Garioch bottling that are good to very good and fairly priced. I hope Independent bottlers can continue to release such affordable products.
On the downside, I found access to water rather limited and few spittoons were available. Considering the temperature (around 20°C), this should be improved for next year,
Slainte
Patrick
www.whisky-news.com ©02 Apr 2014