Whisky Schiff Lucerne, 2009, 3d edition (27-28 March).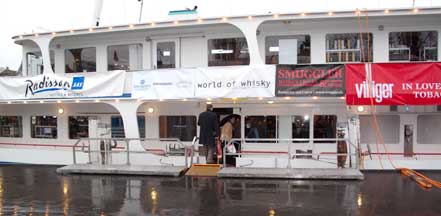 A perfect day for tasting whisky?
At the occasion of the third edition of this Swiss event (and my third participation), the first master class was organized on Saturday March 28 by Cadenhead's Switzerland, which opened its first shop this year.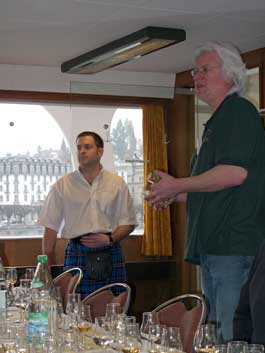 Cadenhead's whisky tasting with Grant MacPherson (left) and

Peter Siegenthaler

(right).
This tasting organized by Peter Siegenthaler (Cadenhead's Switzerland) and Grant MacPherson from Cadenhead's ltd was well organized, with a rather large number of whiskies for tasting (8 in total) and lasted for 1h30. Considering the price (50 CHF, including entrance), this was really good value and I hope that this won't be the last one!
The following whiskies (all from Cadenhead's) were served:
Arran 1996, 11 YO, 56.5%, 335 bottles, Fino sherry: A good Arran, but with the dry fino dominating slightly too much over the subtle Arran flavours.
Hazelburn 2001, 7 YO, 49.4%, 316 bottles, vatting of 4 small casks. Heavier than the regular 8 YO Hazelburn. It was sweet, on juicy malt, and on fudge. Pleasant.
Glen Elgin 1991, 13 YO, 59.5%, 673 bottles. A sweet and pleasant Glen Elgin, but with the sherry influence hardly detectable.
Dalmore 1992, 14 YO, 62.0%, 306 bottles. One of my favourite whisky from the tasting. A powerful, rich Dalmore, with a nice vanilla aroma and a creamy texture.
Tobermory 1994, 13 YO, 59.6%, 681 bottles. The strong sulphury and burnt matches flavours in the nose was not really to my taste, but on the palate, it was most pleasant and heavily sherried.
Highland Park 1990, 18 YO, 53.5%, 283 bottles. A light, but well made and slightly peated Highland Park.
Laphroaig 1991, 17 YO, 52.7%, 206 bottles. A very good nose, heavily maritime, peaty, rather clean in mouth, with a rather short finish.
Ledaig 1997, 11 YO, 57.7%, 234 bottles. A very rich and peaty Ledaig, complex, very round and well balanced. Most pleasant and often underrated.
Interestingly, I learned during that master class, that before the filling store was build in Lochranza, all Arran whisky was sent to tanker to Campbeltown for filling.
In addition, Cadenhead's will add a new serie to the range, called "Duffies" with whiskies bottled at 46%.
The stand of Lateltin attracted quite a lot of attention this year, with the new Springbank 18 YO and the new Springbank 11 YO Madeira Wood, a selection of 27 Bruichladdich as well the new 12, 15, and 18 YO Glendronach. From Springbank, the duo Peter Currie and Frank McHardy were present on the stand, and as always, it was a pleasure to talk to them. I took the opportunity of tasting their new Springbank 18 YO 46%, which has just been bottled and I was pleasantly suprised by the result. It remained me of the old Springbank style, medium-ligthly peated, with a nice fruitiness. 7800 bottles have/will be produced and almost all bottles at the Campbeltown shop are sold out.To my opinion, of of the best Springbank release of these last years.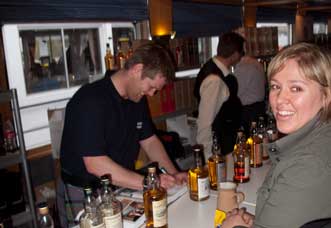 Springbank captured some attention.
At the other hand of the stand, I had a nice discussion with Billy Walker on Glendronach and his new plans. The 1968, 1971, and 1972 Glendronach single casks should be bottled very soon. I had the opportunity of tasting a cask sample of the 1972 Glendronach at the Whisky-live last year and I am getting impatient at getting hold on those single casks bottlings. In the meantime, I tasted the new 15 and 18 YO Glendronach 100% Sherry bottled at 46%. Both were remarkable whiskies, which won't disappoint neither the drinkers of the old Glendronach or any sherry-lover. My favourite was the 18 YO, showing additional complexity and richness over the 15 YO. The new Glendronach range should hit the shelved very soon! Of interest, the 12 YO is bottled at 40% without chill-filtration, using the "old method": Reducing the whisky to 40% with water, putting it back to the cask and then filter at normal temperature. In the future, Billy intends to restart a low production of Glendronach "1960s-style" (i.e., with barley peated to 12-15 ppm).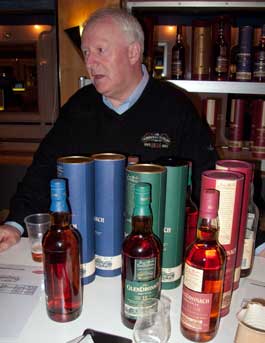 Billy Walker with his new Glendronach bottlings.
At the stand of Monnier, a large selection of Japanase whiskies was available, as well as some new products from Jack Wiebers and Exclusive malts. The Karuizawa 1972 from Number One was very good, although not to the level of the legendary 1971. My next whisky was the Ichiro's Diamond Ace 1986, an old Hanyu matured in bourbon cask and finished in cream sherry butt. This whisky was more one-dimensional, but spicy, creamy and well made. Back to Scotch whiskies, I opted for the Glenlossie 1981-2008 JWWW Cross Hill, a nice sweet and round Speysider, which left me with a very good impression. In the Exclusive Malts collection, I started with the charming, complex and salty Inchgower 1974 before moving the Caol Ila 1980 28 YO, with its new "silver" label. The Caol Ila was very good, with an interesting mixture of peatiness and fruitiness. I don't remember of having tasted such a fruity peated Caol Ila.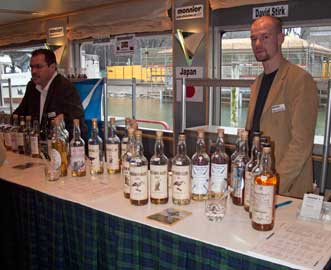 A partial overiew of Monnier's selection
At world of whisky, I tasted a few Signatory bottlings from their Cask Strength collection, starting with the excellent Inchgower 1980 27 YO, a subtle and well crafted malt at a bargain price. The Glen Ord 1998 10 YO was more disappointing, spicy, but without much personality. The Auchentoshan 1984 24 YO was pleasantly smooth, fruity and spicy, much to my taste, with a very nice complexity and richness. The Laphroaig 1990 17 YO shared some similarities with the 17 YO Laphroaig from Cadenhead's, although it was richer, with a more pronounced influence of the bourbon (toffee and vanilla). Finally, before leaving World-of-Whisky, I tried a Glenlivet 1977 30 YO from C&S Dram, a very rich, intense, complex and lovely whisky. The next step was at Cadenhead's to taste two whiskies from closed distilleries that I appreciate: a St-Magdalene 1982 26 YO, a very round and smooth whisky and a richer Convalmore 1977 30 YO.
Since I attended to Spiritissima a few weeks ago, I already had the change to taste most of the new products exhibited by Glenfahrn, except an excellent Ardbeg 1975 24 YO Douglas Laing OMC 713 bottles, typical from that period.
At the stand of Angel's share, I had a very nice discussion with the owner of James MacArthur about the whisky market and tasted two of his new products: a very good and flawless sherried 17 YO Glen Elgin, as well as a new 20 YO Bruichladdich, replacing the previous 19 YO. The 19 YO was very good, but I enjoyed this one even better. It was even smoother and peatier. If you like Bruichladdich whiskies, this one should be to your satisfaction. At the same stand, Peter Hofmann was very busy, signing his book. To his surprise, sales of his book are exceeding expectations. When the publisher proposed him to print 1000 copies, I was very sceptical, but since then, it was reprinted several times. Very good news indeed! In addition, I was informed that Claudio Bernasconi (owner of World of Whisky) will be publishing a book on whisky this autumn.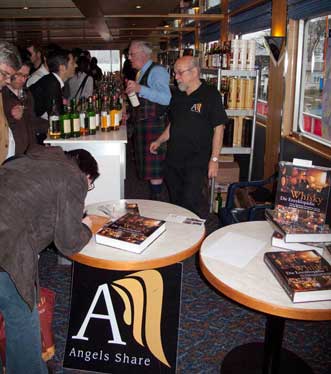 Angel's share and Peter Hofmann were very active.
It might have been rainy and grey outside, but I was a great day for drinking whisky. The organisation was excellent and I really enjoyed the convivial atmosphere of the event. Full of whisky-enthusiasts, lots of whiskies, and not as packed as other whisky events, allowing to move quite easily between the stands and to talk to the retailers and other distillery managers and sales representatives.
If you enjoy whisky and you are close to Lucerne, don't miss this event next year!
Slainthe!
Patrick
P.Brossard ©29 March 2008