Whisky Schiff Zürich, 2014, 27-30 November
In spite of a very busy schedule, I managed to find some time to attend to the Whisky Schiff in Zürich.
Since I attended recently to the Whisky and More in Lausanne (Switzerland) and the Whisky Show in London (UK), I tried to focus on the latest releases and special bottlings.
As for the past, my first stop was at Acla da Fans. I started the evening with a very smooth and deliciously fruity Irish single malt Whiskey 22 YO bottled specially by the Whisky Agency for Acla Selection for the Whiskyschiff 2014, before going in phenols, with a very sherry peated Longrow 16 YO matured in a Manzanilla sherry cask bottled for Germany. A heavily sherried whisky on gunpowder and rubber. The Fettercairn 24 YO selected for the Whisky Schiff 2014, a joint bottling of the Whisky Agency and Acla Selection was round, mellow, floral and on hops. Talking about old bottlings, the Highland Park 1973 and 1978 for the Travel Retail will be reviewed later on. The 1964 15 YO Springbank bottled by Cadenhead's for Samaroli was simply excellent: an intense, smoky, slightly mineral Springbank with rich fruity flavours from an excellent old style sherry cask.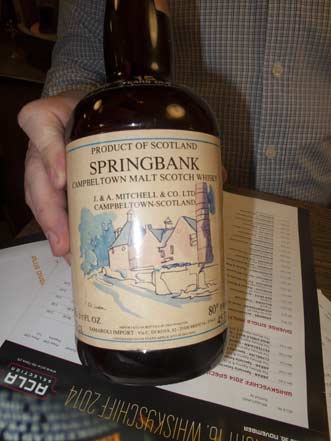 A superb Springbank from Cadenhead for Samaroli
There was also a very old bottling of 19 YO Glenlivet bottled by Cadenhead's, on juicy, smoky, mineral and slightly peat flavours. Other bottlings, such as the Glenfarclas 1989 OB, the Clynelish 1992 21 YO Acla Selection, Octomore 6.2 or Laphroaig Brodir will be reviewed later on.
At Angel's share, I went for the new Arran Bere Barley. This second edition of the Arran distilled with the old strain of barley "bere" grown in Orkney is now bottled at cask strength and 10 years old. It is already rather round, slightly oaky and spicy, with fruity flavours in development.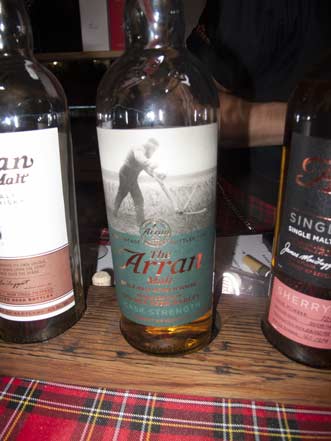 The new Arran Bere Barley at Cask Strength
From the First Editions, a new Port Charlotte 2004 10 YO has just been bottled and already sold out. The whisky was very good, clean, very intense, farmy and heavily peated.
At Monnier, the new Octomore was available. It is very peaty, although not as peaty, dry or tarry as one would expect, tasting slightly young and with some winey notes. Rather expensive for a 5 years old whisky, but the packaging is well done. The Laphroaig Highgrove bottled in 2013 was moderately peated, rather complex and mellow, on old peat smoke and tar. Less oaky than the core range and with more depth. A very pleasant experience.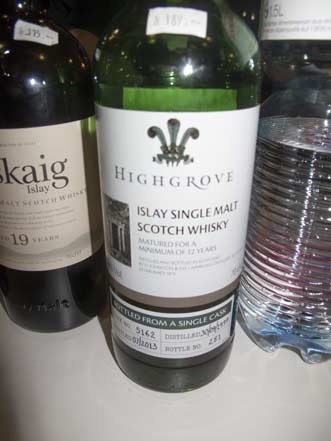 A 2013 bottling of Laphroaig for Highrove
At Whisky Universe, I went for 2 Glen Garioch from David Stirk and its Exclusive Malts, starting with a slightly rough and oaky Glen Garioch from 1994, before moving to a more subtle, elegant and complex Glen Garioch 1990. I also enjoy the new labels. The Speyside whisky distillery has changed and owner and the bran renamed as Spey. As part of this new range, I tasted the Royal Choice, the most premium product from this range: a mellow, rather complex, slightly spicy and floral whisky, while the sherry 18 YO was fruitier, more spicy and on a sweet sherry influence.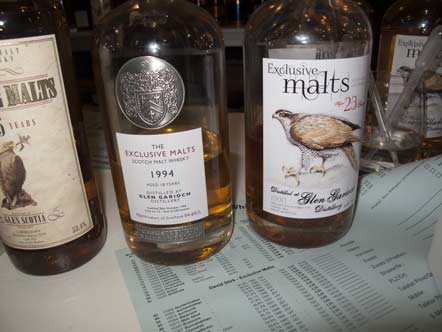 Two Glen Garioch from David Stirk and its Exclusive Malts
From the Chieftain's range, I went for a 22 YO littlemill, fresh, clean and very floral. The freshness was surprising.
The single malt Akashi 15 YO from White Oak was very good: very smooth and round, velvety, with sweet sherry notes and not even a hint of harshness. A very "Japanese" style of whisky finished for 2.5 years in Japanese oak conara.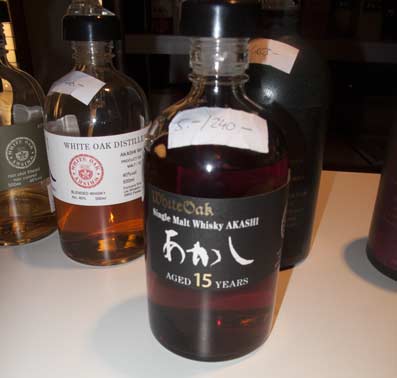 The 15 YO Akashi
From the Maltman selection, several new products were available and to make a comparison with the First Edition, I went for the 12 YO Port Charlotte. It was more "docile", more mildly peated, but as well more mellow, with maybe a more maritime influence. Finally, I concluded the evening by two Arran: a 13 YO bourbon matured private cask for the Tatoo in Sankt-Gallen, a very made and fruity Arran, followed by a more spicy, sweeter 18 YO Arran for the House of Single Malt, that became sweeter and less spicy with some water added.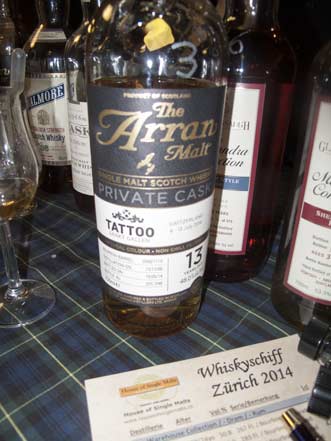 A very good Arran Private Cask
With this, it was time to take the train home, after an enjoyable Whisky Schiff.
This is also my last whisky event of a very busy whisky year!
Slainthe
Patrick