Whisky Schiff Zürich, 2013, 28 November-01 December
Click here for the photo gallery
http: //www.whiskyschiff.ch

The Whiskyschiff (""Whiskyship") in Zürich normally closes my whisky year and a much appreciated one. At the end of the year, companies are releasing their newest products on time for Christmas. Over the last months, I had the chance to taste many new products in Lausanne at Whisky and More, as well as in London at the Whisky Show, not all the new ones were available at those two whisky fair.
Since I was not feeling too well this year, there won't be any tasting notes in this report, but I will be working on them as soon as I can. When you pay for the glass, there are no problems for asking the retailers to pour your 1 cl of whisky in a glass vial, as this might be badly perceived or forbidden in events where you pay only the entrance fee.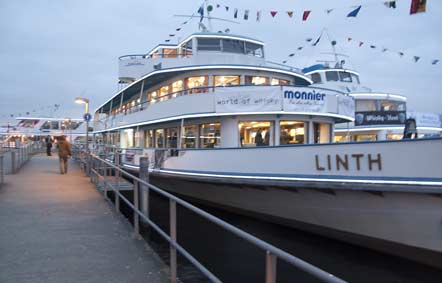 Some of the ships where the whisky event was held
As for the last years, my first stop was at Acla-da-Fans, a very active and dynamic retailer lost somewhere in a tax-free area of Switzerland in Graubünden, better known for its ski resorts than its whiskyshop. And for the ones who know them, there is a cask in the middle of the stand where are stored the rarities. Why not start by the oldies before moving to the latest releases, such an old Highland Park 8 YO for Ferrareto, a 17 YO Highland Park in a dark dumpy bottle or a 1979 Laphroaig from Glenscoma, or equally peaty Ardbeg 1976 25 YO Silver Seal? A sherried Speyside? A Glenlivet 1961 57% from Gordon & Macphail should do nicely.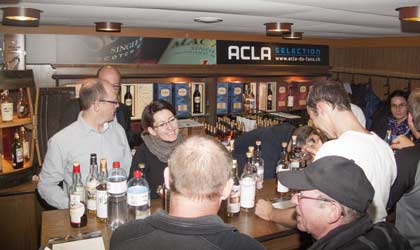 Half of the stand of Acla-da-Fans, full of bottles (maybe not for too long).
In terms of more recent bottling, there was a 1966 Glenfarclas bottle surprisingly in a tall bottle as for the old 8 YO and not in the more "dumpy" style of the Family Casks. Acla-da-Fans is also bottling under their label a few whiskies such as 24 YO Littlemill or a 17 YO Clynelish. From The Whisky Cask, I selected the 13 YO Ardmore since I have a soft spot for this distillery and a 21 YO Laphroaig. I have seen many comments about the new Warrior series from Highland Park and two of them were available: the Sigurd and Ragnavald. I skipped the Whisky Agency series, since I had the opportunity of tasting and sampling it earlier this year at Whisky and More.
Following the advice I received from two Alsatians whisky anoraks, I headed then towards Cadenhead's and their new small batch releases in square bottles. Fortunately, the choice was wide and I selected the Aberlour 23 YO, Caperdonich 35 YO, Tomatin 35 YO, Longmorn 26 YO, Cragganmore 24 YO, Macduff 24 YO. From their Lost Distilleries range, I selected the Banff 32 YO. Peter Siegenthaler was rather busy that evening, even with support from Grant MacPherson. The number of bottling of Cadenhead's is rather impressive and the quality of the selection seems in progress. A company to watch.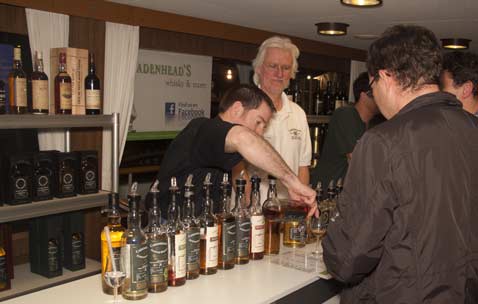 Grant MacPherson and Peter Siegenthaler from Cadenhead's with a partial view of their selection
I continued exploring further the decks and moved towards The House of Single Malts with an expanded selection of Warehouse 8 single malts that I discovered last year. Unfortunately, their stand was rather small and two rows of clients were trying to access their whiskies. Therefore, I decided to move further to Lateltin. Having tasting some of the new Springbank and the new range of Bruichladdich, I focused my attention to Glendronach, in particular the Octarine, an 8 YO GlenDronach, the Cask Strength Batch 2 (the Batch 3 has just been released last week), as well as two 1990 Single Casks, two 1991 Single Casks and 1 1992 Single Casks. Since I enjoy very much GlenDronach, I should be reviewing them shortly.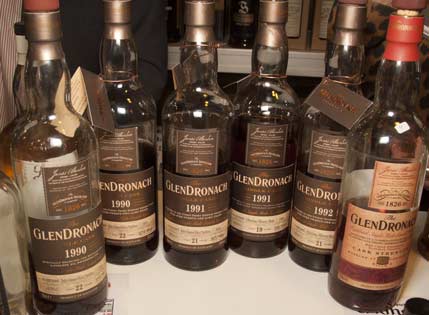 My selection of GlenDronach for the evening (missing from the picture: the octarine).
Afterwards, I move to Angel's Share and Peter Hoffmann, with a selection of Berry Brothers & Rudd, a large range of James MacArtur and the latest Glenrothes. Since I haven't tasted any Arran since earlier this year, it was time to catch up with this Island distillery. There was no Arran Devil's Punch Bowl, but the Arran 16 YO and the new Arran Millenium, a limited cask strength edition of Arran bottled in 1999/2000 if I am not wrong. To extend my tasting of Swiss whiskies, I noticed the Herr Lüthy whisky. Switzerland has a long tradition in distilling Schnnaps, but only since 1999 distillation of whisky is allowed. The different brands that I have tasted so far are pretty good, but with a flavour profile different from the Scotch Single Malts. Let's see later how this one compares.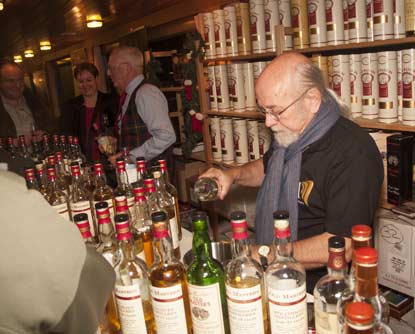 Peter Hofmann of Angel's share
On another ship, I visited the stand of Best Taste Trading, with all the Suntory products, including the 3 Morrison Bowmore distilleries. From Bowmore, I went for the 25 YO Small Batch Release before moving to the Glen Garioch Virgin Oak. The Glen Garioch 1999 sherry was already sold out. On the other side of the ship, I went for a small chart with Stuart Buchanan enjoying his new life, flying around the world to represent BenRiach Company Ltd at whisky events. Three 1996 BenRiach were selected this year for Best Taste Trading, 2 from ex-sherry casks and 1 from a Virgin oak cask.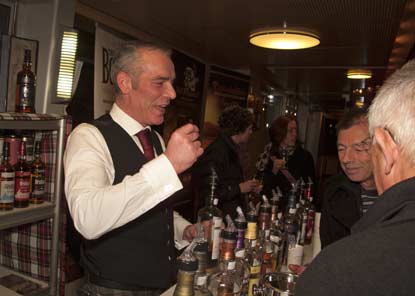 Stuart Buchanan making the show at BenRiach
Progression betweent the ships and stands was getting more difficult, while my stock of empty vials was running low. Fortunately, I managed to get access to the Michi Whisky Welt stand, where Fred and Clara Laing were presented their products, including the pricey Ardbeg 21 YO Old Particular (750 CHF) and the Port Ellen 31 YO (950 CHF). A comparison with other Ardbeg and recently bottled Port Ellen will done shortly.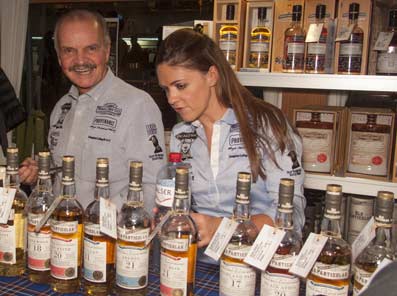 Douglas Laing: Father and daughter at work
At Alexander Weine, with some patience, I succeeded in reaching the new Bruichladdich Futures, being the X4 5 YO 64.6% and the pricey Octomore 167 ppm the Beast (around 450 CHF!). Several new single cask bottled under their own SwissLink serie was available, but I limited myselt to a 10 YO Port Charlotte matured exclusively in a fresh Port cask.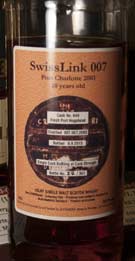 The Port matured Port Charlotte from Alexander Weine
I tried to access to the stand of Monnier, but after 10 min of waiting without any noticeable progress, I gave up and moved to World of Whisky. The situation was not much better but I could also greet John MacLelland presenting 3 Kilchoman, the 2007, the Machir Bay and the sold out 100% Islay, that I could taste previously at The Whisky Show in London. At least, just closed to the door, there was a small table with world of whiskies (Waldhaus am See) exclusive bottlings from Signatory and I selected the Caol Ila 30 YO, since I have not tasted lately many products of this distillery.
Since I tasted several new Blackadder releases at Whisky and More in Lausanne, I saved my last vial for a 13 YO World of Orchids, a new brand/independent bottling from Haupstross 100.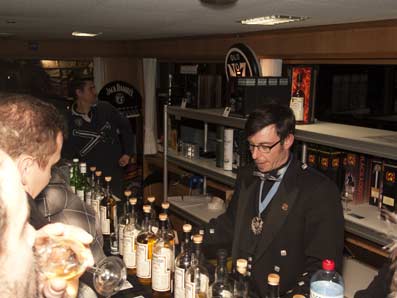 View of the Blackadder bottling
With that, I decided to leave the Whisky Schiff, since I was out of sample vials and access to the stands was simply too difficult. In the future, it would be nice it they limit the number of visitors at a given time. After a while, people tend to stay at the stand talking and enjoying their dram, but making access to the stand extremely difficult.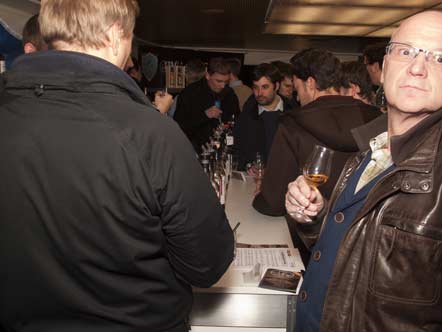 Trying to access to the stand of Whisky Hood at around 7 PM: good luck!
As for the previous editions, it is almost impossible to stop at every stand over 1 day and I missed a couple of retailers, including the new comer, Whisky Hood. Hopefully, this will be compensated either at the Whisky Schiff in Luzern/Lucerne or next year in Zürich.
In the past, I found that prices for the dram, in comparison with Limburg, rather pricey, but this does not the case anymore.
In summary, an intense, crowded and enjoyable Whisky Fair, with a nice ambiance and a very large of product, with many new expressions and a fair range of independent bottlings, including many Swiss exclusives.
Looking forward for the next edition!
Slainthe,
Patrick 03 Dec 2013.