Whiskyship 2006 and other swiss events.
Other Tastings
The first stand I visited at the opening of the fair on Saturday was Lateltin, the importer of Murray McDavid, Bruichladdich and Spingbank.
I enjoyed a long talk with Frank McHardy who was accompaigned by Peter Currie. Frank McHardy became the Director of Production at Spingbank and Glengyle distillery, after many years as Distillery Manager at the same distillery. Springbank remains true to his old fashion production process. At the stand, I started with the Springbank 25 YO, OB, 46%: A very rounded whisky, the nose is very similar to the 21 YO, but with more complexity, on dried fruits (plumps and grape). On the palate, the sherry contributing to a very nice smoothness, a bit tannic, but creamy and feels like velvet in the mouth. On cereal, some light grassy notes and smoke. An excellent old Springbank. More complex and mature that you would expect from a 25 YO, which is not surprising since it contains a high proportion of old casks (e.g., from the 60s). I then continued on the Longrow 1996, OB, 46%. The sherry influence is quite strong, but not strong enough to have over the peat. The nose is pleasant, but the taste is unfortunately a bit weak and immature and bitter. Frank told me that it was the first batch of Longrow and it contained a higher proportion of sherry than the following batches. I then tasted the Springbank 9 YO Marsala Finish, OB, 58%. I tried that one once a few days ago in a shop, but they poured only a few drops in my glas, barely enough to wet my tongue. Frank opened a bottle and gave a good measure of it and was quite pleased with it. The nose is fresh, sweet (sugary), on grape and quite spicy. On the palate, it was sugary, creamy, spicy and nutty. Rich. This is a very pleasant Springbank, with the finish complementing very well the Springbank character. This whisky has matured very well.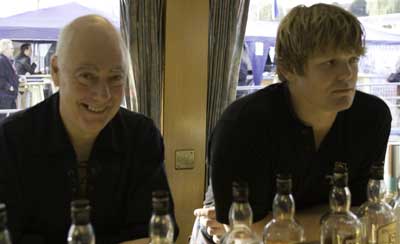 Frank McHardy (left) and Peter Currie (right) of Springbank Distillery.
After my discussion with Frank McHardy, I moved a few meters away and talked with Lyne McEwan, the daughter of Jim McEwan, who was also present at the stand. I started with a Highland Park 1967 from the Murray McDavid Mission serie, 40.1%: The nose is soft, on sweet fruits (pineapple and peach), with soft peat and slightly woody. On the palate, it is dry, a bit woody, but rich and complex, on soft peat, sweet fruits, toffee, raisins and tobacco, with a lingering round finish. A whisky to savour. Then I tried the Bruichladdich 1986 Blackadder Still, OB, 50.7%. This whisky is sold in a very unusual black bottle and I was eager to try it. The nose contrasted with the packaging, it was weak, very sweet, almost like a liqueur. It was a very unusual whisky, extremely sweet and I got the impression the cask and the whisky were very tired and much older than 20 years. Surprising Whisky. Lyne told me about the new development plans for the Bruichladdich distillery. Their plan is to start the construction of the Port Charlotte distillery next year, on the site of the current Port Charlotte warehouse, where Bruichladdich is storing some of their casks. The wash and spirit still of the new distillery are the stills from the former Inverleven Distillery in Dumbarton. Jim also bought the Lomond Still from the distillery. In about 2 years time, Islay will have a new working distillery. Very good news! Finally, before moving, I tried the Port Charlotte PC5, OB, 5YO, 63.5%. This is a firm, malty and heavily peated whisky, with charcoal and kelp flavours. On the palate, it is very peated and marrying very well with the sherry and the wood influence. A very nice whisky, which has not deceived my expectations. Matured extremely well. The future is bright.
On the same deck, I moved to the stand of the Angel's share and James MacArthur. The Angel's share was presenting a new innovation in whisky maturation: Altitude maturation! A cask of Highland Park 1992 was matured in 2005 for 1 year in the Jungfraujoch Mountain (close to Grindenwald, Switzerland) at the Altitude of 3454 meters. Unfortunately, I haven't tried that Highland Park 1992 "Jungfraujoch" 58.7%. The bottles got sold very quickly. James MacArthur is a small independent bottler, producing some excellent whiskies such as the excellent Islay Malt 1992 (Laphroaig sherry). I tried the Girvan 1989 MacArthur 60.4%, which was a very good grain whisky, on sweet corn and apricots. This cask had matured very well and reminded me of some much older grain whiskies. In addition, I nosed the Islay 1991 Mac Arthur bottled in 2005, 50.3%. It had a very peaty, clean and rich nose. It is a vatted malt made with 60% of Laphroaig, 35% of Coal Ila and 5% of Bunnahabhain. The owner of the company told me that a new similar bottling is coming. Sounds like very good stuff.
Baur au Lac Wein was presenting some interesting bottles of the Scott's selection. I stopped my choice on the Glenrothes Scott's selection 1974, B: 2002 at 51.4%. Oaky, with honey, a whiff of peat and smoke, some leather. On the palate, it starts very salty, then on honey, raisin, and pineapple and some coconut, with a long and lingering finish. Very good.
At the stand of the Stillman, there was some very nice bottles, including the 1969 Kinclaith from Duncan Taylor. He had also a nice choice of Samaroli and Deerstalker bottles, but I bought my attention to the Brora 1981 Sherry from Duncan Taylor, 61%, cask 1425. This is one of the lightly peated Brora, but the integration of the peat with the sherry is superb. A delicious and complex Brora, full bodied and a big finish. I just managed to buy the last bottle.
At Monnier trading, they had a range of very interesting bottles, including the Laphroaig 1987, OB, 53.4%: the nose was on iodine, smoked fish, camphor, peat smoke and oil. The taste starts dry, salty and maritime, cinnamon and peat. The finish is dry, bitter, mineral and on smoked fish. A good Laphroaig, but not as complex as the 17 YO for the Feis Ile 2004 for instance. I followed my tasting with the Tomatin 1973, 46%, OB. It was floral, grassy, malty, full bodies, with some soft peat and exotic fruits (mango). A pleasant and underrated whisky.
Closing to the end, I stopped at the Eddies who represented The Macallan, Highland Park and Gordon & Macphail. I only drank one whisky there, since I wanted to come back, but did not find the find the time to do so! But I was not disappointed with that whisky, a Caol Ila Private Collection 1969, Gordon MacPhail, 45%. It was one of these old mellow sherried whisky, with a surprising peatiness for its venerable age. A superb whisky. Distilled in the old Caol Ila distillery. After more than 9 hours spent on the ship, I moved to GlenFahrn. All the new Diageo Products (Lagavulin 35 YO, Talisker 30 YO, Port Ellen 6th Release) were present, as well as the LVMH Range (Glenmorangie Châteaux Margaux, Ardbeg 1965) but I decided to have the Ardbeg 1990 Airigh Nam Beist, OB, 46%. More peaty than the Ten or the 1990 Cask Strength for Japan, iodine, cinnamon, disinfectant, smoked bacon, some oil. The palate is consistent with the nose, with maybe more apple pie aromas. I find it a bit dry, but otherwise it is a very good Ardbeg, with a touch of sherry?
After having spent almost 10 hours at the whiskyship, trying many whiskies, I made my way home, exhausted, but very satisfied with that event. I tried many remarkable whiskies, with some excellent surprises. My only regret is that I was not been able to stop at the stands (e.g., Acla da Fans, Pernod Ricard Swiss) or that I could not spend enough time at some. If you happen to be around Zürich during that week, I can only recommend your to make a stop there. The choice of whisky is impressive and the prices correct.
P.Brossard ©13 Dec 2006