Value single malts

A colleague recently asked me about good value single malt whiskies and why I do not provide a list based on the quality/price ratio.
Well, as most of whisky enthusiasts, we tend to start with good value whiskies, before moving to more selective single malts that might be either already sold out, difficult to find or expensive to very expensive.
Therefore, it sometimes good to step back to some good, affordable (usually below 50 euros/£40) and widely available single malts?
And to answer the question about quality price/ratio, this is a very tricky question: first, the price might vary very significantly between countries, special promotions and secondly, I do not want to rate the whisky according to its price: a whisky should be first enjoyed for its intrinsic quality and then based on price.
Let's start with the Ardmore traditional cask, a very nicely made, medium peated whisky, rather aromatic, with a quarter cask influence giving a certain complexity to the mix. If you live in France, you might get this whisky for about 28 euros. At this price, you cannot really get wrong if you mind a touch of peat.

The Ardmore Traditional Cask
Amongst other peated whiskies, the Talisker 10 years old is a nice clean and peppery malt, with a medium touch of peat is a good offering. If you are looking for something smokier and more peaty, with a touch of sherry, the Lagavulin 16 YO is a classic, but constantly well done whisky, nicely complex, with a certain smoothness and mellowness.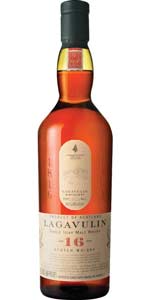 A classic: the Lagavulin 16 YO
Peaty whiskies are not everyone's cup of tea, so why not tasting with unpeated sherried whiskies from the Speyside? Macallan used to be good a value whisky until the turn of the millennium, but with the positioning of the brand to a more premium product, one of the best choice around now is the Aberlour A'Bunadh: a round, well-made sherry matured whisky, without any sulphury or rubbery off-notes. As other alternatives, Glenfarclas or GlenDronach are another very good choices.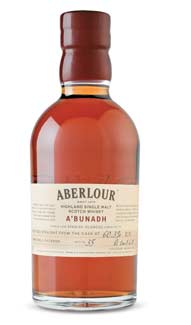 A good value sherried whisky: the A'bunadh
If you look for something lighter and floral, the choice is rather large, for instance, with the 12 YO Aberfeldy and its honey notes, the AnCnoc and its fresh fruity notes, something spicier and waxy, such as the Glen Garioch Founder's reserve, or in a heavier style, a Glencadam 10 years old. Do you prefer a touch of salt, then you might want to try an Old Pulteney.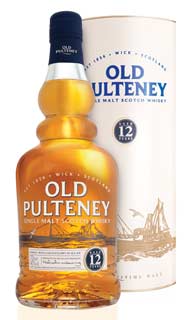 A pleasant whisky: the Old Pulteney 12 YO
As always, whisky is a matter of taste, and your preference might differ from mine. If you can taste them before buying, do not hesitate! And do not forget, the age and the price are not always a reflection of the quality.
There are plenty other good whiskies around, including world whiskies, but I restricted myself to the ones that you should be able to find in most places.
So enjoy your whiskies and share them with your friends, they taste then even better!
Patrick