Swiss Whisky Festival, 8-10 November, Baden,Switzerland
The Swiss Whisky Festival 2022, 8-10 December 2022, Baden
Formerly known as Whisky Schiff Zurich, this was the largest whisky event, taking place on the lake side of Zurich. Over the last years, I moved every time to a different location.
This time it moved outside of Zürich, in Baden. Located close to the train station and a nice exhibition hall, there was plenty of space around the stands, with a nice large and comfortable lounge. The number of exhibitors seemed more limited than the last edition.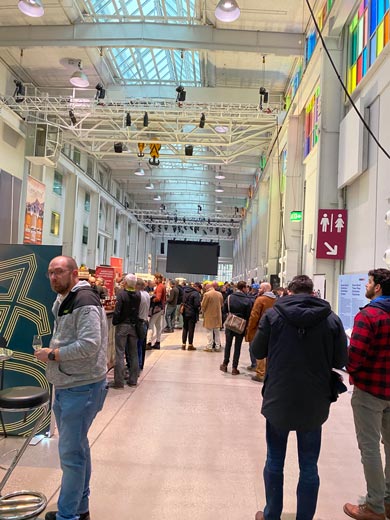 Inside the nice and spacious exhibition hall
With a rather busy and stressful working week, I realized once I was at the entrance, that I left my camera in my office, and carried all other accessories for nothing. Therefore, all photographs were taken with my mobile phone, thus the quality of the images might not be as good as in my previous reports. My apologies..
My first stop was at Lateltin, where I could taste the newly released Springbank 10 YO finished in PX sherry cask. It was a very good, intense, rather complex, syrupy and slightly maritime whisky, with some moderate spicy flavours. It was matured for 7 years in ex-bourbon casks before being transferred into PX casks. The Hazelburn 15 YO sherry matured was a malty, slightly salty whisky, with intense sherry flavours, some old wood, furnishes and lacquer. Rather too heavy and bitter to my liking.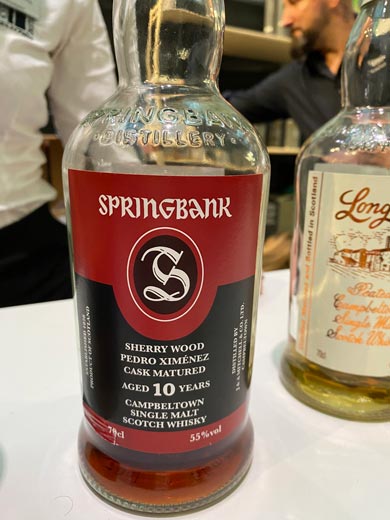 My first whisky at the Show, the new Springbank 10 YO PX
All the 18 or 21 YO Springbank or longrow were sold out, before I arrived.
I moved then to Awico to taste the new Whisky Chamber releases, starting with the Annandale 2015, a nice moderately peated single malt matured in a quarter cask, with a rather spicy and oaky influence. The Speyside Secret 10 YO Amarone barrique is a single malt distilled at Glenfarclas, with a final maturation in an ex-Amarone wine cask. A very intense, powerful whisky, floral, spicy, on dried fruits, leather, sultanas, grapes, and light winey flavours. A lovely expression of this distillery, with a moderate and well-integrated influence from the wine cask. The Speyside Hero Vol V is a blended malt whisky with a final maturation in sherry quarte casks. It is in fact a Balvenie tea spooned. The whisky is intense, floral, rather oaky, on honey, vanilla, fudge, with some sultanas and orange zest. The Ben Nevis PX sherry cask was initially fresh and intense, moderately oaky, and given time to breath, it becomes more grassy, waxy and bold. Finally, I tasted a Tullibardine 11 YO for Awico, a nice round, fruity, balanced, with nice round floral flavours.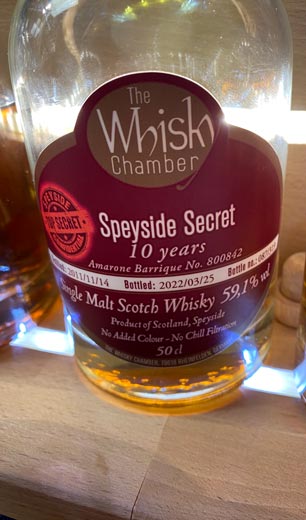 A very good expression of a secret speyside single malt distilled at Glenfarclas and bottles by The Whisky Chamber at Awico
I moved then to Säntisblick, a small Swiss distillery located close to the famous Säntis Swiss Mountain, where I starting with tasting a 3 YO Sherryfass, a very smooth, malty, round whisky, balanced, and with light syrupy flavours, dried fruits, leather and some dates. A whisky that has well matured. The Single Grain Cask Strength is made from wheat and matured in ex-port wine. This whisky is very surprising: it very smooth, vegetal, round, fruity, on sultanas, grapes, light grassy flavours, and a very nice smooth mouthfeel. A very good surprise. The Distiller's Choice was matured in sherry quarte casks, a rather intense and okay single malt, slightly round with light sweetness from the sherry. The 4 YO Vieille Prune was another very smooth single malt, with a similar silky mouthfeel, with flavours of plums, dried fruits, and green malt. The cask held Vieilles Prunes for 8 years, and the cask influence is well present, without dominating it.
A 3 YO Säntisblick single malt matured in ex-Vieilles Prunes casks
The next stop was at World of Whisky. My first whisky was from their Limited Animal Series, with an Auchentoshan 14 YO matured in an ex-bourbon cask with a final maturation in a sherry cask, a nicely complex, rich, fruity, mellow whisky, combining tropical fruits, sultanas, orange, some leather, fudge and ripe orchards fruits. Very good. I tasted then the new
Single Cask Highland Park OB bottled for WoW, a very nice round, malty, slightly smoky Highland Park, with nice honey flavours, light floral flavours, cocoa, sultanas, orange peel and a touch of sea breeze. The Royal Salute Snow Polo Edition is a recent edition from Chivas, made only with grain whiskies and bottled at 46.5%. This blended grain whisky was deliciously smooth, mellow, with lovely light soft and gentle fruity flavours, suggesting a fair amount of refill sherry cask. Very good and well-made. The Ledaig 16 YO Animal Series from WoW was an excellent dry, heavily peated Ledaig, rather maritime, on dry sherry flavours. Very intense and peaty, with nice dried fruity flavours. Lovely. The Lindores Single Cask for WoW is a very nice, syrupy and malty whisky, rich, intense, with lots of dried fruits, sultanas, tropical fruits, figs and orange. The Glenallachie Animal Series from WoW 14 YO was an intense, floral to very floral whisky, rather spicy, on leather, dates, sultanas, some lacquer and a light fragrance. The Longmorn 23 YO OB was a delicious, subtle and gentle single malt. Initially, it tasted rather thin, but then it delivers very pleasant fruity flavours and keeps changing and delivery new flavours. A very well-made and elegant whisky. From Carn Mor, I tasted a nice, young, clean, moderately peated and aromatic Ardmore 2012.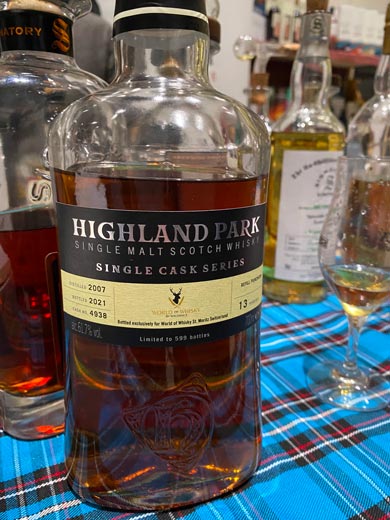 The lasted Highland Park Single Cask bottled for Waldhaus am See

The Whitlaw 2014 Carn Mor is a very clean, sharp, round Highland Park, with some heather honey, candied oranges, a touch of spices and sea brine. A nice single malt. Back to the Animal Series, I tried their 9 YO Caol Ila, a very peaty, maritime and tarry single malt, on seaweeds and lots of dried and syrupy fruity flavours. Sharing the stand of WoW, was Whisky Bibliothek (https://www.whisky-bibliothek.ch), who have released a new bottling, a Mortlach 2007 PX Sherry single cask from Carn Morn. A thick, heavy, complex, spicy and floral Mortlach, very intense, on sultanas, figs, leather, candied orange, spices and dark chocolate. An excellent Mortlach, fairly priced and without off-notes. Highly recommended.
Whisky Bibliothek is also now the importer of Filey Bay for Switzerland, a company based in Yorkshire, sharing both a brewery and a distillery on the same site. I started with their Flagship, the core whisky from the distillery. The distillery has a rectifier and they produce a distillate with and without rectification, that is then filled separately. After maturation, they are married for at least a few weeks before being bottled. The whisky is light, malty, smooth, slightly floral, with light flavours of vanilla. Easy drinking. The IPA Finish is more complex, on orchard fruits, with nice round fruity flavours, some dough and a nice texture. Very nice. The last one was the Sherry Cask Reserve, a rich, bold, complex whisky, on exotic fruits, nice syrupy flavours, slightly aromatic and a nice roundness, without any acetic flavours that you might feel with ex-fino sherry casks. Very good. Finally, before leaving, I was kindly offered a glass of The Oloroso Sherry cask 146, a very bold, thick and heavily sherried single malt, with lots of exotic fruits, grapes and leather.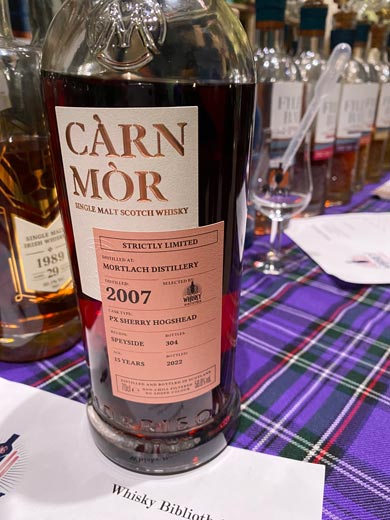 An excellent Mortlach sherry from Carn Mor for Whisky Bibliothek
At Glenfahrn, I tasted the two Old Pulteney Single Cask for Glenfahrn, the cask 736 2006 and cask 237 2004. The first one was intense, salty, maritime, with yellow fruits, sea brine and a touch of exotic fruits, while the later was slightly more mellow, but also more citric and bitter.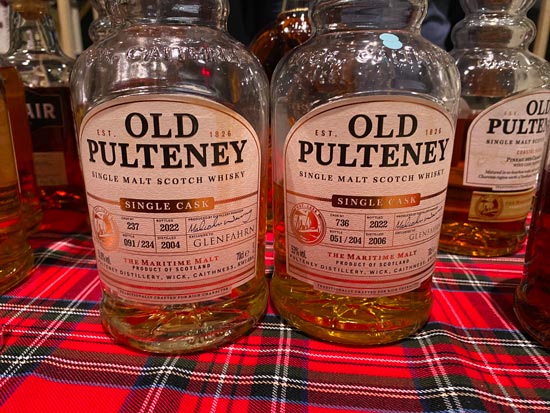 Two single casks of Old Pultney exclusive for Glenfahrn
At Best Taste Trading, I tasted two single casks bottled for them, a 8 YO and 11 YO Loch Lomnond OB. The 8 YO was clean, malty, floral, round, rather intense, with some fresh malt, light end of spring flowers and vanilla. The 11 YO was rounder, mellower and with light aromas of fresh bread.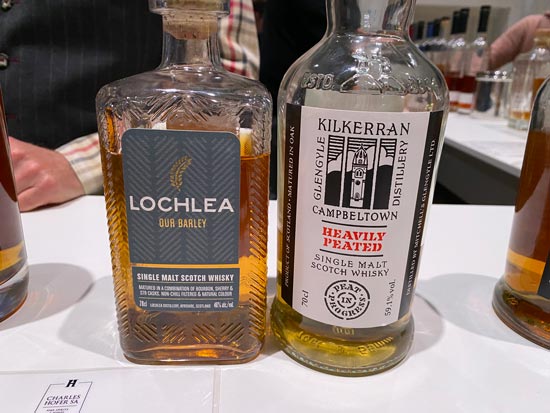 My two last whiskies, a Heavily Peated Kilkerran and the Lochlea
My final stop was at Charles Hofer, to taste a very good, rich, complex, spicy, gingery, slightly austere and rather heavily peated Kilkerran Heavily Peated Peat in Progress 7. The final dram of the evening was the Lochlea Our Barley, a single malt from a farm distillery in the Scottish Lowland, with lots of freshly crushed barley, light floral flavours and a touch of straw. Very smooth and rather young, too young to my liking.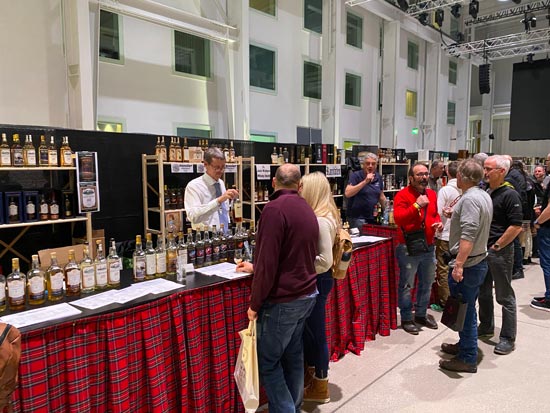 Some impressions of the stands, here at Monnier
Feeling rather exhausted, I took the train home. The new location was very spacious, modern, with a lovely lounge/restaurant, allowing the visitors to enjoy a nice meal in a comfortable setting. As Baden is a rather small town, the attendance was markedly lower than in the previous editions in Zurich and the number of exhibitors seemed lower. If this was in Zurich, I am convinced that it would have been very successful. I personally found the atmosphere heavy, and I missed the enthusiasms and friends I used to meet during other events. Also, the date was not ideal, as many visitors are busy with their Christmas shopping.
Finally, the event was annouced only in October, so difficult to plan in advance.
Slainthe.

Patrick, 15 Dec 2022.