Spirit of Speyside 2009
Homecoming Spirit of Speyside Whisky Festival May 2009
Report and Photographs by Bruce Crichton
Having effectively combined the jobs of Chiropodist and Osteopath - I'm now a footpath - I headed to Dufftown. To celebrate my success, the Spirit of Speyside Whisky festival was just what I needed and after several days of great whisky, great food and frenzied scribbling, here is my account of it.

As usual, each festival event was done in 'Brucie style', which meant that Rolling Stone Ronnie Wood was able to use my slops bucket to dry out in as it was the one place he could be sure that there wouldn't be any whisky. Because of this, I apologize in advance for any factual errors as whisky is not a memory aid. I am the possessor of the world's most one-dimensional taste buds which are a standing joke, even in the world of anteaters, so my tasting notes are even more subjective than most writers' and I ask the reader to bear this in mind. For this reason, I defer to any expert tasters who commented in my presence. More seriously, I would add that, to keep this report from being even longer than it already is, I refer the reader to previous reports and tastings if a whisky has appeared before and I have also assumed the reader is familiar with any widely available bottlings that popped up. Also, any water added to a whisky tasted was, literally, one drop. All whiskies were 40%abv, if the strength is not otherwise indicated.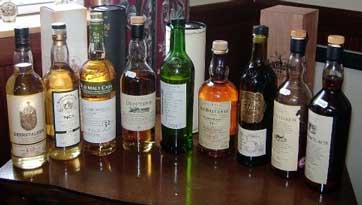 The 7 Stills bottles
Opening the festival, Whisky Shop Dufftown owner Mike Lord took us through an extended 'Seven Stills' tasting in which we tasted bottlings from Dufftown distilleries, some of which have long gone and one of which is a newcomer to this tasting. Guest speakers were present from the distilleries and the independent bottlers.
The first question we were asked was 'Is Allt-a-Bhainne a Dufftown whisky?' Since this gave us the excuse to extend the tasting by one, I answered in the affirmative and a 12 year old, from Aberfoyle and Knight's 'Deerstalker' range, at 46%abv had a slightly astringent nose with a heather-honey sweet taste and a gentle finish which became sherbet-like on the addition of water. By comparison, a 1996 Duncan Taylor NC2 Glendullan, a standard 46%abv, led Donald Colville to detect bubble gum while wife Susan got Vanilla ice cream with which Mark Watt agreed, if that ice cream was cheap, yellow and powdery. I found it slightly bitter, with a little cream and pepper on the finish and Mark reckoned that chilfiltration would have killed this whisky stone dead.
Re-appearing from September 2008 was a brilliant Old Malt Cask 1975 Convalmore, at 48%abv, and it smelled of liqueur and syrup with a lightly sweet taste and some attractive lemon notes and a soothing, spicy finish. Sitting beside me, Susan recommended it with a speck of water. In contrast, the discontinued ' Dufftown 15, at 43%Flora and Fauna' was so hard to describe that I couldn't honestly say that I got 'mostly scotch' when describing it. It was pleasant enough but was clearly aimed to be part of the popular Bell's blends.
A 1992 cask sample from Kininvie distillery followed which was spring-fresh with notes of grass and hay was an interesting curio, given that owners William Grant's have no plans to bottle as a single and the distillery is only intended to supply the Grant's blended whiskies. Still, this sample was enchantingly smooth with lovely vanilla and sherbet notes and at no point did this dram cry out for water.
Another discontinued dram was the Balvenie 10 year old 'Founder's reserve' which I have always described as 'warm honey in a glass' and this did nothing to dispute my description. Also marvelously sweet was a distillery-only cask strength 15 year old from Glenfiddich, which Mike had picked up that morning. The effervescent nose brought to mind Parma violets and had a fruity taste with a charming finish. (Later, I would head down to the distillery to get my own bottle from this cask and I recommend any visitors to Dufftown to pick up their own bottle.)
The official Pittyvaich 12, at 43%abv, was still brilliant and I refer the reader to my May 2008 report for more details as I also do for the official Mortlach 16, also at 43%abv.
Returning to the Memorial Hall for the Whisky Quiz, I was joined by Warren Marsden, Phil Yorke and their Yorkshire posse. The quiz had a revised format, with the 'Young Ambassadors' team taking on the 'Seniors' team while the audience teams answered questions as well. Despite being on the winning team last autumn, I was unable to repeat the feat, not helped by the fact that the questions were mostly on the subject of whisky and not on my specialist topic of completely useless information. Our team finished second, well behind the leaders, though I do maintain that our team name – 'The Freshly Hunted Wigs' was still the best.
Friday morning brought a return trip to Glen Rothes distillery, having had a fantastic tour in the autumn of 2008 and genius bus driver Mike Hendry kept us entertained with his seemingly endless stock of true and exciting stories, some of which have been made into films such as 'Raiders of the Lost Ark', 'You Only Live Twice' and, most famously 'Star Wars'. Sad to hear was the story of Knockando church burning down many years ago but heartwarming was the story of how the local distilleries rallied round by donating money and whisky casks to the restoration. Mike told us that he has several centenary bottlings from nearby distilleries, which prompted me to say that 'You're my very best friend'. (Coincidentally, that is what we would be saying if we had drunk all his whiskies).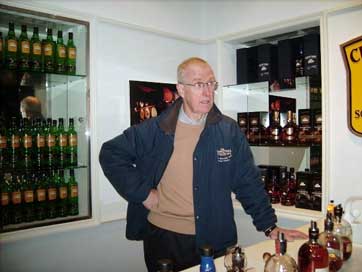 Eric Jefferson and some stellar vintages
Eric Jefferson was once again our expert guide and he gave us a little history and noted some of the features that set Glen Rothes apart from the competition, and which yield an exceptionally light, clean spirit. This tour is covered in my last report but, deviating slightly from the Autumn visit, we were given the chance to nose and taste samples from a 1998 first fill Oloroso sherry cask, a 1977 second fill Bourbon puncheon and a third fill 1985 Bourbon hogshead. Interestingly, the Oloroso sample smelt of Bovril but less so than some extremely young samples from independent bottlers Adelphi which I had tasted the previous year. The 1985 cask, in particular, was a masterpiece and the whole exercise was an object lesson in the effect of wood maturation.
Rounding off, we headed to the Cutty Sark exhibition centre to hear the stories behind Berry Brothers and Rudd, who market Cutty Sark, the blend itself and the origin of the 'Real McCoy' phrase. Of the many drams on offer, I tried the duty free exclusive 'Robur Reserve' which was like golden syrup and had some light coffee on the nose and finish which combined nuts and spices. The 1991 vintage nosed of sherbet and tasted of vanilla and cream with an all-round velvety mouth feel.
The second leg of the bus tour took us the short distance to Glen Grant distillery, very popular in Italy and, therefore, a shrewd acquisition by current owners 'Gruppo Campari'. Taking us through a masterclass and tour was Master Blender Albert Stephen who spoke again of the importance of wood in maturation as we began the class. (I'd like to point out to the reader that the reason the tasting notes seem more detailed and accurate than usual is because I copied them from an anteater who was sitting beside me. He didn't say very much but he sure knew his whisky.)
First up was a new bottling - the non-age statement 'Single Malt'. This had a delicate nose, smelling of apples and was light, sweet and creamy with a nutty finish, perhaps making it ideal for the female palate. As we moved on to the new 10 year old, Albert told us to 'watch this space', as it were. Campari are looking to expand the range and are prepared to invest in marketing this most elegant of malts. This one was a quantum leap on from the old Pernod Ricard bottling and Glen Grant is clearly benefiting from being the centre of the owners' attention swallowed in a huge portfolio. Altogether weightier than before, this smelt of orchard fruits and tasted of an attractive combination of apples and pears with only a slight hint of wine on the finish, as well as nuts, providing any link to its' previous incarnation.
Amusingly, Albert told us a story of smelling the so-called 'Angel's share' and hoped we weren't going the wrong way. (In which case, I'd better get as much in as possible, while I still can, hadn't I?) Also of interest was the story of an attempt to launch Glen Grant as a 12 year old, matured in sherry casks. Unfortunately, this had to be abandoned as all it did was take sales from fellow Pernod distillery Glenlivet. Having found themselves short of aged stock, Glen Grant have cleverly done a deal with Elgin-based bottlers Gordon and Macphail's and we were served up a brilliant 25 year old with more obvious Oloroso sherry character. The sherry, as well as coffee, came through on the nose and the dram was both rich and subtle with reassuring fruitcake flavours, together with a long and honeyed finish. This is a tribute to the art of blending and, given the price, no home should be without a bottle and certainly not mine. Even more striking was the 50 year old expression, easily the oldest whisky I've tasted. Despite its' magnificent age, it had stood up well to the casks and was exceptionally easy to drink. Albert gets a slight hint of peat on this one and I found sherry, pepper and treacle on the nose while the taste was still delicate with sherry, again, on the finish and a little smoke as well. Though not cheap, this does offer a chance to try very old whisky at a small fraction of the price of some other official bottlings at a similar age.
This brought the vertical tasting to an end but I cheekily managed to sweet talk my way into tasting the 'Old Smuggler' blended whisky which was available. This had a light, spring-fresh nose and water turned it into a silky, creamy dram.
Having the tasting before we had the tour, understandably, did not fill us all with get-up-and-go but it was still informative to see the different way that Glen Grant obtains a light, clean spirit from the way that its' neighbour does. The process starts with 12.2 tons of grain per mash and Albert reckons that this part of the process is underestimated, and if not done correctly, reduces yield. The tall, slender stills are fitted with purifiers, very unusual in the industry and Tormore is the only other distillery to do this, to the best of Albert's knowledge. These purifiers are key to the fresh, clean spirit produced and are fitted to both the wash and spirit stills which are oil-fired with distillation taking six hours. In all, Glen Grant can produce 6 million litres of alcohol per year. All that remained, after that, was to thank Albert, grab my bottle from the shop and return to Dufftown and I round off this part of the tale by recommending any reader who gets to the whisky trail to take this fantastic tour of a magnificent distillery.
Declining to join my new anteater friend for lunch, I headed to the Memorial Hall to take up the WSD Challenge – a 'blind tasting' where independent bottlers Adelphi, AD Rattray, Douglas Laing, Duncan Taylor (DTC) and Wemyss presented a bottling of their choice and brand ambassadors for each company, AD Rattray excepted, would tell us about their bottle and why they entered it. The audience would write notes, as best as possible, and vote for a favourite at the end. After this, the identity of each whisky was revealed and is recorded in brackets below:
A) Nosed of perfume and flowers with 'Refreshers' sweets with some warm honey and vanilla to taste and a pronounced bourbon character. (1995 DTC NC2 Imperial 46%abv)
B) Smelled of Turkish delight with a little treacle opened slightly on dilution to give nuts and cinnamon with dark chocolate on the finish (Douglas Laing Old Malt Cask Glen Grant 32 year old, 50%abv)
C) Had coffee and sherry on the nose but with a lighter taste than the nose would indicate and a salty finish. (Wemyss 1991 'Barbecue Sauce' 46%abv – otherwise known as Mortlach – more on this nomenclature later).
D) Wham bar sweets on the nose!!!! Yippee!!! More prickly on the taste (No hedgehogs in the cask, I hope) And a short, fruity finish with a little pepper. (Adelphi 1985 Glen Grant 55.9%abv)
E) Jam sponge cake with cream – a very attractive nose and this festival's Scarlett Johansson award. Thick treacle and smoke to taste and a very chewy mouthfeel with more smoke on the finish plus coffee and it livened with water. (AD Rattray Linkwood 25 53%abv).
A quick vote was taken with Adelphi narrowly ahead of AD Rattray at this stage and the Speyside leg of the challenge was over for this festival.
Next up was a selection from Douglas Laing's 'Provenance' range, all at a standard 46%abv, taken by Jan Beckers who drinks his whisky through a straw to prevent elephants getting into it. (Well, you never can be too careful). We began with a 1996 Glenburgie that I found a little astringent and spirity. Jan views this as an aperitif and Phil Yorke thought that it would go with porridge. It had a decidedly herbal taste and a short but fruity finish but could have perhaps benefited from a longer maturation. A 9 year old Royal Brackla was more enticing, smelling as it did of apples and lemon cheesecake. Jan got lemoncello on the taste and found it zesty. Even better was a 9 year old Dailuaine, matured in a refill sherry butt. The familiar scent of Bovril was there again and Jan got caramelized nuts (insert your own joke at this point). Christmas pudding and cream notes were there and the finish was dry with raisins and toffee.
As we drank a 13 year old Aultmore, Jan pointed out that not all bottlings from this range are single cask as some times single casks are not of sufficient quality to bottle while, in other cases, the customer demands a higher volume of whisky than a single cask will yield. The nose, taste and finish were dominated by orange cream and I found it very hard to pick out flavours. This should not deceive the reader, however, as it was an excellent dram with an often elusive 'easy-drinking' quality to it. Our next dram, an 11 year old Caol Ila, instantly prompted Mike Lord to note 'Smoky bacon Frazzles' on the nose – a fantastically apt description. This one inspired Phil, sitting beside me, to demonstrate his expansive knowledge of cooking ingredients. As well as the omnipresent bacon, there was characteristic light smoke there and peat with a soothing and warm finish.
We closed with a 1983 Port Ellen, a little piece of history, matured in a sherry cask. This distillery was apparently very expensive to produce whisky from, during the brief time it was operational. Given this, and that there was not a demand for peated whisky in 1983, led to the distillery's closure. Douglas Laing had used this whisky extensively in their 'King of Scots' blends and had kept well stocked for this purpose. As Jan and I were both way too young to have tasted young Port Ellen, we wondered if the whisky was of the required quality at a young age, Susan certainly didn't think so, having tasted a young version. The last words on this luxurious whisky and session go to a clearly inspired Phil who got smokehouse salmon with cream and parsley and who thinks it would go well with Venison or other game meat.
Having set a blistering pace all day, the world appeared to be swimming but, thankfully, it had dried off and got dressed in time for the Whisky fair event where the relative small players of the industry congregate. I headed first to DTC who had shrewdly previewed their 'Black Bull' 30 year old blended whisky on the internet before the festival and met Jemma Jamieson and Mark Watt, who is writing his autobiography and wants anyone who can remember where he has been for the last 10 years to write in and tell him. More on the Black Bull later but Mark, his finger on the pulse of my taste buds as usual, had brought a 1980 Strathclyde grain whisky. This has the reputation among blenders as an unforgiving whisky which needs to be treated with care. It was harsher than both the Carsebridge and Cameronbridge bottles I'd bought from DTC but advanced age had quelled its' fire and, despite being 58.7%, did not need any water and is yet another classic grain from this company.
After talking to Stewart Buchanan at Benriach, I tasted the unpeated 15 year old finished in Madeira casks. 2yrs finishing make this perfectly balanced, in Stewart's view and mine while Stuart Kerr, by no means a fan of peated whiskies, was equally impressed with the peated version, at the same age.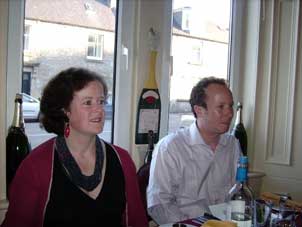 Alex Bruce and Antonia
Over at the Adelphi stall, it was hello again to Alex Bruce and his sister Antonia. A 1997 (11 year old) peated Bunnahabhain provided a fascinating sequel to last years 9 year old version. At 59.9%abv, it was well rounded with the smoked fish again but tasting as if the fish had been cooked in an exotic sauce way beyond my palate to identify. Over to Phil on this one, I think. Making a mental note to get a bottle of this, I also had a 1993 Clynelish, at 57%abv that smelled of pepper sauce and combined both honey and fruit salad tastes with a chewy finish.
Moving over to Mark Davidson at the Cadenhead's stall, I was fortunate enough to taste some 16 year old Connemara – peated Irish whiskey from the Cooley distillery. This was a work of genius and is an ideal choice to accompany a fish dinner. A must for all fans of Irish whiskey.
Heading to the Angus Dundee stall, I was greeted by the always enchanting Nikki and checked out the newly released Tomintoul 14, at 46%abv, and unchilfiltered. A light, fresh dram, this was a revelation and, even better, was a new Glencadam 15, at the same strength and also not chilfiltered. Glencadam is still mostly intended for blending but this superb new bottling really showed what some care and attention can do and was exceptionally creamy, as befitting a malt traditionally associated with the 'Stewart's Cream of the Barley' blends, and much more complex than before. Interestingly, to me at least, I talked to Tom Gerrie and was rewarded with an insight into the chemistry of phenol and phenolic character and how it contributes to the flavour of whiskies. In this respect, the level of phenol in the barley and the finished product is misleading as phenol is a generic term, indicating a group of compounds, not all of which contribute to a whisky's taste. Given that chemistry was my forte as a younger man, such subtleties never lose their fascination.
Over at Benromach, I tried the new Madeira finish, at 45%abv, which was sweet and rounded and carries Stuart Kerr's recommendation. As I chatted to the ladies from owners Gordon and Macphail about the progress this revived distillery has been making, it became apparent that the world had decided to go for another swim without telling me, so I took a break and returned to make short notes about a few more whiskies such as the MWBH 1972 North of Scotland grain whisky, at 36 years old which was slightly thicker in taste than last years' 34 year old bottling and was in exceptionally high demand.
I finished off with a quick taste of Glenglassaugh 21, from the newly re-opened and Dutch owned distillery that had previously been closed for 21 years. This had the kind of luxurious feel about it that a good distillery bottling of well aged whisky should have and Stuart also enjoyed the clearic – which is available to buy – and predicts that this could be the next Benromach Traditional, in about 5 years. Good luck to Glenglassaugh with their venture.
Taking the rest of the afternoon off, I returned to the hall and entered the tasting room where the curtains were drawn but the furniture was real and sat down for a look at what Wemyss Vintage Malts had to offer, guided by Susan Colville who turned down the opportunity to sit on my knee, despite me telling her that I'm much more comfortable than I look.
The company began independent whisky bottling in 2005 and have taken a novel approach to bottling. As well as a small range of vatted malts, Wemyss bottle single casks at 46% and have plans for a range of cask strength whiskies. Only in small print, if at all, is the distillery named and each whisky is called after the dominant flavour detected by Susan, such as the 'Barbecue Sauce' entered into the WSD challenge.
We began with the vatted Speyside malt called 'Spice King', 43%abv. Susan finds this inoffensive and was not amused when I said that the whisky had told me to 'sod off' nor was she jumping for joy when I said that it tasted mostly of Amazonian tree frogs – these taste like the little amphibious creatures found in woodlands, in Brazil, beside the great river, the name of which I forget. Being a bottle short for the tasting, Susan had managed to 'liberate' another one from a Japanese customer. Appropriately, the whisky tasted mostly of ginger and we moved onto 'Fruit and Nut Fudge', otherwise known as 1989 Aberfeldy and the first of three whiskies at 46%abv. The title summed up the flavours expertly and I add only that it had a spicy finish. Even better was a 1994 'Glace Fruits' from Linkwood, matured in a refill sherry cask and tasted of fruit trifle with a little light smokiness to end with. A masterpiece 1997 'Vanilla Smoke' had a brilliant vanilla sweetness on the nose and smoke appeared only at the end with this peated Bunnahabhain.
The ludicrous comments began to come thick and fast from the audience, not just from me, as Susan talked of the company's ethos. Ignoring the nincompoop down the front who asked if Ethos wasn't one of the three musketeers, Susan noted that not naming distilleries offers much more choice and freedom to the bottler as distilleries are much easier to deal with directly. There also exists the possibility of single grain whiskies in the future, though blended whiskies are definitely ruled out. Also worth noting is that Susan is not a lover of heavy Islay whiskies and always gets a second opinion before recommending one. We closed with a 1984 'Sea Smoke', at 59%, which I noted as being 'Coastal' and 'Salty' with loads of other telltale signs that we were having a superlative example of Caol Ila.
Not for no reason do ornithologists call the biggest gannet in any flock 'The Brucie' and, with this in mind, I headed to the Tannochbrae restaurant where Allan and Susie served up some more fantastic fare with whiskies and great company being served up by Alex Bruce and sister Antonia from Adelphi as well as Mike Lord and his lovely wife Val. Alex talked of the subjective nature of combining whisky and food and recapped the history of the Adelphi Distillery company for those who had not encountered it before.
Re-appearing from some previous festivals was a very popular 1990 Glen Garioch, as was a 1978 Cameronbridge grain and a 1997 Bunnahabhain (9 years old) while a 1991 Mortlach will be mentioned later, as will Fascadale. Alex is a goldmine of stories and talked of being descended from the Usher family, a pioneering name in the early days of the industry. He noted that Glen Garioch were caught in a tail-wagging-the-dog situation by trying to recycle process heat to power a greenhouse. This meant that the stills were never given a chance to rest and soon gave rise to unwelcome soapy flavours. Special mention must go to a 1990 Macallan, at 52.8%, which not merely kicked sand in the face of the distillery bottling but stole its' ice cream and ran off with its' girlfriend as well. Liqueur-ish on the nose, it had an oily texture and ended with some dry spiciness. And, finally, if you have any feeling left in your tongue, be sure to eat at the Tannochbrae and have Susie's wondrous Crème Brule which made a fantastic combination with the 1991 Mortlach, 57%abv, and raspberries.
Sunday afternoon meant that I duct-taped up my wallet in preparation for Alex Bruce's next Adelphi tasting where his latest collection of magic potions were gathered, with the intention of making mincemeat of my life savings. It should be pointed out that each of these whiskies were taken neat, despite a completely fresh palate, such was their caliber. Re-appearing, from Friday, was the 1985 Glen Grant which had stood up well to a first fill bourbon cask and Alex found an underlying pepperiness to it. Uncorking his party piece – 'the bead test' – Alex noted that in the days of illicit distilling, peat smoke could be seen easily in Speyside and so was detectable by the dreaded taxman while in the far flung isles, the rough seas and even rougher locals prevented the taxman getting close enough to see it. The 1991 Mortlach had coffee cream sweets on the nose with burnt sugar and caramel throughout, making it ideal for crème brulee. A lovely 1994 Glenlivet, matured in a first fill Oloroso sherry cask and at 61%, brought to mind ginger snaps and Fry's Turkish Delight with a great mix of toffee and fruit. Alex could get no 'nose prickle' from this, indicating that Adelphi had done a job of keeping the hedgehogs out that Colin from Aberlour would have been proud of.
An advance sample from an upcoming 12 year old 'Laudale' bottling was next, at 46%abv. This was part of a new range of bottlings from approximately 10 casks and tasted like a family owned distillery that takes its' water from Benrinnes. The smell of Bovril re-appeared to me while Alex detected cherries and cream. Characteristic dark chocolate followed with a dry finish which, to Alex, recommends it as a digestif.
Closing the class was a 10 year old Fascadale, which probably originates on the Isle of Skye, and takes its' name from a bay popular with smugglers, where the midges have dreadlocks (copyright Alex) and the words 'Woa!' , 'Dude!' and 'Excellent!' are used rather a lot. (Copyright me.) A light-bodied whisky, this had a charmingly coastal nose with only a light smokiness and some seaweed to close with, plus a charming mouthfeel making it ideal for anyone who is taken with Adelphi's 'Breath of the Isles' series.
Once I stopped giggling at the mental picture of midges with dreadlocks, I finished my dram and headed to Glenfiddich distillery for an extra event put on by William Grant's for the 'Mates of the museum' where whisky expert and master showman Ian Millar took us through the component parts of the Glenfiddich Solera Reserve 15 year old. A sample had been taken from a refill bourbon cask, one from whisky finished for 4-6 months in new wood plus one taken from a first fill Oloroso sherry cask. Danny Maguire and I were both grabbed by the development in flavour between the bourbon cask and the new wood finish and while the sherry cask was too much for Ian's palate, it was exactly to my taste. Next, we tasted the three 'woods' vatted together then the widely available official version plus a bonus dram of a 25 year old from a sherry cask before heading into the warehouse to taste some very rare drams indeed.
As well as a great event, this was an exceptional insight into the component parts of a seemingly easygoing and inoffensive whisky that, nonetheless, outsells the entire range from the illustrious Highland Park distillery. All credit to Ian, to William Grants and to the 'Mates' for this and a 'Connoisseur's tour' of Glenfiddich is in order for everyone who might have otherwise overlooked this whisky.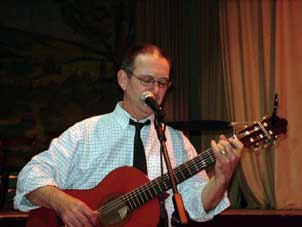 Robin Laing at work.
After this, a short break was in order before Robin Laing took us through his evening theme of 'A taste of Andalusia' and a series of sherry matured whiskies. Just brief notes about the whiskies, which were a Macallan Fine Oak 15, widely available, an Isle of Arran which was finished in Fino, at 50%abv, Aberlour A'bunadh (Batch 24), Benriach Peated Herodotus Fumosus, 46%abv and finished in Pedro Ximenez and an SMWS Ardbeg, at 57.3%abv. The Arran smelled and tasted of Strawberry Chewit sweets and, judging by the giggling around me, this struck a chord with a few other people as well. The A'bunadh was lighter and more orangey than before while the sherry and peat in the Ardbeg had wrestled, intriguingly, to a draw.
The whiskies, however, are secondary to Robin, his songs and his jokes, a selection of which are on www.youtube.com. Thought-provoking songs about Macallan and Arran distilleries were sung plus another about smuggler Paul Campbell, who escaped to America and taught them to make whisky in the 'Arran Style'. (Unfortunately, they later forgot.) Also on the way is Robin's next book 'Whisky legends of Islay' and Robin toyed with writing a song about Bruichladdich's 'Yellow Submarine' bottling but was rather put off by the prospect of his money going to Heather Mills. He recovered in time to sing about 'Perilous whisky' and deliver the uncut version of the 'Speyside whisky song' before spoofing 'Summertime is coming' and slaying us with a song about an unfortunate missionary. Pausing to describe he and I as the 'Thunderbolt and Lightfoot' of whisky and getting the loudest laugh of the night, he closed with his 'Eagle' song when I was drafted in as cameraman. Despite an eye-watering quantity of alcohol, I didn't miss any crucial footage and got all the exciting bits in which means I haven't a hope in hell of getting a job with Scotsport.
Following a morning off to go shopping and also tour the tiny but inviting Benromach distillery, the account of which will have to wait till another report, I returned to the hall for Mike to give us his expert guide to both sherry and its' influence on whisky maturation.
As a complete sherry novice, it was fascinating to hear Mike's knowledge of grapes and the sherry making process and Mike gave us 6 sherries to try as well as a whisky fully matured, if possible, in that wood, which were: Fino dry sherry, Manzanilla, Amontillado (named after the little armoured creatures found in Texas), Oloroso which, amusingly, smelt of Bovril, Palo Cortado and Pedro Ximenez which I found the easiest to drink and had the texture of treacle. After this, we would have a whisky and see if we could discern the sherry's character from the taste.
The whiskies were a Glenfarclas 10, a 1986 Fino Matured Glenfarclas which is in huge demand in Germany and, like the Arran, smelled and tasted of strawberry Chewits, while an 11 year old cask sample was a treat, being fully matured in Oloroso casks. A 1998 Manzanilla matured Bruichladdich won Stuart and I over with an apple crumble and cream taste. Given its' character, Mike's view is that refill Manzanilla casks would have little impact. The official 1992 Glenkinchie Amontillado finish had more sherry on the nose than on the taste, which was mostly of brown sugar while we ended with Benriach 15, finished in Pedro Ximenez which made it hard to describe but fantastically easy to drink. Given the strength of the sherry, it would be a brave man to fully mature any whisky in a cask of this.
Rounding off the first leg of the festival was Mark Watt, of DTC, who arrived just in time from his canoeing trip on the Spey and was still wearing his life preserver, proving, once and for all, that an exclusive diet of empty lager cans does you no harm at all.
A Battlehill Auchentoshan 8, at 43%abv brought pear drops and syrup to mind though I relaxed my note-taking on this one as I already have a bottle. Mark is an inexhaustible well of irreverence, surreal images and anecdotes and he added the amusing aside that DTC will always, if possible, mature a cask at the distillery location and though they would like to mature Linlithgow whisky under a bed, in the flats that now sit where the distillery was, Customs and Excise would find it considerably less amusing. Keeping the high standard going was a 1996 NC2 Benriach which tasted of toffee and icing sugar.
It would not have been a Mark Watt tasting without the 'Rare Auld' 1972 Caperdonich, at 54.8%, we had and it was delicious with restrained vanilla to nose. Mark gets spice and apples on the taste while I got tanned leather on the finish. Black Bull 30, at 50%abv, is a single malt and a single grain, blended at birth and matured for over 30 years in sherry casks. There are plans for a 12 year old version but this one is enchantingly warm and very well blended indeed, offering a rare and inexpensive chance to have a blended whisky at advanced age.
Closing the tasting was a wonderful 1982 'Rare Auld' Caol Ila, at 55.9%abv, which tasted of salt and had big smoke only at the very end. Though Mark agreed that I had composed an accurate note, he refused to sign a sworn affidavit to that effect and set off on a monologue about some anoraks who have formed a 'no salt in whisky' club, complete with t-shirts - people so narrow minded that if they have an idea, it comes out folded. Mark's hilarious stories of some even more surreal encounters with the Swedish whisky association will have to be included in another report but thanks again to Mark for the whiskies and the little jousting at the end of the session where he and I wondered what it's like to drink a Caperdonich that's younger than I am.
Abandoning all pretence at notes, and skipping the random observations section for this festival, I ended my festival in style with the dregs party – a well-behaved affair where highlights included an OMC Mortlach 16 and a series of new batches from Compass Box whiskies. Afterward, the festival would continue on with a series of tastings, tours and a whisky school, but not for me. It was time to throw in the towel and, if anyone has an account of the second leg of the festival, I look forward to reading it.
In closing, I'd like to thank everyone involved in organizing and running the festival and, in particular, Mike and Val Lord, Steve Oliver, the wonderful people at the 'Coffee Pot' for keeping me going through the weekend, to Andy, Renee and Claire at the Whisky Shop, to genius bus driver Mike Hendry, to Gordon Haughton, Ian Millar, everyone involved with the 'Mates of the Museum' plus Alan and Susie at the Tannochbrae .
I'm off to be fitted with signposts, I aim to be a world class footpath, and, hopefully, I'll see you again at the Autumn festival, an event missed only by dumplings in the beef stew of life.